The main staple for all Caribbean cooking is chicken and rice, or, arroz con pollo.  Every country and region has it's own version and the subtle changes and nuances in preparation really do make each one taste a little different.  In fact, I think there's a cookbook idea in there!  Caribbean style chicken and rice … 10 different ways!
This is a recipe I picked up while taking a cooking class with Ms. Veronica in Costa Rica.  If you're looking for a crowd pleaser or some satisfying comfort food … this is it!
Caribbean Style Chicken & Rice
Coconut Rice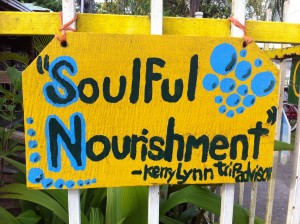 Ingredients:
1 liter coconut milk
2 teaspoons diced onion
2 teaspoons diced sweet pepper
2 teaspoons celery
1 to 2 sprigs of fresh thyme
1 Cup fresh beans (soaked overnight)
salt and pepper to taste
a dash of love (Ms. Veronica insists on it!)
Directions:
Add the ingredients above to a large pot, bring to a boil and cook for about 15 minutes.
Add 2 cups rice.
After the rice is dry and has absorbed all the coconut milk, turn fire down , cover for 10 min, then stir.
Cover again let it stand for 20 min more.
Ingredients
1 fresh lime cut in half
2 medium potatoes, chopped
2 teaspoons salsa*
2 cloves garlic
onion
sweet pepper
celery
curry
soy sauce
BBQ
*This is more like a guava bbq sauce.  I purchased some while in Costa Rica and have the photo for reference below.
Directions:
Wash raw chicken in lime juice so that it more easily absorbs the marinade.
Set oven at 350 degrees.
Blend  garlic, onion, sweet pepper, celery, curry, soy sauce, and bbq sauce in blender.  Then, add lime-washed chicken, fresh thyme, and potatoes to a large glass plate or baking pan.  Pour blended ingredients over chicken and potatoes and marinate for 30 minutes.
When you're ready to cook the chicken, melt 1/2 tsp sugar in a deep dish oven-safe pan and brown, then add a teaspoon of  oil.
Place chicken into the pan with tongs without adding the marinade.  Let the chicken dry up a bit and brown, then add marinade and potatoes.
Place pan with chicken and potatoes into the oven for 30 minutes.
Serve with Caribbean Rice!