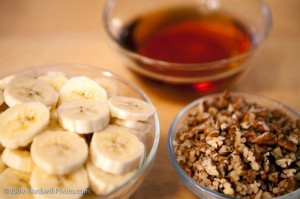 Any snack, dessert or breakfast containing  either bananas, chocolate or nutella (or God help me all 3 ingredients!) is surely going to push me into my "I'm not sharing" mode.  Containing bananas, maple syrup and pecans … this breakfast is one of those.  Thankfully for my waistline it is too big and too rich to eat all on my own.
After trying out this recipe I'm convinced there is a way to incorporate it into my campfire cooking repertoire.  Just got to work out the not-having-an-oven in-the-woods part.
This delicious recipe was sent to me from Margi with C.W. Worth Bed & Breakfast in Wilmington, NC.  I absolutely love Wilmington. I have great memories of this historic waterfront town while visiting there often while my cousin went to school at UNCW.   Their ghost walk happens to be one of my favorites.  That guide had me shaking in my boots from his stories and tall tales.  A little history mixed in with a little adrenaline is a great way to entertain.
Anyway.  Back to the Banana Upside Down Pancake.  To start, you'll need to whip up a basic pancake batter found here: Classic Pancake Batter.  The only difference is, add about a capful or two of vanilla to your batter.
Along with your classic pancake batter, you'll need a cup of maple syrup, 1/2 cup chopped toasted pecans, vanilla extract, about 3 bananas sliced, and one whole stick of butter.  Yes, one whole stick.  Told ya this would be good!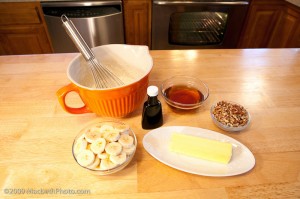 Margi uses a cast iron skillet.  Since I don't have one, I used an oven safe pan.  Now that I think about it, I probably could have used a little less butter since the cast iron would have absorbed more.  But … since when could you EVER use too much butter?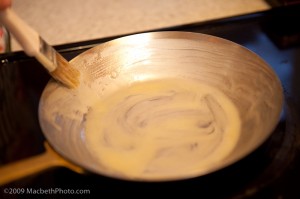 When the butter is melted, coat the pan with a pastry brush and add maple syrup.  Pre-heat your oven to 350 degrees.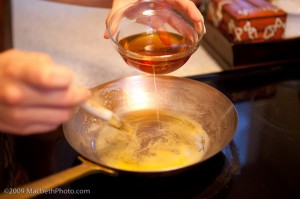 Next place coat the bottom of the pan evenly with banana slices.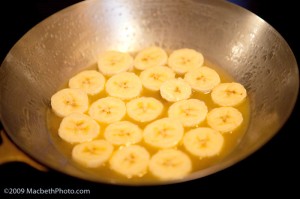 Then cover your bananas with the chopped pecans.  I think I went a little nuts with the nuts.  That looks like a little more than a 1/2 cup in my hands.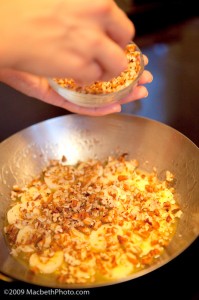 Next pour your pancake batter on top of the nuts and bananas and cook for about 5 minutes on the stove top.  Then add to your oven for about 45 minutes or until a toothpick inserted comes out clean.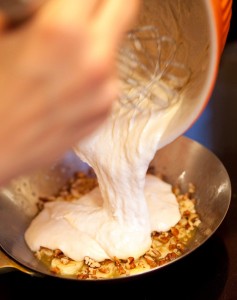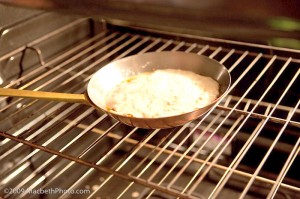 Let cool.  Then invert onto a large platter or plate and enjoy!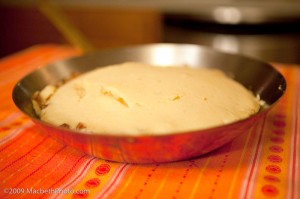 I smothered mine in more syrup, and then let it soak up the syrup for another 5 minutes.  As you can imagine that made it incredible moist and really … really … sweet.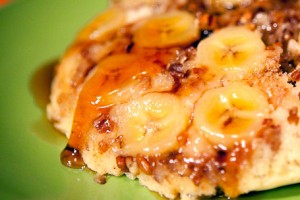 My neighbors Jim & Ana came over for dinner and I served up some of this left over pancake with vanilla ice cream on the side.  Jim said it reminded him of a clafoutis, which is a French term for basically "fruit and batter."  Well, it may be.  If you want to get all fancy schancy.  But really it is just a simple and easy recipe to make.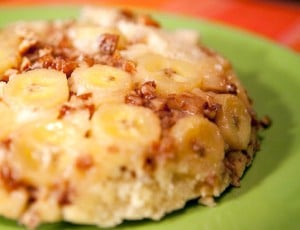 C.W. Worth House Bed & Breakfast
Banana-Pecan Upside Down Pancake
Ingredients
1 stick butter
1 Cup Maple Syrup
2-3 bananas
1/2 Cup chopped toasted pecans
1 recipe of your favorite pancake mix
1 teaspoon pure vanilla extract
Directions
1) Preheat oven to 350 degrees
2) In heavy cast iron skillet, over low heat, melt 1 stick of butter and brush the sides of the skillet with the butter using a pastry brush.
3) Then add 1 cup of Maple syrup and remove from heat.
4) Slice 3 to 4 bananas evenly to completely cover the bottom of the pan.  Sprinkle chopped toasted pecans over that.
5) Mix up pancake mix and add vanilla.
6) Pour batter slowly over the bananas/nuts and let sit for 5 to 10 minutes.  Then bake in oven for 45 minutes or until cake tester comes out clean.
7) Let cool, then invert on large platter or rimmed cookie sheet and serve.
###