If you follow us on social media, it's no secret that we love coffee.  Whether we're fueling up on caffeine at home, or getting our java fix while traveling, here are some of our favorite coffee items in The Travel Bite's Coffee Lover's Gift Guide.

Go Away Morning Mug

Isn't this precisely how you feel in the morning?  I know we can't begin the day until we've had at least one full cup of coffee.  Find it on Amazon.com.
Osaka Double-Walled French Press
The smooth taste of French Press style coffee is our favorite, and the double-walled glass of this press helps keep coffee warm longer than a regular press.  Plus, the wood top makes it look classy and is perfect for entertaining.  Find it on Amazon.com.

Haflinger Women's Coffee Slippers
A pair of slippers are a classic gift, but only if they're cute.  And these are adorable.  Snuggle up to your favorite cup of joe in the morning while also keeping your toes cozy in a pair of these coffee slippers.  Available at Nordstroms and Amazon.com.
Caffeine Molecule Men's T-Shirt
The slippers above are cute, so I can't leave the guys out when it comes to coffee-wear.  Pete has this caffeine molecule t-shirt and I'm totally jealous of it.  Available at Amazon.com.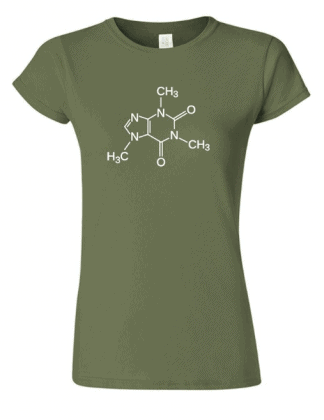 Caffeine Molecule Women's T-Shirt
Because I loved Pete's t-shirt so much, I found one for me.  Blind the morning with science!  😉  Available at Amazon.com.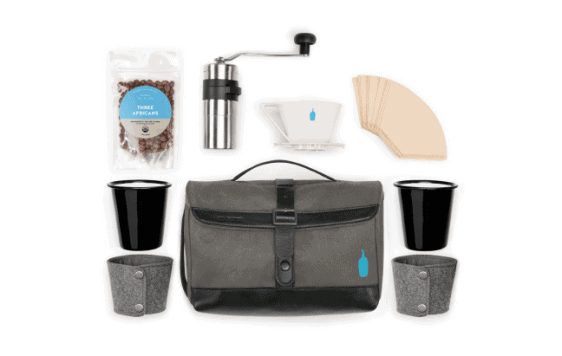 Timbuk2 & Blue Bottle Coffee Weekender Coffee Travel Kit
The ultimate coffee lovers gift for those who travel.  Never drink crappy hotel coffee again with this slick travel back filled with a travel coffee grinder, Bonmac travel dripper, filters, tumblers, and coffee.  Available at BlueBottleCoffee.com.
SAECO Philips Espresso Machine
Want to make the perfect brew at home?  We love our Philips Saeco Espresso Machine.  It grinds the beans and steams up the perfect cup of espresso or an Americano.  One of my Italian friends said I made a better espresso than the coffee shops I took him to in my hometown when he visited us, so that's about the best testimonial I can give.  Available at Amazon.com.
If you're not quite ready to make the commitment to go with the Saeco, the Ninja Coffee Bar is a new and popular gourmet coffee maker this season.  I haven't personally tried it out just yet, but some friends have and they loved making different drinks with it.  Available at Target or Amazon.com.
PS: The links included above are affiliates, which means if you buy it, The Travel Bite gets some cash money. Thank you for supporting our coffee addition. 😉
Want to save this for future reference?  Pin it! 🙂