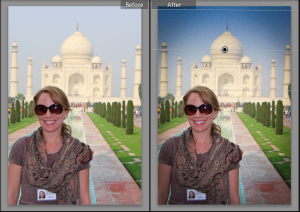 What New Year resolutions do you have for "Lucky 2013?"  One of my annual traditions is to clean out old files and get organized for the new year.  Since I travel so much, my photo files have been fattening up and I've been procrastinating in sharing them since it feels so overwhelming to sort through.
One of the challenges I've always faced with photos is finding just the right picture for a post or a tweet.  For instance, during one of the Twitter chats I regularly participate in such as #NUTS or #TTOT, someone might ask, "What's the most beautiful sunset you've ever experienced?"  Well, I have hundreds of sunset photos from different trips over the span of a couple of years, how could I possibly find "the one" in a matter of seconds?  Last year, I thought I was clever in creating a set of desktop files for these types of photos and copying them to separate folders so that I could easily find them.  But that just junked up my storage as I then had two copies of each photo and it also took a lot of time since it was manually done.
Enter Lightroom 4 and their "Smart Collections" feature …
Over the holidays,  I've been having a ball learning the ins and outs this photo program, but this feature was a real epiphany.  When I first tried it out, it was as if a lightbulb went on above my head and I heard angels singing hallelujah.  (Of course, it was during the holidays so that could have been an entirely real experience with my iPod shuffling through Christmas music.)
Anyway, the "Smart Collections" feature allows me to create themed folders within Lightroom based on keywords I tag to the photos such as "sunsets, beaches, food, etc."  In the photo above, I was using the "paint can" to tag photos with the keyword "plane maps" so that I could pull all the map shots I took on the plane during my around-the-world trip.  This would otherwise be a daunting task to sort though the 22+ folders and 5,000+ photos to find just those pictures.
In addition to all the great organizational features, there's also the bonus of easy-to-use editing tools that allow me to tweak the colors and gradient of photos to make them jaw-droppingly perfect as well as a cool stacking feature which allows me to 'stack' photos that are similar so that my photo thumbnails are easy to sort through making editing less overwhelming.
The only downside to the program is actually a positive thing — there are so many useful tools that you do have to invest a little time in learning them.  I took a class at a local art school, but getting up and running is a piece of cake and there are so many online tutorials that you can learn new features at your own pace.
In fact, creativeLIVE is hosting a free online workshop for Lightroom later this month.  Adobe also has a great library of videos, including one specifically for travel photography.
Want to get your own copy of Lightroom 4 to organize your photos for 2013?  One lucky commenter below will be randomly selected 1-13-13.  Just answer the following question in your comment:
What's your new year's photography resolution?
**THIS GIVEAWAY HAS ENDED AND A WINNER SELECTED**
**Disclosure:  Adobe sent me a free copy of Lightroom 4 to review, but all thoughts and observations are my own.