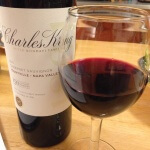 If you enjoy wine, but the thought of navigating the aisles in a wine shop or asking a restaurant Sommelier a question seems to intimidate you, then I highly encourage you to sign up for a wine class.  Not only will you feel more confident in choosing wine on a menu, but you'll also learn a fascinating array of trivia and will be inspired to visit new destinations that are off the beaten path.
When people ask me what I love most about wine, I think it's the merging of so many fascinating subjects.  You see, wine isn't merely about food pairings and fancy labeling, it's centuries-old stories of breathtaking landscapes and the families that nurtured them, dramatic tales of overcoming hardships, and loads of experimentation.  It's part history and part science.  Part agriculture and part geography.
Now, I'm no expert.  Not even close.  But I enjoy the never-ending journey of learning and curiosity is an insatiable thirst.  I've got quite a few wine books on my shelves – unfortunately all of them collecting dust because I'm on-the-go all the time.  Since one of my bucket list goals this year was to learn more about wine, and the amount of information on the subject can be a bit overwhelming, I decided to dive into studying one region at a time, starting with California.
I'm happy to report that I recently completed (and passed!) the 9 week California Wine Appellation Specialist program with San Francisco Wine School.  It was great taking a class online because A) it eliminated my excuse of a busy travel schedule preventing me from sticking to a routine since I could study at my own pace and B) it held me accountable since there were quizes and assignments due each week.
For two whole months I was immersed in California wine country, tapping into my weekly lessons on my iPad and learning about the characteristics of over 100 AVAs.  (Yes, there's much more to California than Napa and Sonoma.)
"The discovery of a wine is of greater moment than the discovery of a constellation. The universe is too full of stars."

― Benjamin Franklin, circa 1700s
Our weekly lessons involved tasting assignments (tough homework, I know), online lectures that were both informative and captivating, and lively group discussions.  I have to say, the class discussions were a fun social aspect that I wasn't expecting and it was great to get the perspectives of wine experts as well as local insight from classmates that lived in California.
Intrigued?  If you've want to learn more about wine, then I encourage you to give San Francisco Wine School a try.  It's online, at your own pace, and fall is a great time of year to get into the spirit of the harvest and immerse yourself in wine-speak.  Plus, the school has generously offered a discount code to my readers for $100 off any class.   Check out their full list of classes at SanFranciscoWineSchool.com and simply type in "SIP100" when you register and $100 will automatically be deducted.
Discount Code:  SIP100