I love to let my taste buds lead me to unique destinations when traveling.  Because of this, I did a lot of walking around in Vancouver.  And I do mean A LOT of walking around.  Between Tweeted suggestions and just following yummy scents, I discovered a bunch of local foodie favorites including a fresh farmer's market, a French bakery, artisan chocolates, uniquely flavored Sea-to-Sky salts, birch syrup, Japadogs and izakaya.
Take a peak below to discover my top recommended eats in Vancouver …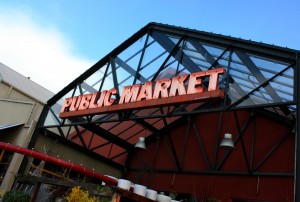 Granville Island Market This large farmer's market is world renowned for their selection of fresh local produce, flowers, artisan chocolates, cheeses and more.  Enjoy a fresh baked chocolate almond croissant at La Baguette et l'Echalote and savor a cup of locally roasted coffee while strolling through the aisles of tempting treats; watch artists at work and take in views of the marina along Broker's Bay and False Creek.
Here you can pick up some locally-inspired culinary souvenirs such as tangy birch syrup.  Just don't get the birch syrup confused with maple, it upsets the locals!  Check out their website at GranvilleIsland.com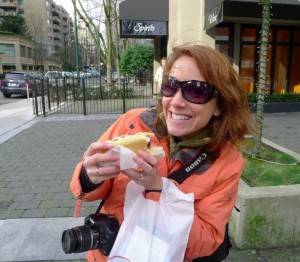 JapaDog
This is one of those bizarre local foods that you must try – a Japanese style hot dog.  Vancouver is known for amazing sushi and Japanese food, but this is one experience you can't try at home.  The menu consists of bratwurst and Kobe beef dogs with a Japanese flair. Anything from tame selections such as miso-mayonnaise to dogs filled with edamame, topped with seaweed and drizzled in plum sauce.  A truly unique street vendor experience.  Grab a bite and accompany their "publicity and famous person" list that includes Anthony Bourdain and Samantha Brown.  Find their street corner locations on their website at JapaDog.com or Tweet with them @Japadog
Located downtown at the Four Seasons, this is where locals come to relax, unwind and mingle.  Their bar mixologists are pretty creative with the drink selections and their dessert tapas is worth the extra calories.  One tapas selection I recommend in particular is their Liquid Mango Ravioli, Exotic Fruit Consomme.  It looks like an egg, but is smooth and sweet.  Visit during Wine Down Sundays for 50% off their fabulous wine selection and stay for an extraordinary dinner.  Tweet with Yew at
@FSVancouver
Kingyo Izakaya
The first couple times I heard Canadian friends suggest this, I kept asking, "is-a-what?"  Izakaya is a casual Japanese style of dining similar to tapas or finger foods.   A Travel & Leisure favorite, Kingyo Izakaya was also personally recommended to me by Edible Canada.  This is one of those hidden gems that you'd only find through a local.  Acid jazz melodies permeate through an intimately lit but lively environment as the staff and sushi chef greet everyone with an exuberant cheer as soon as they walk through the door.  I recommend tasting the Kobe Beef & Duck Bibimbap and the Grilled Saikyo Miso Black Cod for which they are famous. For libations, celebrate with a Granville Island Sake and top the night off with rose lychee liquor oolong mint tea.  Find them on Twitter @KINGYO_IZAKAYA and like them on their Facebook page.
Edible Canada The tag line for this company says it all, "Sight Seeing Through Your Tastebuds."  Edible BC is a sort of culinary travel concierge.  They offer a multitude of foodie experiences from multi-course interactive chef dinners to gourmet kayaking and camping tours with meals prepared using locally sourced foods.  With tweets like … "2nite's dinner ends w mascarpone, zucchini & choc brownies w Almond Butter Crunch & espresso-chocolate ganache. OMG. YUM. wish u were here," you know you are in for a treat!  Tweet with them @EdibleCanada