This post is done in partnership with RueBaeRue
I confess. Each time I hear news about a new travel app, I can't help but roll my eyes. There seems to be at least a half dozen 'new and exciting' travel apps each week that end up doing not much more than taking up precious data space on my phone. But when my friend, Ana (known across the internet at Mrs. O Around The World) told me about RueBaeRue, I paid attention as Ana is not someone who allows her time to be wasted.
I downloaded the app and started tinkering around with it, and honestly, I'm impressed.  RueBaeRue is a trip planner that helps travelers put together an itinerary based on their interests, from visiting museums to exploring the outdoors.
Since we had a trip coming up to San Francisco, I used RueBaRue to help me plan an itinerary.  Here's what I discovered: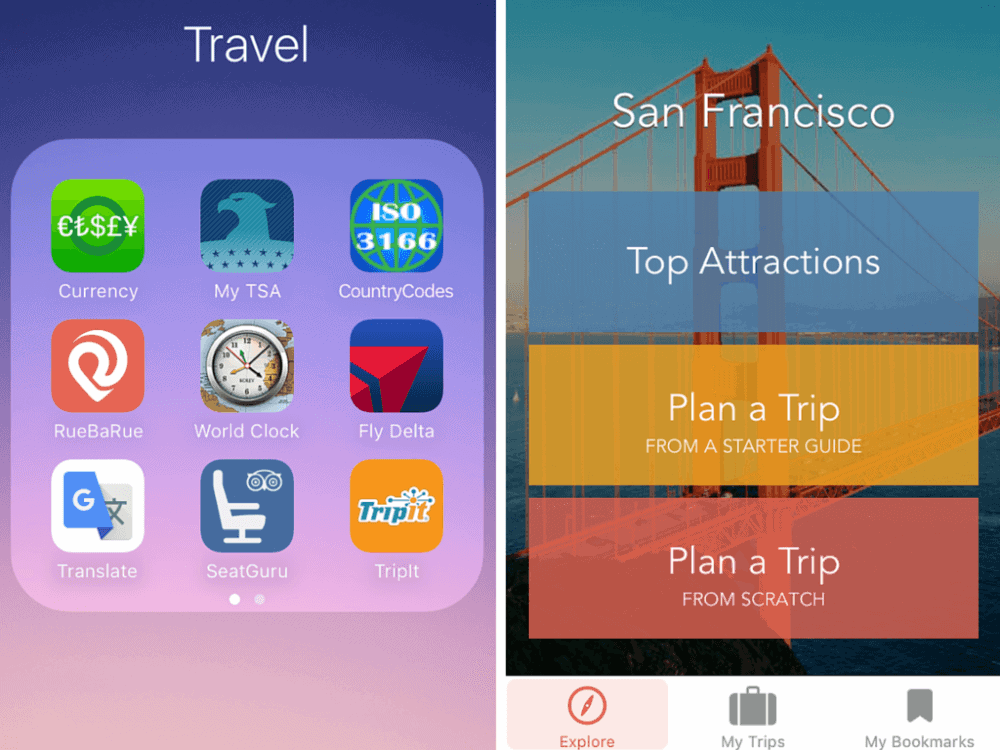 My Favorite Features
I frequently use the app, TripIt, for pulling together my flight, hotel, and rental car information all into one location. But RueBaRue is more for the fun stuff, the activities and must-see sites once you've already arrived in a destination.  It allows you to set the pace of your itinerary (slow, medium, fast) and will make suggestions based on your interests (i.e. Outdoors, Art Lovers, Architecture, etc).  Dates and times are completely customizable, and you're able to browse ideas, book mark them, and add them later.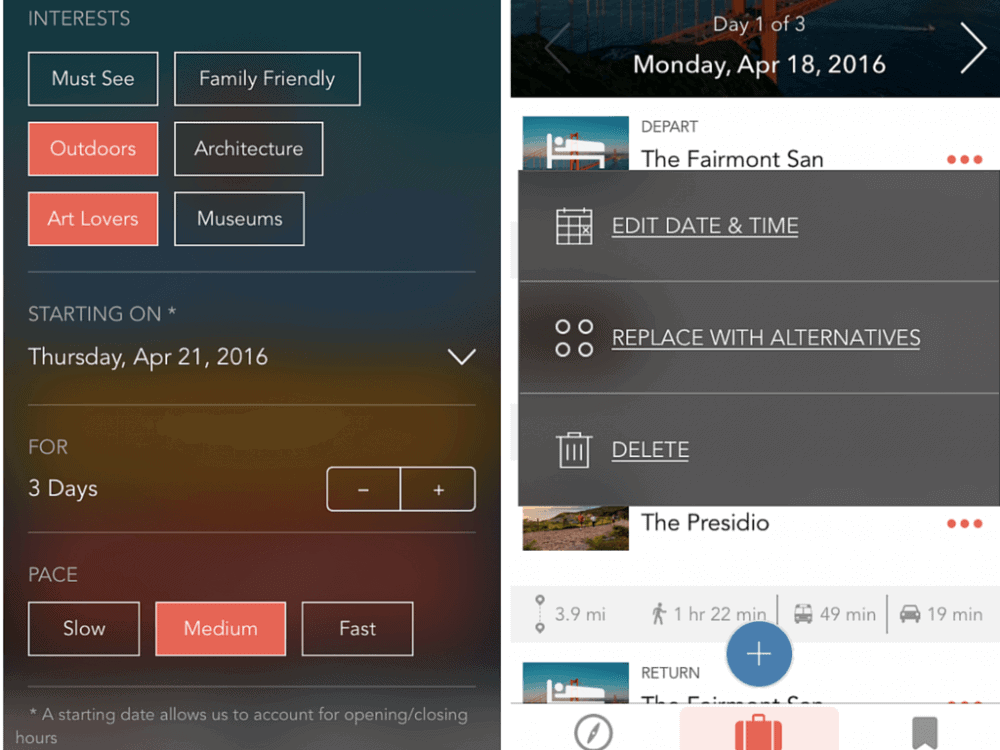 Once I had a basic itinerary for San Francisco in place, I noticed what I believe to be one of the best features of the app — time management.  One of the biggest mistakes I see when it comes to trip planning is over-scheduling and not leaving any buffer for the travel time it takes to go between activites. RueBaRue solves this problem by adding in the time it takes to get places (with options for walking, taking public transportation, or Uber) and it will add a warning notification if there isn't enough time scheduled or if something overlaps.  It's my favorite feature of the app.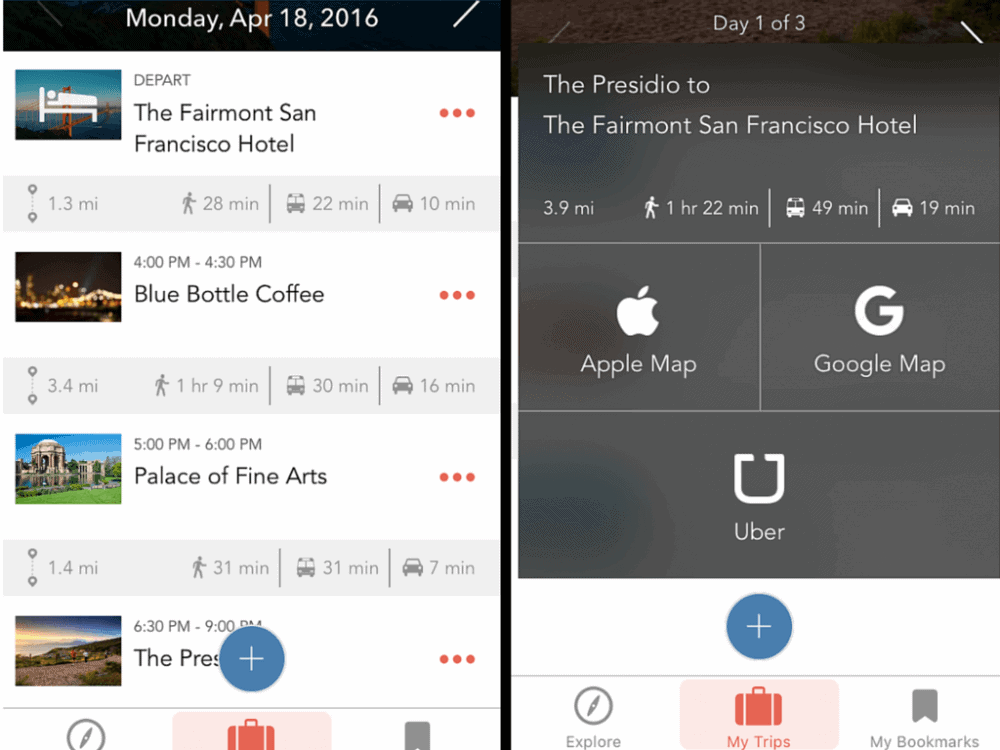 What Could Be Improved
While RueBaEure includes suggestions for all the top sight seeing spots, where it seems to be lacking is in restaurant suggestions.  I am a foodie, after all. 😉
I know that San Francisco has a reputation for great coffee houses, so I searched for "best coffee houses in San Francisco" on my computer to help choose which ones we wanted to visit.  Once I made a decision, I searched for the coffee house name within the RueBaRue app and was able to easily add it to our itinerary.  All of the locations  came up!   So, it's quite easy to add extra stops to your trip.  But I do wish RueBaRue would make the top suggestion based on location, pointing out the places closest to our hotel or our last itinearry stop.  It took me a couple tries (and eventually opening up Google maps) to add the coffee bar that was closest to our last point in the itinerary.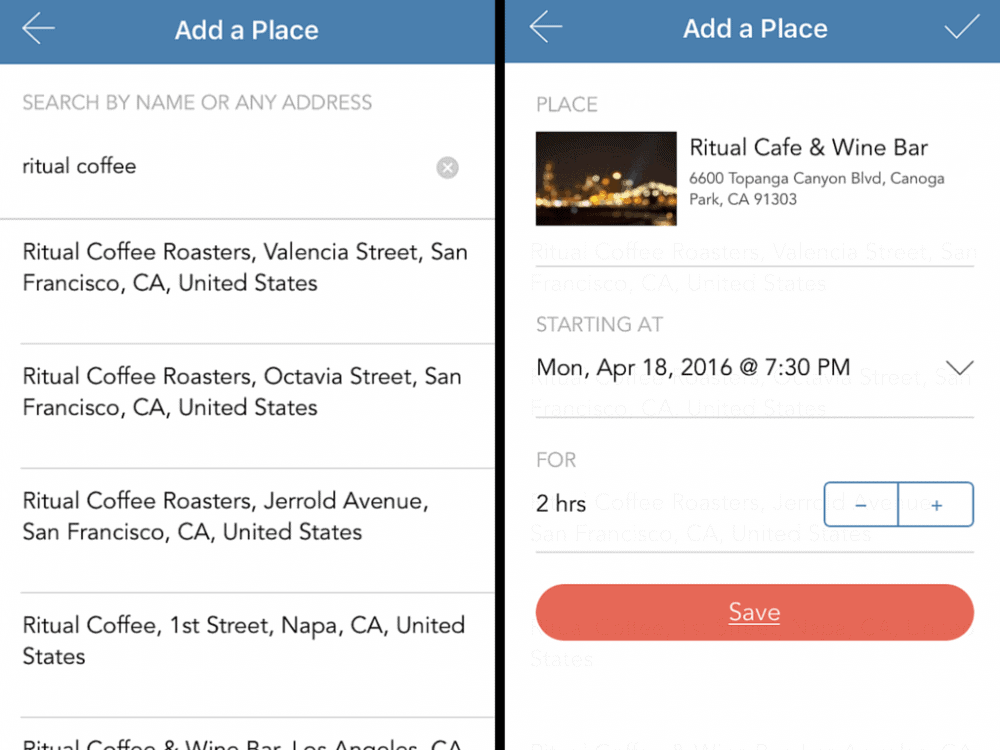 So here's a tip, when planning your trip, it's best to have the RueBaeRue app open on your phone with your computer in front of you to search for recommendations of anything you have a special interest in, such as restaurants, coffee shops, or wine.  Once you've narrowed down your selection, you can easily add it to your itinerary in RueBaRue.  They do a great job curating all the top sight-seeing locations, museums, and parks, but you'll need to manually add any off-the-beathen path or lesser-known suggestions you might receive from travelers.  Thankfully, it's pretty easy to add them.
Since RueBaRue is still relatively new, I expect to see some exciting new features and improvements added throughout the year.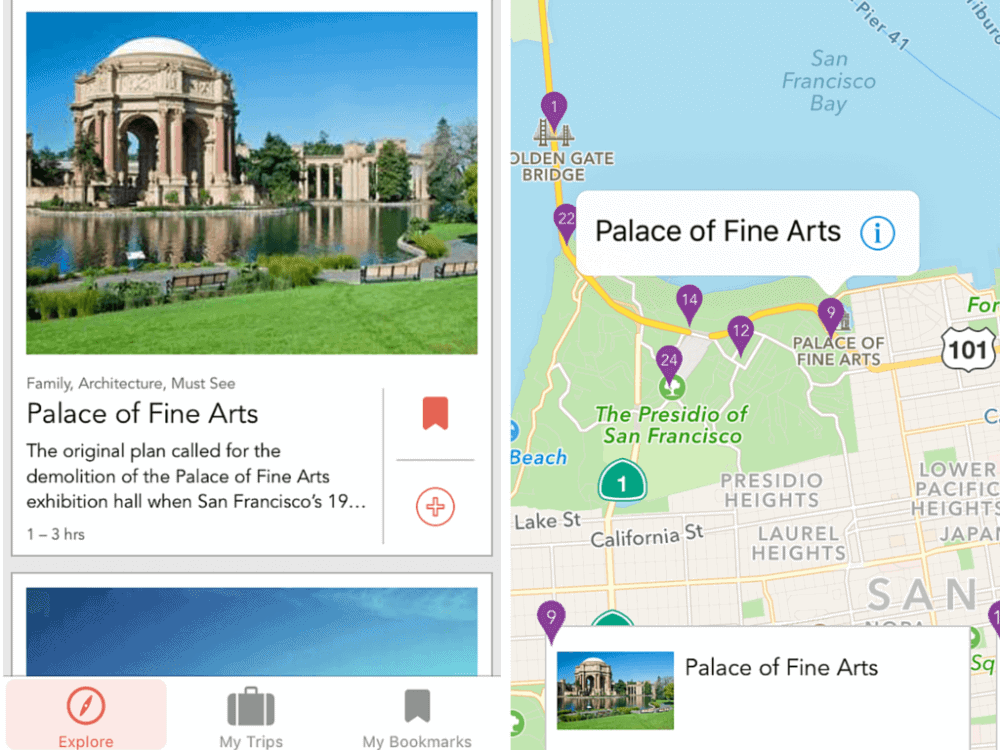 Overall
Once you have your itineary set, RueBaRue is definitely a great on-the-ground guide to help you find your way around the city.  What RueBaRue does best is help you plan out your day, make sure you have sufficient time to see all the things you want to see, and assists you in finding your way there through detailed maps for walking or ordering a ride through Uber.
RueBaRue is FREE to download in the app store, so why not give it a try when trip planning and use it to set up your itinerary.  In French, Rue Ba means, "street basics" or "good streets," and RueBaRue definitely does a great job at giving you all the street basics you need to find your way around a new city and plan enough time to see everything on your bucket list.
Disclosure:  I was compensated for this review of the RueBaRue App.  However, the company has not seen my review prior to publishing and all thoughts and opinions are entirely my own.