Thought I'd re-post a summer favorite. It's been so hot I found myself searching my own blog to make this sweet refreshing yummy Nutella goodness … a hazelnut gelato recipe with step-by-step photo instructions.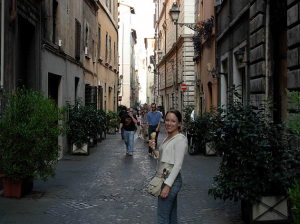 Walking through the streets of Rome, it's easy to get lost.  The roads twist and turn through moments of history and before you know it you've made a complete circle and ended up right back in the middle of the same piazza you started.  A map doesn't really help since none of the roads are parallel.  Quite frankly, I didn't really want to have my nose glued to a map and preferred just staying in the moment and taking in all the sights and sounds I could.  Lost or not.  It can either be frustrating, or a curious journey as you discover unique places not included on any top 10 lists.
"Half the fun of the travel is the aesthetic of lostness." -by Ray Bradbury
Personally, I found my way through Rome by using gelato stands as landmarks.  The one pictured below, Gelataria de Teatro, was off the beaten path and rather secluded.  I stumbled upon it while trying to find my way back up to my b&b near the Vatican.  Thankfully, all the walking I did prevented me from bringing home extra weight around my waist as a souvenir.  The one flavor I really missed when I came back home was hazelnut.  It's nutty flavor reminds me of the common European breakfast of nutella slathered croissants and small shots of espresso.  Try it at home with my recipe below.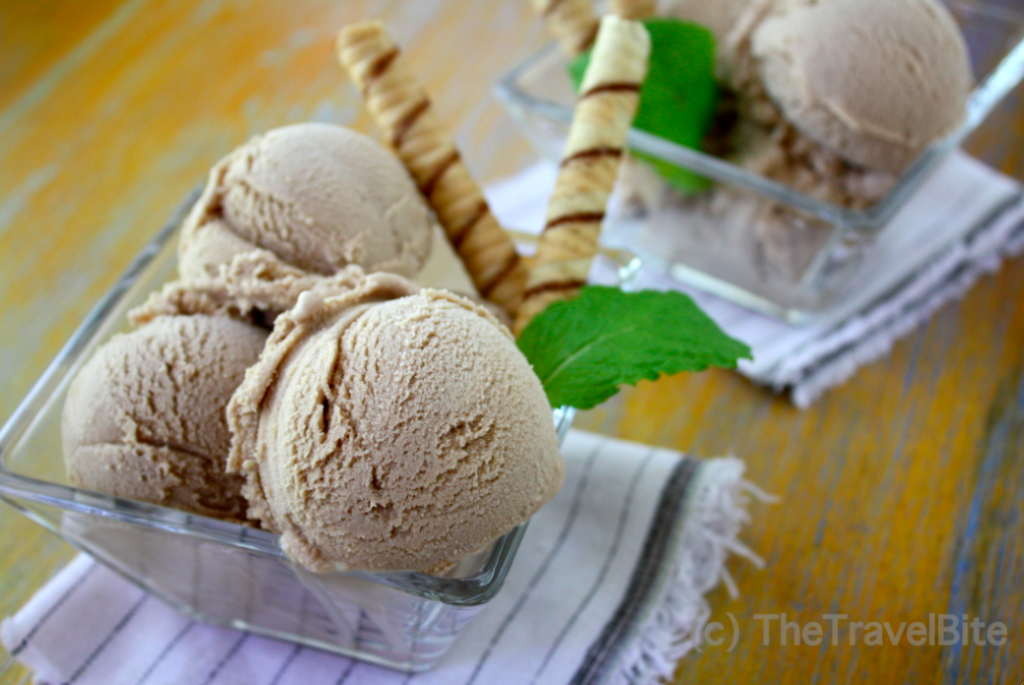 Step-By-Step How To Make Gelato Photos
I'm a visual person that sometimes skips reading directions.  If you're that kind of creative-type too, then here is a set of step-by-step photos that follow the recipe above so you can make the perfect nutella gelato at home.
First, start with yummy ingredients …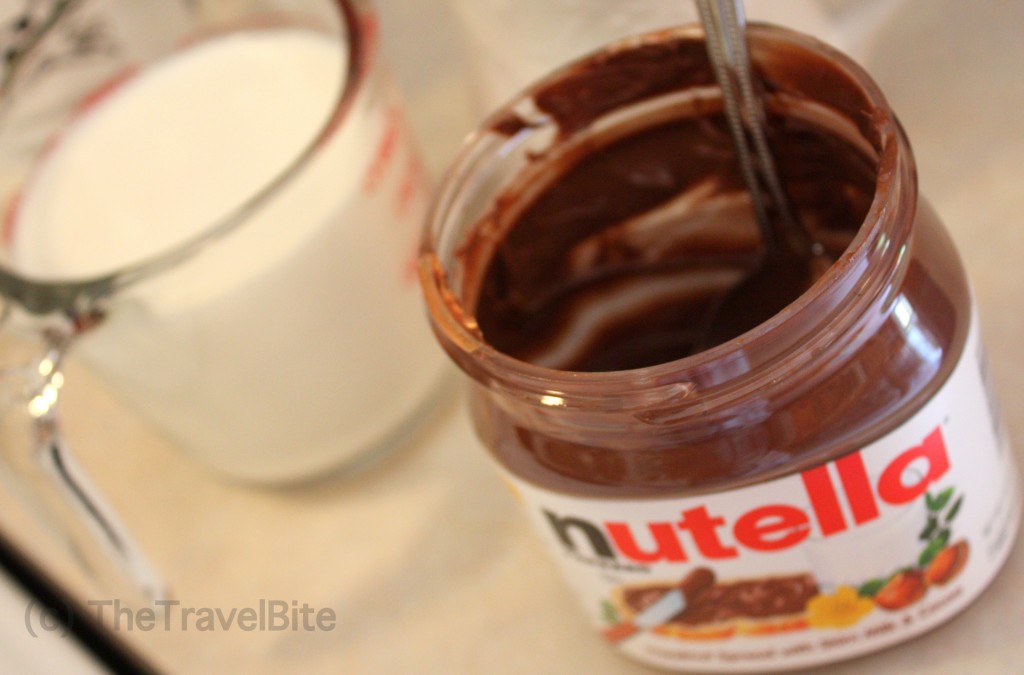 My "secret" to making the texture soft and creamy is to bring the eggs to room temperature.  If you want to save time, add them to a bowl of hot water.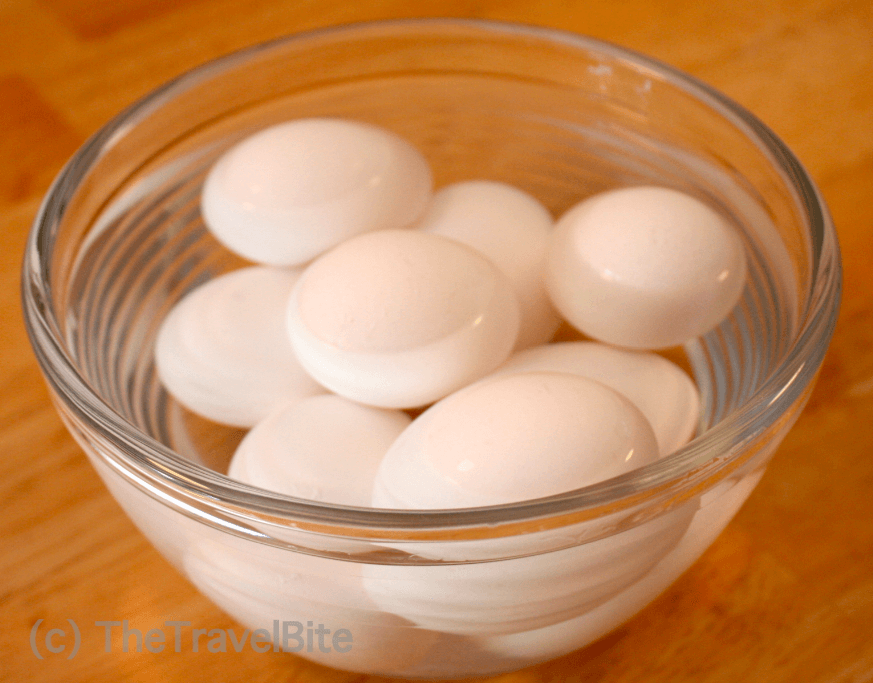 Separate the yolks into a bowl.  Making egg white omelets later will have you feeling less guilty while eating a whole pint of delicious gelato.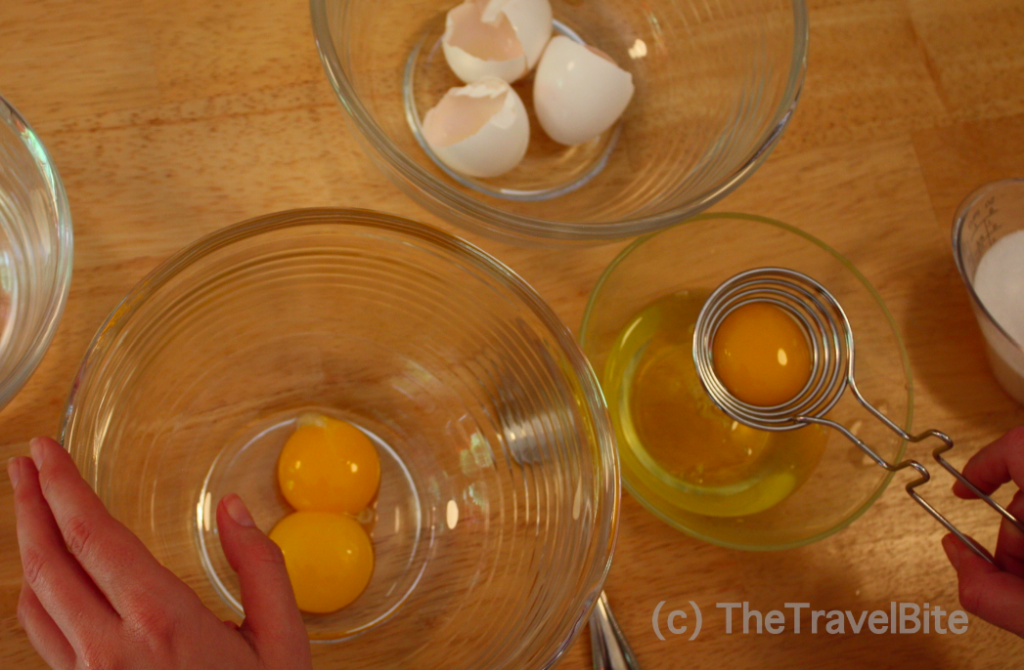 Use a fork to whisk together the yolks and sugar.  Otherwise, the mixture will get crumpled up in a standard whisk utensil.  Make sure to stir briskly until the color has turned a light yellow and is similar to the texture of frosting.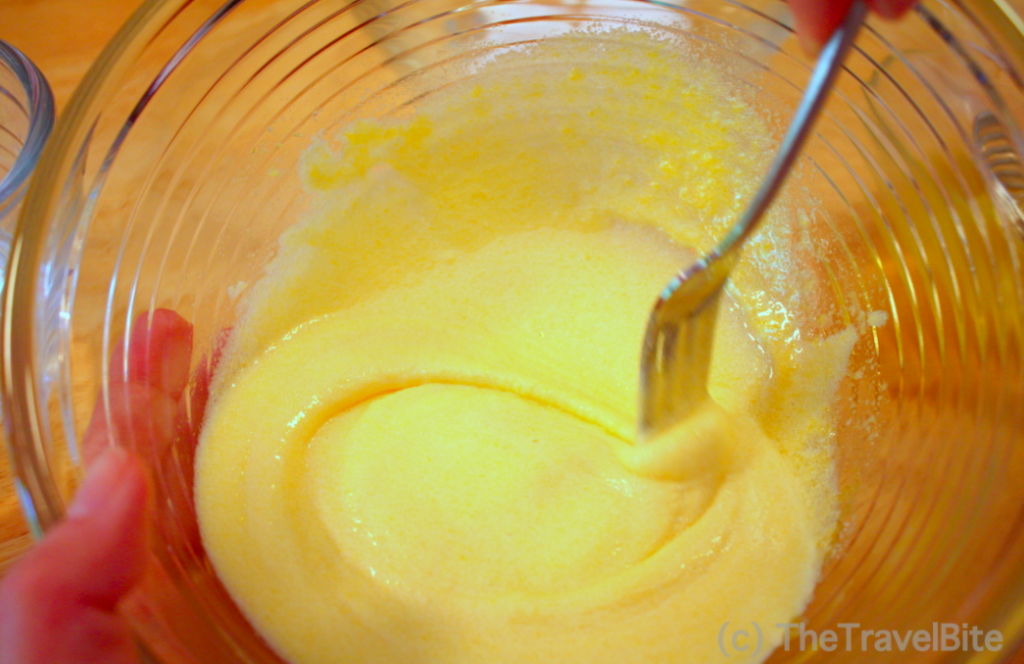 Heat the milk and cream at a low to medium temperature while you're whisking the egg yolks.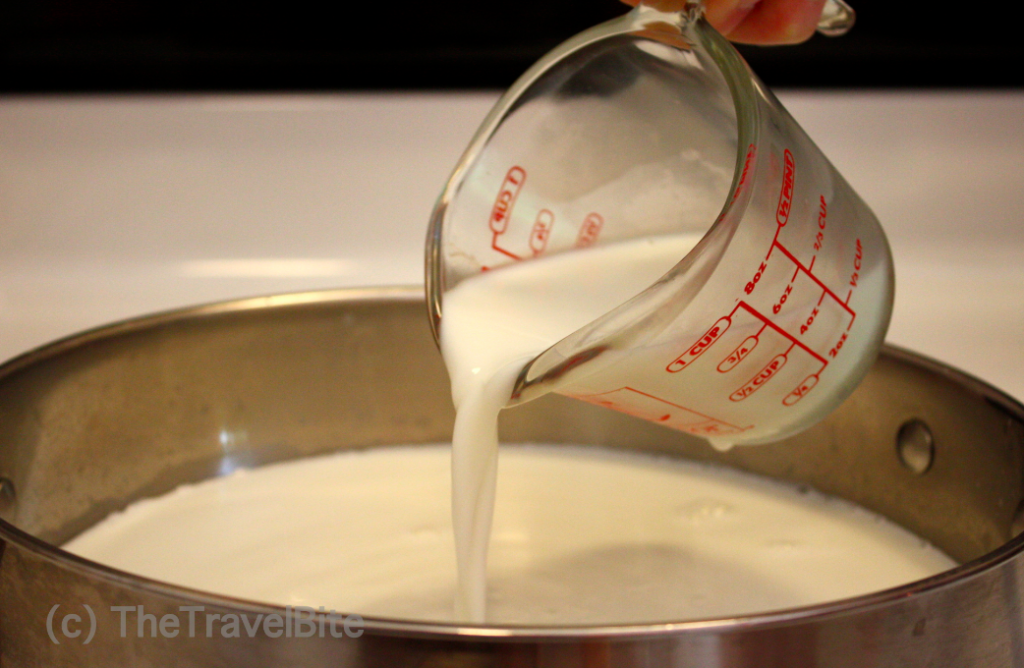 Add the egg yolk and sugar mixture to the milk and cream.  Whisk together in pan until well blended.  Don't turn the heat too high … otherwise you might end up with really sweet scrambled eggs.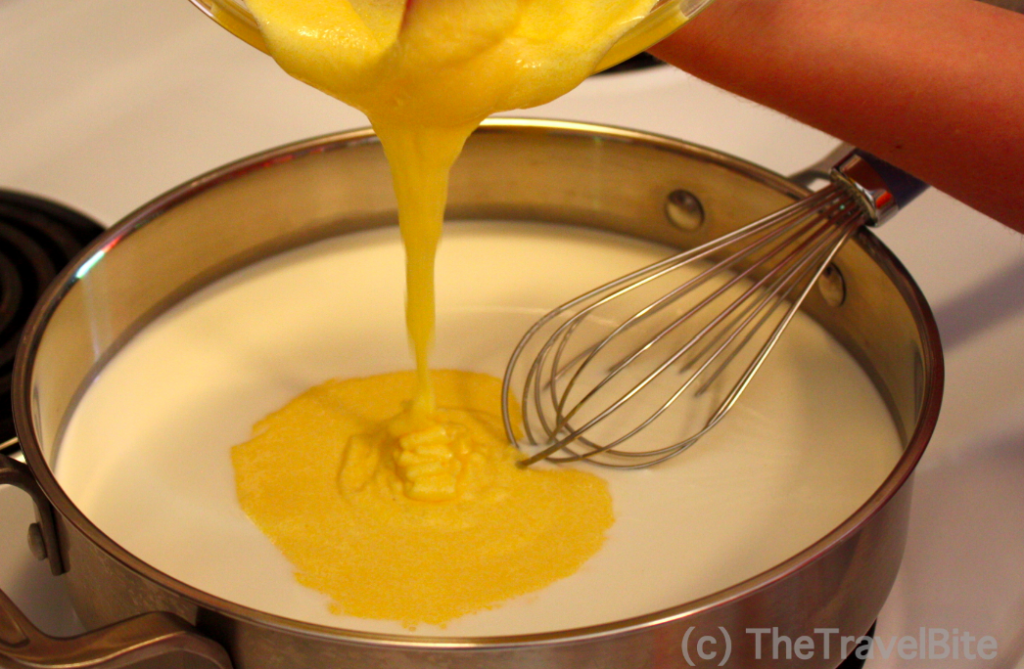 Add the Nutella.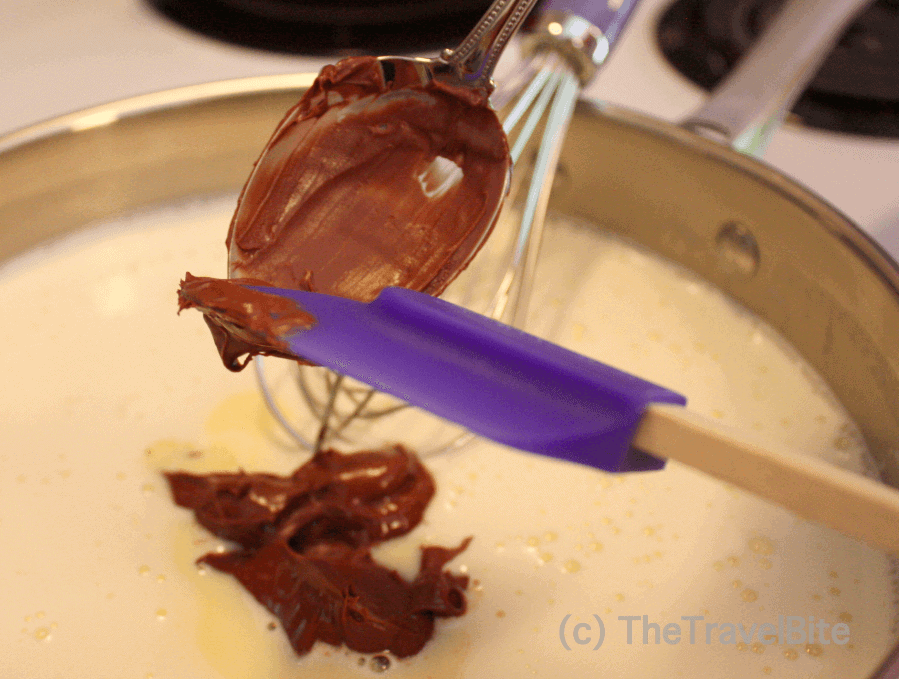 If there is left over Nutella on the spoon … don't waste it.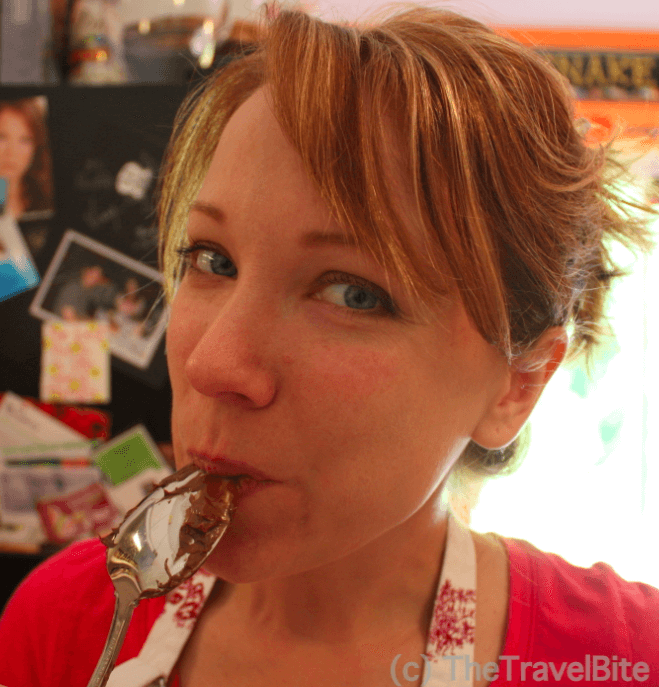 Once the mixture thickens (about 5 minutes of whisking while on heat) … pour into a bowl through a sieve.  That will filter out any solid bits of milk, egg or Nutella.  Cover the bowl and chill in the refrigerator for a minimum of 4 hours or overnight.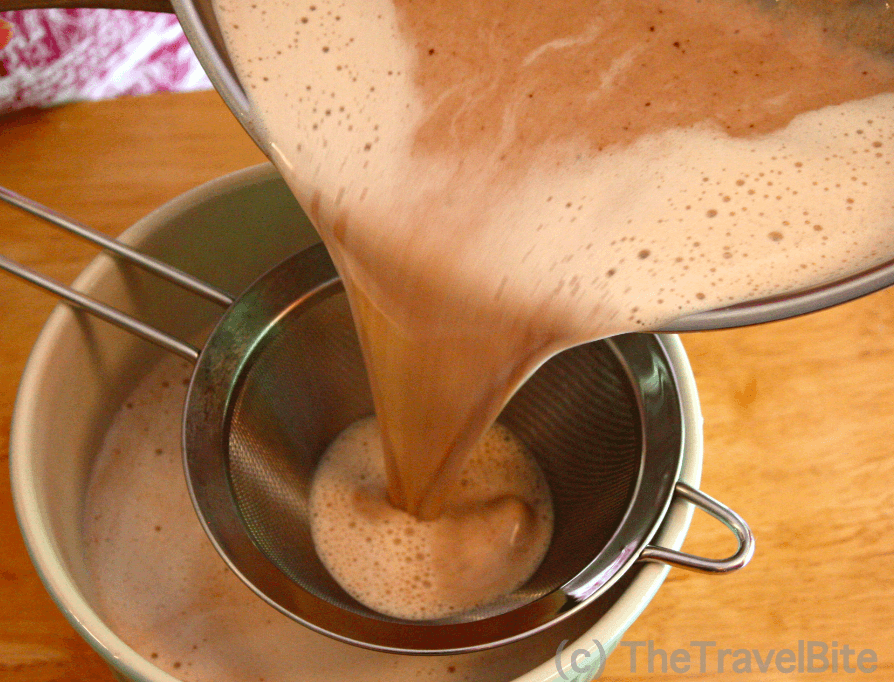 Next, add to your ice cream maker and follow directions according to the manufacturer.  When finished, spoon into a container and freeze.  (I this photo below is actually a batch of lemon basil gelato that I made.)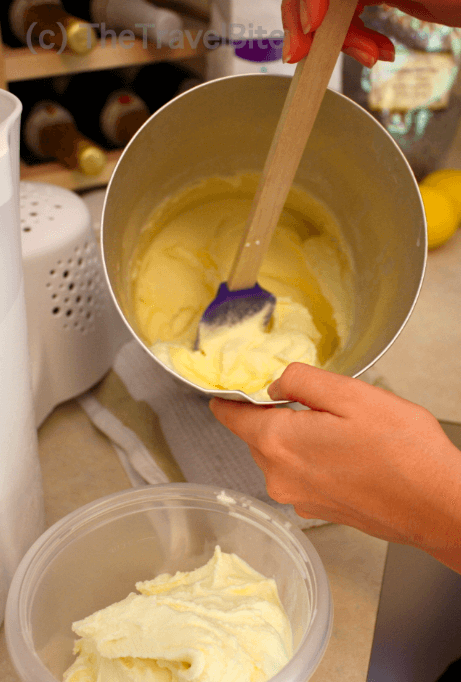 Scoop and serve!  The gelato will harden a bit in the freezer, but it is still a softer consistency than ice cream.  Enjoy!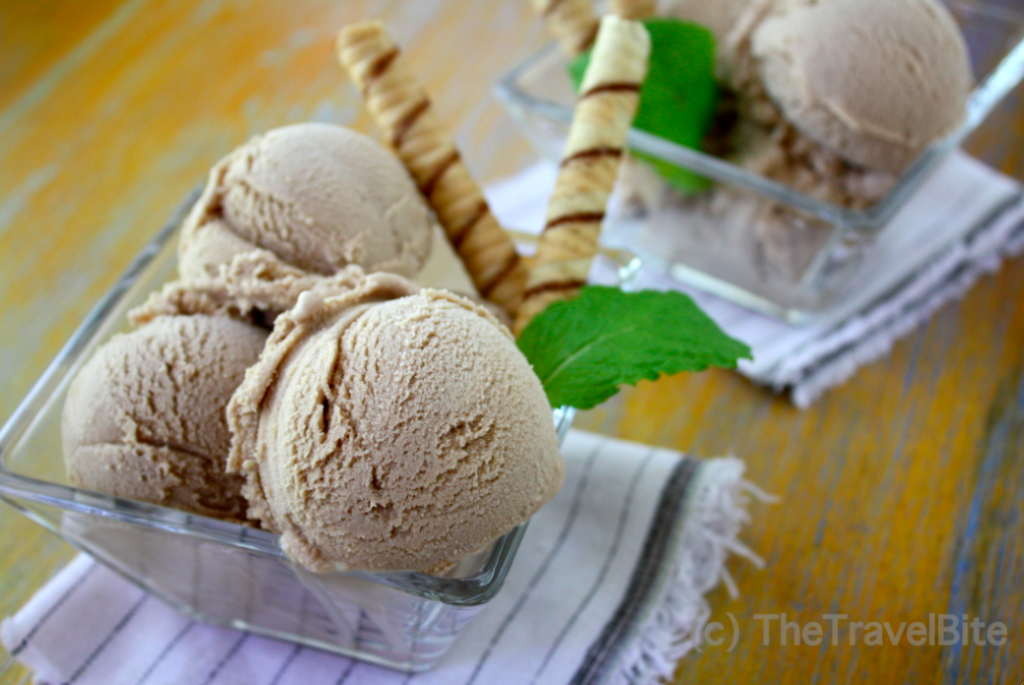 Hazelnut Gelato Recipe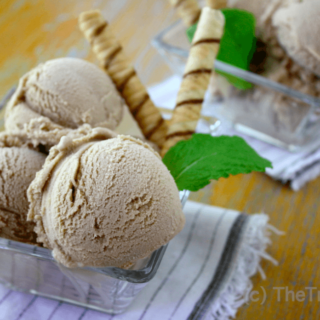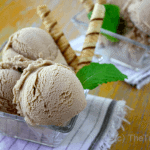 Hazelnut Gelato Recipe
---
Author:

Prep Time:

20 mins

Cook Time:

20 mins

Total Time:

40 mins

Yield:

8

1

x
Scale
Ingredients
2 1/2 cup

s whole milk

1/2 cup

heavy cream

4

egg yolks (brought to room temperature)

3/4 cup

sugar

1 1/2 Tbsp

Nutella
---
Instructions
Using a fork, whisk together egg yolks and sugar in a medium-sized bowl until the volume doubles (becomes frothy) and the color becomes a light yellow. Set aside.
Add the milk and cream to a medium saucepan on low-to-medium heat. Blend the milk and cream by slowly mixing using a wooden spoon or whisk until a foam forms around the edges.
Next, add the egg and sugar mixture to the saucepan with milk and cream. Continually stir until well blended and the mixture coats the back of a wooden spoon. Add the Nutella. Lick your spoon.
Pour the mixture through a sieve or fine strainer into a bowl. This will remove any solid pieces of egg and create a more smooth even texture. Cover and chill the gelato mixture for a minimum of four hours or let it set overnight in the refrigerator.
Finally, add the gelato mixture to an ice cream maker and freeze according to the manufacturer's instructions. Serve straight from the ice cream maker or spoon into a container, cover and freeze.
Makes 1 pint
---
###