I've been tweeting breakfast and coffee with @DanaMoos since Twitter first launched.  And now my longtime Twitter friend and innkeeper, Dana Moos, has published a cookbook including all the recipes that made me drool on my keyboard as I read her tweets about them.
Her book, The Art Of Breakfast, has delicious dishes such as ricotta, butternut squash and zucchini crepes with sage brown butter … and classic malted Belgian waffles with Grand Marnier maple syrup, toasted coconut, macadamia nuts and fresh whipped cream.
Hungry yet?
She also includes great tips for side dishes, garnishes and sample menus to help you create a fabulous inn-style gourmet breakfast at home.  You can find the book here, from Down East Books.
I even have a little teaser here for you, Maine Blueberry and White Chocolate Chip Cookies.  They're meant to be a great snack, but their soft cake-like texture made them a tasty grab-and-go breakfast for me last week.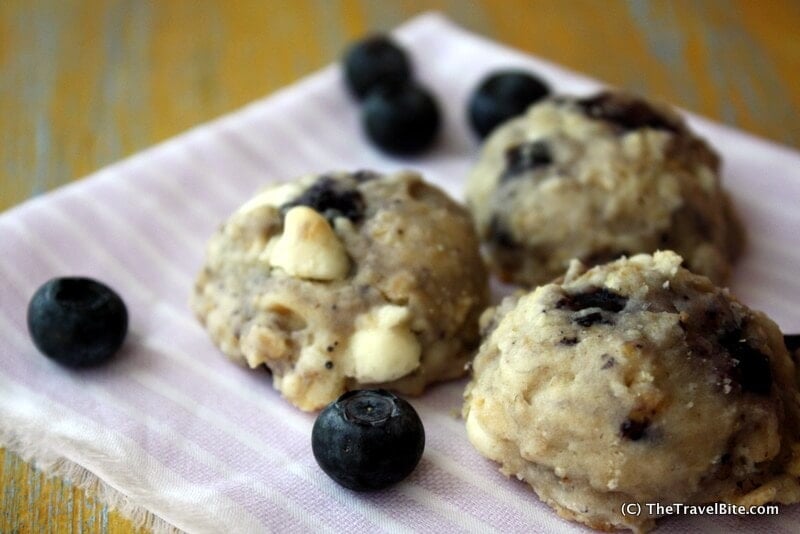 Blueberry White Chocolate Chip Cookies
These are a soft, moist, almost muffin-like cookies made with the addition of sour cream. The short story and inspiration behind this cookie? It was the result of a blueberry sour cream coffee cake gone bad. Stuck to the pan so bad that it didn't even
resemble a cake! The next try was in the form of these individual cookies, which was far more successful.
Makes about 36 cookies

Ingredients
1 stick unsalted butter, softened
¾ cup sour cream
⅓ cup granulated sugar
¾ cup packed brown sugar
1 egg
½ teaspoon baking soda
½ teaspoon baking powder
1 tablespoon vanilla extract
¼ teaspoon salt
1 cup medium-cut oats (not quick cooking)
2 cups flour
1 cup white chocolate chips
1 cup fresh Maine blueberries (if frozen, allow to thaw and drain)
Directions
1. Preheat the oven to 350 degrees.
2. In a mixing bowl, combine the butter, sour cream, and sugars and beat on medium speed until well blended. Add the egg and mix until smooth.
3. Add baking soda, baking powder, vanilla, and salt to the mixture and combine.
4. Fold in the oats, then the flour and mix until just blended.  Fold in the white chocolate chips and the blueberries.
5. Drop rounded tablespoons of dough onto a parchment- or silicone-lined baking sheet about 2 inches apart. Bake for 10 to 12 minutes, until puffed and barely dry to the touch. Try not to allow the cookies to brown.