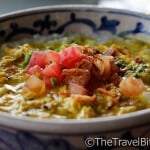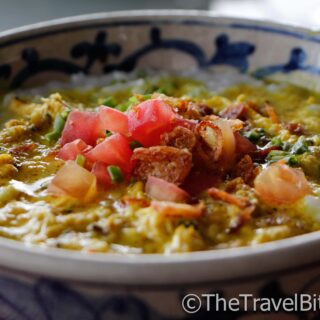 Wild Ginger Sauce a condiment that goes with a traditional Balinese Breakfast Recipe, Burbur Ayam.  It's also a fantastic marinade for chicken or pork if you'd like to add a little Balinese flavor to another recipe.
| | | |
| --- | --- | --- |
| Recipe: Wild Ginger Sauce "Suna Cekuh" | | Print |
Prep time:
Cook time:
Total time:
Ingredients
¼ Cup chopped shallot
¾ Cup chopped garlic
⅓ Cup wild ginger
2 tsp hot chili
1½ Tbsp galangal (optional)
½ tsp crushed black peppercorn
1½ Tbsp chopped fresh tumeric
Instructions
Heat up 1 - 2 Tbsp of oil in a pan.
Add all ingredients listed above and stir just until they're aromatic, but not cooked through.
Add mixture to a food processor and blend until it becomes a paste.
Place back into a shallow pan and bring to a boil. Remove from stove and let it cool down.
Mix the wild ginger sauce with salt, pepper, and lime juice for seasoning.