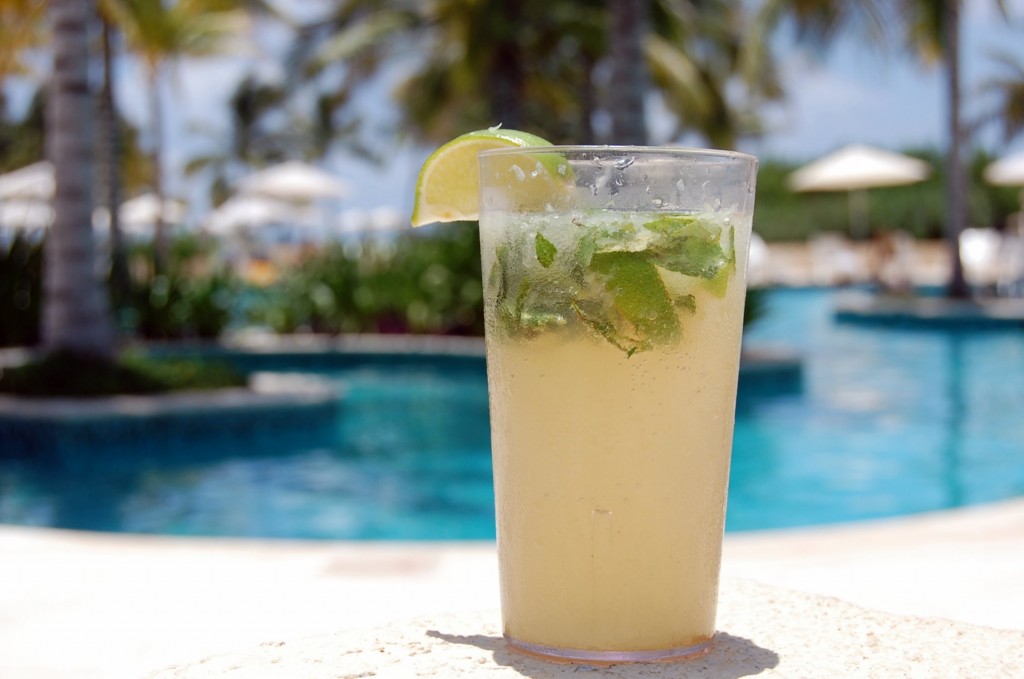 When you daydream about a Caribbean vacation … what do you envision?  Warm breezes … swaying palm trees … blue water … and an ice cold tasty beverage!  Similar to the picture above, right?  But you're probably thinking, "Where's the paper umbrella?"
The Mai Tai and Pina Colada have certainly earned a reputation for being the preferred poolside drink, but I tend to go for a bit more brisk and refreshing liquid treat, such as a mojito. Which is why I was excited to learn that Hacienda Tres Rios had a signature drink with a unique twist to the typical sweet and minty flavor of my favorite beach beverage.  Replace the rum and mint with the local Native flavor of fresh crushed basil leaves and tequila … and you have a Tequilajito.
I'm not usually a fan of tequila (bad college-year experiences with the lime and salt), but after a recent weekend retreat in Mexico that included a proper tequila tasting (see @SoloTraveler's article) , an adventurous culinary adventure with bugs (ever try a cricket?), and this tequilajito recipe … I now really enjoy this blue agave–based spirit … in moderation, of course.
One morning, Chef Oscar gave us a behind the scenes tour of the kitchen at Hacienda Tres Rios and afterward led us out to his garden where he grows all his own fresh herbs, peppers and spices.  I don't have a green thumb, but I was certainly green with envy.  I wish I had a garden.  But I travel too much and plants don't water themselves.
After taking in the savory scents of fresh rosemary, oregano and basil, we followed Chef Oscar to the grill by the pool where he made us some pre-lunch tequilajitos with the fresh basil I watch him pick with his own hands.  From garden to grill … eh uhm … see how I'm trying to justify my alcoholic beverage before noon?  It's 5 o'clock somewhere, right?
So I guess I've outgrown my anit-tequila college days.  When in Mexico … do as the locals do.  And the locals drink tequila.

Rachelle & Kay with www.LocoGringo.com
Tequilajito
Ingredients
2 1/3 ounces lime juice
8 fresh basil leaves
3 brown sugar packets (about 3 tbsp)
1 1/2 ounces tequila
grapefruit soda
Directions
In a tall glass, add the basil, lime and sugar and crush them together with a spoon or pestle.
Add ice, tequila and grapefruit soda.
Garnish with lime and mint leaves.
Enjoy!
–Rachelle
a.k.a. @TravelBlggr
**Geek Note** I have several video cameras of various size.  A Sony v1u, a Sony SR11 HandyCam, and on this trip, a FlipCam.  What I LOVE about the flip cam is the size and convenience.  The software is a little elementary and the audio is just so-so … but the flip side (hehehe) of that is how quickly you can edit and upload something.  Mucho gracias to my friend Jim with MacBeth Photo.  I think he let me borrow his FlipCam a year ago  … and … uhm … it's still in my camera bag.  I'm loading it up with some great travel videos though!
###