By Kelsea Mullane
It feels like it was just Christmas Eve, but a few weeks ago my friends started talking about Spring Break. It's going to be here before we know it and we were talking about planning a cruise.  Now, I know what you're thinking … Have you not been reading the news? Or maybe you're wondering why we would ever want to go on a cruise after what happened to those stranded travelers with Carnival Cruise line.  Well, there is a two part answer to that question.  First, I don't think my friends saw the news when they started planning the trip.  And second, we're in college and the food is included (even if it does end up being onion and mayonnaise sandwiches.)
But really,  I don't know a lot about cruises seeing as I have never actually been on one.  But after they talked about it and  I started following the Carnival Cruise line story, I wanted to know more about them.  From what my friends have told me it seems like a fun and relatively inexpensive way to travel (if the engine doesn't explode and you don't end up stuck at sea).  I still wanted more details so decided to look more into it and I found an app that I think will be extremely helpful called iCruise.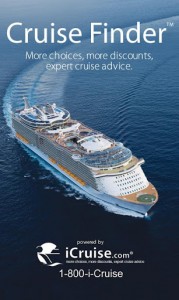 iCruise allows you to search for your perfect cruise from more than 220 ships on 20 cruise lines. You can choose from 25 destinations and more than 12,000 itineraries to help you plan your trip.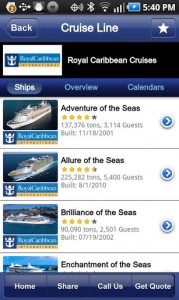 The app includes destinations such as Alaska, Bahamas, Europe, South Pacific and more on some of the most popular cruise lines such as Carnival, Royal Caribbean and Disney.
It includes photos and maps for each of the different cruise ships. In addition to pictures the app gives you information on room size and occupancy. You can also find dates and prices for your trip by requesting a quote directly from the app.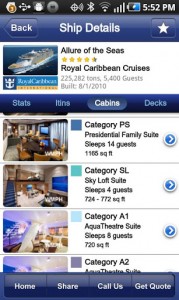 The iCruise app is great for planning trips on the go or when you get together with your friends. You can quickly pull up information to answer questions about price or itinerary.
iCruise is free for Android, iphone, ipad and ipod touch.
So I know we are all a little hesitant when it comes to cruises right now. But if you do want to travel the open seas you can use iCruise to plan your next cruise vacation. With iCruise, you cruise, we all cruise!
*photos from play.google.com