By Kelsea Mullane
When we were kids, field trips were always the best news. Growing up in Orlando, we had field trips to places like Animal Kingdom and Sea World. Teachers always planned on something educational, but we always made it fun. With the new Android App, Field Trip, you can have grown up field trips and discover new fun things around you.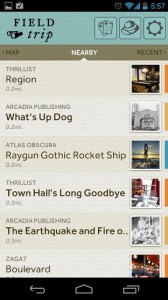 The Field Trip app can tell you a lot about the area that you are visiting. It runs on the back of your phone and pops up when you get near something interesting.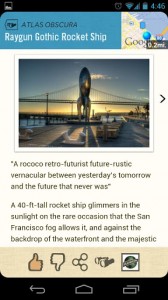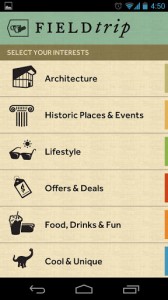 The Field Trip app has information about historical facts for different locations as well as the best places to shop and eat. Thousands of interesting places pop up under different categories including Food Drinks & Fun, Historical Events and Places, Deals and Offers and Movie Locations. The movie geek in me is really excited about that last one that gives you information about locations where different movies scenes were filmed when you are right by them!
Field Trip becomes attune to what you like to learn about through a thumbs up and thumbs down feature. You can use the Field Trip app on road trips and learn about the different sites you pass in the car.
You can also share what you learn with your friends on your favorite social network or via email.
The Field Trip App is available for free on Android phones .
So get out, take a field trip and explore the world around you!
*Photos from play.google.com