By Becky Merola
A letter to my old GPS:
Listen Google Maps, it's been a nice ride, but you and I both knew this wouldn't last forever. Things were good, and you got the job done but I'd be lying if I said I didn't think I was settling. Now something better has come along, and I think we really have something. It's called Waze . It's a better GPS and it just knows things about me you never thought to ask. It asks me about my job, tells me where the speed traps are and actually talks to me. You never talked to me GM, not even once. I'm sorry to have to do this, but I'm moving on. I hope we can still be friends, and I'll be sure to visit any time I need a building layout. But as far as my time on the road, I'll be riding with Waze. Thanks for the miles and the memories.
-B (and her iPhone)
Waze Guided Tour
I'd like to introduce you to Waze: a free, community-based traffic and navigation app. Also my new best friend. For as long as I've had my smart-phone I've been getting by on the standard GPS. Going from no GPS to this, I thought it was the greatest thing ever. I didn't know the world had so much more to offer.

Waze has the feel of a real GPS device, complete with the soothing lady voice telling you exactly when and where to turn. I'll be honest, I'm not that great of a driver. So anything that keeps my eyes on the road instead of darting down to my phone every 30 seconds is a welcome addition. Another thing I love about this app is that it encourages you not to type while driving. I would say it doesn't allow you, but of course you can circumvent that by lying and saying you're a passenger. I appreciate the effort though.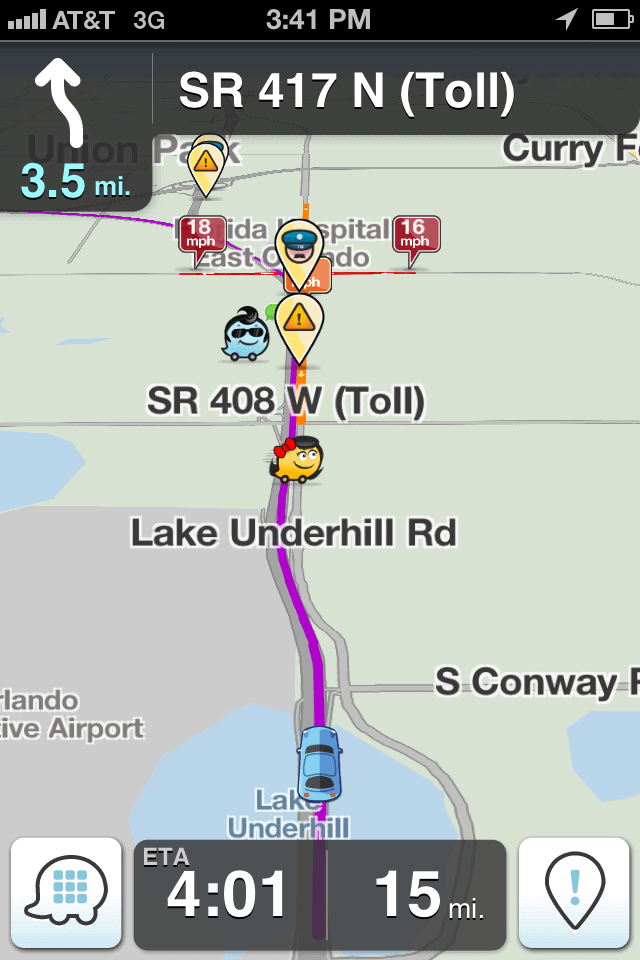 The map itself just looks much better than the flat nonsense I've grown accustomed to. It's much easier to navigate. There are options to save your home, work and other favorite spots. Making directions home from anywhere just a click away. Waze even remembers your preferred route, so it learns the best way to get you there.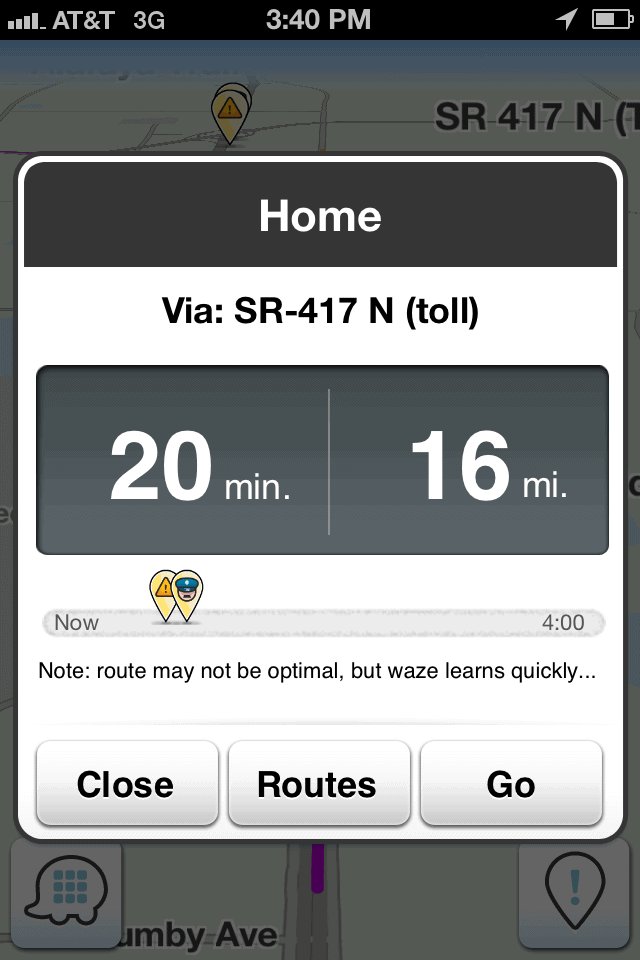 My above-all favorite thing about this app is the community aspect. Other Wazers alert you when they see police, construction zones, traffic and all those other road-rage inducing annoyances. You can enter them as you see them, or if you're driving simply mark it for later. Or you don't even have to enter the information yourself. Just have the app open while you drive and it senses how fast you are going.  It uses the information provided to provide the fastest route.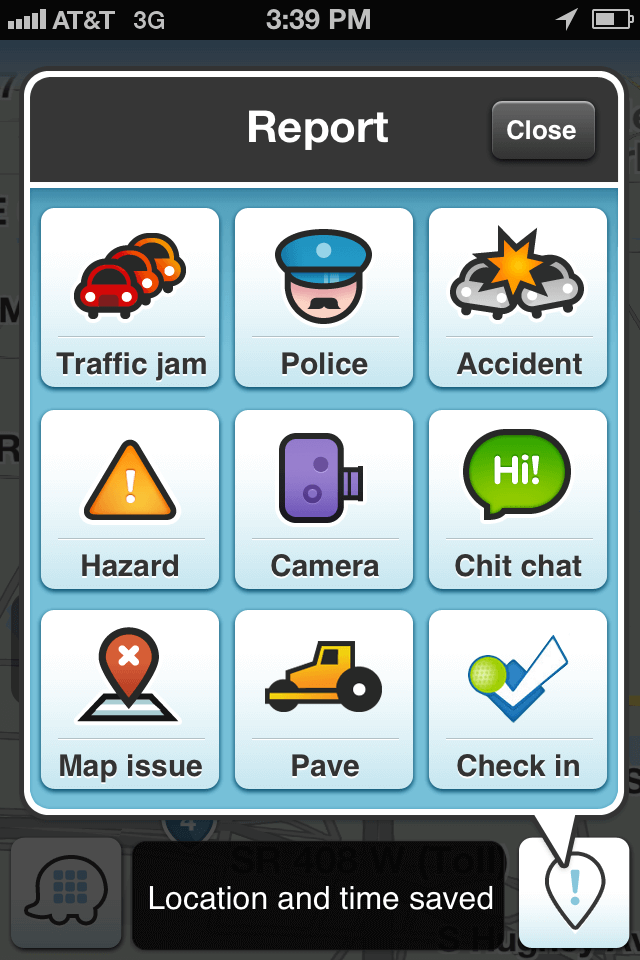 Waze links to Twitter, Foursquare and Facebook. There are also plenty of fun gamification features, including a scoreboard. The more you use the app and offer tips to others, the more points you get. I've always hated driving, but now it might actually be semi-enjoyable. Especially when I have a way to measure how much better I am at it than my friends (I'm looking at you, Melissa).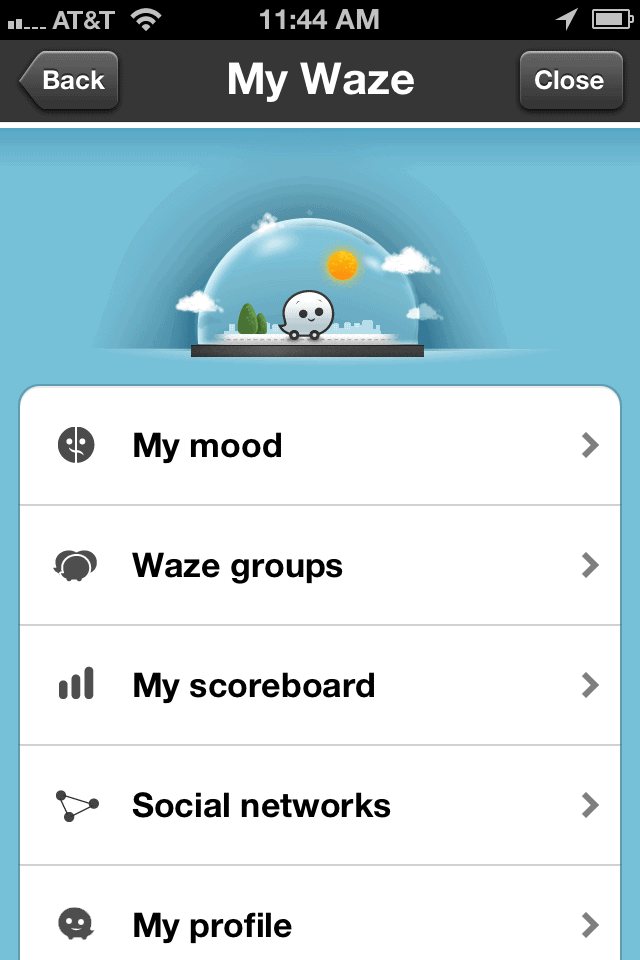 Since this is a user generated map, as more people use it, it will continue to get better. So go on and dump Google, feel free to use my form letter. Waze is the way.