For my American friends, s'mores need no introduction.  This sweet and sticky cookie sandwich made with graham crackers, chocolate, and roasted marshmallows is as American as apple pie and is enjoyed all year long. Whether cozied up by a camp fire or watching the sunset at a beach side fire pit … s'mores are simple and delicious fun.  Whenever I've described them to friends around the world, the reaction is always the same — curiosity and wonder.
Basic s'mores starts with three simple ingredients, a warm roasted marshmallow and chocolate square squished between two graham crackers.  But as an adult, I've been experimenting with more gourmet ingredients (including homemade marshmallows) and combinations.  So, next time you're ready to try some s'mores, here are 7 different variations to try.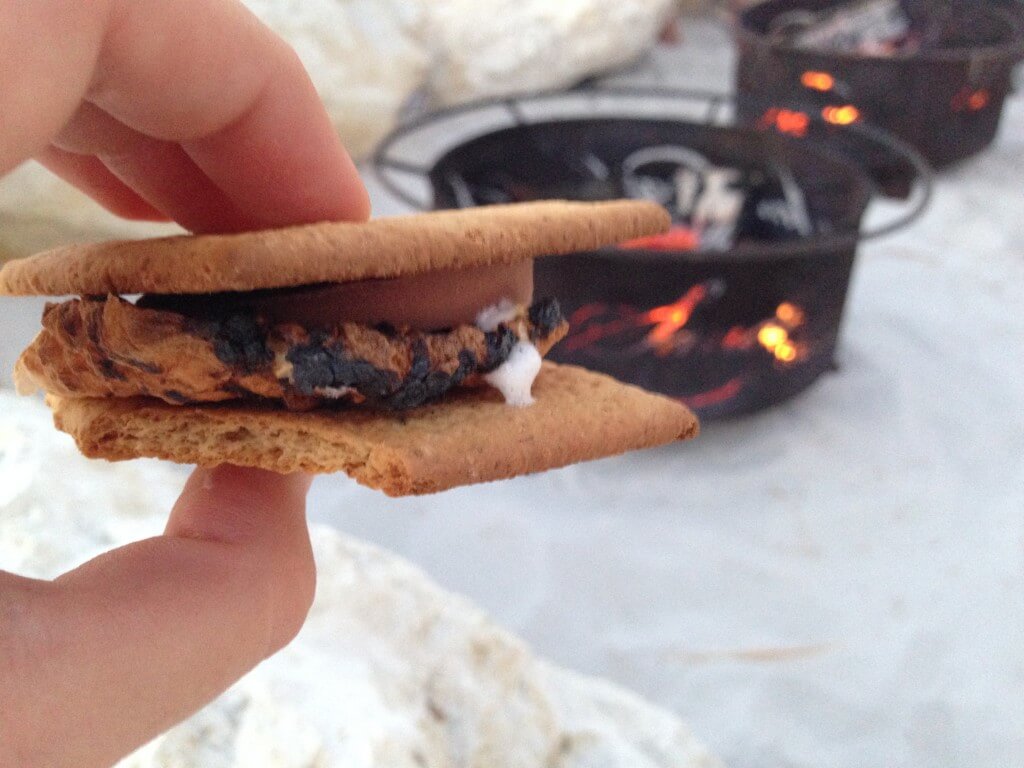 1.  Nutella S'mores
Nutella just makes everything even more awesome.  Instead of using a Hershey Bar or other type of chocolate square, smear some Nutella on that graham cracker for an extra pow in flavor.
2.  Peep S'mores
I haven't tried this one yet, but friends tell me that the sugar caramelizes into a sweet candy crunch that makes this like the creme brulee of s'mores.  They had me at creme brulee.
3.  Peanut Butter S'mores
Like Nutella, peanut butter is another magical schmear ingredient.  Add peanut butter to melted marshmallow and chocolate and it becomes an eye roller of a dessert.
4.  Chocolate Chip Cookie S'mores
Swap out traditional graham crackers for homemade chocolate chip cookies to make it a gooey marshmallow cookie sandwich.  If you really want to go overboard, smear Nutella on one cookie and peanut butter on the other cookie.  I think I'd pass out at the awesomeness of it all.
5.  Sophisticated S'mores
These are similar to the chocolate chip cookie s'mores, but with Pepperidge Farm Milanos instead.   There's several variations of Milanos including Mint Milanos and Orange Milanos, so you could really have a multi-flavor Sophisticated S'mores party.
6.  Swedish S'mores
A friend and fellow travel blogger, Jen with Jdombstravels.com, posted that while she and her husband were camping in Sweden, they made s'mores using the only thing they found available … gingerbread cookies!  Now that's a creative fall flavor twist if I ever heard one!  Gingerbread cookies people!!!
7.  Fire-Free S'mores
No fire pit?  No problem!  Make any of these S'more recipes using spreadable Fluffer Nutter marshmallow fluff (or homemade marshmallows before they've gelled) and you can have the same delicious sticky and sweet marshmallow experience, just without the yummy burnt marshmallow crust.