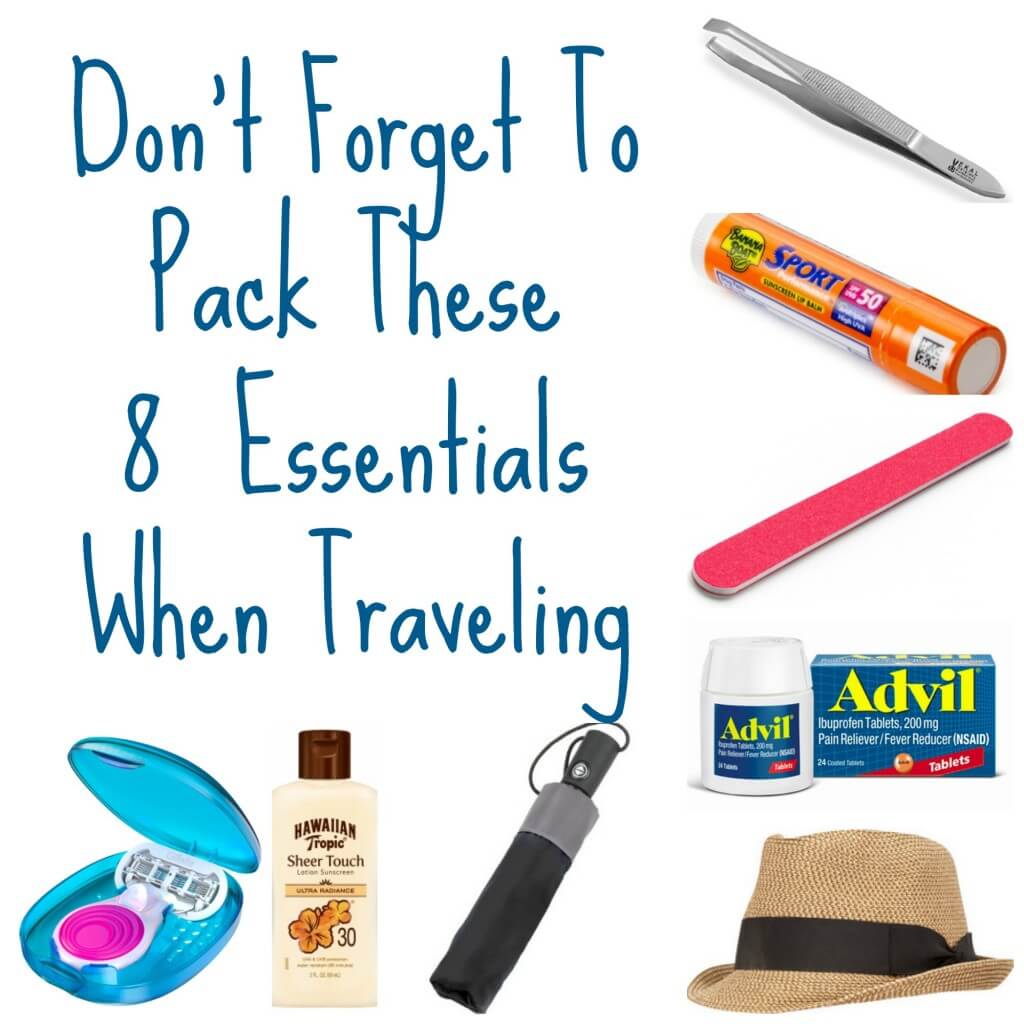 Over this last year of heavy traveling, I've left each of these things at home at least once and been gouged by tourist-prices at the hotel sundry shop.  Never again.  I've since followed Samantha Brown's advice of keeping two of each — one that stays home and one that is always stashed away in my luggage ready for the next trip.  Some of the items are kind of girlie, but guys, I know you'll be asking your lady friends to borrow one of these next time you get a wicked hangnail, have a jet-lagged induced headache, or get a lobster-red burn because you forgot to pack some sunscreen.
So here they are, eight essentials I "use to" always forget to pack.
1 – Tweezers
As small as they are, just keep an extra one stowed away in your bag somewhere.  They're not only useful for when you have unruly eyebrows, but they're a handy first aid tool for things like removing splinters.
2 – Razors
This one is easy to forget since it's usually hidden away in the shower.  I can't tell you how many times I've forgotten to pack a razor.  In some counties, the local grocer doesn't carry them so you'll have to go on an expedition just to find the darn things.  I once paid 8 Euro for a razor in Croatia, and recently in London I walked a mile with my friend Katie just to find a cheap bag of two-bladers that are notorious for razor burn and cuts.  Since it was chilly outside, I just wore long pants and went home with a forest growing on my legs.  So do yourself a favor now, pack a second razor in your luggage and store it there for your next trip.  They even make the awesome multi-blade ones now in compact form, like the Venus Snap Razor.
3 – Umbrella
These are good for an unexpected rainy day and shade for when you're sight-seeing.  The "travel" ones are typically flimsy, cheaply made, and fall apart after one use.  I'd recommend investing in a sturdy one that is also compact and just keep in your luggage for travel.  I have a Totes Auto Open/Close Compact Umbrella that I've had for years and love.  I forgot it once and ended spending way too much on a cheapy one (only available in leopard print, no doubt) in a tourist shop.  It didn't even survive the day before it ended up broken and in a trash can.
4 – Nail File
I know, this one seems simple and kind of vain.  But if you've ever broken a nail carrying your luggage or had a wicked hang nail develop because your hands are dried out from overusing hand sanitizer, you'll understand why this is an essential.  Most luxury hotels will have a little one of these stashed in the amenities kit in the bathroom.  I now have these things tucked away in nearly every bag, purse, carry-on, I own.  They're so small and flat I usually forget it's there until I need it.
5 – Ibuprofen
This is another one that is simple and easy to take for granted.  If you have a brand that you use and love, just get a second pack to carry in your luggage at all times.  Nothing ruins a good time like an excruciating headache.  Plus, if you're doing a bunch of activities that your body isn't used to, this will help alleviate your sore muscles the next morning.
6  – Hat
When sight seeing, shade from the sun is essential.  Hotels, airports, and tourist shops always have hats for sale, but they're either cheaply made, exorbitantly expensive, and most times they are both.  When ever I come back from a trip, I throw my fedora and a ball cap in my carry on luggage so that way I remember to bring it again next time.  I forgot it once, and that's when I ended up buying that expensive one-use umbrella mentioned above.
7 – Sunscreen
When there's not much room in your clear quart-sized baggie for more liquids, this tends to get left behind.  But like the hats and umbrellas, it's one that you'll pay a lot more for at the destination.  And you'll typically end up with a big bottle of it that luggage restrictions won't let you bring home.  I've been sent tons of samples, bought some on-the-go in languages I didn't understand, and tested out different varieties of sticks, creams, etc.  I hate the smell of sunscreen, so trust me when I say I've tried them all.  What I found that I like best is Hawaiian Tropic Sheer Touch since it has a pleasant smell and doesn't leave your skin sticky.  My husband and I picked some up at a shop in Costa Rica and loved it.  Now I just keep a stash of travel-sized ones.  Another sunscreen I love for travel is Mustela Sun Stick SPF 50.  Technically, it's made for babies with sensitive skin — but I love it because it's mineral-based, has a high spf for sensitive places like my face, and it's hypo-allergenic and water resistant.  It does go on a little white, but rubs in and becomes transparent on your skin without being sticky and without a funky chemical sunscreen smell.  I'm all about the smell.
8- Lip Balm … with sunscreen.
This is more travel-destination specific.  But I have to say, if you've ever been on the beach, snorkeling, or boating all day long … you will never forget this again.  There are tons of options out there.  Find one you like and buy two … one for at home and one for travel.  I tend to go for the ones that smell coconut-y since the scent helps me get in the groove for a beach vacay.
What item have you forgotten to pack for your travels? 
There are affiliate links in this article.  Since these items are exactly what I own and use, I'd be hard-pressed to say I don't endorse them!