When getting ready for a trip, do you ever wish you could travel light and get everything you need into a carry on bag?  Do you ever search for the ultimate packing list to help you plan?  This is something I'm asked about pretty frequently.  So, with the help of Round The World Experts, we created my ultimate packing list.  If my luggage were to pop open and all it's contents to splatter about across a white wall, this pic below is exactly what it'd look like. It's the real deal … a big 'ole picture of what's in my bag. I kinda feel like I'm letting you take a peek inside my closet here.  (Pardon me while I blush a little.)
Below the graphic, I have 3 ADDITIONAL TIPS for packing and only bringing two carry on bags.  Also, click on the items to read some of my tips and why I like to travel with that item.  There's also a link to where you can buy it (which helps support this website without any additional cost to you!)
1 – MY METHOD FOR PACKING LIGHT
There are somethings I can't get out of bringing (electronics, cords, etc), so for these, I try to go with something that is lightweight and multipurpose.  That travel adapter above has been around the world with me three time now, and I love it because it's useful in multiple countries and it has several outlets and a USB plug, so I can get almost everything charged up in one outlet.  I also organize all my chords and chargers in small make-up bags that zip shut since they have a waterproof lining and are typically in bright colors which makes them easy to find when digging around in a dark bag.  They're also a bit of a theft deterrent since it looks like a bag of toiletries instead of electronics.
As for clothes, I tend to pick things in neutral colors that I can mix and match to wear as different outfits multiple times (I know, some of the stuff above is pretty bright.  Click through for more color options like olive, grey, and beige). Thankfully, leggins and long shirts are "in" right now and are very light and can be layered up or down depending on the weather.  The neutral colors are also great for blending in to a crowd.  I might wear bright colorful things on TV, but when I travel I don't want to stand out.  Any of the items above can also be dressed up with a long necklace or great pair of earrings.  But don't pack these, buy them at the destination since they make great souvenirs.
2 – GETTING IT ALL IN A CARRY ON
I bring one rolling carry-on bag, and the backpack listed here full of my electronic gear. That's it.  I've lived in Italy for three weeks on this method.  It's no magic trick.  Here's how it's done:
4 Bags — 2 to Carry On — 2 to Stash Away
1 – Carry-On Roller Bag:  This is where all my clothes go.  I wear the hat and the biggest shoes on the plane.  All my clothes get rolled and fit snug together like a puzzle.  It's easiest if you roll them up, then lay everything out on your bed before you add it to the bag so you can visually see how to fit it all together.  Some other items I stash in my carry-on roller are an umbrella (see my post about items I used to forget), and any chargers or chords that I won't need immediate access too.  I bundle together all my undies in a small cotton lingerie travel bag so they're not spilled and 'exposed' if my bag is searched.
Stash Away:  A fold up bag.
Use as a more stylish purse once you're at the hotel. It also doubles as a souvenir bag for he flight home.
EXTRA TIP –> A couple of things NOT listed above include a couple of empty gallon-sized zip-lock bags with a dryer sheet inside to stash dirty laundry (typically anything I've really sweat in that can't be worn a second time).  I also stash away a brightly colored bag belt so I can easily spot my black bag in the sea of other black bags at baggage claim (I check my bag on the way home.  Explained below).
As for the type of carry-on roller bag I use, I picked up a SwissGear one 7 years ago at Target, and it's still holding up pretty good.  In fact, I'd love to get a brand new roller bag but I just can't seem to break the darn thing.  I guess that's good though. The most comparable one I found is the SwissGear 21″ Carry On.
2 – Backpack:  The backpack listed above fits my laptop, camera, and my homemade in-flight spa it.
Stash Away:  A messenger bag.
I use a small messenger bag to stash light items that I need for the flight (plane tickets, passport, my self-made spa kit (link), a scarf and my iPad mini for reading/entertainment). Then, after getting through security I pop the messenger into the top of the expandable backpack so that I only have two carry-ons.  I use this messenger bag as a day pack while I'm touring about at the destination.  On my flight home, I check the roller (because, frankly, it's typically full of wine and olive oil), and then bring the backpack and the fold up bag.
OTHER PACKING TIPS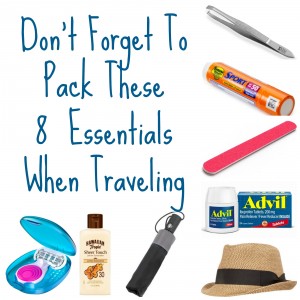 8 Things I Always Forget To Pack
Over this last year of heavy traveling, I've left each of these things at home at least once and been gouged by tourist-prices at the hotel sundry shop.  Never again.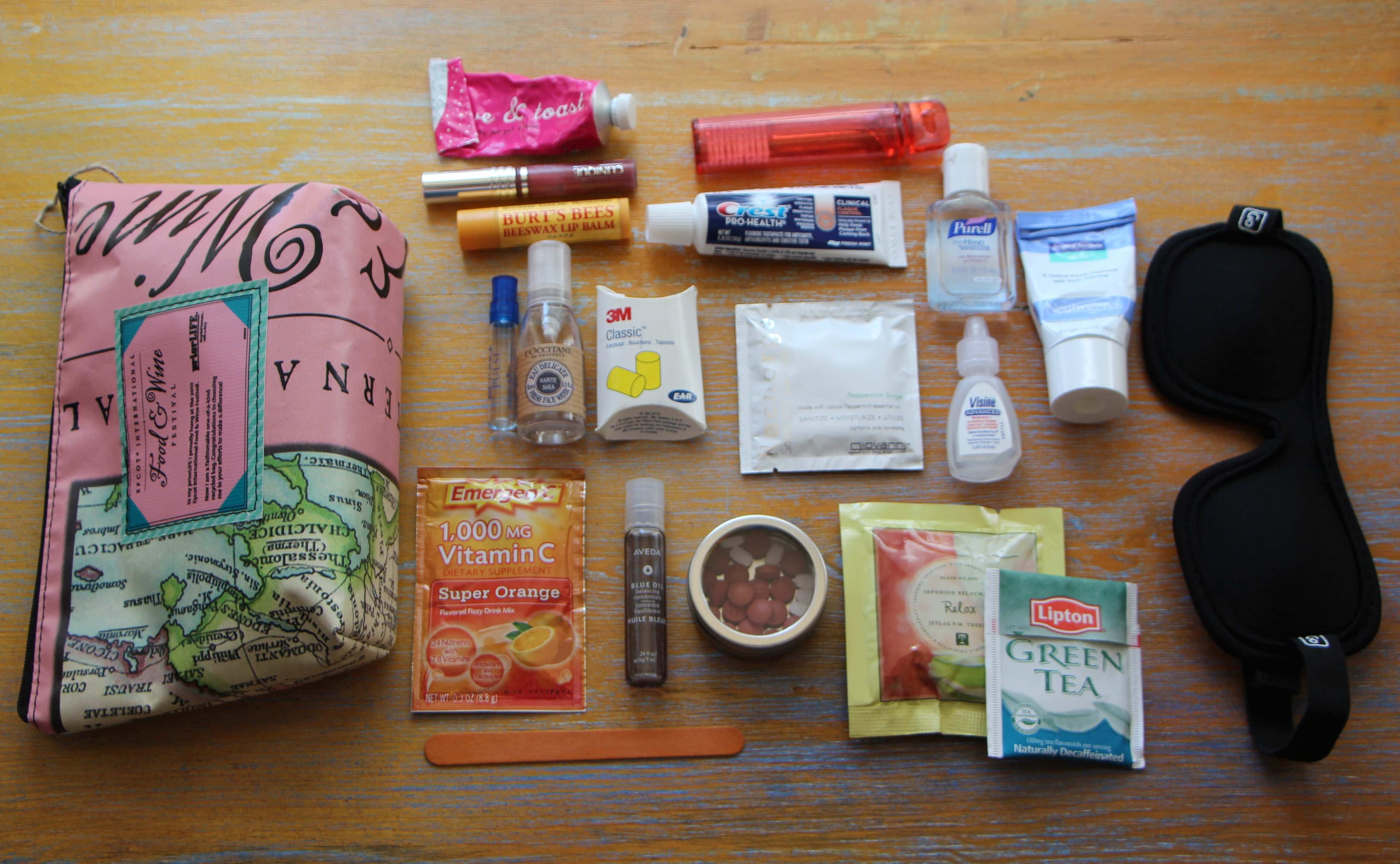 3 Simple Ways To Survive A Long Flight
I have a kit that I bring with me everywhere I go, whether it's flying to a new destination or just in my purse for everyday needs.
A big thank-you to Round the World Experts, who created this awesome app to display my packing list in living colou. Just in case you don't know who they are, they provide Round the World Tickets for travelers.
Also: There are also affiliate links in this article and graphic.  Since these items are exactly what I use and own, I'd be hard-pressed to say I don't endorse them!