It's always fun when I get to be a tourist at home (especially when it involves food), so I was uber excited to test out Orlando Food Tours for Viator.  The tours meet on Saturdays and Sundays in Winter Park and, as a local, I can tell you that this area is definitely a hot spot for amazing culinary experiences.  It's also a beautiful area with great big southern oaks creating a canopy over brick streets and dozens of shops and restaurants along the avenue.  There's even a new train station that looks as though it belongs on a movie set.  It's one of my favorite places to hang out when I'm home.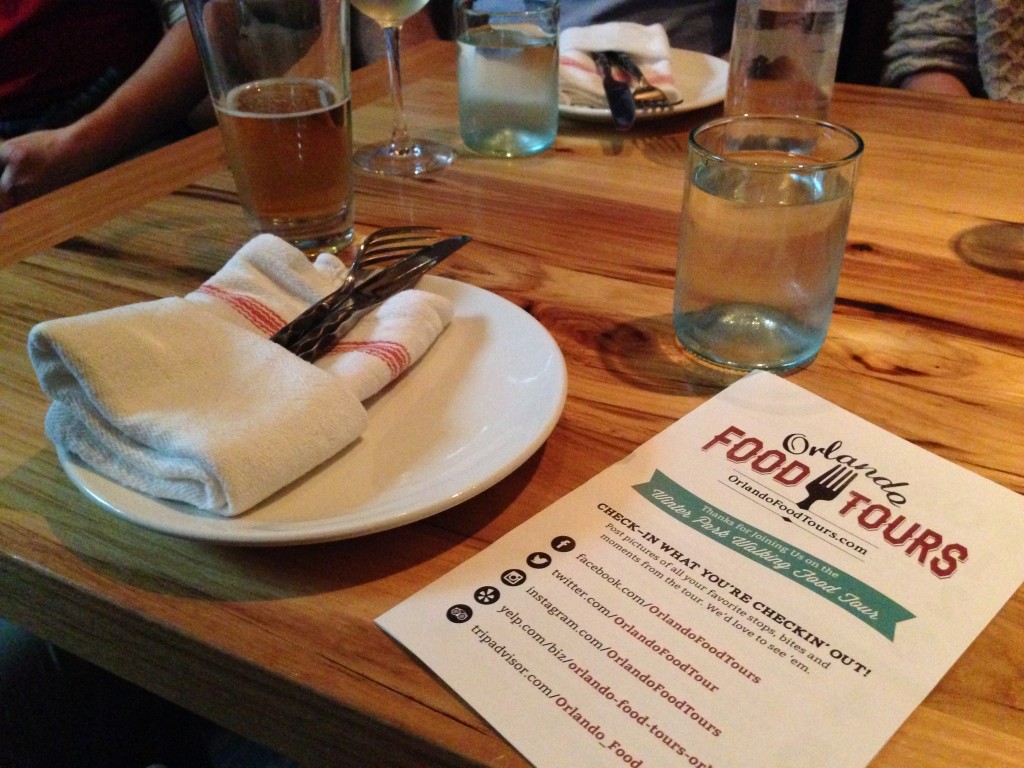 After booking our tour, Pete and I confirmed with the guide via email and got a quick and welcoming response with the location meet up:  Prato.  As the winner of multiple awards, including Best New Restaurant by Orlando Magazine, this is certainly a fabulous place to start a food tour!
Once everyone arrived, we all introduced ourselves and learned a bit about what everyone's favorite food was.  This was also the time where the guides confirmed if there were any food allergies and out of a group of twelve, they had two seafood allergies, two gluten free, and one vegetarian.  That's challenging!  But I gotta say, they handled it seamlessly.
For any guys out there thinking a food tour might be too frou frou, it starts off with pizza and beer (or wine, if you prefer.).  And Prato makes pizza that rivals what I've tasted in NYC and Italy.  We all gathered around one of their long farmhouse style wood tables to share a couple of pizzas family style.  My two favorites were the Funghi (alba mushrooms, radicchio, caramelized onions, aceto) and the Widow Maker (caciocavallo, romesco, fennel sausage, farm egg).
Next we headed over to The Ancient Olive for an olive oil and appetizer tasting.  I've been here before to purchase some of their infused balsamic vinegars, but it's the first time I've actually done a proper tasting.  We slurped mini cups of several different types of olive oil the way a sommelier would taste a fine wine and discovered the not-so-subtle differences.  I've never considered an olive oil peppery until now.  We also tried different combinations like blood orange olive oil and dark chocolate balsamic vinegar (it's like dessert!).  They even had a homemade orange pound cake made with the mandarin olive oil (yeah, I bought some of that), as well as some different party dips to try.  I could spend all day in this gourmet food store, but we had to move on to our next stop.
We went for a little walk to see some of Winter Park's historic buildings and architecture to let our food settle a bit before indulging in more.  I've gone for a run along these streets many times and never knew the story behind the Mediterranean style buildings like Casa Feliz and Barbour House.  It was fascinating!  And I kinda want to move into Barbour House.
Next up was the Spice & Tea Exchange for more recipe ideas, cooking tips, and a taste of their cranberry apple tea mixed with vodka.  I had no idea this tour would be boozy!  How fun.  They also had some to-die-for pumpkin cupcakes and an interesting autumn twist on your basic hummus.  It was pumpkin spiced, but in a savory way.  So good.
Our fourth stop was another savory one, Thai food at Orchid Thai.  There were plenty of  appetizers go around and the vegetarian in the group practically received her own personal three-course feast!  She said it was the best soup she's ever had in her life and I was glad to see that they could be so quick to accommodate special diets.
The final two stops were sweet ones, including hot chocolate, ice cream, and fudge at Kilwins and a quick stop at Sassafras Sweet Shoppe for cotton candy.
I. Was. So. Full!
Honestly, I could have skipped the cotton candy and gone for coffee.  That'd be the only thing I'd change about this fun and tasty little tour.
If you're visiting Orlando, I definitely encourage you to spend a day in Winter Park.  You can do a walkabout with this tour to get a sampling of all the great yummies on Park Avenue.  I'd also recommend exploring the town afterward and grabbing a cup of coffee at Barnie's Coffee Kitchen.
TIPS
* Parking can get a little hectic, so look for a spot at the local SunRail Station or down by the Morse Museum.  You're sure to find one there and the meeting point is a short five minute enjoyable walk through the park or down Park Avenue.
* Visit the Morse Museum afterwards to see the largest collection of work by Louis Comfort Tiffany as well as his chapel from the 1893 World's Columbian Exposition in Chicago.
* If you have more time, I also recommend popping into the other modern art galleries along the avenue.
This post was created as part of my collaboration with Viator.  However, TheTravelBite.com maintains full editorial control of the content published on this site.  As always, all thoughts, opinions, and enthusiasm for travel and food are entirely my own.