I've got a myriad of Tony Bennett songs playing in my head.  "I left my heart in San Francisco … Autumn Leaves …  Moonlight in Vermont." I know, I know, kind of sappy and melodramatic.
It's just that Fall is my favorite time of year and unfortunately this year the only way I get to experience it is through my baking and making my house smell like a field of cinnamon trees.  Other than that, it still feels like summer to me with Florida's 80-90 degree October forecast.  Blah!
I wish I could make it up to New England this season to capture the spectacular technicolor tree show.  Unfortunately, by the time I make it up there this year all the trees will be wintery bare sticks in the air.  Instead, I will have to live vicariously through my friends up north that are so kind (or maybe cruel?) to share some of their Fall foliage photos with me.
One of those friends happens to be Dana Moos. We met through sharing food photos and Inn stories on twitter and have been buds ever since.  She's a former Innkeeper turned lodging specialist Realtor in Maine who is always making me drool all over my keyboard with tweets about her breakfast.  If you want to buy a Bed & Breakfast in Maine … she's the gal to call.
Here's my latest note from her …
"The photos are all  from Acadia National Park, most taken from the summit of Cadillac Mountain. These were taken this past Friday. The coast in the Acadia region is about 30-50% peak color. The reds this season are much more vibrant than recent years – it appears the great deal of rain we had in early summer was good for something after all!"
Take a look at some of Dana's photos …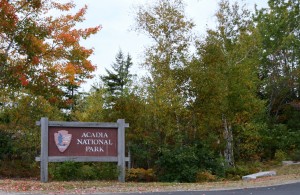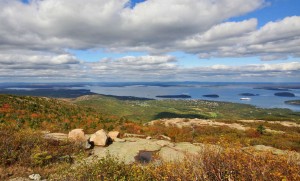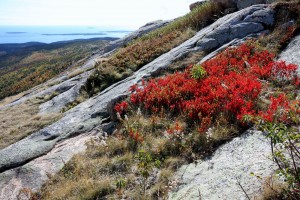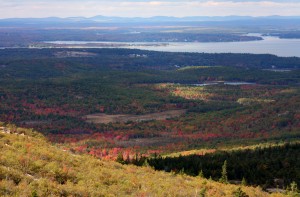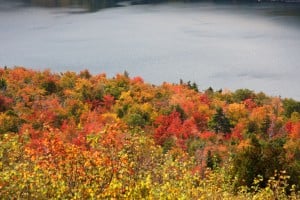 If you're able to escape up to the New England area before the end of October, here are a few Inns Dana recommends in Maine to check out.
Lindenwood Inn:  This one is a contemporary, urban style converted Queen Anne with a pool, hot tub, bar on a residential side street. http://Lindenwoodinn.com
Kingsleigh Inn:  This is Dana's former inn.  It is a more transitional Queen Anne, some rooms with private decks and harbor views, village location, and three course gourmet breakfasts!  http://kingsleighinn.com
Atlantean Inn:  This bed & breakfast is a beautiful, romantic English Tudor built by a popular island architect, Fred Savage, with spacious rooms, and hot tubs.  You can walk to shops and restaurants but it's tucked away on a quiet side street.  http://atlanteaninn.com
Much closer to home for me is Asheville, NC.  I love the winding roads and fresh mountain air of North Carolina.  The sidewalk cafes, art scene, and indie music of Asheville make it one of my favorite weekend getaways.   Last time I was there, my friend Maranda and I got lost (in mind, body, and soul) at a little chocolate shop called the French Broad Chocolate Lounge.  It is every bit as sinful and decadent as the name connotates.  And for those of you that have not yet had the Asheville experience, the French Broad is not a busty woman behind a counter serving chocolates.  The French Broad is a river … named so because it flowed north into French colonial territory.
I remember vividly the scent and creaminess of their French Lavender dark
chocolate truffle and their LIQUID TRUFFLE!  Oh. My. God.  Liquid Truffles.  Let's just say there is no better way to warm up then with their cayenne and cinnamon hot chocolate … aka liquid truffle.  It was quite a divine experience and for me, you can't really get any closer to God than through chocolate.  But I digress … wasn't I talking about fall leaves?  How did I get diverted to chocolate?
Back to Fall in the mountains.  And speaking of, Asheville actually as a site dedicated to foliage forecasts called, you guessed it, FallintheMountains.com.  You can also follow along via Twitter @FallColorHunter.
And here are a couple of Asheville B&B's that came highly recommended where you can plan your stay …
The Black Walnut Bed & Breakfast: Located downtown and recently featured in the new addition of 1000 places to see before you die.  http://www.blackwalnut.com/
Chestnut Street Inn: Another B&B that is walking distance to everything in downtown Asheville with a gourmet breakfast to wake your senses in the morning.  http://www.chestnutstreetinn.com/index.html
1900 Inn on Montford: With over 300 positive reviews on Trip Advisor, you simply can't go wrong.  http://www.innonmontford.com
###