Notes from the cruise today: It was drizzly and wet, but far from gloomy as we visited another quaint riverfront village, Cochem, where walked through ancient dining halls and peeked into the hidden passage ways of a real life castle. In fact, I'd say the grey weather added a bit to the ambiance of meandering through history.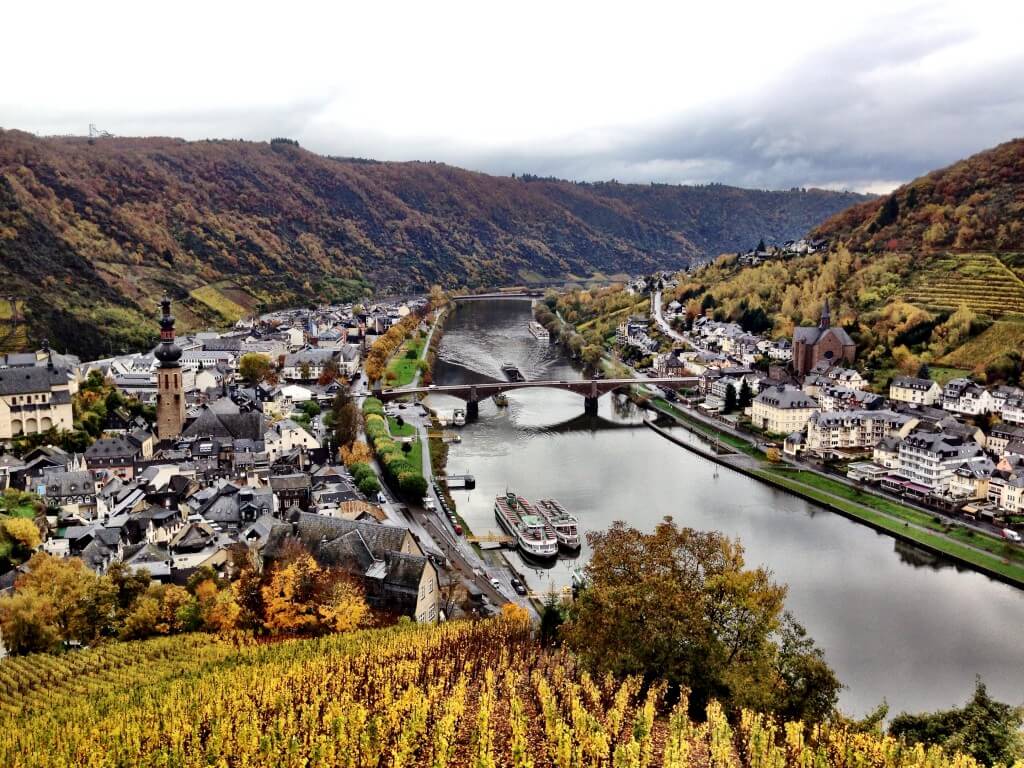 First thing this morning, we picked up a fresh baked sugar coated pretzel and strolled through town while gazing up in amazement at the rows of crooked half timbered homes.
Reichsburg Cochem Castle sits high upon a vine-covered hill overlooking the river with a view that's worth the climb, although I confess, we took a van to the top. I'd blame it on the rain, but it is a pretty steep slope.
After an upbeat tour from a storyteller with a talent for bringing history to life, we made our way back down to the ship to continue sailing down the Mosel. The sun eventually did make an appearance and warmed up the valley, making it a perfect afternoon for sitting on the top deck with a tea and watching the countless hillside vineyards and old castle ruins coast on by.
At the end of the day, we cruised on over from the Mosel to the Rhine river and tomorrow, we'll sail by 26 castles along the shoreline in a section of the river that's actually a UNESCO World Heritage Site.
Be sure to follow along on Twitter and Instagram to see our photos in real time. Here's a recap of today's pics …
This post was created as part of my collaboration with Viking Cruises. As always, all of the opinions, thoughts, and ideas in this post are my own. If you'd like to follow our trip in real time, search the hashtag #TBonViking or #VikingCruises on Twitter and Instagram.