Have you ever walked into a place and instantly felt a connection, like this is where you belong?  I've experienced this emotion before in certain cities or parks, but recently I felt this way about a hotel.
Now, I've gotta say, I've stayed in some pretty impressive luxury hotels.  But they all seem to have a common theme when it comes to reception:  immaculate lobby, perfectly coiffed flower arrangements, scented air fragrances that range from spa-like to perfumery, and bell hops tripping over themselves to carry your luggage or open a door for a tip.  The rooms are all well appointed, but could be anywhere in the world, the only distinction being the view outside your window.  And even though the amenities are top-of-the-line, it can still feel cold and sterile.
Not so at the Epicurean Hotel.  Located in trendy Hyde Park historic district (known to foodies for Buddy Brew Coffee, Ciros Speakeasy, and the legendary Berns Steakhouse), this place feels like a bunch of chefs and foodies got together, drank a couple of bottles of wine,  and designed their dream house.  The atmosphere is warm, inviting, and inspires you to pull up a chair and pour a glass of vino while striking up a conversation with a stranger — because you know they're going to be your kindred spirit if they're staying here.
The lobby is small and intimate, like a living room.  There's plush leather sofas, miscellaneous antiques, and a library of cookbooks.  The design is contemporary with vintage accents that give it such a warm, welcoming feeling.  Oh, and the wall is decorated with wood wine crates.   Wine crates!  Why didn't I think of this?  The check-in desk is also a glass wine cooler.  I soon as I walked in, I wanted to applaud.
There's nothing else like it in the world.  Perhaps The Yeatman in Porto?  That's the only other place I can think of where an entire hotel has been crafted around stimulating all of your senses with food.  Portugal, and now Florida.  That's it.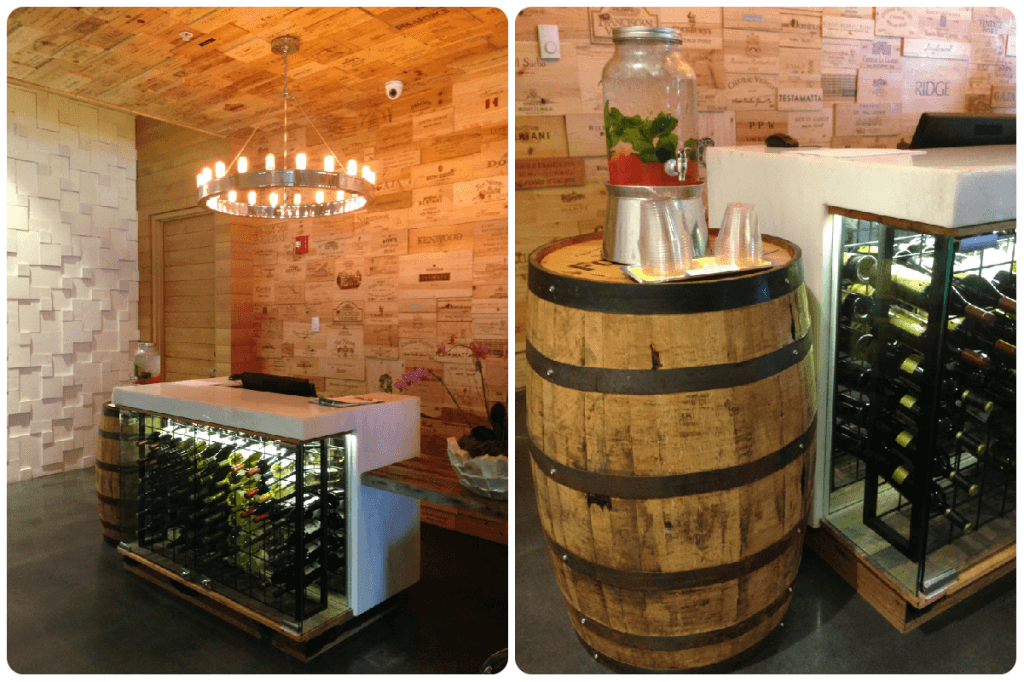 After checking in, I headed to my room and was delighted to discover the continuity of the foodie theme.  There were whimsical utensils and wine bottles engraved into room signs.  The artwork on the walls displayed the essence of good ingredients with pyramids of spices, hands kneading dough, and lush green farms.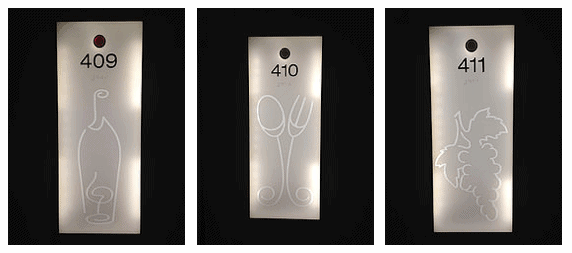 Instead of a mini bar, there was a well stocked pantry including gourmet foods, but without the typical mark-up of hotel pricing.  The refrigerator was stocked with fine wines, top shelf spirits, locally made craft beers, and prosciutto.  Prosciutto!  Bacon, wine, and chocolates?  The Epicurean really knows how to win a girl's heart.  If there were fresh cut flowers in the room, I would have wanted to marry this hotel.
Then there's the coffee machine.  If you follow me on social media, you know how much I love coffee.  Each room has a Tassimo brewing system that offers cafe style coffees at the click of a pod and the press of a button.  There are even milk pods in the pantry if you want to make a Cappuccino.  Gourmet coffee at the press of a button … in my room.  Steaming hot cappuccinos without having to call room service?  They get me.  They really get me.
Other "foodie" design elements included a wine chilling bucket built into the counter top, a handcrafted wood barn door leading to the bathroom, and farmhouse fresh soaps and shampoos that smelled yummy enough to eat.  The telephone was a vintage style rotary dial with a humorous note that said, "Really? You're going to use a land line?"  In fact, there was a bit of humor peppered into all their in-room information pieces that made you feel like you were staying with friends, not a corporation.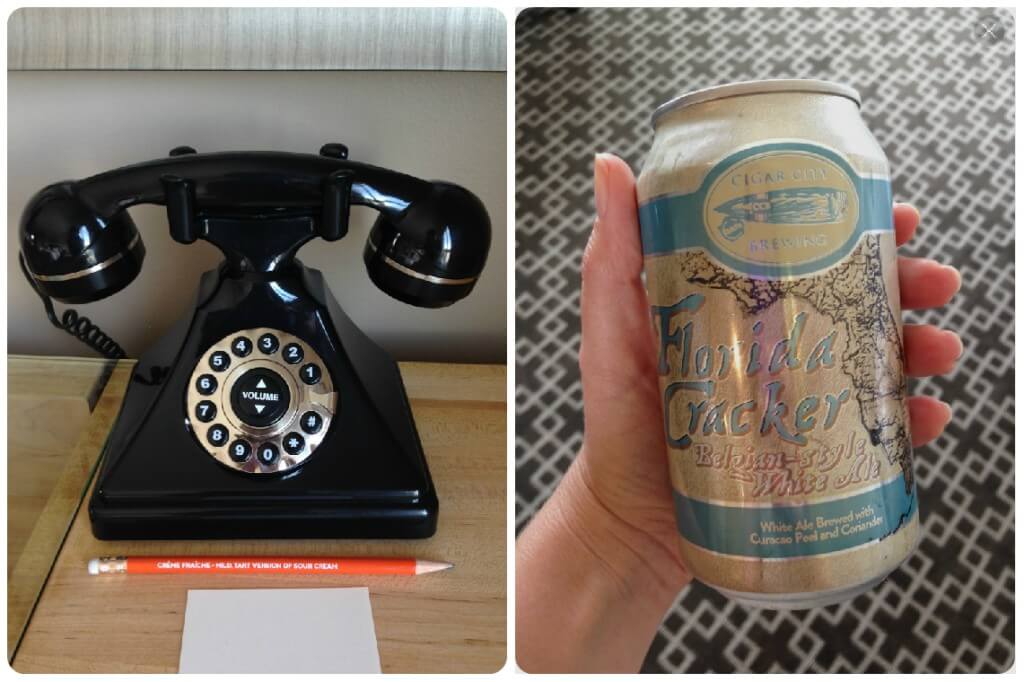 After freaking out over the awesomeness of this hotel, and instagraming a bunch of pictures, I headed downstairs to meet my friend Kara for an afternoon at their spa.  Evangeline Spa (named after the marble bust in the lobby of Berns Steakhouse), is small, elegant and is also deliciously themed around food and wine.  In the salon, there's a wall covered covered in corks (20,000 wine corks from floor-to-ceiling), and in the center there's a hanging herb garden, an oasis of fragrant greenery framed like a piece of art. Pure heaven.  I want to make a wall like this in my house.
Spa Evangeline has a product line called Caudalie, which I learned, is a French word meaning "the number of seconds the flavor of wine lasts on your taste buds."  They have a whole menu of vinotherapie treatments.  How appropriate.  There's also Farm House Fresh products with delicious scents and other tempting options including a Champagne Tub For Two, Bern's Bourbon On The Rocks pedis, and a Honey & Wine Wrap.  There's even a body wrap that includes coffee, caramel, and chocolate.  O-M-G!
During my visit, I locked my phone away and indulged in their Bask In The Garden experience that included a hand crafted scrub made from fresh snipped herbs from the wall garden, citrus sea grass salt, and rice bran oil.  It was lovely, but I do confess that in the middle of the treatment I though, "Hmm.  So this must be what grilled fish or chicken feels like as it's getting prepared for the fire."  Ha!  I smelled like food, and I loved it.  The massage following the scrub put me to sleep, so it was definitely a recipe for relaxation.
Oh my.  Here I've been rambling and I haven't even talked about the FOOD yet!  After the spa, we headed up to the rooftop bar, Edge, for some pre-dinner wine and cocktails while watching the sunset.   It's a fun atmosphere with a trendy vibe, and the craft cocktails looked amazing!  Though, I stuck to my favorite red wine.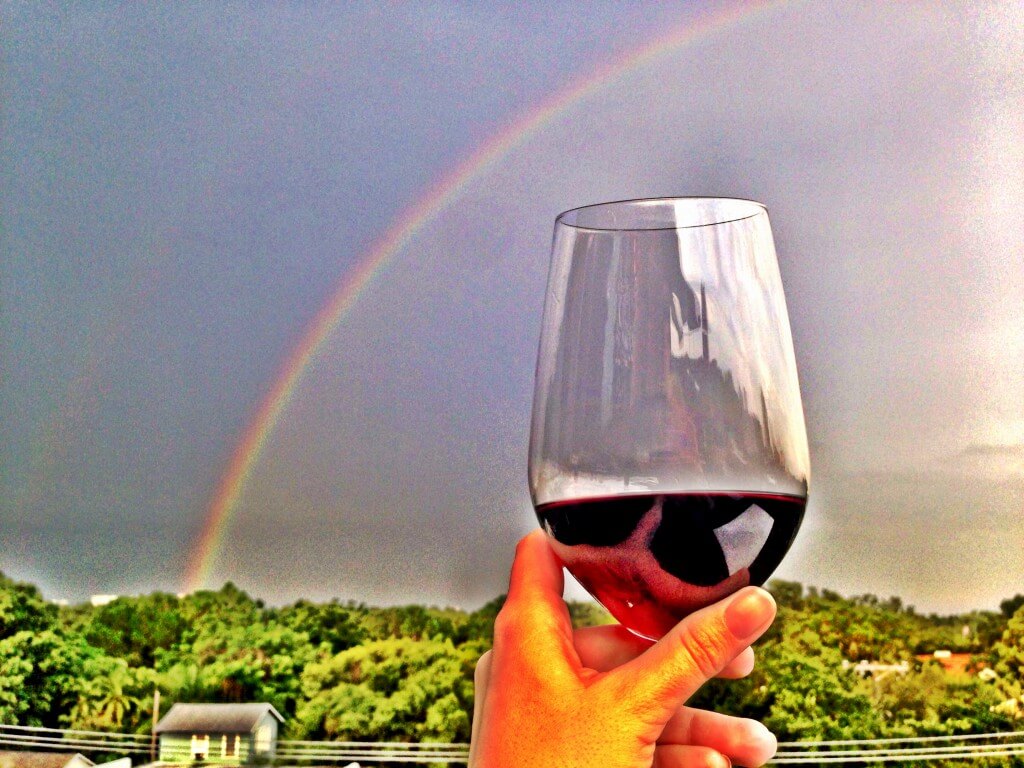 Dinner was downstairs at their signature restaurant, Elevage.  Now, that's a another French name that's also a wine term meaning "how the winemaker cares for the wine."  Sigh.  I love it here.  The terms "artisan" and "hand-crafted" seem to be thrown about as common marketing jargon these days.  But here at Elevage, it's undeniably authentic.
The menu is a mix of Southern comfort foods with a modern gourmet twist.  For instance, this is their version of Fish & Chips – seared tuna with fried pickle chips, malt, and ranch tartar sauce foam (from my Instagram).
And that's just a starter. The menu is a menagerie of homegrown fruits and vegetables, meats sourced from area farms such as Lake Meadow Naturals, Hunsader Farms , Mixon Fruit Farms and Worden Farms, just to name a few.
It's obvious they're passionate about food and love sharing stories through flavor.  If you fancy yourself an epicurean, here's their website for more information:  Epicureanhotel.com
Disclosure:  My stay at the Epicurean Hotel was comped.  However, all thoughts, photos, and enthusiasm for such a unique hotel experience are entirely my own.