We often associate climbing mountains to reaching our dreams, but what if your dream is to ACTUALLY climb a mountain?  Is Mount Everest or Kilimanjaro on your bucket list? How about Mont Blanc? I've only seen Mont Blanc from a distance (pictured below). One morning we had a great view of the majestic mountain from the balcony of the flat we were staying in Geneva  It was a gorgeous background to the city.  One of my twitter friends, Peter Dudley, actually hiked Mont Blanc. Peter is a freelance journalist living in Canada, a member of the Canadian Association of Journalists and a two-time winner of an OCNA Feature Writing Award. Read his story below, feel inspired, and add this trip to your bucket list.
-Rachelle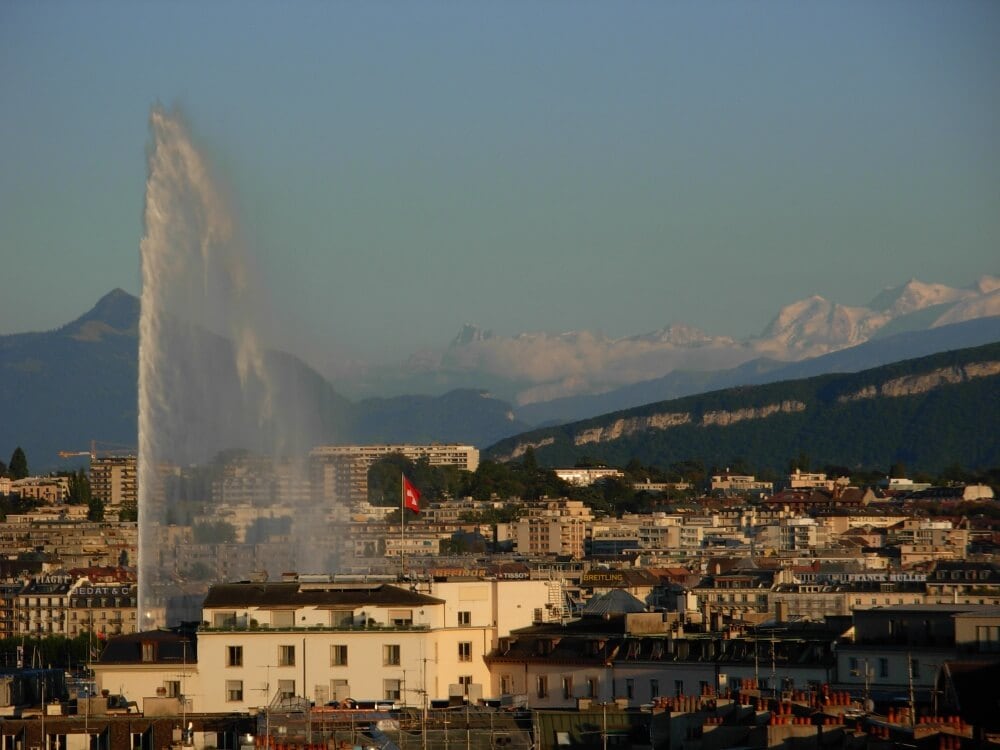 Tour du Mont Blanc
by Peter Dudley
Now that winter is on its way out and the good weather is just around the corner, many people are starting to think about their summer holidays. For some people, that means cottage country, for others it means cultural or sports events or outdoor music festivals. Many people just want to flock to the beach and get a tan.

For my wife and I, we literally head for the hills. Not being beach bunnies, we had to find something else to do with our weekends, so we took up hiking. Afternoon walks turned into weekend excursions and before we knew it, we were planning our vacations around being in the mountains somewhere.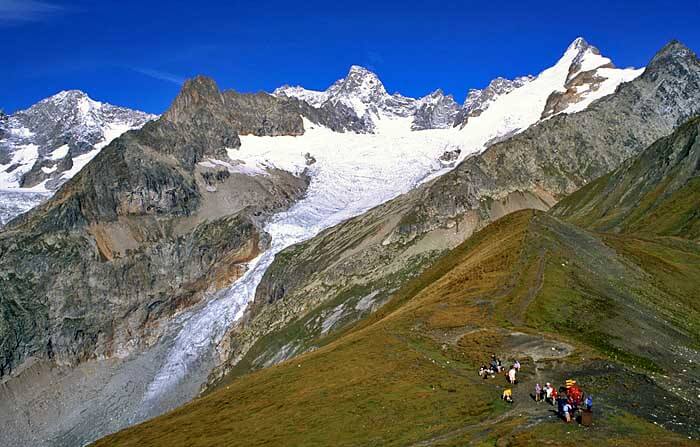 In 1987, we went to France for the month of September. After some time in Paris, we traveled to Alsace, got a map from one of the tourist offices, and hiked from vineyard to vineyard for a couple of days. We then moved on to Chamonix, got a detailed map, and started the Tour du Mont Blanc on our own. Although we got lost a couple of times, things generally went well for the first three days. Unfortunately, I developed a bad case of strep throat and a fever and by the time we reached Courmayeur, Italy, I was done like dinner.
We ended up returning to Annecy, France, where I saw a doctor and got a script of antibiotics and then stayed in bed for three days. Not the best way to spend a holiday!
Fast-forward to 2002 and we decided to try it again – this time with a group.
There are many advantages to going on an organized tour. You don't have to map and compass yourself, you don't have to reserve your refuges or hotels each night, and you don't have to carry your own luggage! What could be better?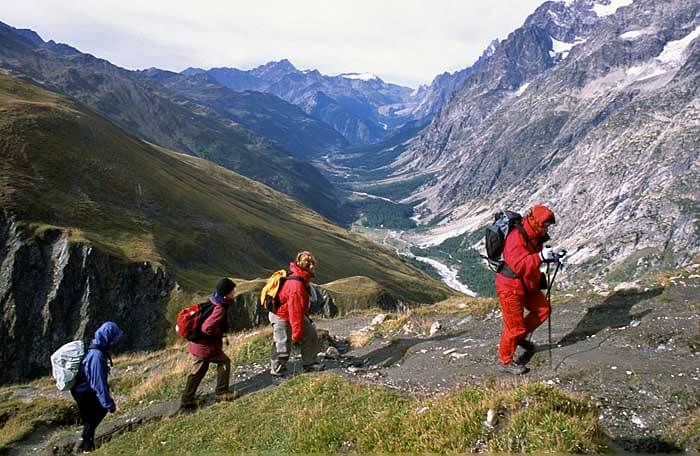 We booked a seven-day guided hiking tour around the Mont Blanc through World Expeditions in our hometown of Ottawa. As it turned out, it was just a feeder company to a French tour operator. When we arrived at the meeting place on the first morning of the tour, we met our fellow hikers – eight French nationals, one Swiss girl, one Dutch woman and two French-Canadians.
Our guide was a uni-lingual Frenchman by the name of Patrice. We both spoke
Français un petit peu, so we were able to understand most of the guide's instructions. After stuffing our travel essentials into a waterproof bag and strapping it to our mule – Pegase – we were on our way.
The scenery was, as you might expect, fabulous. Patrice led the way and was quite knowledgeable about the local flora and fauna. We stopped for a picnic lunch (which we would do all week) along the trail and got to know each other a little. Our French language skills certainly were put to the test, but everyone was very patient and polite about it. The Dutch woman knew even less French than we did, however, she spoke English quite well and in the end, language was not much of an issue.
Our tour package included accommodations and meals, so we did not have to worry about finding a restaurant or a grocery store or a comfortable bed at night.
After each full day of hiking, we would arrive at our refuge or pension and have a shower and then a hot meal. The food consisted of a variety of local specialties and was very good. Wine and/or beer was not included in the price of the tour, but was reasonable and always available.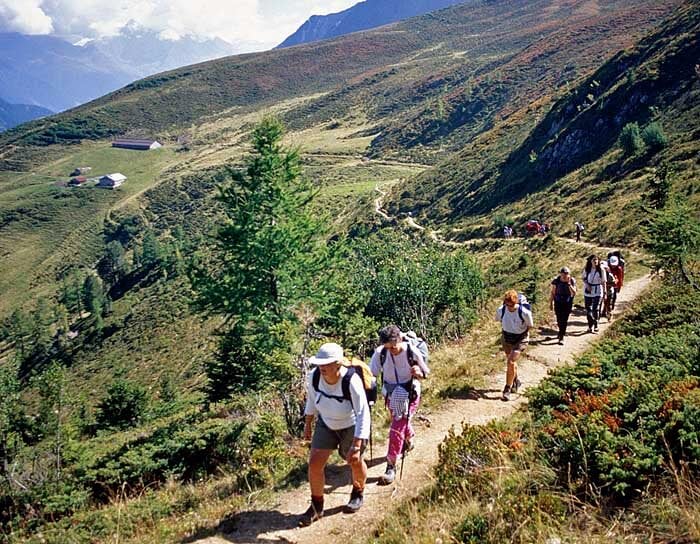 Our accommodations were dormitory style. Not a lot of privacy, and we had to share bathrooms and showers, something you should consider when booking a trip like this. There are now several tour operators who do Alpine treks and some of them offer more creature comforts than others.
Before we knew it, the week was over and we parted company, but not before exchanging email addresses. We have kept up correspondence with a couple of people from our trip, and it is always nice to hear from them and about their subsequent travel adventures.
We have taken several more guided hiking trips (as well as self-guided ones). We have tried a couple of different tour operators and can honestly say we enjoy the group dynamic. We usually spend one or two weeks with a group, then spend another week or so on our own. This seems to work well for us.
We are currently scouring the Internet looking for our next adventure. Right now it's a tie between the Austrian Alps and Newfoundland. Whichever it is, we know we will love being in the mountains and meeting new people who enjoy the same type of holiday as we do.
Happy trails!
Please click on the link to see more photographs from our Tour du Mont Blanc trip: www.pbase.com
Peter Dudley
Blog:  A World Explored
Twitter:  @Peter Dudley