How to eat a cricket? Yes. You read that correctly. That does say cricket. Maybe I've watched way too many Bizarre Food's re-runs on the Travel Channel (though I wouldn't be inclined to consume anything 'gelatinous'), but I do enjoy a food challenge. There's just something about having the bragging rights to say, "heck yeah, I tried that!" Currently my culinary tasting adventures have included sheep's balls, black squid ink risotto and monk fish liver. During my recent trip to Mexico, I tried my first bug. Cricket is now on the list.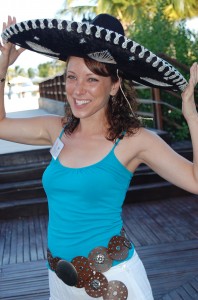 According to my friends in Mexico, crickets are a treat. The evening started innocently enough with a tequila tasting. Eh hem. And since I wasn't challenged to eat a worm in tequila, I thought I should rise to the occasion when presented with a cricket. I think the pictures below will speak for themselves.
The tequila tasting was part of a Tweet Trip to Riviera Maya where Hacienda Tres Rios hosted a group of travel bloggers. Now, Chef Oscar knows tequila like a good sommelier knows wine. He taught us to swirl it around in our mouth, breathe it in, taste every molecule. And here I was nervous about reliving some college moments that I'm not too proud of. I was expecting to lick salt off my wrist and suck down a lime to get through this tasting, but instead, was intrigued by the sophistication and technique.
I actually learned a few things. Such as a new toast to replace "one tequila … two tequila … three tequila … floor." We did all kind of look around nervously as the number of tequila glasses started climbing up to double digits. I lost count after 10. Don't judge. I ate the cricket sober. I swear! There are at least 6 other Twitter-folk out there that can vouch for my sobriety this evening.
Here's the new toast I learned learned, as well as a hilarious photos of me eating a cricket for the first time.
ARRIBA! (one tequila)
ABAJO! (two tequila)
AL CENTRO! (three tequila)
CUCHI CUCHI! (floor …)
The tequilas were actually excellent. I found "my" tequila. Just like a person finds a wine that they love. This one didn't put hair on my chest and tasted somewhat sweet. Wonder if I can find it in the States?
After tasting lord knows how many tequilas … we wandered, swayed, staggered … eh, hem … rode the elevator to the second floor for dinner. Now, after you read all of my self-deprecating commentary below… scroll up and down the remaining photos super quick for the flip-book-like experience. My videographer friends are thinking, "Rachelle, why didn't you just shoot video of this event?" Trust me, it wouldn't be darn near as funny as the following photos …
Here I am ready for an adventure … thinking that just because it's fried, with sour cream, that I'll like it.
How To Eat A Cricket In Mexico
Down the hatch … I already look worried. That's because my new friend Janice ate the cricket with perfect style and grace. She didn't even flinch when the leg popped through her lips. Of course, she didn't see the leg. I did though. Perhaps that's the thought going through my mind here …
This is an, "Oh Gawd!" moment. An, "Oh Gawd, It would be really awful for me to spit this out. Not very polite for our hosts. Plus my new friend Matt is sitting next to me trying really hard not to watch … don't want to push him completely over the edge and gross him out. And there is all kinds of other great food coming if … I … can … just … hold … this … down. One little cricket. There is no going back now. Eeeeeeew!"
And the flavor sets in. Gamey. I might recall this same flavor from eating ants in the playground when I was four years old. No amount of fried banana and sour cream can cover that up. I do believe this is what they call "the money shot" below. Thank you Janice. Thank you very much. (And a little PS for my new friend Matt … how's THAT for a non-glamour shot. LOL)
Ah ha! I spared you a leg. That's just lettuce on my tongue. Swear.
At this point I think I can probably giggle at my initial reaction and handle it.
Nope. Not handling it.
Doing hand wave-y thing-y trying to get through it. Matt is still not looking.
Apparently it's an acquired taste. Pass the tequila now please.
And now for a tequilajito chaser. Aaaaah … te-qui-laaah! I do have to say, the rest of the meal was delicious. Trying the cricket was the most fun though. Well, until we hit the town in Playa Del Carmen. But that's a different story …
(Thank you to @SoloTraveler for having a speedy shutter finger and photographically documenting the full range of emotion experienced here)
PS…Hacienda Tres Rios has some GREAT recipes. They may be a sustainable eco-friendly resort but I assure you there is more on the menu than tequila and crickets. I have some fantastic recipes I'll post from them soon. In the meantime, here's a pick to drool upon …
Disclosure: Click Here