By Becky Merola
Want to add a little excitement to your life? Well, then it's probably time for some Spontaneous Instruction, my monthly update on how to add some adventure to your life through spontaneity.
I've been spending a lot (too much) time looking at amazing travel photos on Pinterest lately, which has got me thinking about all the places I want to see in the world. The destination at the top of my list: Asia.
As much as I'd love to hop on the next flight to Asia, there are a few things stopping me. Time, money and apparently you have to specify an airport or at least a country. My flight search for "anywhere in Asia, seriously just anywhere!" did not yield as many results as I expected.
So until I save up some dough or my "Old People Dancing" blog takes off, I'll just have to experience Asia through my taste buds.
Having spent many a Christmas with the Jewish side of my family, I'm clearly familiar with Chinese food. Thanks to my parents wanting to instill their love of Sushi in me, I had my first piece of Octopus when I was five. Needless to say, I'm not fazed by raw fish. So that knocks out the big two: Japan and China. Well, this is about new experiences so I'm taking my appetite to parts of Asia it's never been.
Korea
With Asia on my mind, I've been keeping my eye out for spots to try. Well I nearly gave my friend a heart attack when she was driving me home and I yelled "HEY HEY STOP." In hindsight I could have said "Excuse me my dear Alexa, could you please pull over to this fine establishment called Kim Chi. I believe I would like to try it." Then again, I don't actually speak that way so that might have been worse.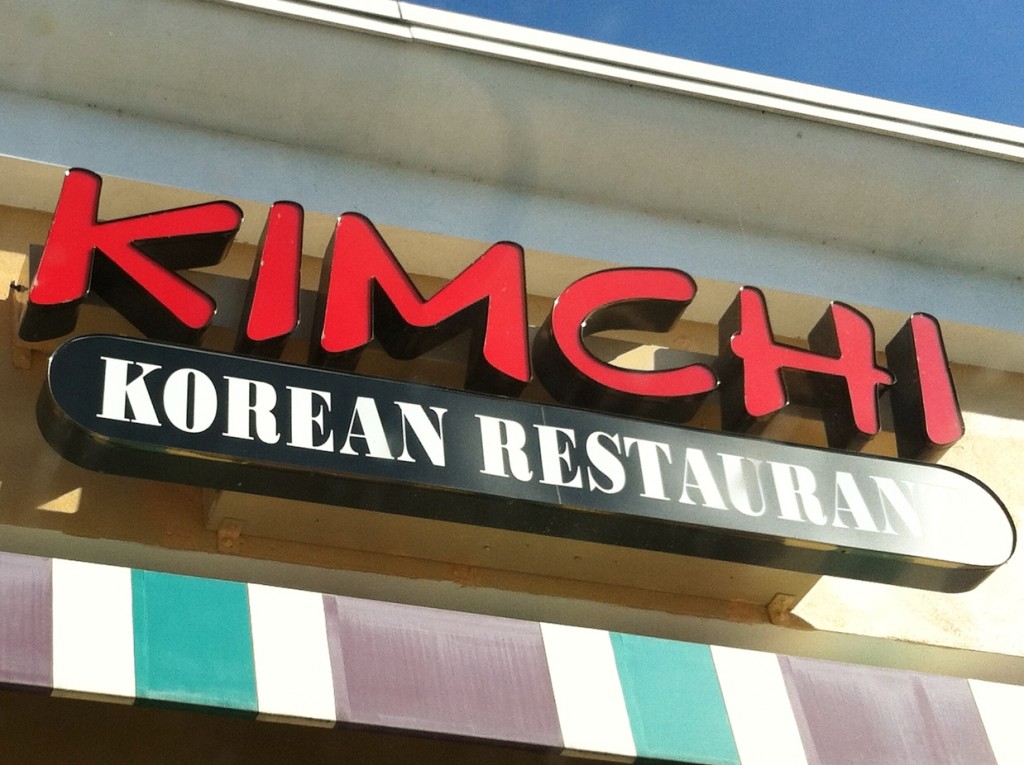 I could tell this way my kind of place right away when I saw their lunch specials. Six to seven bucks for a Bulgogi box, in my experience I've never ordered a "box" of food and been dissatisfied. I ordered beef bulgogi, which to my delight, came with kim chi. I can't go to a restaurant called Kim Chi and not try its namesake!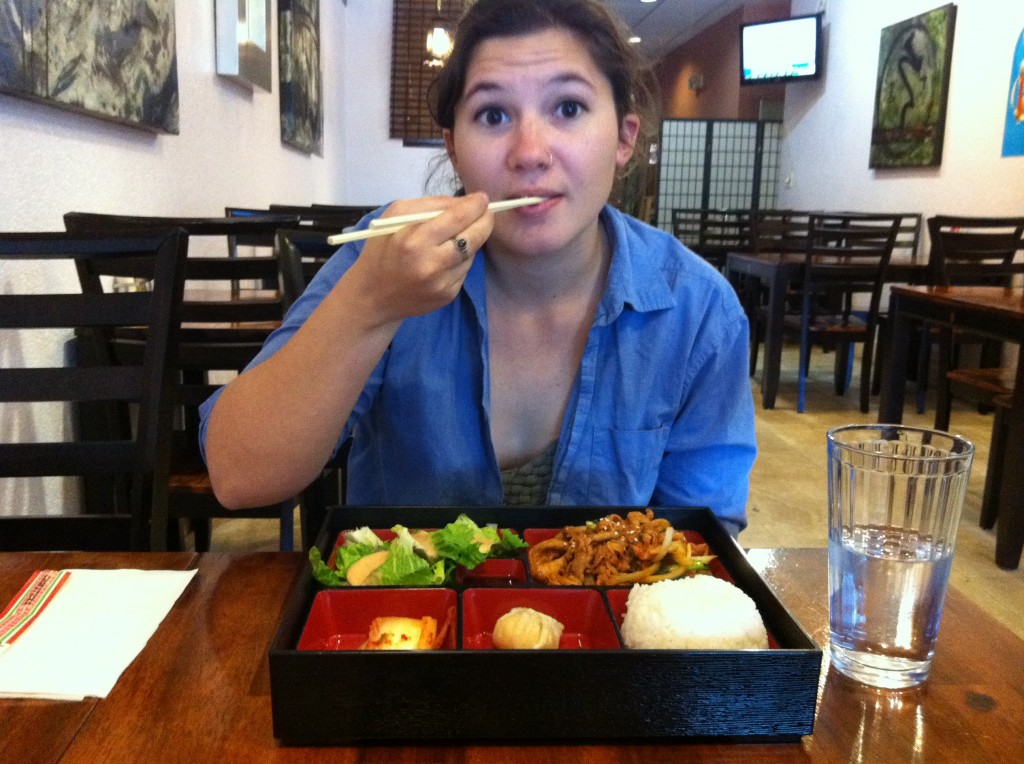 The beef was super flavorful and the kim chi had just the right amount of bite. Korea just moved up in my list of places to visit.
Vietnam
Last weekend I was talking to another friend of mine about my Asian taste adventure and she mentioned Pho (pronounced fuh). After I realized she was saying a complete word and not just failing to complete another dirty one, I decided to give this beef noodle soup a shot. I hopped in my car, blasted some Wu Tang Clan (keeping with the Asian theme of course) and told my friends to meet me at Pho 88. Pho 88, I'm told, is a staple in the Pho world. Well, I'm more about the road less traveled than I am about "staples" and "stand-bys" so I pulled a last minute switch on them when I saw Pho Vinh.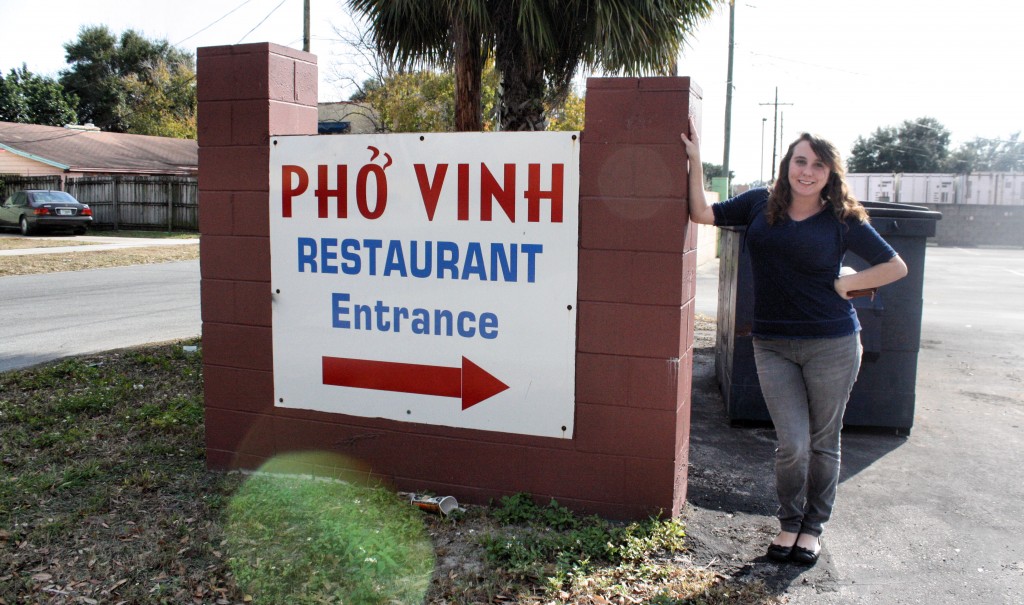 I always think it's a good sign when the menu items are written in the language of the cuisine you're eating. So even though I almost always butcher it (with the exception of Italian and Spanish), I will try to order in that language rather than sheepishly point at what I want. I mean I still end up doing that, but I at least try first. I ordered the Gỏi Cuốn Chạo Tôm and the Tái nạm Gân Sách (pronounced number five and number eighty-four).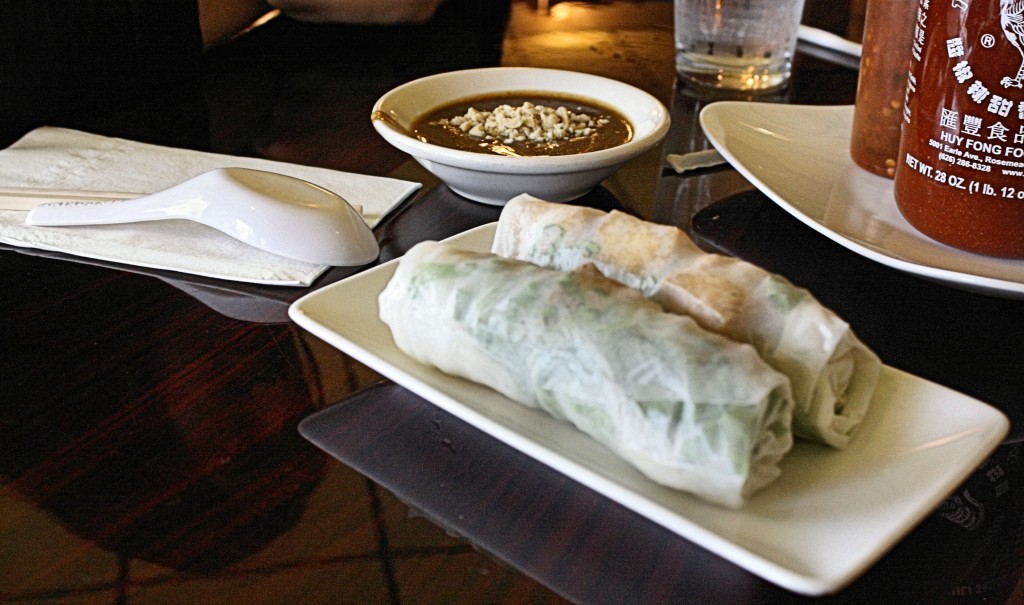 First was Gỏi Cuốn Chạo Tôm: shrimp paste on sugar cane rolls. Very different, but enjoyable. I was more excited about the Pho though.
I went with the Pho that seemed to have the most different types of beef in it: Tái nạm Gân Sách. It was delicious as is, but my favorite part was the plate of veggies and herbs they give you to customize it.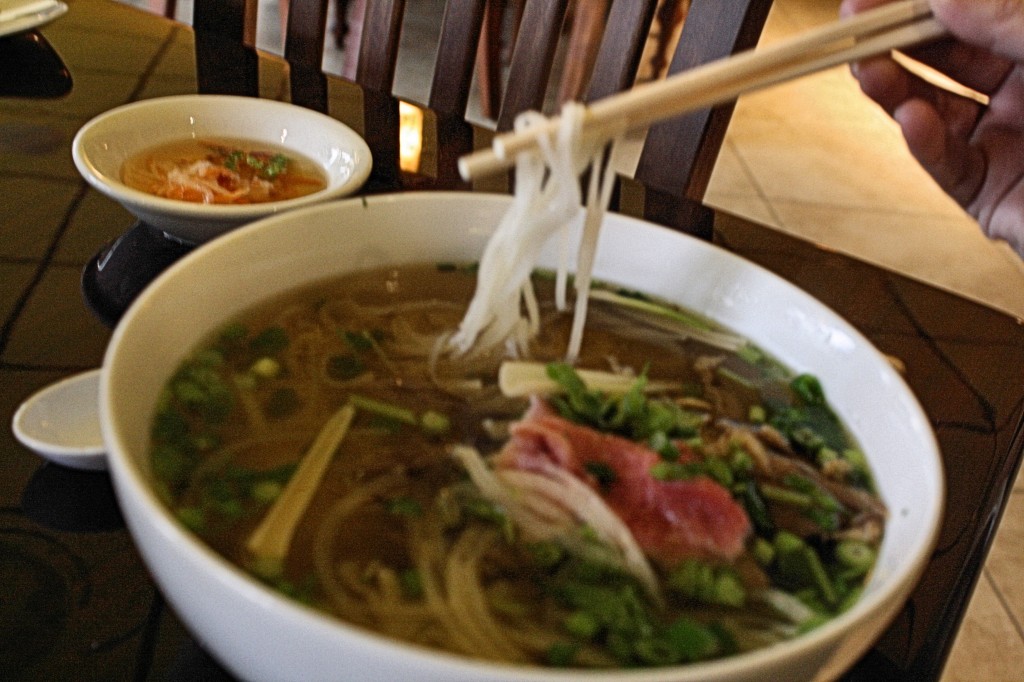 After my success with Vietnamese cuisine, I was inspired to try my hand at cooking some Asian fare at home. We went on a little adventure to the Asian grocery store down the street.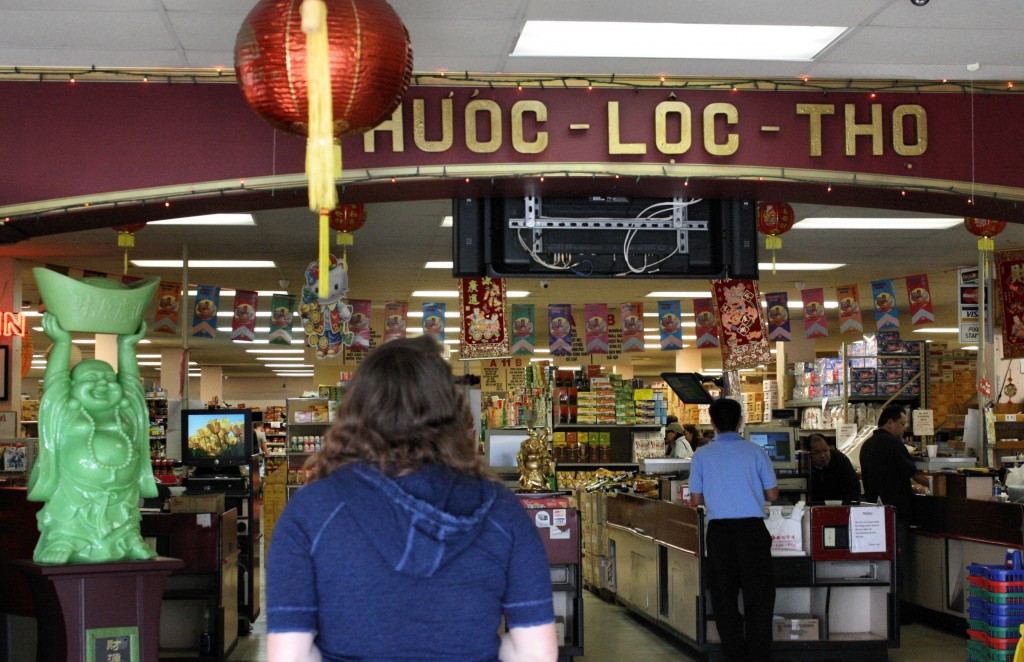 Admittedly I was a little overwhelmed when I got in there, I actually didn't have the slightest clue what I wanted to make. I ended up grabbing whatever I thought looked interesting, and of course a container of kim chi.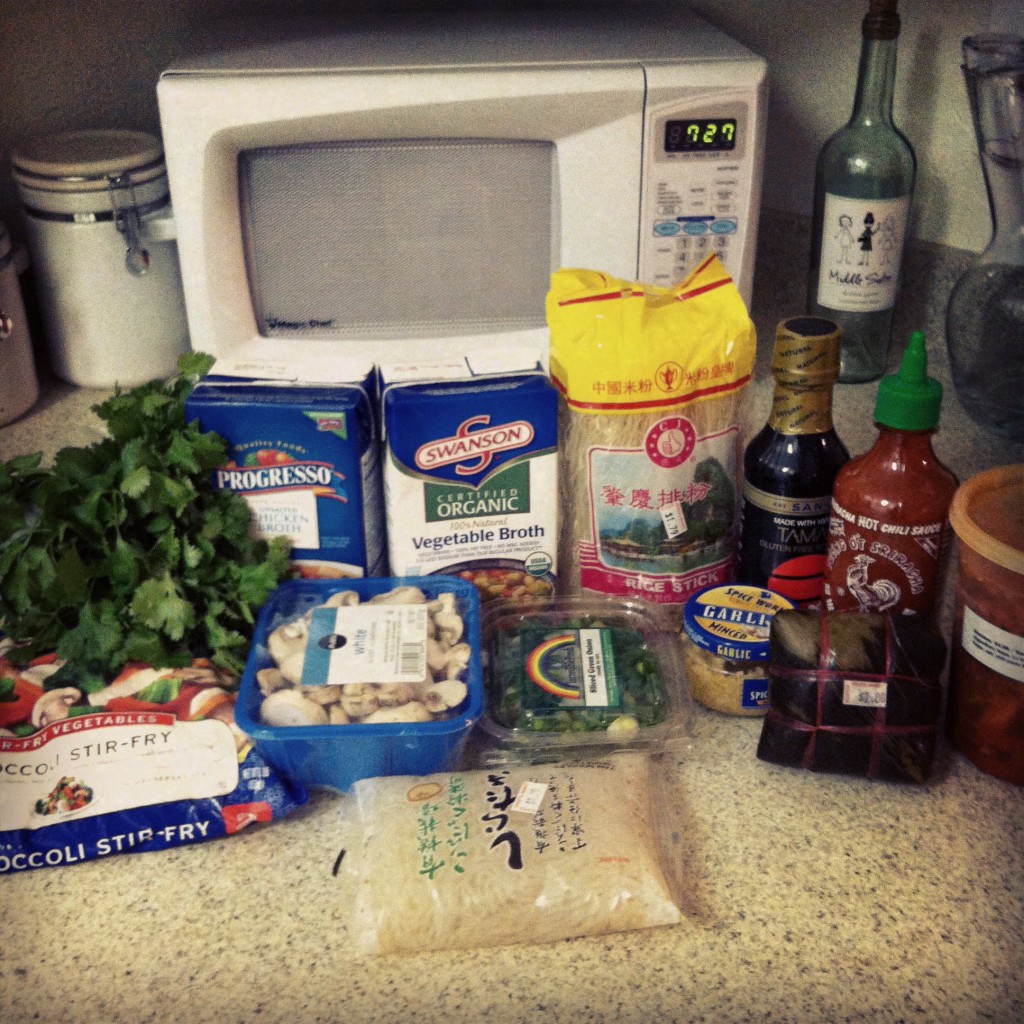 Despite having no idea what I wanted to make, when I got home I fleshed out my wares from the Asian market with a quick run to the nearest grocery store. Rice noodle soup, yam noodles with Kim Chi, and Bánh chưng. Not exactly a traditional meal, but not bad when your recipe is just "Hey this looks neat!"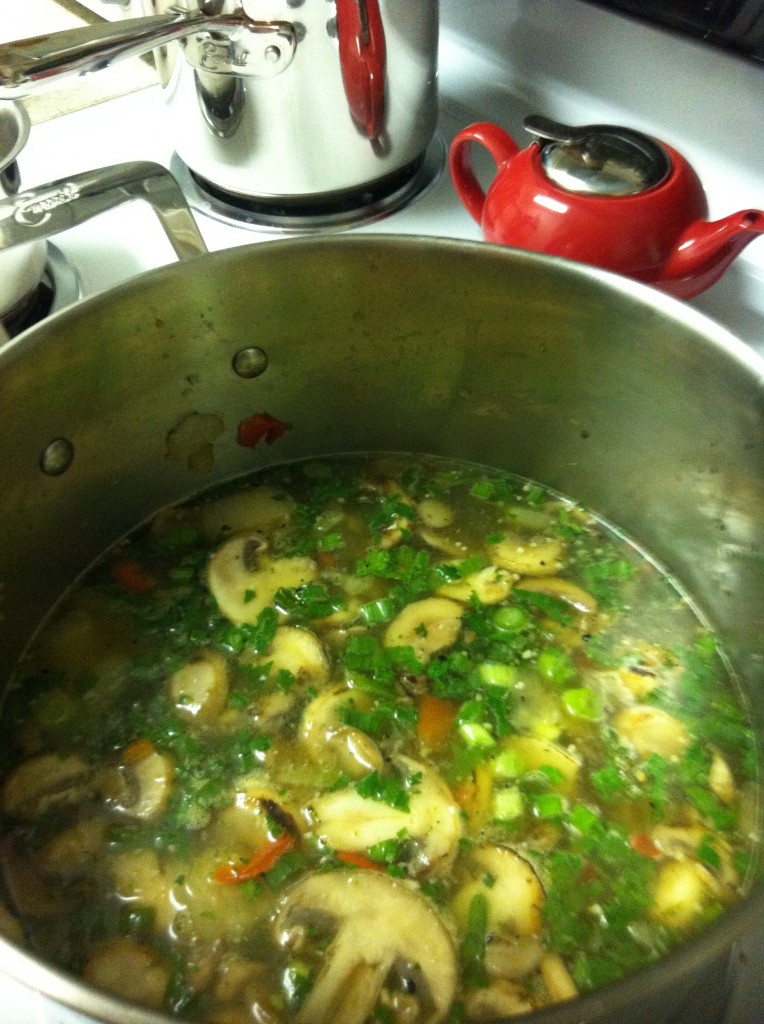 Next time I'll probably have a recipe in hand, but here's to spontaneity!