I'm frequently asked, "what are hashtags?" and "how do you 'chat' on Twitter?" I've answered these questions below and included a schedule of popular weekly Twitter chats related to travel.  All times are listed as Eastern Standard Time (EST) unless otherwise noted.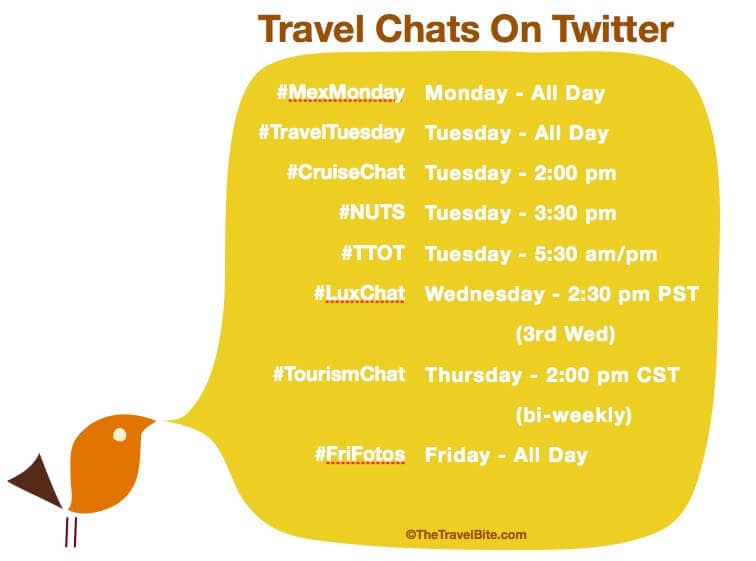 Your Twitter Questions Answered
What are hashtags?
A hashtag is marked by the "#" symbol in front of a word such as "#Travel" or an acronym such as "#TTOT" which stands for Travel Talk On Twitter.  Hashtags are a great way to search for a specific topic on Twitter, and likewise, it's a way to tag your Tweets with a topic you'd like to have turn up in a search.
Hashtags are generally used for one of three things:  a trending topic, an organized chat, or simply a funny headline.
Trending Topics: You might notice the trending topics in the right column on Twitter web.  These are topics that are the most tweeted about in that given time.  When there is a news story breaking, typically you'll find it here on Twitter with a hashtag before you find it online or in television news.
Organized Live Twitter Chats: There are numerous chats on Twitter covering pretty much any topic imaginable.  Here's how it works:  Find a scheduled chat (I have some listed above) and create a search for that hashtag using Twitter web or create a column in programs such as Hootsuite.com or Tweetdeck.  Read questions, respond, comment, interact, and make new acquaintances interested in similar topics!  Some chat organizers also create a "TweetGrid" to make it easy to follow along.  I have a schedule of organized chats in the info-graphic above.
There are also times when hashtags are used during meetings or conventions in order for attendees to communicate with each other and share information, opinions and general thoughts.  An example of this would be #CFLBlogCon for the Central Florida Bloggers Conference or #SXSW for the South by South West music and interactive conference.
Funny Headlines: Sometimes, hashtags are used just to be funny.  If it's not a trending topic or a live interactive chat, then you can bet it probably falls into this category.  I've seen "#confessions" at the end of a Tweet.  Twitter friend @katrinamauro reported seeing the hashtag, "#ninjaslurkingeverywhere."  Think of it as a funny "headline" for a tweet.
More Information On Chats
Got a question about any of the chats listed above?  Here's a list of organizers and helpful links:
#MexMonday:
Contact:  @TravelDesigned
Web:  http://traveldesigned.com/travel-designed-blog/mexmonday-2/
#TravelTuesday:
Contact: @WhereIveBeen
Web:  http://www.traveltuesday.org/
Sometimes also abbreviated as #TT
#CruiseChat:
Contact: @CruiseBuzz
Web:  http://www.facebook.com/CruiseBuzz
#NUTS:
Contact @McMedia or @RickGriffin
Web:  http://midliferoadtrip.tv/nuts/
#TTOT:
Contact @TravelBlggr or @TravelDudes
Web:  http://www.facebook.com/TravelTalkOnTwitter
#LuxChat:
Contact:  @LuxeTiffany or @LuxChat
Web:  http://luxchat.tumblr.com/
#TourismChat:
Contact:  @TourismChat or  @decillis @WhosYourAnnie
Web: http://www.facebook.com/tourismchat
#FriFotos:
Contact:  @EpsteinTravels
Other Great Chats and Hashtags
#MorningCup: A random hashtag I use when tweeting coffee quotes or the bliss I experience drinking that first cup of coffee in the morning.
#FollowFriday: Follow Friday is a general hashtag used on Fridays to recommend your favorite Tweeters for others to follow.  It is sometimes also abbreviated as #FF.  Web:  http://www.followfriday.com/
#WineWednesday: Wine Wednesday is similar to Follow Friday.  There is no real organizer that I know of, and the hashtag is used to recognize people you follow that are fellow wine enthusiasts.  However, if you do have any questions about wine, I recommend tweeting @WineTwits.
#FNI (Foodies Night In):  All about food!  This is on Mondays from 4:00 to 6:00 pm EST.
Contact: @CookingWithCaitlin
Web:  http://www.cookingwithcaitlin.com/foodies_night_in_about/
#TogChat:  A community chat for photographers.  Every Wednesday at 3:00pm EDT.
Contact:  @TogChat
Web:  http://www.flickr.com/groups/togchat
#WellnessChat: A community chat about living healthy. Every Thursday at 8:00pm EST.
Contact: @SarahStanley
Web:  http://sarahstanleyinspired.com/events/twitter-chats/
#RunSchool: A community chat about running.  A good one for marathon training!  Wednesdays at 3:00pm EST
Contact:  @SarahStanley
Web:  http://sarahstanleyinspired.com/events/twitter-chats/
#wwkds: Hosted on Mondays, this is a conversation among different people about what they did the previous weekend.
Contact:  @gtrot
Web:  http://www.gtrot.com/
http://blog.gtrot.com/2011/social-travel_travel-tech-wanderweekends-wwkds/
Do you know of any other chats that you think should be included on this list?  Email TheTravelBite@gmail.com.