This Mexican Mocha recipe is inspired by a coffee shop we went to during a trip to Sacramento. While exploring Sacramento's midtown during a Choice Touring California trip with Globus, we popped into Temple Coffee Roasters for a much needed caffeine break. The menu included the usual cafe fare … espressos, cappuccinos, cold brews, and even French press and pour overs. But one specialty drink caught my eye, a Mexican mocha.
Coffee, chocolate, and spices blended together sounded like a sip of heaven. So we ordered our coffees and found a table outside under the shady trees (Fun fact: Sacramento is known for having more trees per capita than any other city in the world). It was easy to see that this coffee shop was loved by locals. Every table seemed to be filled either with quiet conversations among friends or young professionals focused and working on their laptops.
Once our coffees arrived, I had the first sip, and I was instantly hooked. A bit of spice and coffee and chocolate to boot. This recipe we created below is inspired by that visit to Temple Coffee Roasters.
The History Of Mocha
Mocha isn't exactly a Mexican invention. Originally, the term Mocha (or Mohka) was used to describe coffee from Al-Mukha in Yemen. al-Mukha was a major coffee trading port in the 15th century and was essentially the birthplace of the coffee trade.
But the chocolate and coffee drink we know today as mocha was first created in Turin, Italy at Caffè Al Bicerin. One of the coffee drinks that contributed to the success of Caffe Al Bicerin was something they called bavareisa, a dink made using coffee, chocolate, milk, and syrup. It was very fashionable in the 18th century!
What Is Mexican Mocha?
So how is Mexico involved? Well, Mexico, and more specifically the Mayans, were the first to roast and grind cocoa beans into a drinkable beverage. Mexico is actually located in what is known as the "bean belt" where both coffee beans and cacao grow close to the equator. So this Mexican mocha is a coffee drink inspired by a bit of Mexico's history and delicious exports … coffee and chocolate.
What makes Mexican mocha a little different than a traditional mocha are the spices. A little bit of cinnamon, vanilla, and a pinch of cayenne pepper layer in some flavor and heat that make this coffee drink delicious!
Mexican History In Sacramento
Temple Coffee wanted to create a sense of community in Sacramento. And the Mexican Mocha on their menu is a nod to California's history with Mexico and the revival of local Mexican culture. Just down the street from Temple Coffee is a place called Kulture, a collective of local Mexican art, culture, and imports. Also, you'll find lots of murals throughout Sacramento, with many reflecting Mexican culture and art, like that of John S. Huerta.
How To Make A Mexican Mocha
1 – Gather Your Ingredients
A bit of spice, a hint of vanilla, and coffee and chocolate to boot. To make a Mexican Mocha, you will need the following ingredients"
dark cocoa powder
powdered sugar
cinnamon
cayenne
vanilla
espresso (or strong brewed coffee)
whole milk (coconut or oatmilk coffee creamer for plant-based)
2 – Mix Together Dry Ingredients
Add the cocoa powder, powdered sugar, cinnamon, and cayenne to a large bowl and stir together with a whisk. This is the base for your Mexican mocha. And it can also be used to make a Mexican hot chocolate.
3 – Add Coffee and Vanilla
Slowly pour the hot espresso (or brewed coffee) over the chocolate mixture and stir with a whisk until well blended.
Once the chocolate, sugar, and spices are dissolved into the coffee, add the vanilla and stir until well blended.
4 – Add Milk, Pour Over Ice, and Serve
Once you've blended the cocoa and spice mixture with coffee and vanilla, your Mexican mocha is ready to serve! Pour into individual glasses over ice and add milk. You can use whole milk or a plant-based alternative such as coconut milk or oat milk. If using a plant-based milk, choose one that has a creamier consistency (such as a plant-based coffee creamer) or one that is full fat, like coconut milk. The creaminess balances the spice and the heat in the Mexican mocha.
5 – Serve Mexican Mocha Hot
You can also enjoy a hot Mexican mocha. After combining all the ingredients, you might need to re-heat the beverage to your desired temperature. You can do this in a pot on a stovetop or in a microwave using a microwave safe bowl. Simply mix the ingredients together as pictured above, then heat and serve!
This recipe will make two, 6 ounce Mexican mocha drinks. So to make it hot, you could also divide up the cocoa and spiced powder mixture evenly between two mugs and pour hot coffee or espresso over top of each. Then add 1/4 teaspoon of vanilla to each mug.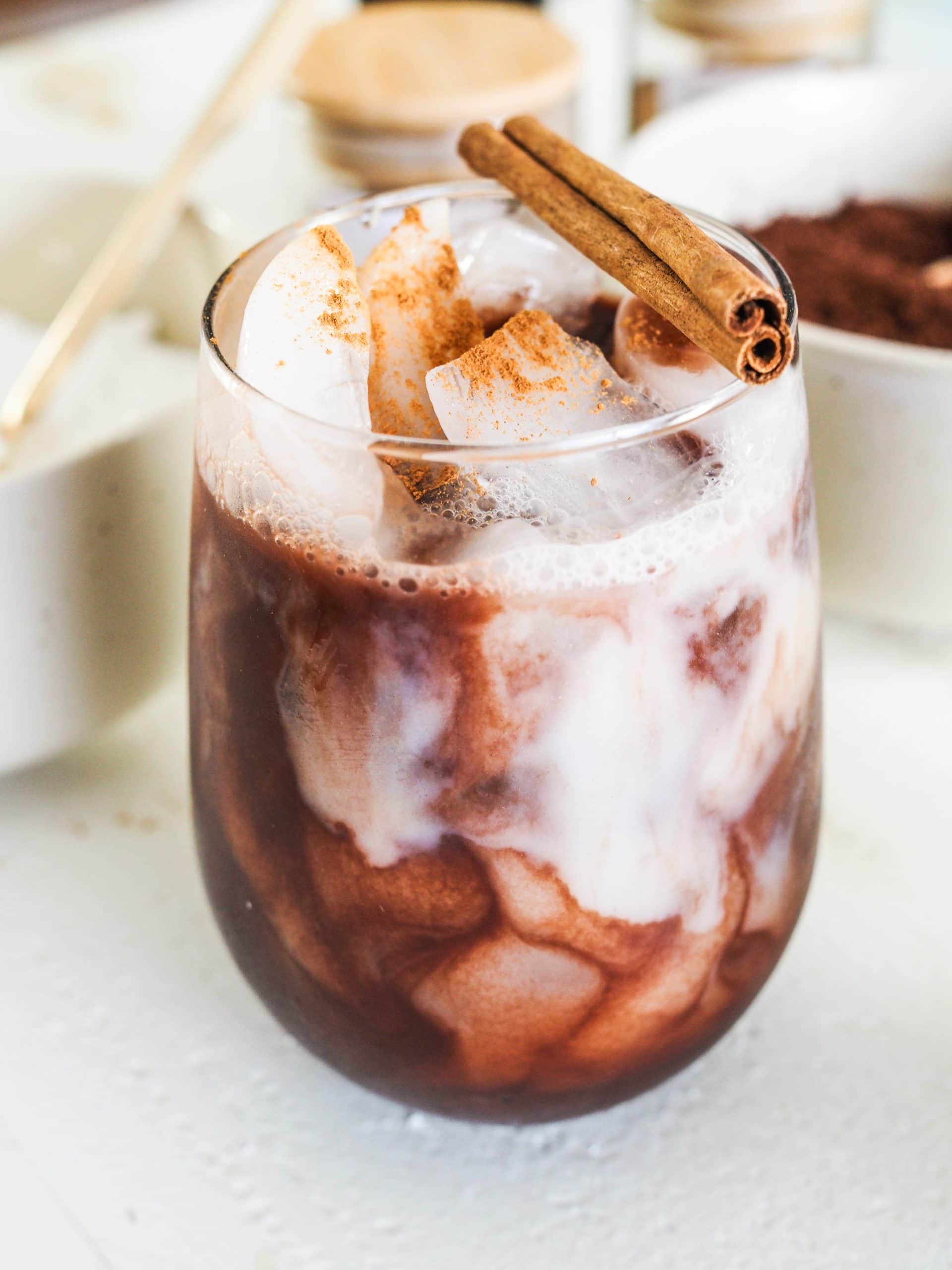 Mexican Mocha
Ingredients
2 tablespoons dark cocoa powder
1 tablespoon powdered sugar
1 teaspoon cinnamon
1/8 teaspoon (or pinch) of cayenne
4 shots of espresso (or one cup strong coffee)
1/2 teaspoon vanilla extract
1/2 to 3/4 cup of whole milk (or plant based milk)
Instructions
Add dry ingredients (cocoa powder, powdered sugar, cinnamon, and cayenne) to a medium sized mixing bowl with a pour spout. Mix together with a whisk until well blended.
Slowly pour espresso or coffee over chocolate mixture while stirring with a whisk. Continue to stir until well blended.
Next, add the vanilla and stir.
Pour chocolate and coffee blend evenly between two cups filled with ice.
Top with whole milk (or plant based milk) spinkle top with cinnamon and serve.
Makes two 6-8 ounce servings.
Notes
If you want it less spicy, you can omit the cayenne. Nutmeg is a nice non-spicy alternative.
When using plant-based milk, choose one that is creamy or high fat, such as a coconut or oatmilk coffee creamer. The creaminess balances the spice.
Want to make a Mexican Hot Chocolate? Just skip the coffee and use milk.
This post is part of a paid campaign in collaboration with iambassador and Globus. However, all views and opinions are my own.