Hello and welcome to The Travel Bite®, a food and travel blog for inspiring delicious adventures whether you're at home or abroad. Everything from trying out new recipes and having a taste adventure in your own kitchen, to tips on where to travel for the best food.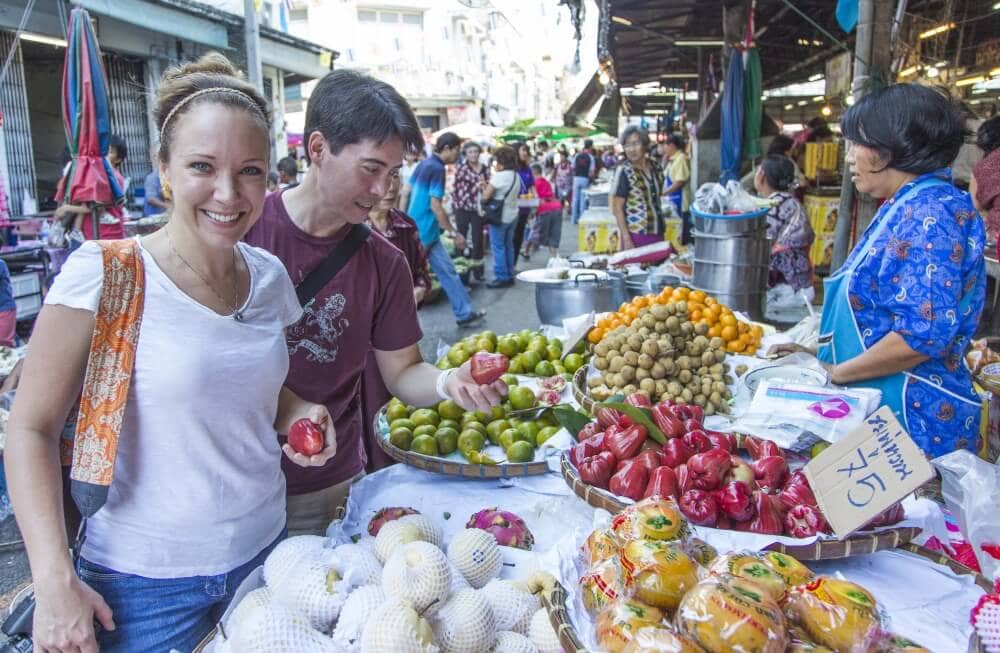 We're Rachelle and Pete, and if you love travel and you love food, then you've come to the right place. If your idea of a fun time is going on a cooking safari in Cape Town, hiking through a rainforest to harvest chocolate in Costa Rica, or dining at the number one restaurant in the world, then we're kindred spirits. Our goal is to tempt your tastebuds with globally inspired recipes and help you plan that culinary vacation you've been dreaming about.
How I Started A Food and Travel Blog
I'm frequently asked how I started food and travel blog, and I have to confess it was sort of by accident. After working in marketing for the banking industry, I traded in my power pumps and suits for flip flops and jeans and swapped my downtown office for a set of cottages in the town of Mount Dora, Florida. I had realized my dream of becoming an innkeeper! There was only one problem, I couldn't cook. But that soon changed when I started a blog.
As a member of the local lodging association, I found an opportunity to trade my marketing savvy for cooking lessons. One unbearably hot summer, our inns were empty so all of us got together to brain storm marketing ideas over a refreshing pitcher of iced tea. Or maybe it was wine? It had to be wine, that's what really gets the creativity flowing. Anyway, the idea of blogging came up and since I was the youngest person in the room (and most people in our small town thought that blogs were for teenagers and insomniacs), I became the designated blogger.
After that meeting, the blog Innside Story was born. It was there that I shared stories about our local inns, traveling to each of our town's b&b's and staying the night (which was kind of weird, but fun, being so close to home) so I could write about the experiences. I updated the blog with 'slice of life' style of stories to give readers a glimpse of what it was like to be an innkeeper. This included everything from town events, tips for housekeeping and laundry, and delicious breakfast recipes. I guess you could say it was a lifestyle blog before lifestyle blogging was a thing!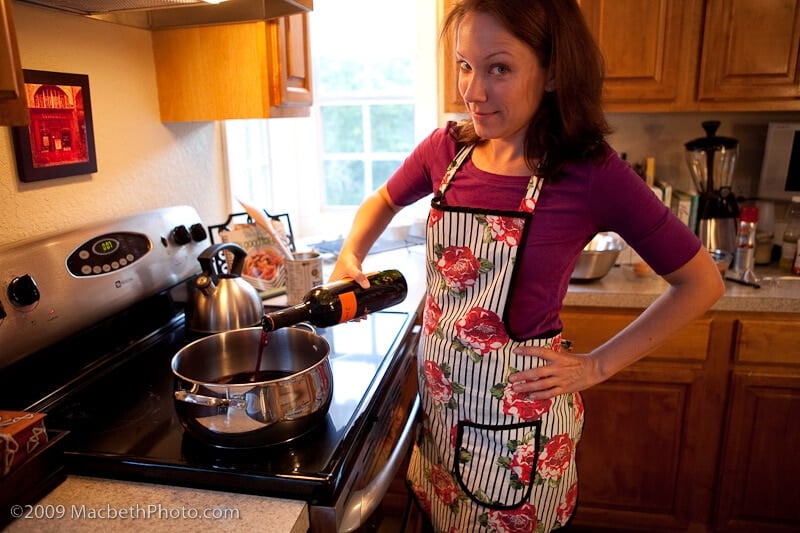 It was through working with the other innkeepers, many of whom are retired chefs, that I learned to cook. Watching them create elaborate breakfast spreads and wine dinners, trying out their recipes at home, becoming good friends with our local restaurant owners, I became hooked on food and the stories behind a great dish.
Sharing our love of food and conversation must have worked well because visitors started coming to town asking, "Is Rachelle a real person? We love the blog!" Our success even lead to taping a pilot for a TV show, Inn The Kitchen.
What I enjoyed the most about the whole innkeeping experience was the stories, sitting down over a cup of coffee and hearing travel tales from other innkeepers as well as the many travelers that crossed our path. Today, the cottages are sold and I've moved back to the city. But my love for food, travel and sharing stories has remained. And that's what you'll find here on this food and travel blog, The Travel Bite®.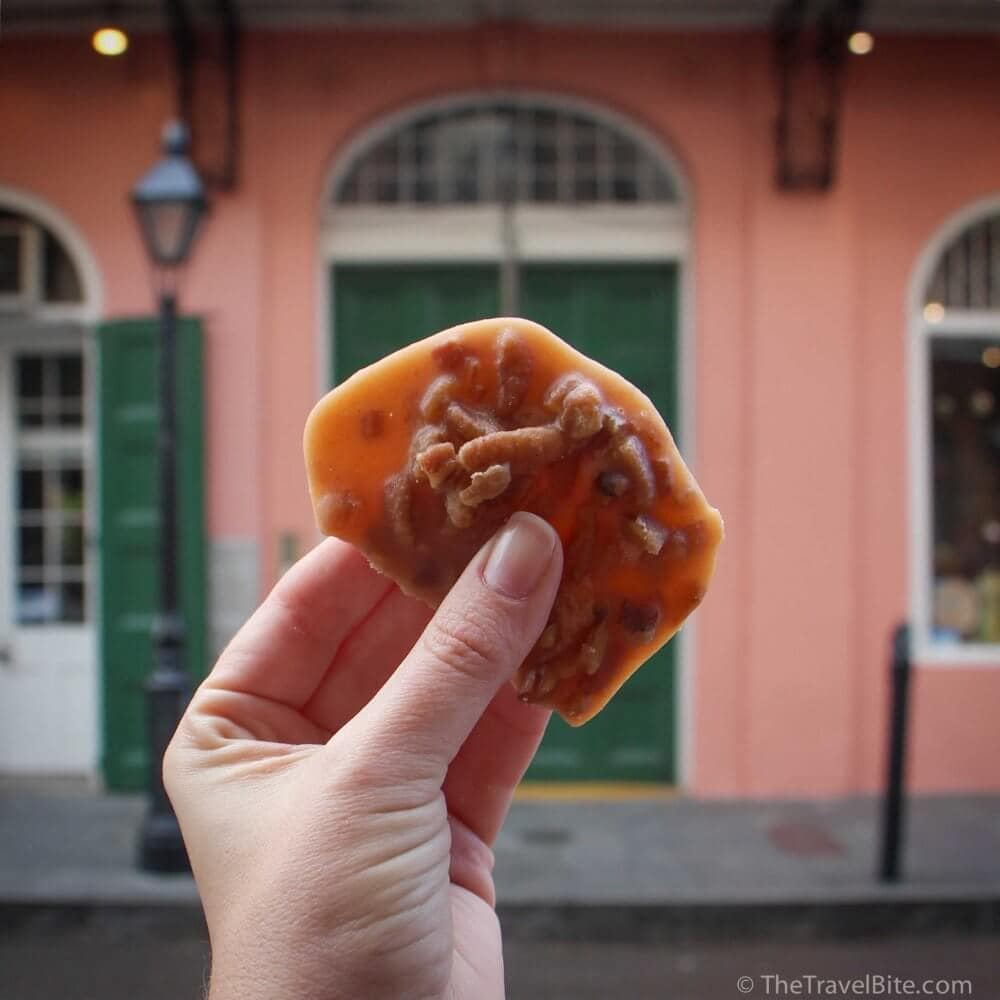 How Did You Pick The Name, The Travel Bite?
When I first started blogging, social media was brand new, Twitter was King, and blog photography was very amateurish. One of the things I always enjoyed sharing was a pic of me holding up a bite of something new I tried. A simple sort of "food in the air" shot from my perspective. That was "The Travel Bite" and how I came up with the name. It's a simple name for a food and travel blog, but it truly represents savoring a moment and a single taste of something new and delicious.
*The Travel Bite® is a Registered Trademark.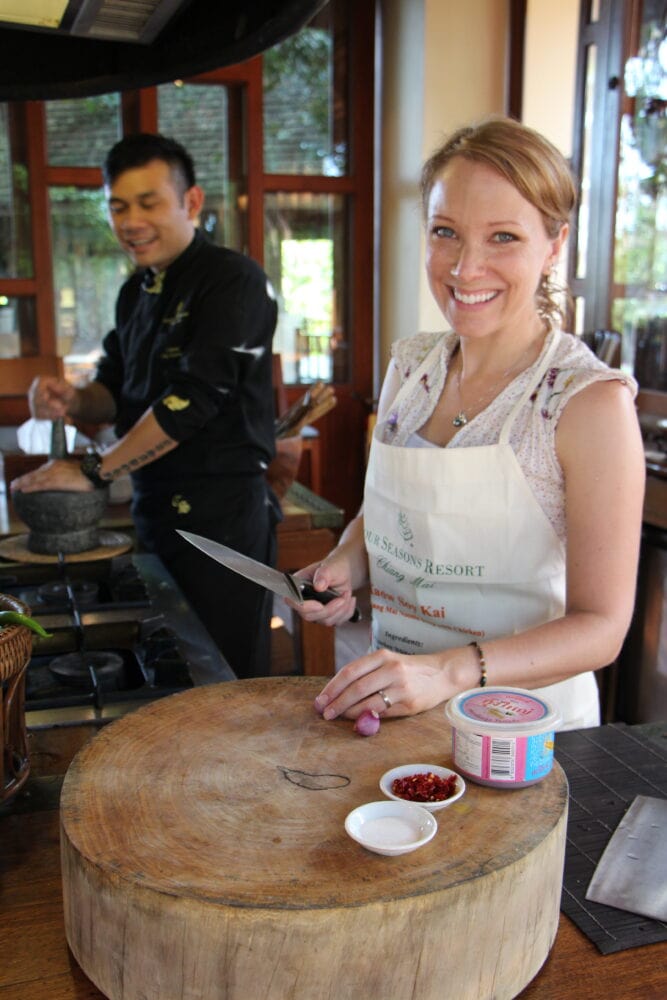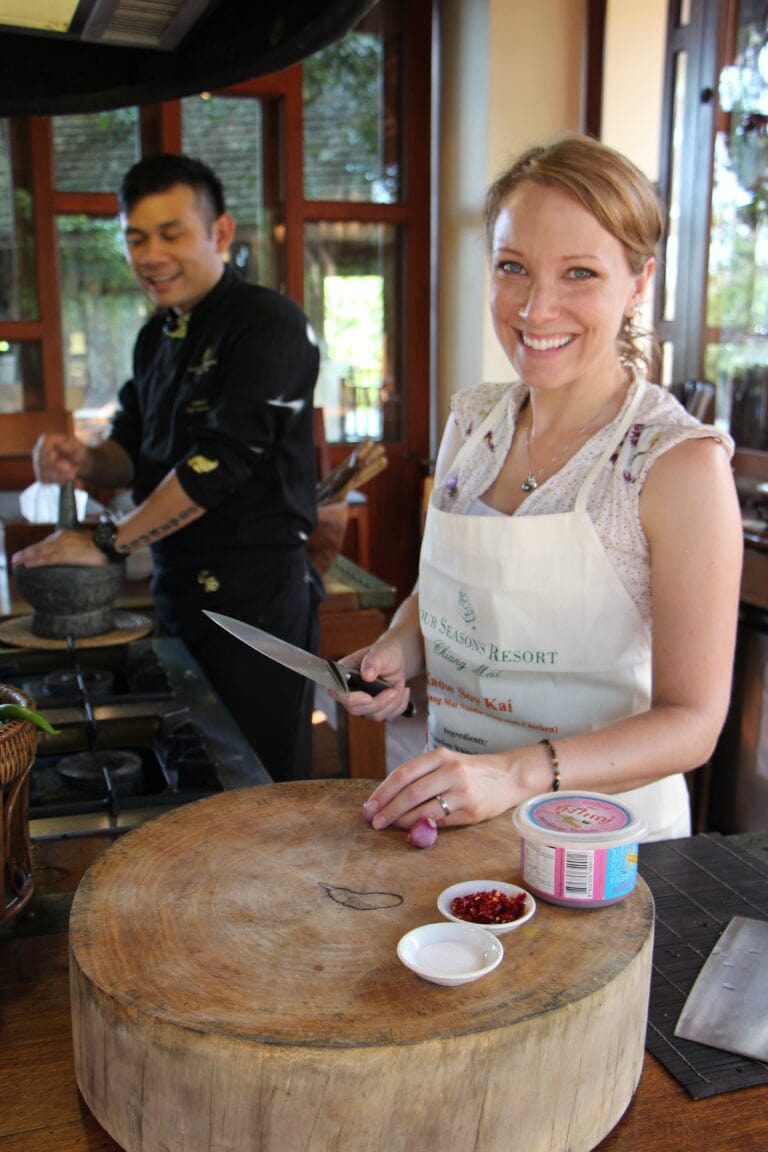 Is Traveling Just For Food A Thing?
Absolutely. Or, at least it is for anyone who loves to eat! There's a whole list of reasons why food travel has become popular in the last decade. Conversation, laughter and bonding over food is the common denominator that brings people together in every region and culture. My fondest memories of travel are always those created sharing wine around a dinner table, huddling by a street cart vendor, or crammed elbow-to-elbow in a small mom & pop diner. That is why my most prized collection of travel souvenirs are recipes. Cooking something at home has the ability to transport your senses to a new destination right in your own kitchen.
Here on The Travel Bite®, you'll find these recipes as well as helpful travel tips and "bites" of information to help you plan your next getaway. Be sure to stay up-to-date by subscribing via RSS or Email.
Blogger-In-Chief: Rachelle Lucas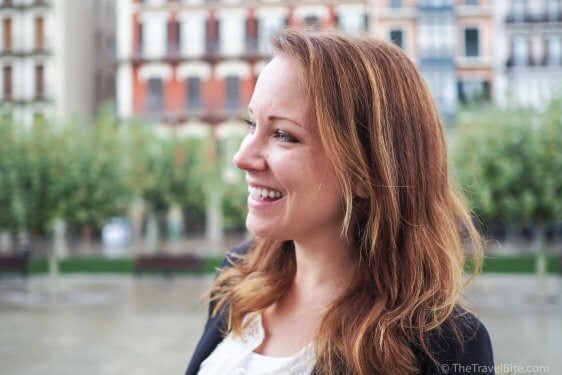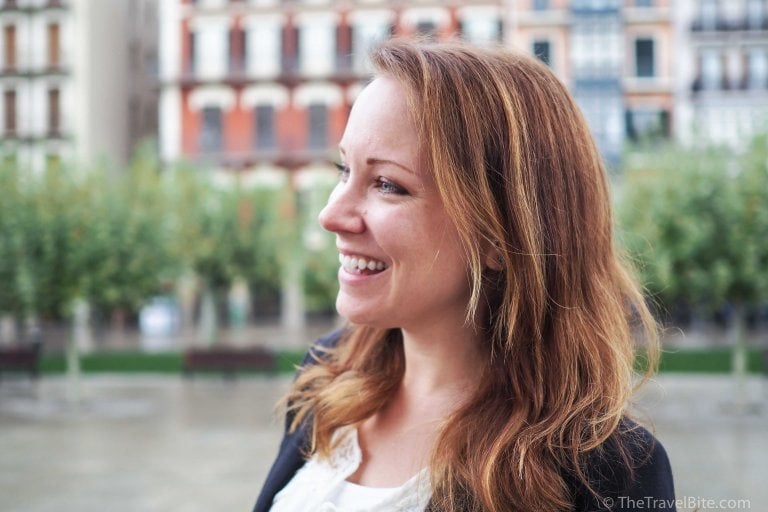 A culinary enthusiast with a passion for travel, Rachelle began blogging 2007 when she started documenting her life as an innkeeper. As her wanderlust grew, she sold the inn to pursue a career as a travel writer and has since been to over 55 countries in pursuit of the tastiest meals.
Rachelle worked with Visit Florida as their Food and Dining Insider for over 5 years, and was also chosen by the Four Seasons to blog about their inaugural Around-The-World By Private Jet Experience visiting 8 countries in 22 days.
Her online success led to television opportunities including working for the Travel Channel as a video journalist and appearing as a guest on the syndicated morning shows, Daytime in the United States, and Expresso in South Africa. She now appears regularly as a culinary expert on the Home Shopping Network.
Rachelle's food and travel blog has been featured in PEOPLE Magazine, Food & Wine, and Travel + Leisure. She was also listed by Trip Advisor as one of the Top 25 Culinary Travel Blogs to follow, voted one of USA Today's 10Best Food & Travel Blogs, and most recently was a finalist in Saveur's 2019 Blog Awards for Best Culinary Travel Blog.
In her spare time, Rachelle balances her food obsession with running and yoga. She's completed the New York City Marathon, the Marine Corps Marathon, and over ten half marathons throughout the United States.
You can connect with her on Twitter as @TravelBlggr and Instagram @TheTravelBite
Rachelle's Favorite Culinary Destination: Bologna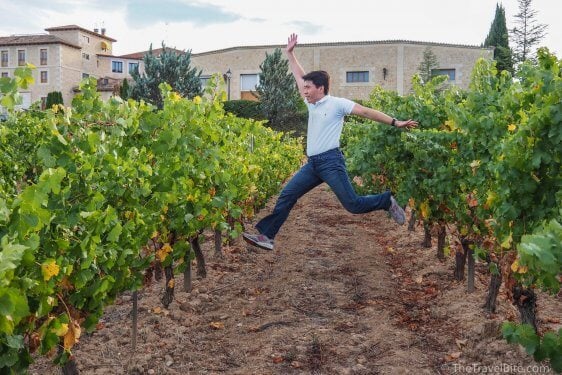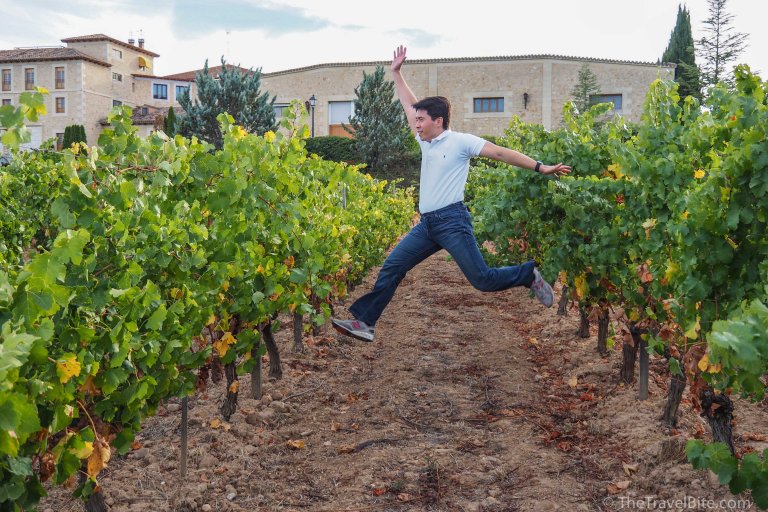 Pete Wallace was born a leftie but transitioned to being right-handed in his formative years. As a result, he blends creativity and imagination with precise and descriptive storytelling through narratives and still and moving images. It also makes him a great multi-tasker since he's ambidextrous.
His passion for storytelling has been fostered and honed in his professional life as a faculty administrator and transition counselor at the University of Central Florida. He continues to travel and explore the world in his quest to further define and describe the human condition.
When Pete's not working or traveling, you'll most likely find him on his bike.
Connect with Pete on Twitter as @DrivenByPete.
You can read more of his posts here on The Travel Bite here: Pete Wallace. You'll also frequently see Pete's name in the photo credits.
Pete's favorite culinary destination: Bangkok and Rome.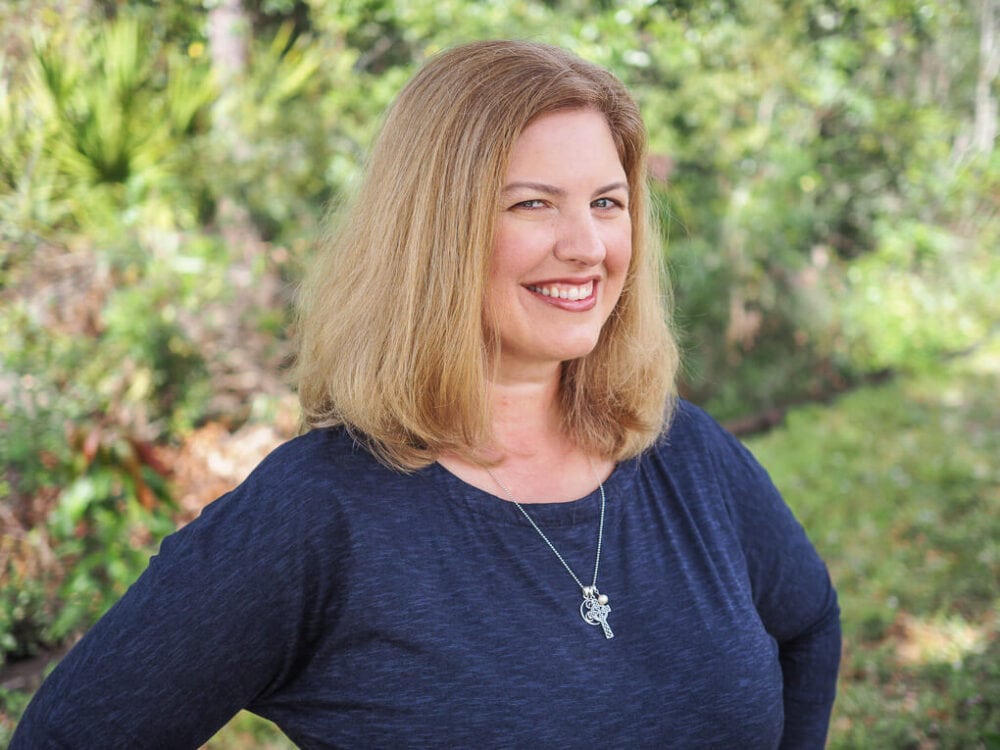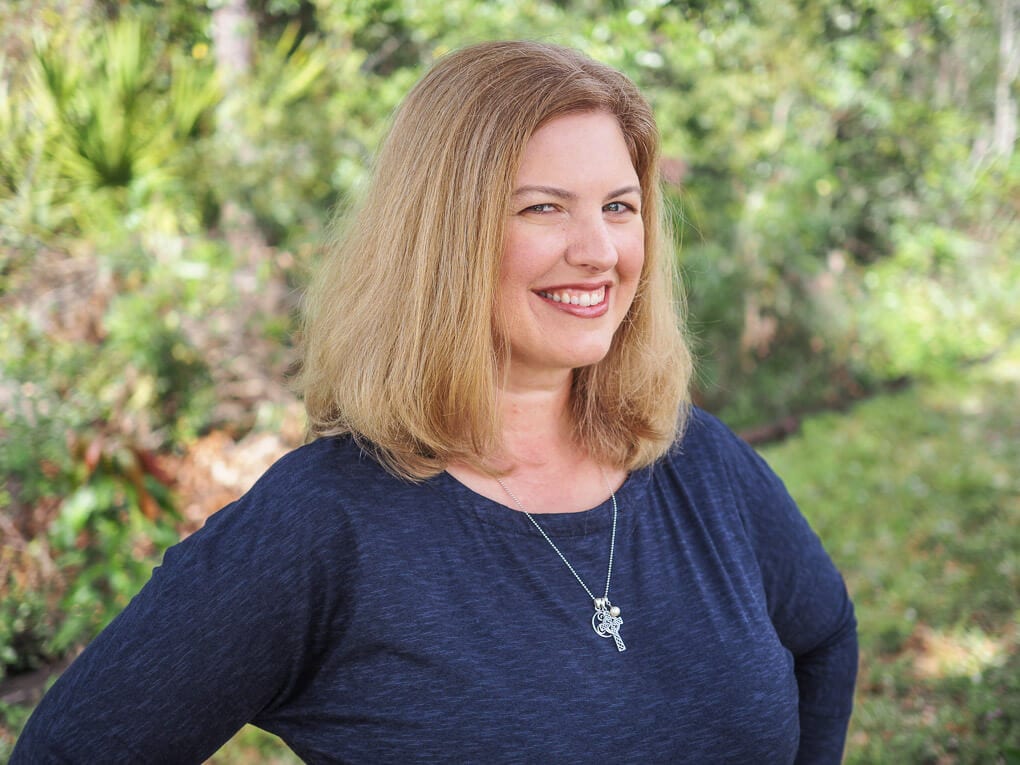 For Brooke, there's nothing more enjoyable and satisfying than taking in the little details and sharing them via the written word and photography. Whether she's creating a recipe, experiencing a new destination, or entertaining, she believes there's always a story to tell.
After earning a BA in English, Brooke spent time in the kitchens of Walt Disney World and the Ritz Carlton in an attempt to study the culinary arts on the job. Her time taught her two things: she loved food and wine, and she hated working in a professional kitchen.
When an opportunity to write about food arose, it was clear that Brooke had found her calling. A long-time contributor to Disney Food Blog, she had the chance to travel to Ireland on behalf of DFB, courtesy of Raglan Road Irish Pub and Restaurant, in celebration of their tenth anniversary. She also contributes to Edible Orlando Magazine and is the Editor of Where Orlando.
Brooke is happiest when she's gathered with friends in the kitchen, a glass of wine (or a G&T!) in hand. Otherwise, find her reading, walking, traveling, or hanging out with husband Jeremiah and their two young children.
Check out her posts here on The Travel Bite. Connect with Brooke on Twitter and Instagram as @bebefehr.
Brooke's favorite culinary destination: Ireland.