The word mole originates from the Aztec word molli, meaning something smashed or pureed into a sauce. In the case of mole poblano, roasted chilies and vegetables, burned tortillas, intriguing spices, and chocolate are blended into a sophisticated topping for a multitude of dishes. The flavor profile is a complex tapestry of smoky chilies, garlic, spices, and the bitter sweetness of Mexican chocolate.
There are several different legends regarding how mole poblano originated. The most common legend takes place sometime in the colonial period. Upon hearing that the archbishop was going to visit, the nuns at the Convent of Santa Rosa in Puebla worried because they had nothing to prepare. They prayed and gathered what they did have – chili peppers, spices, nuts, day-old bread, and chocolate – combining it into a thick sauce, which they served over turkey pleasing the bishop.
During a recent trip to Puebla, Mexico, I attended a cooking class where we learned how to make this signature dish of Puebla. The class was held at Mesones Sacristía, a restaurant and boutique hotel. The first thing I noticed when we entered was the color. Vibrantly painted plaster walls combined with antique furniture, Talevera ceramics and cheerful linins to create a whimsical space. I especially liked the bright courtyard where we dined a few days following our class.
There is no single recipe for mole poblano, simply the common thread of chilies and chocolate. Additionally, there are over 300 other varieties of mole prepared with everything from pumpkin seeds to coconut. Using the assistance of an interrupter, Chef Alonzo Hernández led us through the preparation of his famous mole poblano, while my fellow bloggers and I had fun taking turns behind the stove. I was most surprised when Chef Alonzo instructed us to allow tortillas to catch on fire then blow them out.
This recipe is courtesy Chef Alonzo with a few edits where I added some details regarding the method and spices. Don't let the long list of ingredients scare you; many are common spices. However, some of the ingredients may be hard to find in the United States, so I suggest gathering everything before you plan to make this savory sauce for company.
Mole Poblano: A Rich Tapestry of Mexican Flavors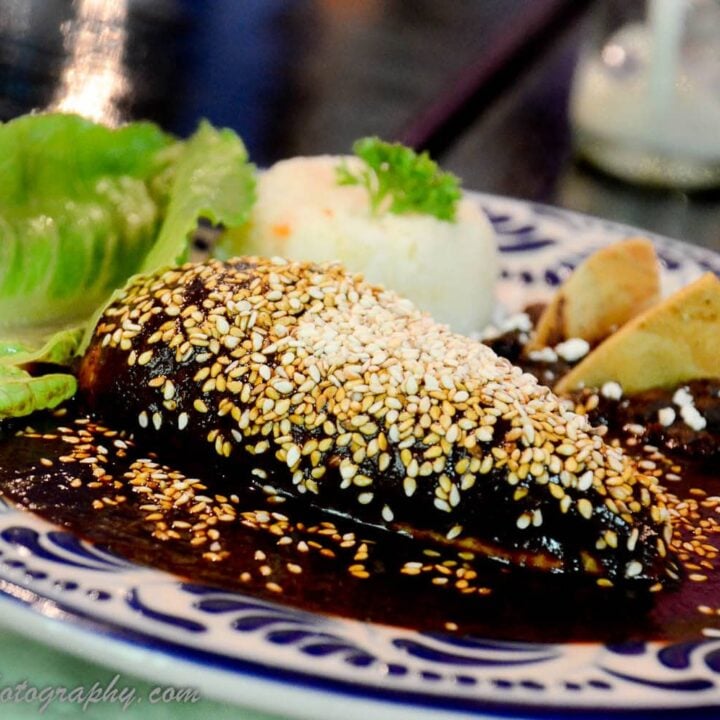 Mole Poblano
A rich tapestry of Mexican flavors, from Chef Alonzo Hernández, Mesones Sacristía.
Ingredients
3 mulato chiles
3 ancho chiles
3 pasilla chiles
6 roma tomatoes
1 onion, quartered
2 garlic cloves, peeled
6 cups Water, divided
¼ cup Almonds
¼ cup Raisins
¼ teaspoon fennel seeds
¼ teaspoon cumin seeds
1 teaspoon whole black peppercorns
1 teaspoon coriander seeds
1 teaspoon whole cloves
2 sticks of cinnamon
2 tablespoon Sesame seeds, toasted
1 ripe plantain peeled, sliced in half
2 corn tortillas
1 cup sugar
1 disk Ibarra chocolate (roughly 3 oz)
oil, as needed for frying
salt to taste
Instructions
Remove the stem and seeds from the chiles
Roast the tomatoes, onion and garlic over a flame or in the oven until charred.
Fry the chiles in heated oil until they become soft and fragrant, just a few seconds each. Reserve.
In a large pot, bring about 5 cups of water to a boil. Add the fried chiles and the charred vegetables along with the raisins, almonds, fennel, cumin, coriander, cloves, pepper, sesame seeds and cinnamon. Boil until the vegetables are soft.
Meanwhile, fry the plantain in heated oil until golden, Reserve.
Working in batches, transfer the boiled vegetable mixture to a blender and puree until smooth. Strain the sauce through a sieve and discard solids. Use caution and only fill the blender halfway with the hot liquid.
Using tongs, hold the tortillas over a flame and let them slowly catch fire and burn until crisp and black.
Puree the plantain and tortillas in a blender with one cup of water until smooth. Reserve.
In a large skillet or pot, heat some oil until very hot. Carefully add the tomato/chile puree to the hot oil and fry a few minutes until thickened.
Reduce the heat and add the reserved plantain puree, mixing well.
Add the chocolate and sugar, stirring constantly until the chocolate is melted and the sugar completely dissolved. Allow to simmer over low heat for another 20 to 25 minutes.
Serve over boiled turkey or chicken breast. Boiled is traditional, but feel free to use a roasted or grilled preparation instead. Serves four.
Nutrition Information:
Yield:

4
Serving Size:

1
Amount Per Serving:
Calories:

508
Total Fat:

12g
Saturated Fat:

1g
Trans Fat:

0g
Unsaturated Fat:

9g
Cholesterol:

0mg
Sodium:

233mg
Carbohydrates:

102g
Fiber:

9g
Sugar:

72g
Protein:

7g
Nutritional information provided only an estimate.
My visit to Puebla was made possible by the Mexico Board of Tourism who provided my transportation, lodging and food. I paid for my own incidentals and extras. As always, my opinions are my own. Visit my blog TheActiveExplorer.com for more on Mexico and other destinations.