Meatless Monday and taco Tuesday seem to run together in our house with these quinoa and black bean burrito bowls. In an effort to eat healthier meals and have at least one meatless night a week, I had to make it look appetizing and a burrito-style quinoa bowl seemed to do the trick.
The benefits of quinoa are numerous; it's gluten free, high protein, and contains all essential amino acids. But it is also the "glitter" of the culinary world as it seems to end up everywhere when cooked on it's own. But mixed together in one big pan with other ingredients like this burrito-style quinoa bowl, it all stays together. Win!
I'm a big fan of any recipe I can do all in one pan (less dishes!) so this is great for quick I've-got-too-much-to-get-done weeknight meals.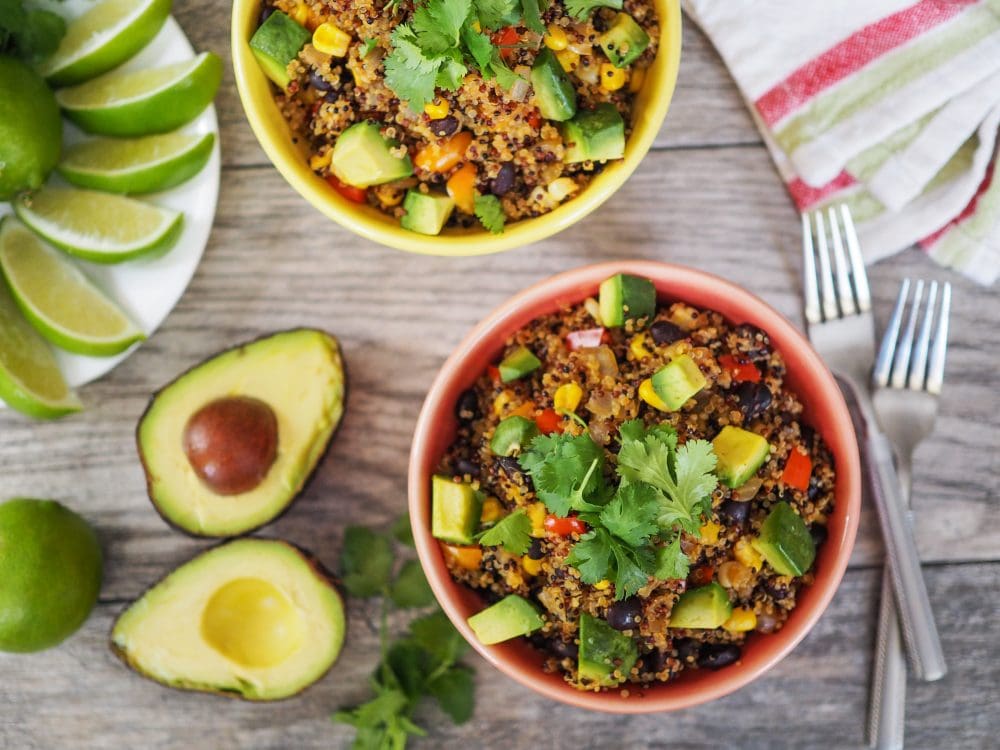 A Few Tips For This Quinoa Bowl
While this recipe calls for two bell peppers, the smaller snack-sized sweet peppers are good too. You just need a cup of them diced up. I typically have a bag of small sweet bell peppers on hand for snacking and dipping in hummus, so they're always in our refrigerator.
The lime, cilantro, and avocado are all big-time flavor enhancers. A squeeze of tangy lime along with the creaminess of the avocado makes this sublime! I know there's a love/hate relationship with cilantro — you're either in the camp that enjoys it, or the type of person that thinks it tastes like soap. If you are the latter, parsley will work too. I just happen to love cilantro.
Since we're a family of two, we usually have some left over for lunch the next day. If you end up with some leftover, squeeze more lime juice on the avocado chunks and mix it with the quinoa so it doesn't turn brown.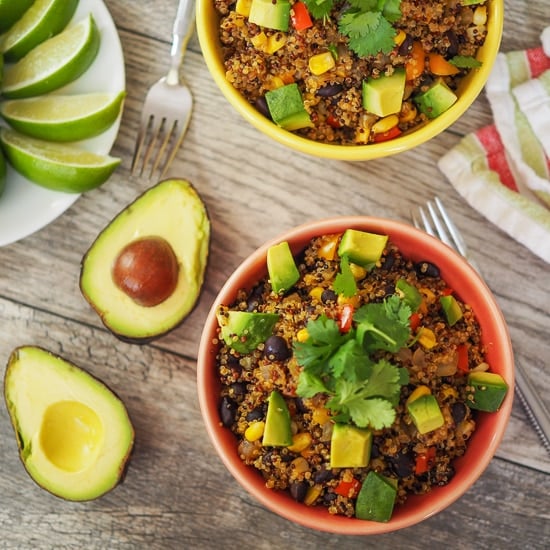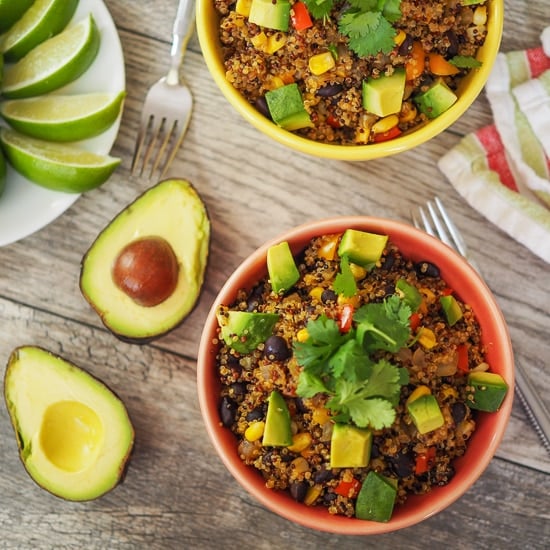 Quinoa & Black Bean Burrito Bowls
Ingredients
1 large white onion, diced
2 large red bell peppers (approx 2 cup), diced
2 cups quinoa
1 cup frozen corn
1 can (15 oz) black beans, rinsed
4 cups vegetable stock
2 tablespoons olive oil
2 teaspoons chili powder
1/2 tsp cayenne pepper
salt and pepper to taste
1-2 Haas avocados
1 bunch fresh cilantro
2 limes
Instructions
Heat olive oil in a large skillet, then add diced onion and bell peppers for about 5 minutes until softened.
Pour in vegetable stock and bring to a boil. Stir in corn, quinoa, and spices. (Omit the cayenne if you want it mild)
Reduce heat to low/medium, cover, and simmer for 15 minutes until quinoa is fully cooked.
Remove cover, stir in beans and cook 1-2 minutes.
Serve with cilantro, avocado, and lime.
Save this recipe quinoa and blackbean burrito bowls and Pin it! 🙂