(This Strawberry Honey Butter was originally published on my innkeeping blog in 2010. It has since been updated. Enjoy!)
It's the little things that make a meal special. For breakfast, sometimes it's as simple as the perfect cup of coffee. But some innkeepers put in a little extra love and effort to make breakfast memorable. Crisp ironed linens, fresh flowers and fine china. I always get nervous when they serve on fine china because I'm usually kind of a clumsy sleepy head and not feeling all that fancy in the first half of the day.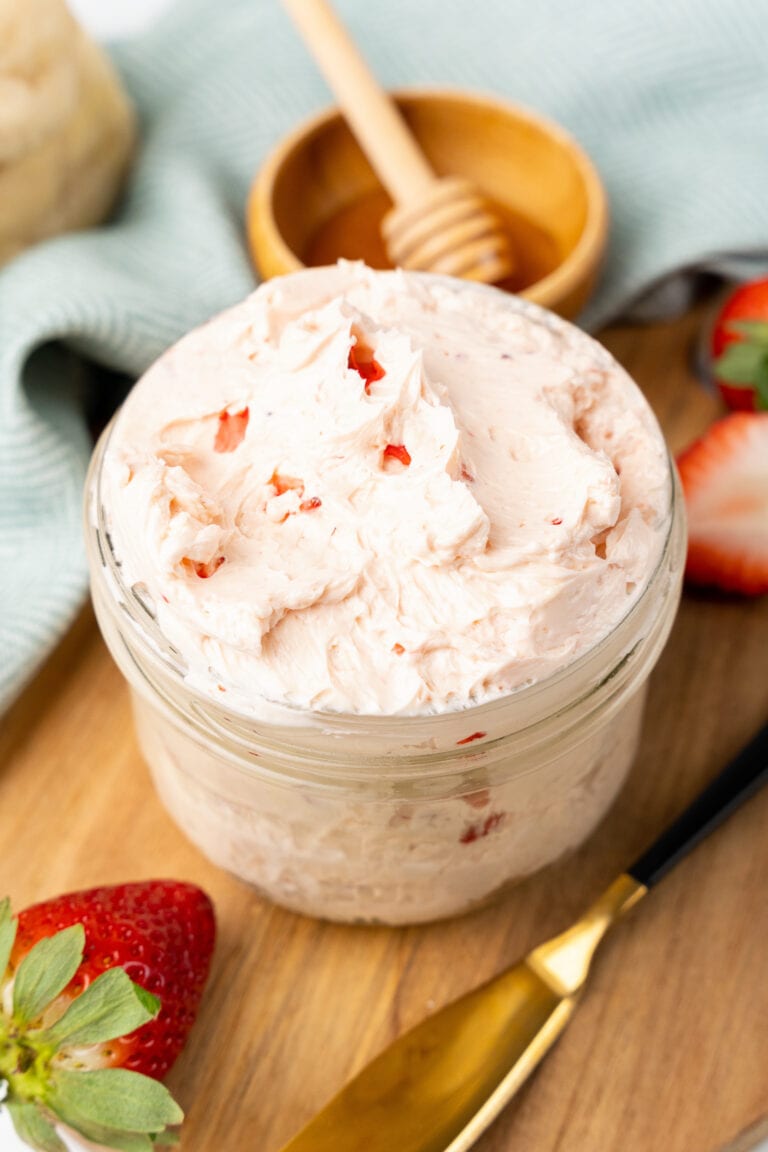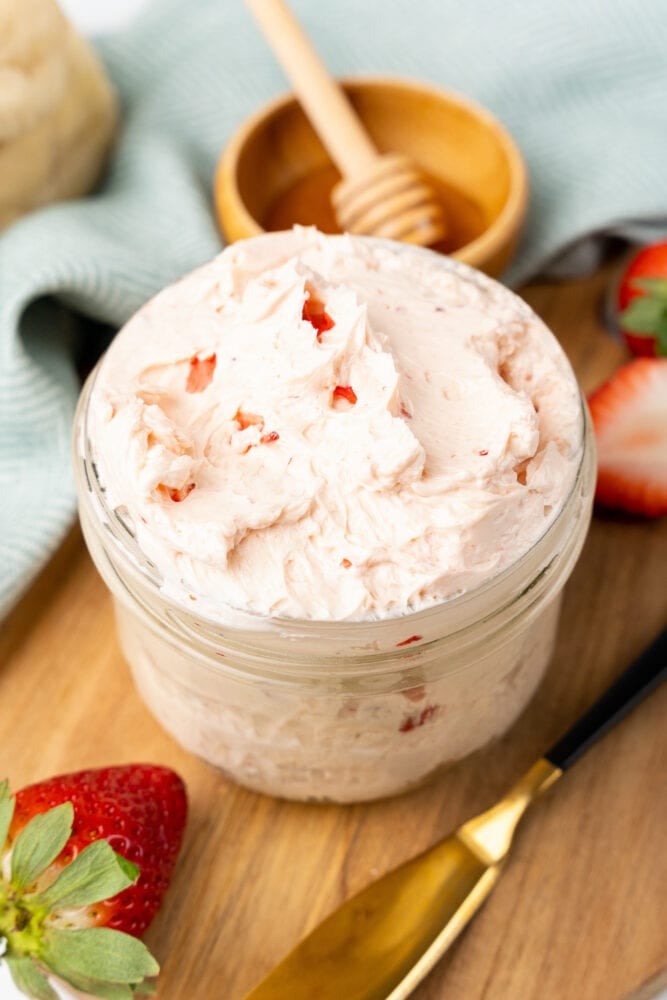 Andrew Inn & Cottages in Key West adds that extra touch my making their own flavored butter. Strawberry Mango Honey Butter. What a way to liven up a plain piece of toast! On my busy mornings, I sometimes only have time for coffee and an English muffin. But this recipe makes my boring busy morning breakfast into a treat.
"Unbuttered toast is a substance half complete, and to be forced to eat it in that state is necessarily to feel deprived." -John Thorne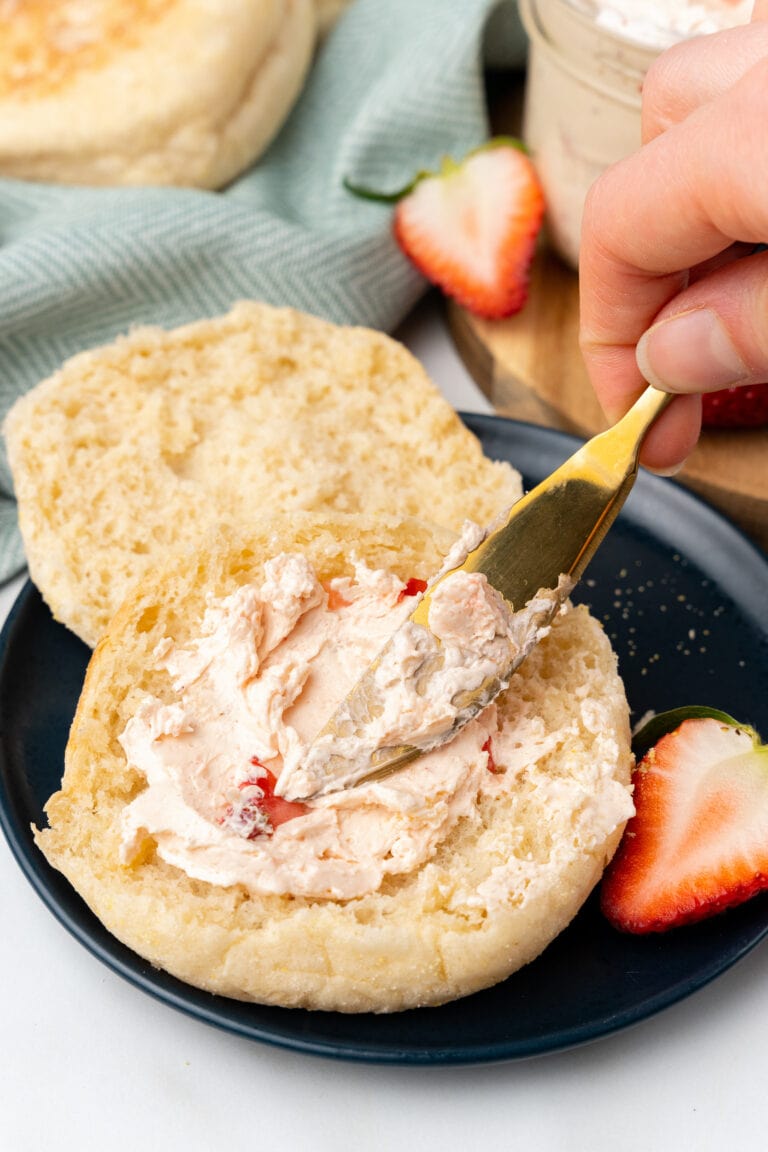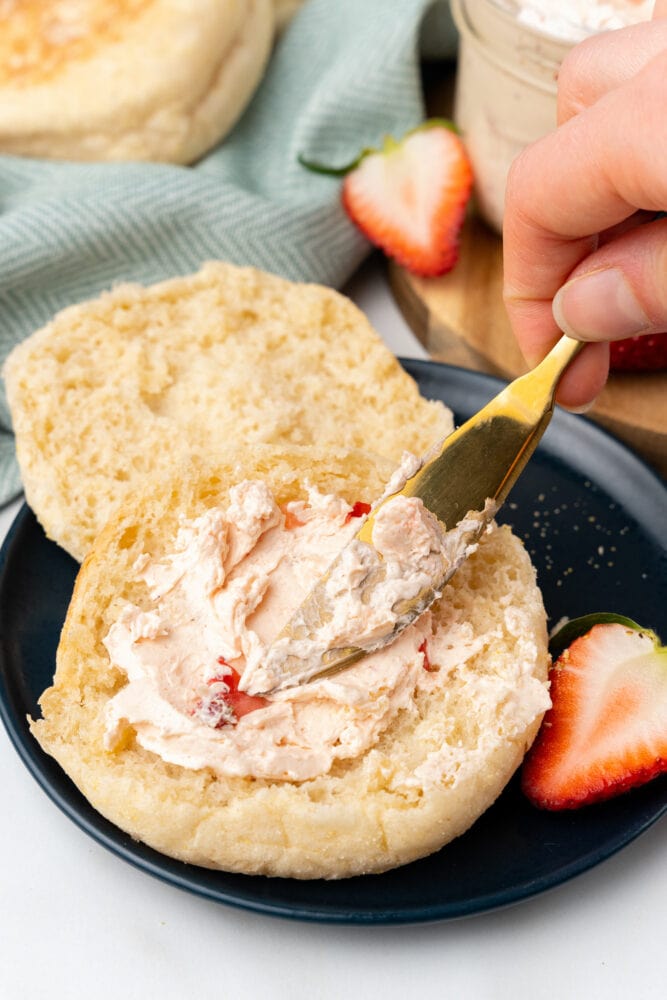 I couldn't find fresh mangos anywhere this time of year, so I modified the recipe to make a strawberry honey butter. It's a great recipe to have on hand when winter Florida strawberries in season. But truly it's great to have on hand any time of year. From making a Valentine's Day or Mother's Day brunch a little extra special. (Especially with a heart-shaped butter mold.) Or just to liven up your daily breakfast with some flavor and color.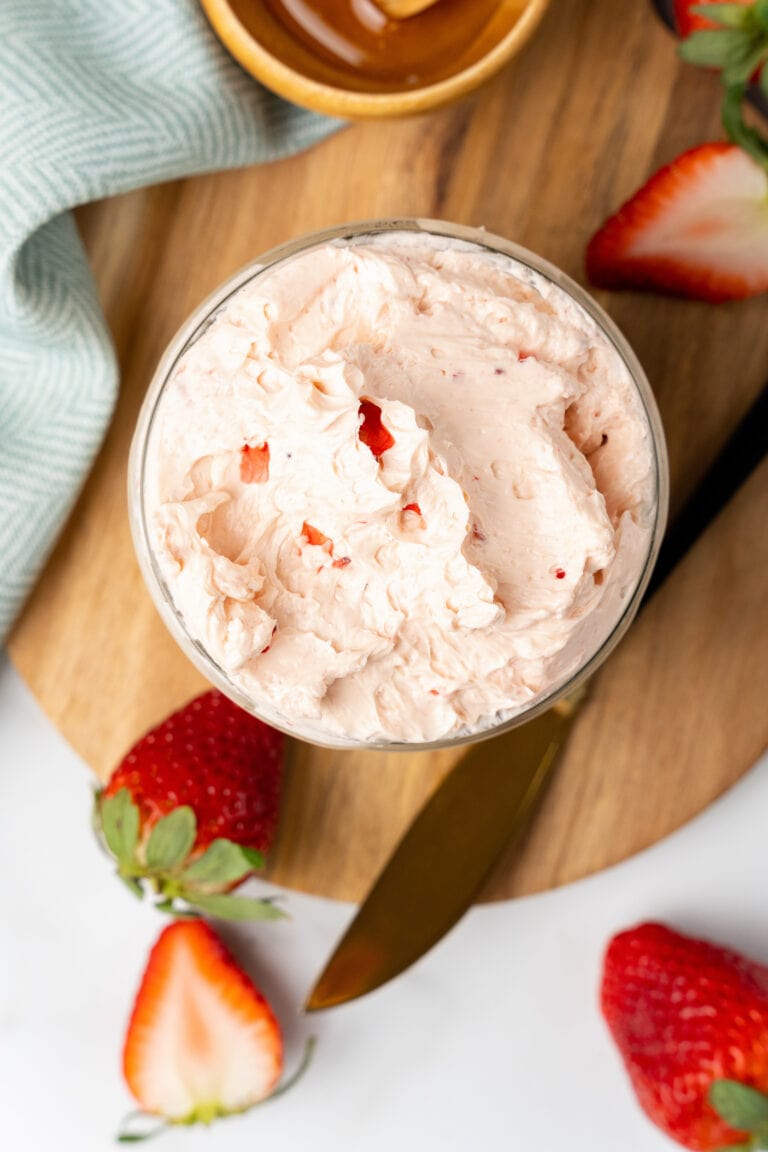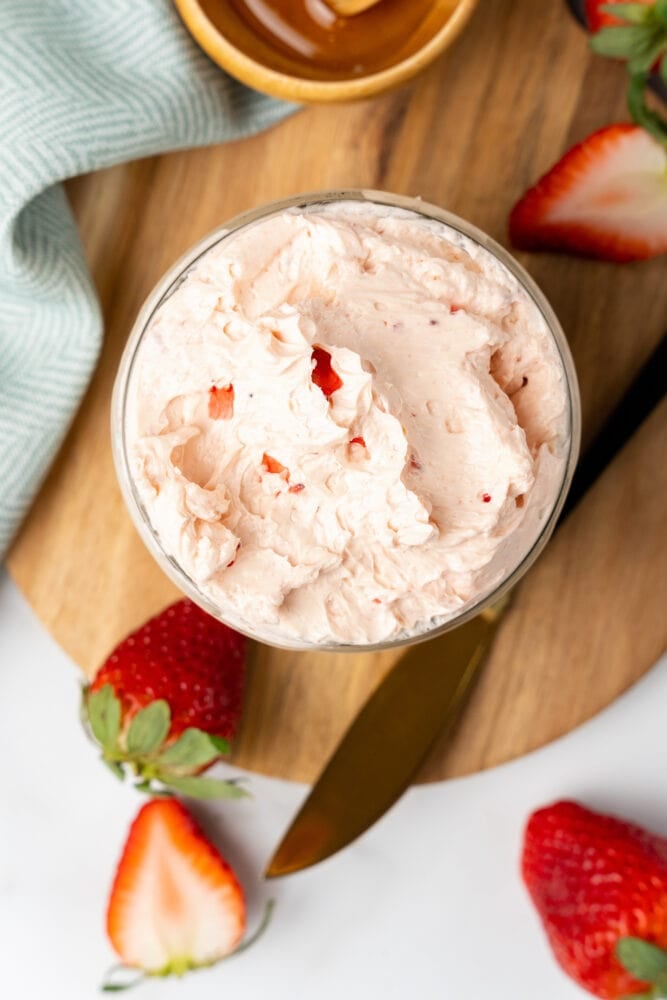 STRAWBERRY BUTTER INGREDIENTS
The ingredients for strawberry butter are pretty simple. Just butter, fresh strawberries, honey (or your sweetener of choice), and strawberry preserves.
The trick is to make sure the butter is soft and at room temperature so it blends well with the other ingredients.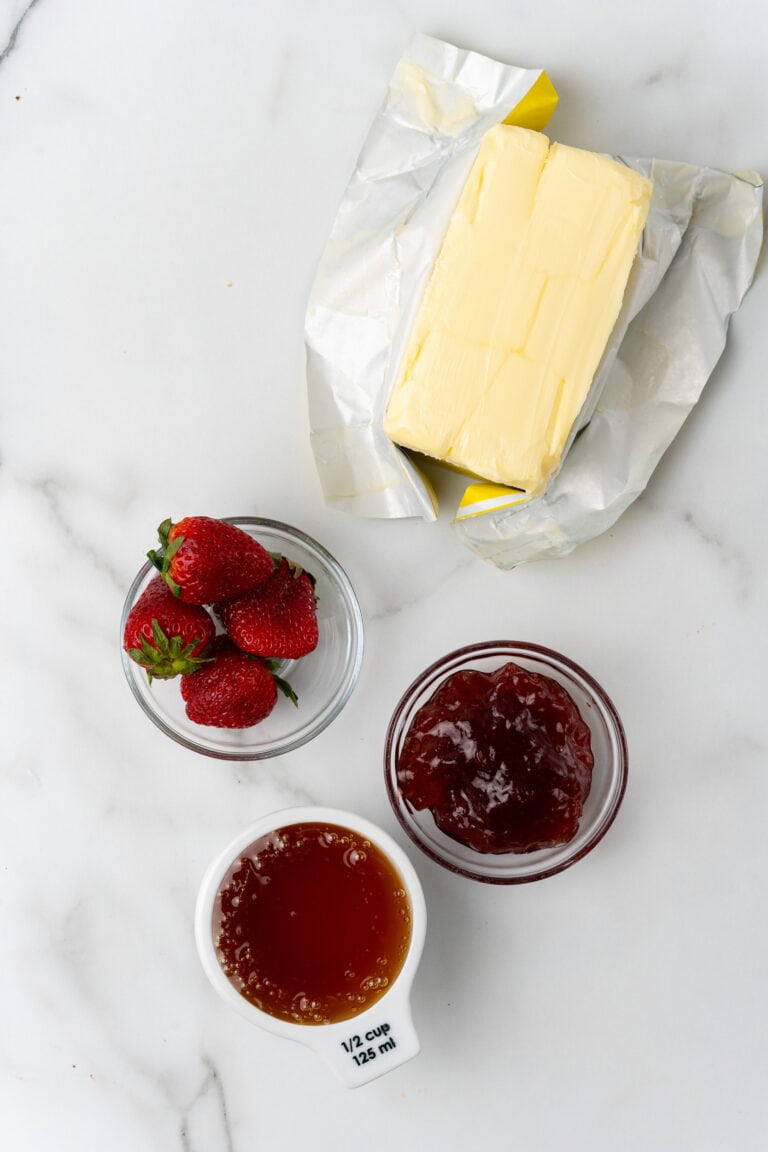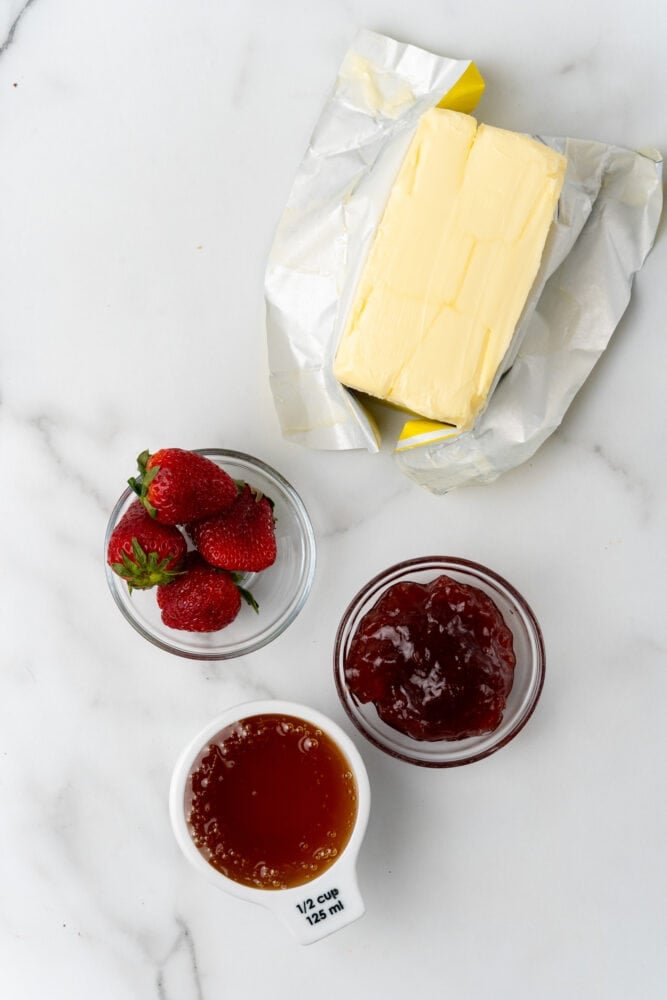 TIP: To make this a little easier, chop up the butter into smaller pieces to make it easier to mix once it softened.
CAN I USE ANOTHER SWEETENER BESIDES HONEY?
Yes, you can definitely substitute your favorite sweetener in place of honey. However, I'd recommend using only a liquid sweetener. So something like maple syrup, agave syrup, or liquid monk fruit sweetener. You may have to reduce the amount used as some of the sweeteners mentioned above taste sweeter than honey, so you won't need as much.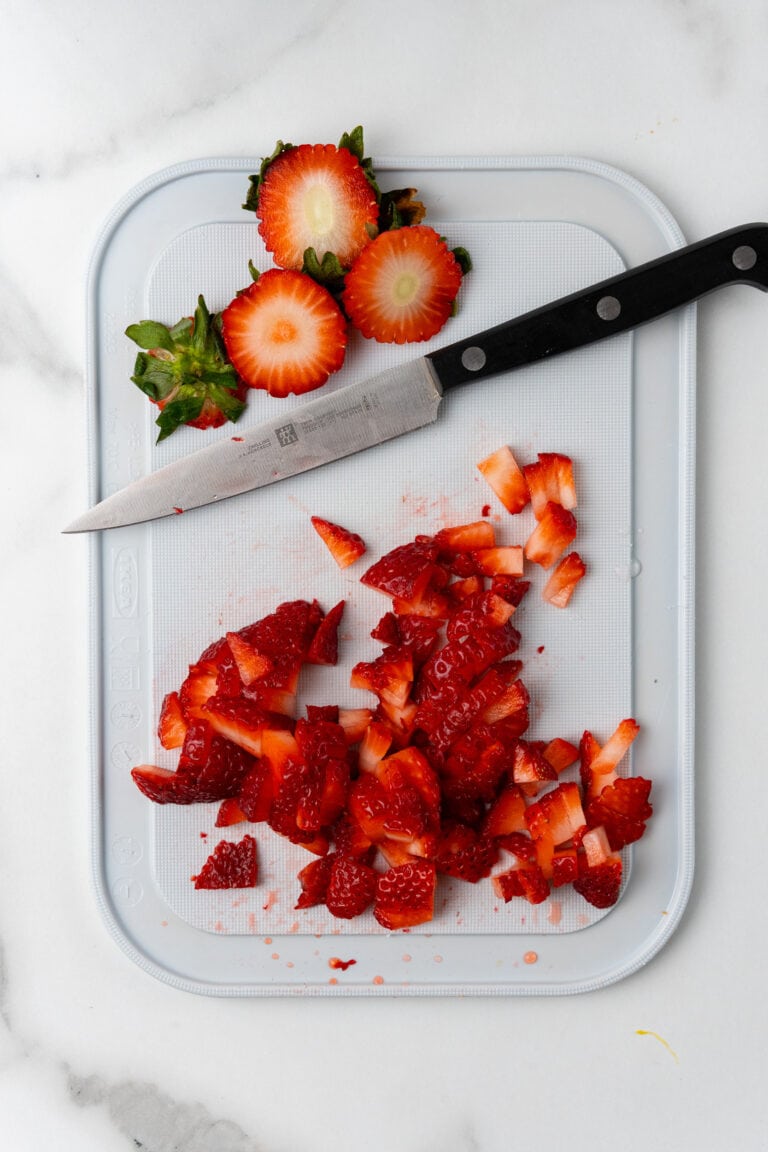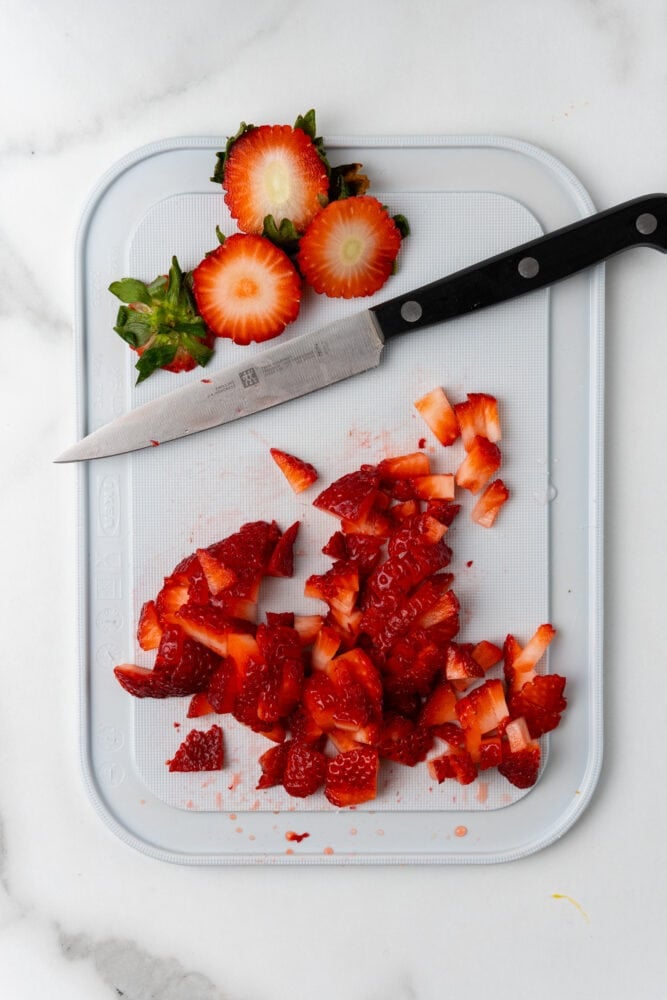 First, rinse and pat dry the fresh strawberries. Chop them up into small, quarter inch pieces. Then, in a mixing bowl, whip the softened butter using the whisk attachment on a stand mixer or hand mixer.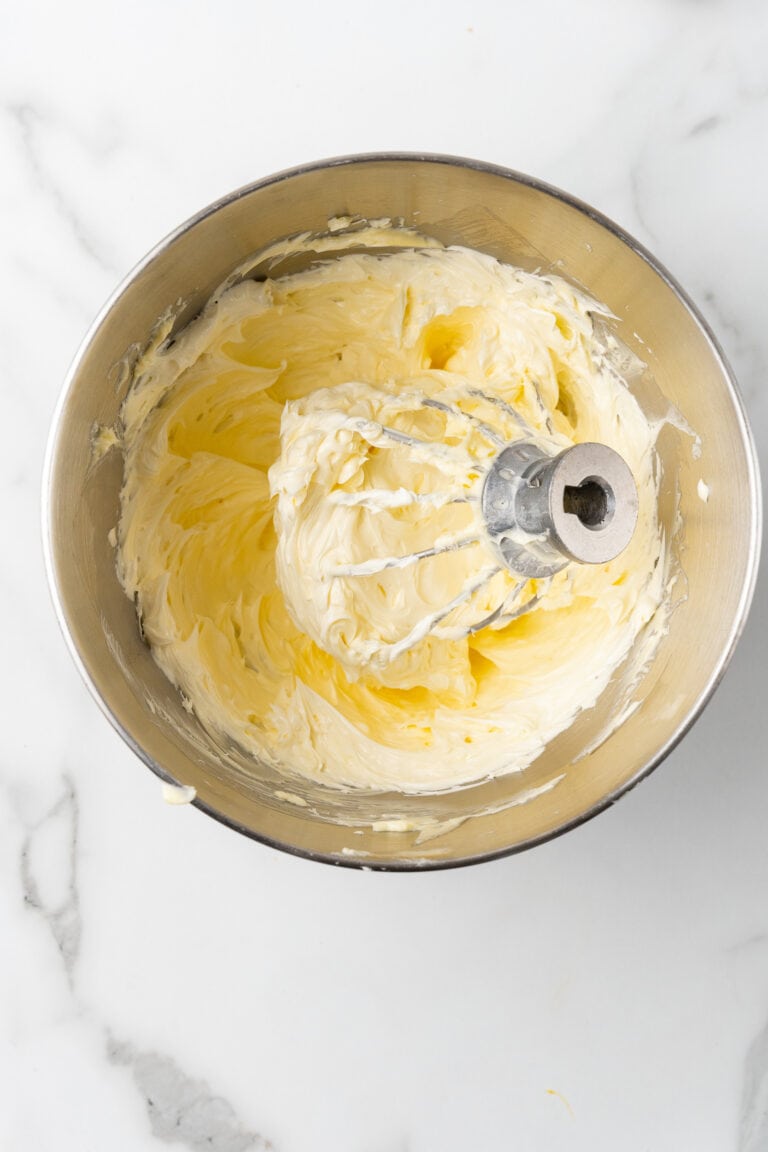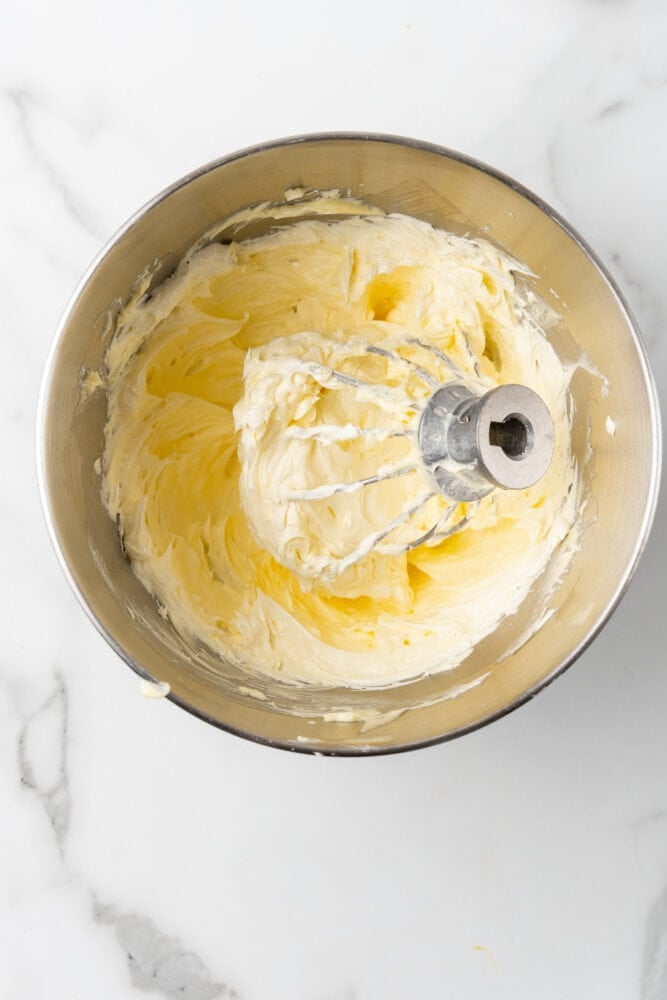 Then add the fresh chopped strawberries, honey, and strawberry preserves.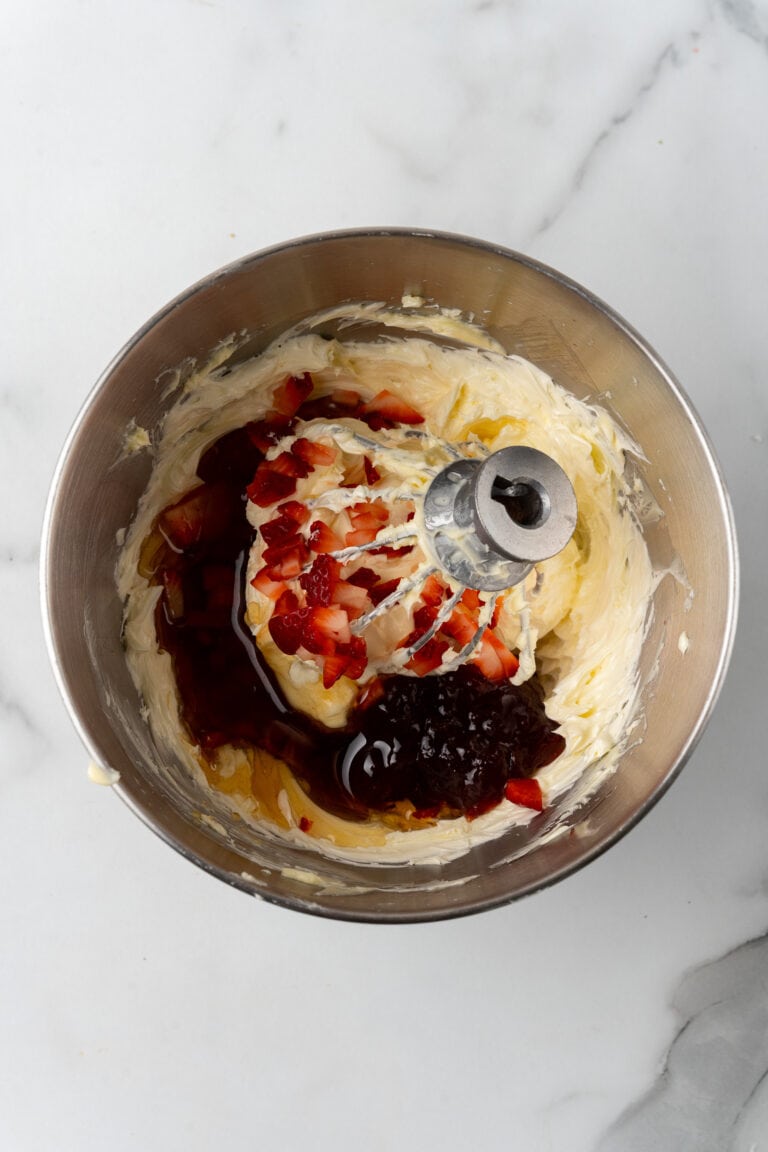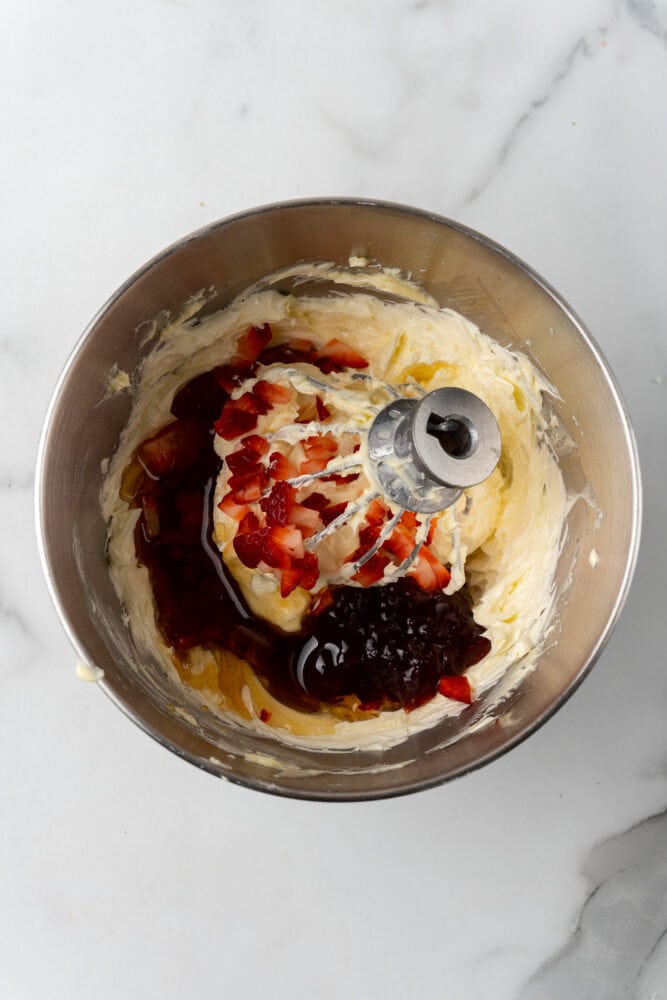 Whisk together until all the ingredients are well blended.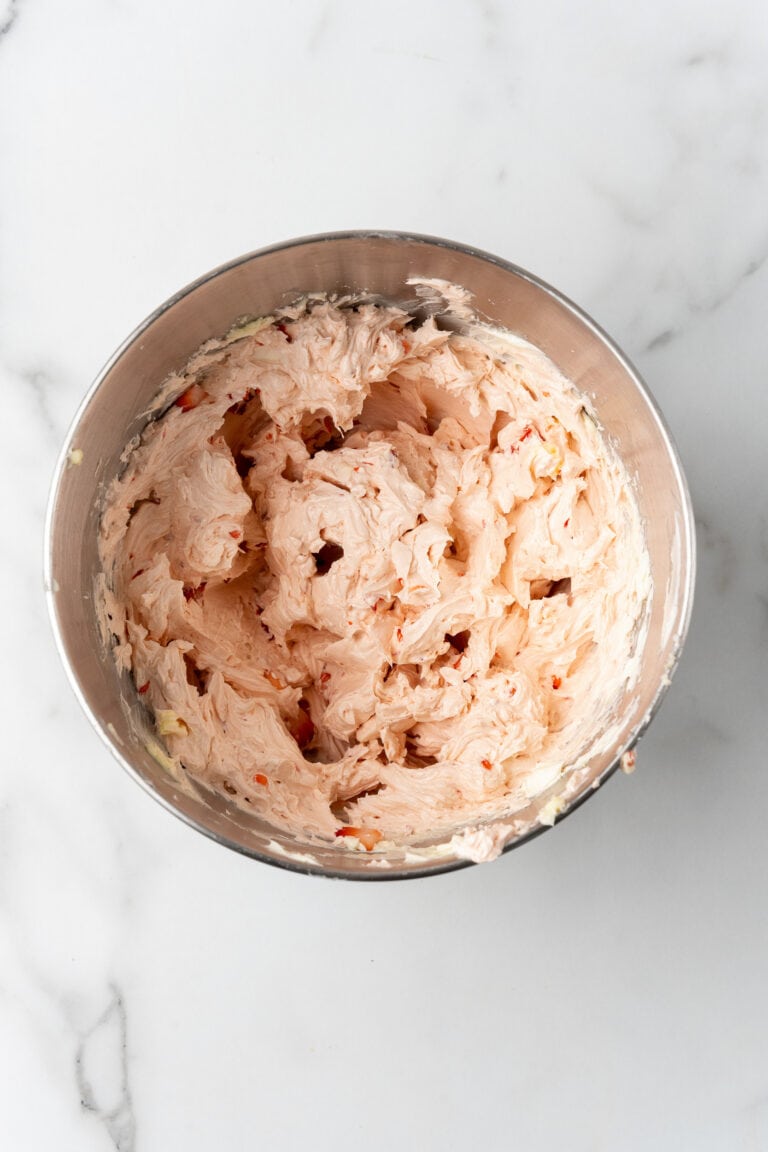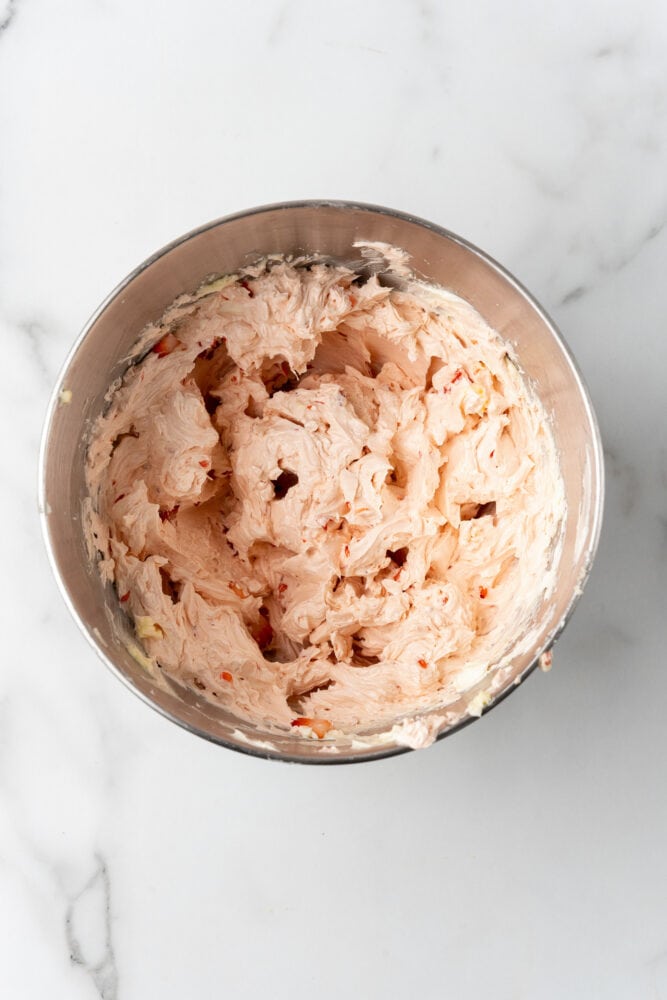 Here's where you can have some fun. You can press the whipped strawberry honey butter into fun shaped butter molds. I've also used large silicone ice molds too. Or press it into a pretty jar for storing and serving.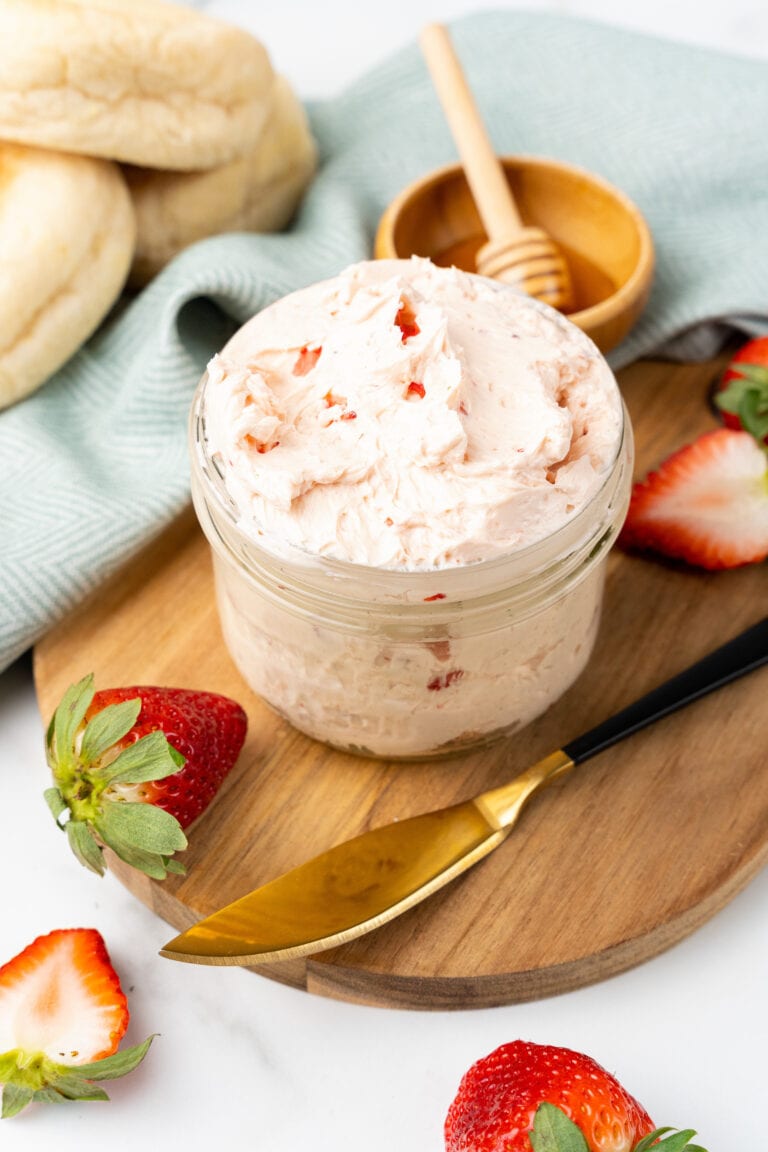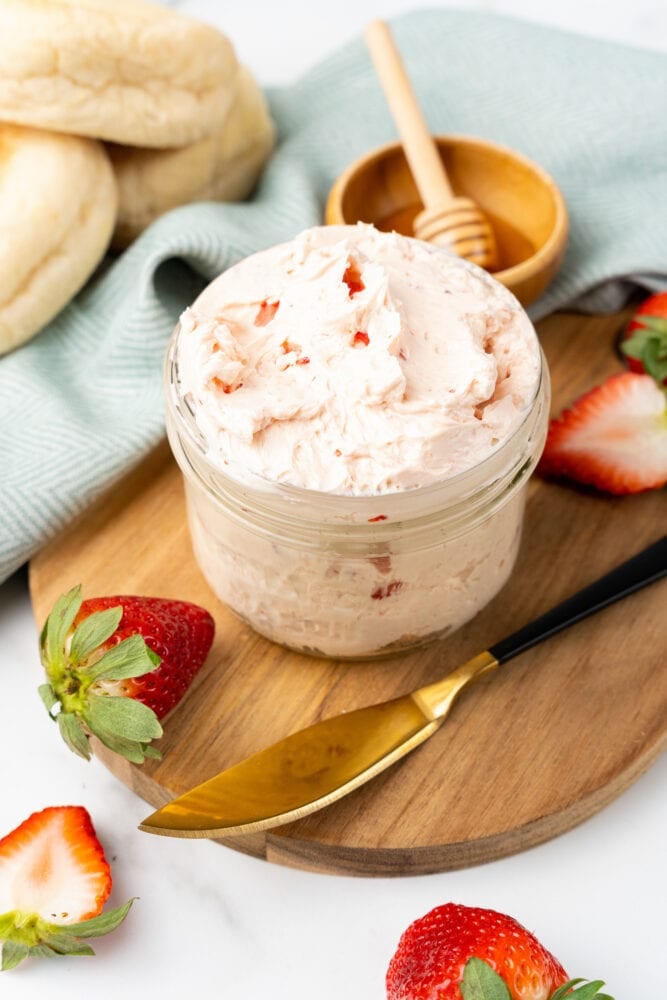 HOW LONG DOES STRAWBERRY BUTTER LAST?
The strawberry butter will keep for up to two weeks when stored in a covered container in the refrigerator. This is one that you'll want to bring out for brunch guests, or use it to liven up your daily breakfast too!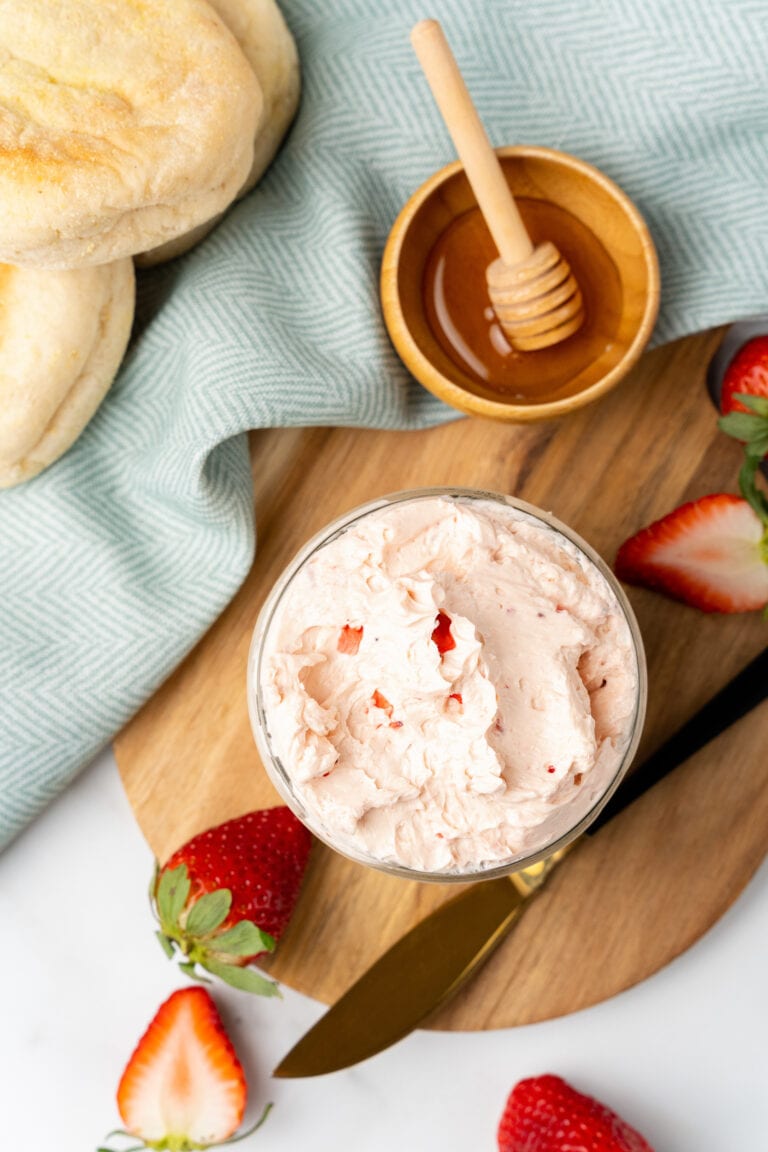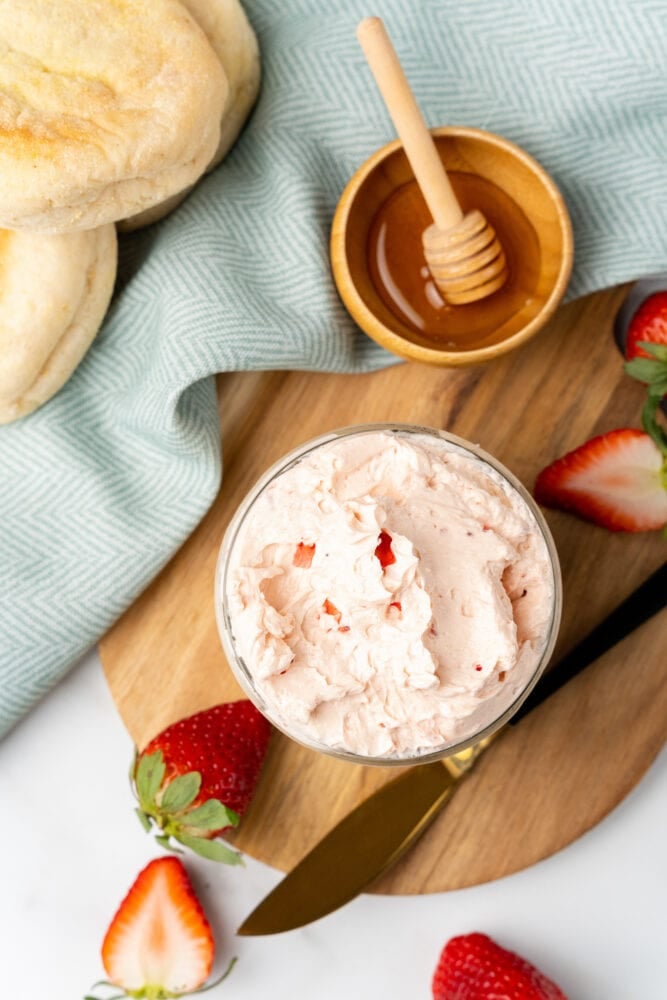 WHAT TO SERVE WITH STRAWBERRY BUTTER
You can serve strawberry butter with any sort of toast or pastry. I like to spread it on toasted English muffins. It's also great on any toasted bread, or even croissants or muffins too! It adds a touch of color and sweetness to any baked good.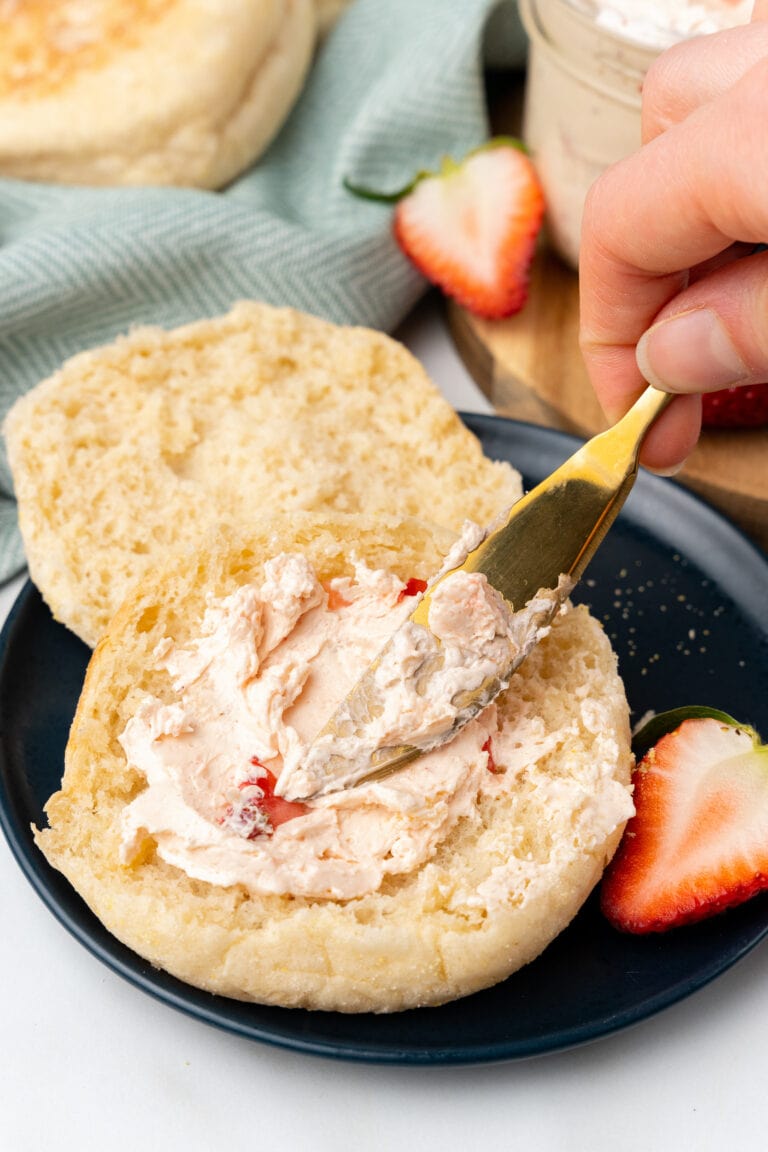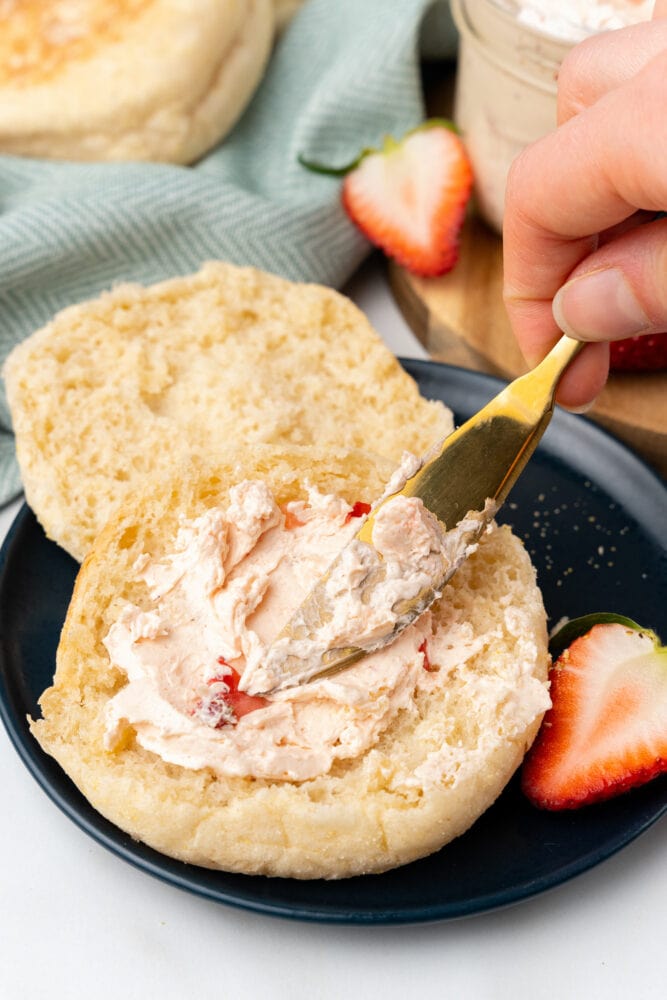 Strawberry butter is also great for those quick morning when you want to add some flavor and butteriness to those frozen toasted waffles. And it melts perfectly into all the nooks and crannies in a hot English muffin.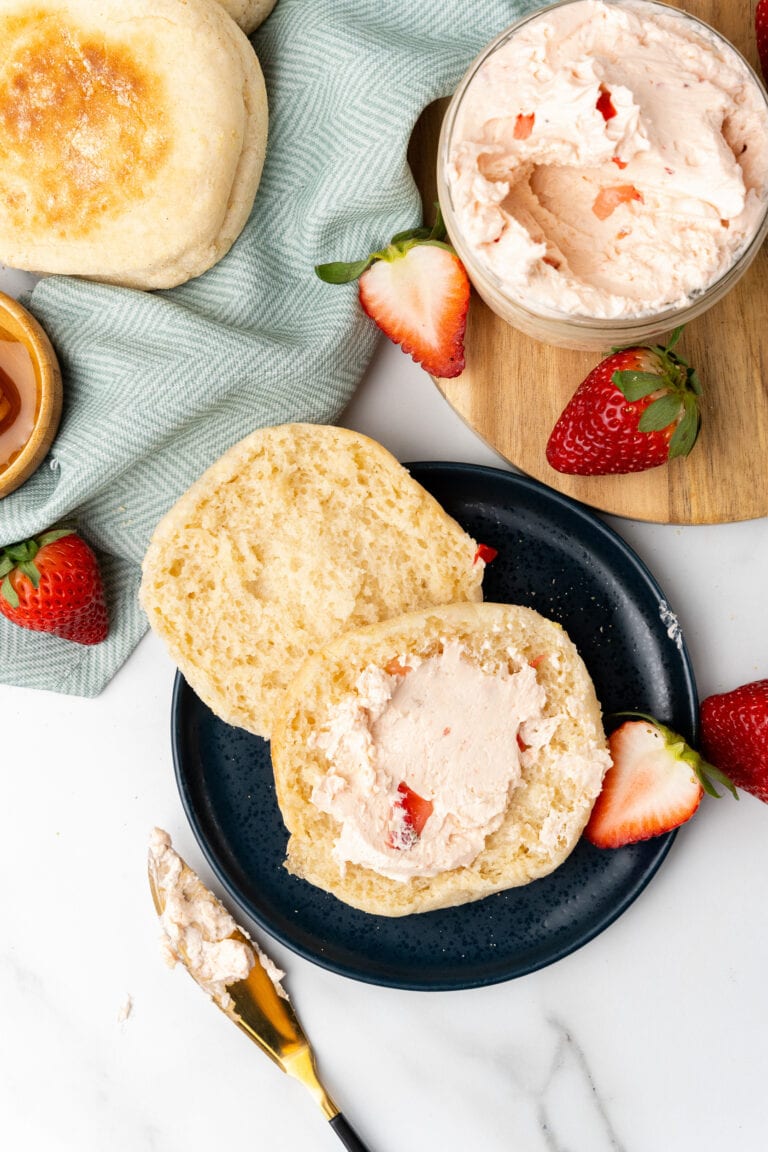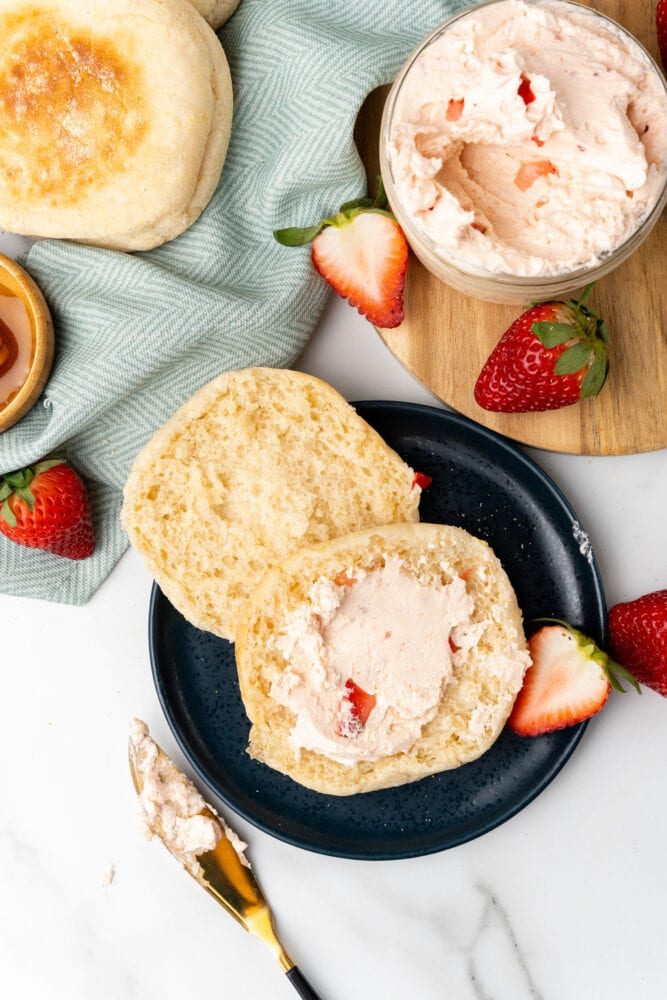 "Unbuttered toast is a substance half complete, and to be forced to eat it in that state is necessarily to feel deprived." -John Thorne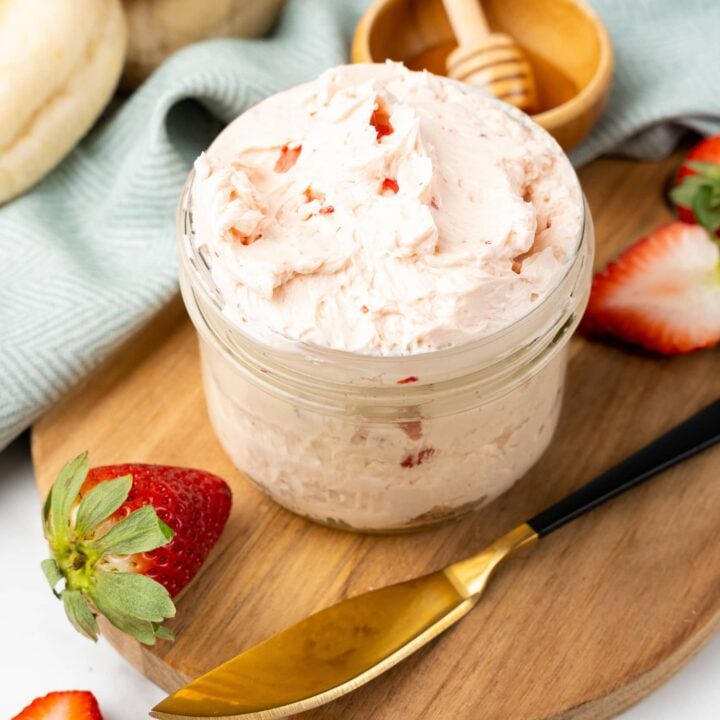 Strawberry Butter
An easy-to-make strawberry flavored whipped butter.
Ingredients
1lb of butter
4 large strawberries
1/2 cup of honey
3 large Tablespoons of strawberry preserves
Instructions
Let butter soften to room temperature in a large bowl, then whip the butter until it reaches a smooth creamy consistency.
Finely chop the strawberries and add to the bowl with butter.
Add half a cup of honey and the strawberry preserves to the same bowl and once again whip until it reaches a smooth consistency.
Spoon into containers (such as small ramekins or mason jars) keep one in the refrigerator, and freeze the rest until needed. Will stay fresh in the refrigerator for about two weeks.
Nutrition Information:
Yield:

30
Serving Size:

1
Amount Per Serving:
Calories:

128
Total Fat:

12g
Saturated Fat:

8g
Trans Fat:

1g
Unsaturated Fat:

4g
Cholesterol:

33mg
Sodium:

98mg
Carbohydrates:

5g
Fiber:

0g
Sugar:

5g
Protein:

0g
Nutrition information provided is only an estimate.
Originally published in 2010. Updated 2023.