This blueberry peach galette is my go-to dessert for bringing to summer barbecues. The word "galette" is French for any type of freeform crusty pastry (except in the case of the buckwheat pancakes in the Brittany region – but that's a different story). I like to think of galettes as a lazy pie. They're easy to make with any fresh fruit and because they don't take as long to bake, galettes are prefect for summer.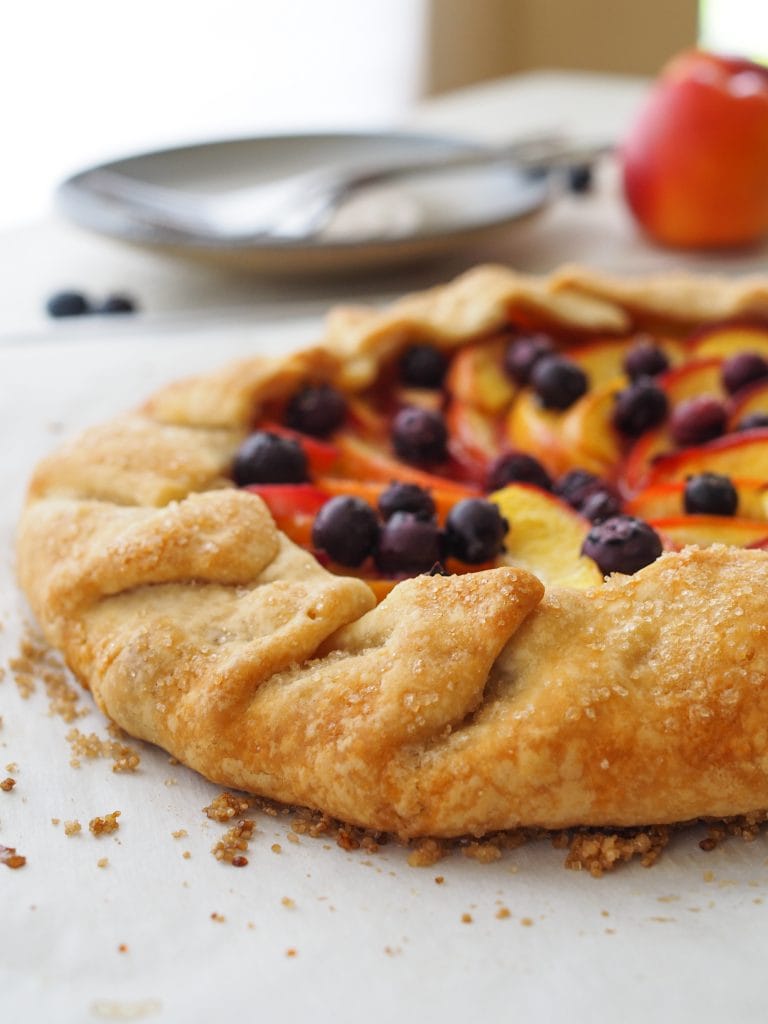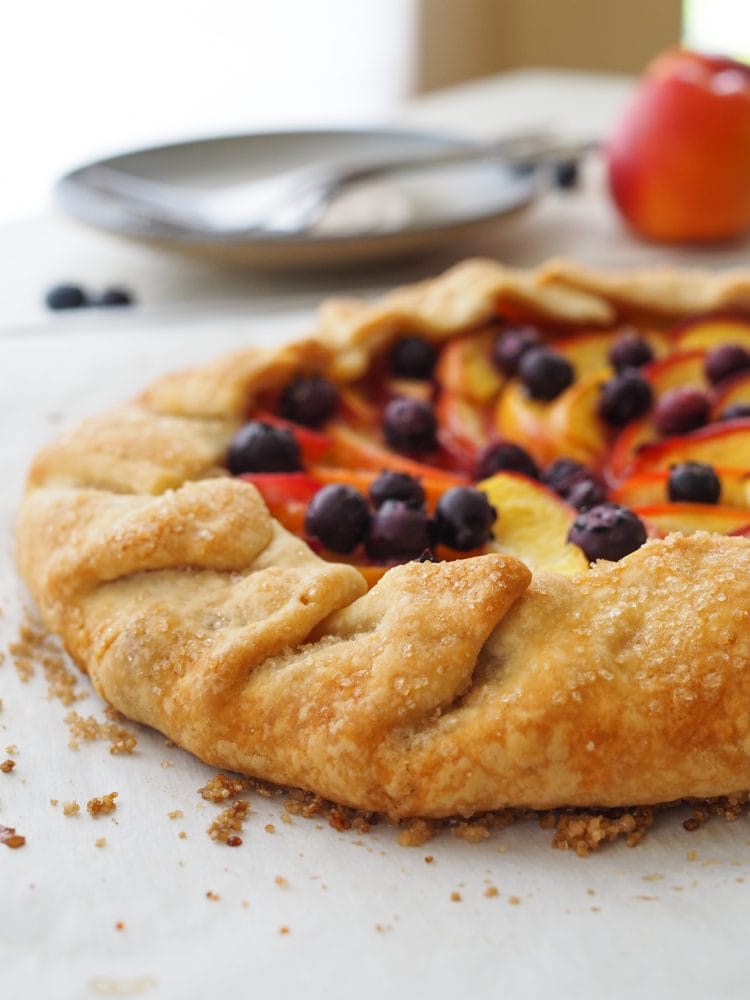 I love to use peaches or nectarines since they look beautiful arranged in the crust and the blueberries add a nice pop of color too. Peaches are easier to slice thin when they're a little firm, so don't be afraid to use some that are on the verge of being ripe since they'll sweeten up when baked. Also, to save some time, I'll typically use store bought refrigerated pie crusts. But you could make a pie crust from scratch if you'd like. Hope you enjoy this blueberry peach galette as much as we do!
Blueberry Peach Galette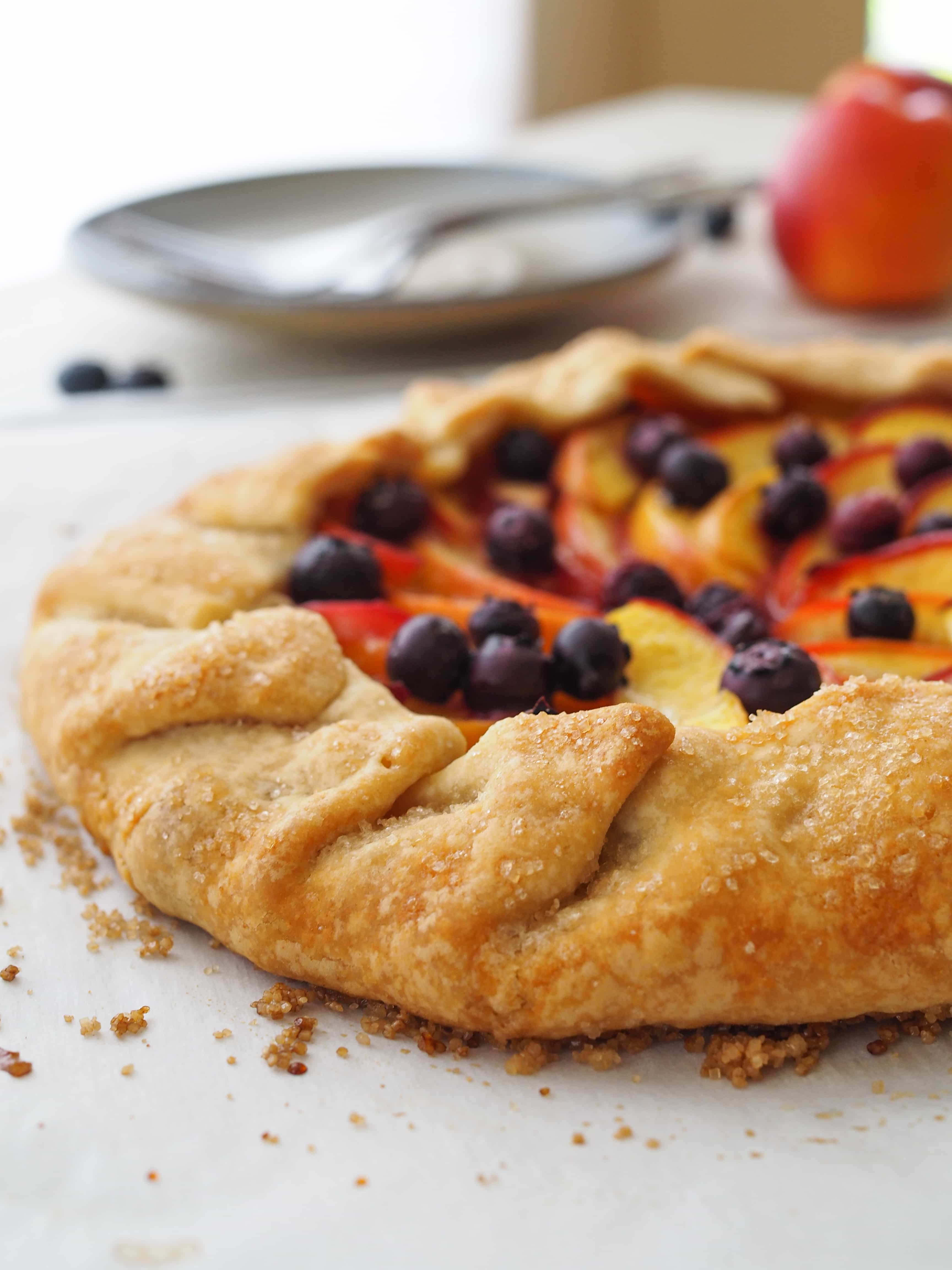 Blueberry Peach Galette
Ingredients
2 refrigerated rolled piecrusts
5-6 thinly sliced peaches (or nectarines)
1/2 cup blueberries
6 Tbsp turbinado sugar
4 Tbsp butter, cubed
Instructions
Place oven rack on lowest position and heat oven to 375
Unroll two piecrusts onto parchment lined baking sheet.
Arrange thinly sliced peaches around the center of each pie crust and top with blueberries, leaving a two inch border around the edge of the dough to fold over.
Sprinkle peaches with 2 Tbsp sugar and 2 Tbsp cubed butter (per galette).
Fold the edges of the dough toward the center, pinching together any overlap and creating a small edge over the fruit.
Brush the dough lightly with water and sprinkle remaining sugar onto dough.
Bake for 35 to 40 minutes until the juices are bubbling and the crust is a golden brown.