Strolling through the streets of Hong Kong, there's no shortage of fun foods to try. Travelers can dig their chopsticks into traditional street foods such as rice noodle rolls and fish balls in tangy red sauce, or, for the adventurous gourmand, there's slimy snake soup or gelatinous steamed tripe.  (Foodie confession here … I can't stomach the slimy foods.)  Personally, my favorite were the sweets.
But for a fun day trip away from the city, I recommend visiting Lantau Island and Sai Kung where you can see the Big Buddha, partake in a tea ceremony, try some delicious vegetarian food, and indulge in sweet pineapple buns.
In the seaside area of Sai Kung, I stumbled upon a bakery with a queue outside that wrapped around the building. Usually, that's sure indicator of excellent food, and the comforting scent of fresh baked bread confirmed that this treat would probably be worth the wait.
Sai Kung Pineapple Buns
While in line, I watched as a baker emerged from a side door every five minutes or so with a steaming hot pan full of puffed up yellow rolls.  My guide informed me that these were Hong Kong's famous "pineapple buns," named after their golden crust that cracks into a crisscross pattern.
Fresh out of the oven, they were almost too hot to hold.  I passed the bun back and forth between my hands to let it cool, but my impatient craving to taste the delicious sweet scent had me pulling apart the soft dough with my fingertips and relishing the crunch of the sugary crust that makes these pastries so popular.  Had we not had other plans for the rest of the day, I would have happily returned to the end of the queue and waited another hour just to have another.
After indulging in flavors both salty and sweet, we opted for more subtle sustenance while visiting Lantau Island.  There at Linong Tea, I had the opportunity to experience a proper Chinese tea demonstration.
Green tea happens to be one of my favorite afternoon pick-me-ups at home, but typically I just throw a tea bag in a mug and nuke it for a minute.  This process was much more beautiful, more delicate.
First, the tea is washed to "awaken" it to its true flavor.  Then, hot water is poured over ceramic 'tea pets' that change color when the water is at just the right temperature.
After ceremoniously nourishing the tea pets, the tea is brewed in a clear glass kettle so we can witness the tea blooming and we wait patiently and watch as the tightly bound tea leaves open into a flower.
Though the preparation is time consuming, it doesn't steep for too long before the tea is shared between our thimble sized cups.  It's light in color, floral in flavor, and supposedly has many medicinal benefits.
It was the perfect afternoon refreshment before exploring the rest of Lantau Island and climbing the steps to reach the Big Buddha.
YOU MIGHT ALSO LIKE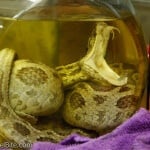 Confessions Of A Foodie: Snake Soup
Sometimes, being on a food tour is not as deliciously rewarding as it sounds. Take, for instance, my visit to Hong Kong for Chinese New Year last year; the Year of The Snake. Do you think I found snake on the menu … you know … for good luck? You betchya. It was only a (Read more …)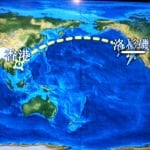 3 Simple Ways To Survive A Long Flight
Do long flights hold you back from booking the trip of your dreams? They shouldn't. I actually prefer longer flights to cross-country since you actually have time to rest and reset your internal clock to a new time zone. But if you're not traveling first class, there are still a few discomforts to work around. Here are my tips for enjoying a long flight. (Read more … )