This story is in partnership with All Nippon Airways.
Beautiful chaos. That was my first impression of Hanoi. Motorbikes whizzing by, seemingly not following any set of traffic rules, but the drivers all weaving in and out of each others path with a calm acceptance of the disorder. A constant hum of a busy city, interspersed with quiet moments in temples and coffee shops. And Hanoi's food — gorgeous colorful plates on every kind of surface imaginable, from bamboo mats on the ground to little kid-sized stools and benches, to fine dining with a view. It seems the world here revolves around eating with friends, anywhere and everywhere imaginable. But what brought me the most joy was to see how everyone loved just pulling up a short stool to sit and share coffee and conversation. It seems drinking coffee is Vietnam's national pastime.
Vietnam's capital city of Hanoi is most definitely a food city with more culinary delights than could possibly be experienced during a single vacation. That's why we're so excited to partner with All Nippon Airways for this delicious food discovery of Hanoi, Vietnam, for their Experience Class campaign which aims to inspire people to travel to Asia for their next destination. We've narrowed down the best food experiences into this three day itinerary including historic restaurants, local craft beer, the city's famous coffee culture, food markets, and amazing street food.
DAY 1 – Ca Phe, Bun Cha, & Craft Beer Tastings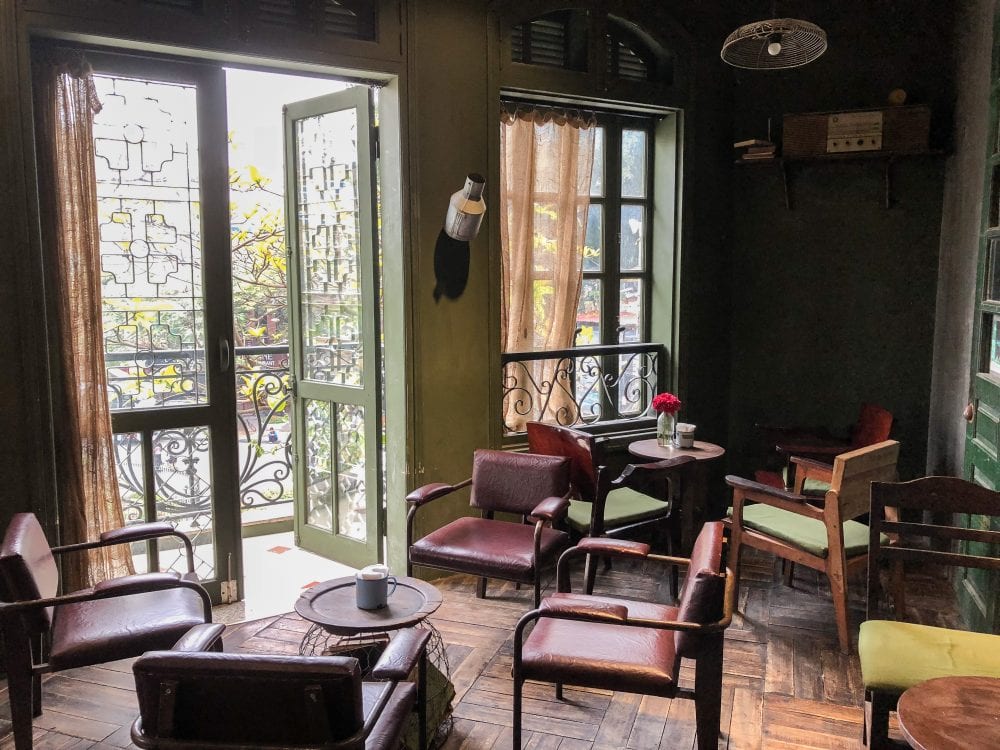 Coffee at Cộng Cà Phê
As self described on their newspaper-like menu, Cộng Cà Phê is a place where "nostalgia and overflows into the artspace inspired by the founder's dramatic childhood of Vietnam in the 80's."
The cozy nooks and multi-story vintage vibe decked out in muted earth tones, paired with a exquisite coffee menu, has made this cafe so popular that Cộng Cà Phê has grown into a franchise in Hanoi. Visit the original on Nha Tho (Church) Street across from St. Joseph's Cathedral.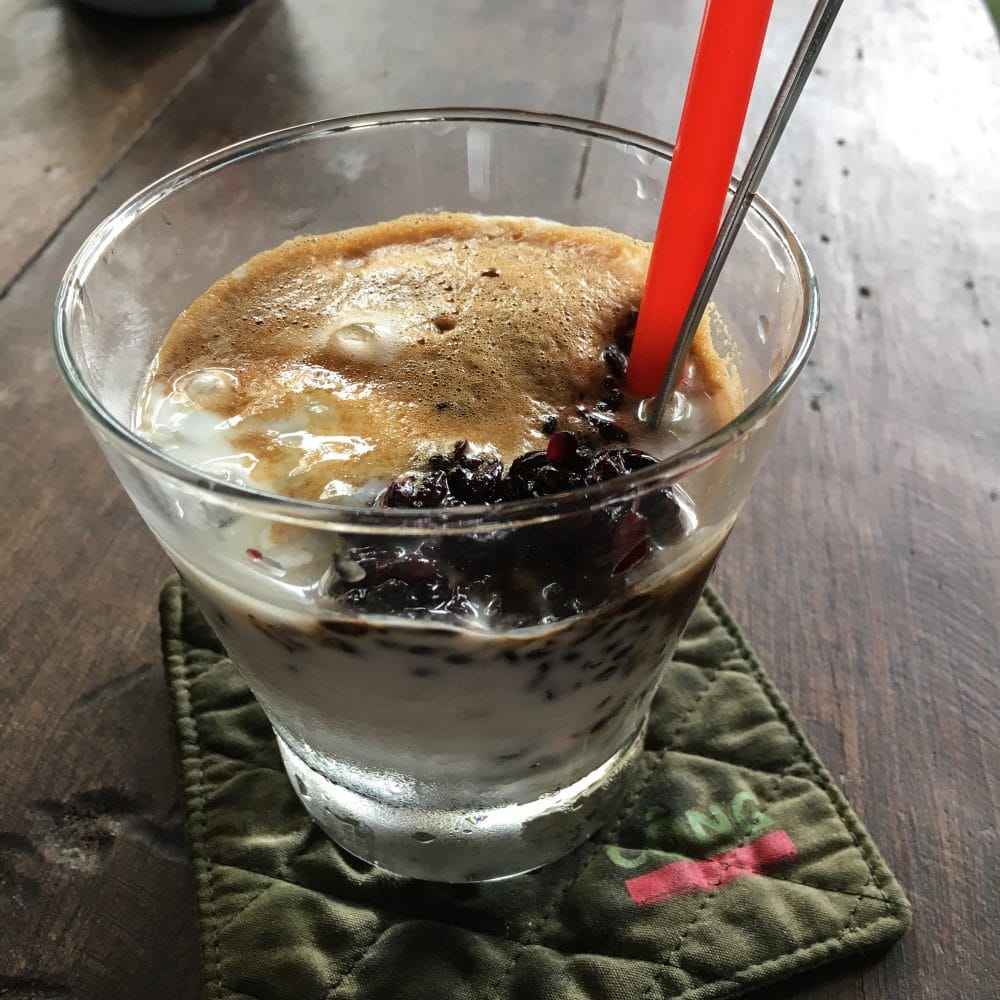 Order a traditional Vietnamese coffee made with a drip-filter called a phin, along with a side order of croissants and condensed milk on the side. Or, venture to taste something different and sip a Sữa Chua Nếp Cà Phê (coffee with yogurt and purple sticky rice) — it's refreshingly tangy and sweet. Cộng Cà Phê is also known for coconut coffee, a coconut milk slushy with a shot of strong espresso. It is sort of a Vietnamese take on an affogato and the combination of coffee and iced coconut milk will revive you on a hot afternoon.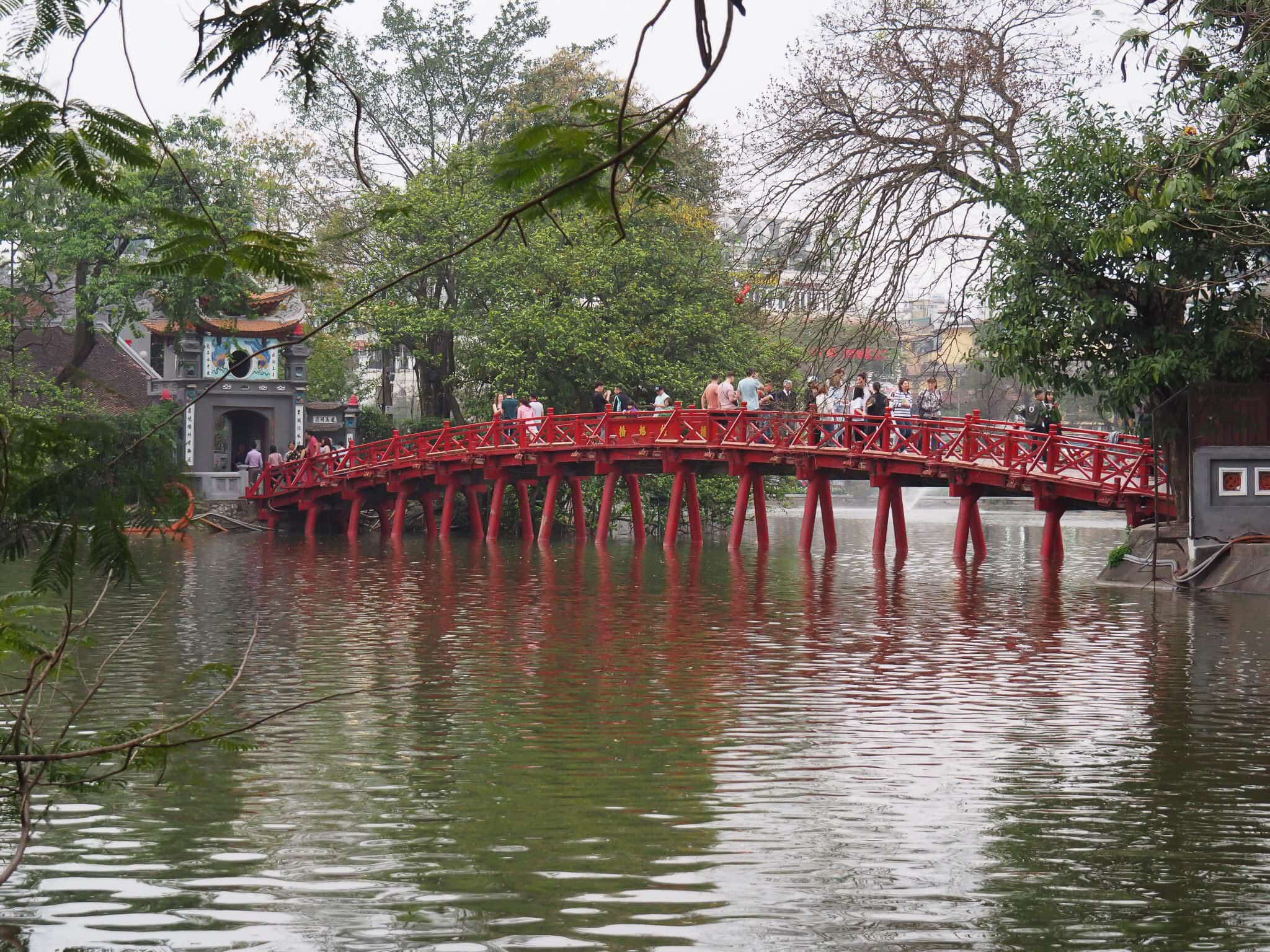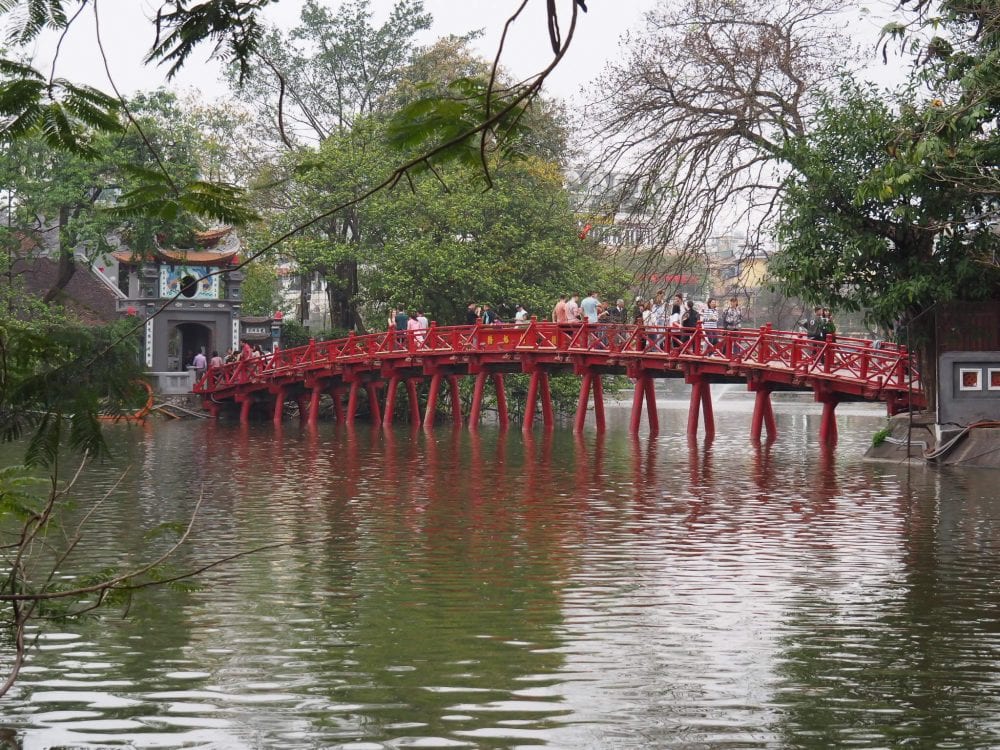 Walk Around Hoan Kiem Lake
Take in the views of the city with a stroll around Hoan Kiem Lake. On the north side, you'll see Ngoc Son Temple (Temple Of The Jade Mountain) sitting on a small island and connected to the lake's shoreline by a wooden bridge pained a vibrant red. There's also Thap Rua Tower in the center of the lake, providing a perfect backdrop for photography as well as an interesting folklore tale about a dragon king and a sword that helped the legendary Le Loi free the Vietnamese in the 15th century.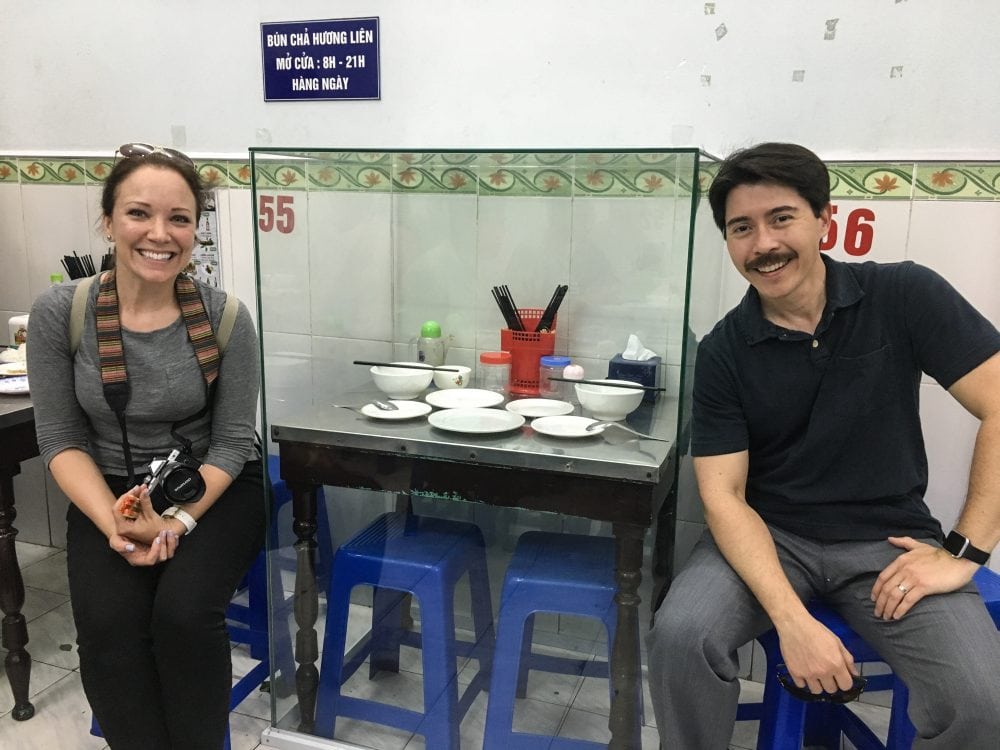 Bourdain's Bún Chả
From Hoan Kiem Lake, walk south on Hàng Bài street to Bún Chả Hương Liên, a little restaurant famous for being the place where Anthony Bourdain took then President Barak Obama for dinner. That infamous table is now enshrined in plexiglass for visitors to see! As for the meal, Bún Chả is a popular lunchtime dish that originated in Hanoi and consists of grilled minced pork with rice noodles and herbs. It pairs perfectly with a bottle of Hanoi Beer.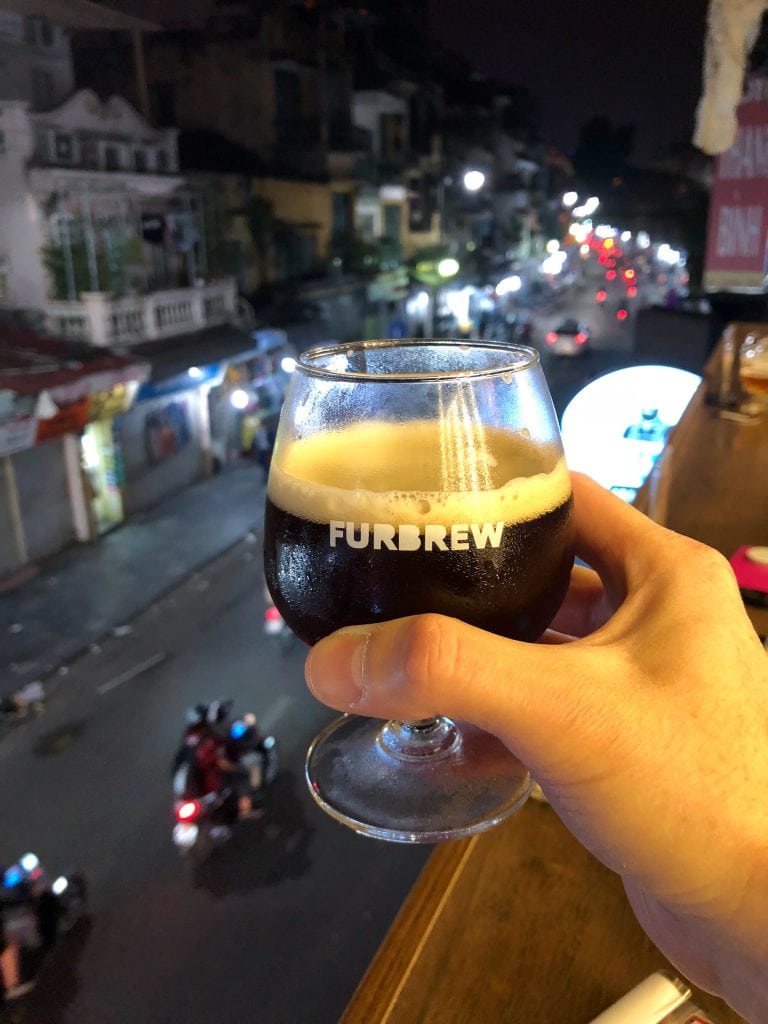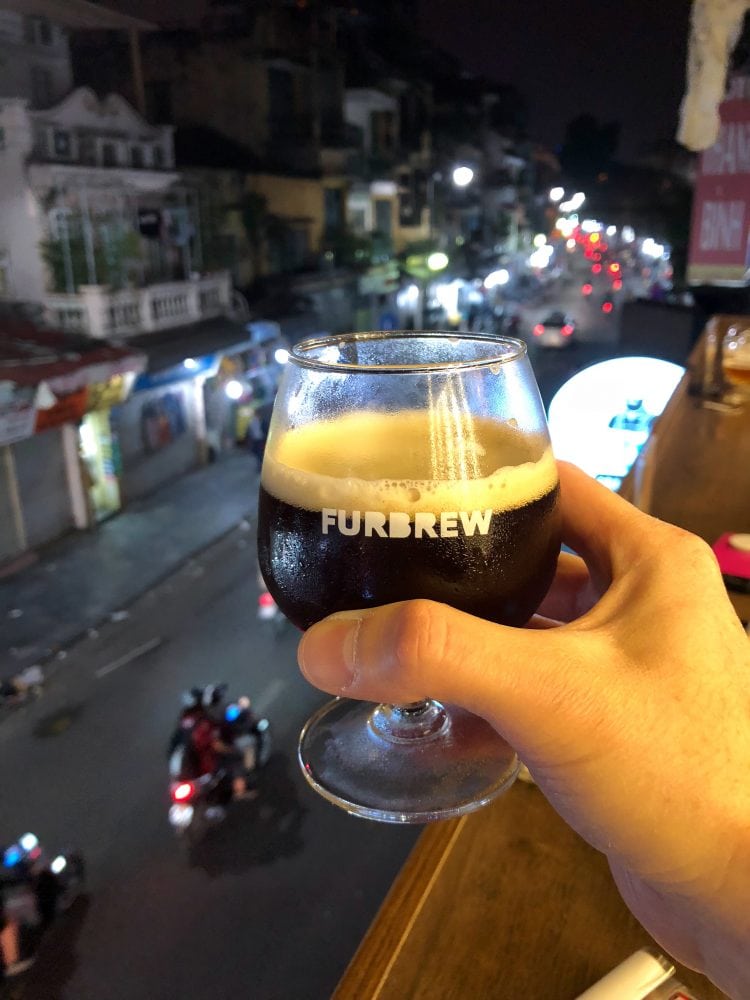 Craft Beer Tasting
Walk back up around Hoan Kiem Lake to see how the lights change from afternoon to evening and make your way to the north side of the lake to the Peach Craft Beer Pub. One of our biggest surprises in Hanoi was their craft beer scene. From Furbrew made in Hanoi, to Pasteur Street brewed in Saigon, there's a variety of American-style craft beer blended with the unique flavors of Vietnam, like jasmine, lemongrass, and passion fruit. Peach Craft Beer Pub is the perfect place to sample them all with a beer flight (roughly $10 US dollars) while sitting out on the second story balcony and marveling at the busy markets and traffic below. If you have time, you can also visit Furbrew brewery and bar up near West Lake.
DAY 2 – Food Tour & West Lake Sightseeing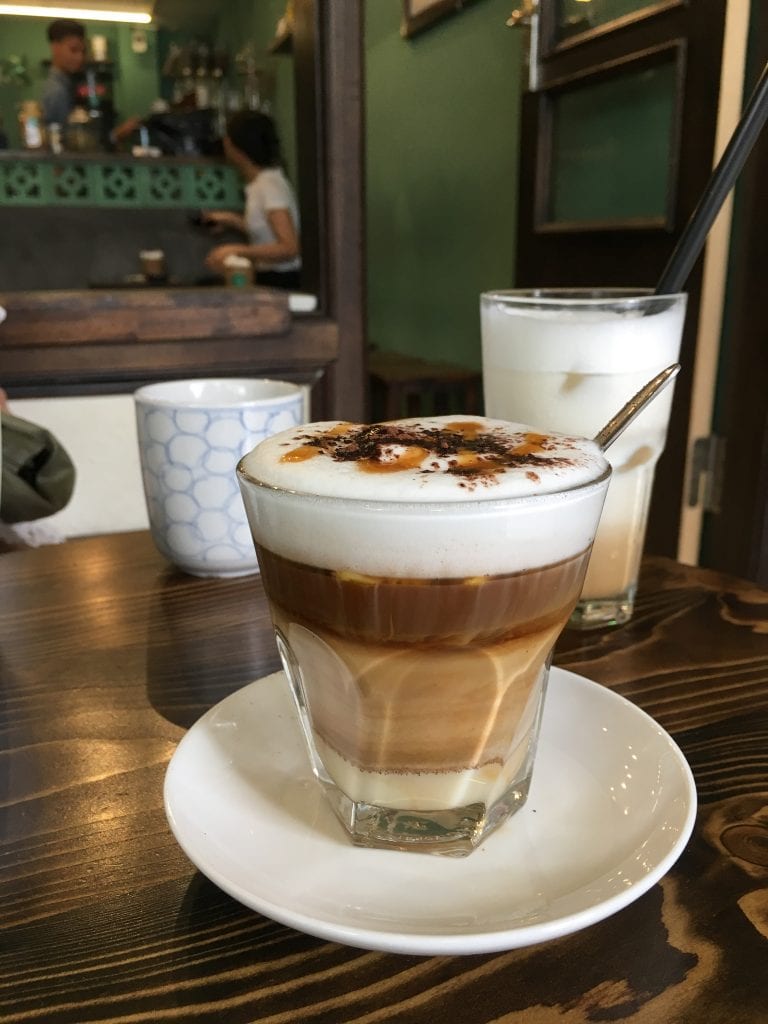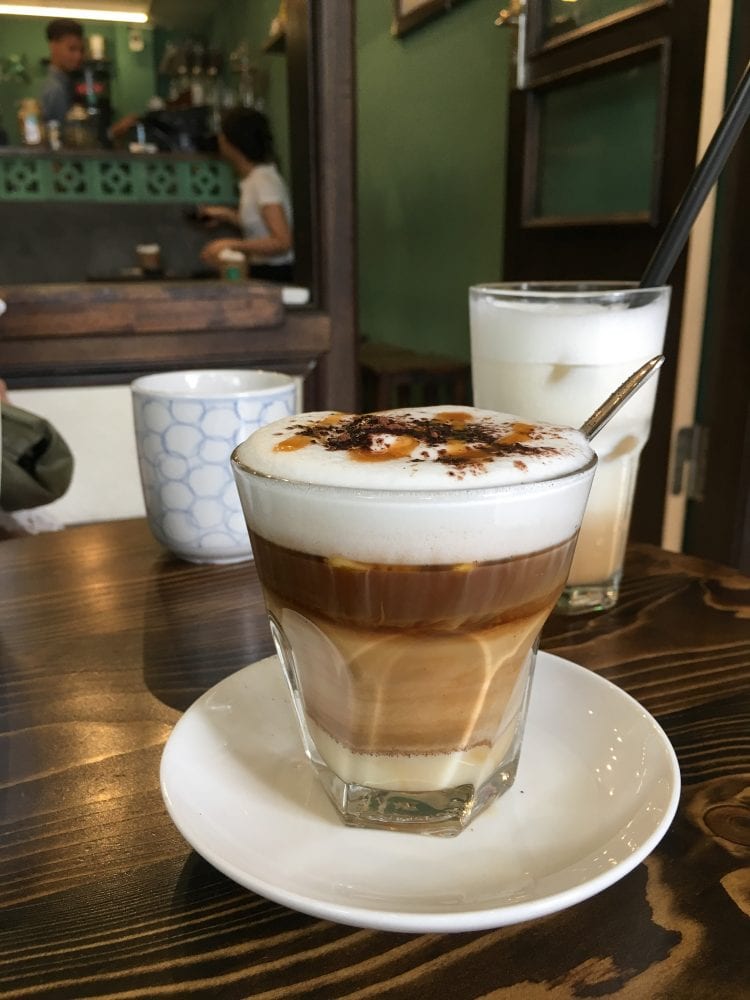 Morning Coffee at Drew Cafe
Save room for a lunchtime food tour and just have coffee for breakfast. Along the northern edge of Old Quarter is Drew Coffee, a trendy local coffee spot with creative drinks such as their signature Black Sea (salted cream coffee), and August Milk Coffee (which tasted like liquid tiramisu). After you're good and caffeinated, go for a leisurely morning stroll through Hanoi's Old Quarter to browse through the shops and pick up a few souvenirs along the way (I highly recommend picking up a phin, a Vietnamese coffee drip filter).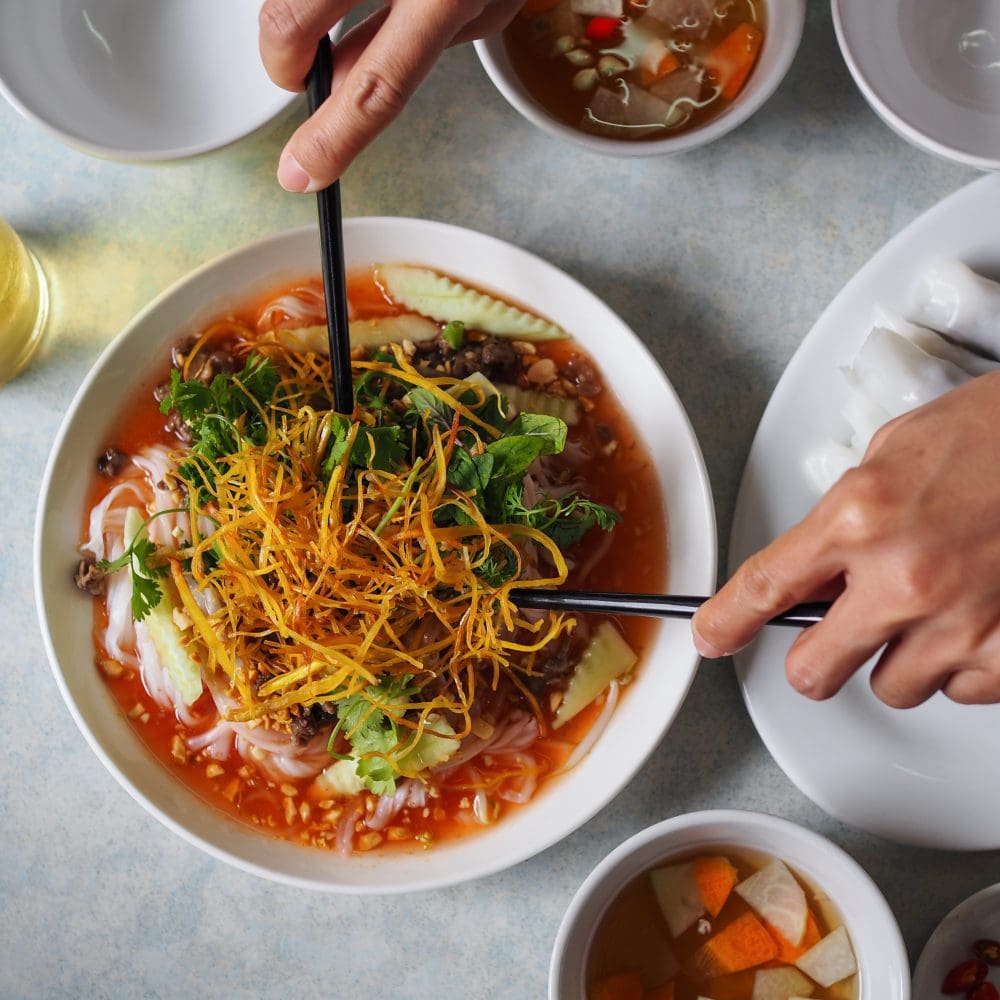 Hanoi Street Food Tour
The best way to experience food in Hanoi is with a local guide that knows all the best places. We went on a 3 hour private street food tour with Thanhy of Maia Food & Travel. Arrive hungry! She took us for Pho cuon (fresh spring rolls with beef and lettuce), Banh Tom (prawn cakes), Banh Goi (pillow shaped cakes), Bun Cha (grilled minced pork with rice noodles), and Kem Dura (coconut ice cream). We walked through markets and tasted even more, visited "wedding street," and then finished with cà phê trứn (egg coffee) at Caphe Trung where Hanoi's legendary egg coffee was first created in the 1940s. Egg coffee is little like a dollop of sweet cream custard served on top a strong espresso. Thanhy taught us the proper way to drink this dessert-like coffee — softly stirred as to not totally dissolve the custard top so you get to experience the distinct flavors of sweet cream contrasting with the bitter coffee.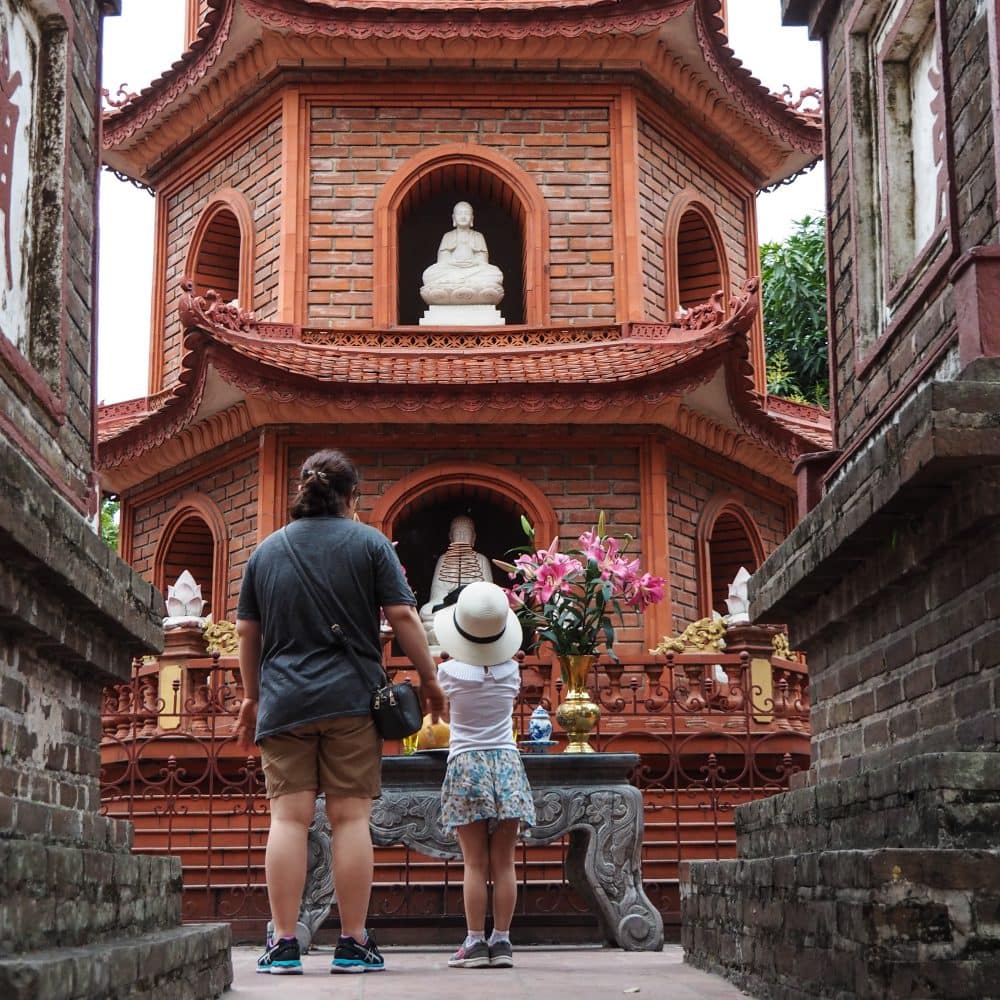 Sight Seeing On West Lake (Hồ Tây )
After a full belly from the food tour, walk to the southern edge of West Lake and visit Tran Quoc Pagoda, the oldest Buddhist temple in Hanoi. Nearby you'll also find a few other highlights within walking distance: Ba Dinh Square, Taoist Temple Quan Thanh, the Presidential Palace, the One Pillar Pagaoda, and the Ho Chi Minh Museum.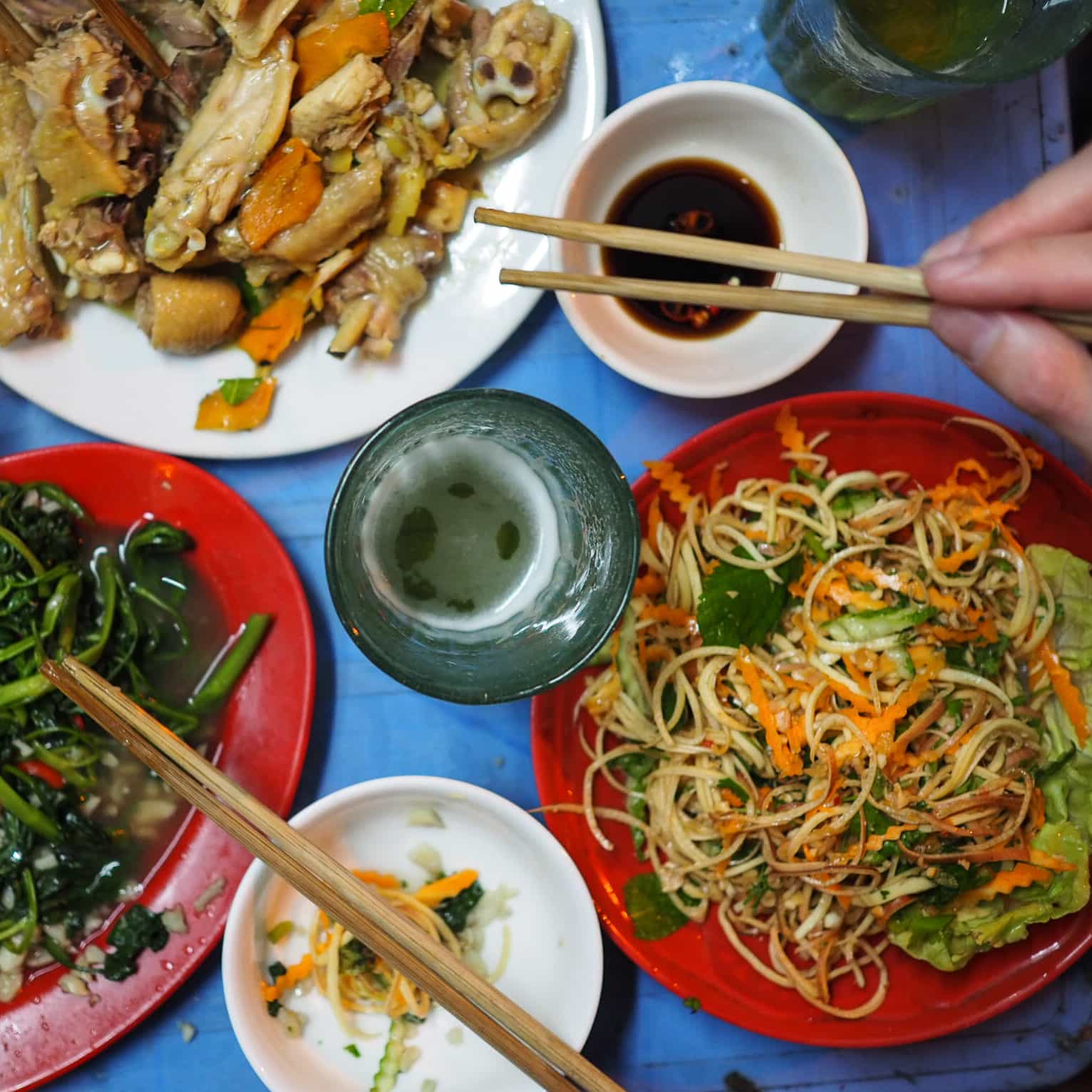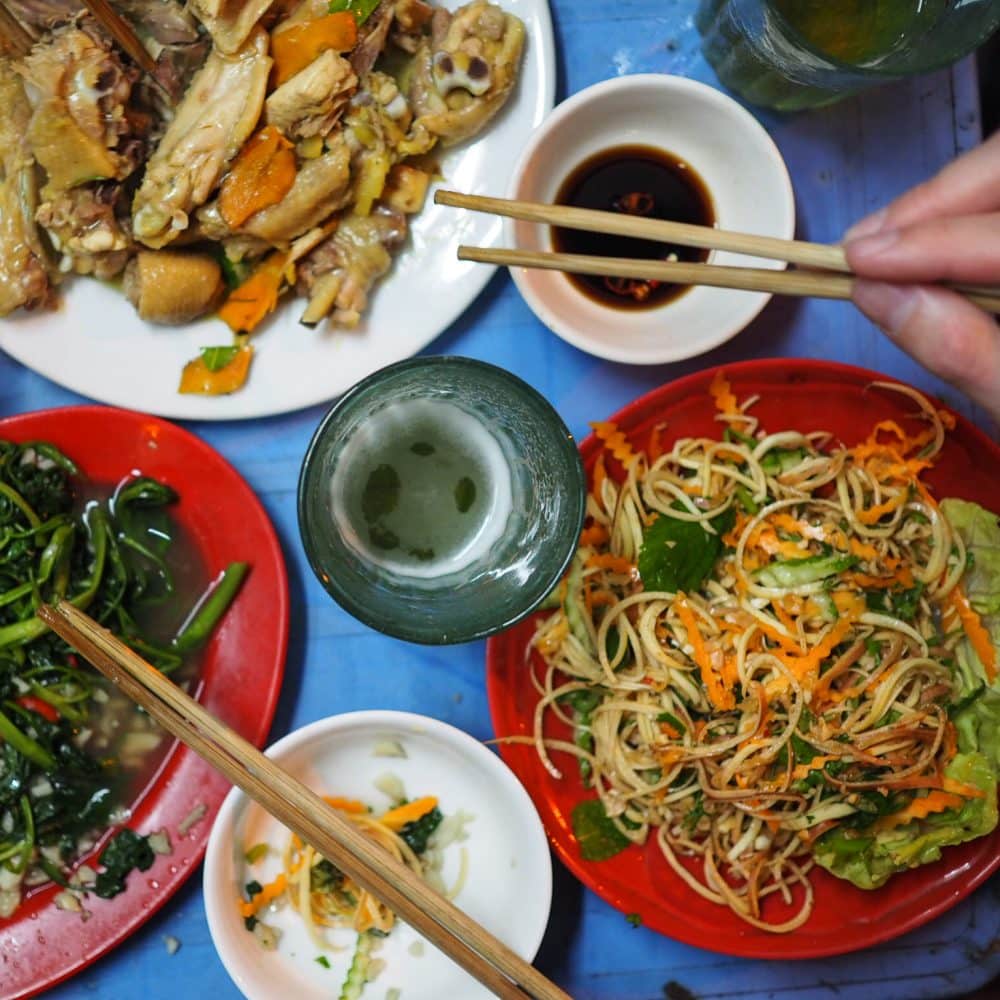 If you're still hungry after the food tour, follow a tip we got from friends in Hanoi and find a busy spot (so you know the food is good) and order a light vegetarian dinner of morning glory (a sautéed water spinach) and banana blossom salad.
DAY 3 – Exploring Old Quarter & Hanoi's Signature Dish
Coffee at Cafe Runam
One of my favorite things about Hanoi is the city's coffee culture. It seemed like there was a coffee shop every 50 feet, and they're all open from early morning through the night and they vary from kid stools in small alleys to Parisian style cafes. So, if it seems like we're giving you a lot of cafe's to try, it is only so you can get the full coffee culture experience in a short amount of time. Plus, nothing beats jet lag like caffeine.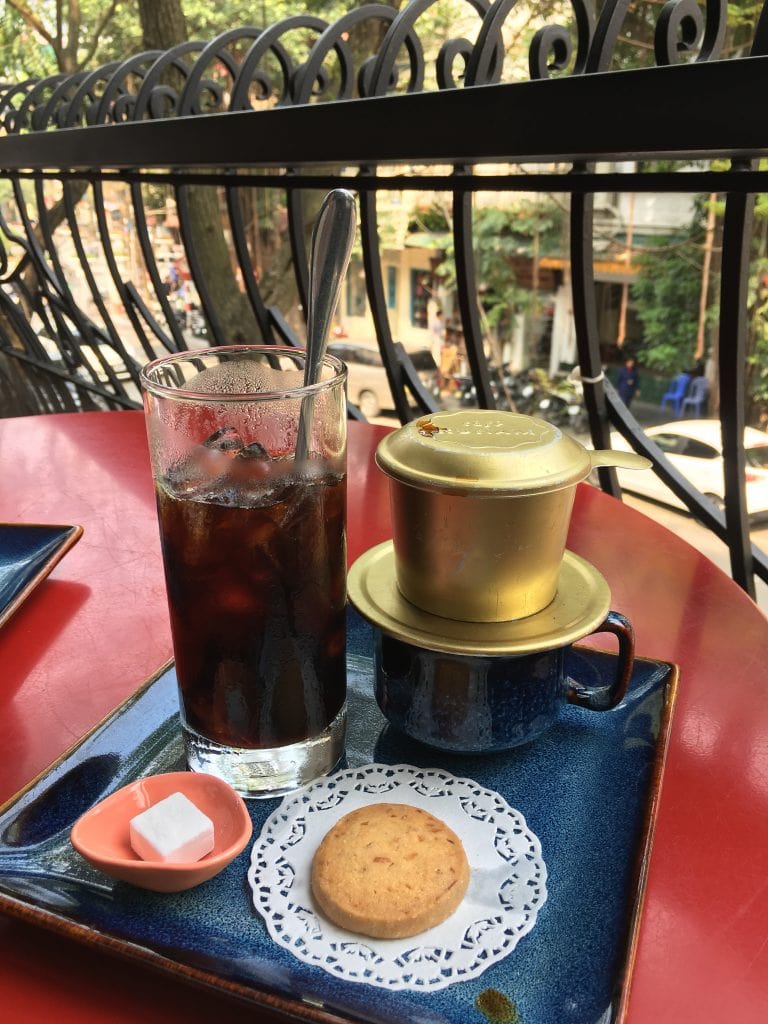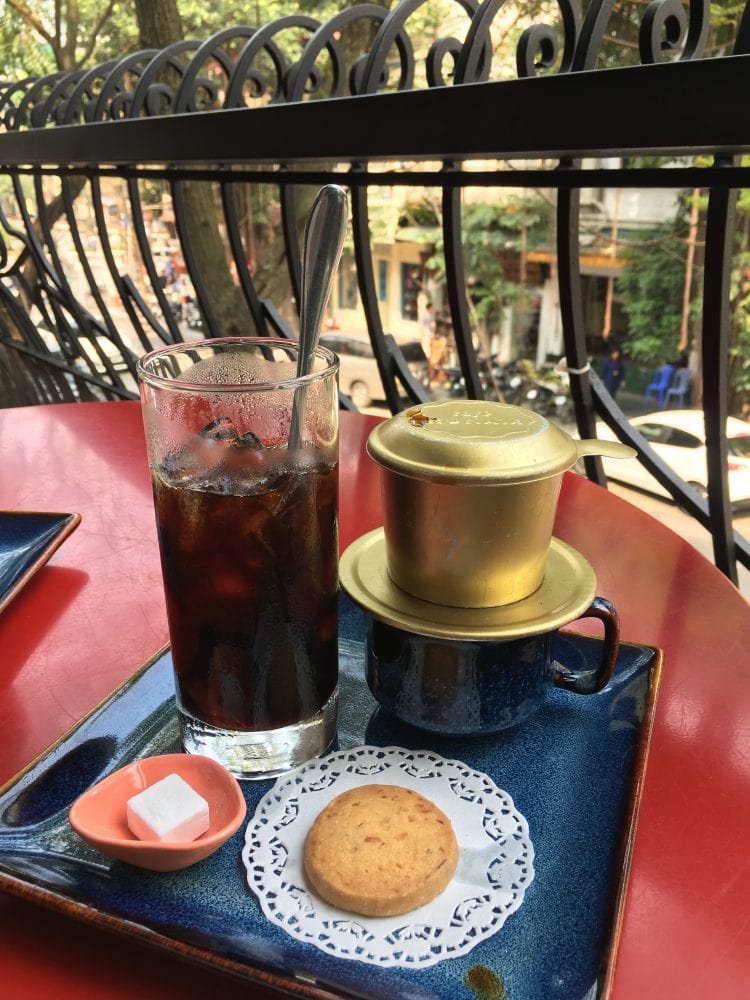 Cafe Runam will have you feeling like you've stepped into a cafe in Paris or Rome, but they're another delicious Vietnam original featuring coffee grown in Vietnam's Central Highlands and locally roasted using Italian methods. Enjoy a refreshing iced coffee and some pastries while sitting on balcony overlooking the streets below.
Train Street & Bánh mì Lunch
After breakfast, walk over to the rail line to see Hanoi's legendary "train street" — a place where restaurants, business, and homes are all located right on the tracks. We used Google Maps to find our way just by looking for the rail line. Thankfully, while there, no trains came by. But do be careful exploring this popular photography spot.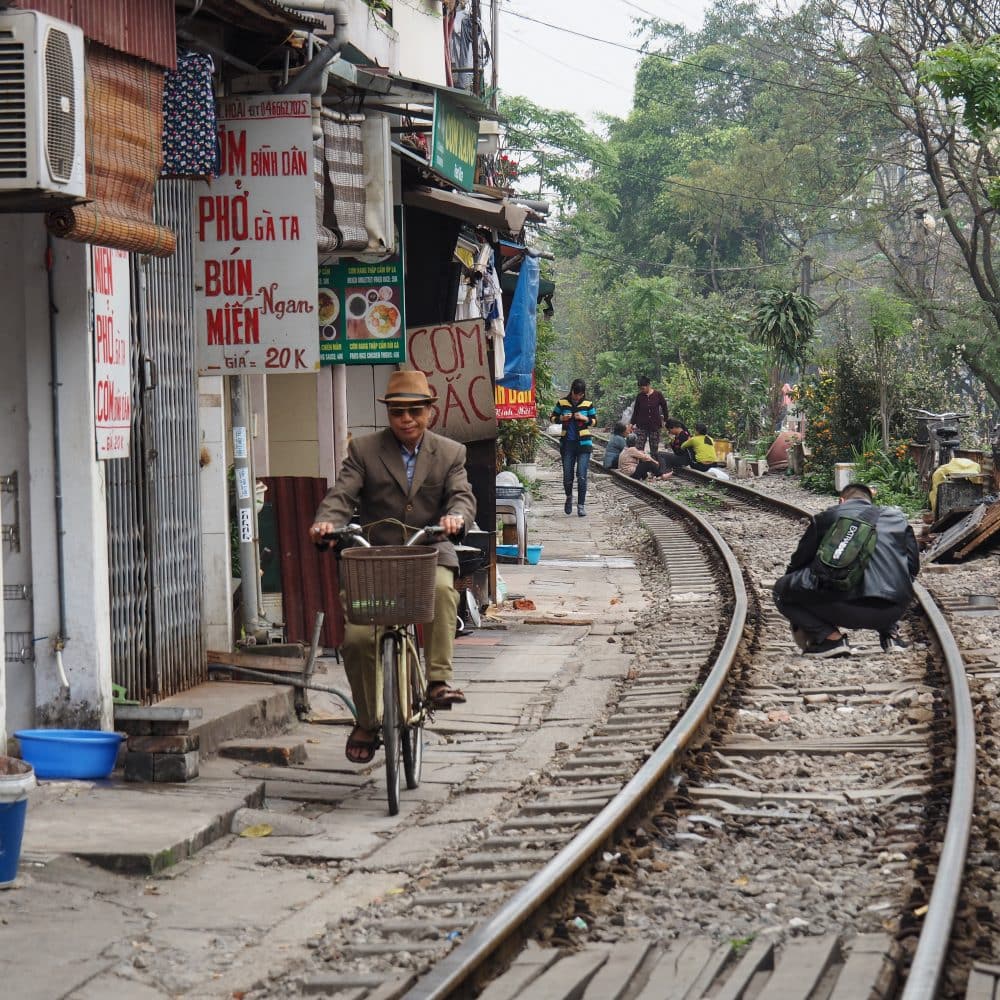 For lunch, grab a Bánh mì — a sandwich made with a baguette and served with a variety of available fillings. The word bánh mì literally translates to bread (or baguette), as it was introduced by the French during the colonial period in Vietnam. Today, it's a popular street food. We opted for a pork Bánh mì with crisp slices of daikon and carrot. Grab one to-go from a local street vendor, or stop by Great Banh Mi across from the Temple of Literature.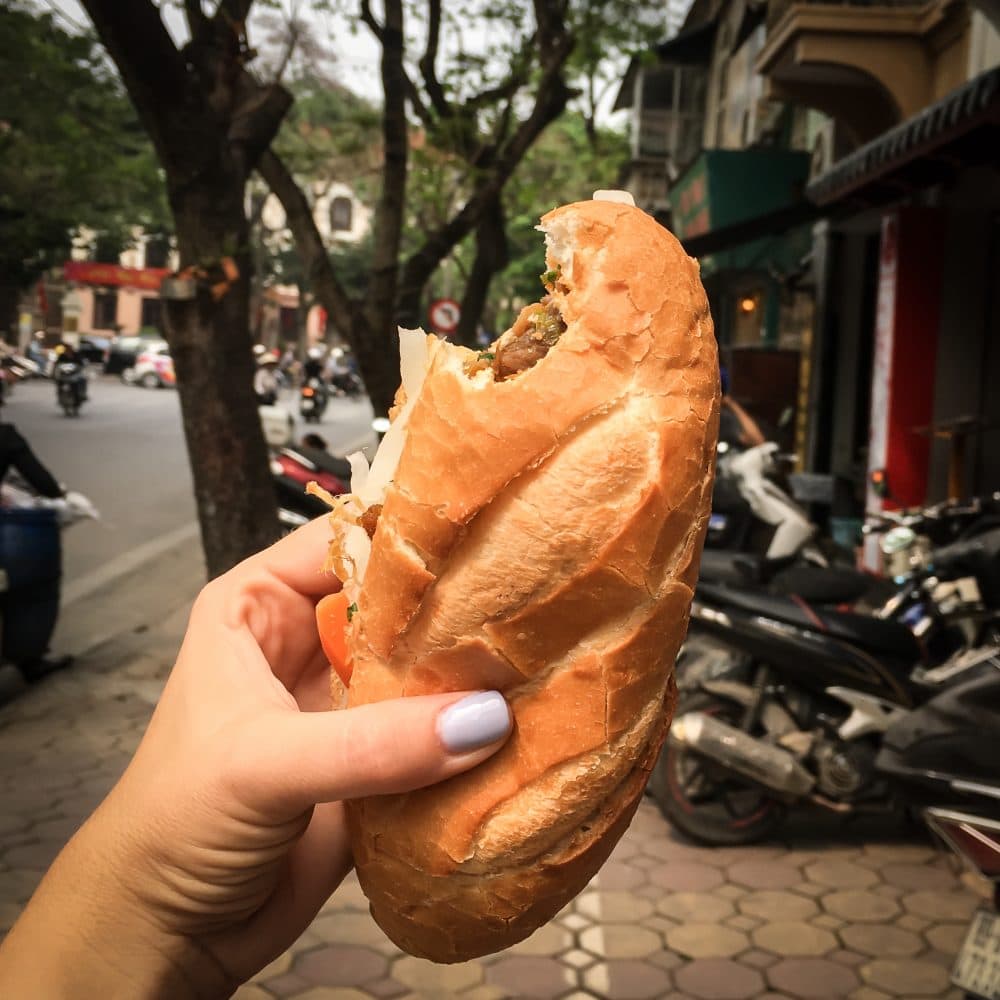 Temple of Literature
Spend the afternoon exploring the Temple of Literature, dedicated to Confucius and home to Vietnam's first national university. The courtyards and pavilions are a peaceful reprieve from the city, plus it's fascinating to see the old calligraphy and scrolls from the ancient school.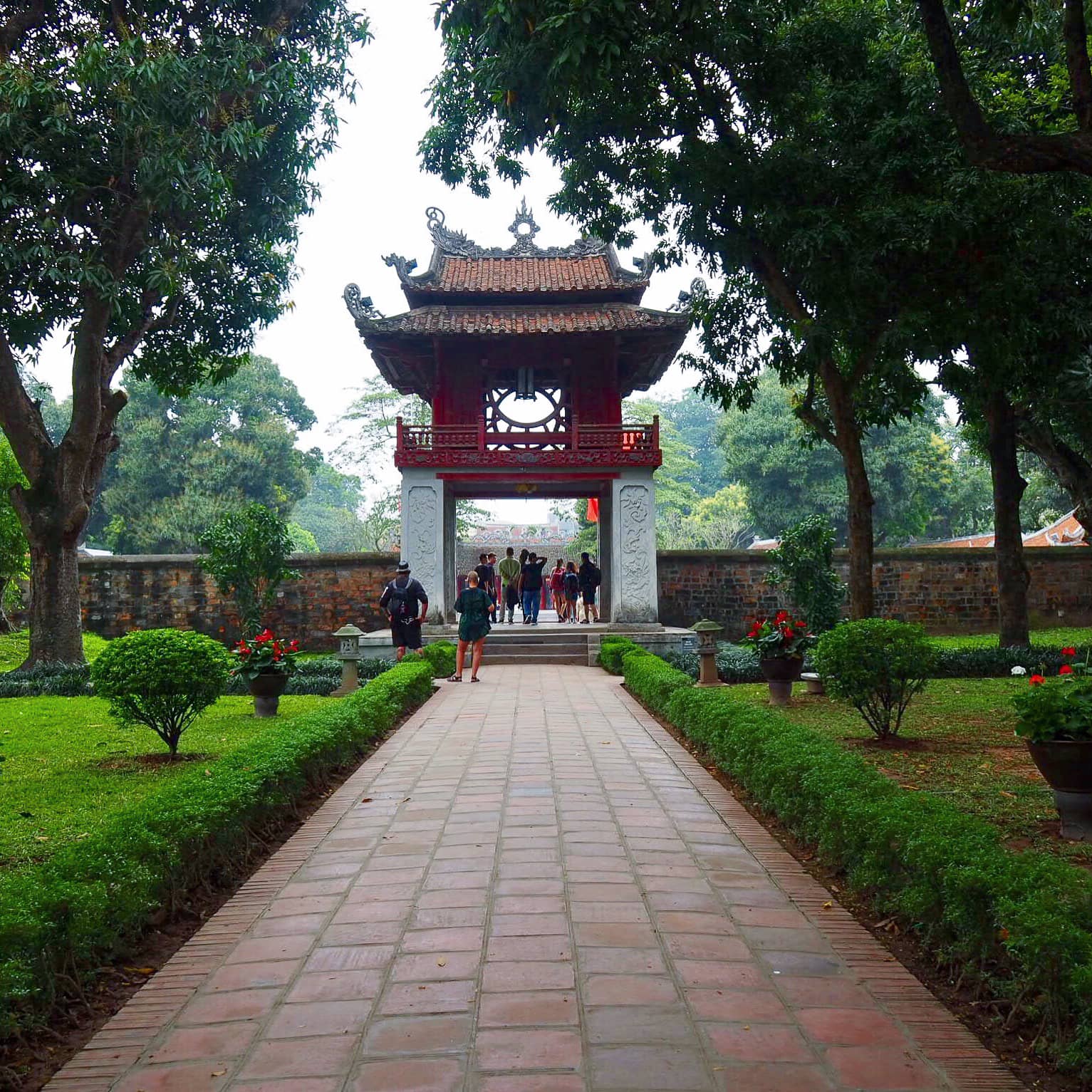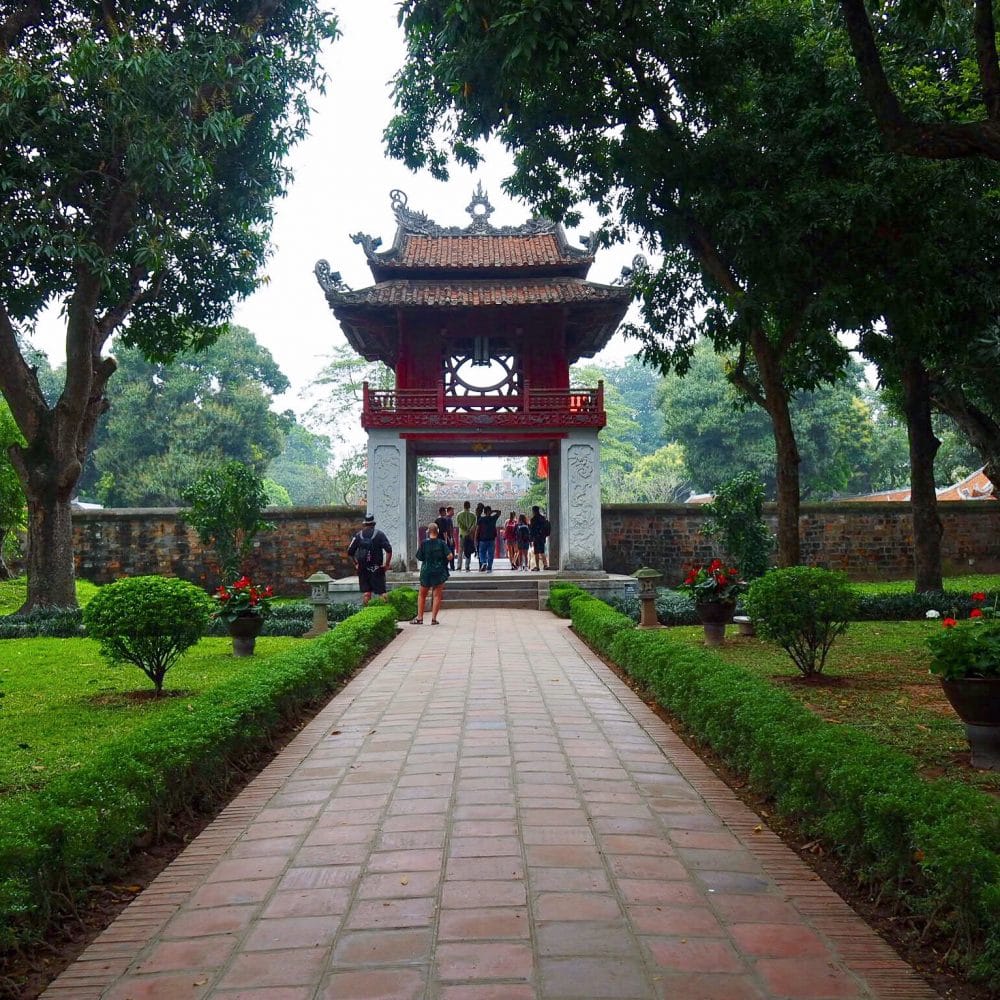 Dinner At Hanoi's Oldest Restaurant
Hanoi's oldest restaurant is named for the one dish it serves, Chả Cá Lã Vọng, or grilled fish with turmeric and dill. Don't be fooled by the flashy neon signs of a new competitor across the street trying to cash in on the famous name, the true Chả Cá Lã Vọng will seem like you're walking into someone's home at first, then up a narrow flight of stairs to the restaurant on the second floor. (They don't have a website, so just note their address: 14 Pho Cha Ca, Hanoi). It feels every bit of a hundred years old when you enter, like a hidden gem. The meal is a bit of a cook-your-own-dinner sort of experience as the grilled fish with dill and scallions are brought to the table on a burner along with all the condiments — rice noodles, fish sauce, shrimp paste, and peanuts. Chả Cá is aromatic and delicious! And along with bún chả, it's one of Hanoi's signature dishes.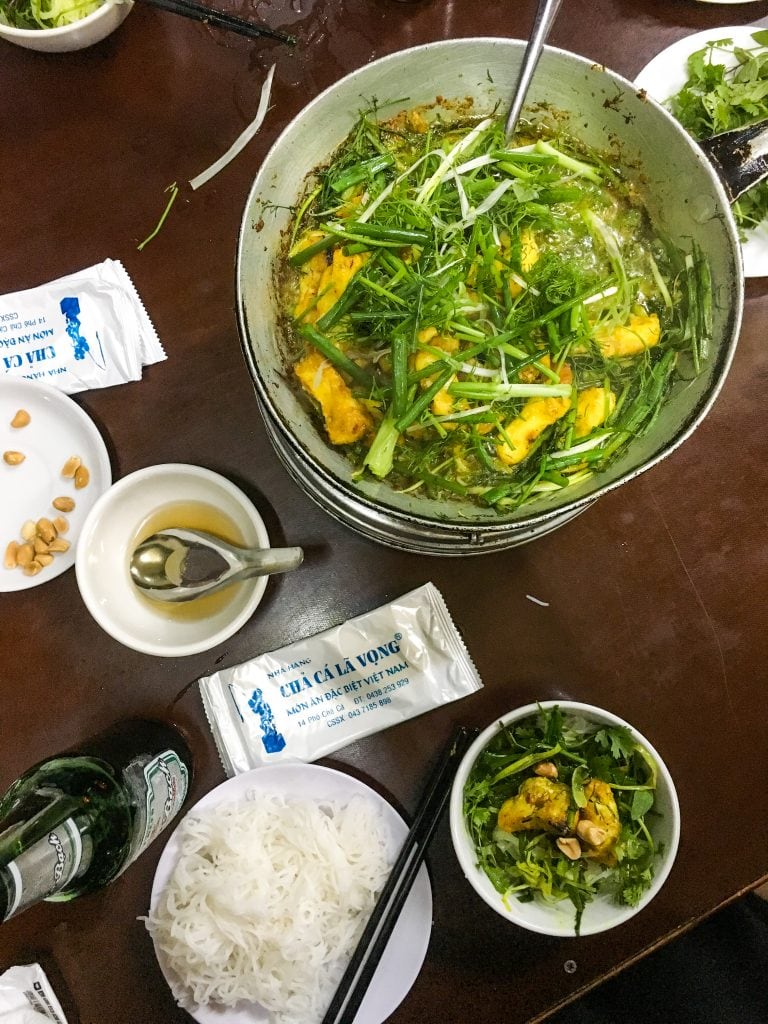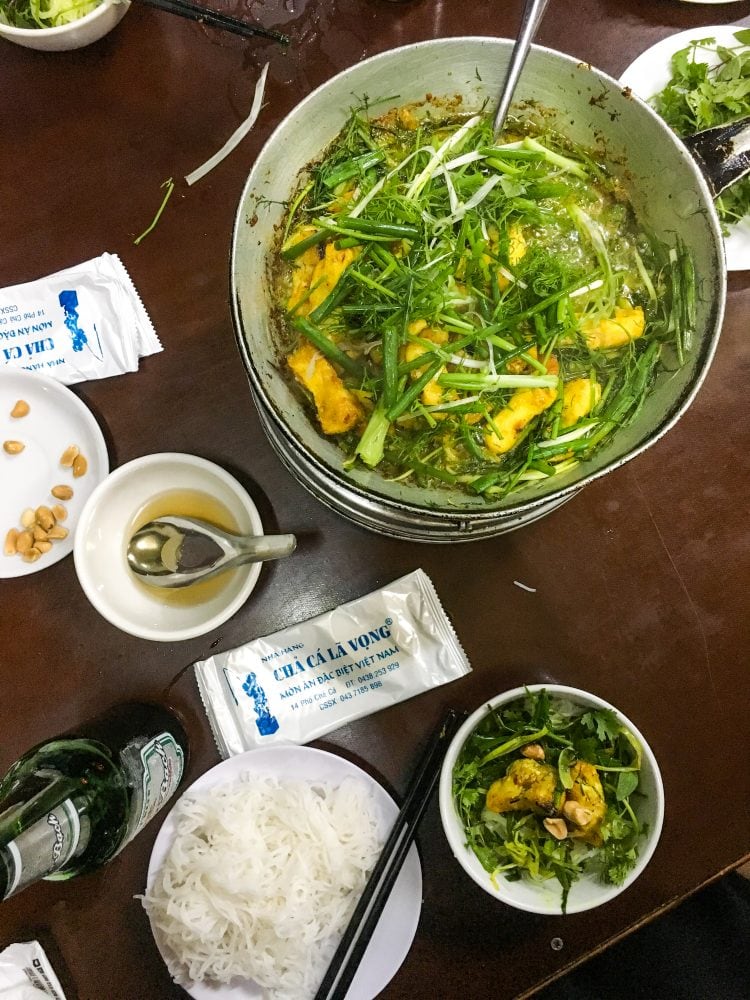 Late Night Coffee & Drinks At Cafe Pho Co
Since Chả Cá Lã Vọng only serves one dish, walk over to Cafe Pho Co after dinner for dessert and coffee. The cafe is a hidden down a lantern-lit alley behind a silk shop, so getting there is part of the mysterious fun. Once in the courtyard, order your drinks and then make your way through the multilevel maze of coffee coziness up to the rooftop terrace. It is a bit difficult to find, but worth the hunt. Address: 11 Hàng Gai, Hàng Trống, Hoàn Kiếm.
Where To Stay In Hanoi
I recommend booking one of the quaint hotels in the Old Quarter as you'll be walking distance to pretty much everything you'd want to see in the city of Hanoi. We stayed the at Chi Boutique Hotel located across the street from St. Joseph's Cathedral and the original Cong Caphe, plus it was only a block away from Hoan Kiem Lake. If you stay there, ask for a balcony room with a view of the streets below. It was fun to sip tea from our room and watch the bustle below.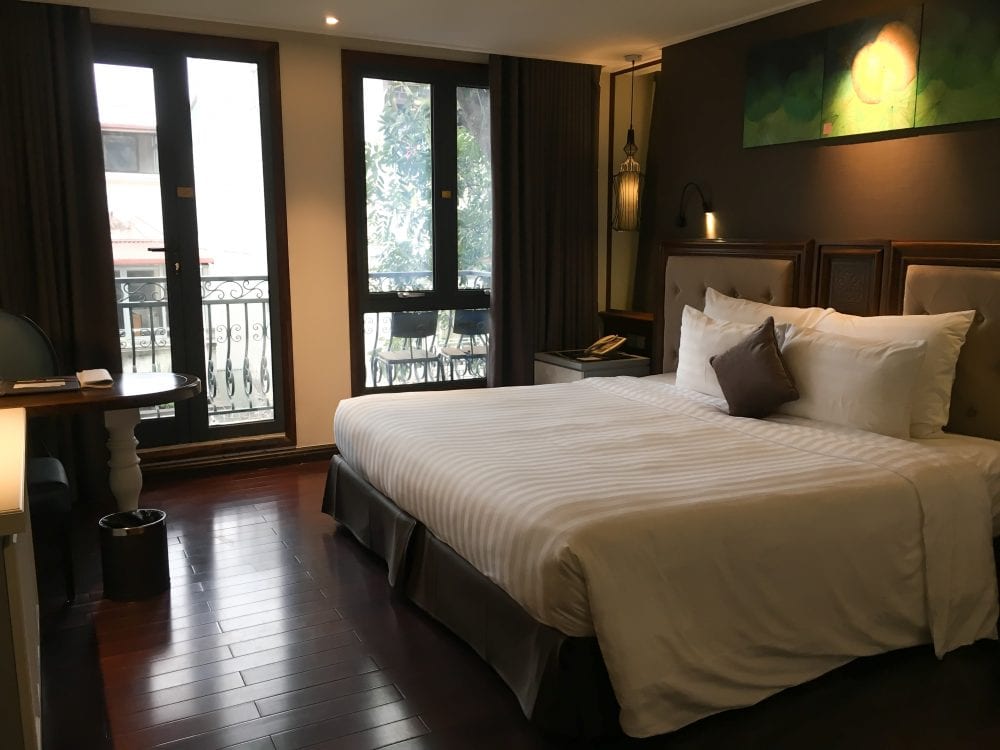 Hanoi Weekend Extension – Cat Ba Island
Have a little bit more time? Staying longer in Vietnam? I highly recommend taking a trip up to Cat Ba Island near Halong Bay. We scheduled a private tour through Maia Travels (the same guide that we booked the food tour through) The weekend included a private driver, hiking in Cat Ba National Park, overnight stay and breakfast at Little Cat Ba, a boat tour of the bay and fishing village, kayaking, tea with a fisherman, and lunch on a floating restaurant. Price was around $100 US per person for the weekend, not including dinners or dips.

72 Hours In Hanoi – A Photo Gallery
Want to see more photos of Hanoi? Here's a round up of some of our favorites.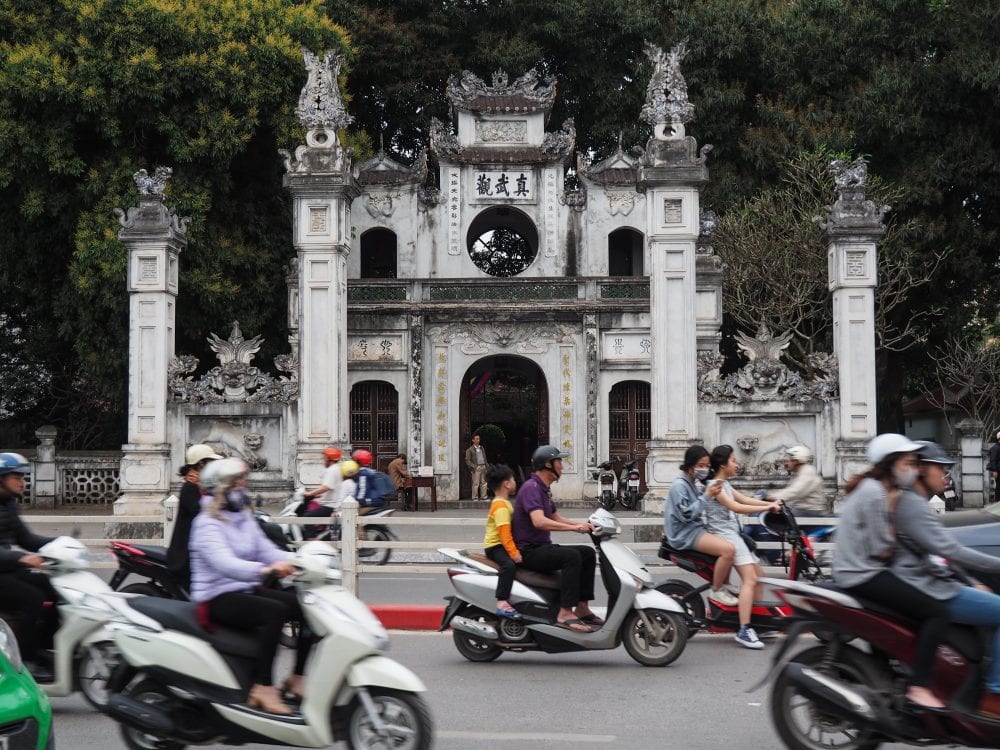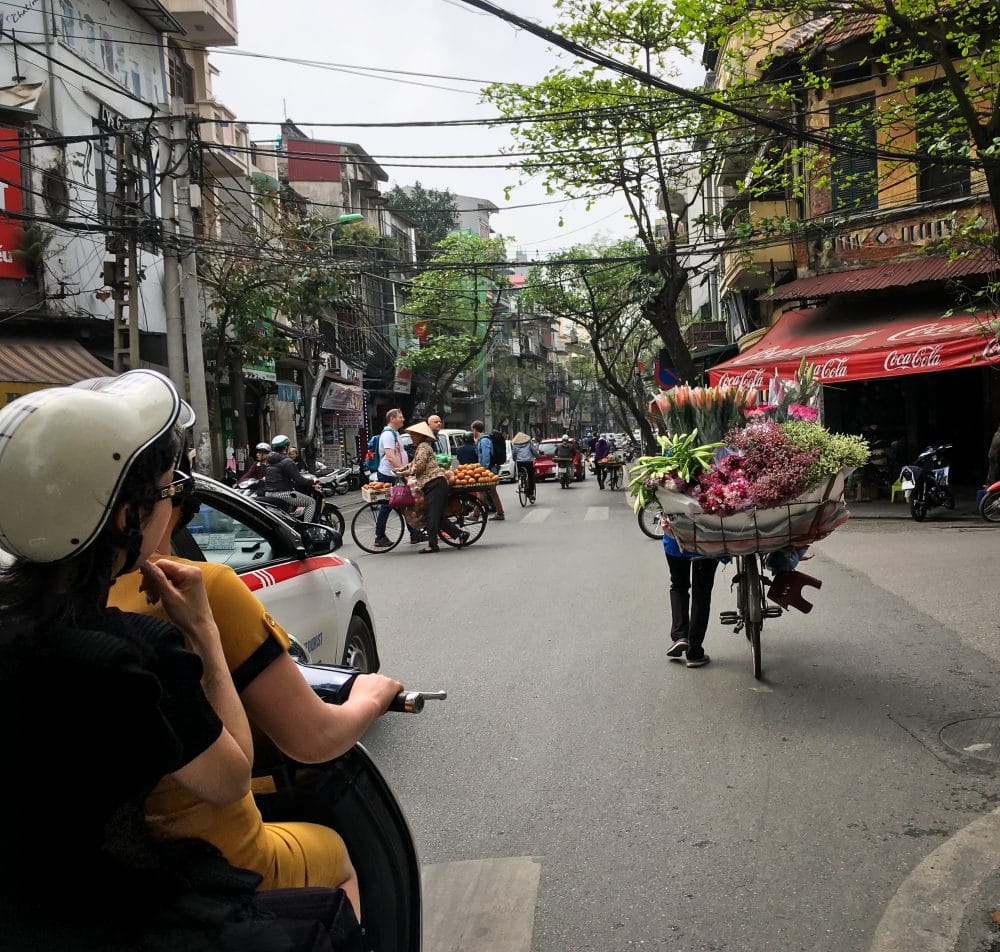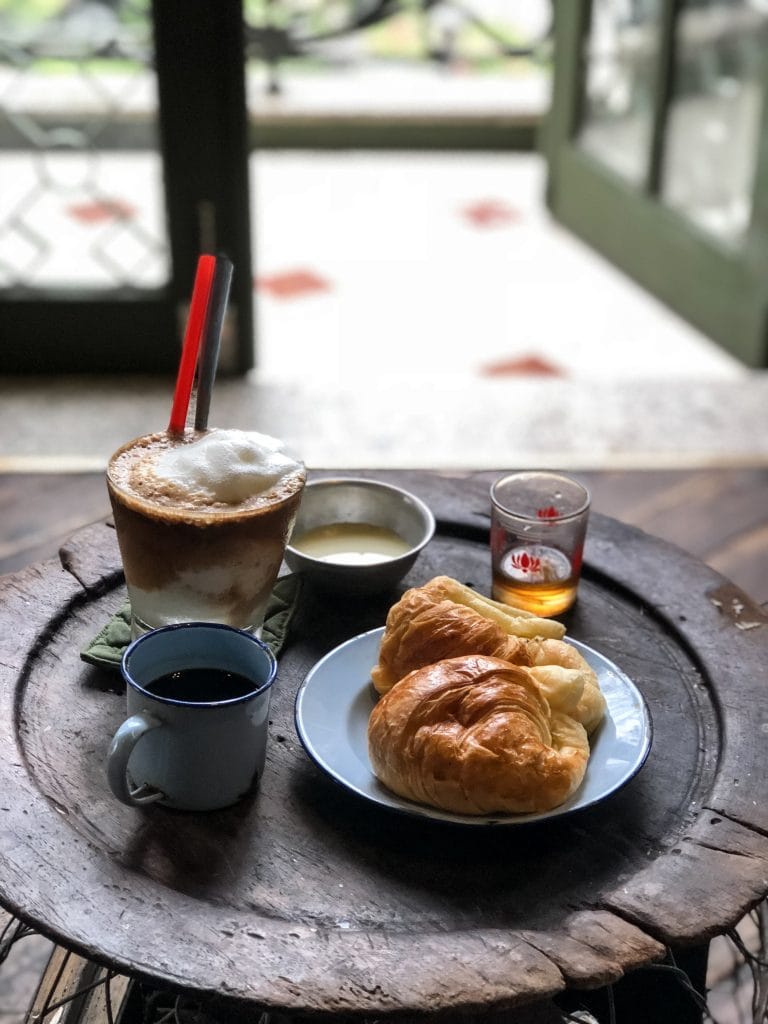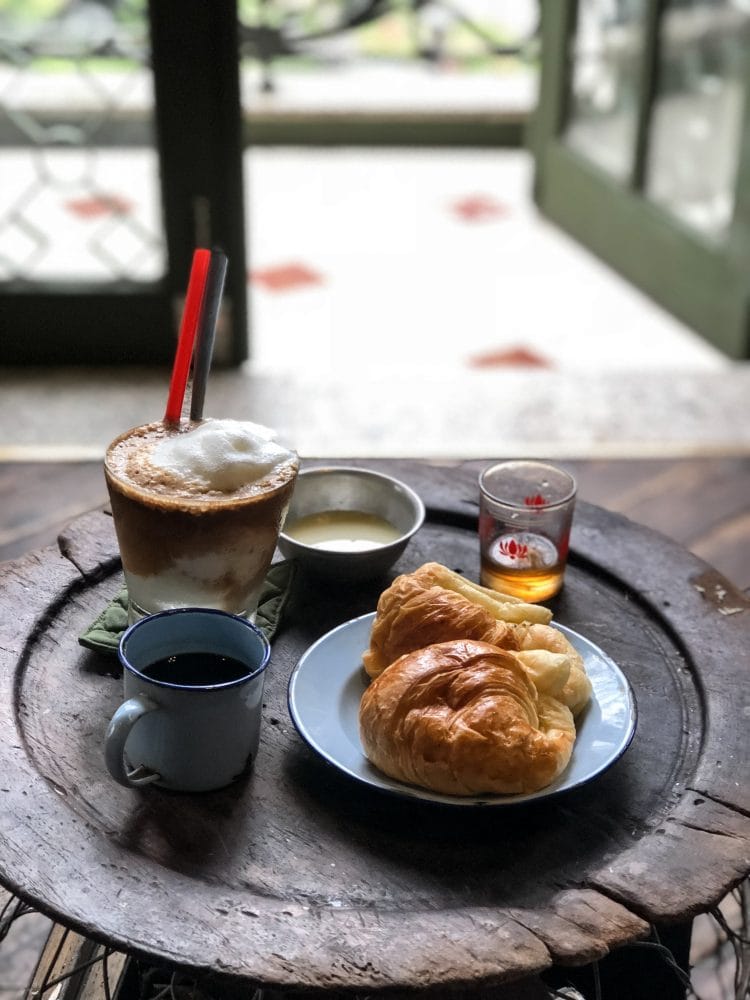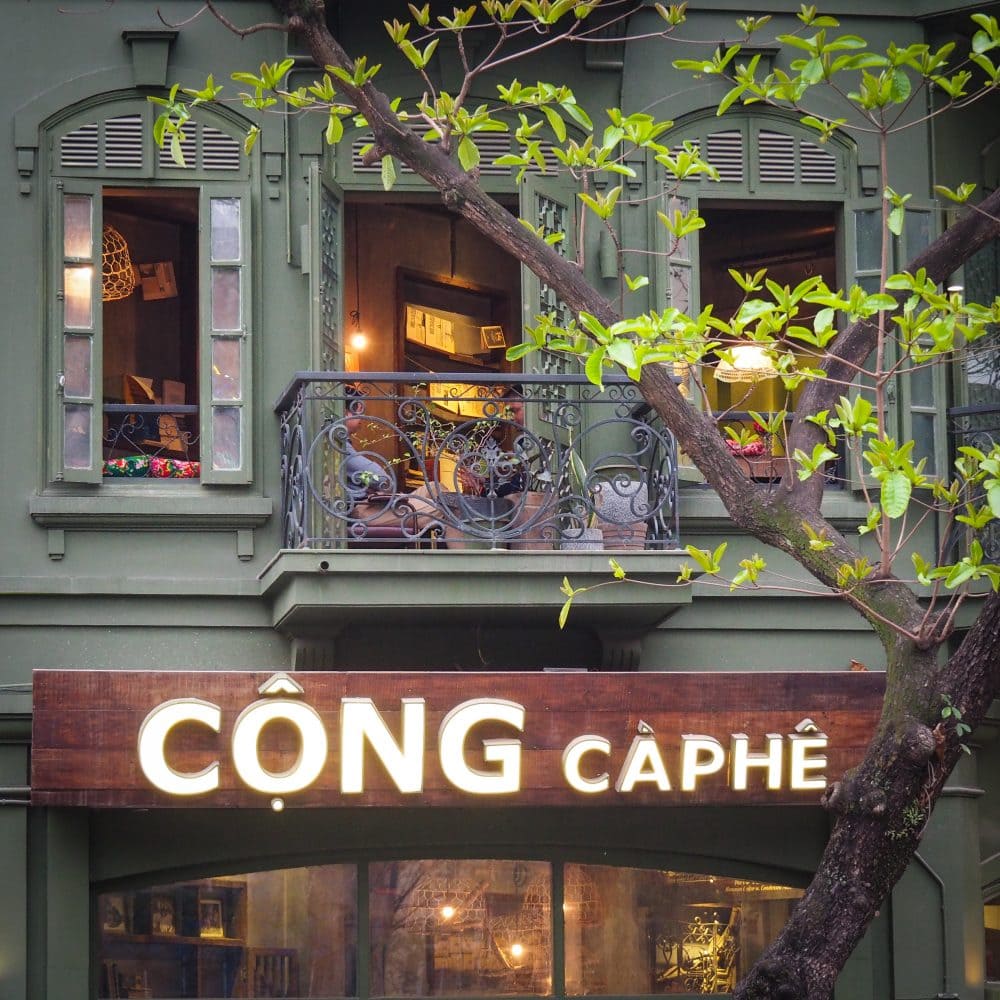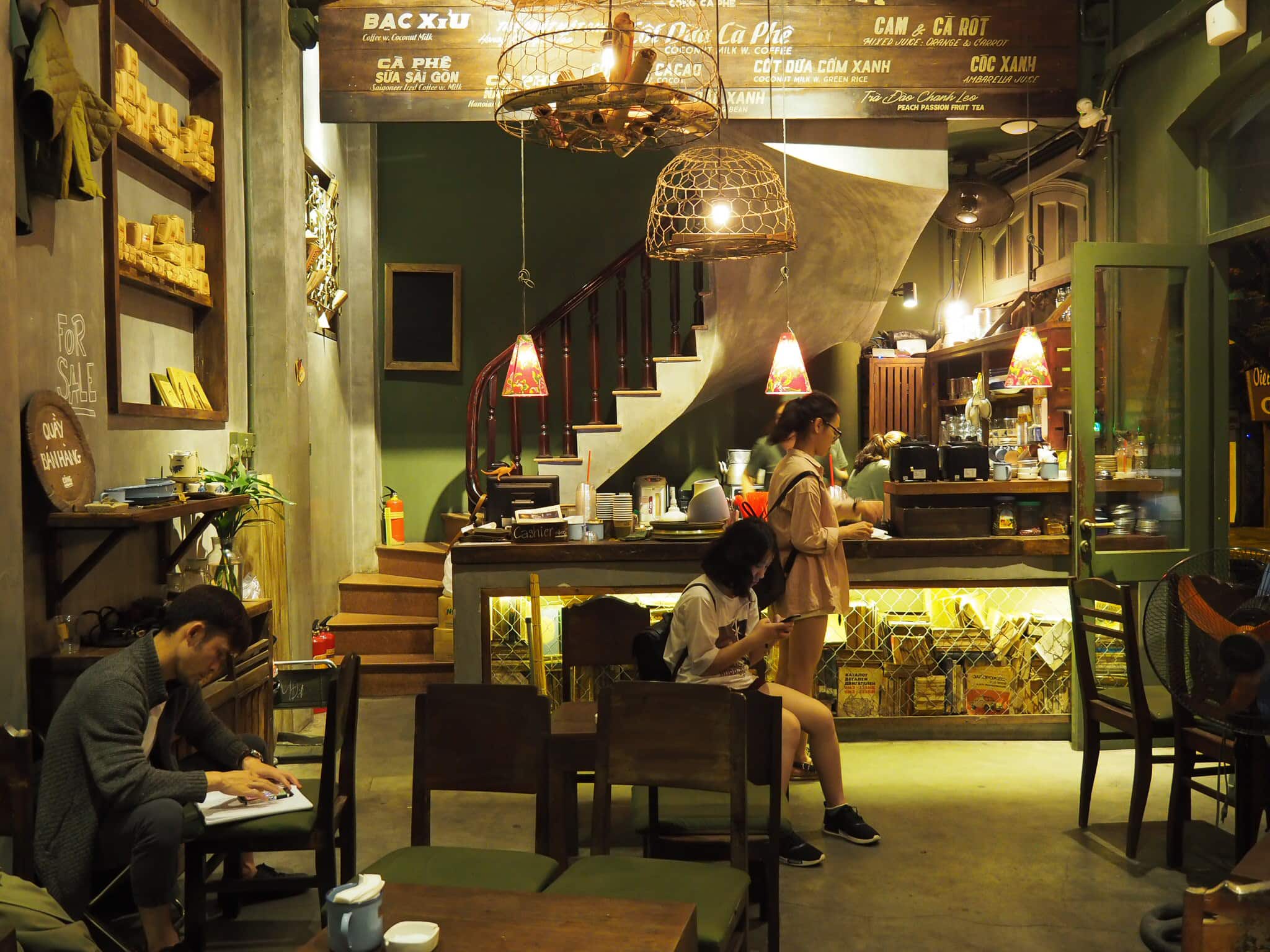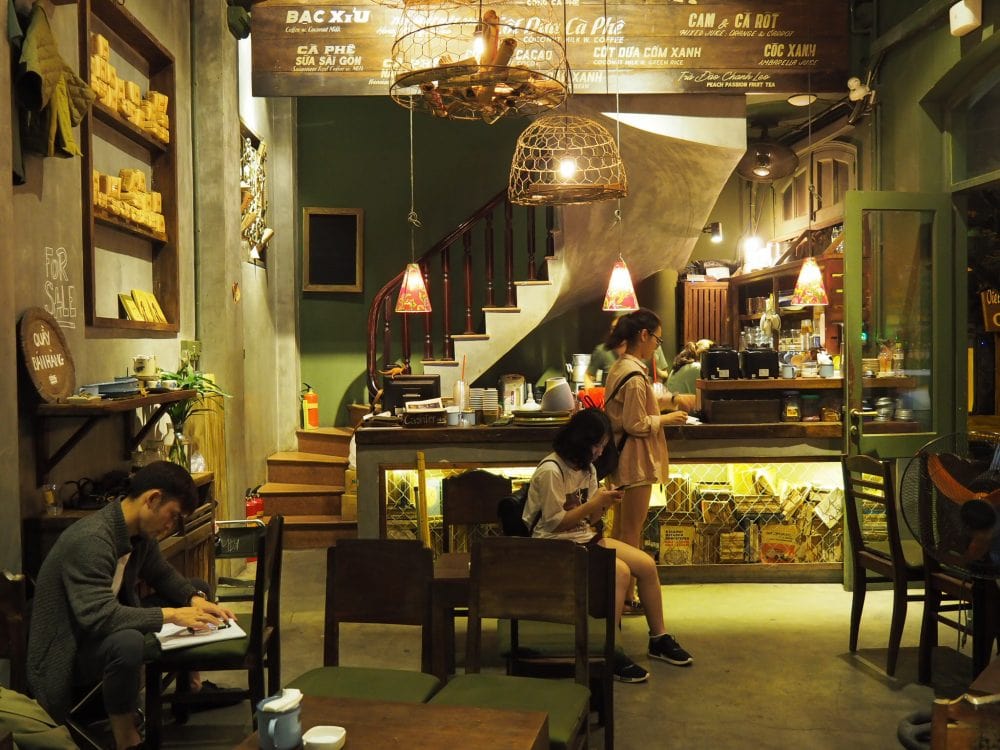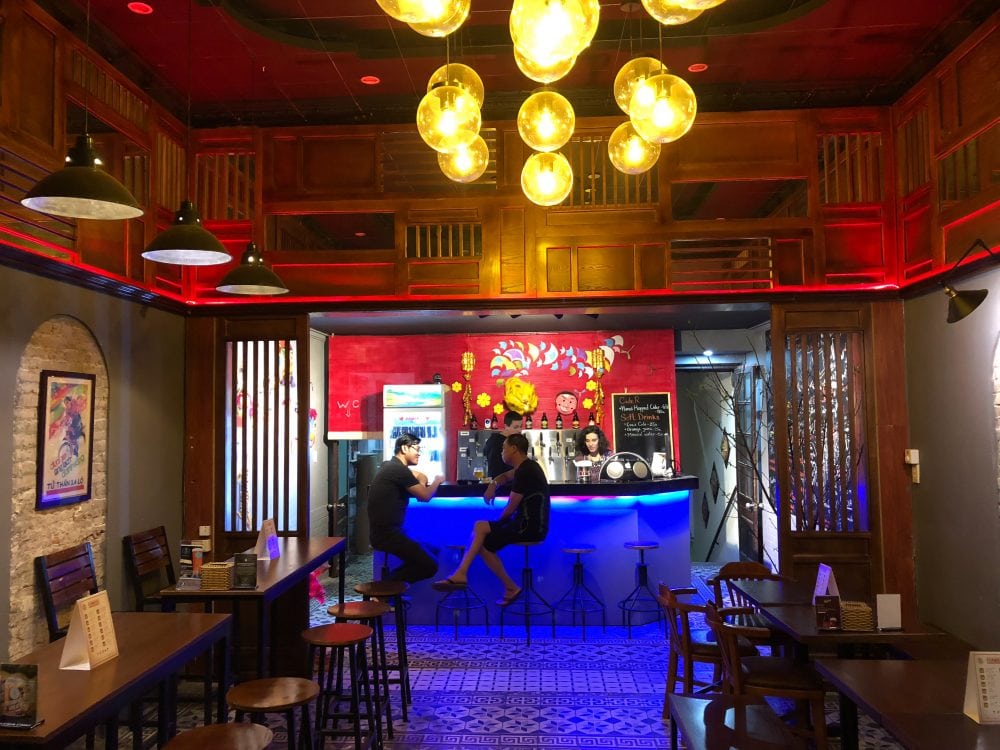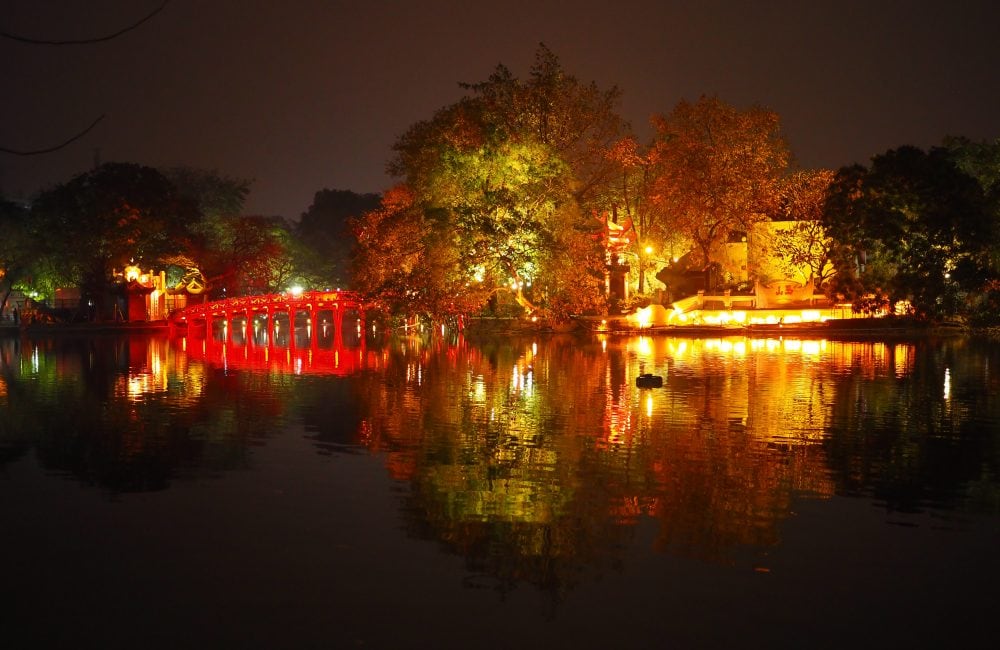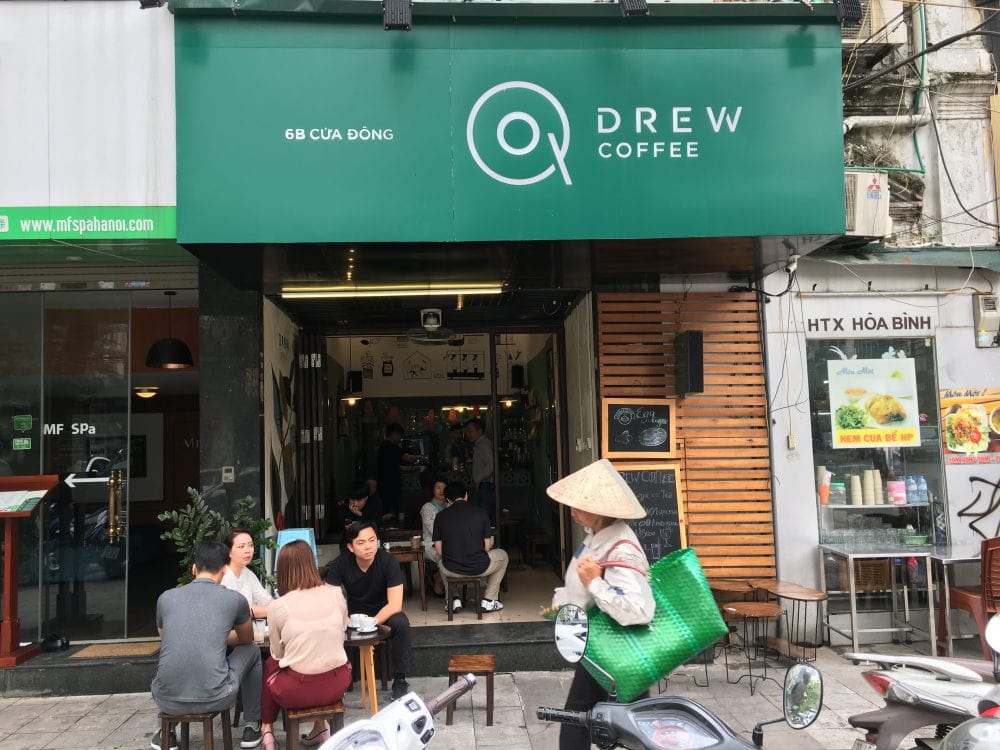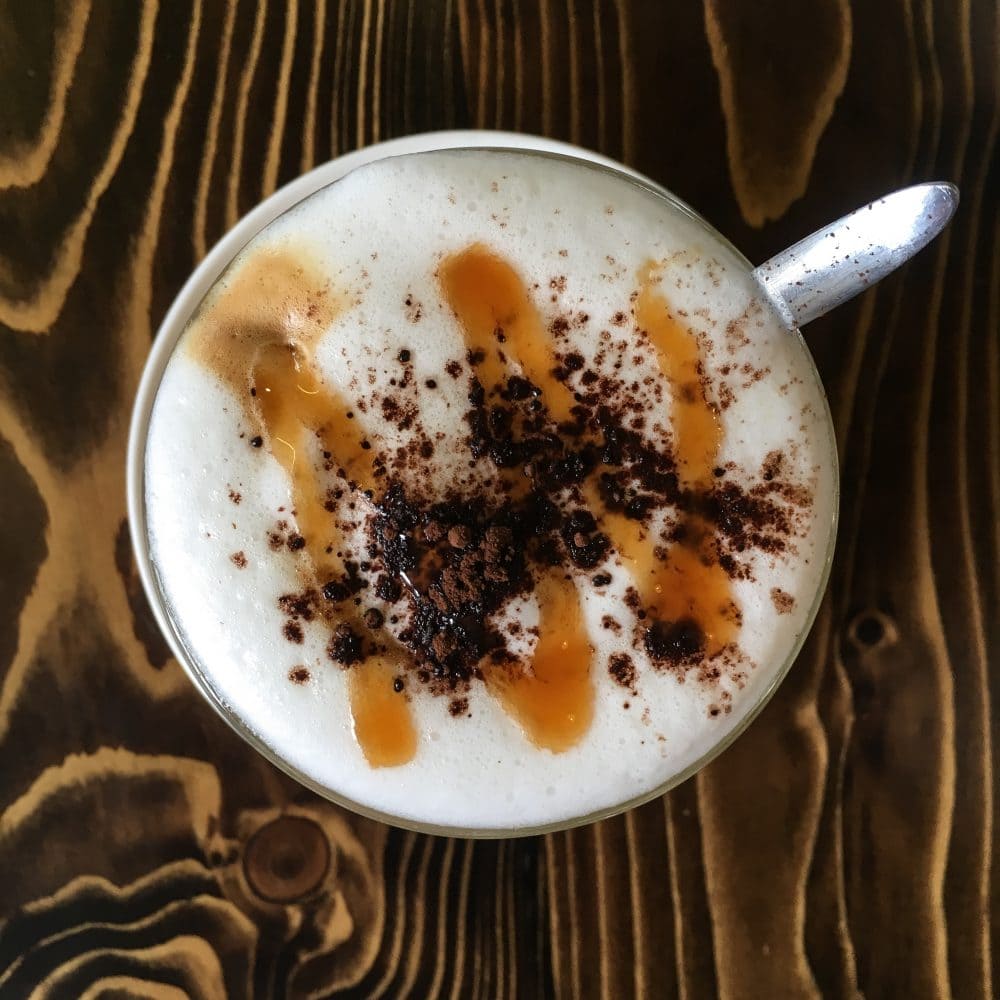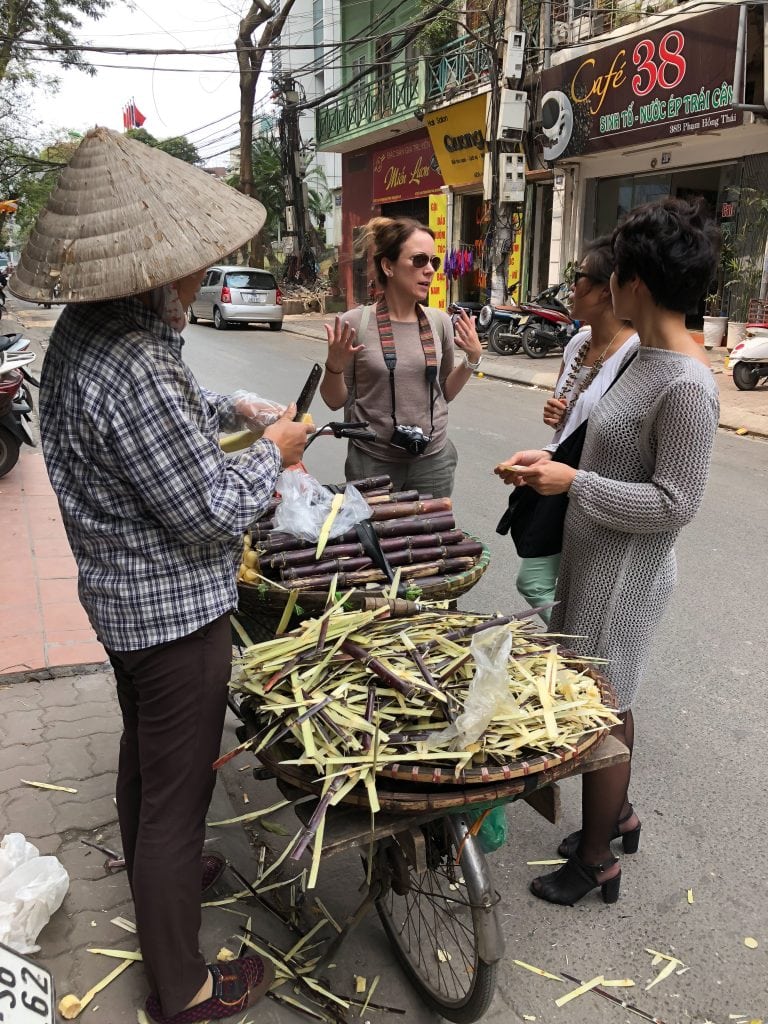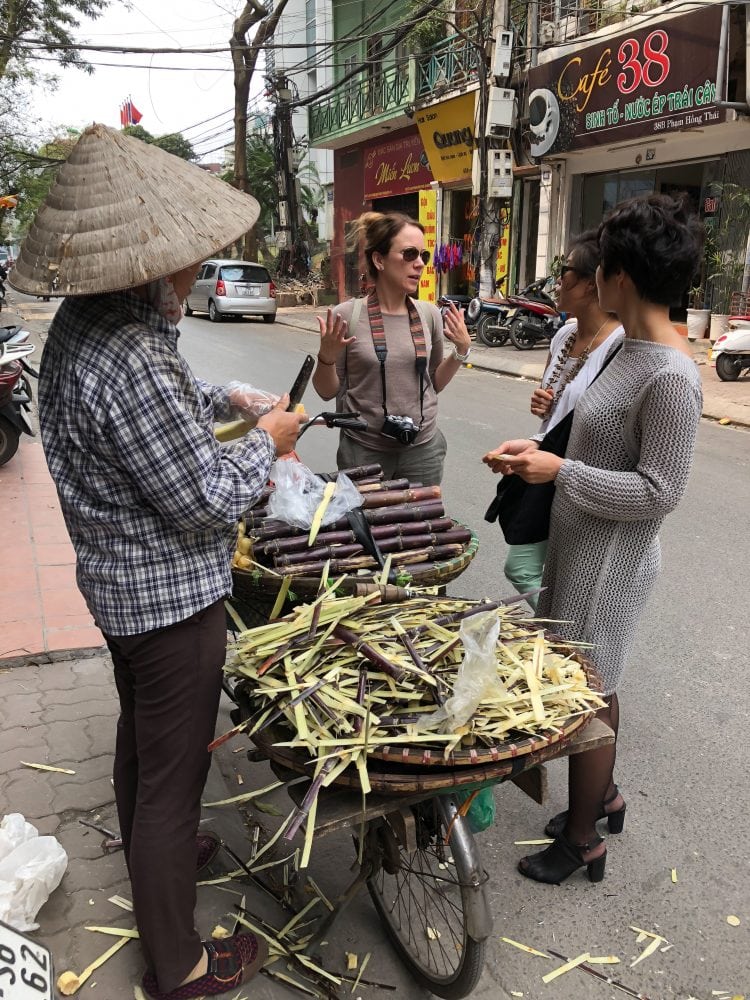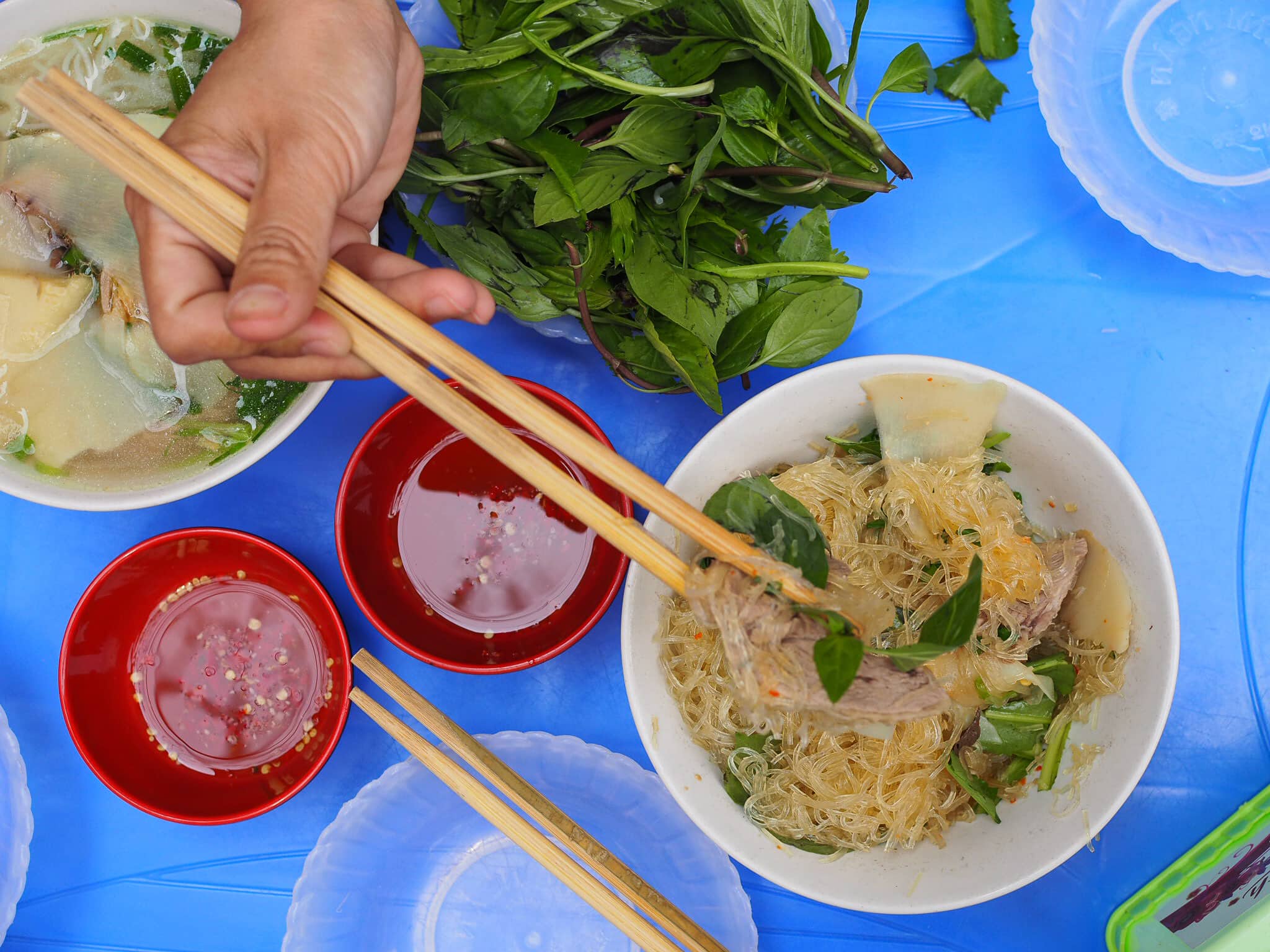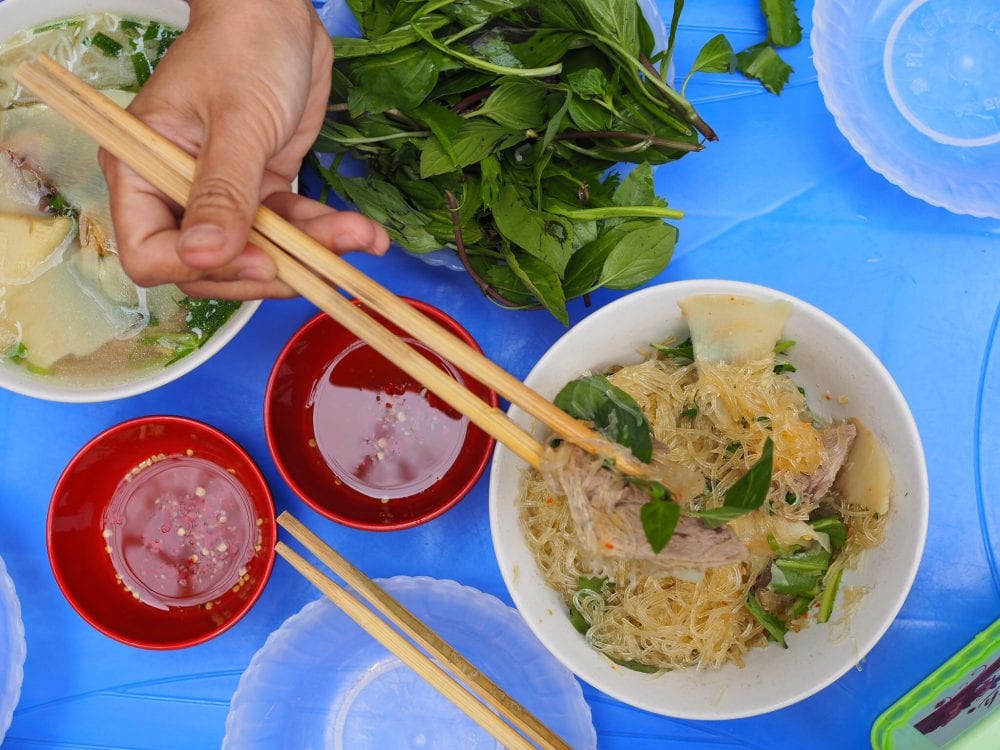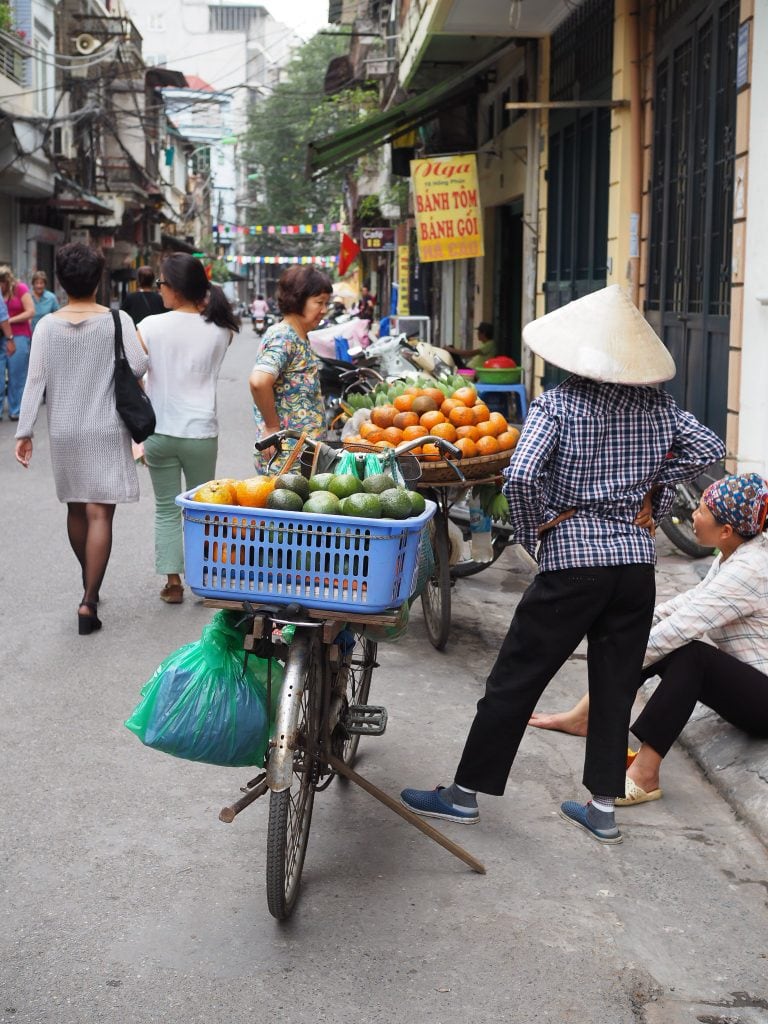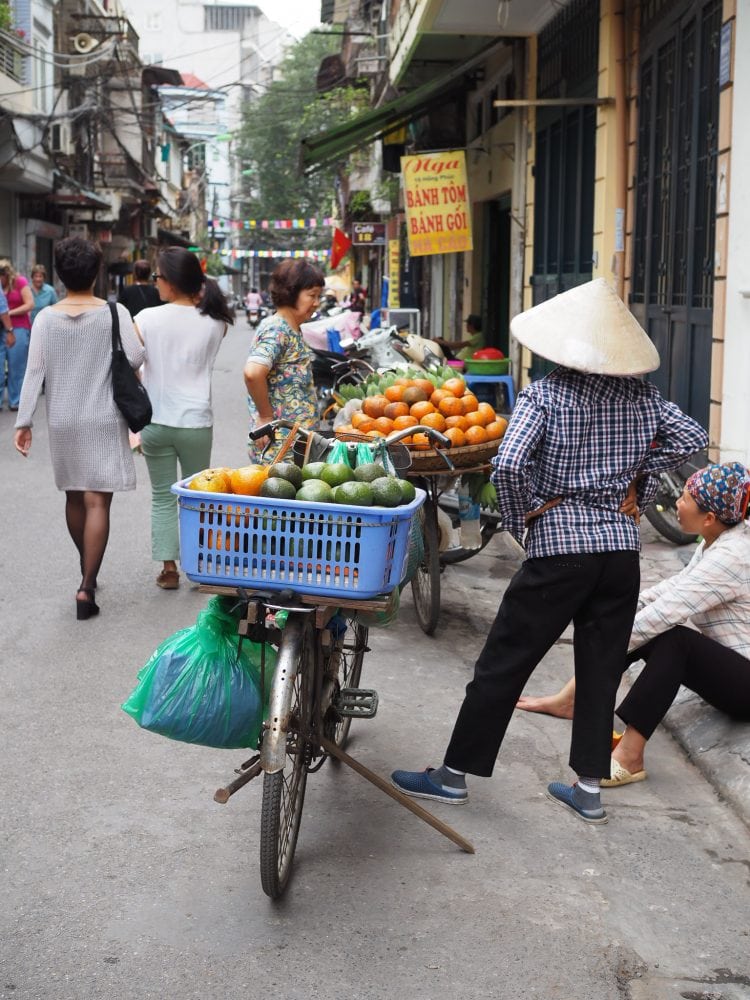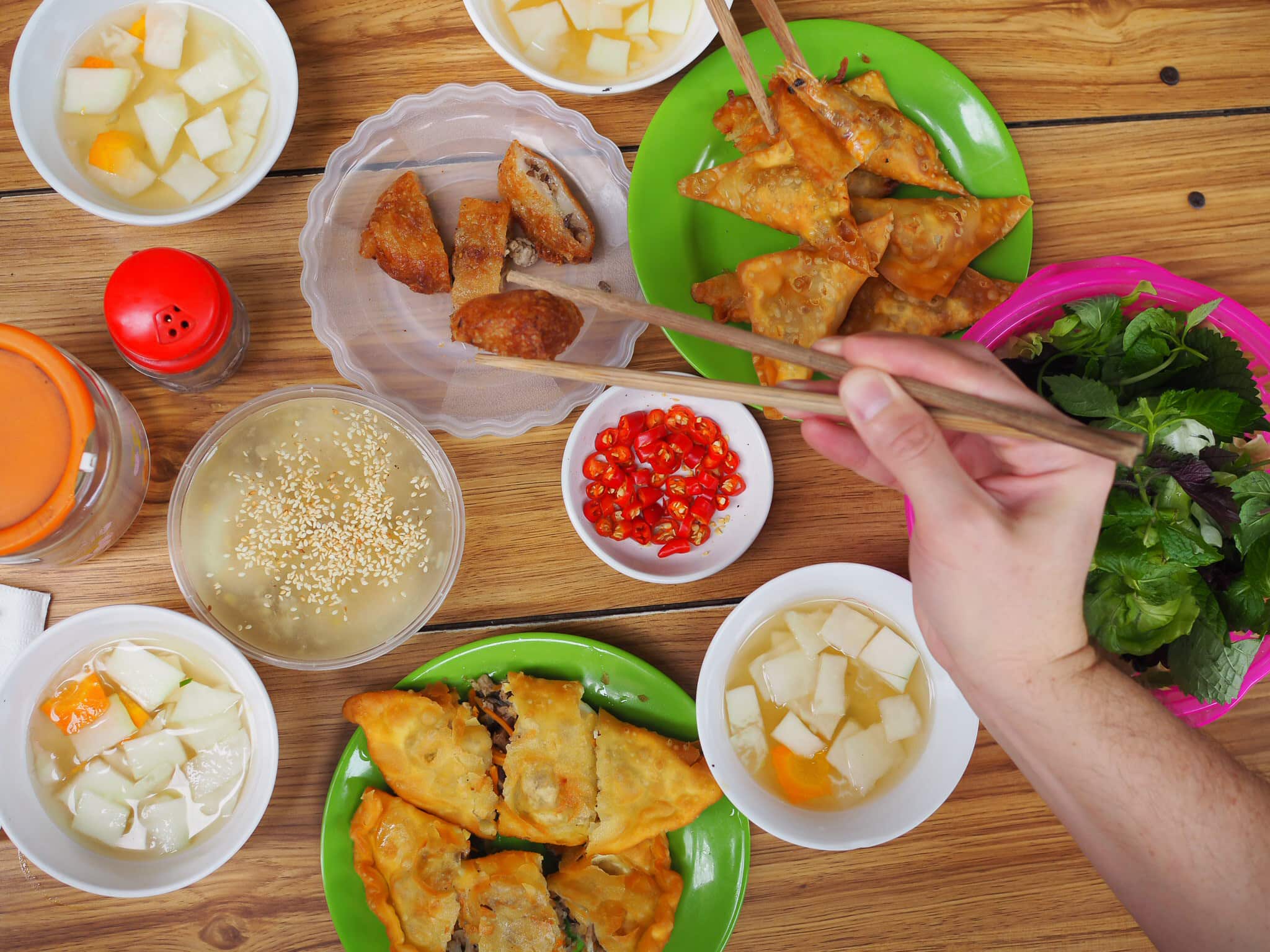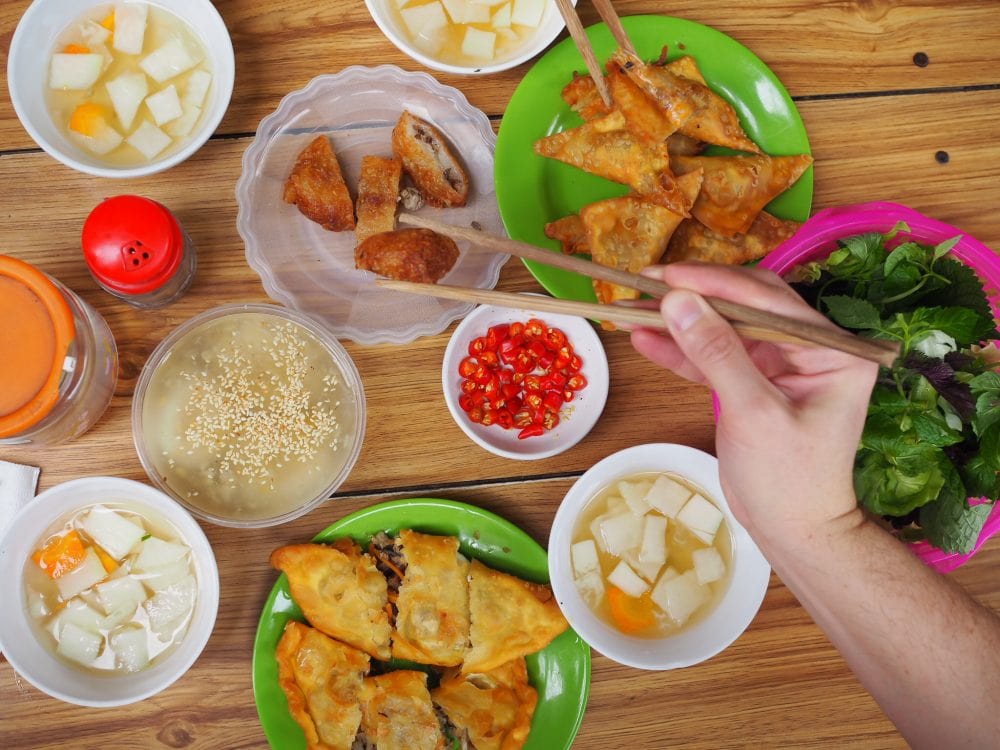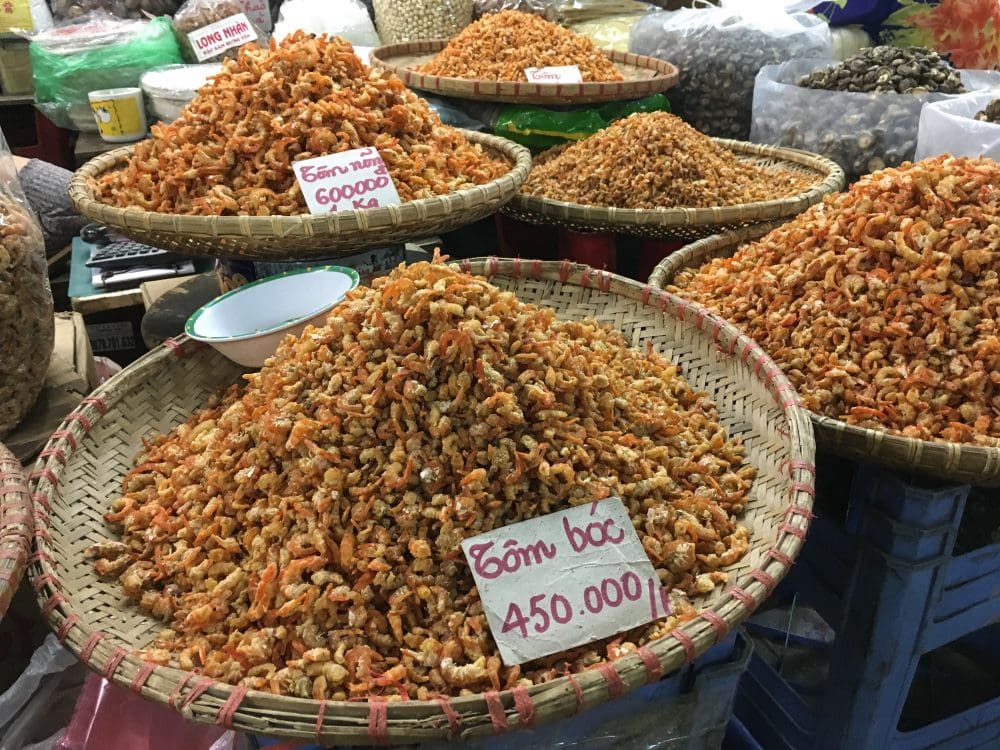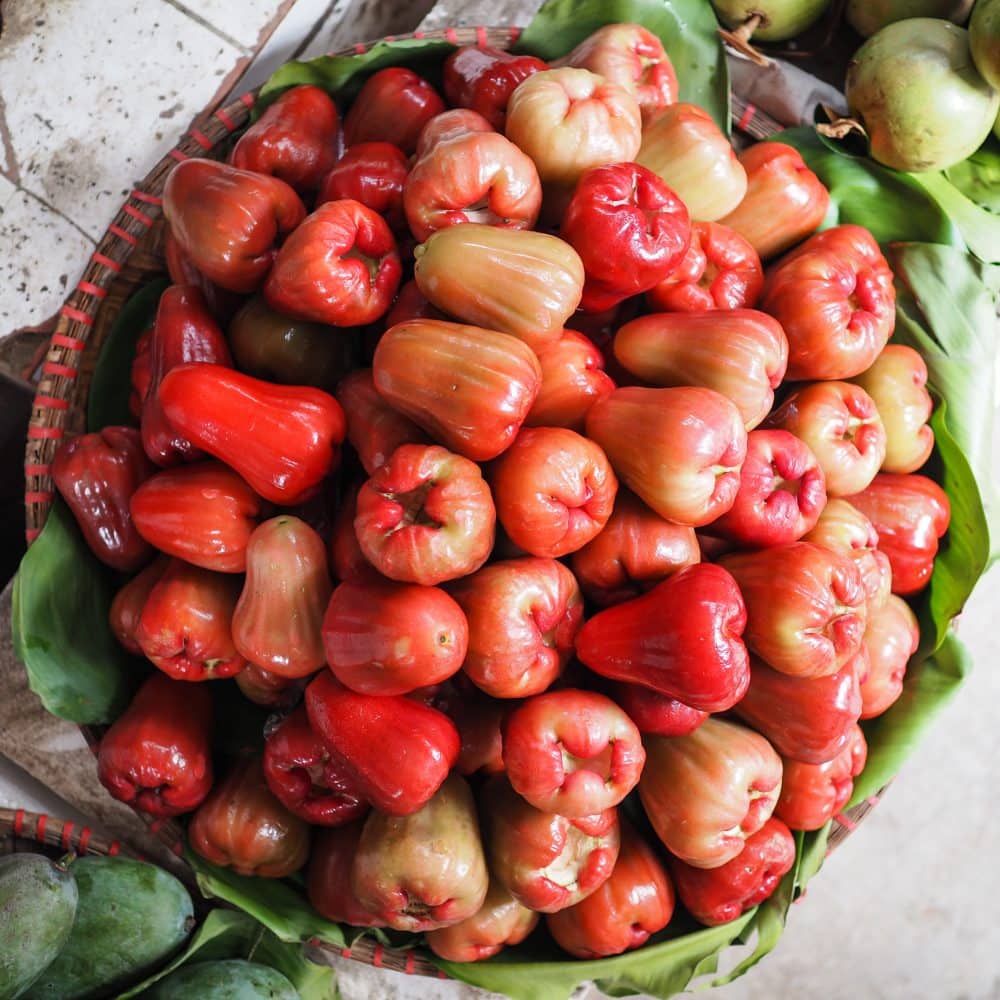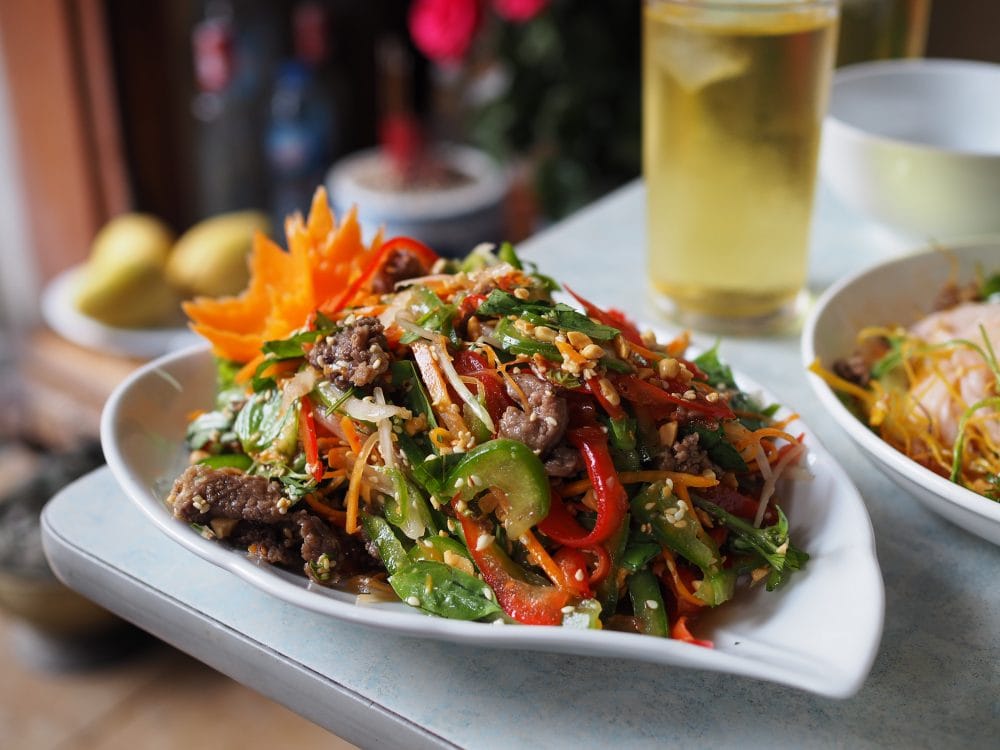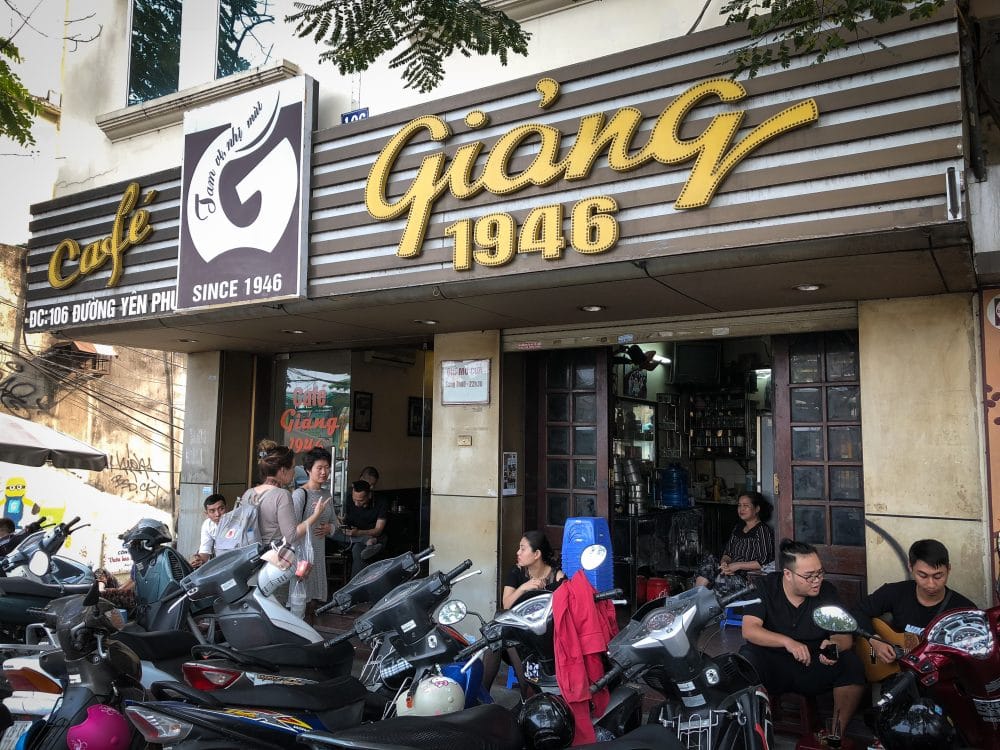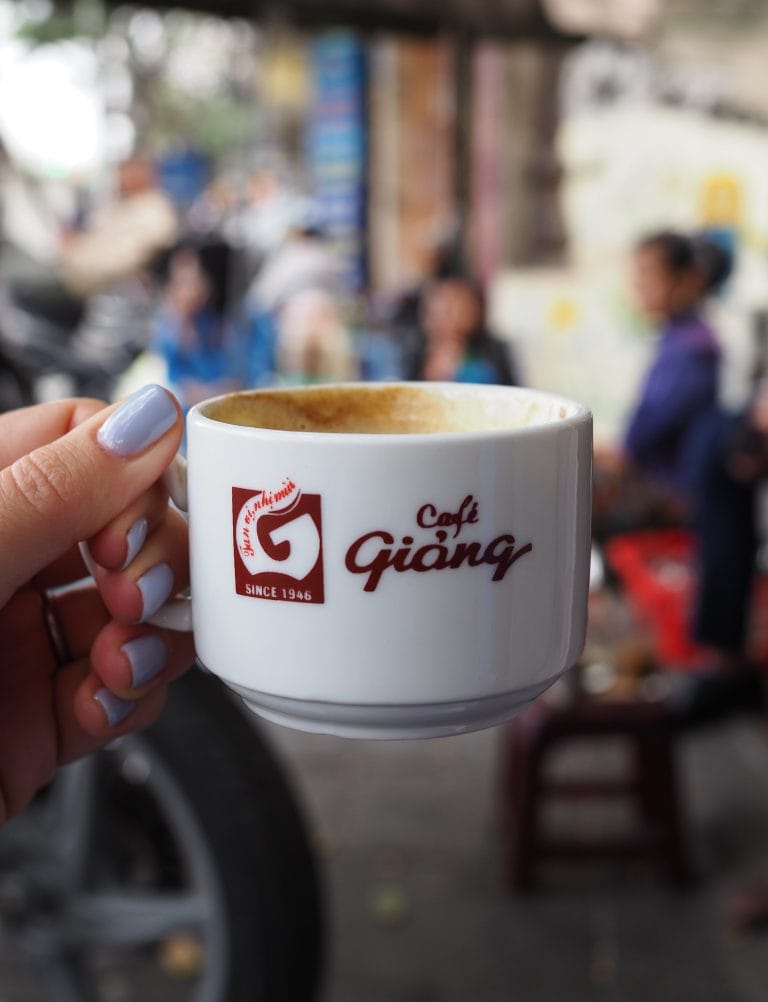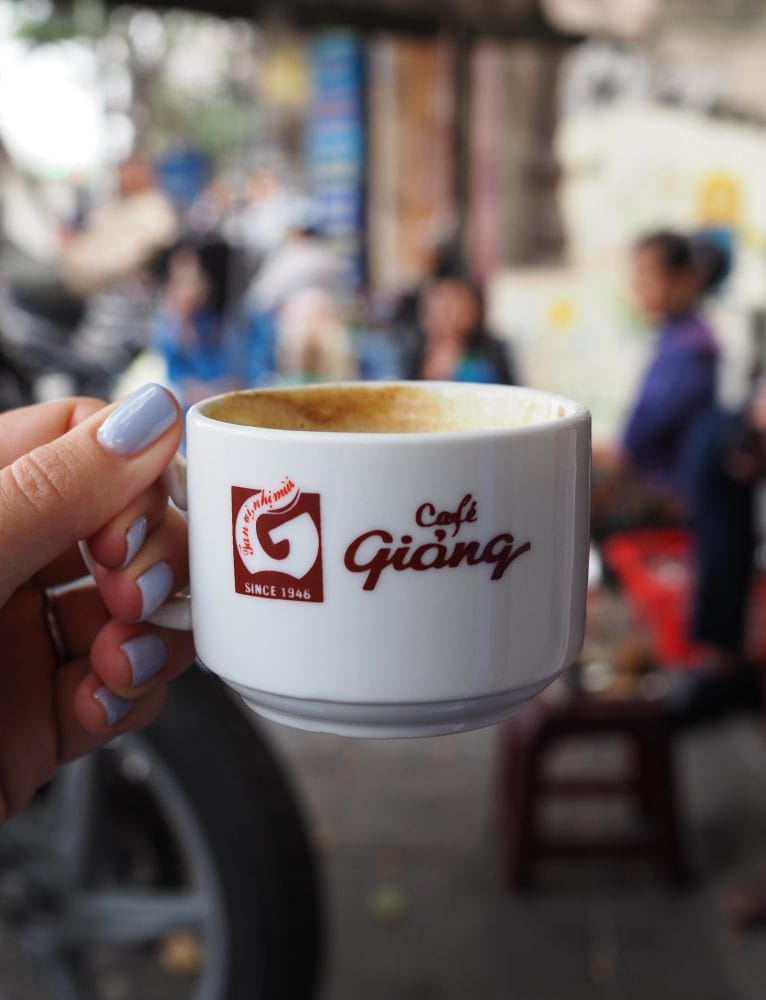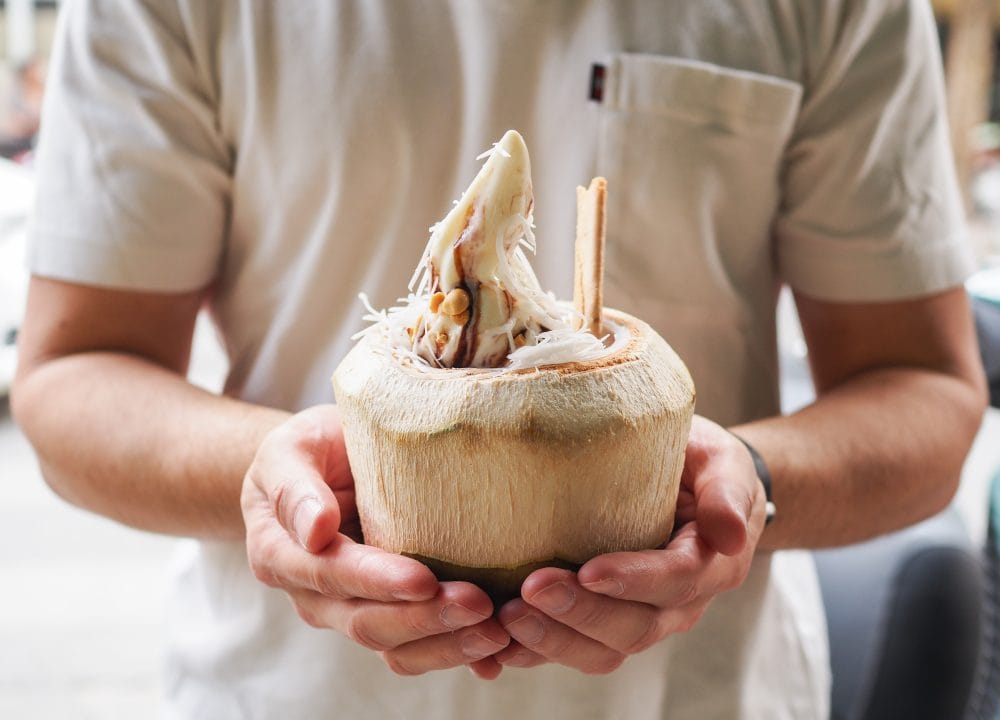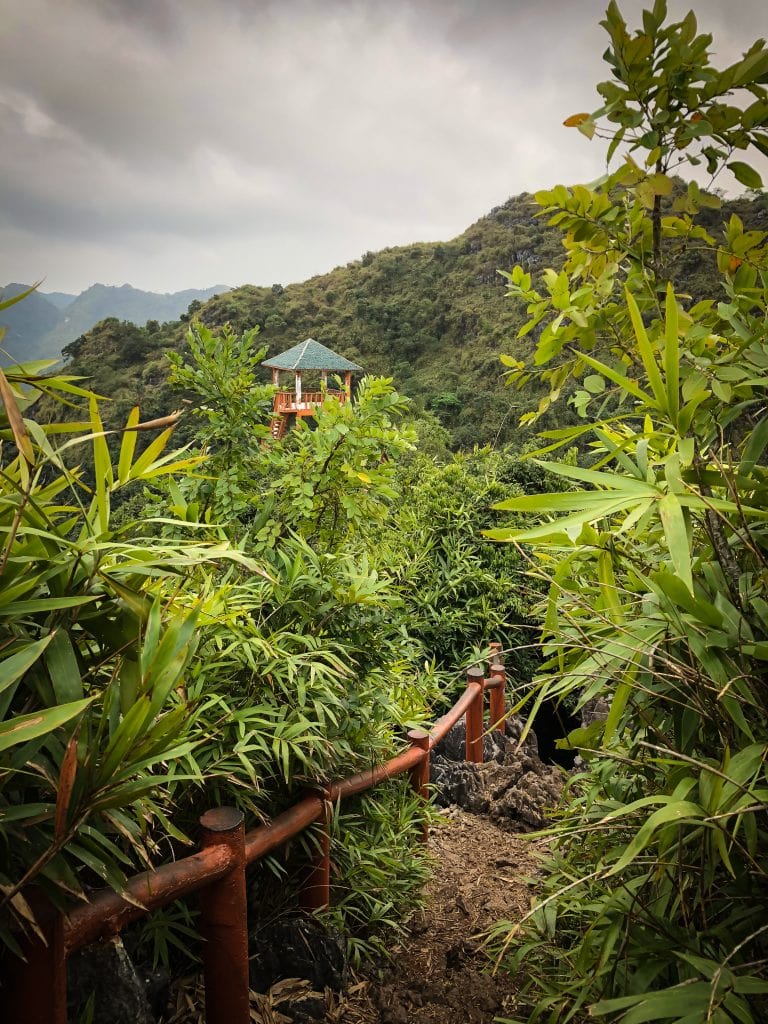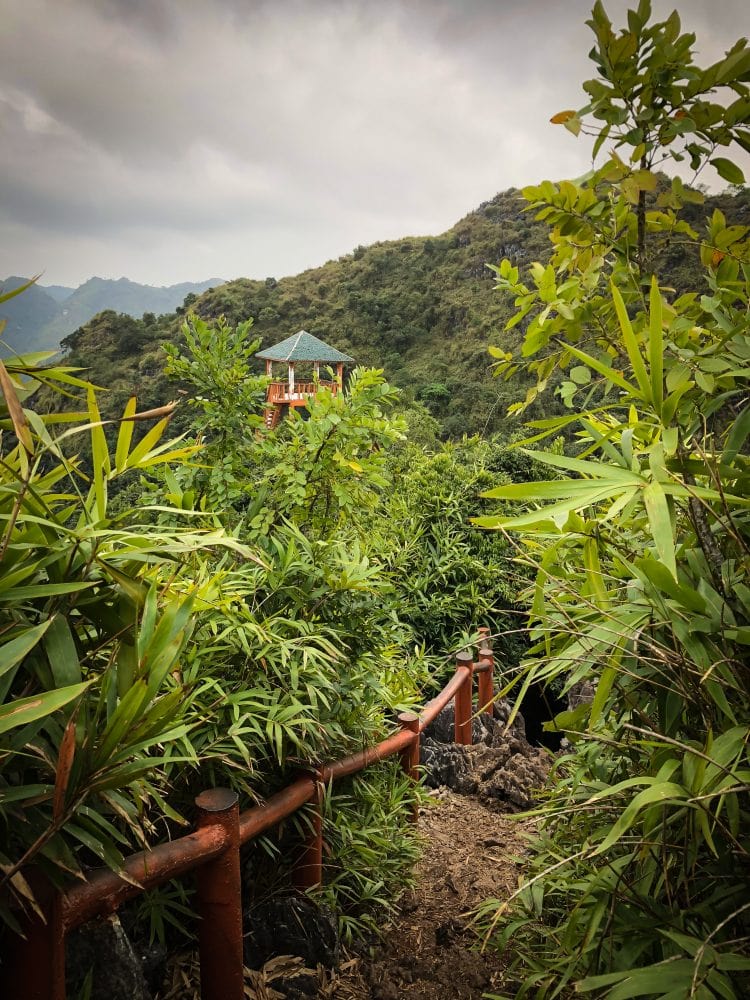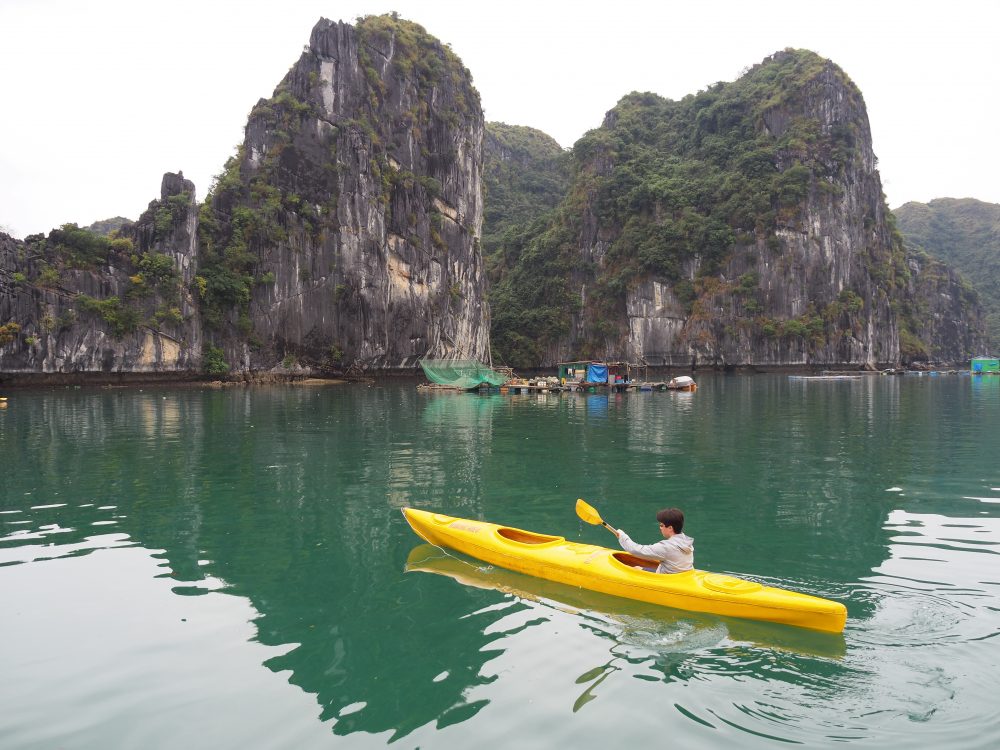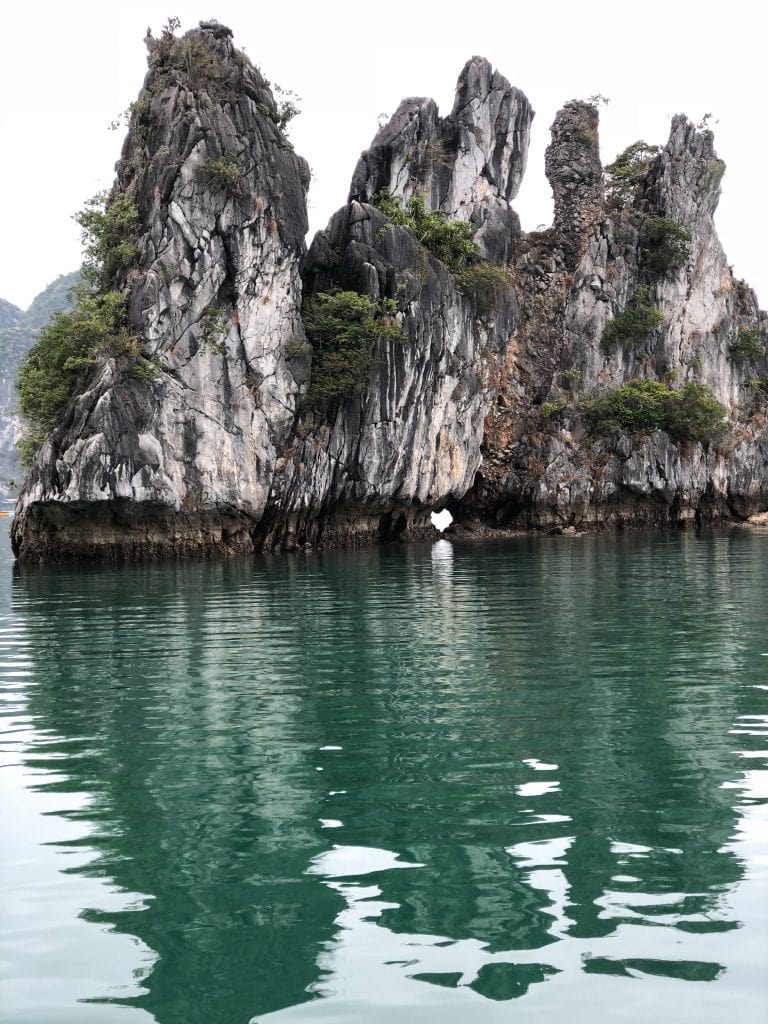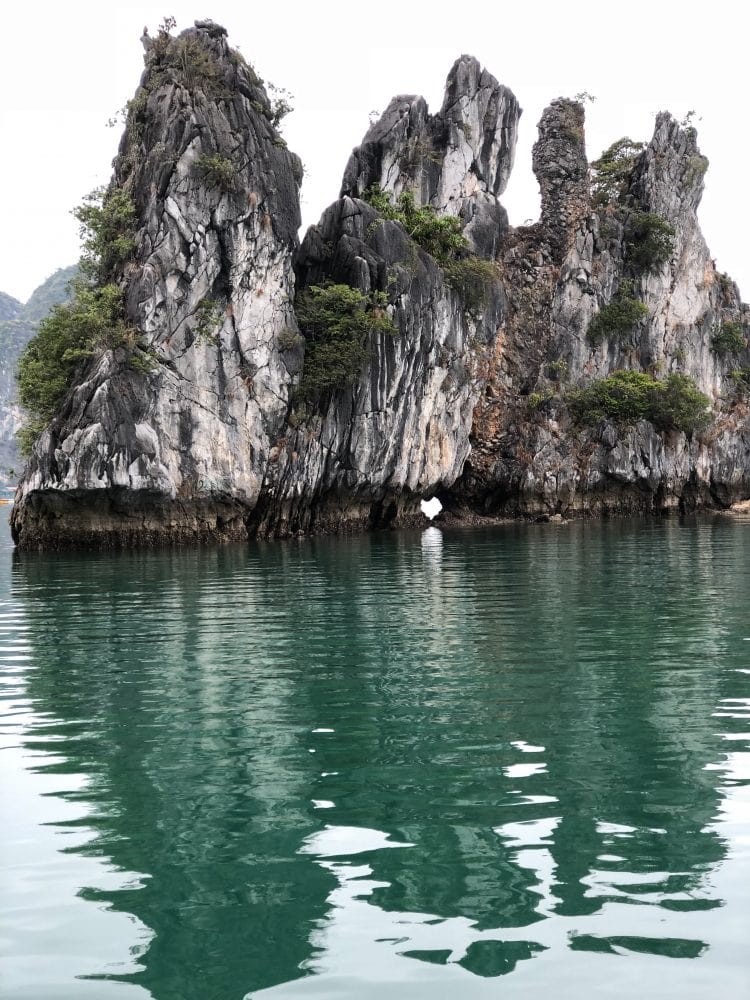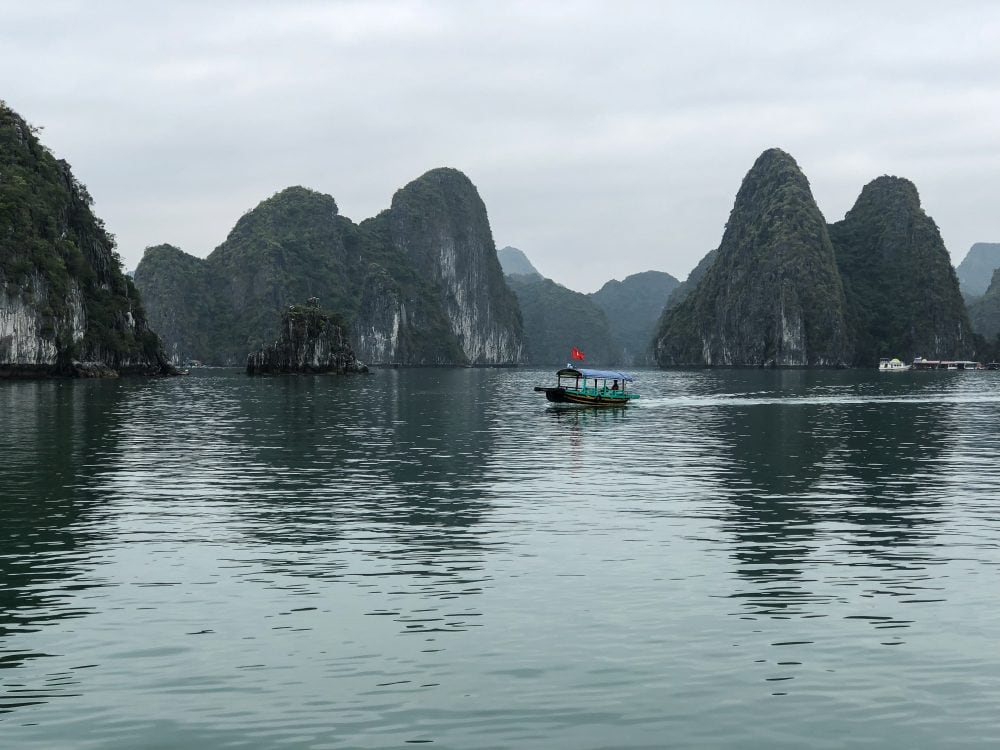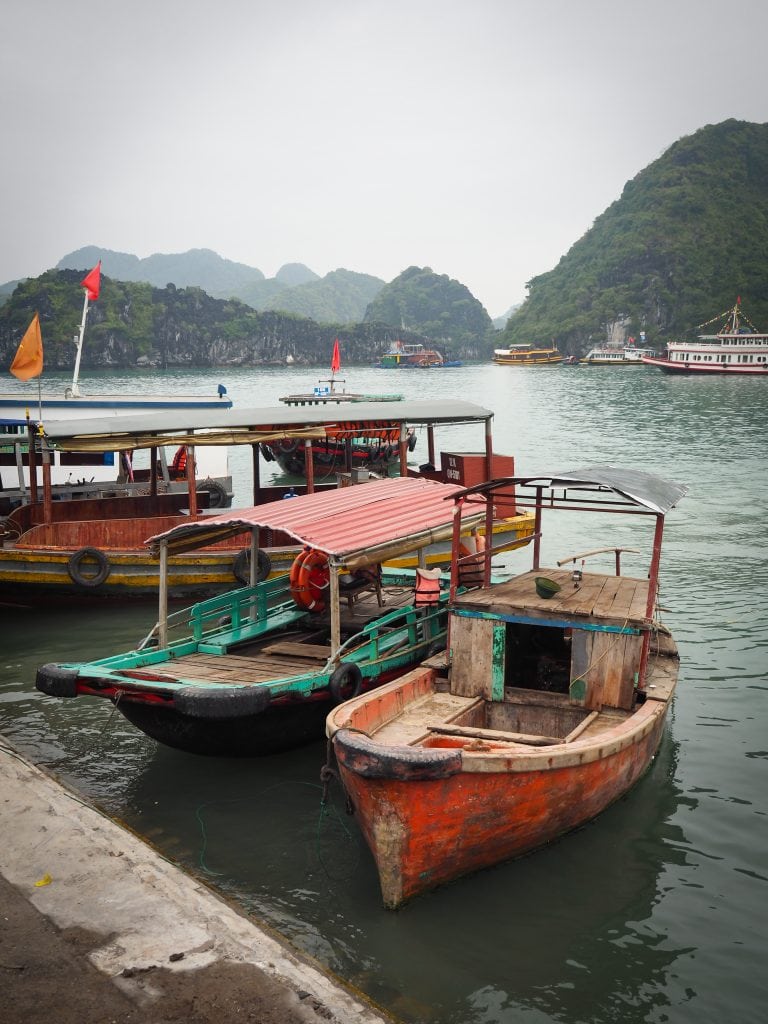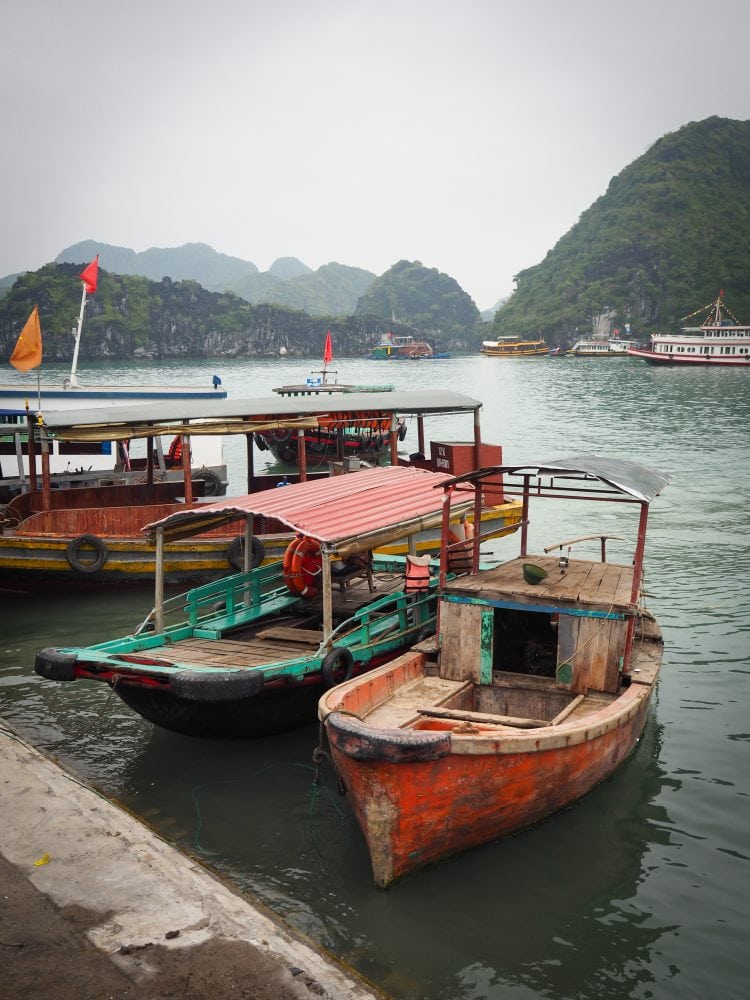 Want to save these travel tips? Pin it! 🙂