Autumn is a great time of year to visit Thailand as the tropical weather is a bit more mild and there's a sense of magic in the air with two local festivals: Loy Krathong and Yi Peng.
Loy Krathong (also known as loi kratong) is a floating lantern festival in gratitude to water spirits, while the coinciding Yi Peng releases prayers and wishes into the sky. Even if you're not familiar with these holidays, you've surely seen popular photos of paper lanterns released into the night sky like hundreds of floating stars.
It's been on my bucket list to see in person for years, so during our last visit to Thailand, we made plans to head north on a road trip to Chiang Mai and Sukhothai.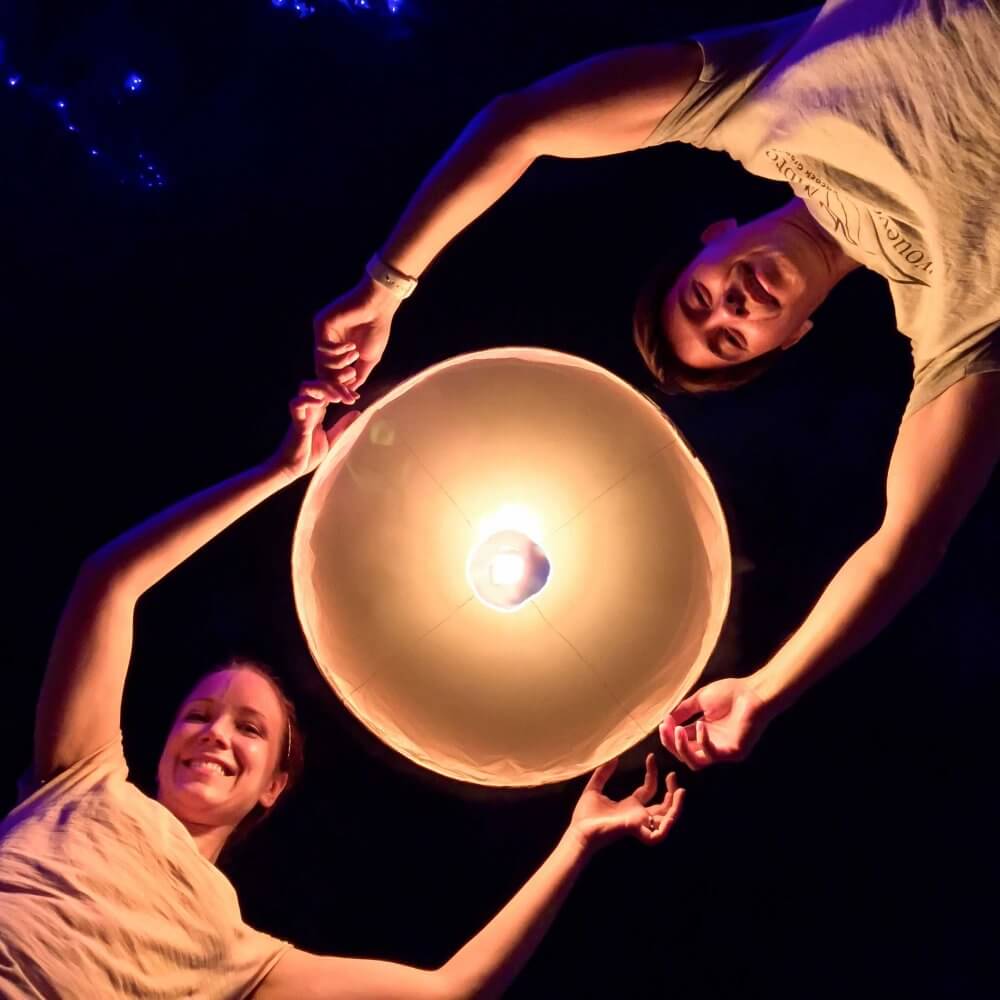 Loy Krathong In Sukhothai
On our way up to Chiang Mai we stopped for a few nights in Sukhothai, an ancient city in northern Thailand that's now a Historic Park and UNESCO World Heritage Site. It was Thailand's first capital back when it was the Kingdom of Siam in the 13th century. The bell shaped temples and city ruins are spread out over several miles, but the Loy Krathong festival centers around a few key monuments within the city walls.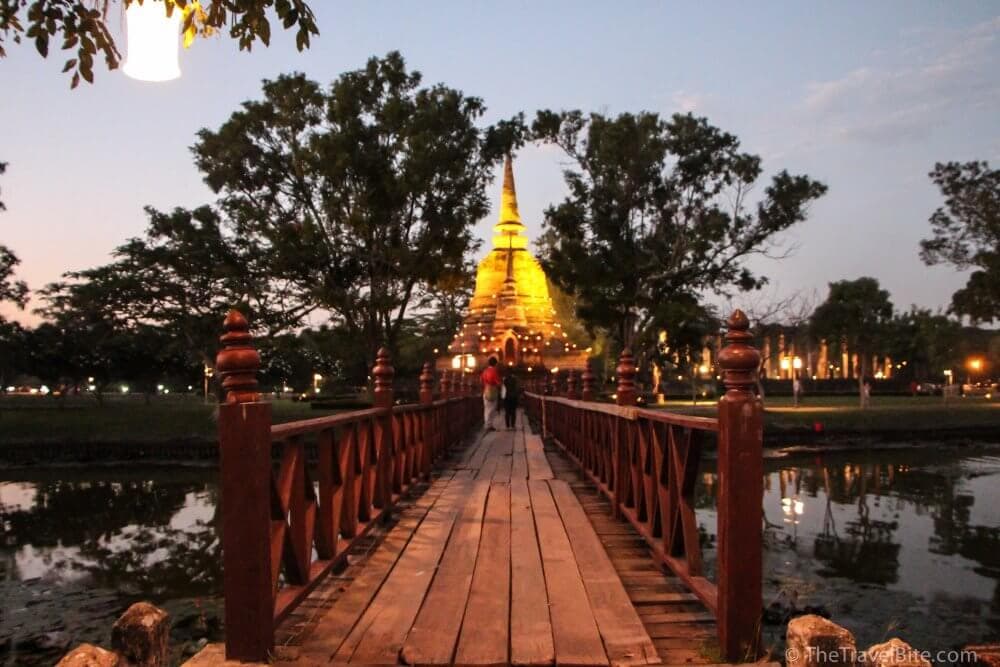 Walking around the candle-lit temples, with the flickering light and blue twilight sky reflecting in the surrounding moats, it feels sort of surreal and magical. Palm trees line the walkways, while crafters spread out on blankets underneath, weaving handmade lanterns for sale. Some are quite elaborate and detailed, but there are simple ones too. Everyone purchases one to release into the water with their wishes for the year.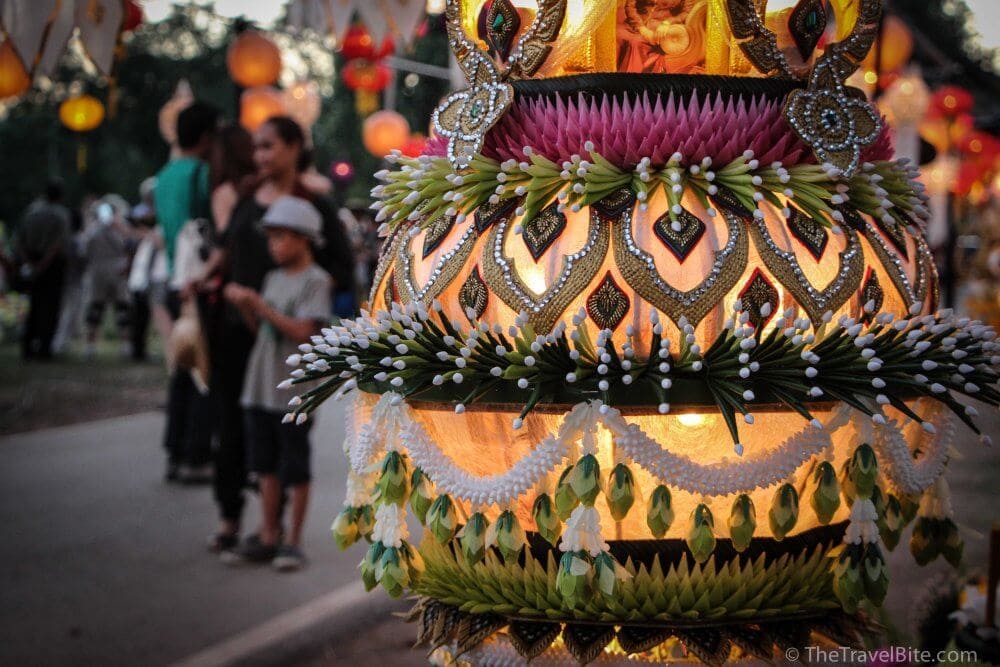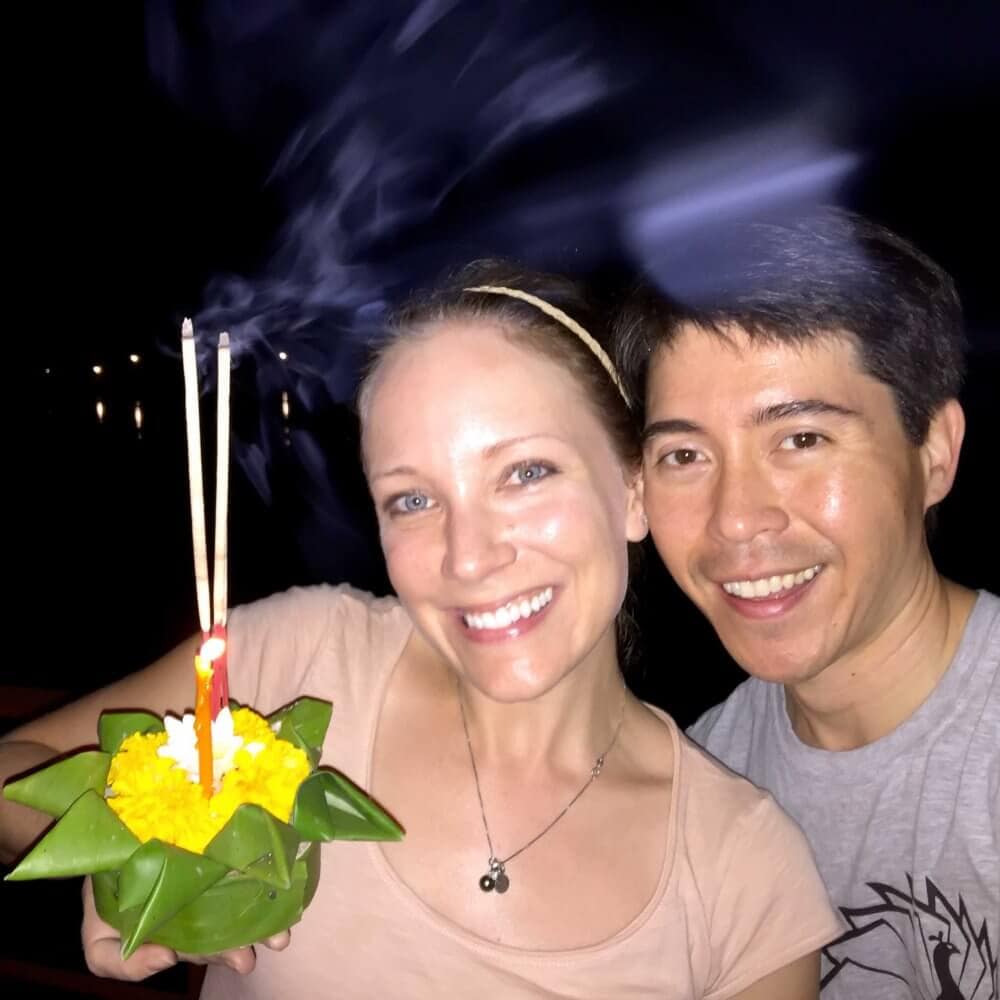 Loy Krathong actually originated in Sukhothai, with the festival's beginnings written in the first stone inscription found in Sukhothai's Historical Park. From a sign at the festival:
"The lanterns are made to venerate the Buddha and offer thanks to the Goddess of the Water (Phra Mae Khongkha) for the life-giving from her waters, being it for drinking, food, or other usage. The legend of Loy Krathong's beginnings is written in the first stone inscription found in Sukhothai's Historical Park, where it is said that the floating lanterns lit with candles were present in the days of Sukhotai, as the capitol of Thailand about 800 years ago. A lade of the court named Nang Nopphamat, or Thao Sri Julalak, was the first to float a krathong like the laterns seen today."
The lanterns (krathong) are typically handmade and decorated with natural materials such as palm fronds so they decompose in the river. We even saw some that were made of bread to feed the fish. Traditionally, they're in the image of a lotus blossom, the symbol of wisdom. Since we were there during American Thanksgiving, we found one in the shape of a turkey, combing both holidays in our celebration.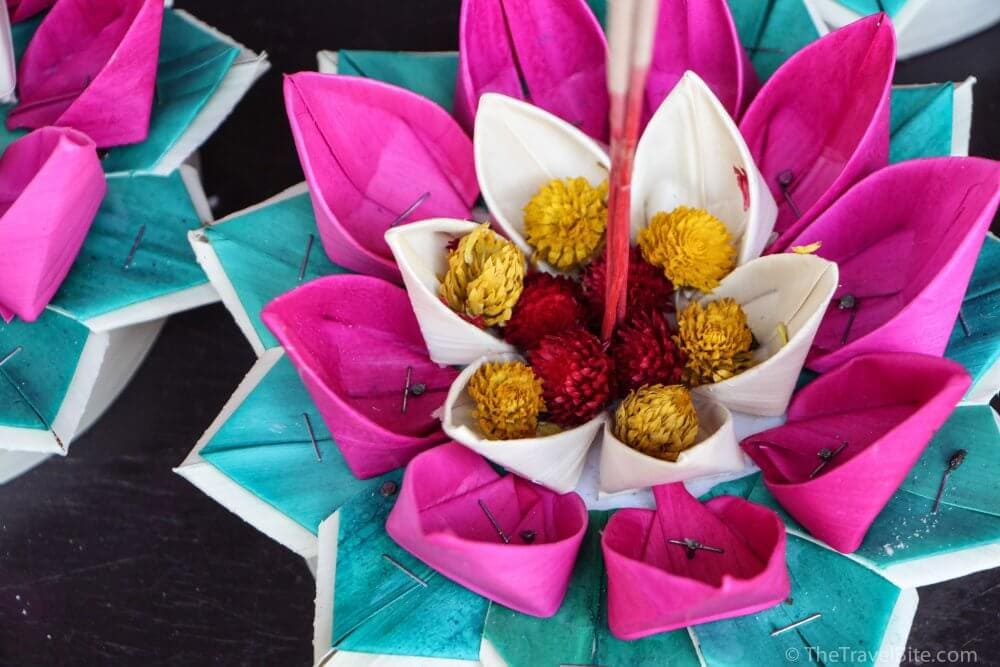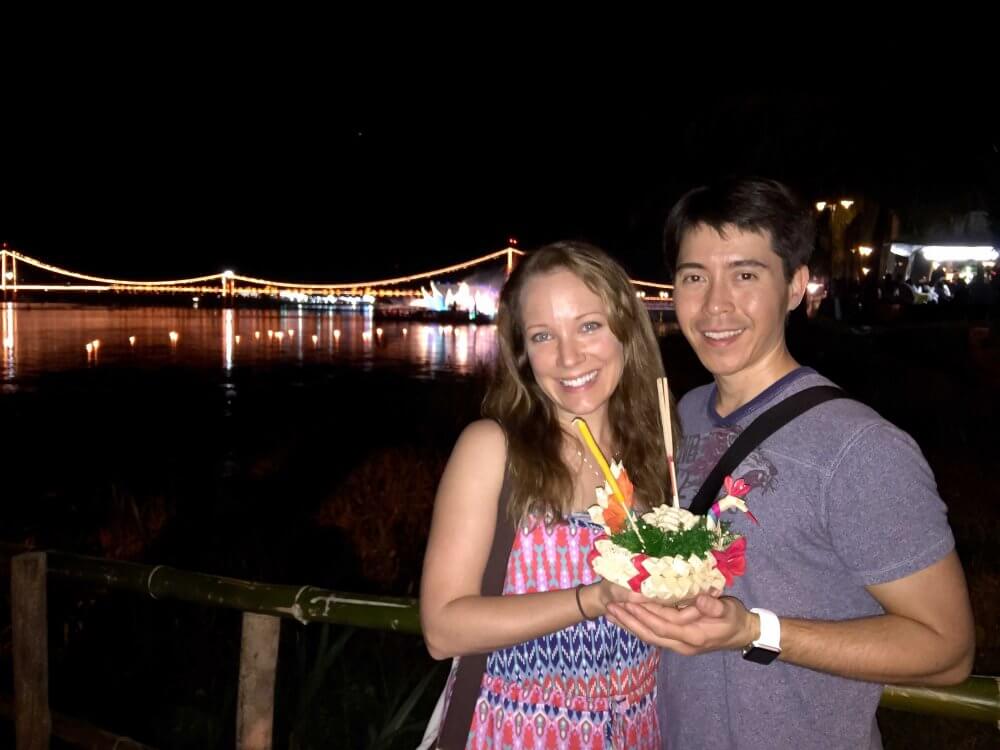 Sukhothai Light & Sound Show
For the Loy Krathong Festival, there is also a night time light and sound show at Sukhothai Historical Park. Admission is free, but tickets can be bought on sight for seats at the front if you'd like a great view of the show that incorporates Thai history, dancing, lasers, and fireworks.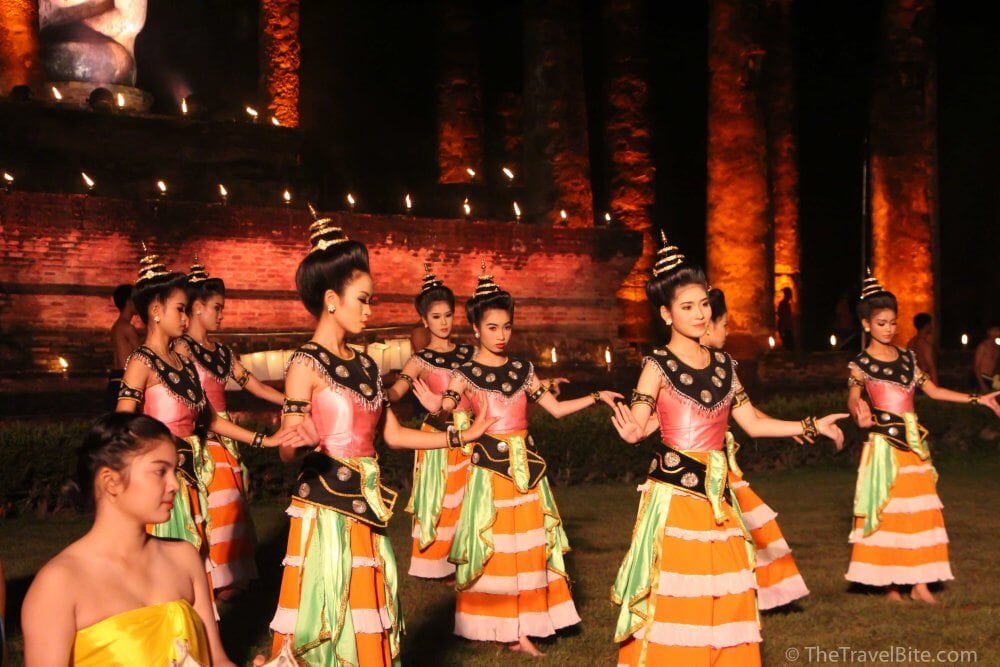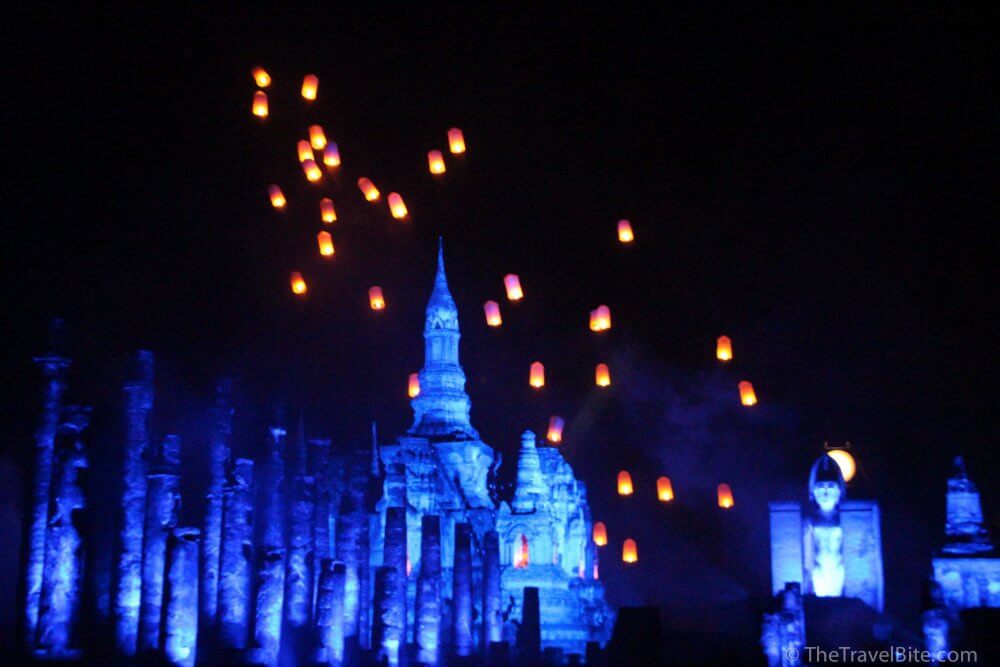 Delicious Thai Foods
While the festival is free to attend, make sure to have cash on hand for the food vendors. There are so many delicious things to try that dinner ends up being a sort of dine-around picnic among the monuments. My favorite treat was the sweet coconut sticky rice and bean roasted in bamboo shoots. Pete's favorite is always the chicken satay on skewers.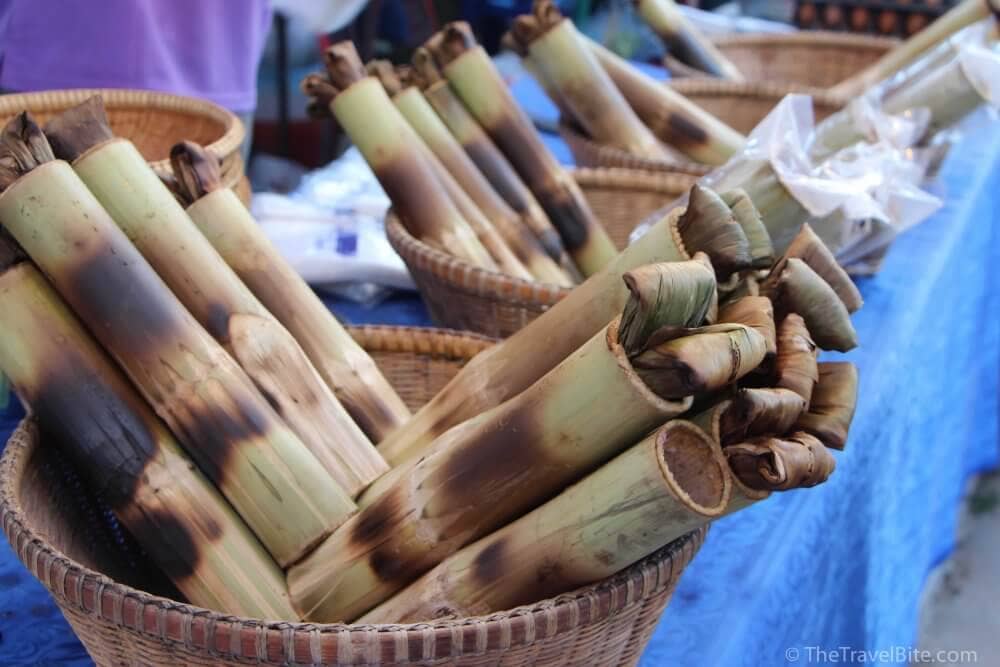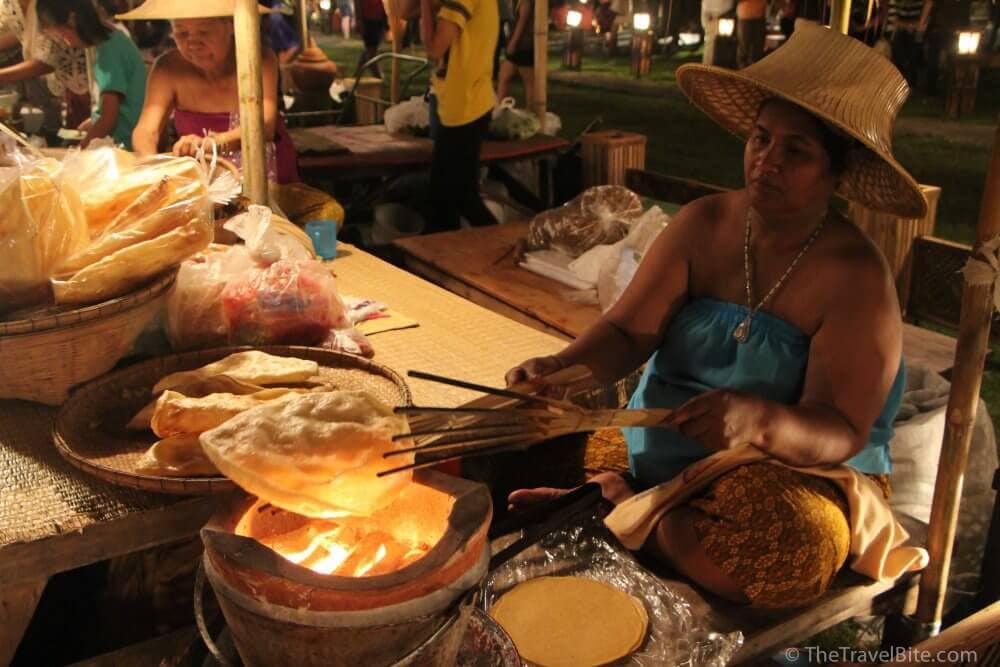 Yi Peng Lantern Release In Chiang Mai
Yi Peng Lanterns were also released during the Loy Krathong Festival in Sukhothai as well as in the nearby town of Tak. We tried to get tickets to the mass release of sky lanterns in Chiang Mai, but it was sold out. We drove by it to see if we could get in last minute, but the parking, large crowds, and line to get in was a huge deterrent. While it looks great online, in person it definitely seemed a bit overrun by tours. Instead, we had a private lantern release at our resort at Mae Jo (where we could also watch the mass release from our dinner balcony).
In hindsight, this coupled with our lantern release experience at the festival at Sukhothai felt much more spiritual. I don't know about you, but I find it hard to invoke a sense of peace and gratitude in an elbow-to-elbow crowd.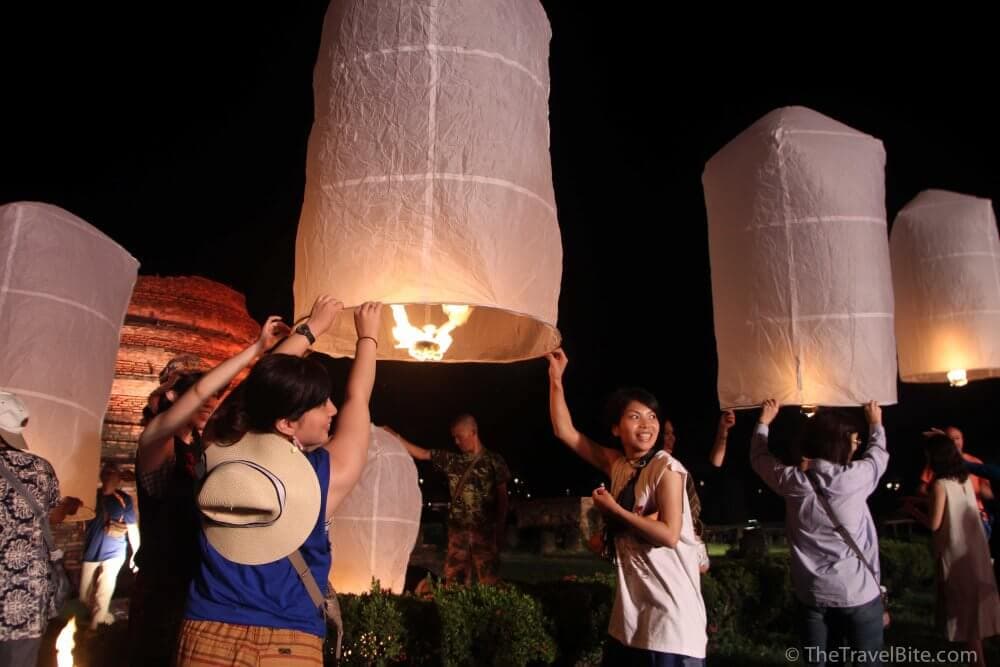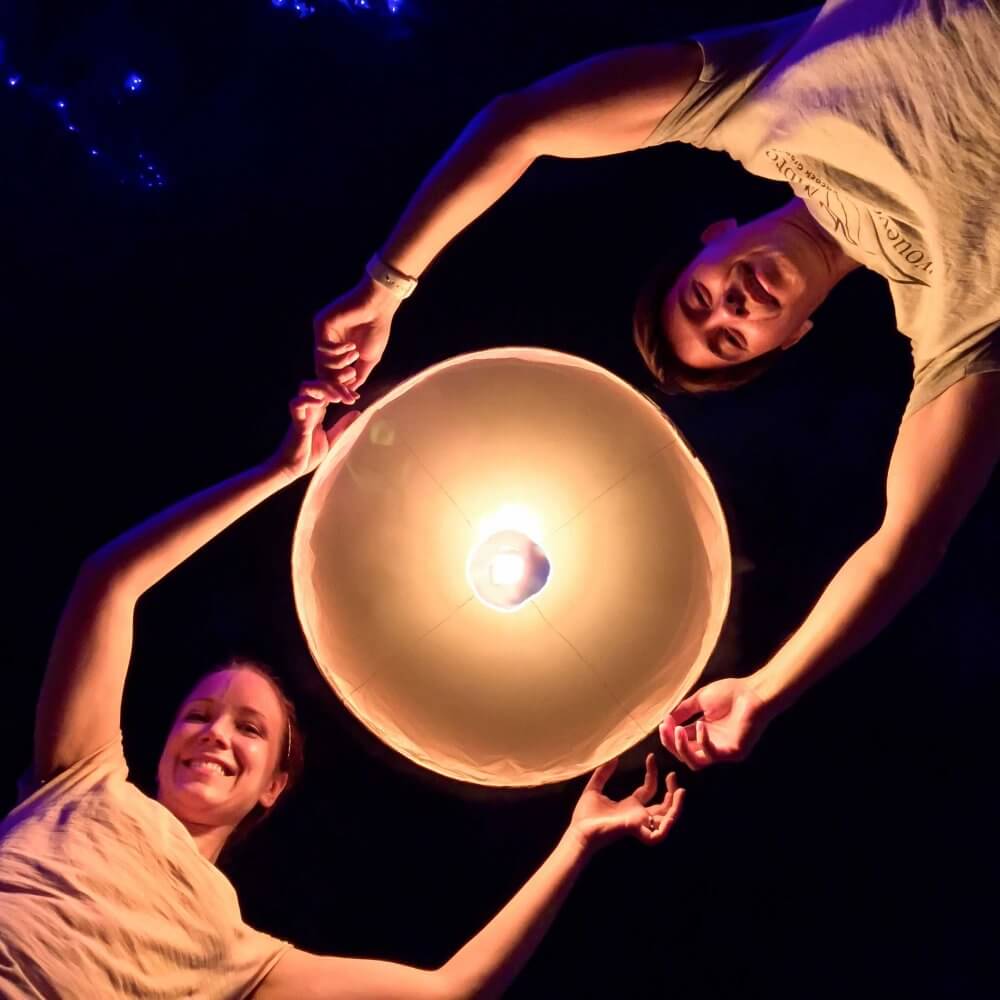 Planning To Visit Sukhothai
Both festivals happen around the same day, but can be a bit tricky to plan for as they occur on the first full moon of the 12th lunar month, which is typically late November. The exact dates are different each year, so it's always best to check with a local guide. Also, you'll find most of the celebrations out in the countryside and to the north in and around Chiang Mai as there are legal limitations to releasing lanterns in Bangkok due to safety concerns.
WHERE: Sukhothai is about a four hour drive south of Chiang Mai. Check out Sukhothai Historic Park on Google Maps to plan your route. It's pretty straight forward, but I'd plan on spending a couple of nights there.
FESTIVAL INFO: The festival is free to attend, however, I'd bring some cash (Thai baht) to purchase food and a floating lantern from sidewalk vendors. Tickets can also be purchased on site for close-up seats to the light & sound show. The best two local blogs I've found with up-to-date information are Thaizer and The Longest Way Home.
WHERE TO STAY: There aren't many hotels nearby, so your best bet is to look in the towns of Tak or Phitsanulok for hotel accommodations or check out vacation rentals through sites like AirBnB. We ended up staying in Tak right along the Ping River and enjoyed a lovely Loy Kratong festival there with a more local hometown feel. It's here where we released our "turkey" krathong.
Loy Krathong Photo Gallery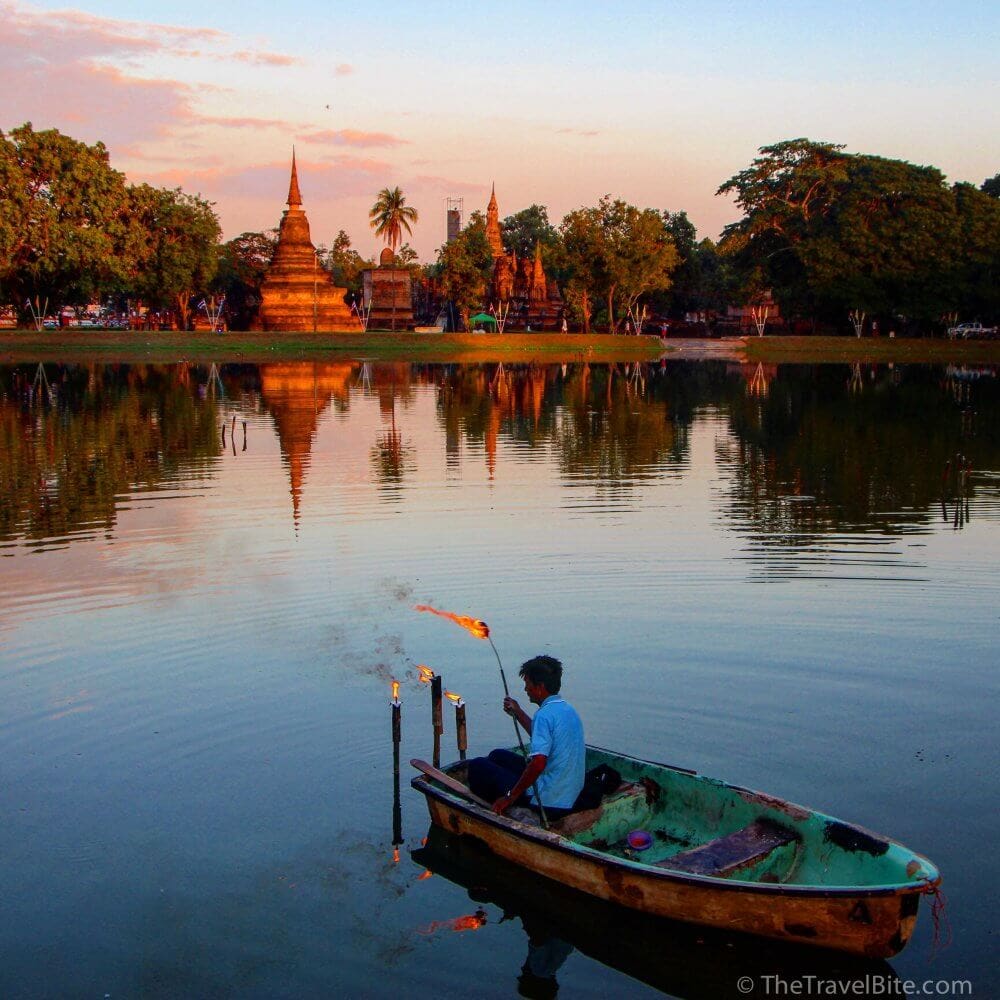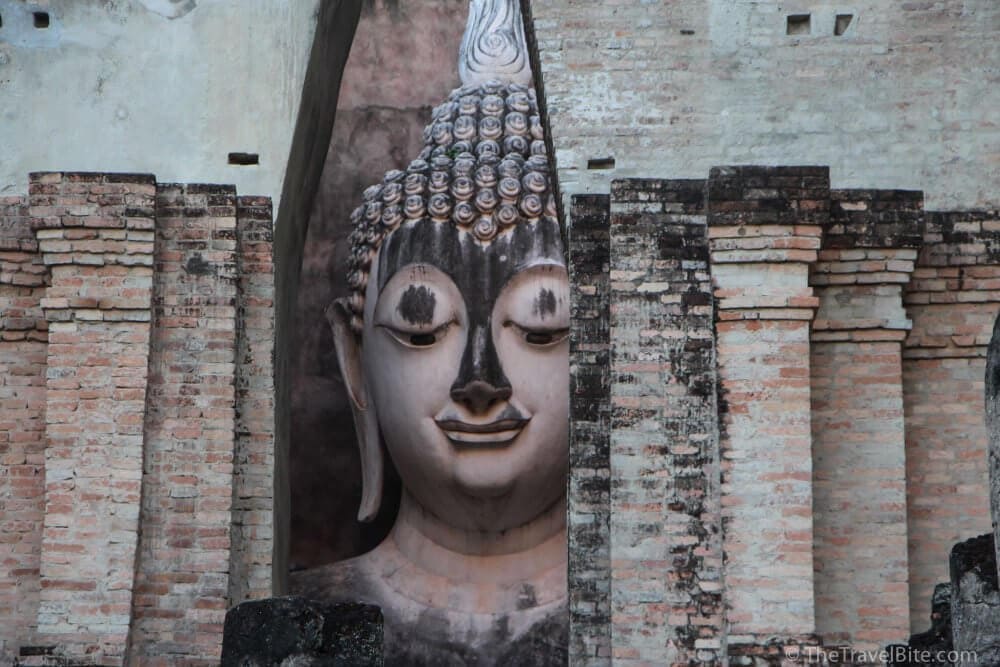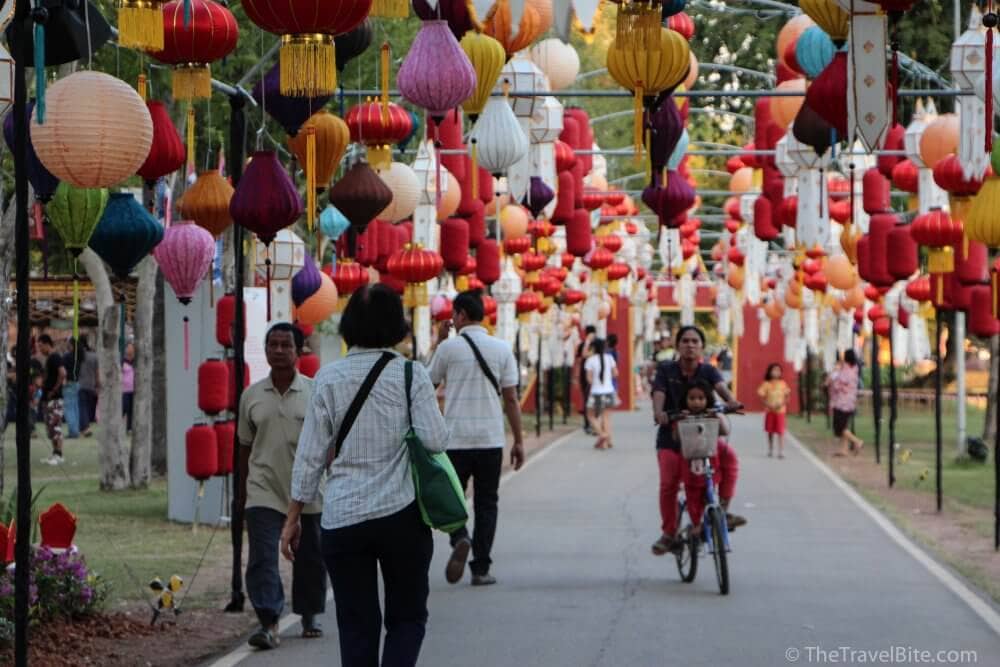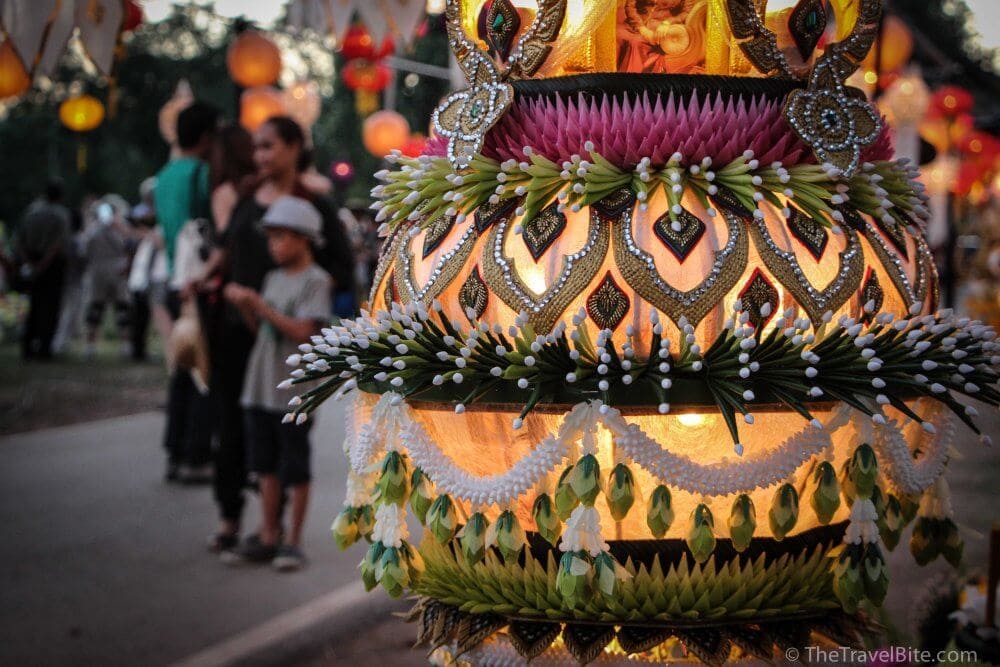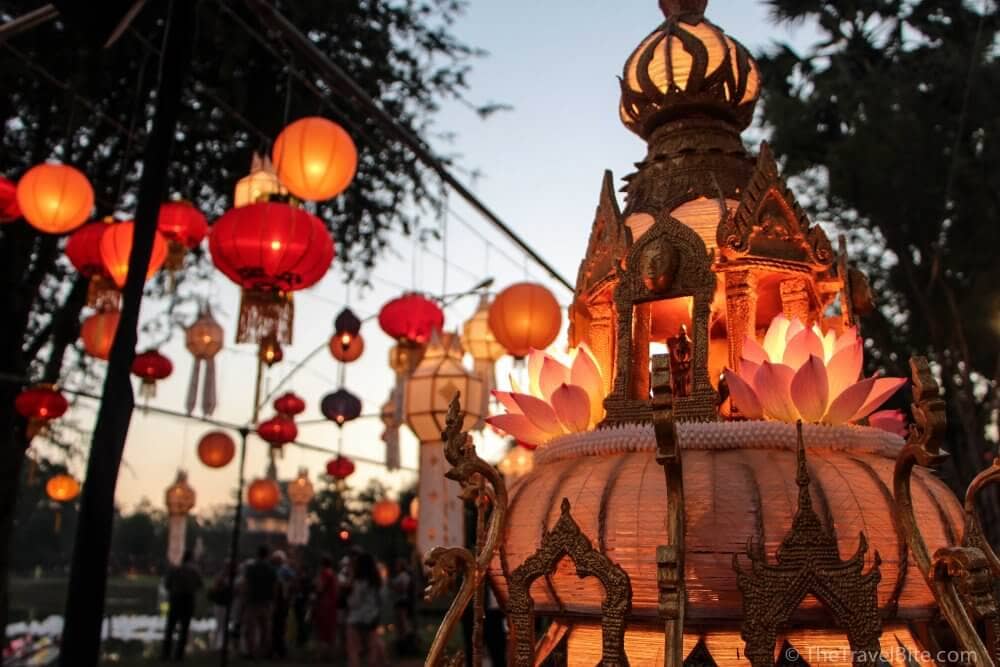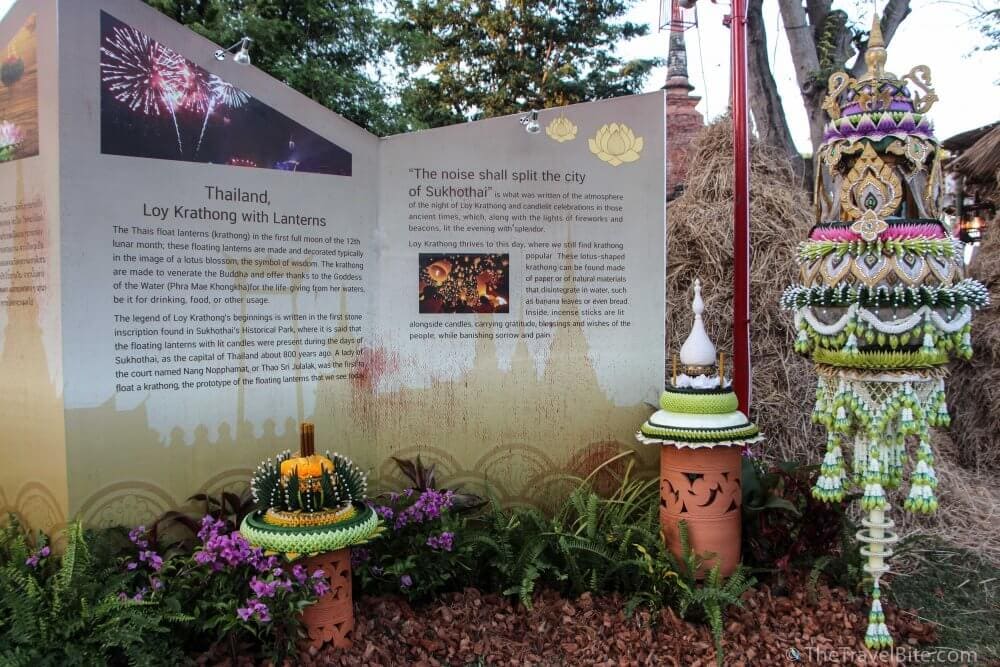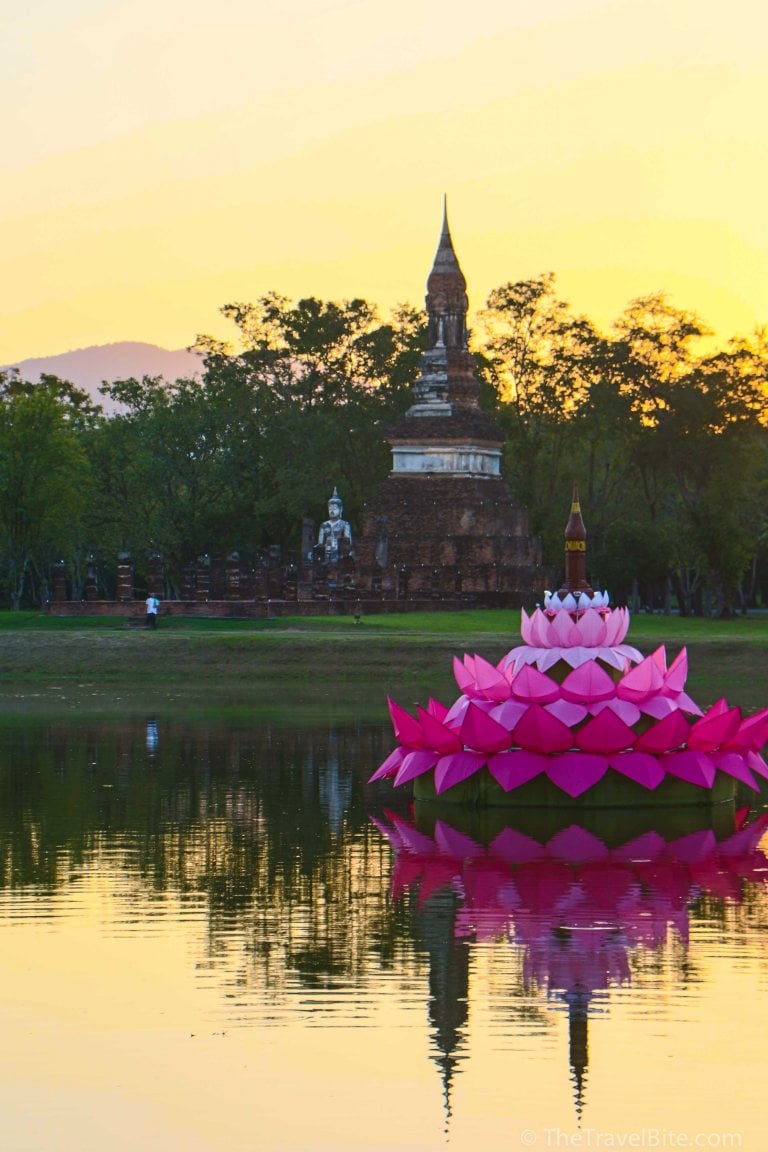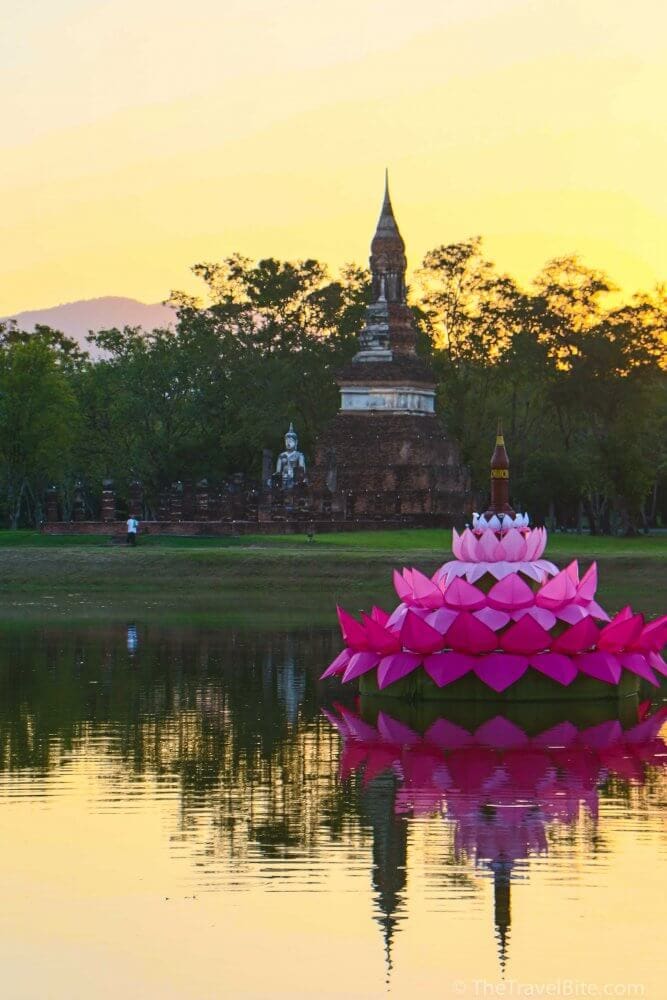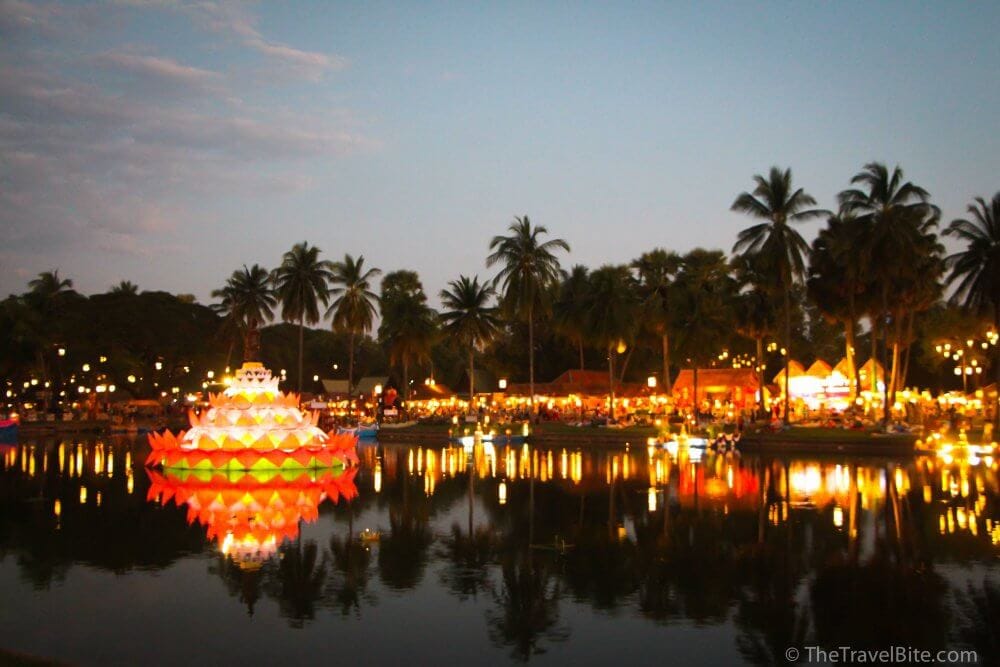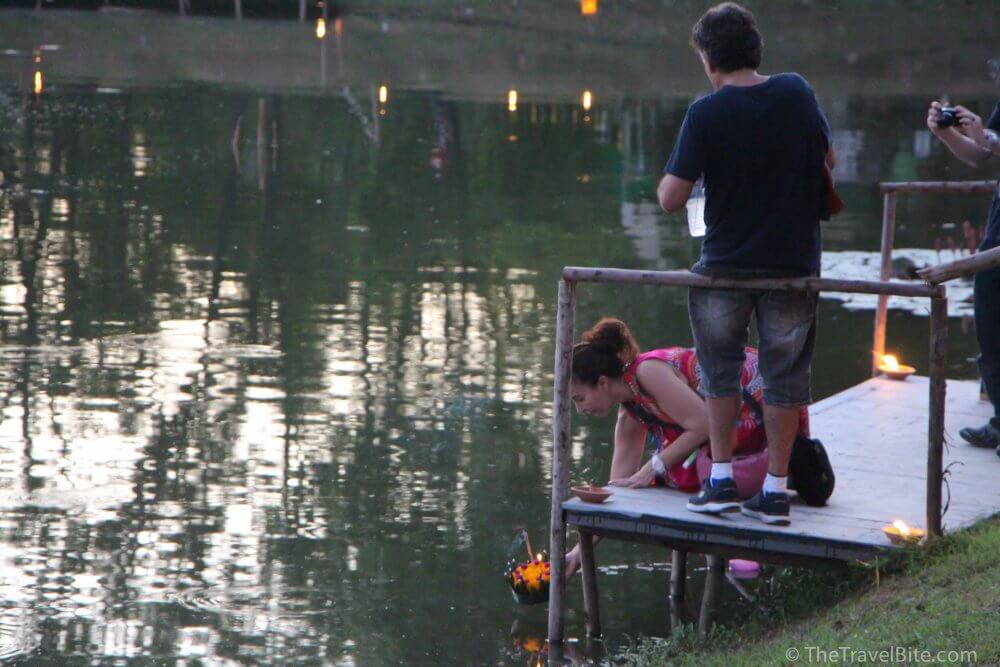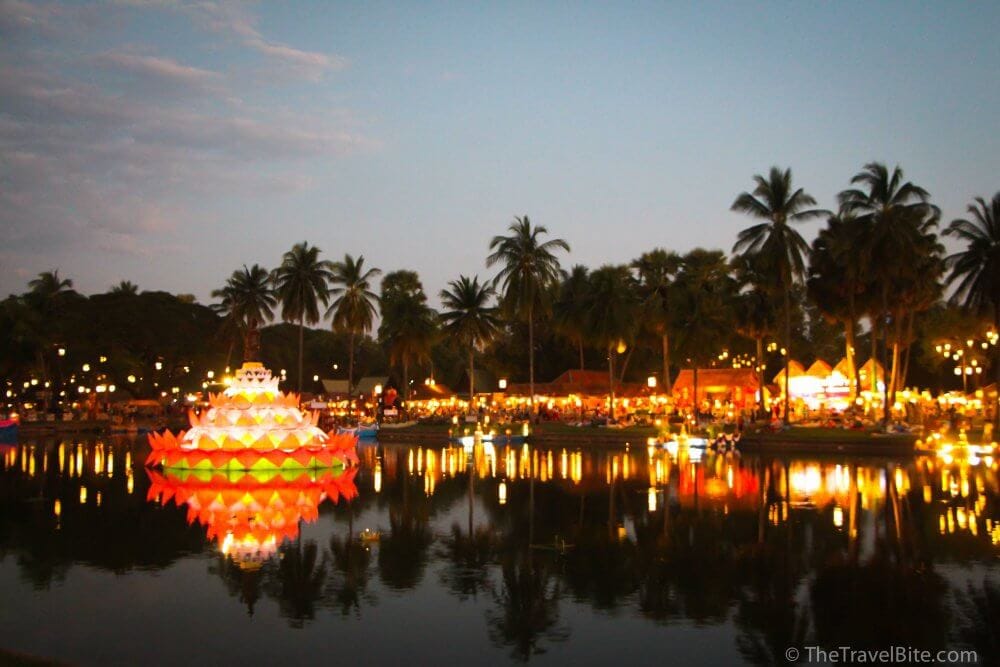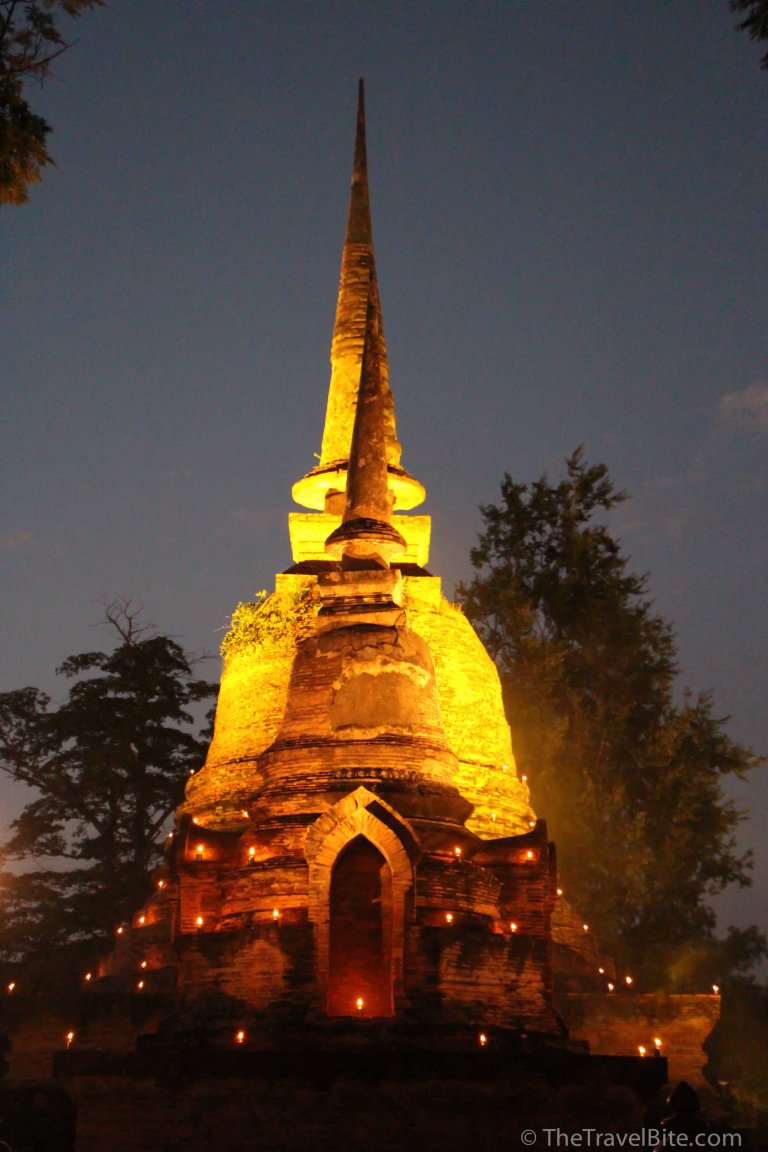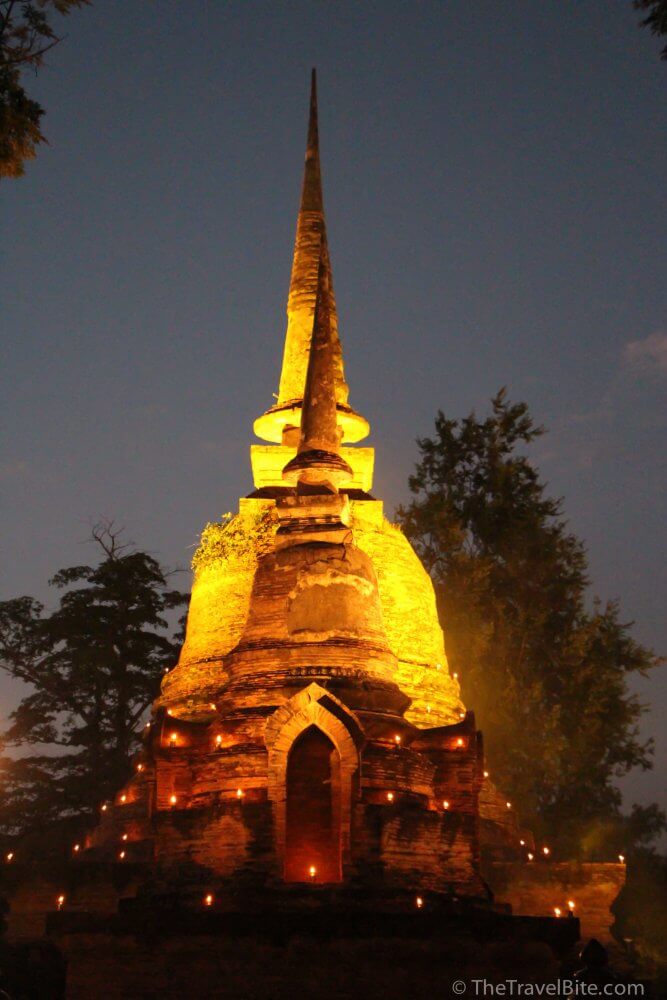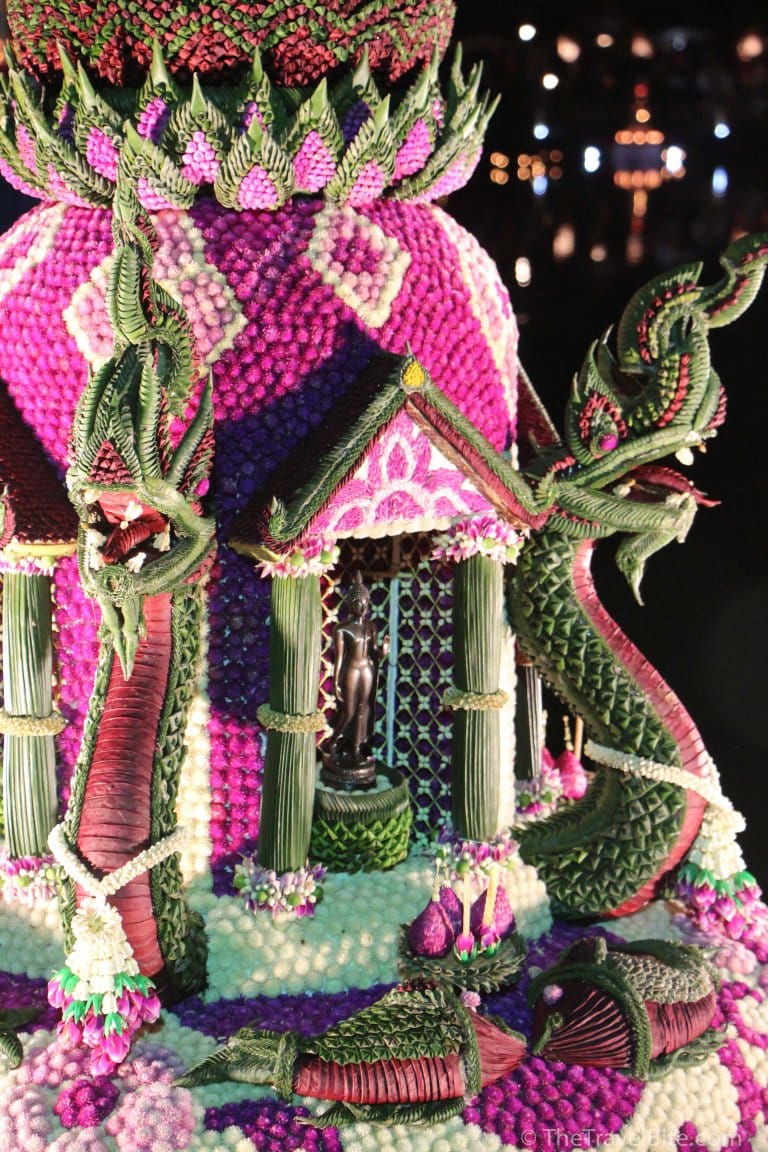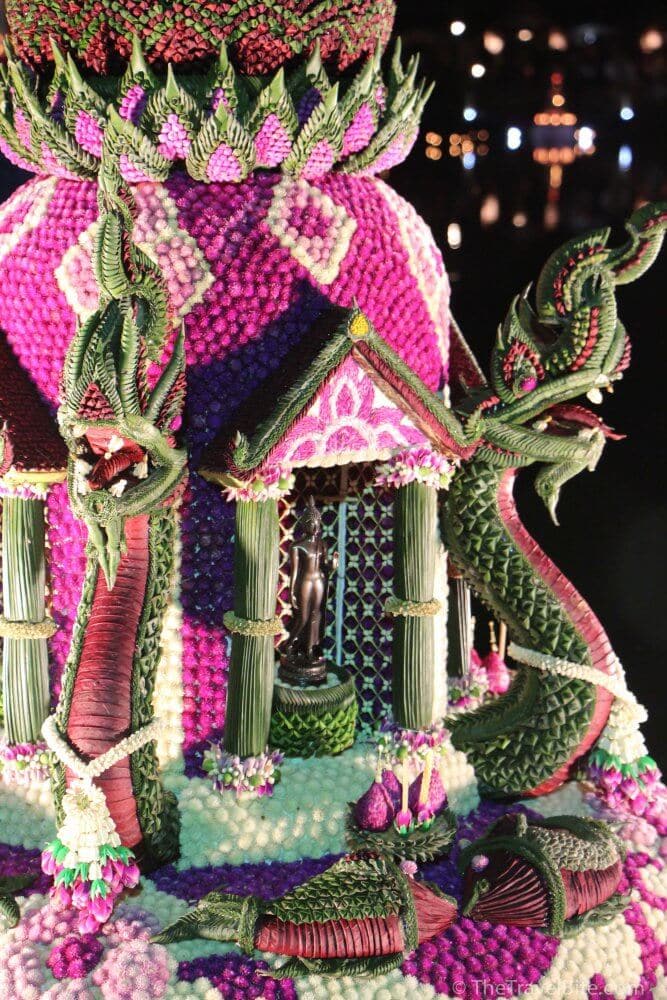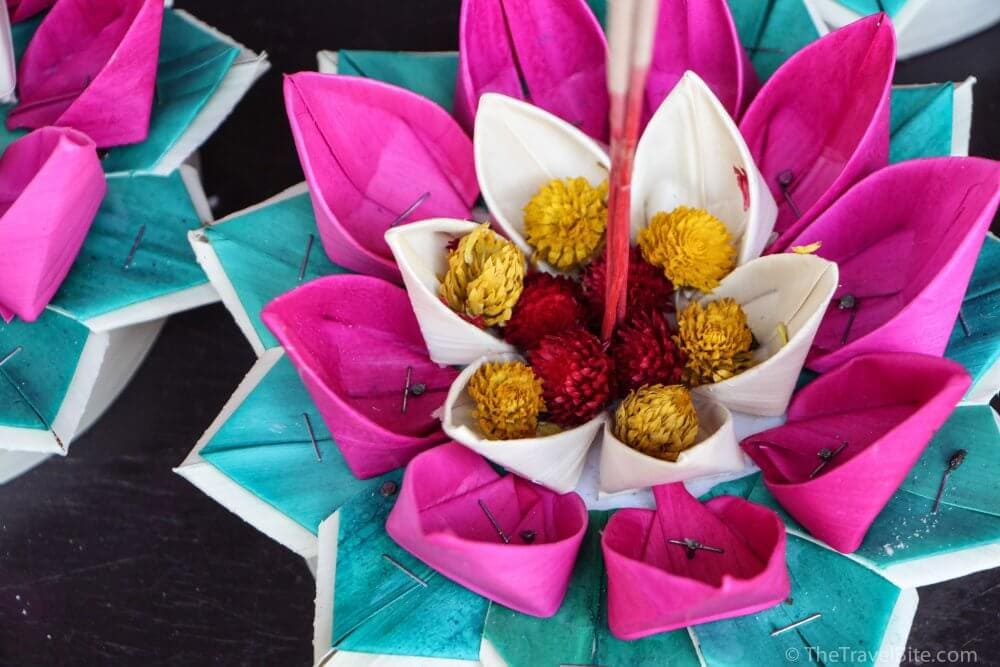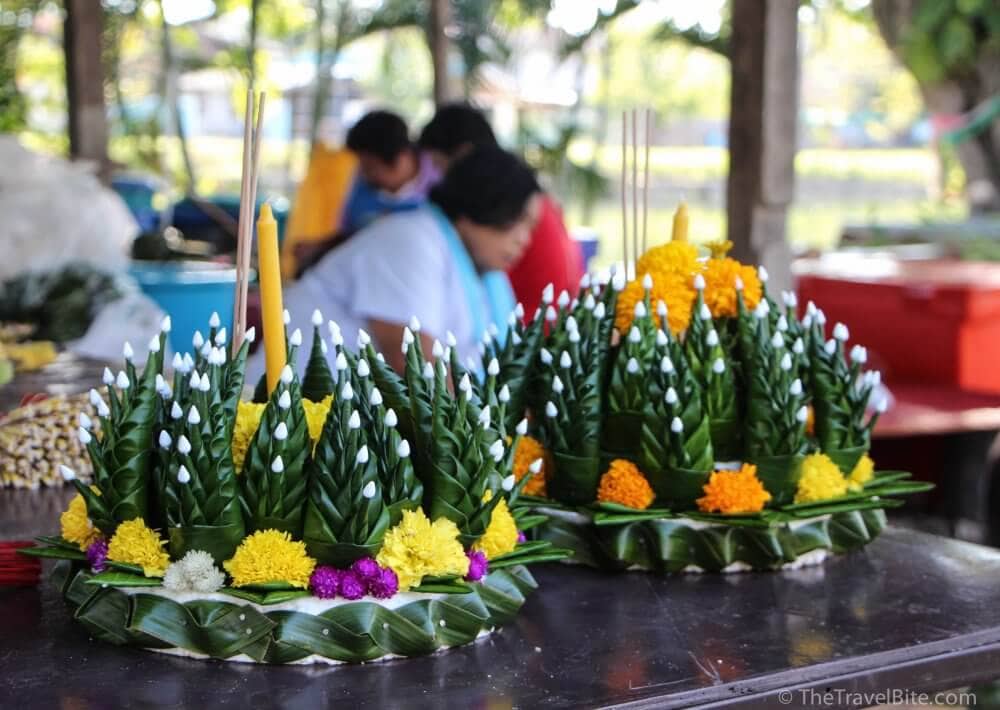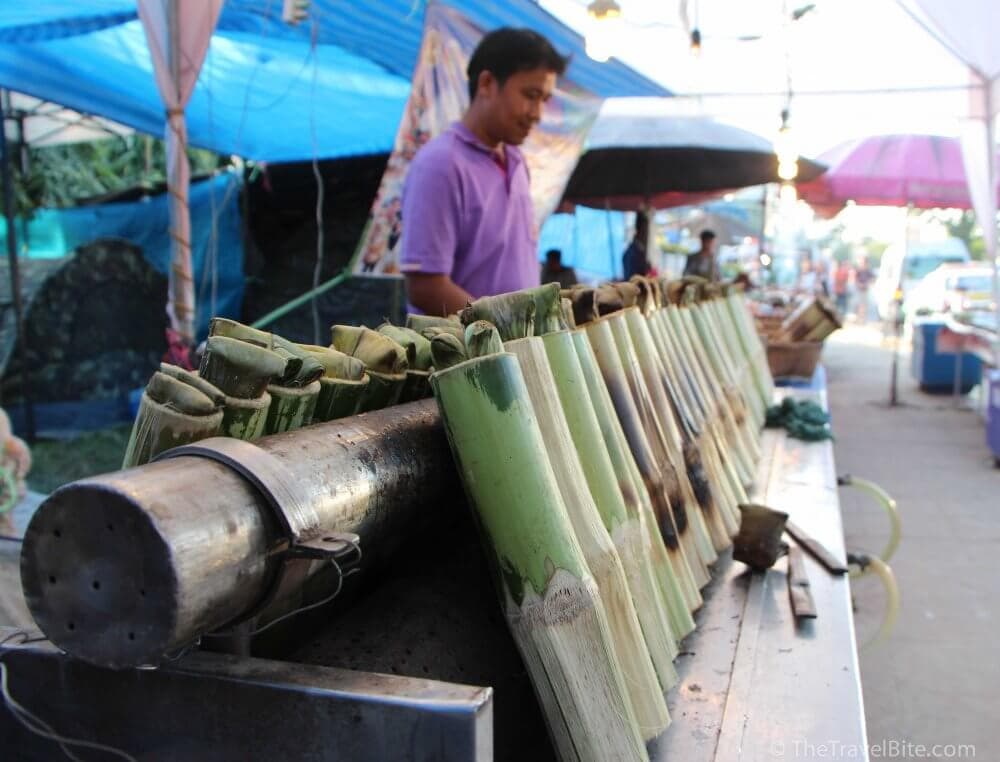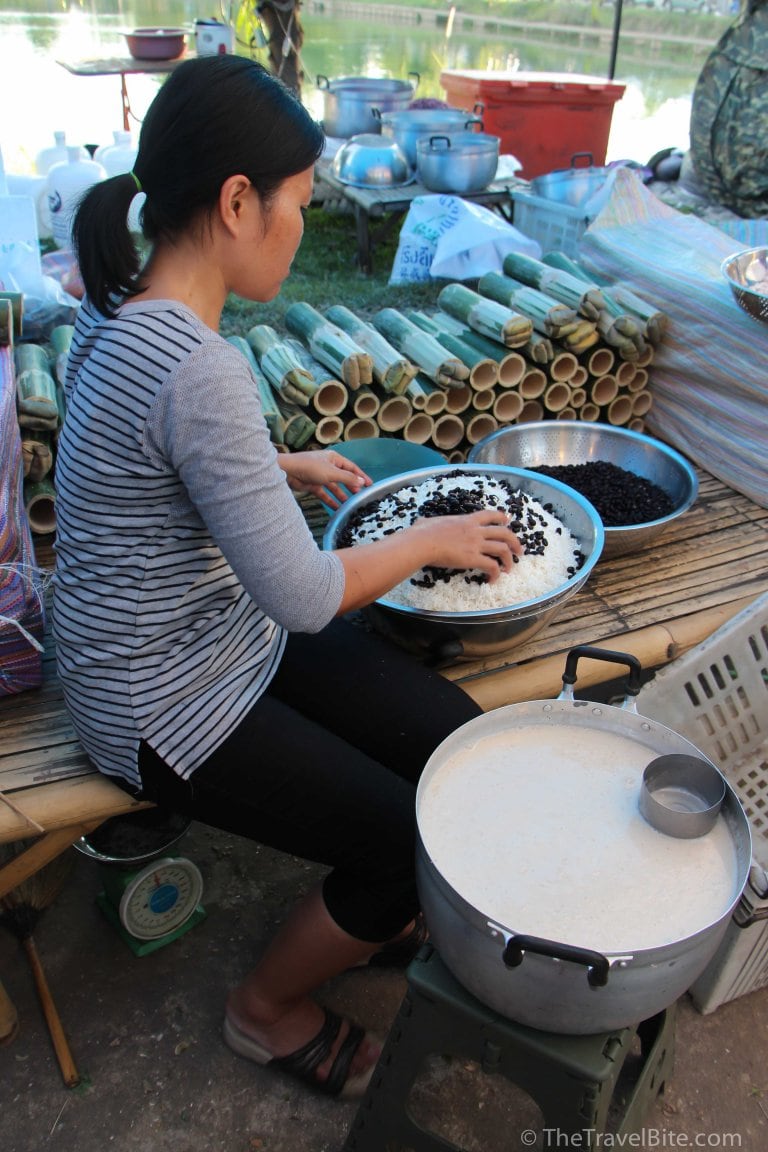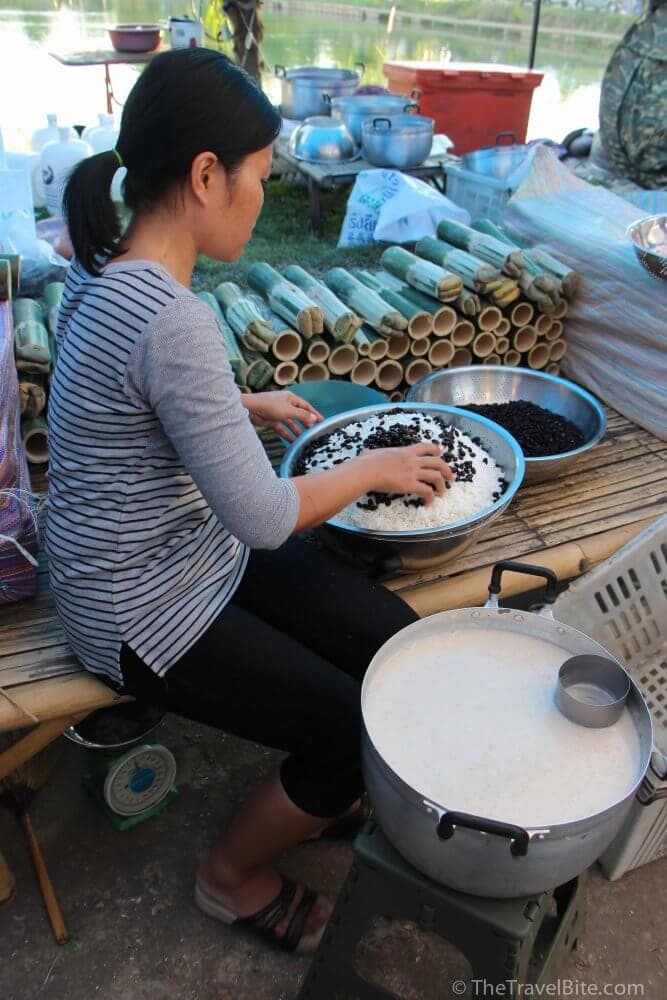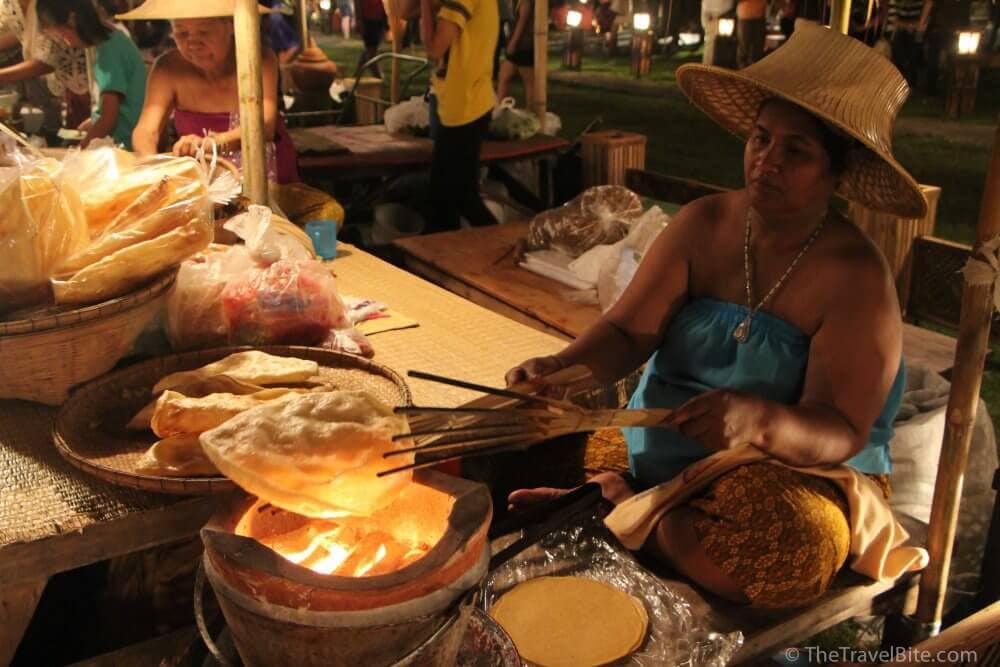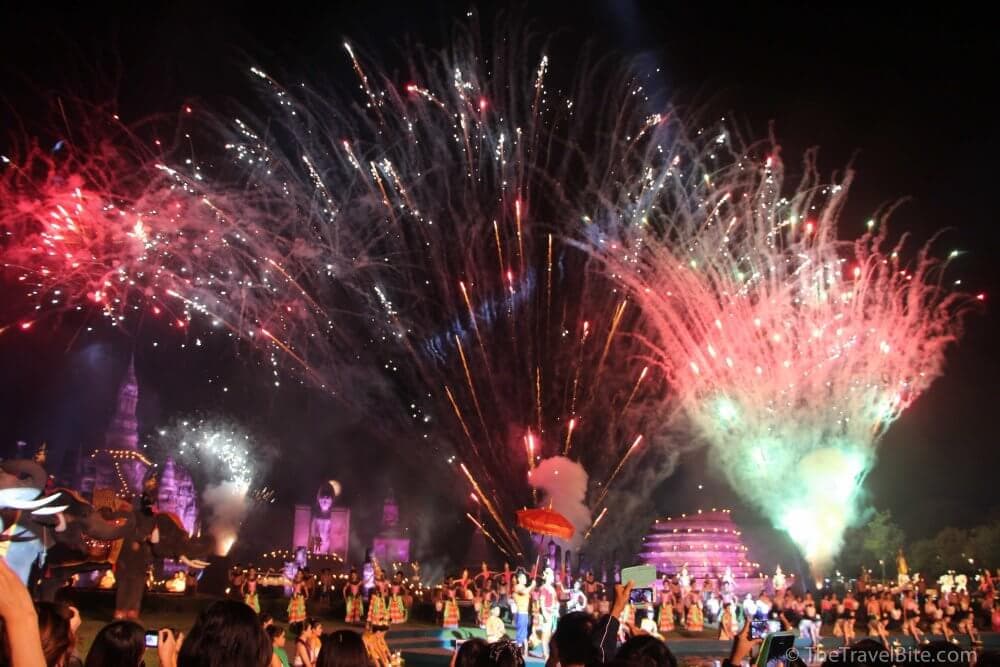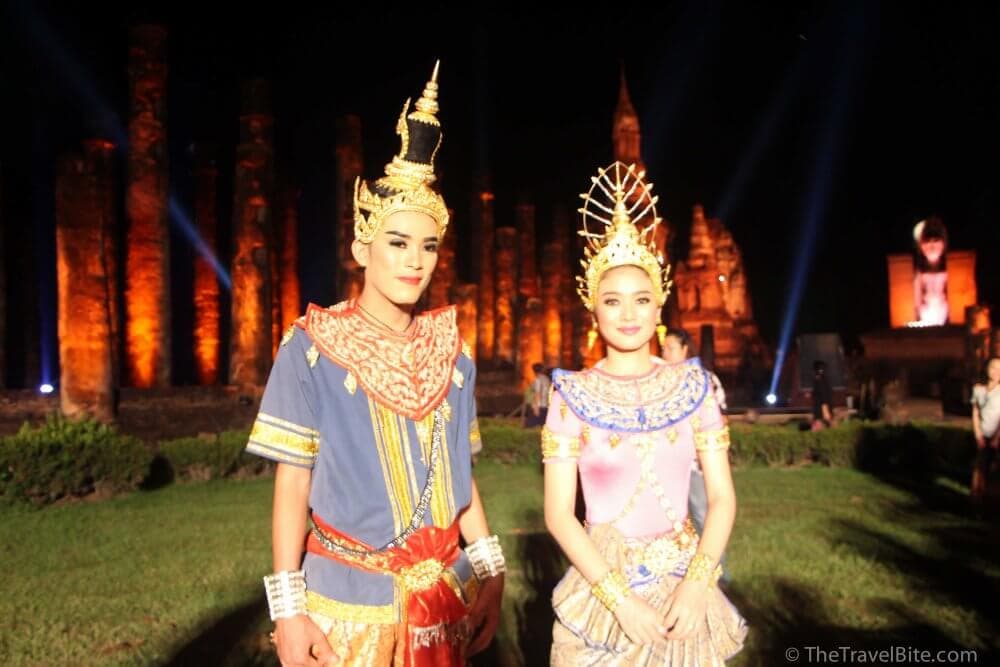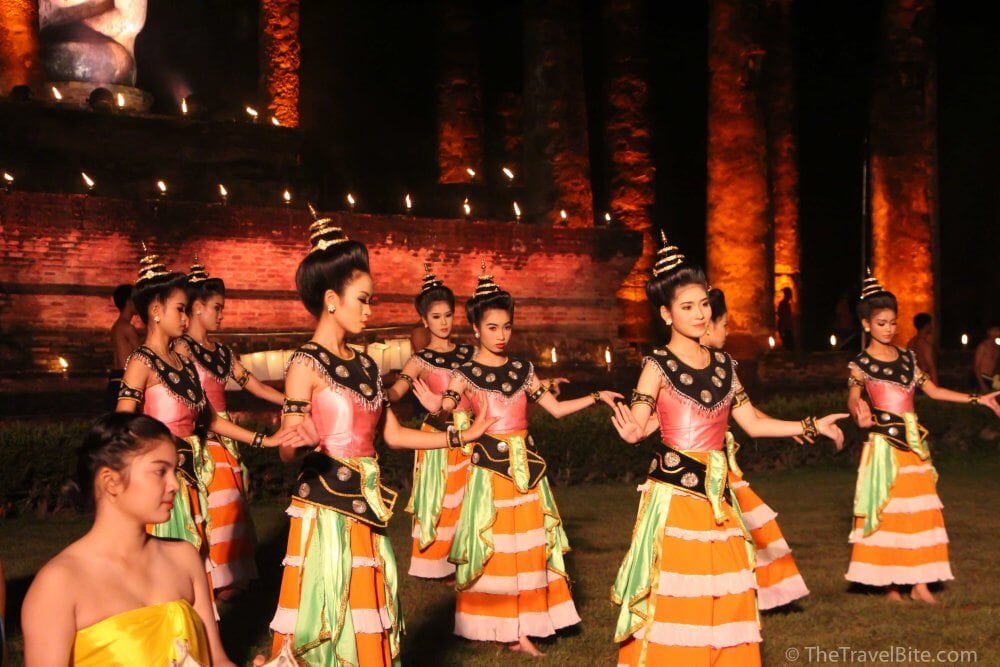 Want to save these travel tips for later? Pin it! 🙂