I'm so excited to be headed back to Switzerland, this time to visit Zurich on a press trip with a great group of bloggers. It got me thinking about my last trip to Switzerland, visiting friends in Geneva and taking a road trip around Lac Leman (Lake Geneva). I remember the scenery being breathtaking, just beckoning you to play outdoors.  I also recall being utterly wowed by the variety of fresh foods and tasting some of the best gelato I'd had in my life — lemon basil flavored.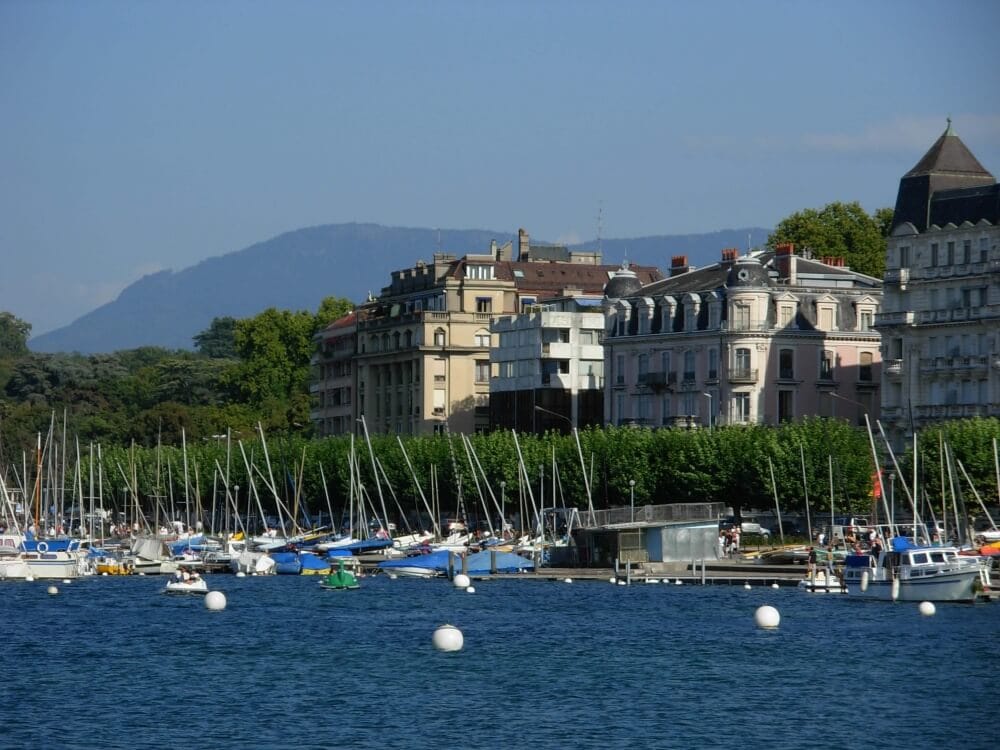 I expect we'll have an exceptional experience this time around as well.  Our itinerary is a great balance of culture and food, with a bit of outdoor fun planned too.
As I looked into the food scene there during a little pre-trip daydreaming exploration on Google, I got to thinking, "How on earth did the Swiss become so well known for chocolate?" Have you ever wondered? I know they're known for watches too (Baselworld is on my husband, Pete's, bucket list), but why chocolate? What I found is fascinating. Although cocoa and sugar are commodities found closer to the equator, Swiss researchers were the first to refine chocolate and add a bit of milk.  Interesting, eh?  I also kept wondering why I'd see "CH" on everything and learned that the official name of Switzerland is Latin — Confoederatio Helvetica.  It means Swiss Confederation and is the reason for the CH abbreviation.
But enough with indulging my fascination with history and trivia, here's a peek at our Zurich itinerary …
DAY 1 – Getting Acquainted With Zurich
Arrival in Zurich!  First thing on our agenda is to pick up a ZurichCARD and then board the train into the city.  Not only is the ZurichCARD our ticket for the train, but it also gives us free admission to most of Zurich's museums, a 50% discount on tours, and 10-20% discount in stores.  But what I'm most excited to find out is the "culinary surprise" at selected restaurants.  I hope it's Swiss chocolate. 😉
We'll be resting at the boutique luxury hotel, Hotel Ambassador, in the center of the city.
DAY 2 – Shopping & Chocolate
Well, Zurich really knows a way to a girl's heart — shopping and chocolate. Our first full day in the city includes dining in an elegant restaurant that was built as Zurich's first cinema, Restaurant Razzia. Then, we head on a guided tour of some fine Swiss chocolate shops including Laderach, Sprungli, and Schober.
Later this evening, we'll be enjoying the last days of summer in style at Rimini Bar, a waterfront lounge.
DAY 3 – A Focus On Health & Wellness
Did you know the world's first vegetarian restaurant was founded in Zurich in 1898?  It's called Haus Hiltl and not only are they still in business, but they've opened up the First Vegetarian Butcher's Shop next door.  Now this I gotta see.  They offer meat substitutes like tofu, seitan, and soy sausages.
After our vegetarian lunch, we'll spend the afternoon boating on Lake Zurich and then catching the sunset while having cocktails on the rooftop bar at Hotel Ambassador.
DAY 4 – Outdoor Adventure & Wine Tastings
We're back out on the lake today for a bit of stand up paddle boarding, followed by lunch out on the lake at Fischers Fritz.  Not only is it a lakefront restaurant, but it's also a camp ground and the only place you can also go camping in the city.  I'm already loving how Switzerland's largest city embraces the outdoors.
On our final evening, a toast to what is sure to be a fun week in Zurich with a wine tasting at Landolt Weine.
Day 5 – Saying Our Farewells
A quick run or bike ride along the riverfront, and then we'll be flying back home to the US.
Got any questions about visiting Zurich?  Want to just follow along and watch the trip?  Tweet us this week using the hashtag #VisitZurich.
This post is sponsored by Zurich Tourism.  The Travel Bite maintains full editorial control of the content published on this site, and as always, enthusiasm for travel and food are entirely my own.