Experiencing a Galway Food Tour was a wonderful surprise during my latest group trip to Ireland working with Globus. I always love to signup for food tours when traveling as it's a great way to sample a city's food scene and get a tiny taste of many things. Plus, most food tours include a bit of storytelling, culture, and a history lesson too. And is there any better way to learn about those things than through food?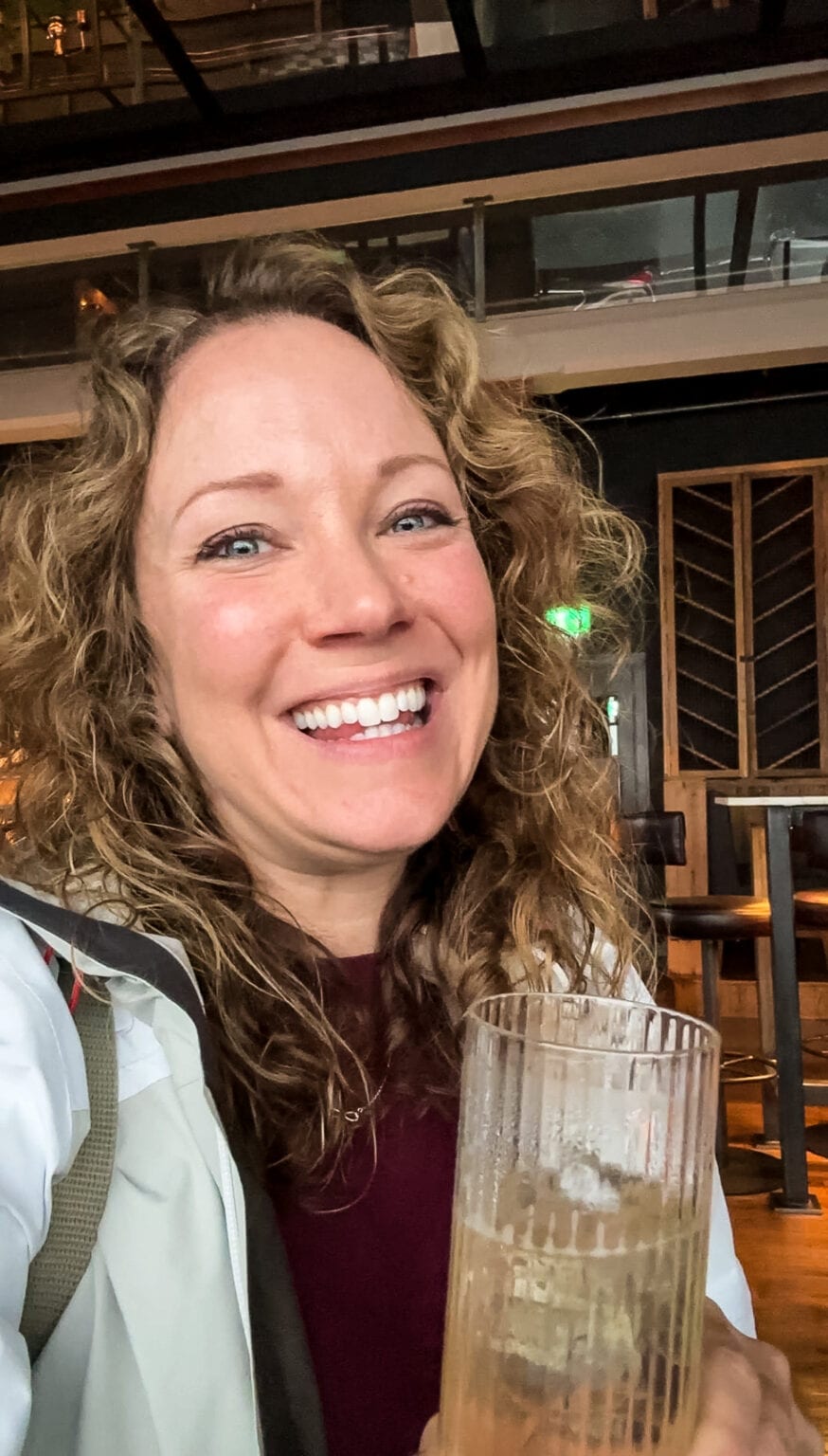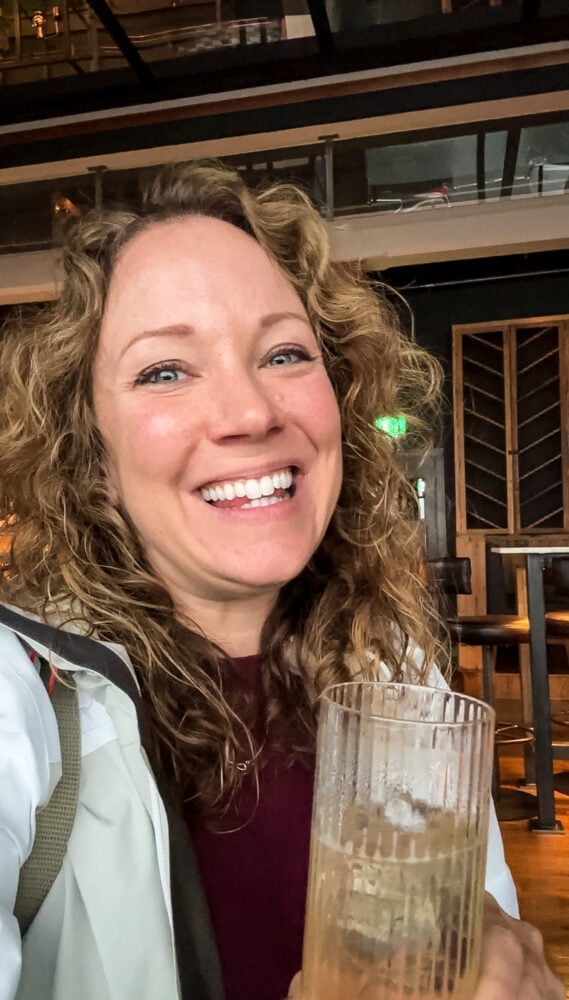 When I saw that the Galway Food Tour was one of our excursion choices with Globus Choice Touring, I immediately signed up. And I'm so glad I did! There were a lot of delicious surprises including one of the best croissants I've ever tasted, and a gin and peppercorn flavored ice cream! (It was SO good! Trust me!)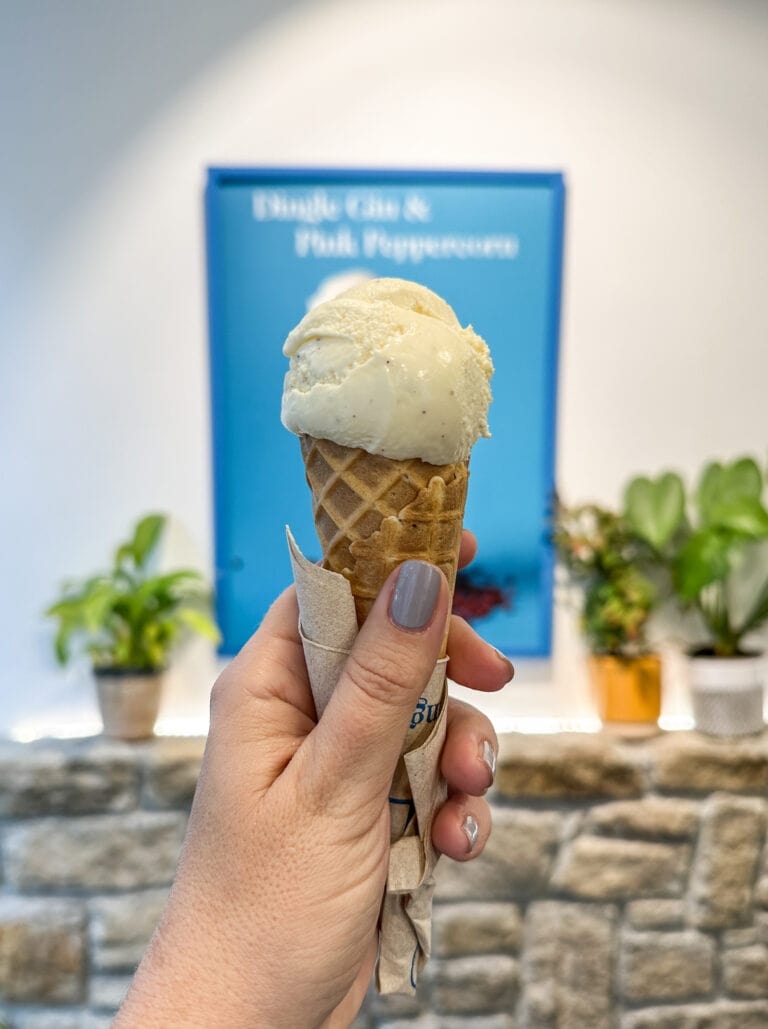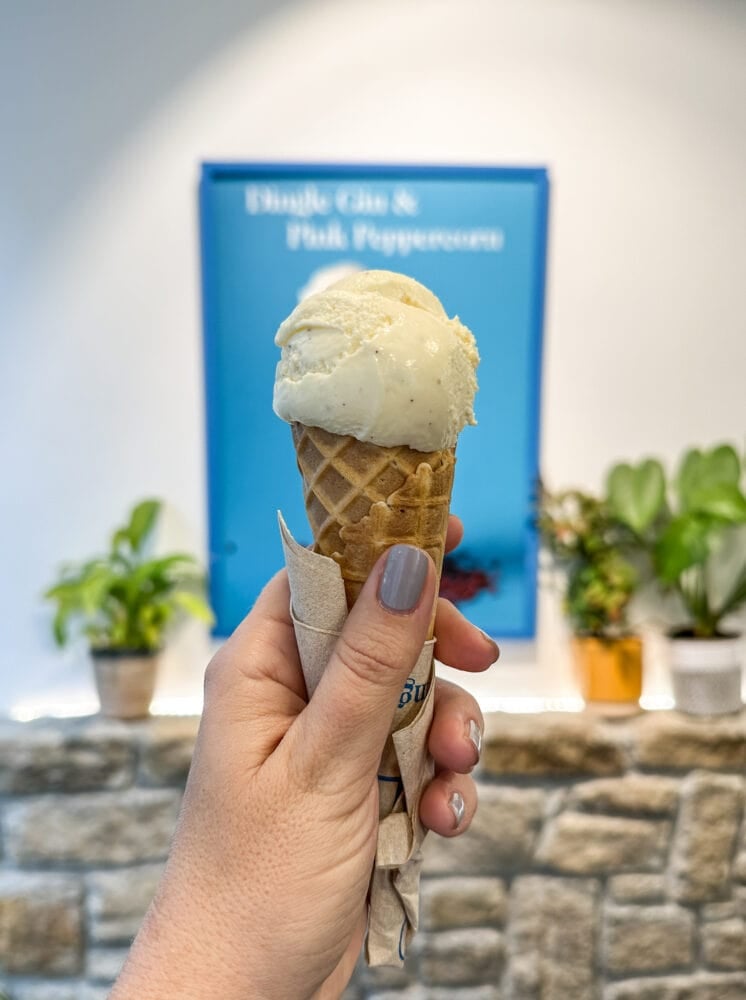 Scroll through below to get a taste of what the Galway Food Tour is like. While each tour might be customized based on the season and vendor availably, I have no doubt that you'll have a delicious adventure through the city of Galway. And if you're traveling to Ireland with Globus on their Green With Envy Tour, be sure to sign up for this excursion.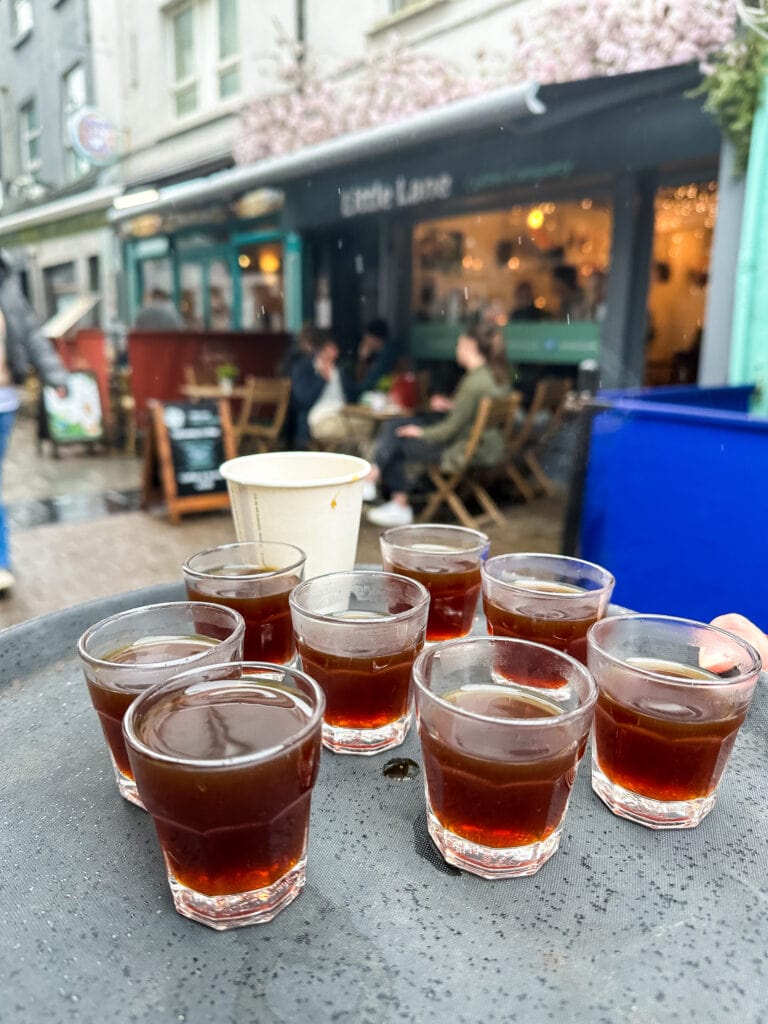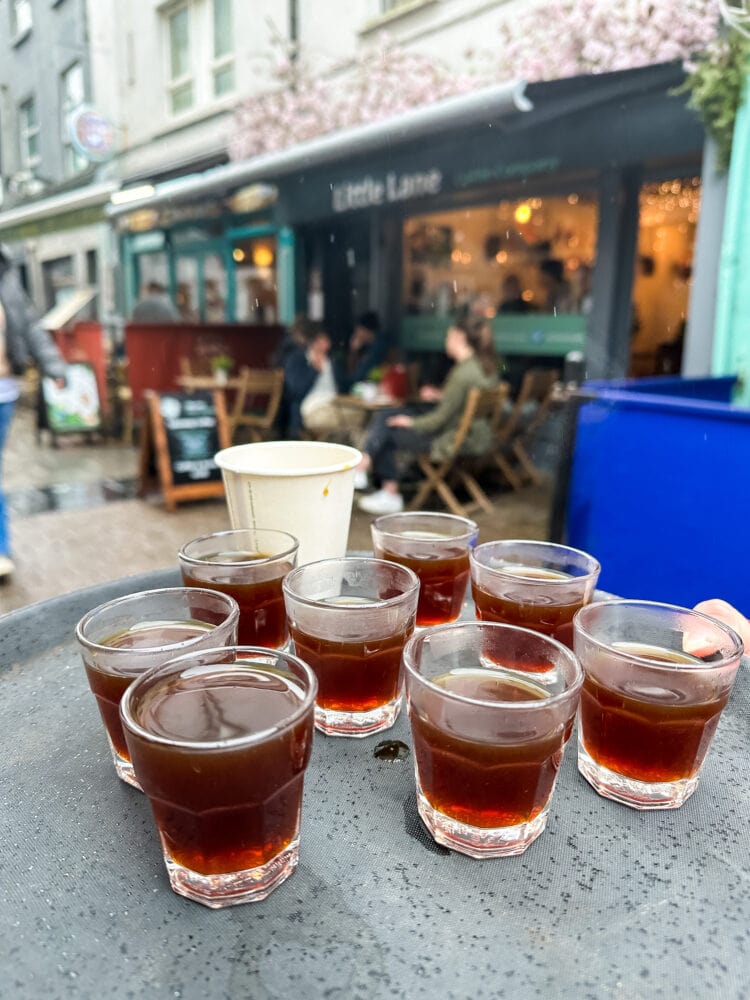 COFFEE TASTING
We met along High Street in the Latin Quarter of Galway on a drizzly day, perfect for tucking into multiple places for a light bite and tasting tour. Our first stop was at a the Little Lane Coffee Company for a sip of locally roasted coffee. This quaint coffee shop specializes in Irish Specialty Coffee Roasters, showcasing the the country's best coffee. A truly local experience!
Our Galway food tour guide talked us through a coffee tasting to truly experience all the subtle flavors of citrus and toasted nuts in fresh brew we were sipping. It was delightful! (But I must admit I could have sipped a whole cup in that drizzly weather!)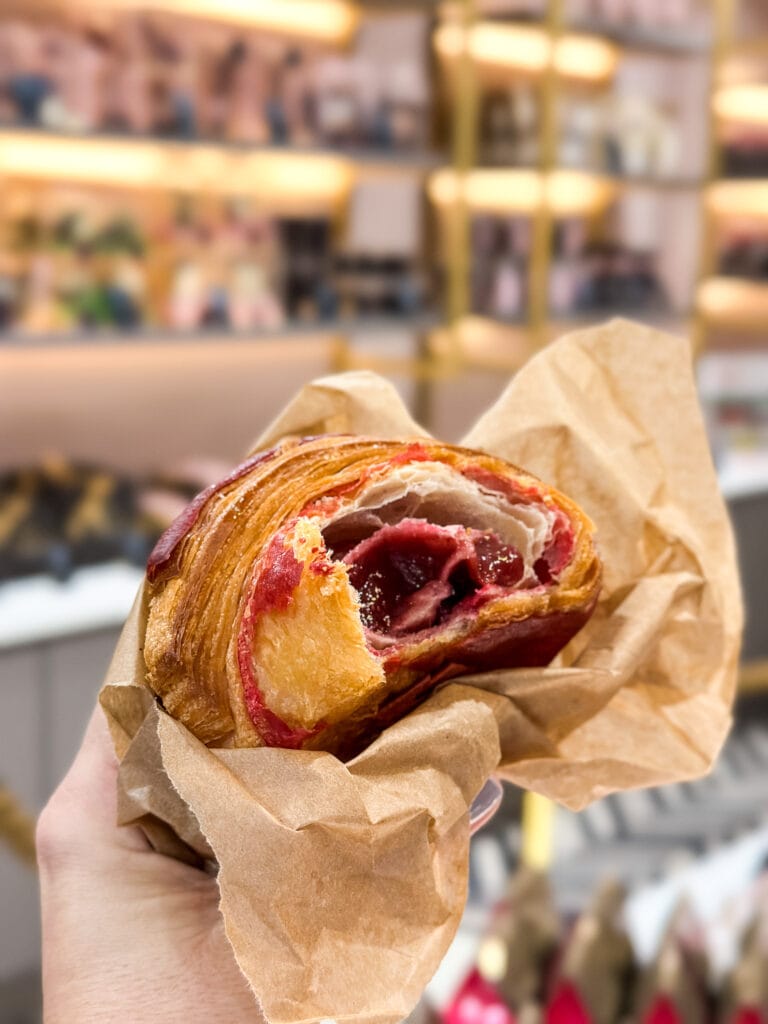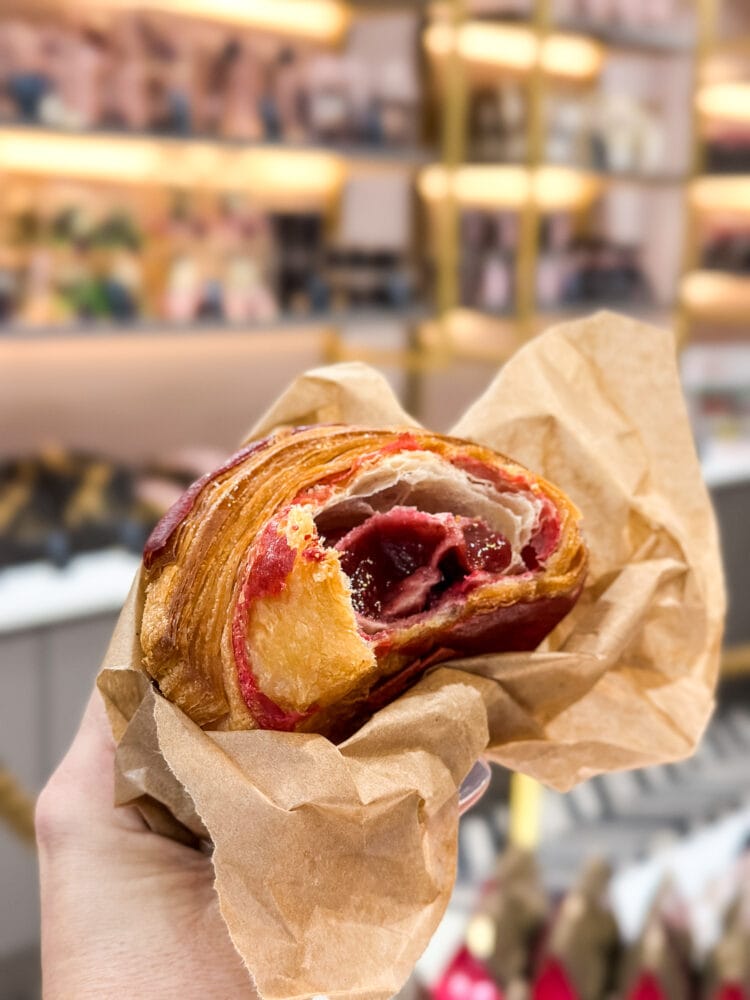 CROISSANTS + CHOCOLATE
After coffee, we walked over to Truffle, a luxurious looking corner shop that is an authentic French Chocolaterie. Truffle also has a sister shop, a boulangerie patisserie called La Petit Delice. Here we were each presented with a WHOLE raspberry croissant. Not just a taste. Not a nibble. But the whole deliciously flaky pastry layered with ribbons of raspberry flavored dough and filled with house made raspberry preserves. It was divine. And I'm not even exaggerating. We also each received a little bag with a couple of chocolates. Seeing the size of the croissant and knowing we had several more stops to go, I tucked these into my bag for a treat later in the hotel.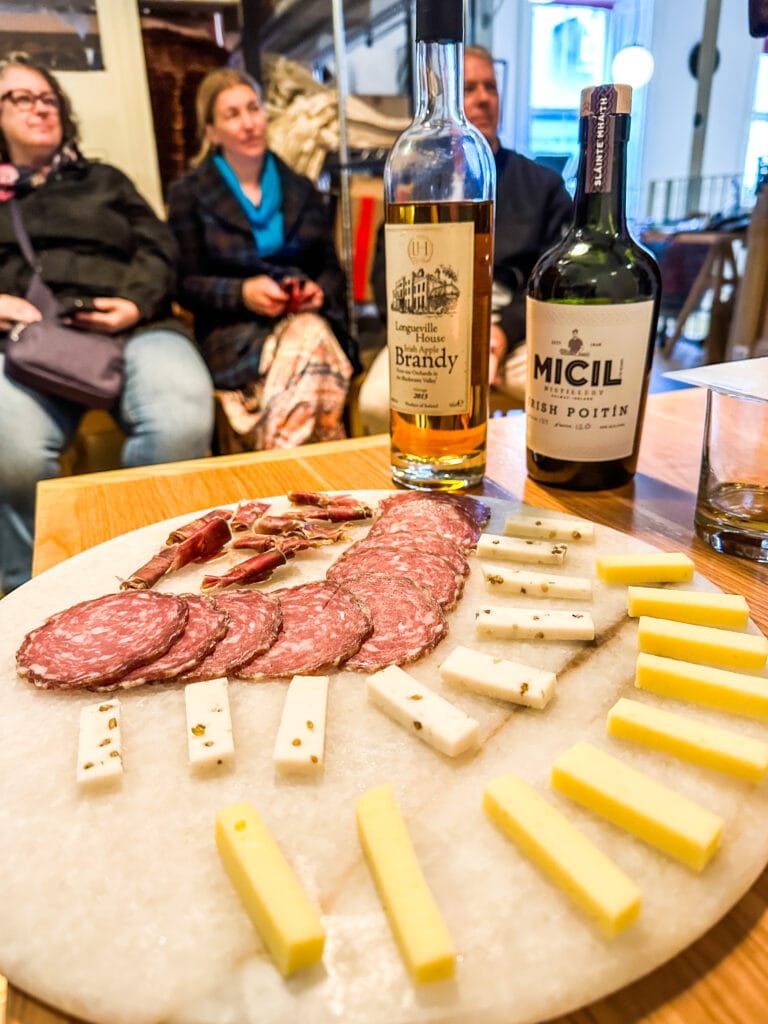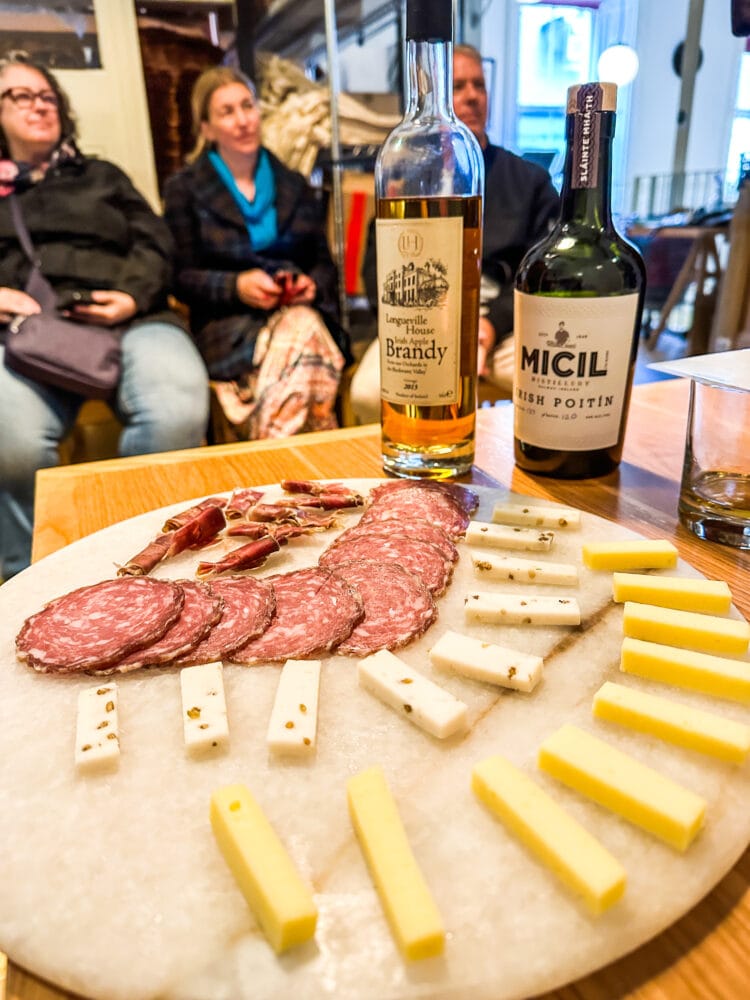 WHISKY + LOCAL CHARCUTERIE PAIRING
From the bakery, we walked down to McCambridges, a local food market that would be any epicurean's delight. We wound up the staircase to the second floor to meet our next host for a private whiskey and local charcuterie and cheese pairing. Upon seeing the bottles of whiskey, it made sense why they wanted us full on croissants, chocolate, and coffee!
The selections of meats and cheeses were all local and sourced from the store below, including Moss Field organic cheese, Slane Irish whiskey, and air dried lamb. We also learned a bit about Irish moonshine, called poitin (sounds like poochin) and sipped one that was infused with bog bean, a native flowering plant. I have to admit, since poitin is one of the strongest alcoholic beverages in the world, I didn't taste the floral nuances of bog bean, only the warm fire in my belly from a tiny sip. Honestly, though, it was the perfect mid-afternoon warm-up on a chilly day.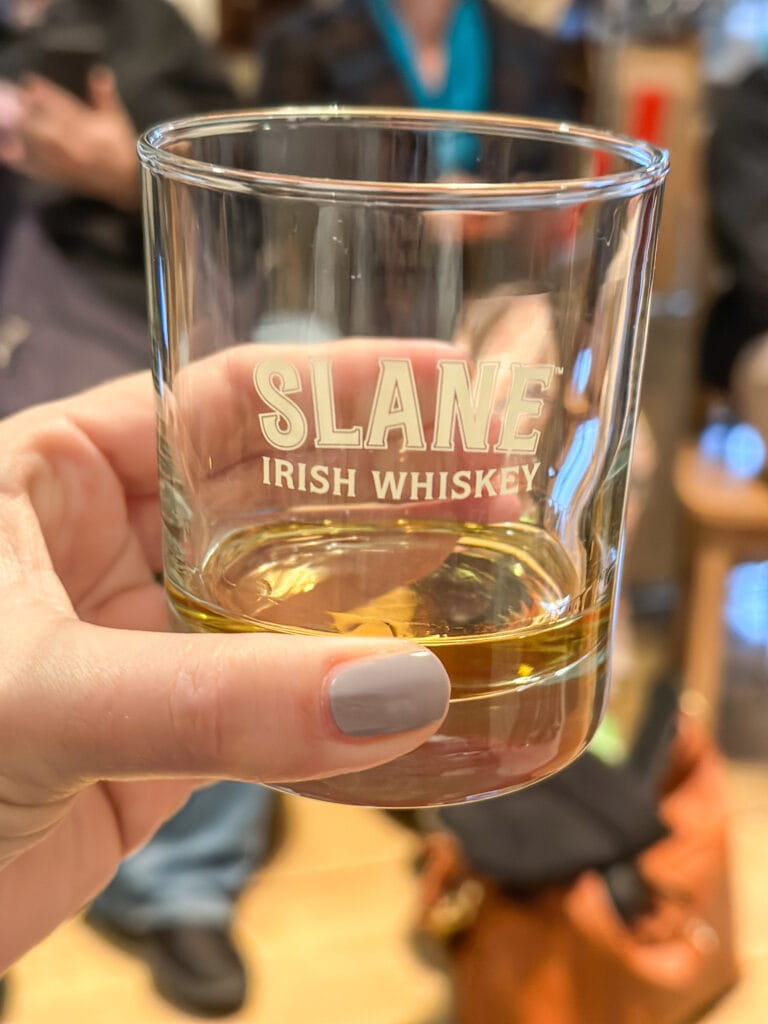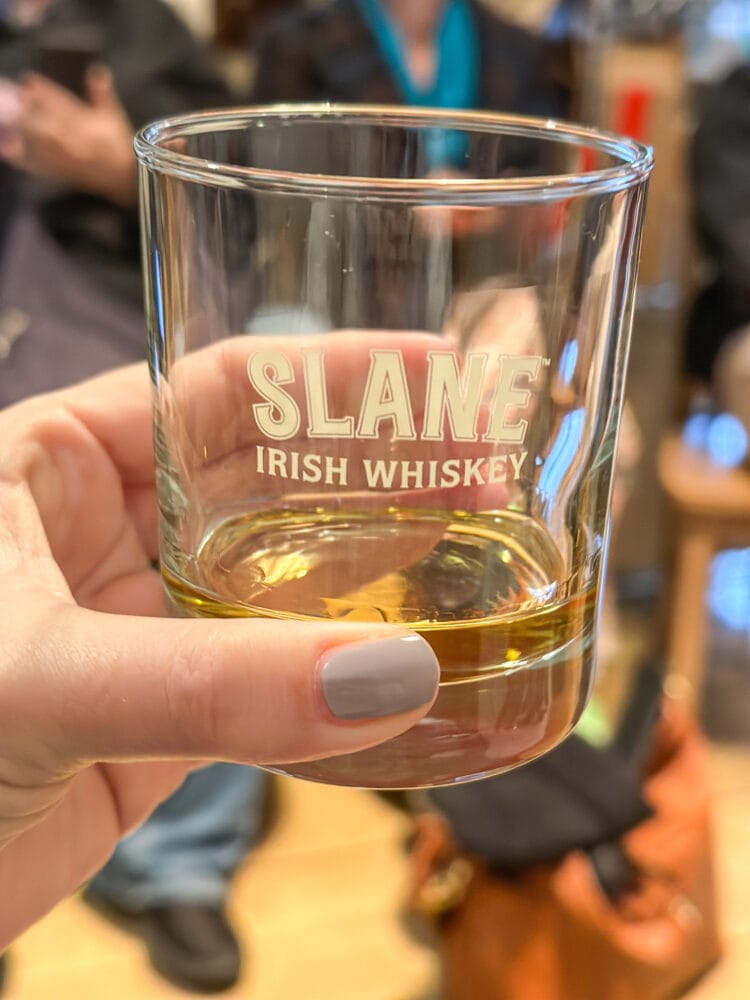 IRISH INSPIRED SUSHI
Our next taste on the second floor of McCambridges was a pairing of Irish-inspired sushi take-out from Wa Sushi. This sushi restaurant was awarded Best World Cuisine Restaurant in 2017 and 2019 in the Irish Restuarant Awards. The two sushi rolls we tasted were both locally inspired, an Irish turnip sushi and a macaral sushi. The turnip sushi was a fun and creative Irish-inspired roll!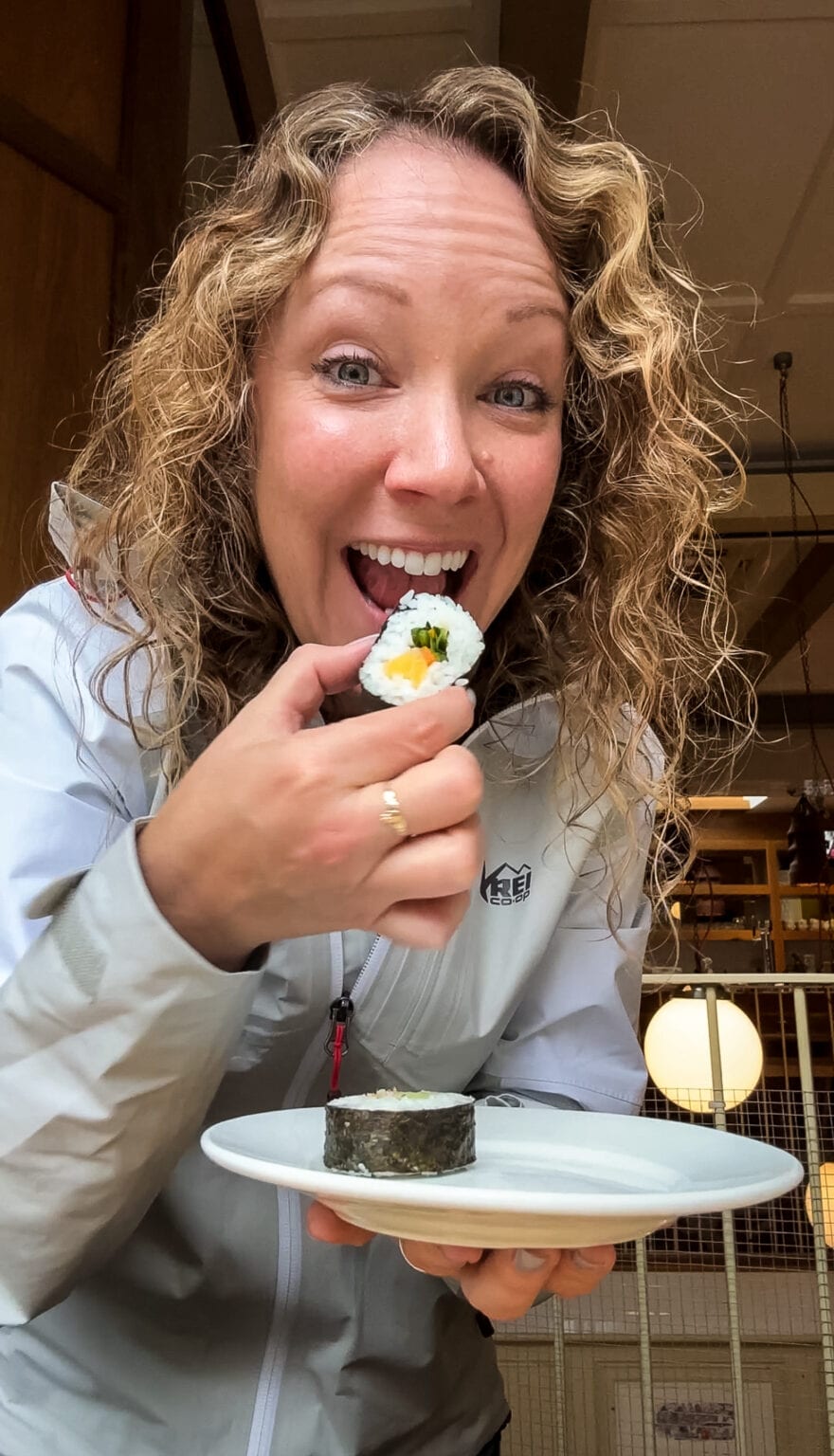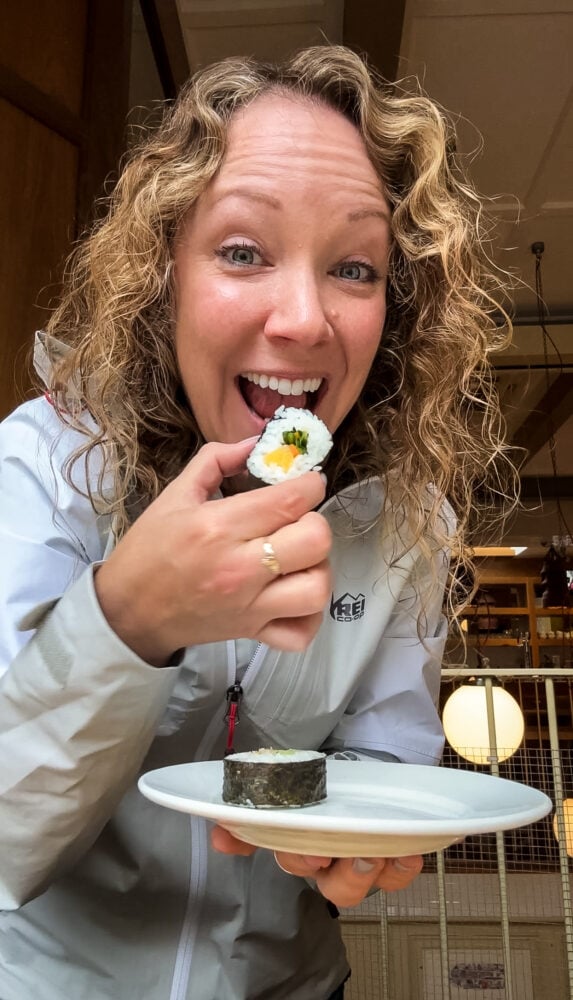 LOCAL PUB FOOD
We left McCambridges for a short walk over to The King's Head Pub on High Street. Of course, a food tour of Galway wouldn't be complete without some Irish pub food. Our group gathered around a table for a plate of fish and chips along with a locally brewed beer and a side of history too! The building the King's Head pub sits in is over 800 years old, so our guide had lots of stories and local lore to share. One in particular was how the locally brewed beer, The Kings Head Pub blood red ale, got it's name. You'll need to visit to get the full story, but I'll just say this beer keeps its head unlike a certain king.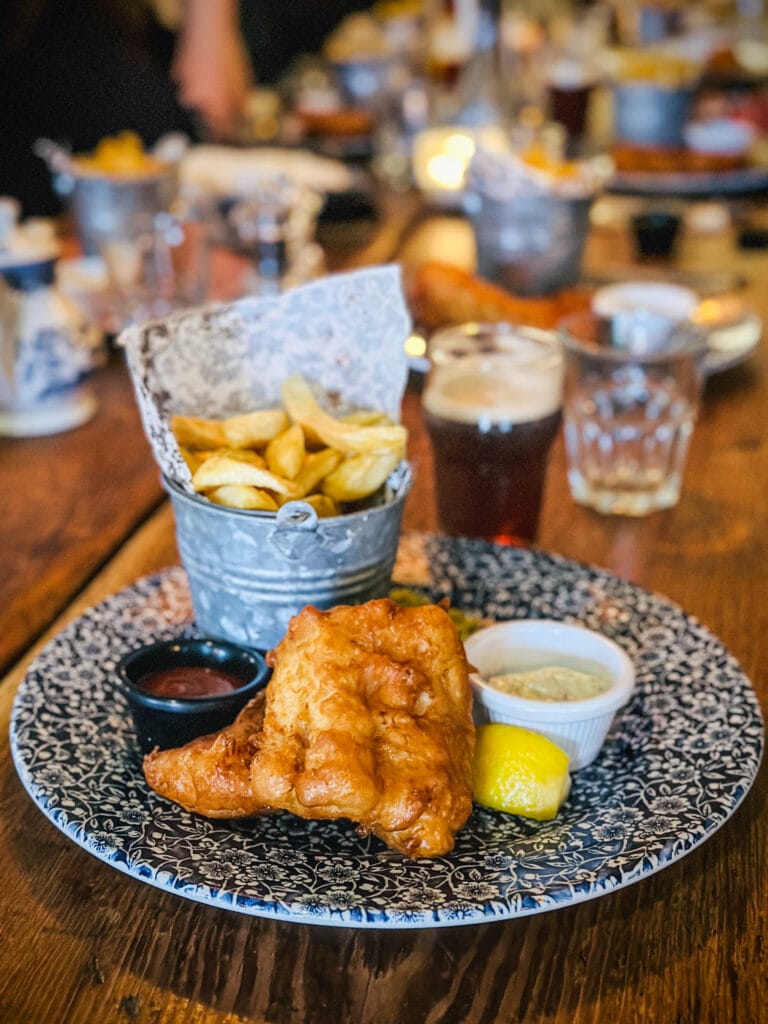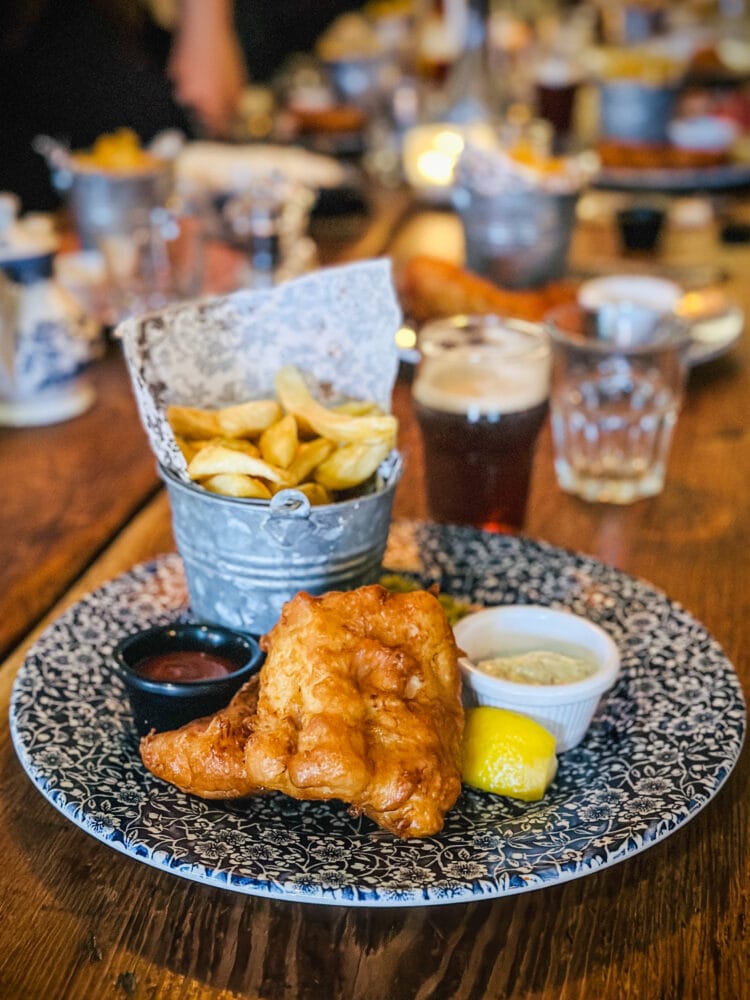 While there, be sure to stop for a warm up in front of the 1612 fireplace. We learned on the tour that it features a "Marriage Stone which has the Coats of Arms of the Bodkin, Martin and Ffrench families." I admid, the pub must feel a bit touristy to locals. But I loved the historic architecture and fun stories. And the beer, fish and chips were great too!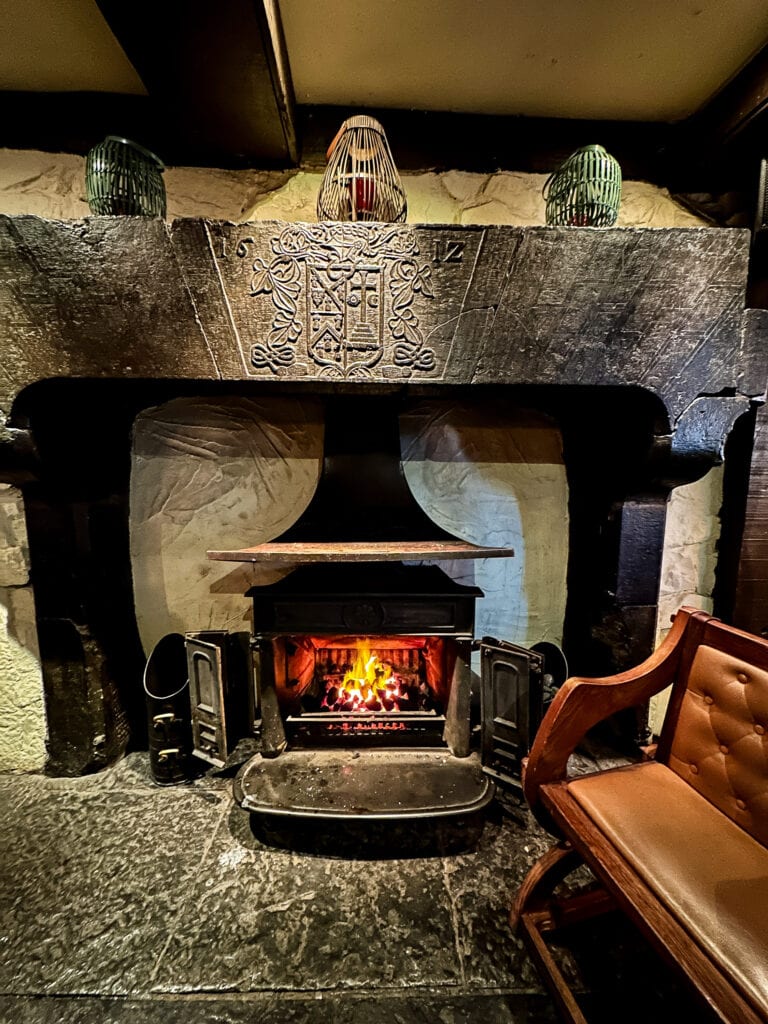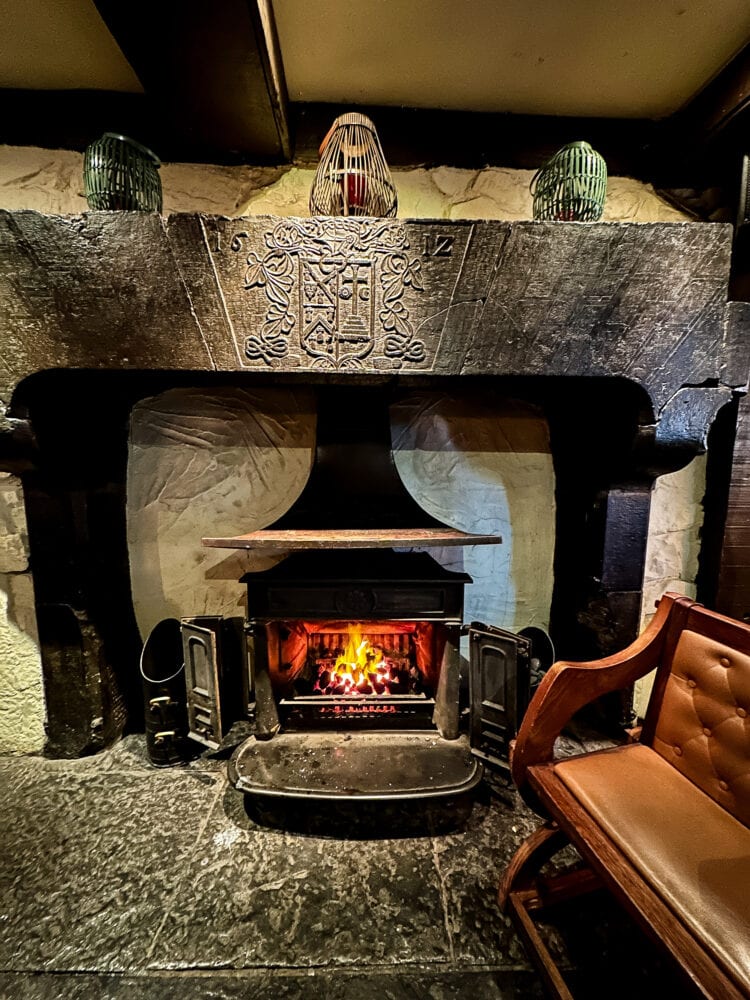 ICE CREAM MADE WITH IRISH FLAVORS
If there were one taste on the Galway Food Tour that blew me away and had me walking back for more, it was ice cream at Murphy's. As our tour was winding down, it was time for dessert. And Irish-inspred ice cream flavors made from scratch were a real treat!
We were able to taste as many flavors as we liked before choosing our scoop. And let me tell you, it was a tough decision. While there were normal ice cream flavors too, like chocolate, black current, and rum raisin, I had to try all of these Irish inspired flavors:
Irish Brown Bread Ice Cream: Murphy's gets their brown bread from McCambriddge's (mentioned above) and carmelizes it in the oven with brown sugar.
Chocolate Whiskey Ice Cream: Murphy's makes this flavor using West Cork Whiskey and Valrhona Chocolate. Chocolate and whiskey are a great pairing for ice cream!
Dingle Sea Salt: Yes, it was a sea salt ice cream! Think of it like a creamy vanilla flavor with a hint of salt to bring out the flavor. Murphy's makes this ice cream with Dingle sea water collected at Bín Bán beach.
Dingle Gin and Peppercorn: This was my favorite flavor and one that I went back for second scoops. The layers of gin flavor including juniper, coriander seed, orange, lemon peel, and peppercorn are such a suprisingly refreshing flavor combination.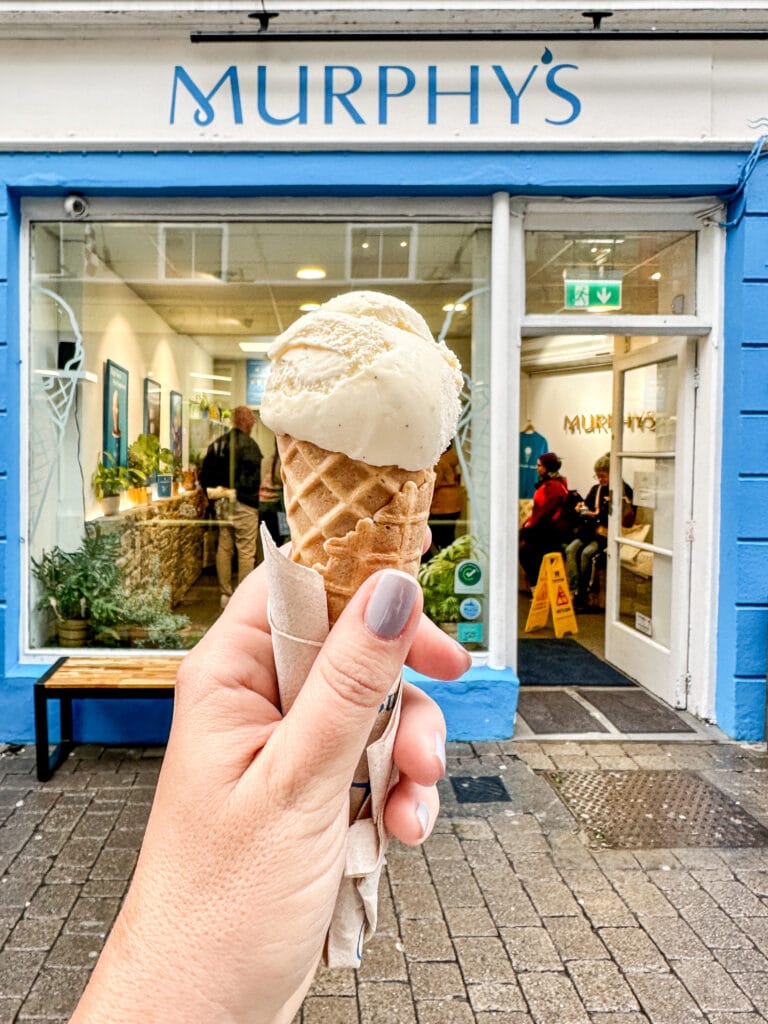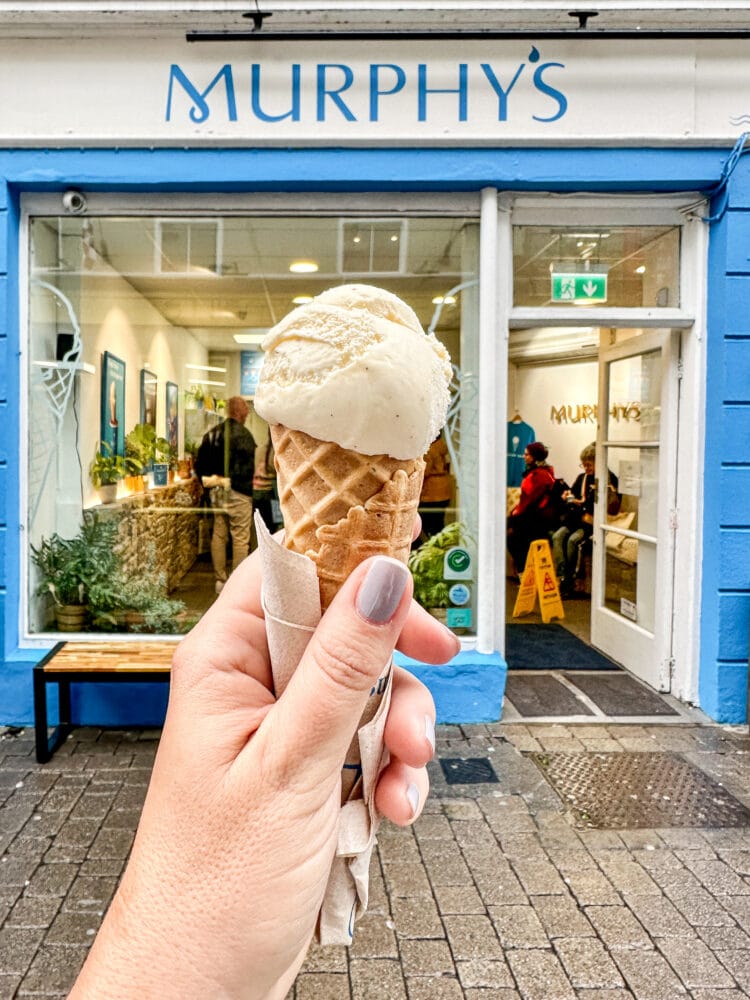 GIN DISTILLERY
Our final stop was at the very classy feeling Galway City Distillery. This is the type of place I'd love to come back to, dressed up for an evening of conversation over craft cocktails. We were able to each mix our own gin and tonic, adding the flavor enhancers we enjoyed best. It was a nice end to a delicious afternoon. The whole tour was a delicious highlight during out trip to Ireland with Globus.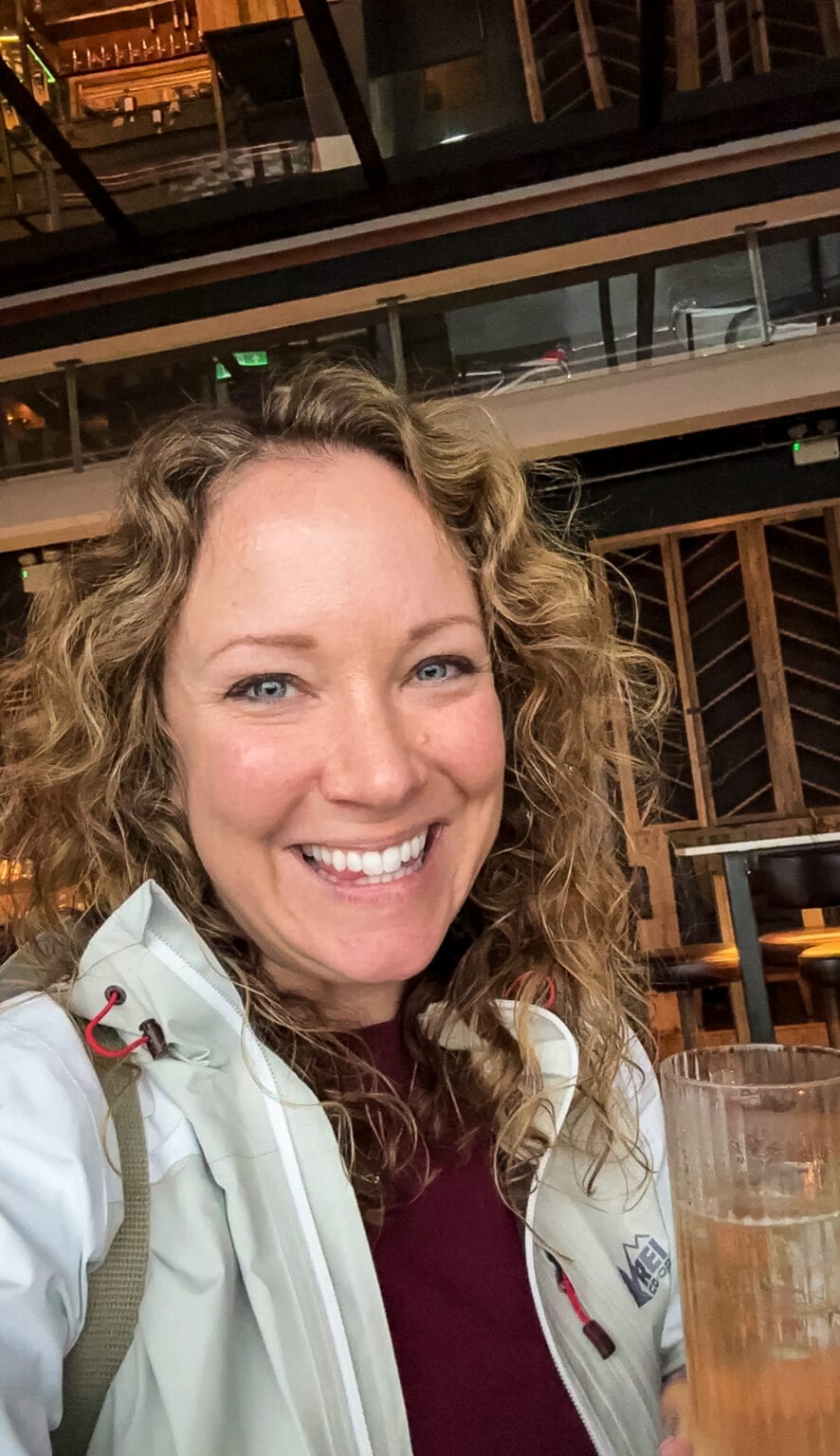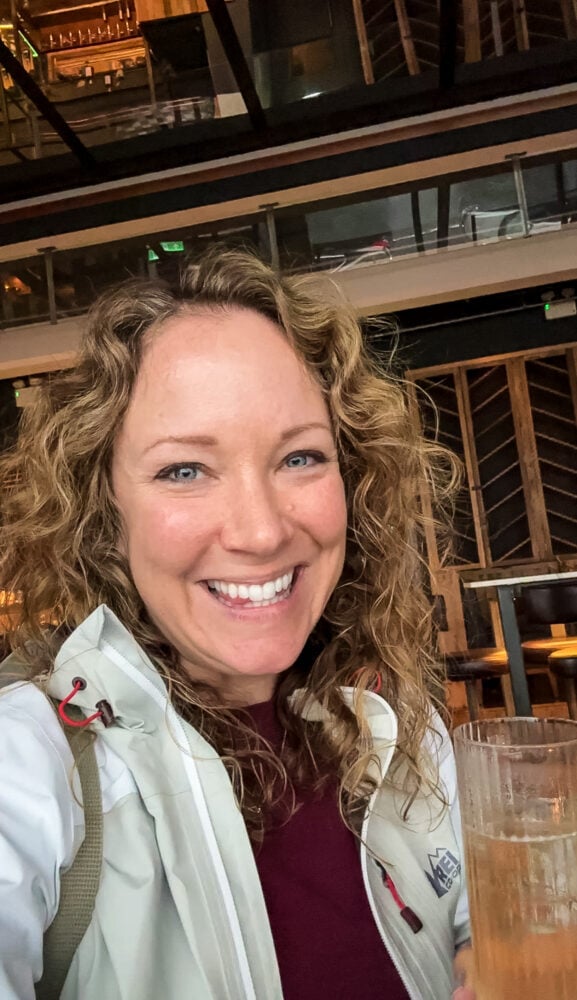 This post was sponsored by Globus. All opinons are our own.