Of all museums throughout the world, the Louvre is on the top of my list of museums worth traveling to see. Besides that fact that it's in Paris, it was also once a fortress and residence of kings, and there are over 650,000 square feet of exquisite exhibits to get lost in. Not only is the Louvre home to the famous Mona Lisa, there's also halls upon halls of sculpture, history, architecture, furniture and fashion. Even Napoleon's apartment is here, still in tact and furnished. If only those walls could talk!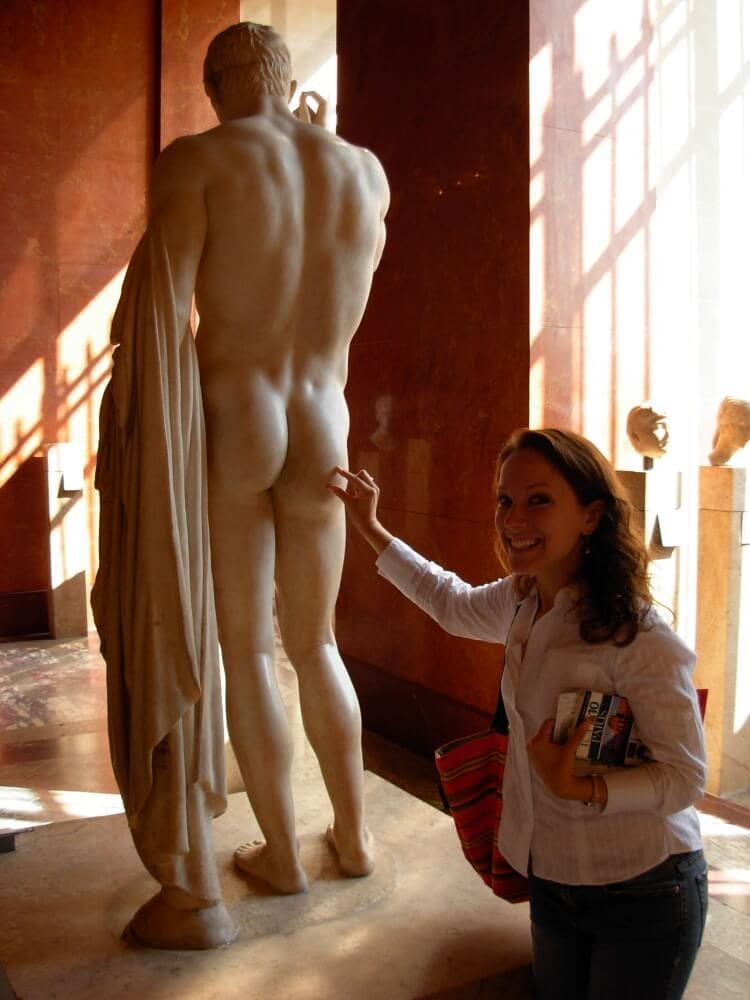 During my trip to Paris, I set aside a whole day for the Louvre and still found it to not be enough time. There is so much to see, it was quite overwhelming. Starting with the gardens leading to the entrance and grand pyramid, to the main highlights, it seems you could spend a week here and still not experience everything.
I imagine it's always had a breathtaking effect on its visitors. At time before social media, computers, television and 3-D movies, art WAS entertainment. The bright colored large frescoes and detailed paintings of the Renaissance period were then the eye-candy entertainment equivalent of seeing a James Cameron movie today.
Once inside the museum, I immediately experienced sensory overload and became overwhelmed at deciding what direction to go in. I made the Mona Lisa my focus. As one of the most recognizable pieces of art, it felt like I was hunting down a celebrity sighting. I rounded the corner of the hall to where she resided and found a group of 30 to 40 people going paparazzi with their flash cameras. I was astonished. Could people really be allowed to take photographs of the Mona Lisa? At first, I was offended that people could potentially harm such an ancient work. Realizing that no one was getting into any trouble, I took my camera out of my bag. Being so short, I could only catch a glimpse of her cryptic brow through the crowd, so I raised my camera above my head over the throngs of people and snapped a few shots. I got a picture of the Mona Lisa.
Eventually, I squirmed my way to the front of the mob to see her up close and in person. I was quite surprised at how small she was. Just the size of a standard portrait. I didn't dare take a photo this close for the fear of damaging her and cracking her smile.
Satisfied that I had found the Mona Lisa, I felt more calm walking the crowded halls of the Louvre. Though, it made me envious of the Davinci Code film crew who were afforded the opportunity to be alone in the Louvre at night. Undisturbed by tourists and crowds, I'm sure in their solitude they were really able to experience the magnitude and grandeur of this building and it's inhabitants. But even during the day, standing elbow-to-elbow with other travelers, it was spectacular. Here are some more photos. Have you been to the Louvre? If so, what was your favorite site or exhibit?
My Top 5 Tips For Visting The Louvre
Wear comfortable shoes. You're going to be walking … a lot.
Go early and get ahead of the crowd. Even the weekdays are busy.
Have a plan and list of your top 10 sites you want to see. This museum is huge. I'm not exaggerating.
Add the gardens to your list, they're beautiful.
Pack an energy bar or trail mix.
(Yes, Paris has wonderful cafes full of tasty food. Unfortunately, the museum only offers cafeteria style eats. Save yourself the time and money and just bring a snack. Then indulge in a lovely dinner later.)