Ever wonder, "Where is Wales?"  You've heard of it.  But when you look at a map and see the big island of Ireland right next to Great Britain with Scotland to the north and England to the south, you still might wonder, "where exactly is Wales?"  I confess, during my visit there, I arrived at Manchester Airport (in the north of England) and asked my driver if we'd have to cross a border. Being Welsh, he said, "no, but you'll notice we're there as the grass is a bit greener, the sky bluer, and the air fresher." One thing is for sure, the Welsh have a great sense of humor as well as a sense of pride.
Where Is Wales?
Wales is a part of the United Kingdom and the it's on the island of Great Britain directly west of England and across the channel from Dublin and County Wexford, Ireland.
I loved my visit to Wales, learning about all the Welsh foods to try and taking a road trip along the coast from Anglesey to Cardiff visiting some of their many castles along the way.  It was one of my most memorable trips, and throughout my stay in Wales I learned a few fun tidbits I thought I'd share with you below.
12 Fun Facts About Wales
1 – Wales is called Cymru in Welsh.
2 – Their flag is white and green with a red dragon.
3 – English and Welsh are the two official languages of Wales. Welsh is a Celtic based language that has seen a resurgence in recent years and you can now find it printed on contemporary gifts and coffee mugs.
4 – One word you can learn to impress your Welsh friends is "cwtuch."  Pronounced as "cutch," it essentially means something cute or cozy.  Like sipping tea by a fireplace or snuggling a puppy.
5 – Wales is home to a village with the place name in Europe, and it's also the longest single-word internet domain in the world.  The village of Llanfairpwllgwyngyllgogerychwyrndrobwllllantysiliogogogoch is 58 letters long.
6 – Wales is believed to have more castles per square mile than anywhere else in the world.
7 –  Wales is the land of mythical King Arthur, likely inspired by all their beautiful castles.
8 – The population of sheep in Wales is four times greater than the Welsh population of humans. They dot the countryside like glitter.
9 – The Menai Bridge in Anglesey was built in 1826 and was the first suspension bridge in the world constructed to take heavy traffic.
10 – Some famous Welsh names you might recognize: Anthony Hopkins, Christian Bale, Timothy Dalton, and Catherine Zeta-Jones.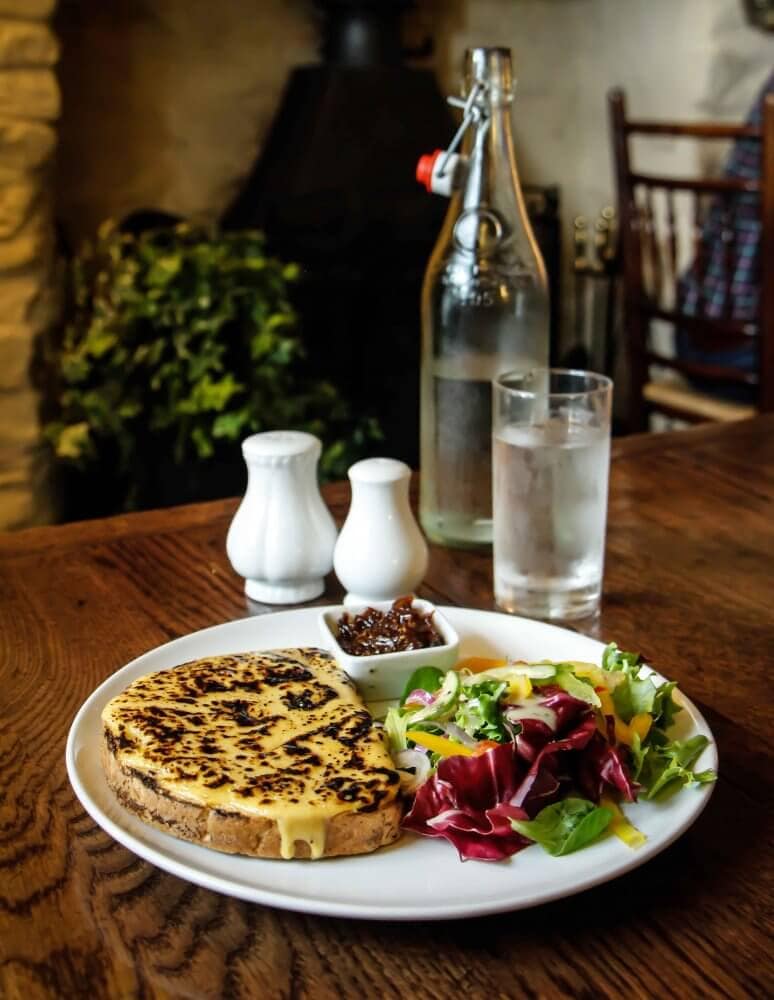 11 – Rarebit, often mistook for rabbit, is a Welsh comfort food that's similar to an American open-faced grilled cheese (but better!).
12 – Brains is the name of a beer brand and brewery in Cardiff.  So, if you go to Wales, you can drink brains.