Ever wonder what it's like to spend the night in an old vintage jail cell? The Malmaison Oxford Hotel, otherwise known as Oxford Prison, offers a unique experience. I never thought I'd spend the night in jail.  After all, I'm a law abiding, cautious citizen-of-the-world that errs more of the side of being a goody-two-shoes than a big risk taker.  But I did spend a night in jail last time I was in Britain.  Granted, it was pretty posh.  And, I wasn't locked up, but more locked "in" when I dead bolted my hotel room at night.  Okay, okay, I wasn't sleeping in a real slammer, just at the very boutique, very unique, Malmaison, a historic prison-turned-luxury-hotel in Oxford, England. Check out our photos below for a peek inside this experience.
Oxford itself has a certain alchemistic and mysterious vibe to it that's further enhanced by it's characteristically grey weather and castle-like stone structures. It's also home to one of the oldest universities in the world and pubs where the likes of C.S. Lewis and J.R.R. Tolkien used to hang out together and tell stories (for real).
Oxford College has been the inspiration to many literary works, including Alice In Wonderland, Harry Potter, and even the recent Discovery of Witches series.  You can feel the essence of all of these stories in the village.  The mystery, the edginess of the possibility of other worldly beings, pubs with reported hauntings.
My imagination was certainly getting the best of me, so you might wonder, "why on earth would you want to stay in a former prison?  Because it's fun.
Malmaison is certainly plush and luxurious.  Plus, they have cheeky descriptions to make you laugh and poke fun at their history, like "these room are on the 'most wanted list.'"  You can also choose between a Double Cell or House of Correction overlooking the exercise yard and peer out through the narrow windows, imagining the view of the previous occupants when the setting wasn't as comfortable and the beds weren't as big and warm.
There's a tea tray with an electric kettle and selection of teas and biscuits to make you feel cozy.  The bathroom has a modern shower and inviting claw foot tub. I even had some delicious sweets and a welcome note waiting for me in my room.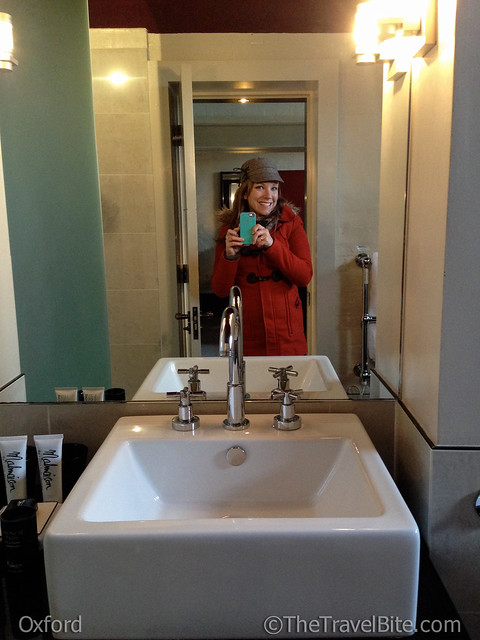 In the basement, near the bar, there's a preserved cell showing what the accommodations used to look like.  I recommend taking a look, but only after you check out.  I'm not sure if the blinking florescent light like a haunted house was intentional or really just an electrical glitch, but it will definitely make you hold your breath and look over your shoulder at shadows.
Despite the creepy basement display, I slept like a rock and would stay here again in a heartbeat.  For more information about the hotel, visit Malmaison.com
More information about Oxford:  VisitOxfordandOxfordshire.com
Disclosure – I was being hosted by Great Britain for this trip.  As always, all thoughts and enthusiasm for travel and history are entirely my own