As part of Universal Orlando's Blog Squad, Pete and I enjoyed a weekend staycation in our hometown of Orlando that truly felt like a getaway.  Staying on-site at Universal Orlando Resort played a big part in helping us get into that carefree relaxed state that's sometimes difficult to achieve when you're so close to the responsibilities of home. But waking up surrounded by the lush tropical gardens at Loews Royal Pacific and cruising to the parks and dinner via water taxi had us feeling like we were a world away.  Everything was so convenient that we never felt pressed for time, and it made me take notice a few time-saving features that are unique to Universal Orlando Resort.
7 Time Saving Reasons To Stay On-Site At Universal Orlando Resort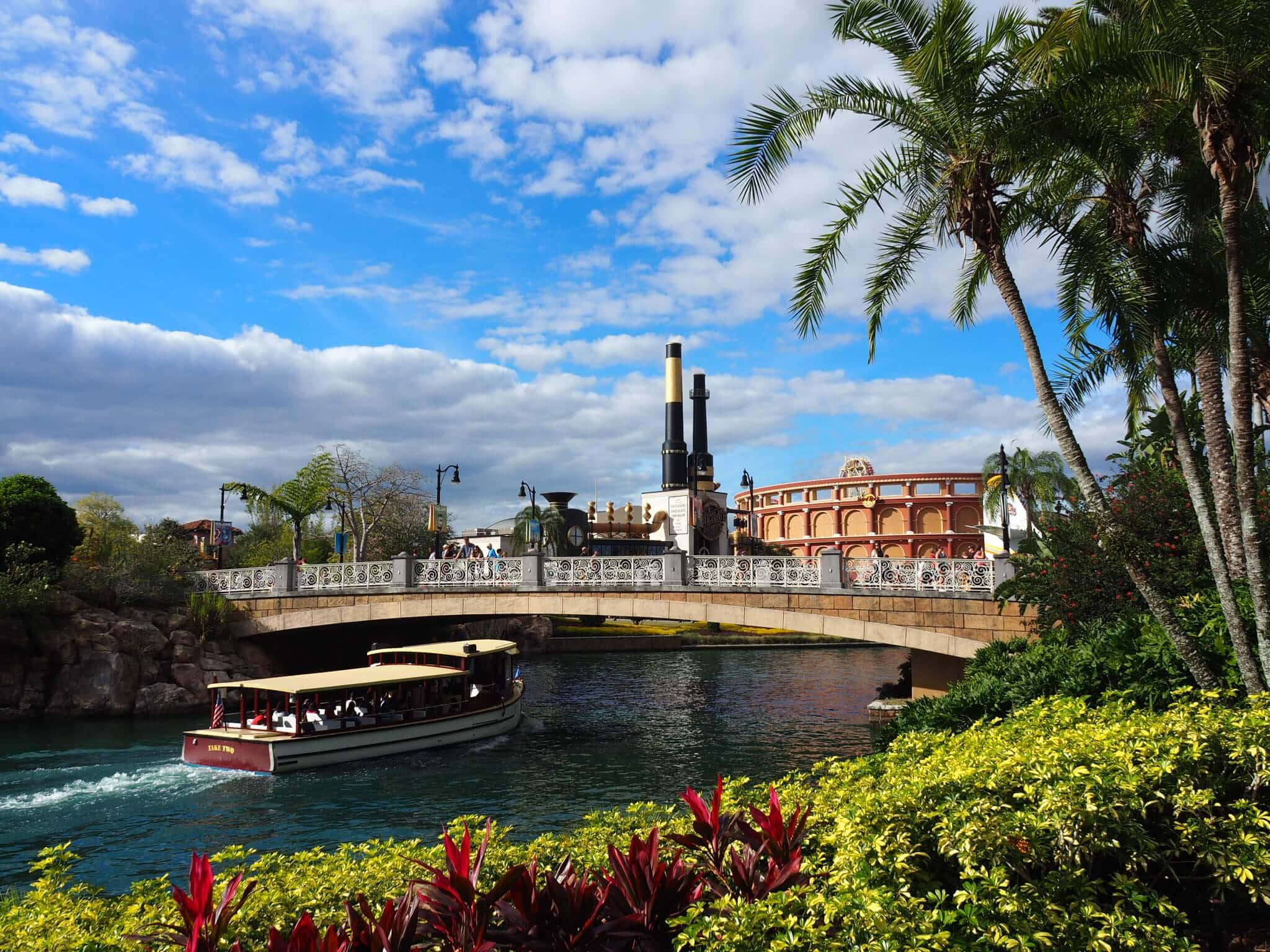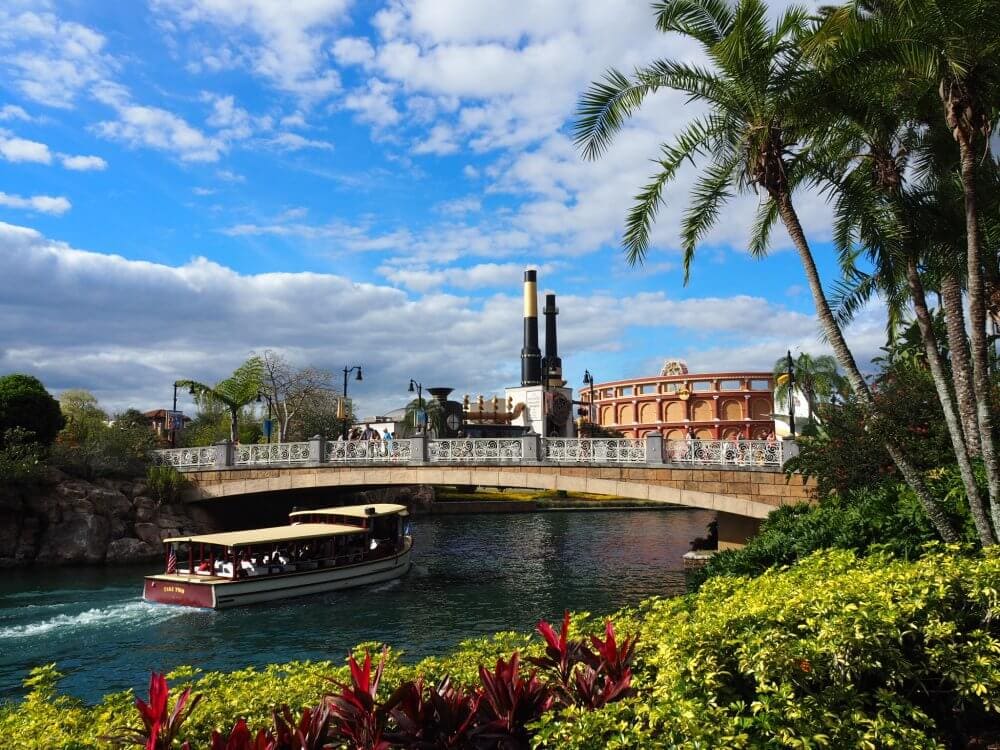 1 – Water Taxi and Garden Walk
One of the things I'm most impressed with about Universal Orlando Resort is how they've seamlessly integrated transportation into the vacation experience.  It flows in such a way that you don't feel the stress that normally accompanies travel such as traffic, finding a place to park, or figuring out where you are on a map.  This isn't something you'd ordinarily notice until you visit other theme parks and it's an unshaded forty-five minute walk just to get from your car to the front gate.  When you stay on-site at Universal Orlando, there's a small lagoon-style river that connects the parks to the hotels and you can either take a water taxi or walk along the river on a garden path to get to the parks.  (Check out the Universal Orlando Resort map to see the layout).  From our hotel room to the front gate of Islands of Adventure only took a relaxing, breeze-blowing-through-my-hair-as-we-cruised-under-palm-trees, twenty minute boat ride.  I timed it.  We loved the Garden Walk too, especially after indulging in a big meal one night after dinner at Antojitos in CityWalk. (Everyone needs a leisurely walk after a big dinner, amiright?) In addition to the water taxi and garden walk, there's also a dining shuttle to escort you between the resorts if you're dressed elegantly for dinner and don't want to walk or take a boat.
TIP:  If you prefer walking, the two hotels that are closest to the parks are Hard Rock Hotel and Loews Royal Pacific, but the water taxi and garden walk also extend to the elegant Loews Portofino Bay and the new Sapphire Falls Resort.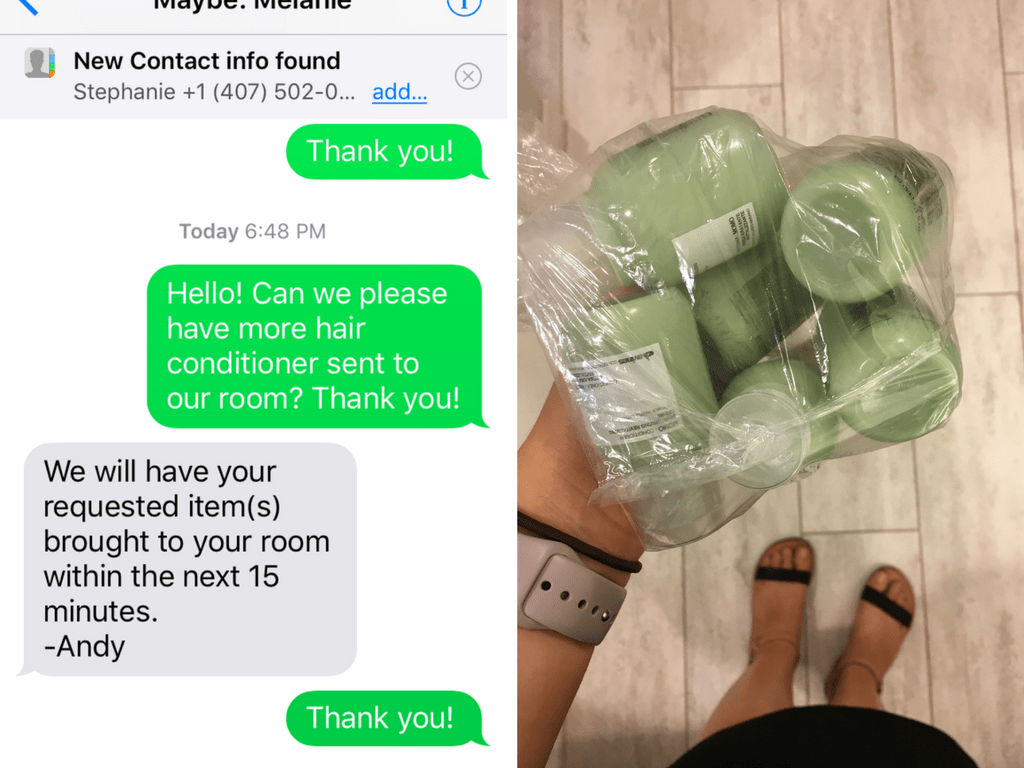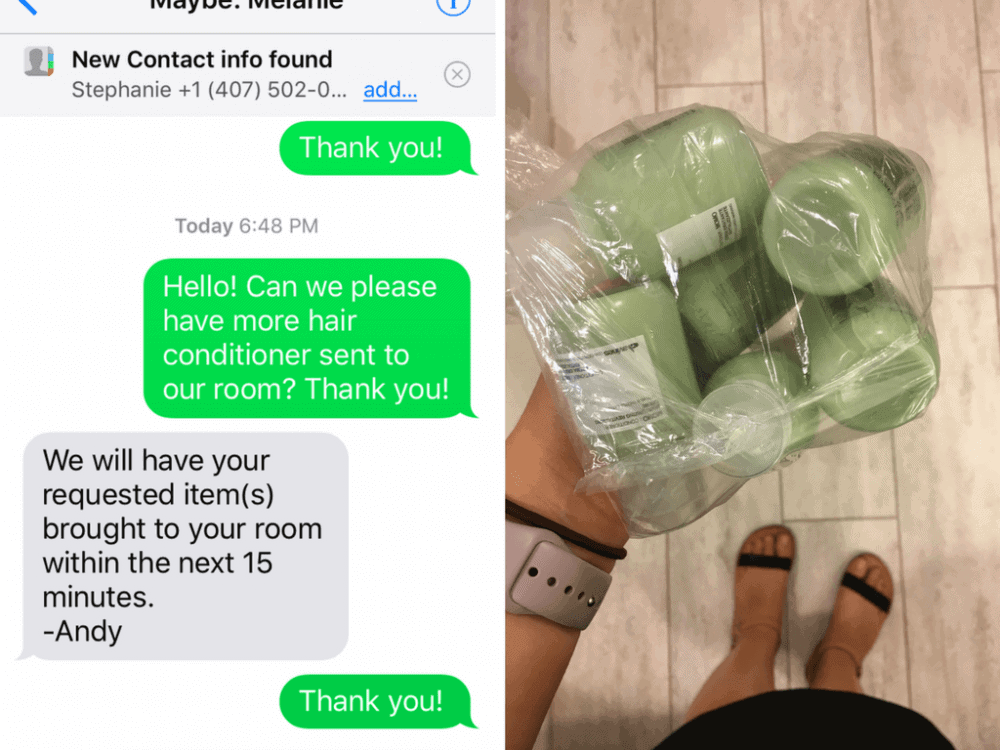 2 – Text Concierge
When we checked in, the hotel clerk asked if we wanted to participate in their new texting service and explained that after we received a welcome text message, we could text back anytime during our stay to ask questions or request something for our room.  I was a bit hesitant at first, because sometimes you do this and get loads of promotional texts.  This was different, though, like sending a message to a real human and not a bot.  So, I put them to the test during our stay and asked for coffee pod refills, extra hair conditioner, and clarification about park hours.  The responses were prompt and the refills were generous!  One night on our way to dinner via water taxi, I sent a text requesting more hair conditioner. When we arrived back to our room, I found a whole bag of conditioner!  This service feels like having a personal concierge in your back pocket and is a big time saver when requesting things 0n-the-go instead of having to make a special trip the the reception area or calling and having to wait on hold to speak to someone.
Tip:  The new text concierge service is currently only available at Loews Portofino Bay Hotel, Loews Royal Pacific Resort, and Loews Sapphire Falls.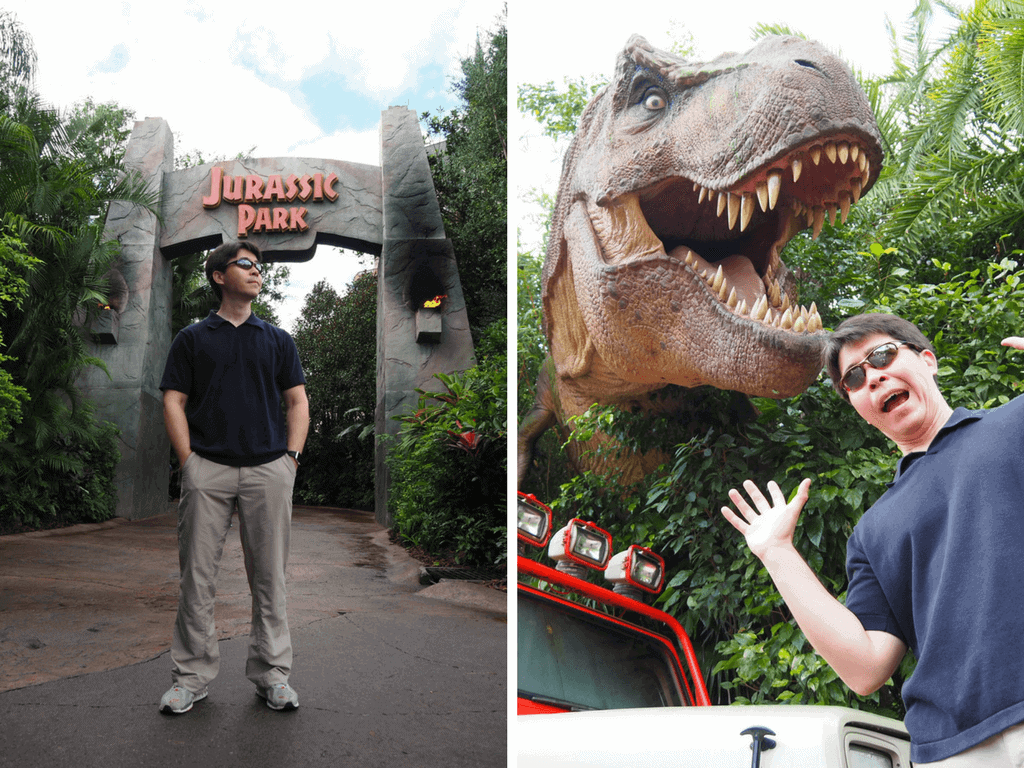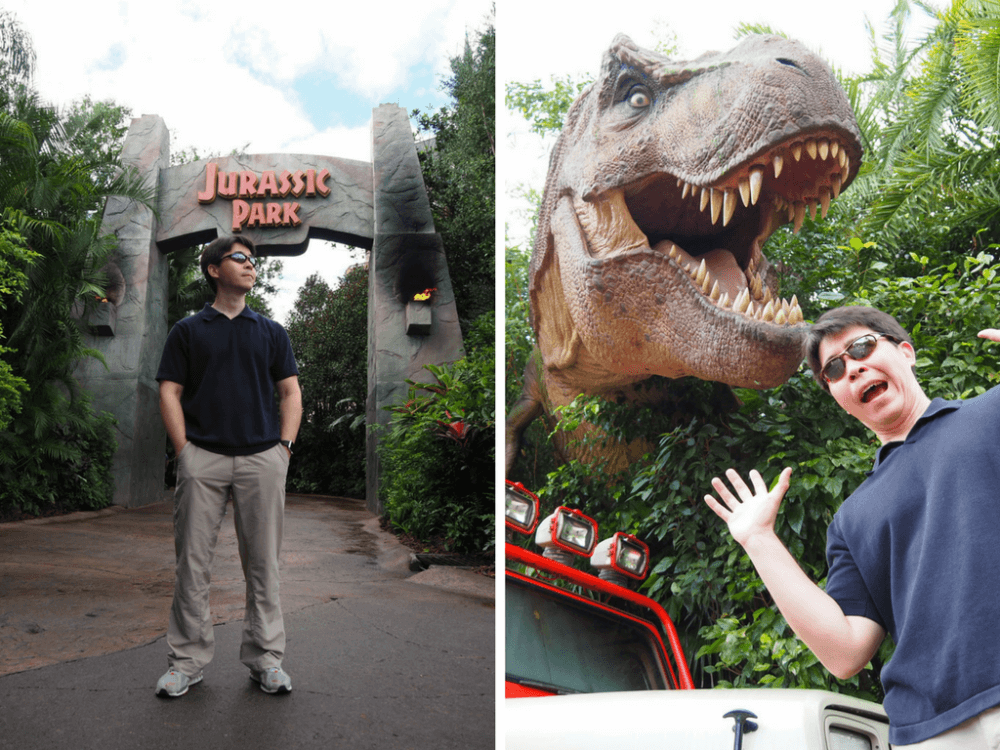 3 – Unlimited Express Pass
Three of the on-site hotels (Hard Rock, Loews Portofino Bay, and Loews Royal Pacific) have Universal Express Pass kiosks where your room key will grant you an Express Pass Ticket for unlimited use during your entire stay.  These tickets usually run about $90 per person, so it saves you money too and adds a bit of extra value if you plan on splurging on one of Universal's premium resorts.  For us, the Express Pass was such a time saver for popular rides like the Hollywood Rip Ride Rocket and the Incredible Hulk Roller Coaster.  I think the most we waited for a ride was fifteen minutes.  The Harry Potter themed rides are the only ones that don't have an Express Pass entry, but I have a few tips for those rides below.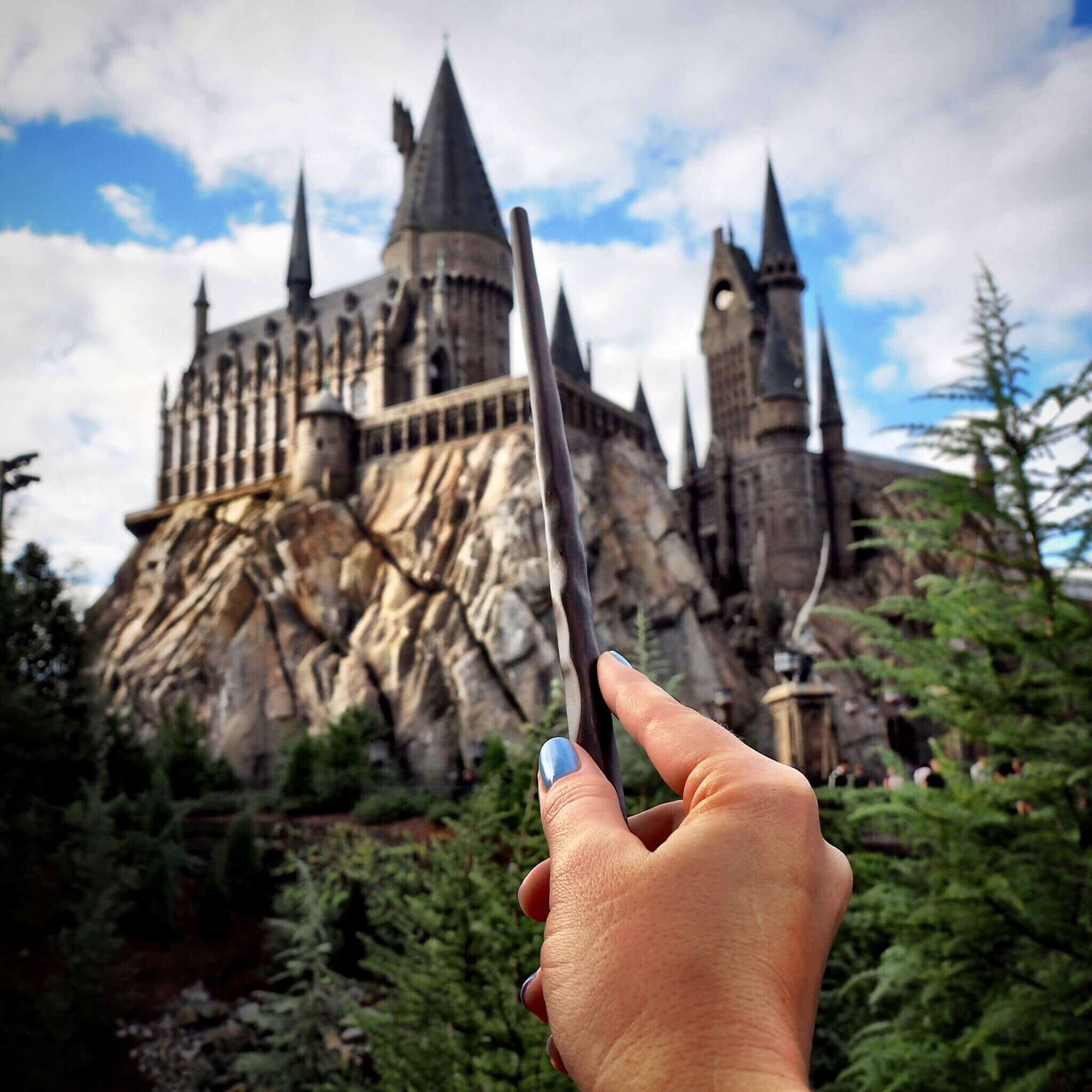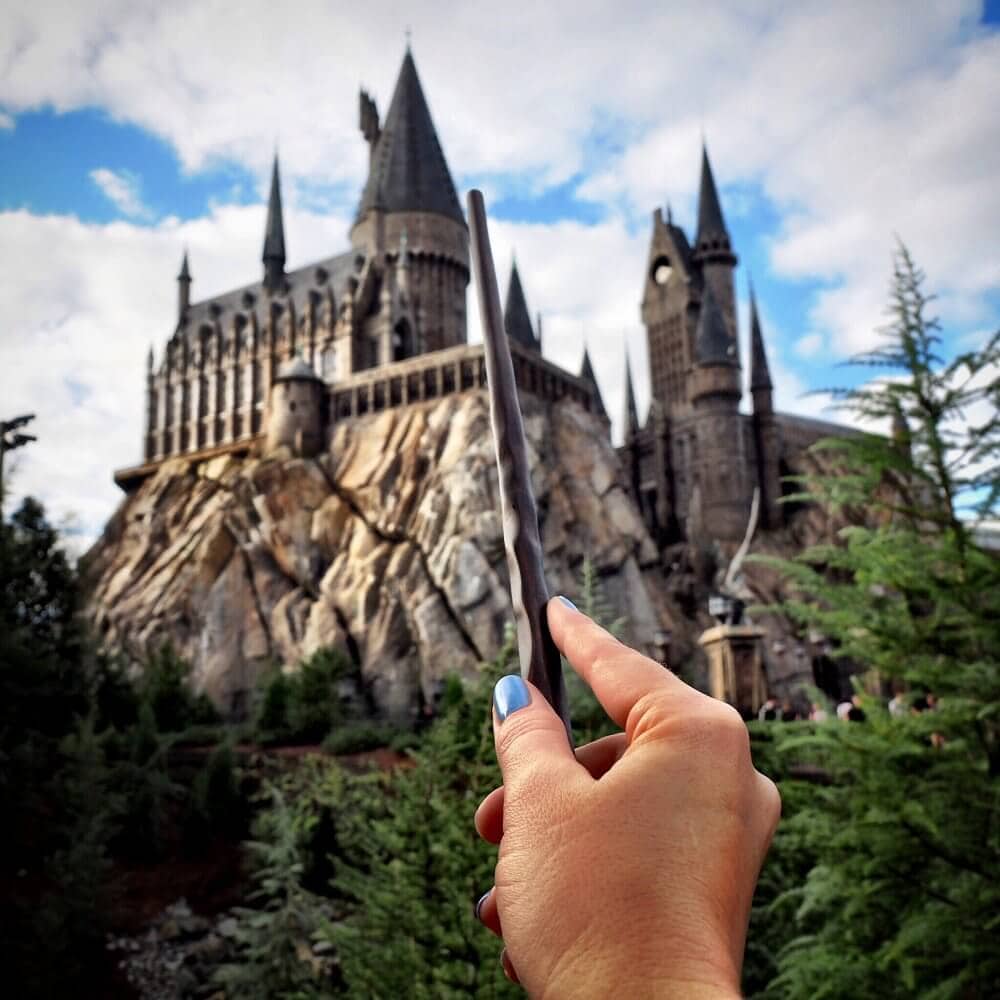 4 – Early Park Entry
Early park admission to The Wizarding World Of Harry Potter – Hogsmeade is included with all five of Universal Orlando Resort's hotels.  We went early one morning to get a head start, and I have to be honest, it was still busy first thing in the morning.  The Harry Potter attractions are the most popular at Universal Orlando Resort, so I actually think the best time to visit them is at night closer to closing time.  We went back to Daigon Alley after dinner one evening and rode Escape From Gringotts with only a short wait time, and afterward we enjoyed walking around to see how everything looked even more magical at night.
Early park admission is great for other things, though, like grabbing breakfast at Three Broomsticks or The Leaky Cauldron and getting a little shopping done in Hogsmeade or Diagon Alley before it gets busy.  Also, you'll be the first in the park for other popular rides too, like Reign of Kong.
TIP:  The queue for the Kong ride is not one you want to skip with the Express Pass as there are a few surprises.  With early park admission, we were the only ones in line and it felt like we were walking through an empty haunted house.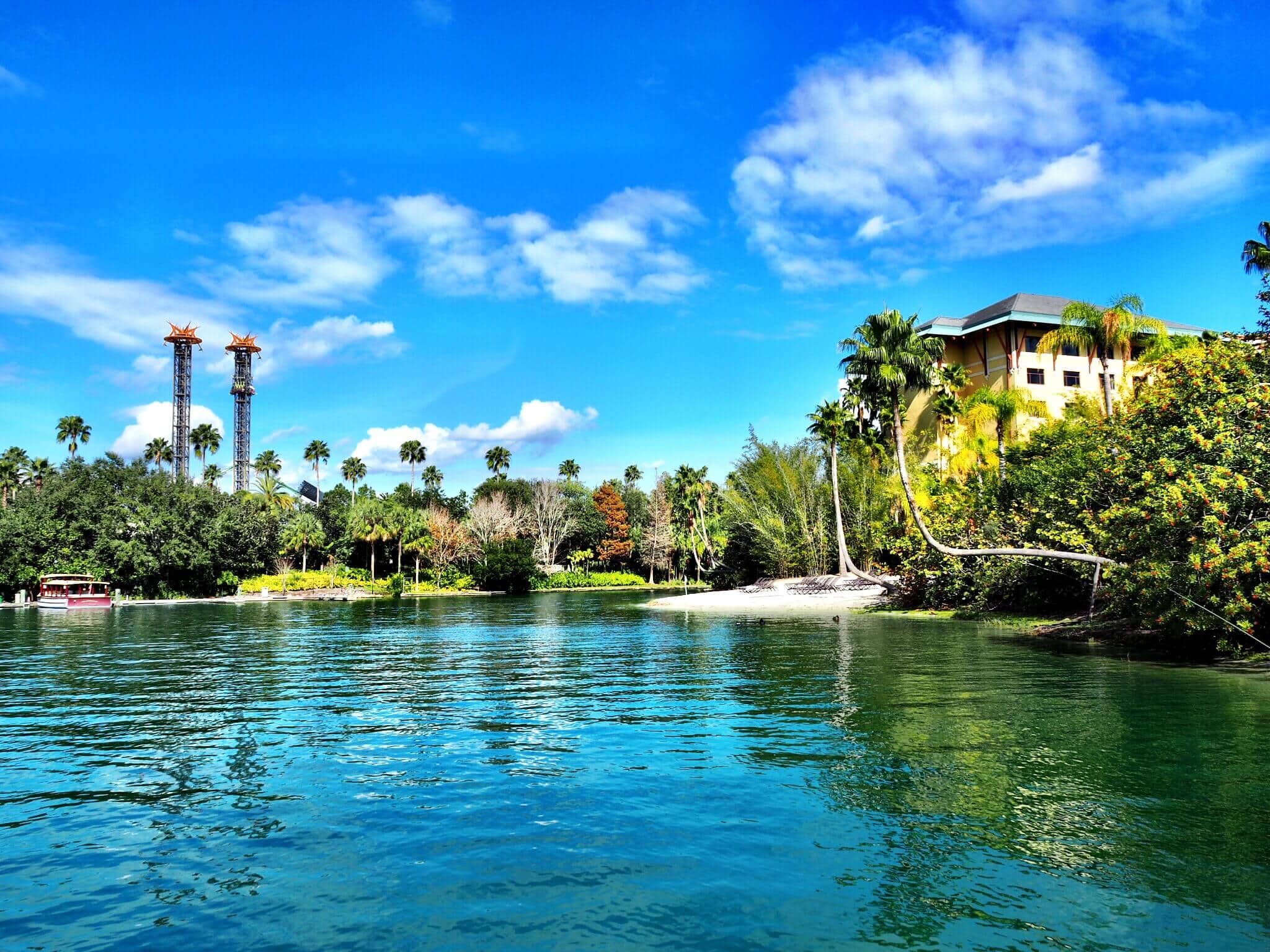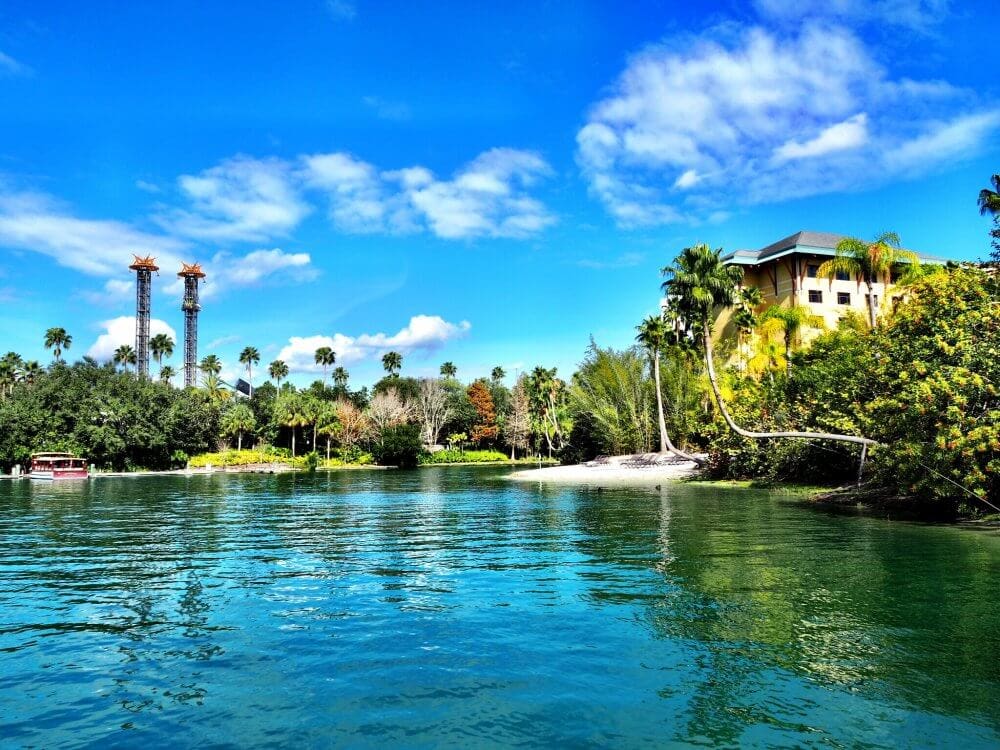 5 – Security Line
I don't usually change up my travel plans due to security concerns, but in this day and age it is something we do consider.  Whenever I'm standing in a large crowd, whether that be a concert or even recently when Pete and I visited the Christmas markets in Europe, we felt like we were constantly on alert.  It chips away at the peace of mind we used to feel while on vacation.  Thankfully, Universal Orlando Resort takes security seriously, more so than any other theme park I've visited.  Everyone visiting the Universal theme parks and CityWalk area has to go through airport-style security.  While this might sound like an inconvenience, it was nothing at all like going through an airport, especially when coming from the on-site hotels.  Now, I've only ever gone to the parks through one of the hotels, so I'm not sure how long the line is from the parking garage, but when you stay at a hotel on-site, you'll go through security and have your bags checked before boarding the water taxi.  We never had more than one or two people in line in front of us, and it was so much quicker than going through TSA Pre-Check.  And throughout the day while we were in the theme parks, I felt a little more carefree than I do while traveling to other places, especially having peace of mind knowing everyone walked through the same security I did.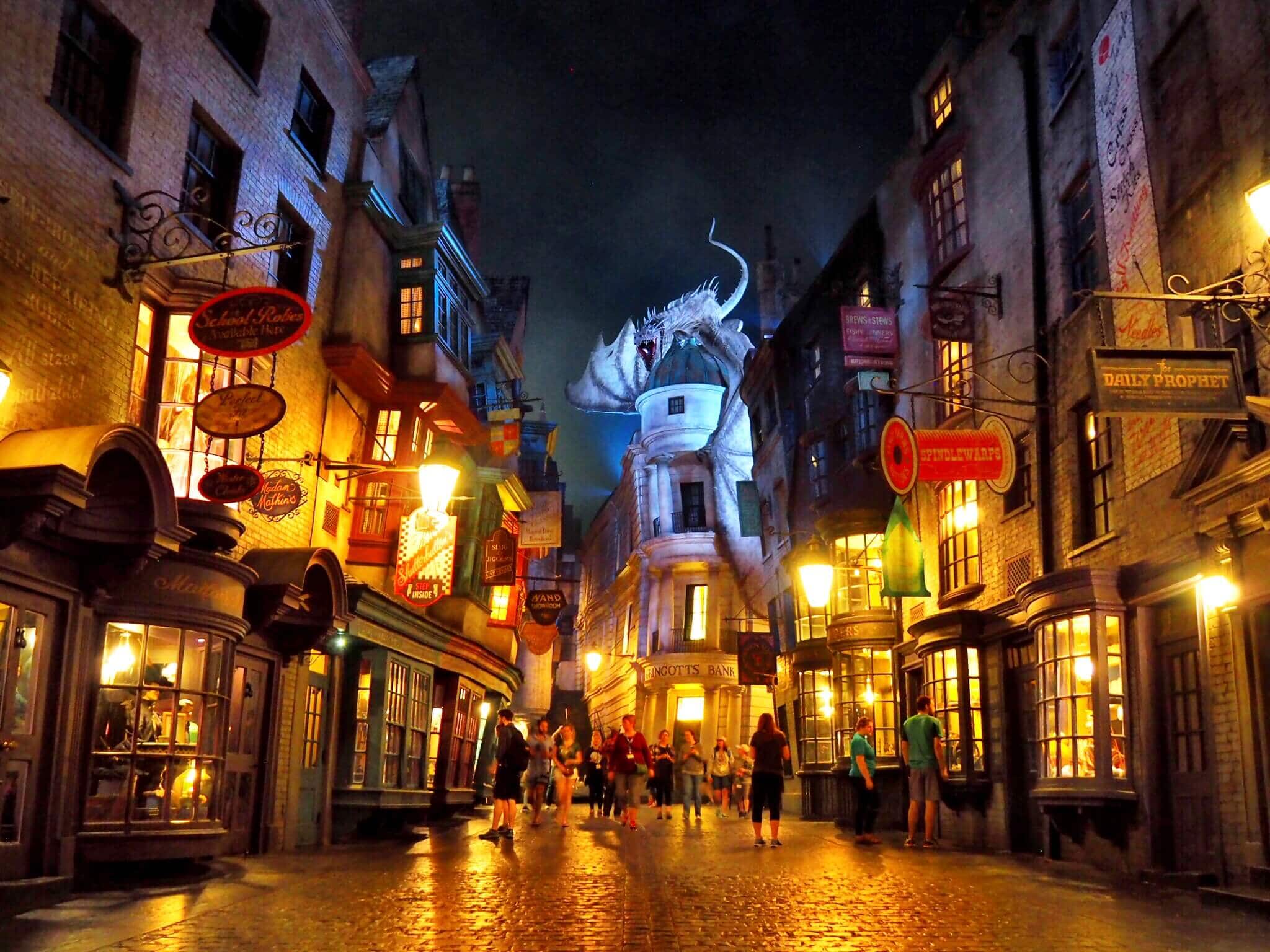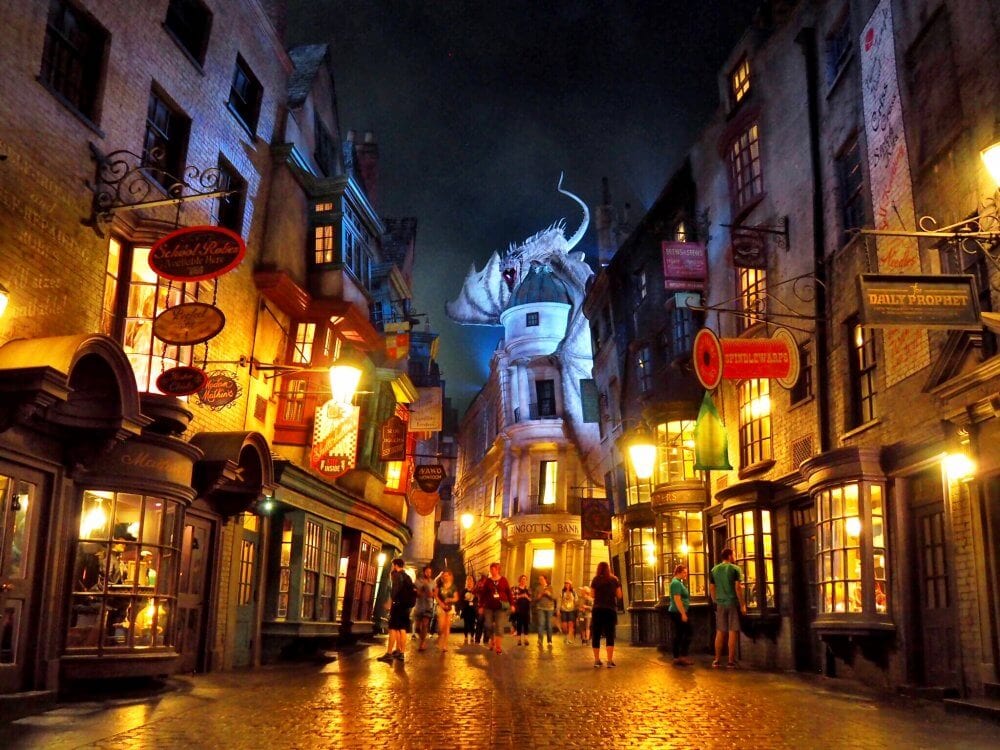 6 – Room Key Purchases
One extra time-saving perk of staying on-site at Universal Orlando Resort is being able to charge purchases to your room key. A lot of rides (especially the roller coasters) require you to put your bag in a locker for safety reasons. While the lockers are free to use for the time it takes to go on a ride, you'll often find yourself in a gift shop at the end of a ride without your wallet.  Since I always kept my room key and Express Pass in my back pocket, this feature was helpful for purchasing photos at the end of a ride when my wallet was still in the locker.
TIP: If you follow us on social media, you know how much we love to send postcards from everywhere we travel. It's my favorite souvenir   If you love postcards too, be sure to mail some from the Owl Post in Hogsmeade! They sell postcards, commemorative stamps, and will even postmark the cards as being mailed from Hogsmeade.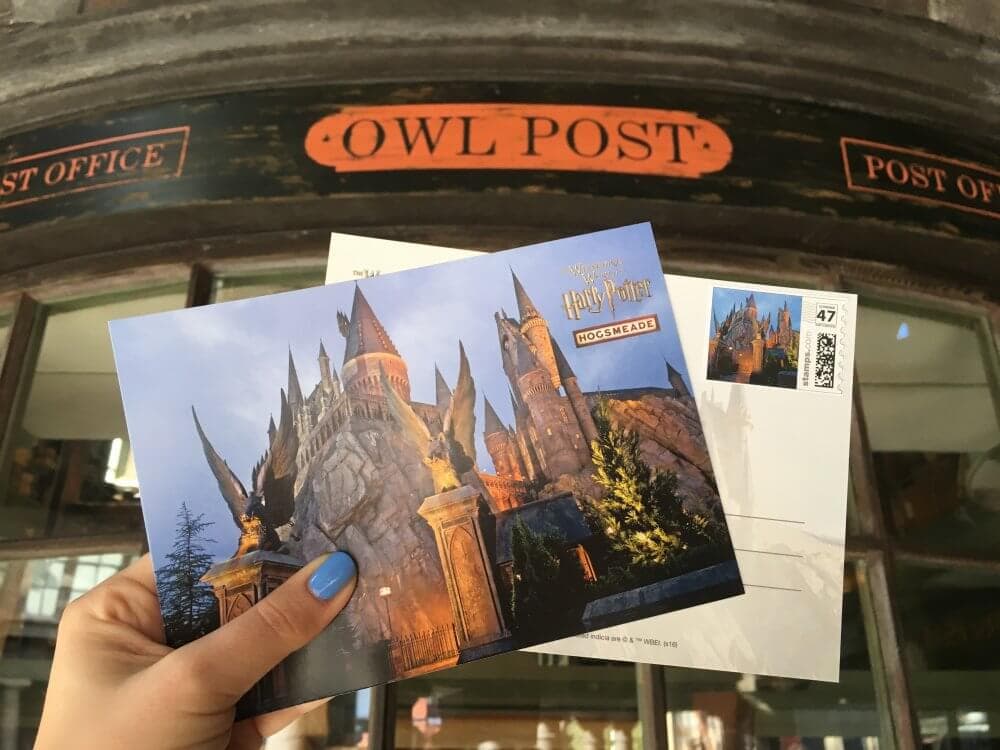 7 – Breakfast In Bed
The ultimate in vacation luxuriating — breakfast in bed.  On some vacations, there's nothing I love more than a leisurely breakfast where the morning seems to stretch until noon.  And on other trips, when there's a lot to explore, I can't wait to get out the door.  Because we were trying out so many new restaurants on this trip, breakfast in bed for me was just a cup of coffee (and chocolate, I confess).
What was convenient about staying on-site is that there was coffee available in our room and a refrigerator to store a few extra things (like treats from Toothsome).  While Universal Orlando Resort has great restaurants serving breakfast at the on-site hotels, personally, I loved making a coffee to-go, hopping on the water taxi, and getting our day started early.
Still doing more research? See what my friend Angie has to say about Staying On Site At Universal too.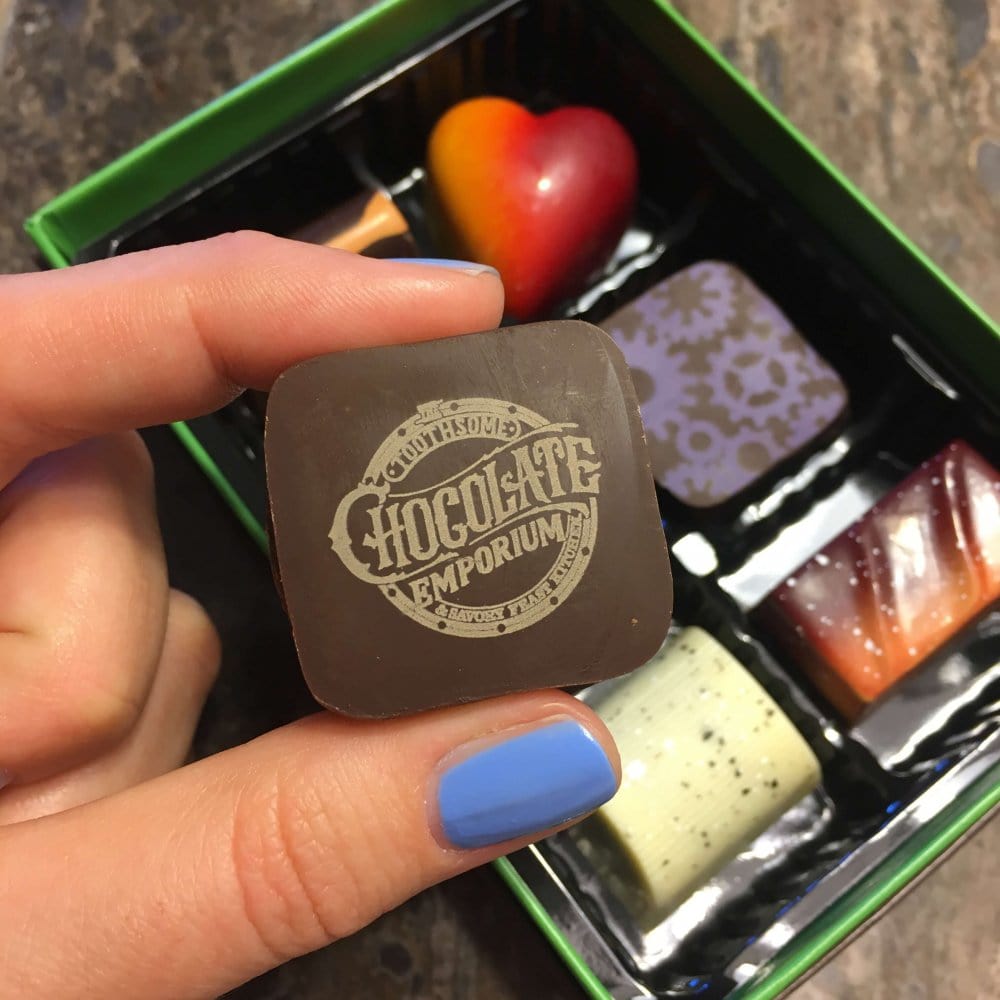 Disclosure:  Our trip to Universal Orlando Resort was sponsored as a part of our participation with the Universal Blog Squad.  However, all thoughts, opinions, and photos are entirely our own!
Want to save these ideas for later?  Pin it! 🙂