The island of Manhattan is 33.7  square miles of countless choices for cuisine and some of the best restaurants in the world.  So the question is … where do you start?
If it's your first time in New York City, you must try their only-in-NYC pizza and bagels.  But beyond fast food, there is a world of international cuisine to try,  so I'd recommend going on a NYC Food Tour. And when it comes to NYC food tours, I recommend Ahoy New York.
I'm a big fan of food tours when I travel.  It's the best way to get the scoop from a local and get a little taste of everything the city has to offer.  I've been to NYC about half a dozen times, but since this was Pete's first trip to the Big Apple, we went everywhere on foot so he could see all the major landmarks and sites.  Thankfully, that added up to some miles because we ate our hearts out during this multi-stop, multi-course tour.
NYC Food Tours – Tasting Our Way Through The City
Ahoy New York Food Tours meet in the middle of little Italy and guide you through about seven eateries.  On the day we went, we were fortunate enough to have Alana as our guide.  She's a fantastic story teller and peppers in tales about the first immigrants to the area, legends about the mafia,  and fun food facts too.  By the time she's done describing something, you can't wait to taste it.  Want a sampling?  The tour includes a stop at America's first espresso bar (important for a coffee lover like me!) …
NYC Food Tours – Visit one of the oldest cheese shops in the U.S.
Getting a taste of cheese at one of the oldest cheese shops in the states …
Walking by some of China Town's famous markets.
Pizzeria making pies from an Italian grandmother's recipe …
Trying some of NYC's best Thai food.
The best Thai spot my husband has ever tried outside of Bangkok (and of course, his Mom's home cooking) …
There's a secret spot only locals know for Chinese dumplings and another secret hidden spot for real authentic egg rolls.  It's divine.  Your eyes will roll back into your head with each bite and you'll want to come back to each location for more.   Thankfully, Alana gives you a guide to all the locations visited plus even more restaurant recommendations to try, making it great for visitors as well as locals.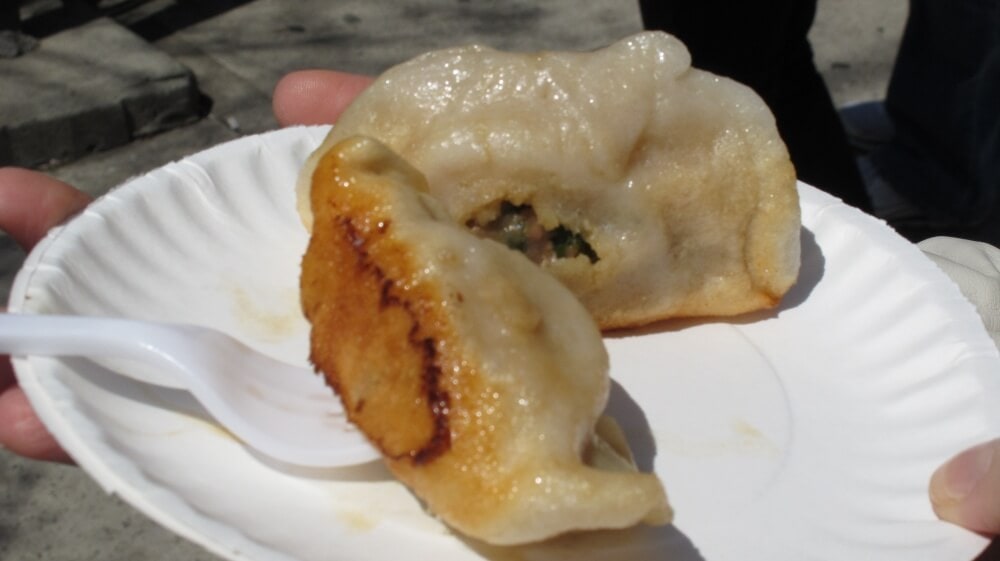 Another perk?  Fast service!  I couldn't find the egg roll place again if I tried.  But apparently the locals know all about it as there was a large group of people gathered outside waiting for their number to be called.  We didn't have to wait though, as Alana walked right in and immediately gathered a basket of fresh hot egg rolls for us.   We were able to dig into these delicious beauties almost immediately, bypassing the line of people outside waiting for their order.  That's just awesome.
In addition to the tour, Ahoy New York has a great blog and social following that provides all kinds of NYC food tips such as the top cheese shops, recommendations for great restaurants in Hell's Kitchen, and more.
It's a must-do for any food lover in the Big Apple.  Here's a link to their website for the full scoop, tickets, tour times, and more:
Thank you Alana for hosting us and showing us all your favorite places to eat!
Rachelle & Pete
TIP:  For the full historic coming-to-America experience, visit the Statue of Liberty first thing in the morning, enjoy Ahoy New York's Food Tour for lunch, and then finish with a visit to the nearby Tenement Museum to learn about the buildings you're walking by and early life in New York City.