It's rare that I'm able to loose myself in the moment, let alone feel relaxed for an entire day. So, I enthusiastically said yes when a friend invited me to go to Discovery Cove. I thought, "let's give this relaxation thing a go!" It's funny, I know Discovery Cove has been open here in Orlando for awhile, but this was my very first visit. Guess I need to explore my hometown more often.
I didn't quite know what to expect and thought it might be just a dolphin swim followed by lounging poolside out in the sun. Turns out I was in for so much more.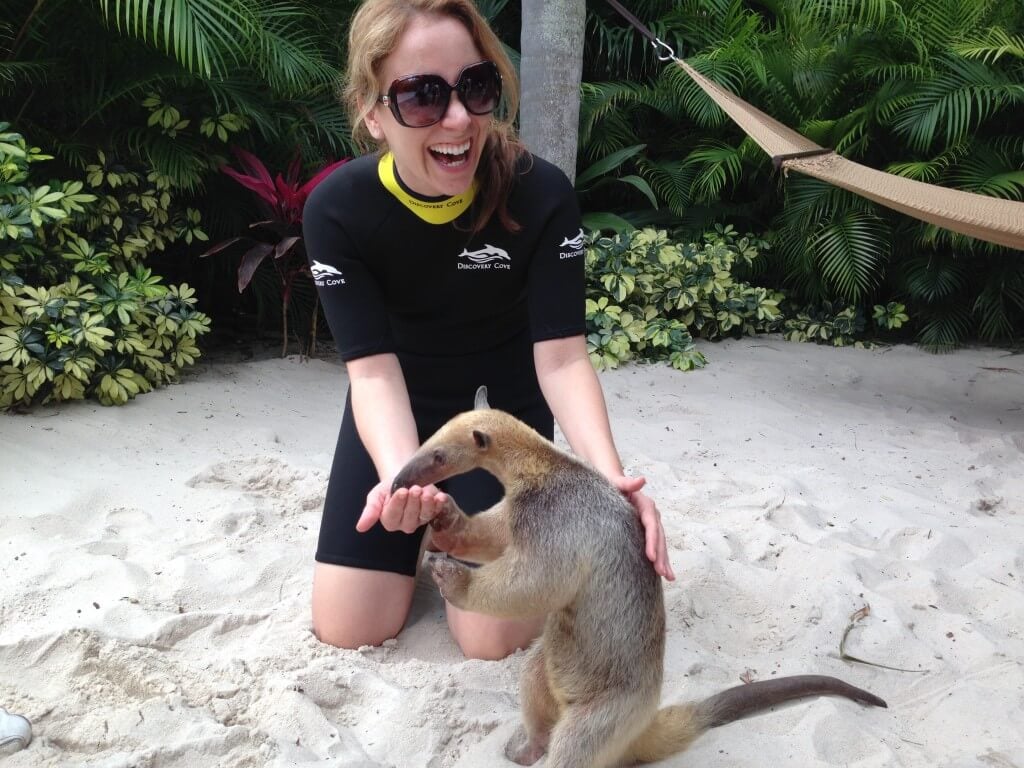 Girlfriends Getaway To Discovery Cove
I arrived just after sunrise, beach bag loaded with sundries swinging from my shoulder, glamorous wide-brimmed hat shading my face, and flip flops snapping at my heels as I walked to the entrance to meet up with my friend, Ryan. The first thing that struck me was how uncrowded it was, feeling more like a resort than a theme park. We were immediately greeted by our concierge for the day and guided down a shaded pathway through giant bamboo reeds to a restaurant for coffee and breakfast. The only sound in the air was that of birds and a breeze. There was no rush, no big lines to que into, and we were encouraged to go at our own pace and have a leisurely breakfast. When we were ready, our concierge would show us to our private cabana.
My A-type personality dealt with this the only way it could, by filling up a coffee mug and thumbing through my phone, checking email messages and Facebook. I didn't know how to relax and just, "be." But that all changed once we got to the cabana. Tucked away behind lush landscaping was our very own tropical oasis. Awaiting our arrival was a fresh fruit basket, plush towels, and a refrigerator full of beverages. I spied a lounge chair in the shade where I could cozy up to my phone and go for a spin on social media, but our intuitive concierge must deal with A-types like me pretty often as she immediately put us to work at transforming ourselves into "fun" mode. We were outfitted with wetsuits, encouraged to tie back our hair, slather on some sunscreen, and stash our electronics (i.e. phones) in a locker. The only thing I kept in hand was my waterproof GoPro. But other than that, I was disconnected from the world.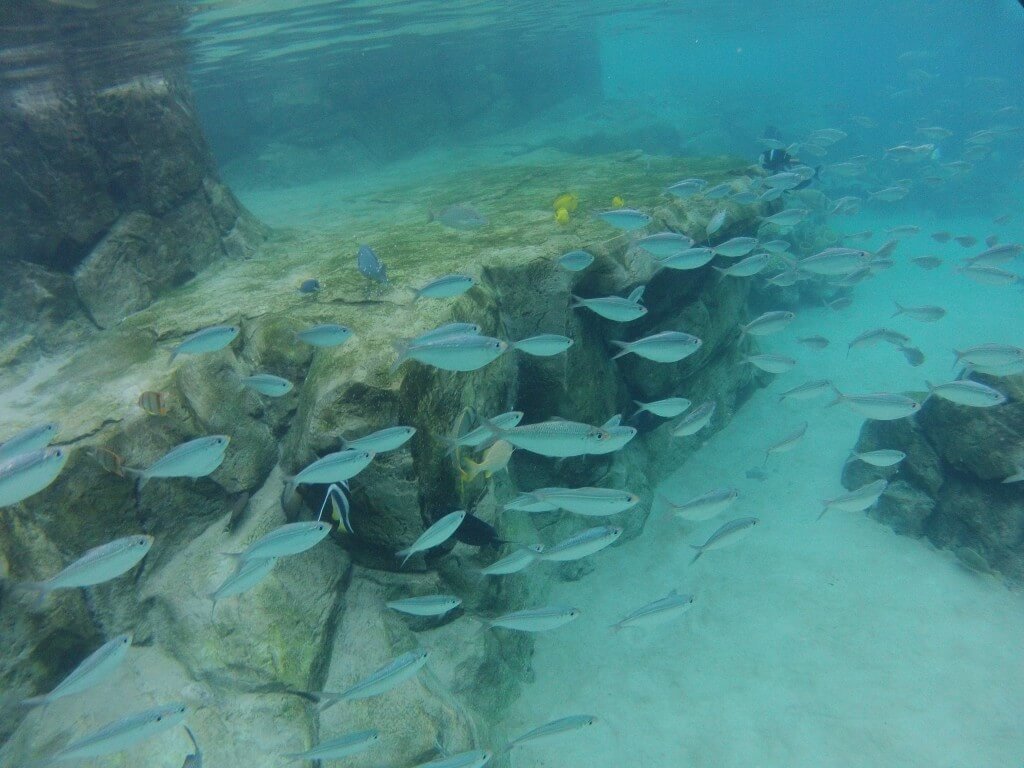 We floated around a lazy river, sipped on margaritas while lounging in a pool, watched the wind rustle through the trees while swinging in a hammock, snacked on salty pretzels, took a long lazy lunch, and swam with more fish than I've ever seen in the sea.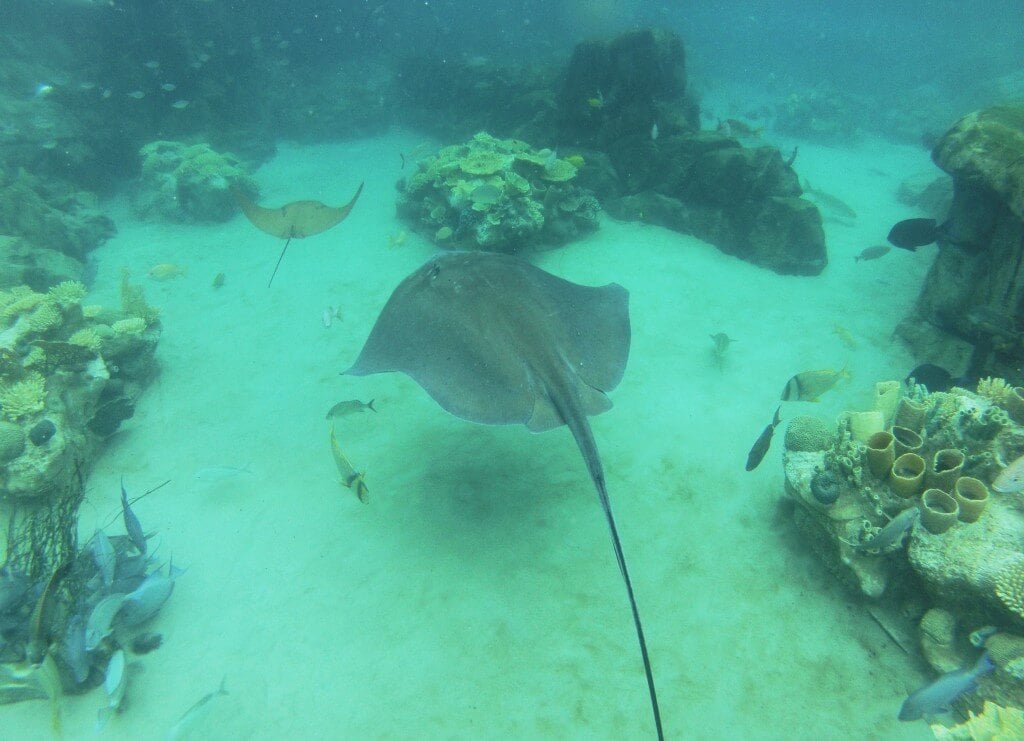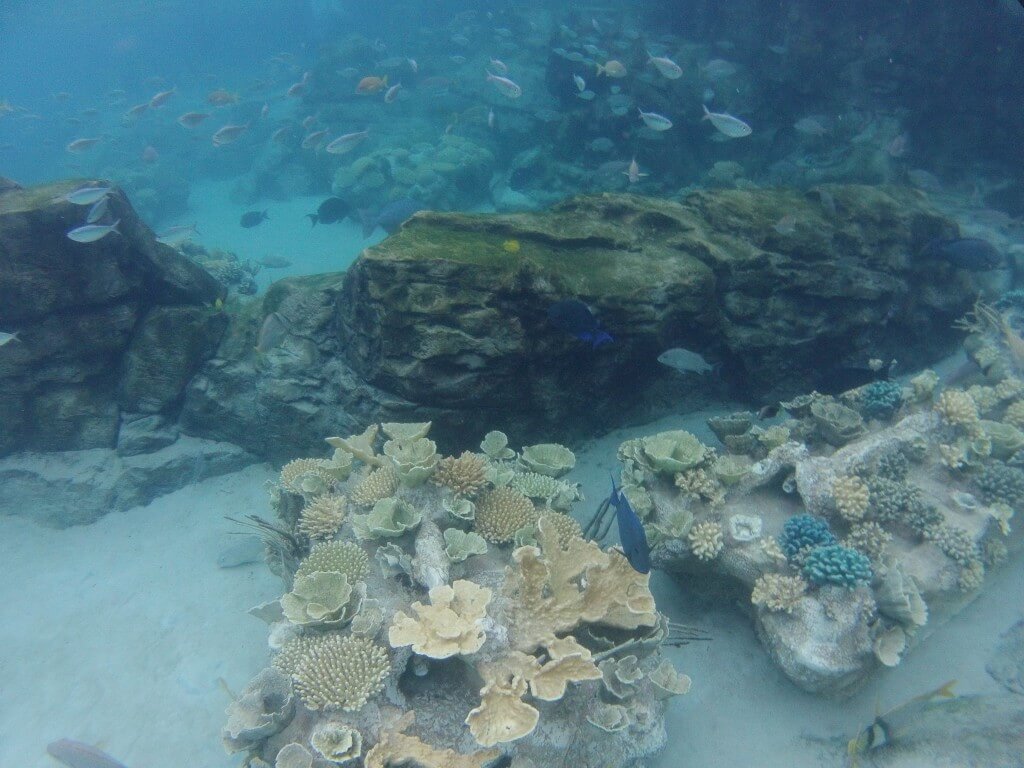 When we where hungry, we ate. When we wanted to chill out, we got some slushy margaritas. When we were tired, we hung out in the cabana. And when we wanted to cool off, we went for a swim. The whole experience allowed my mind to relax and hush the constant hum of to-do's way more effectively than a spa ever has. It was a true digital detox and an experience I'll never forget. What an example of what it feels like? Take a peek at my video, A Day At Discovery Cove.
Discovery Cove is unique in that it's not a theme park, but more of an all inclusive resort that invites you to relax and play at your own pace. Voted as the #1 park in the entire world by TripAdvisor Travelers' Choice Awards, hospitality here really has no bounds. All meals, snacks, drinks (alcoholic ones too!), towels, and pretty much anything else you need is included and readily available. It's true what they say, it's a vacation from your vacation.
Want to getaway to Discovery Cove with one of your friends? Here's how …
THIS GIVEAWAY IS NOW CLOSED AND THE WINNER NOTIFIED
The Giveaway:

– 2 Dolphin Swim Packages (which would also include visits to SeaWorld and Aquatica Orlando)
– 2 SeaVenture Underwater Dive Helmet Tour
– A Private Cabana At Discovery Cove
– 2 Night Accommodations (partner hotel location TBD)
Here's how to enter:
1 – In the comments below, tell us who you'd take with you on a getaway to Discovery Cove!
2 – For more entries to win, click on the raffle options below and follow The Travel Bite on Pinterest and Facebook.
3 – SHARE! Share this post with your travel pal and have them answer too! Hopefully they'll take you if THEY win. 😉