Did you know you can stay in a treehouse in Orlando? While central Florida is known for its theme parks and resorts, there are some truly unique treehouse stays nearby where you can enjoy a fun getaway.
We had so much fun staying in some of these treehouses. And as I researched where to stay in a treehouse, I found even more for us to try!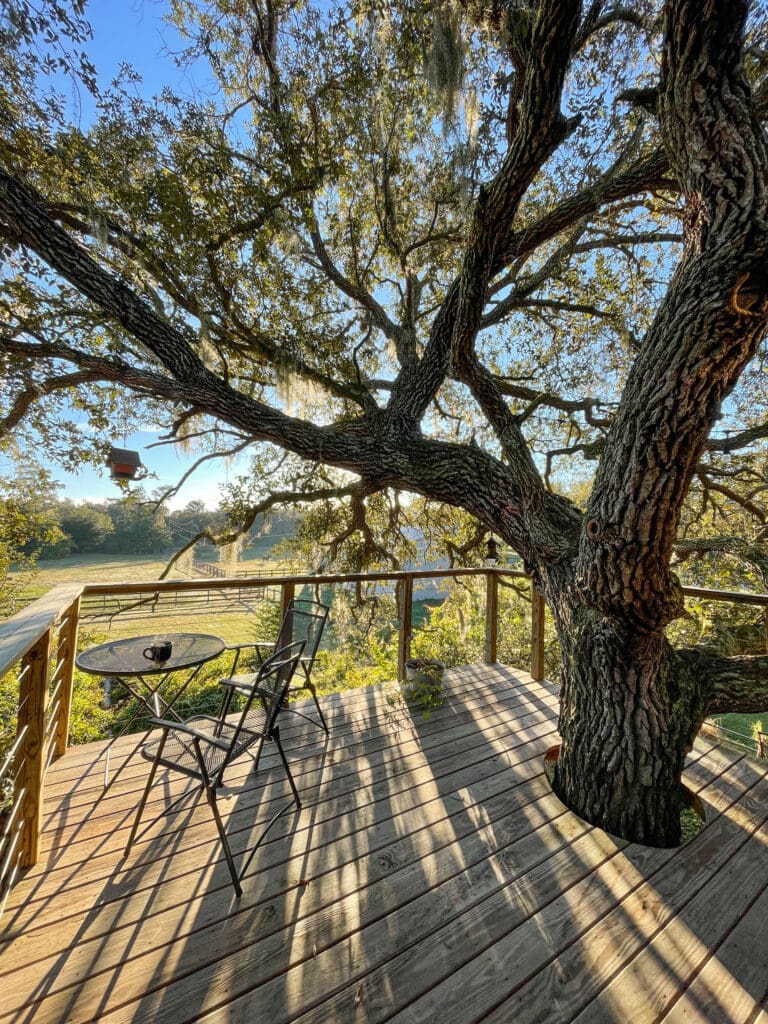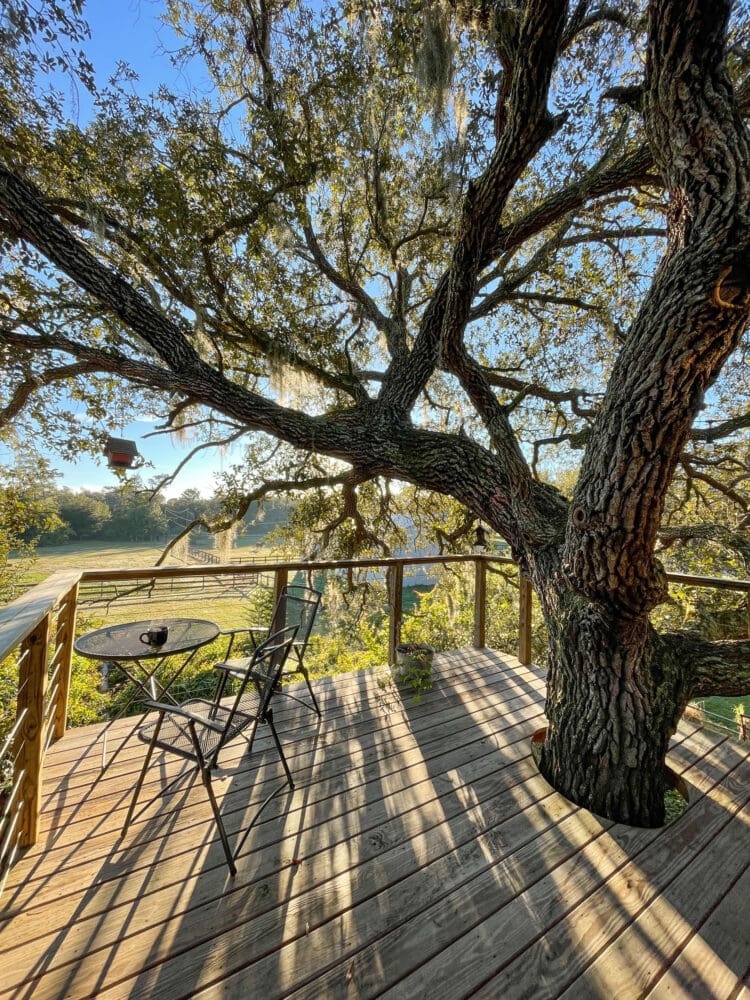 Imagine waking up to the gentle rustling of leaves, surrounded by the sights and sounds of nature. It's so peaceful sipping coffee on your wooden balcony, suspended high in the treetops. This is the magic of staying in a treehouse, a unique and enchanting experience that allows you to reconnect with nature and your sense of adventure.
You get to disconnect from the hustle of everyday life and immerse yourself in the peaceful sounds of nature. It's a bit like camping, but a bit more posh and unique. You might fall asleep to the soothing rustling of leaves or the sounds of an owl hooting in a nearby tree.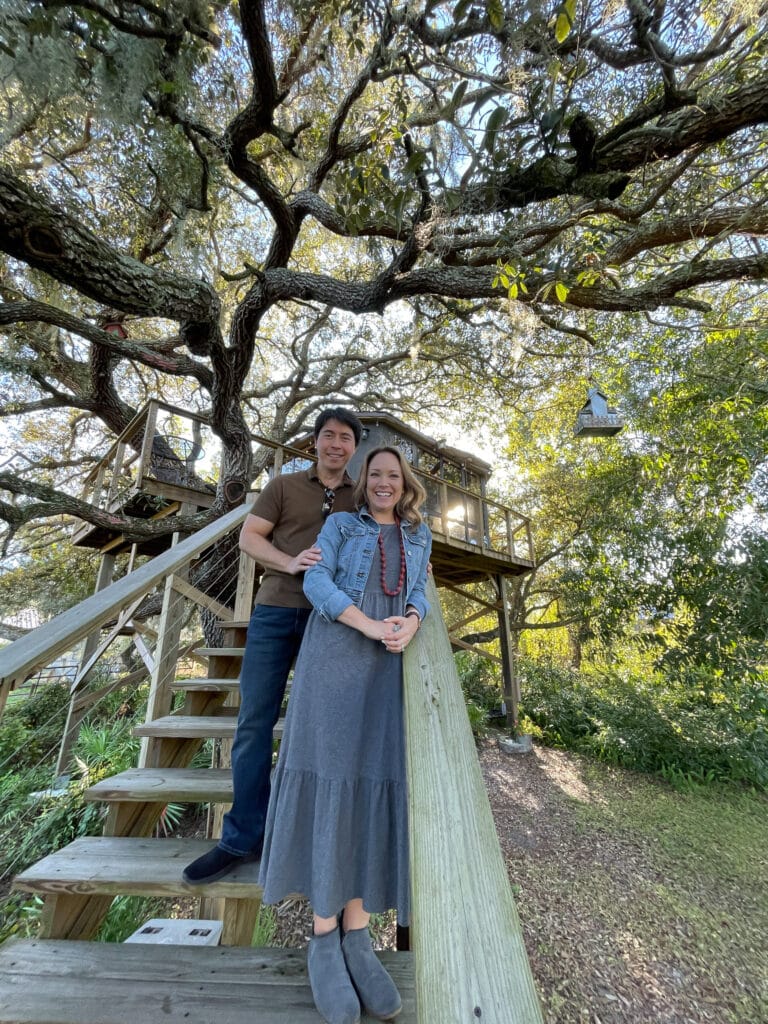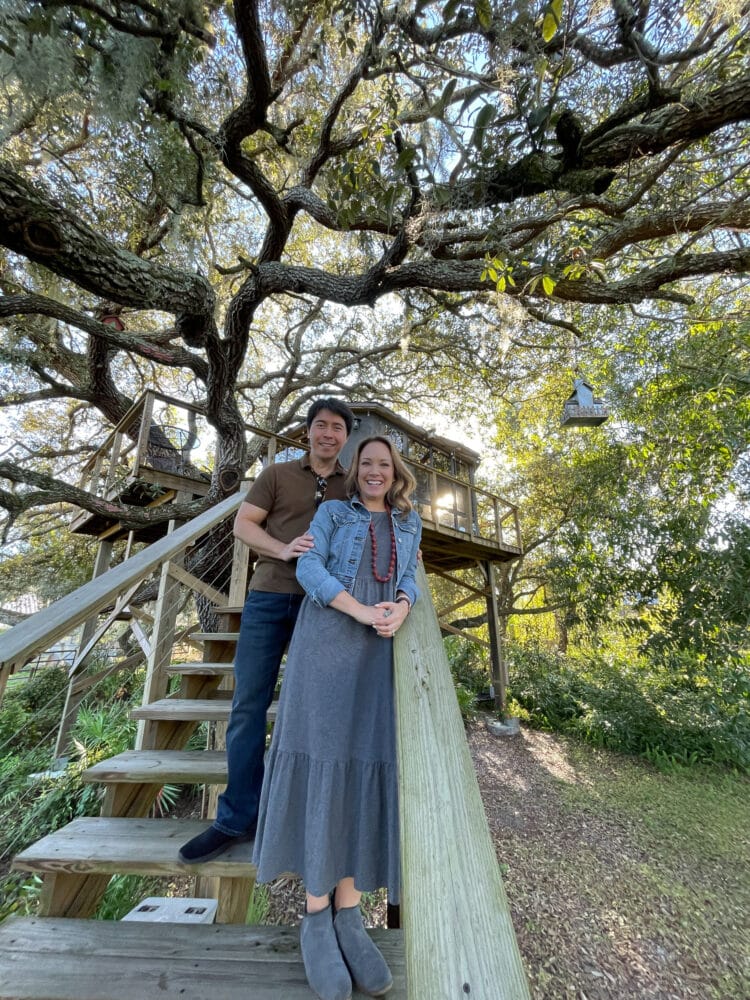 The best part is waking up to the sight of the sunrise filtering through the leaves. It's like having your own private nature show right outside your window. Plus, the sense of adventure and the feeling of being close to nature are hard to beat.
WHY STAY IN A TREE HOUSE
In recent years, treehouse accommodations have gained popularity as travelers seek more immersive and unconventional experiences. It's certainly what we were looking for when we planned as staycation to try some of these fun places. But what makes staying in a treehouse so special?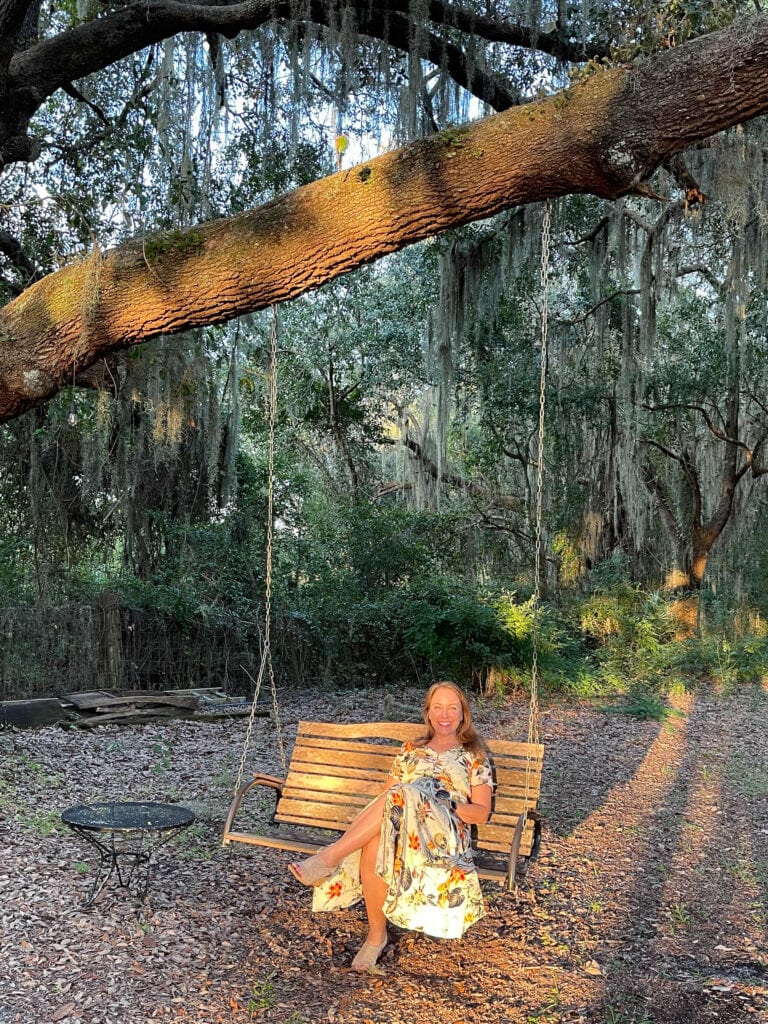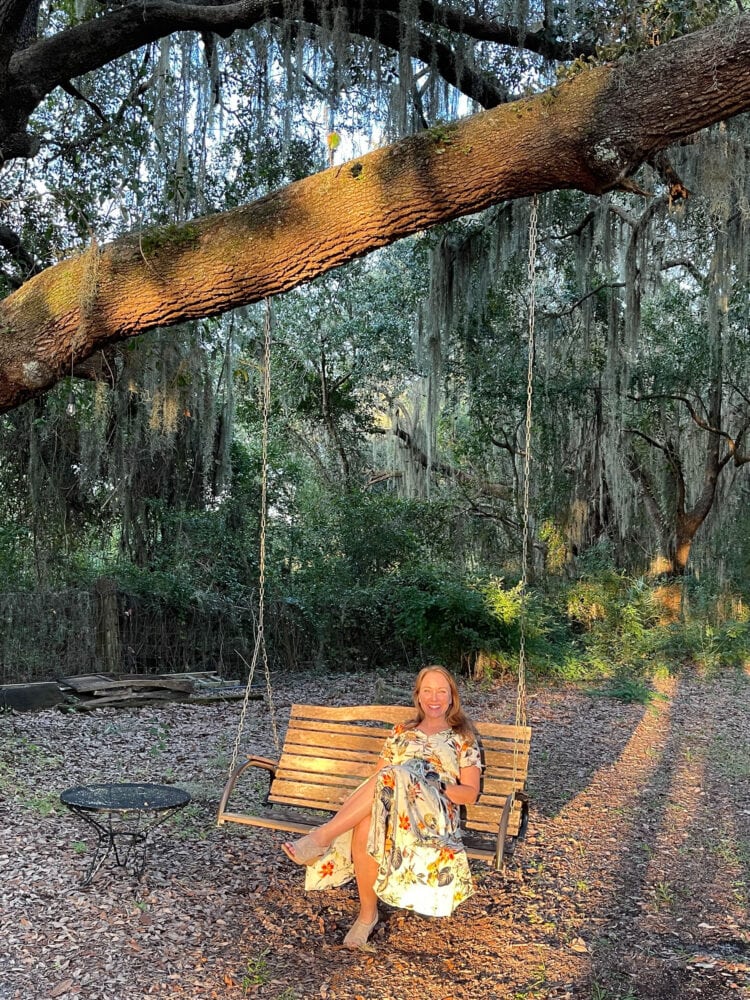 1. Close to Nature: The most obvious reason is that treehouses bring you closer to nature. Nestled among the branches, you'll have the opportunity to observe wildlife, listen to the symphony of birdsong, and truly appreciate the beauty of the great outdoors. It's an escape from the concrete jungle to a real one.
2. Unparalleled Serenity: Imagine the tranquility of the forest at night – the hushed whispers of leaves, the gentle hoot of a nearby owl. This serene environment provides a perfect setting for relaxation and rejuvenation.
3. Unique and Memorable: Staying in a treehouse is a memorable experience that sets your trip apart from the ordinary. It's an adventure that appeals to all ages, from children to adults, making it an ideal choice for families, couples, and solo travelers alike.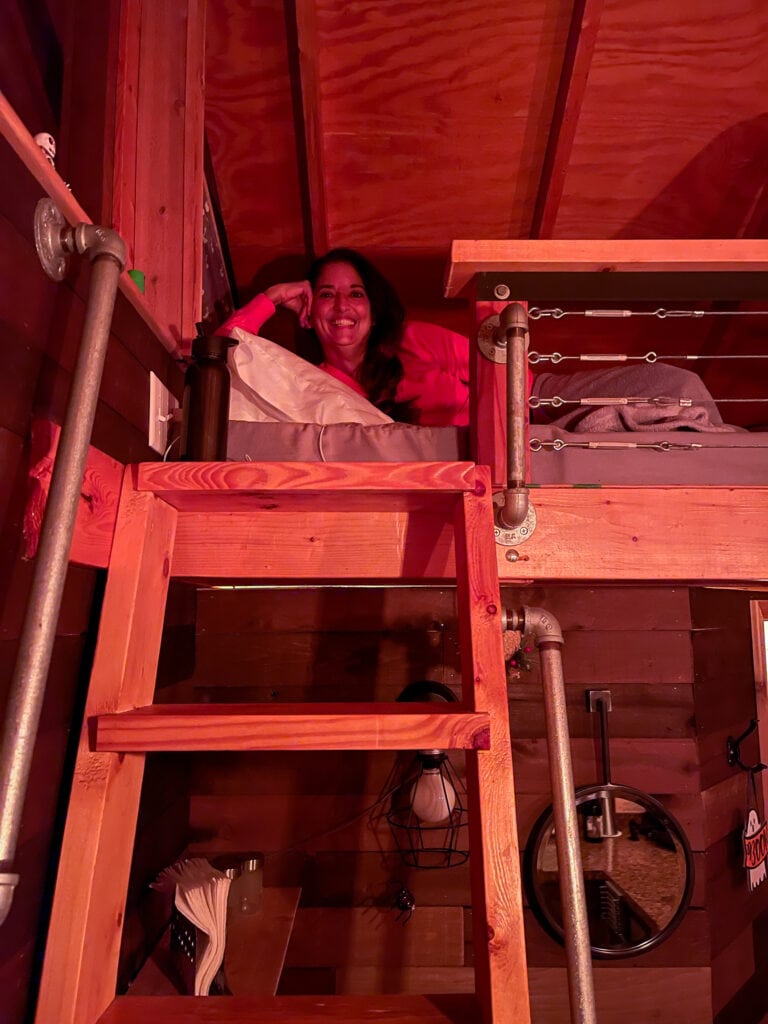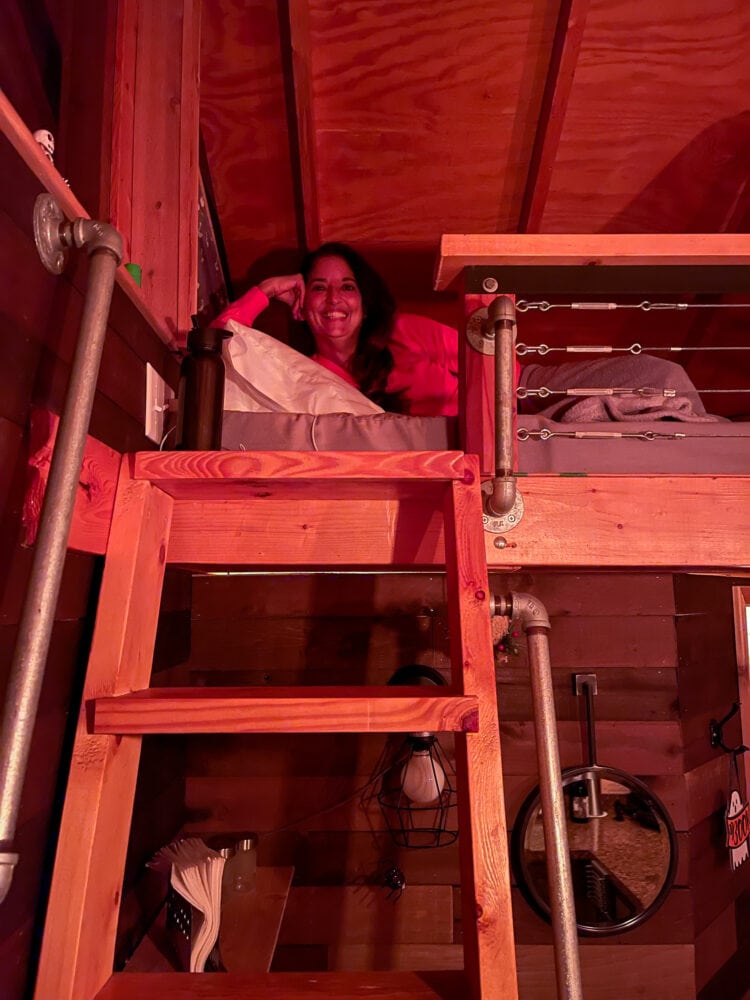 WHERE TO STAY IN A TREEHOUSE
If you're intrigued by the idea of staying in a treehouse, you might be wondering where you can find these magical accommodations. From AirBnB, to eco-friendly retreats, and treehouse resorts, here are a few options to consider: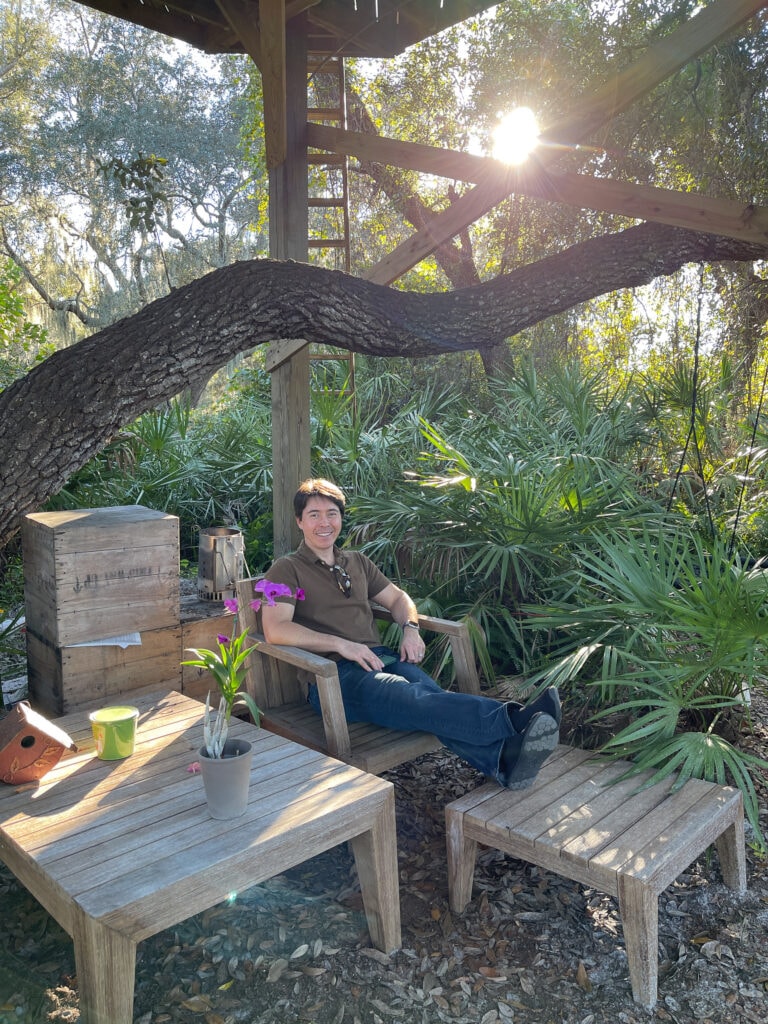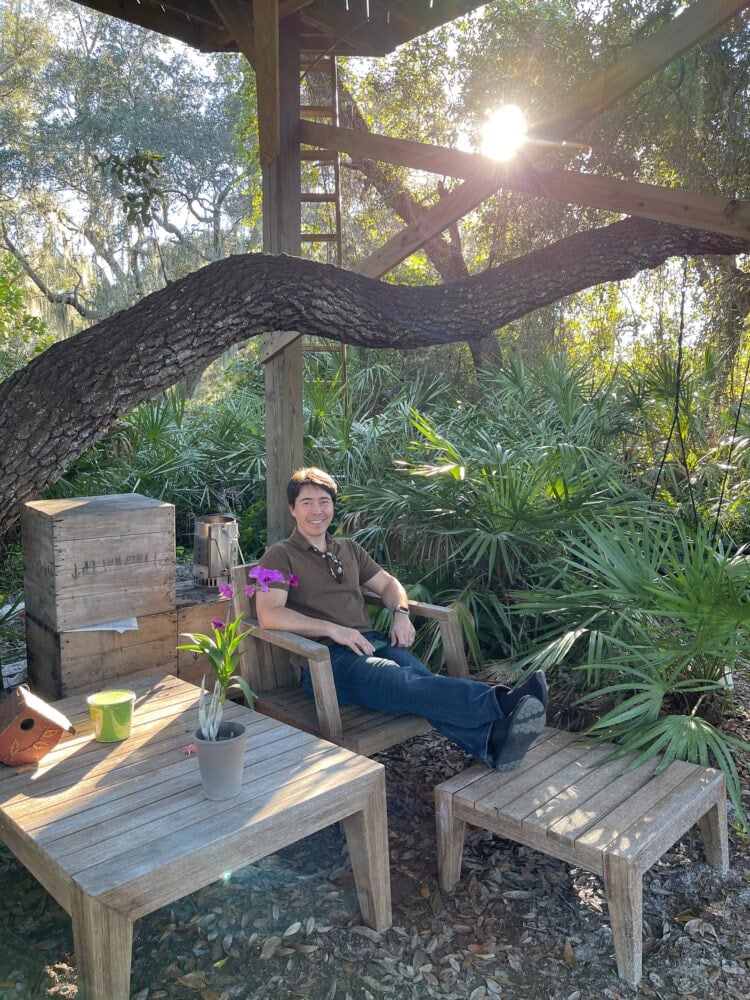 TREEHOUSE IN THE CLOUD
This was the first treehouse I ever stayed in, and it felt magical! Located in St. Cloud, Florida, Treehouse In The Cloud is just a short drive to the theme parks. It was the perfect place for my husband, Pete, and I to enjoy a staycation in Orlando and meet some friends at Disney too. And while Disney was fun, it was so nice to have a peaceful retreat away from the crowds.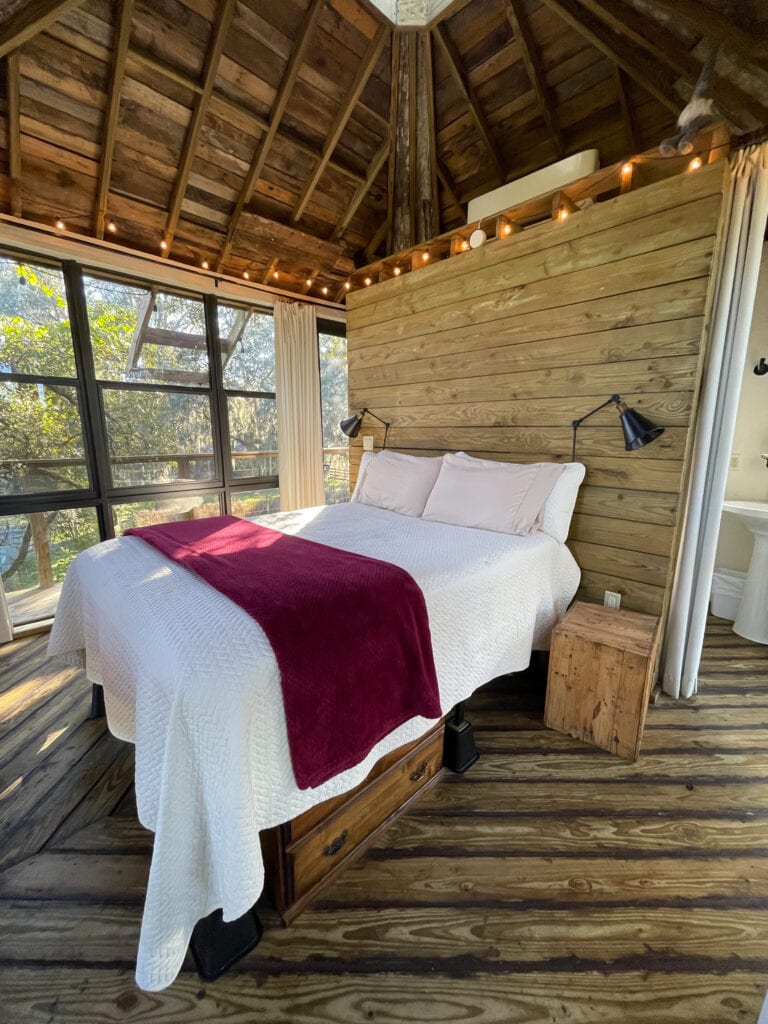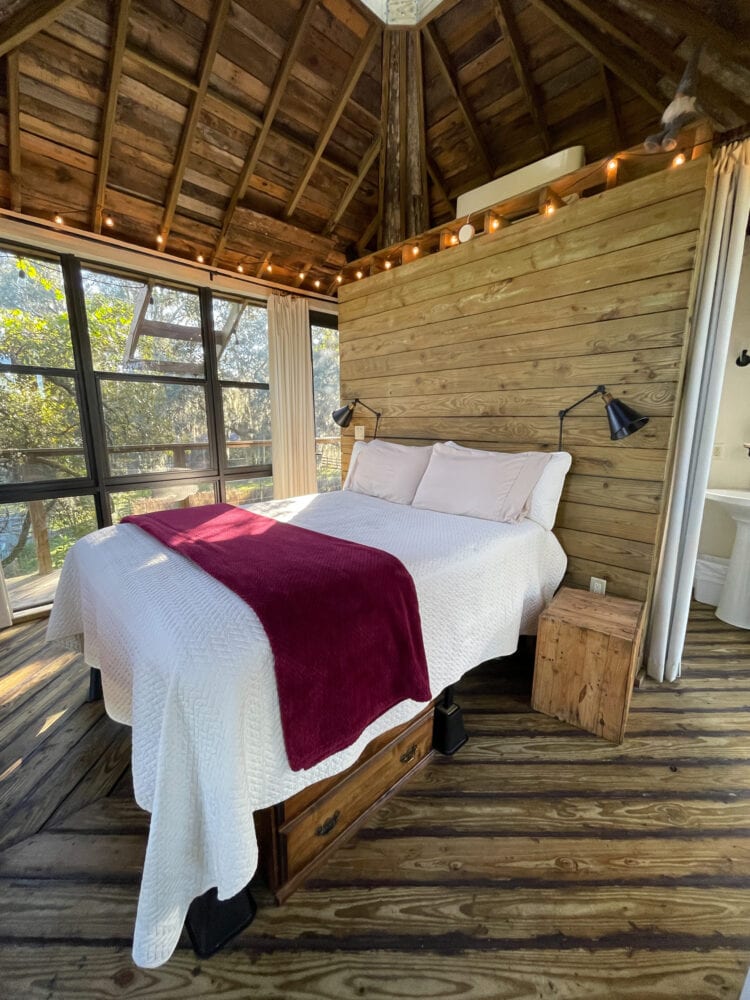 This treehouse is a private getaway perfect for couples that want to experience the magic. For a video tour, check out our Instagram of this stay: Treehouse In The Cloud Video
The Treehouse has a full wrap around walk, and a deck. Inside is a bedroom, table and chairs, a full bathroom, and a kitchenette. There's a large staircase to take you to the top, and a fixed ladder too.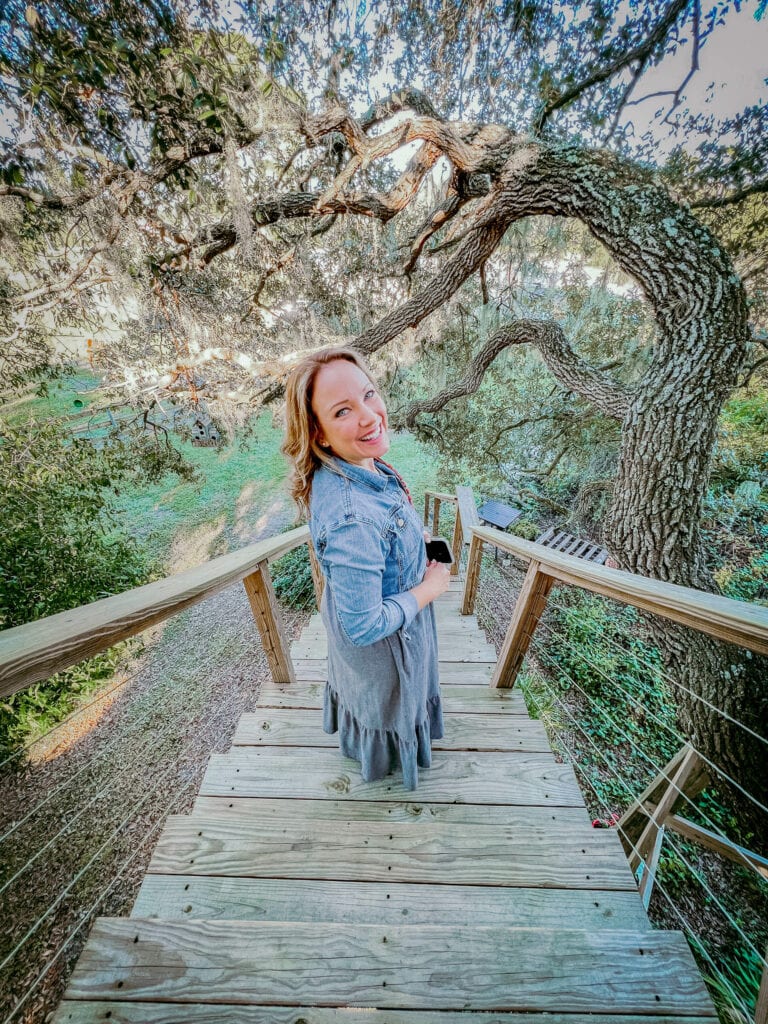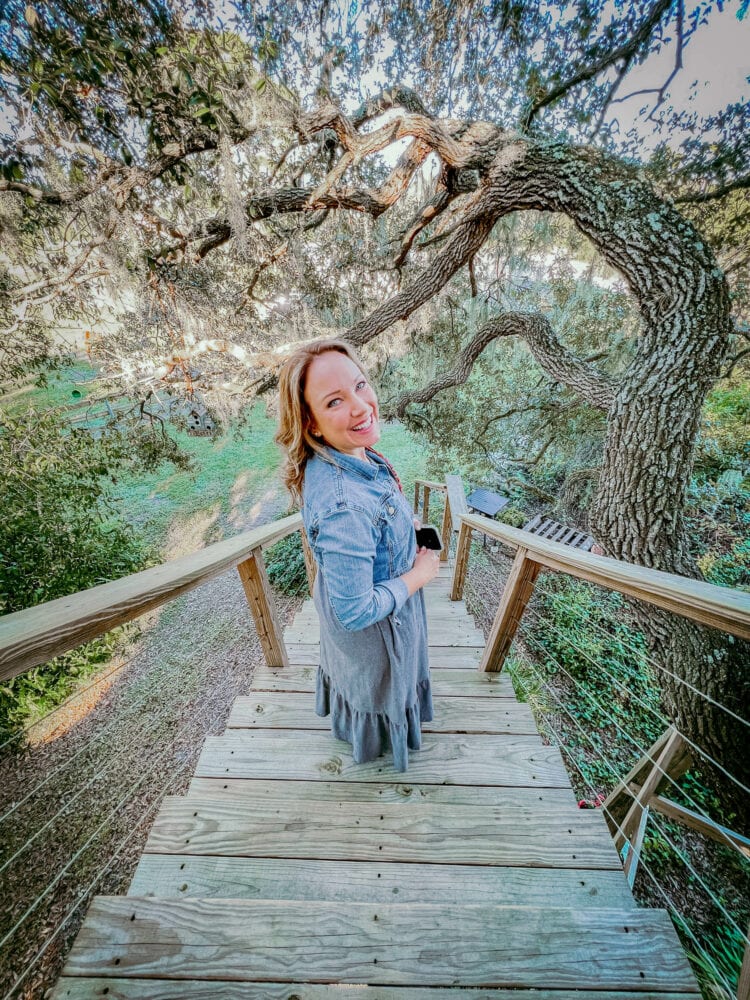 There are also horses on the property that you can enjoy. In the refrigerator you will find carrots for you to feed the horses. (They will be your forever friend)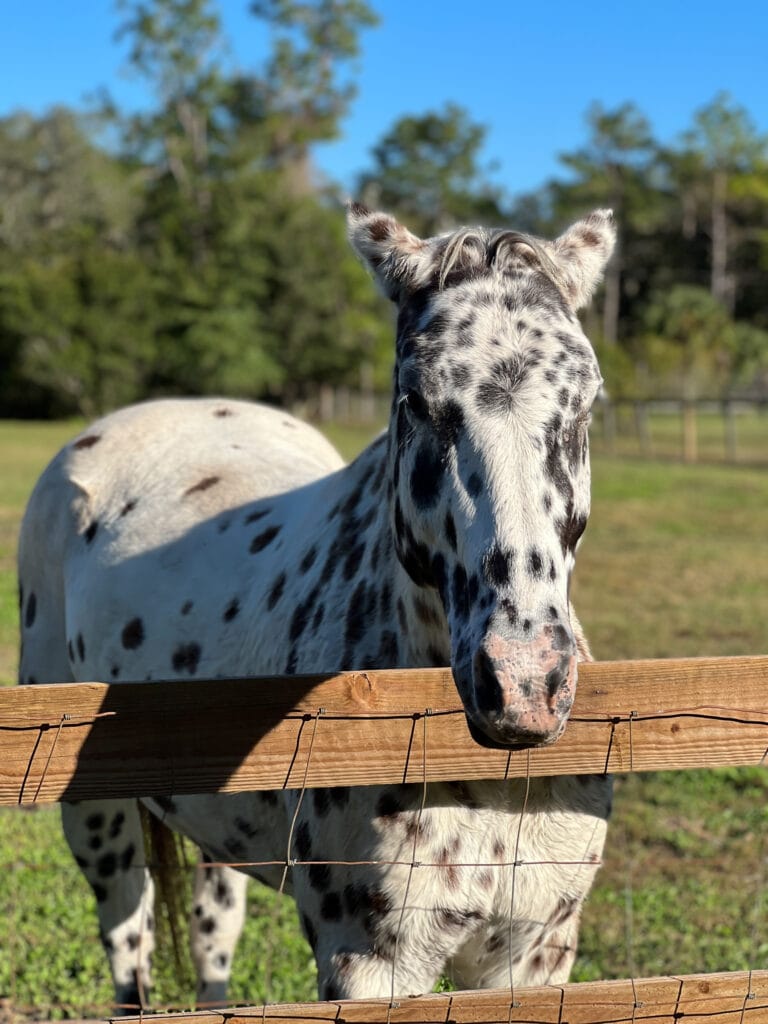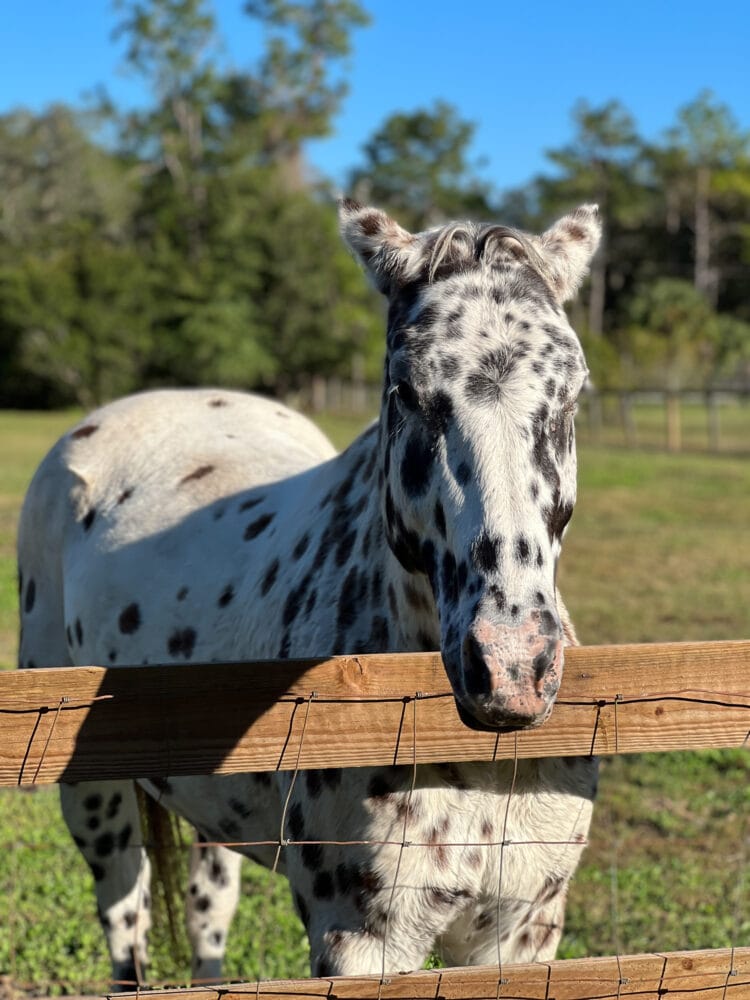 Although there was no stove or oven (safety first when staying in a treehouse), they did have a coffeemaker and a large toaster oven and microwave which was perfect for a little breakfast in the morning.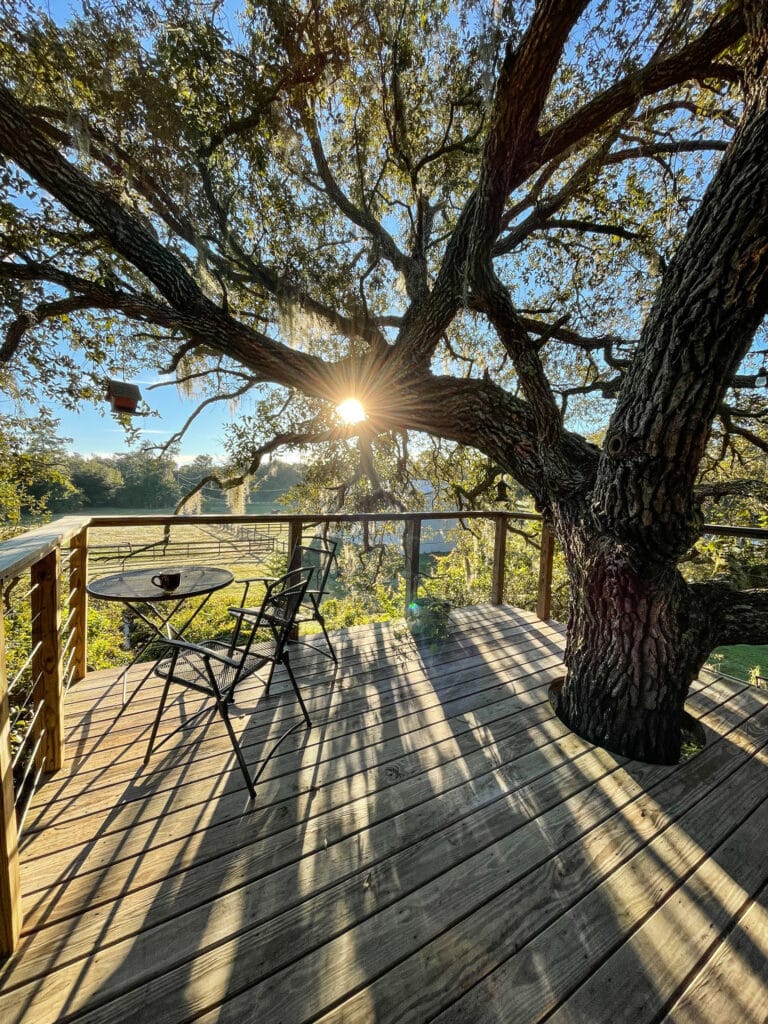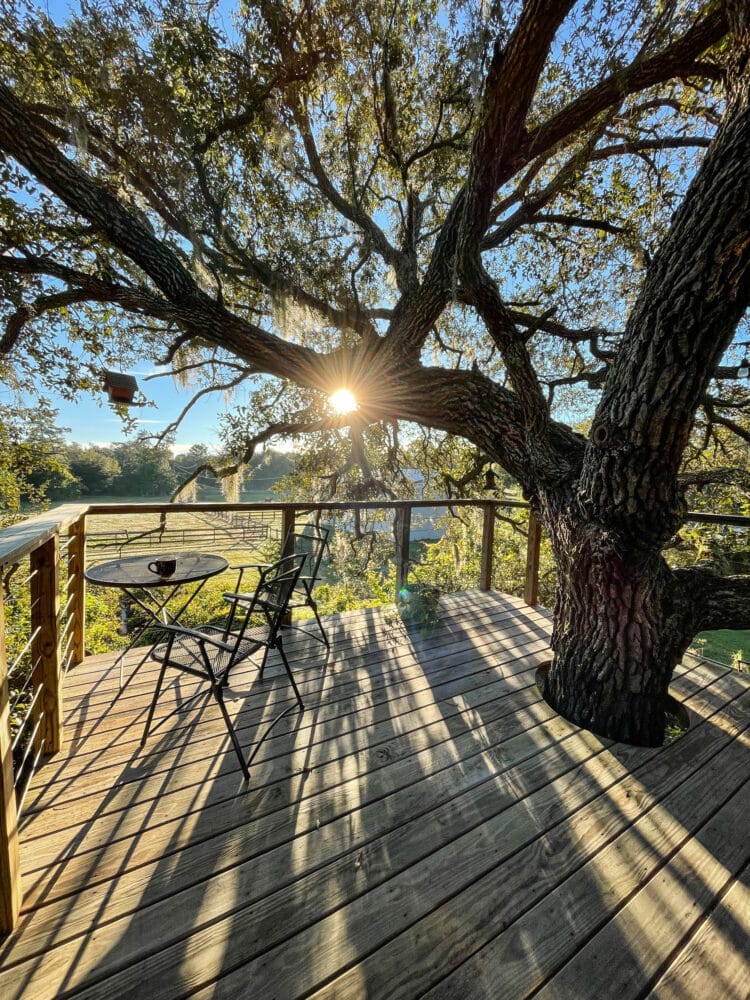 TREEHOUSE IN THE WOODS
This treehouse is located in Kissimmee, Florida, which is also close to the theme parks. It's also nearby the charming downtown area St. Cloud that offers lots of cute shops and restaurants. We happened to visit during one of St. Cloud's monthly night markets which was a fun experience too!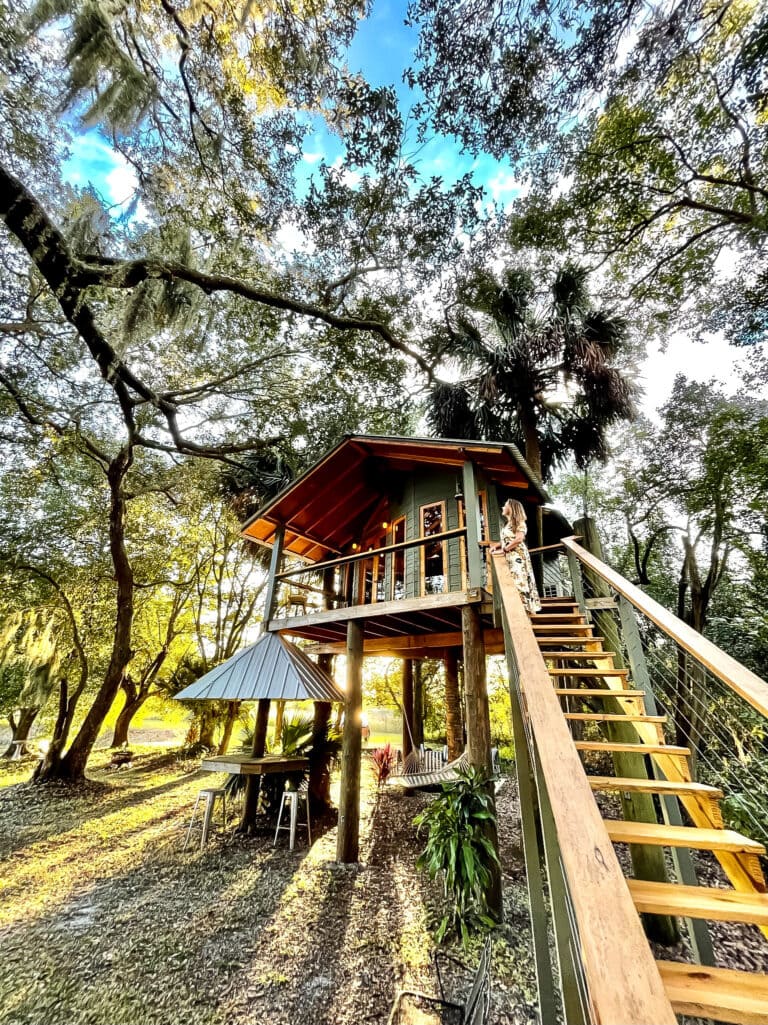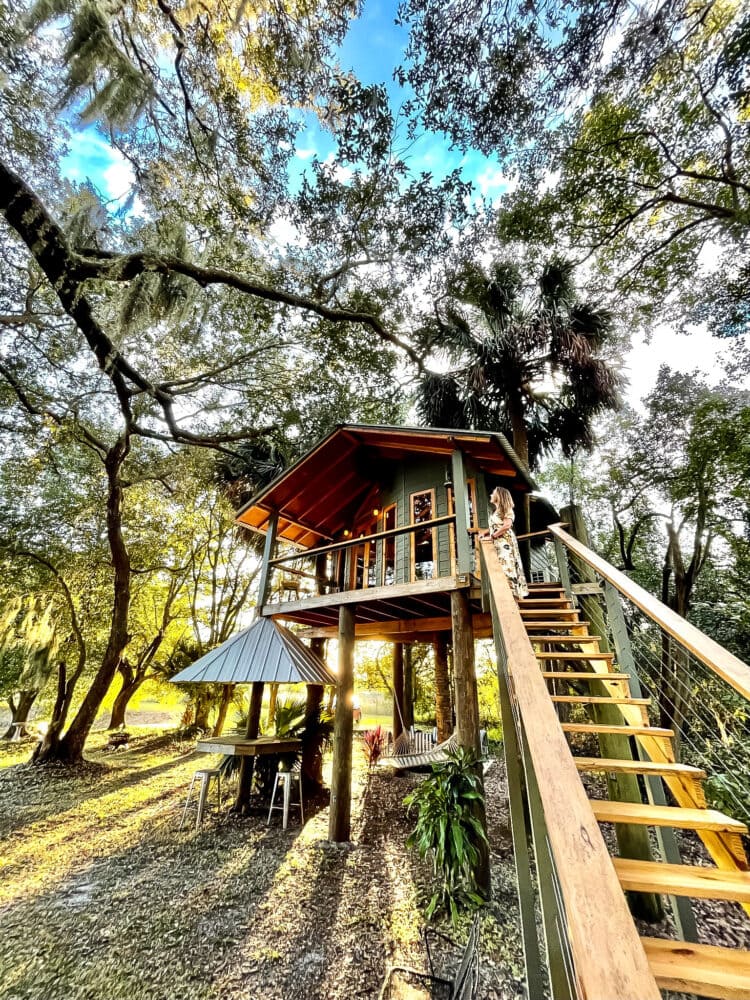 Treehouse In The Woods is a unique bungalow in the trees and is built like a cabin on stilts with a staircase to the entrance. All the amenities included were like first class hotel, including a little kitchenette! (Gotta have my coffee in the morning). And while our day was filled with the hustle of visiting nearby attractions, our nights were so relaxing in our own private paradise in the woods.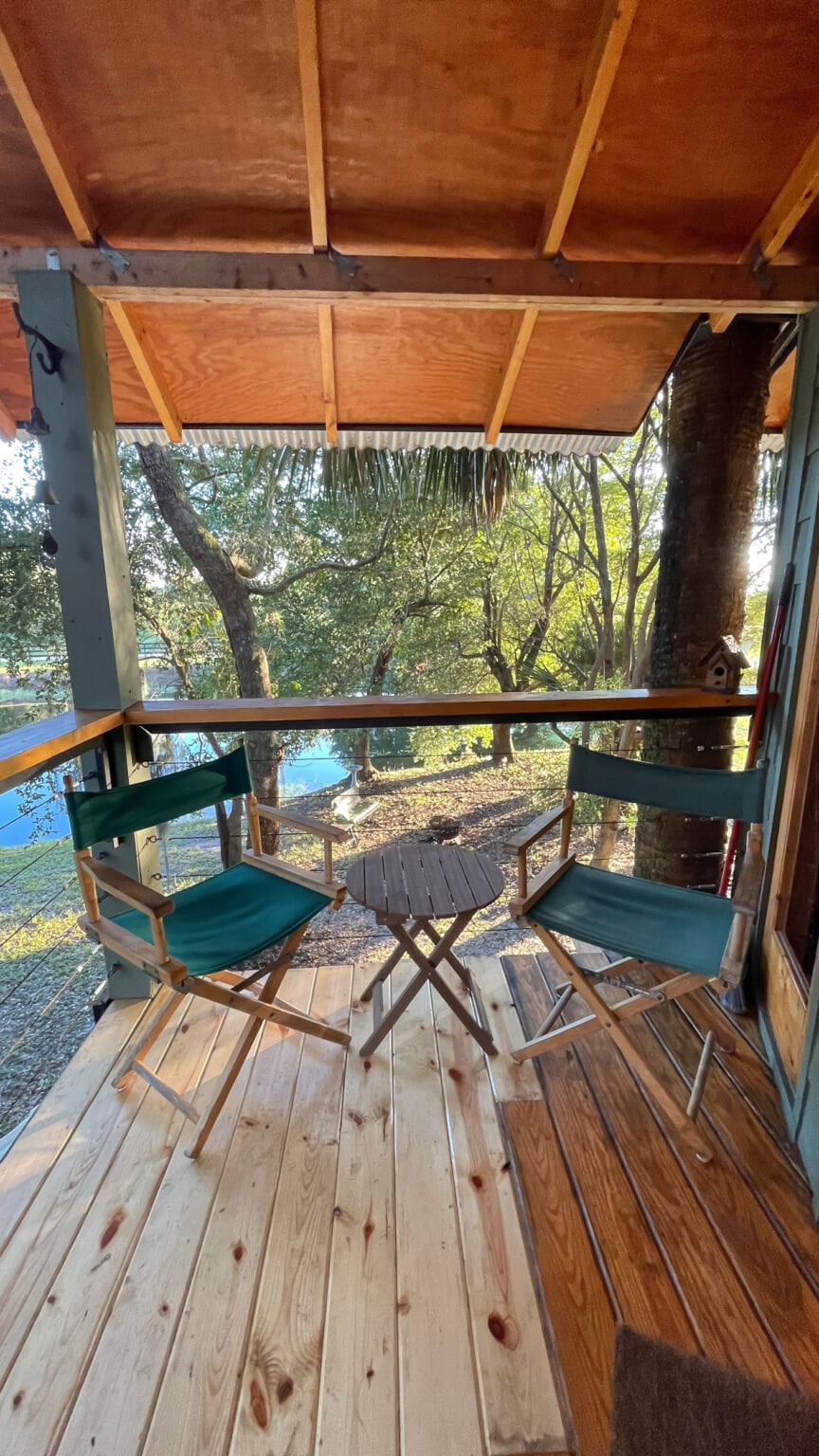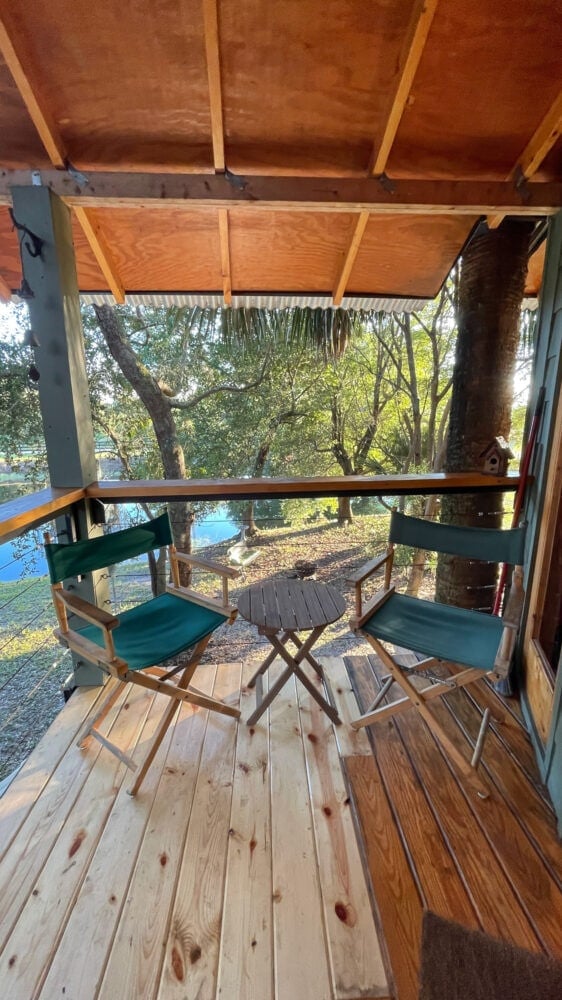 I stayed here with a friend of mine for a fun girlfriends getaway. There's a little loft area, so this treehouse does have two seperate sleeping spaces. For a video tour, check out our Instagram of this stay: Treehouse In The Woods Video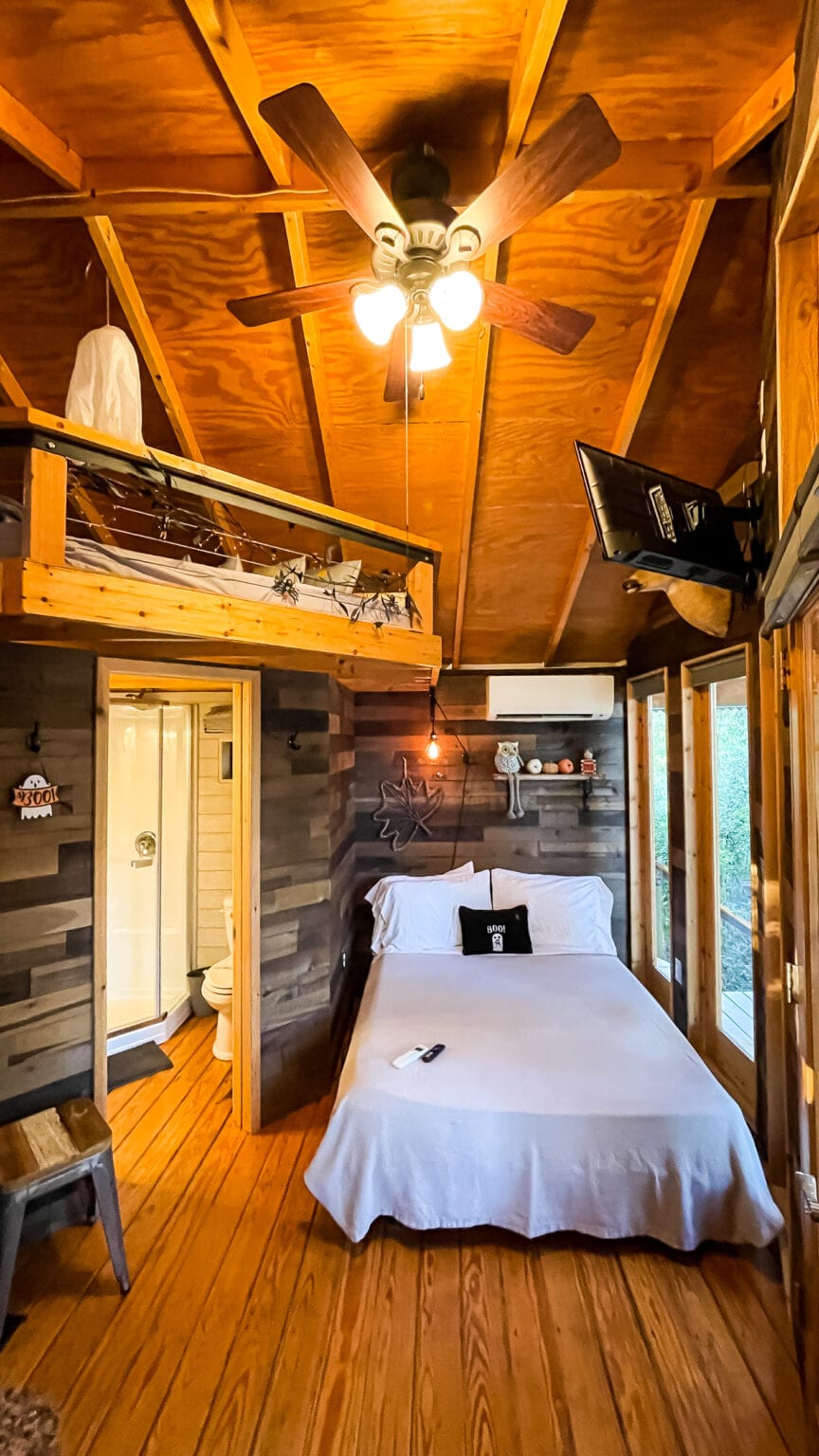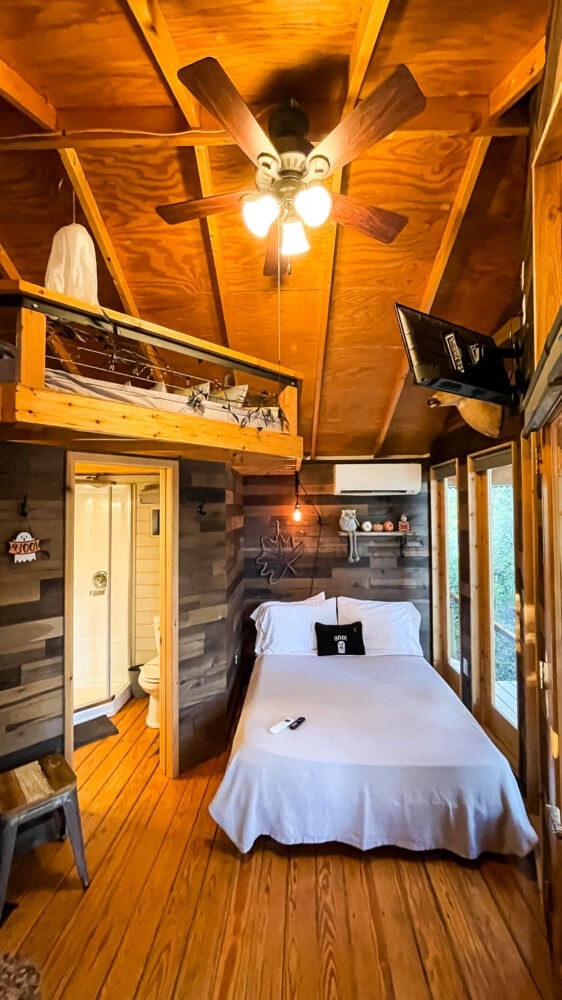 TREEHOUSE AT DANVILLE
Among central Florida locals, the Treehouse At Danville is one of the most talked about places to stay in a treehouse. It was even featured on Netflix's Most Amazing Vacation Rentals!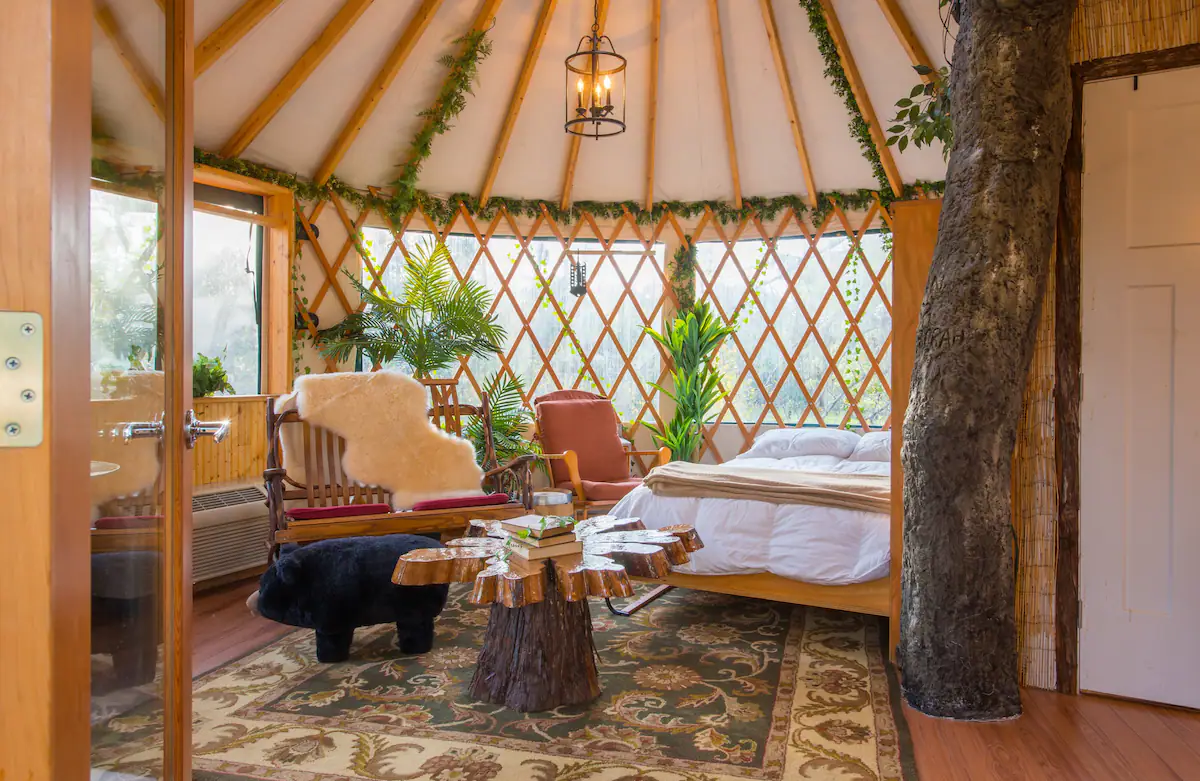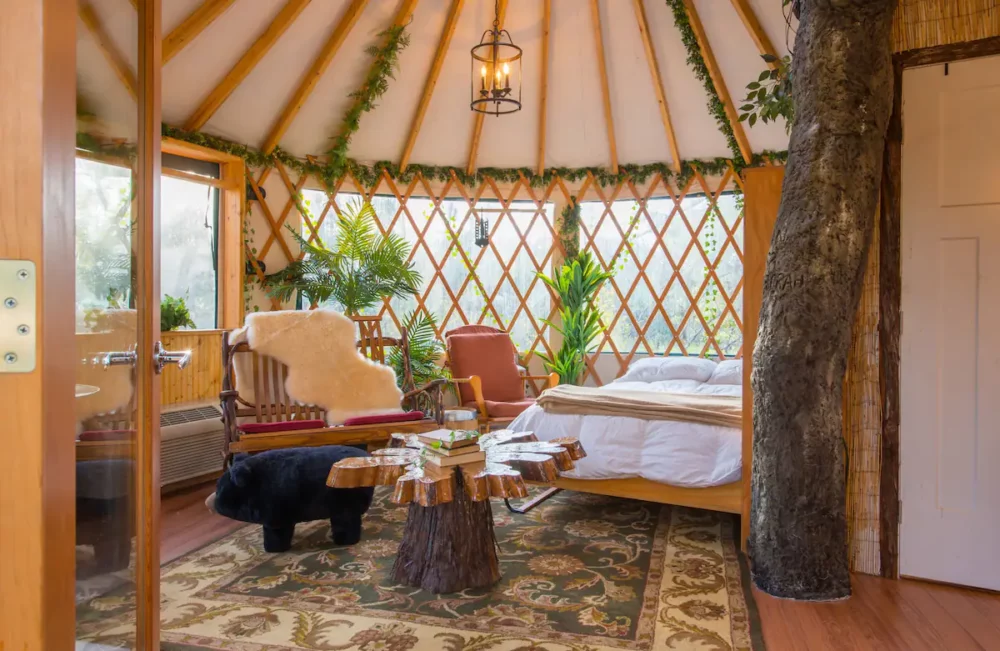 This one is located in Geneva, Florida, which is north or Orlando. It's not close to the theme parks, but this treehouse is a bit of a theme park on its own. It is artistic and quirky, with an elevator that will take you to a cozy treetop yurt. There's also a hot tub, sauna, tiki hut, and fire pit. For safety reasons, this treehouse is for adults only. No children or pets are permitted.
WANDERLUST OKTO
I personally haven't stayed at this treehouse yet, but Wanderlust Okto treehouse is on my list of places to experience! Located in Orlando, it offers hotel-styel accomodations elevated off the ground with a bit of whimsical fun.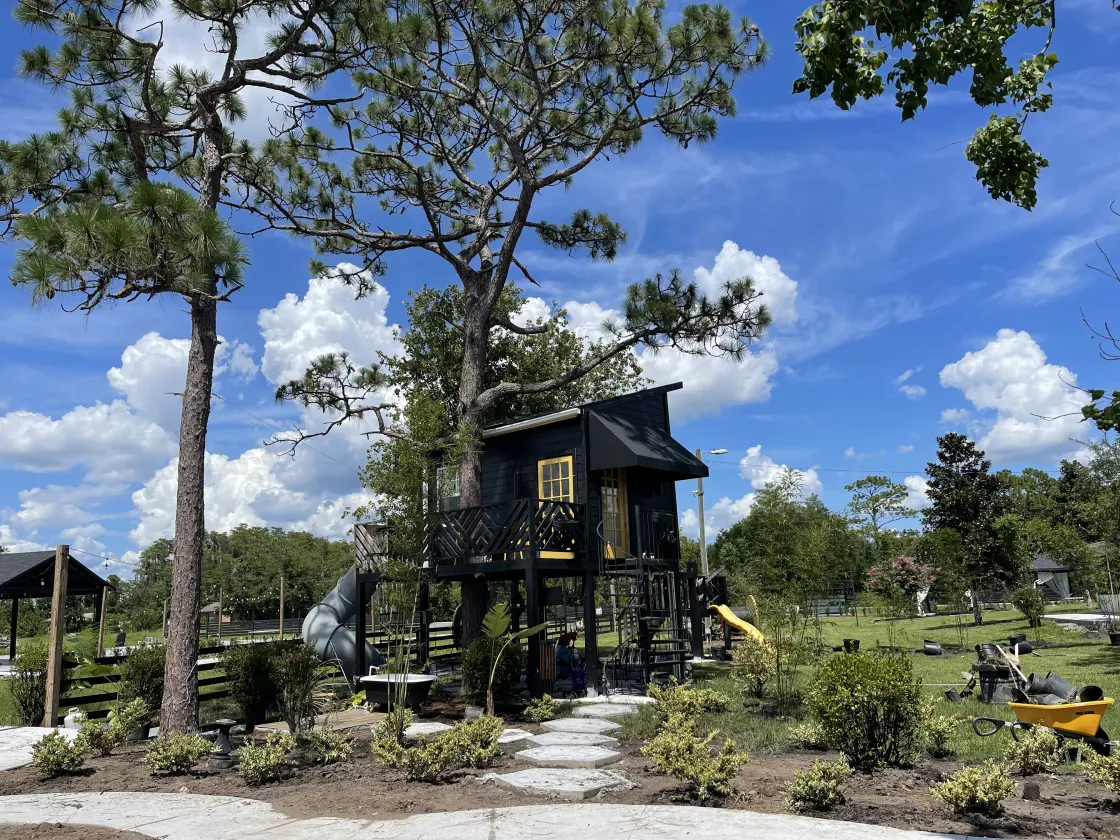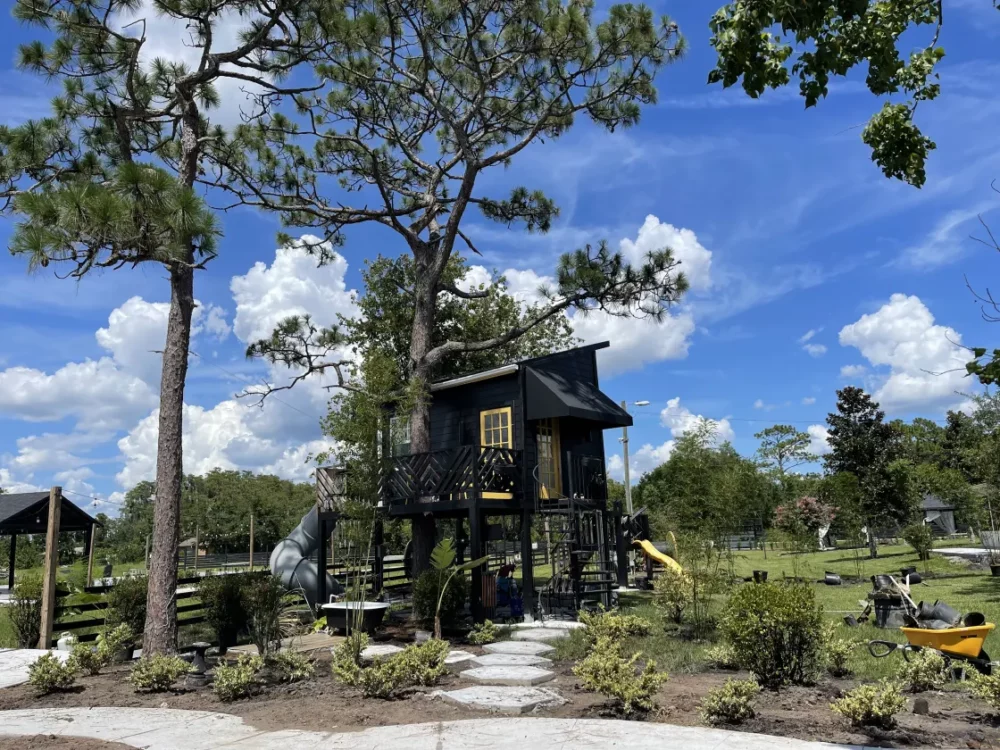 The description says it includes a Nespresso coffee maker (hello coffee fans), and a private balcony overlooking a wedding venue below. Talk about a dreamy experience! And there's also a fun slide off the main deck that will excite your inner child.
TREEHOUSE VILLAS AT DISNEY'S SARATOGA SPRINGS
Are there treehouses at Disney too? You bet! One of them is the Treehouse Villas at Disney's Saratoga Springs Resort."These treehouses are nestled in the woods and offer a luxury hotel-like experience in a rustic setting.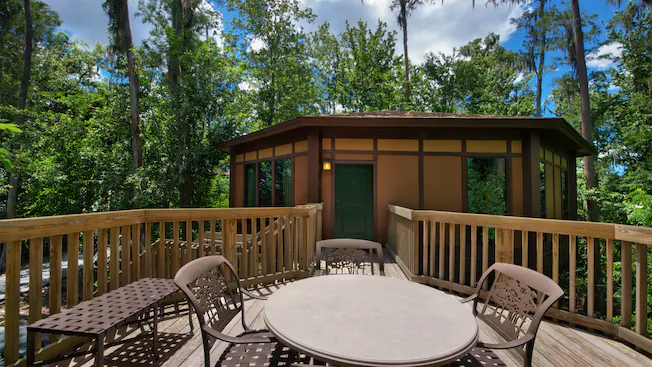 These are a bit yurt shaped, kind of like a hexagon, and are elevated off the ground for that treehouse feel. Of course, Disney is alway wonderful about hospitality. And staying here will put you close to all their theme parks.
WATERFRONT TINY HOMES
Not quite a treehouse, but unique enough that I had to include it, are The View. This is a kind of modern tiny home with lakefront views. If you ever wondered if you could live in a tiny home after seeing them go viral on social media, this could be your weekend experiment.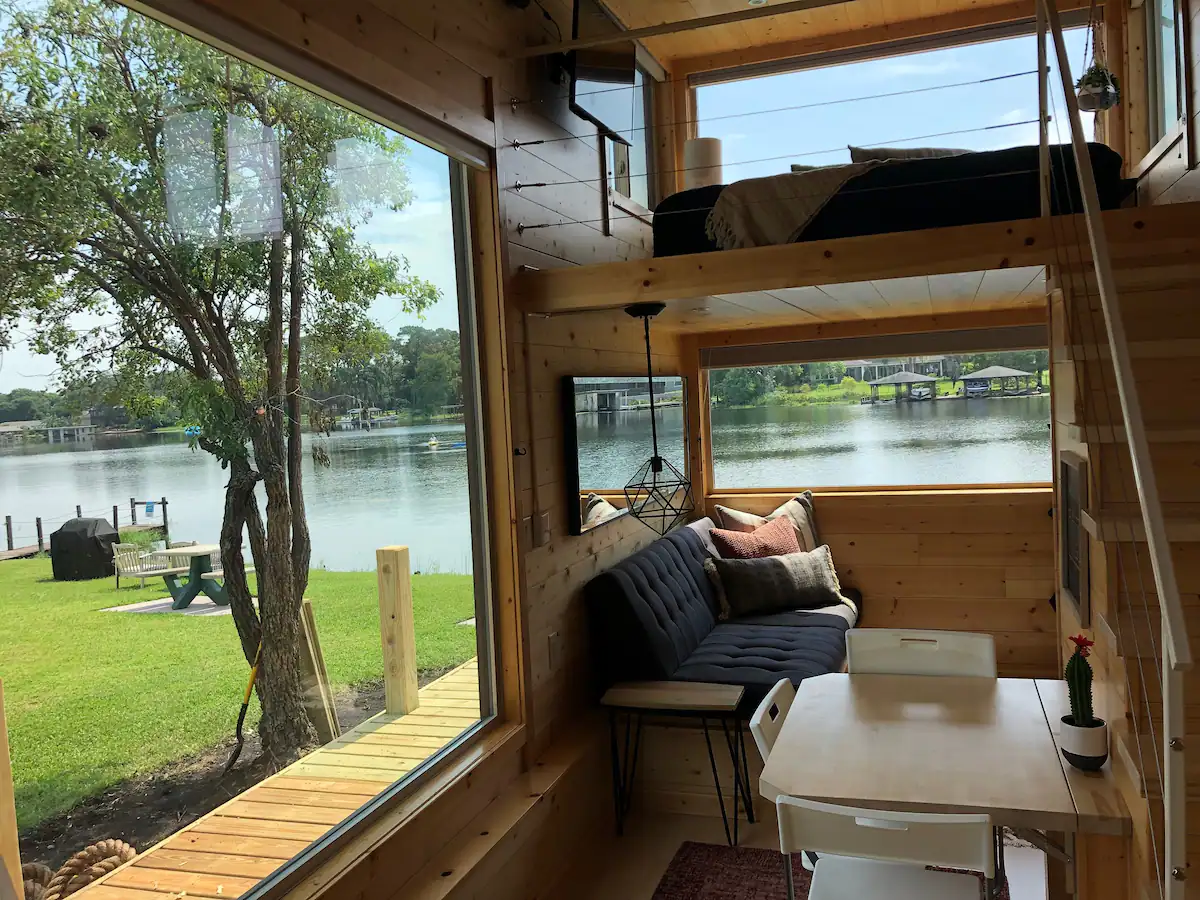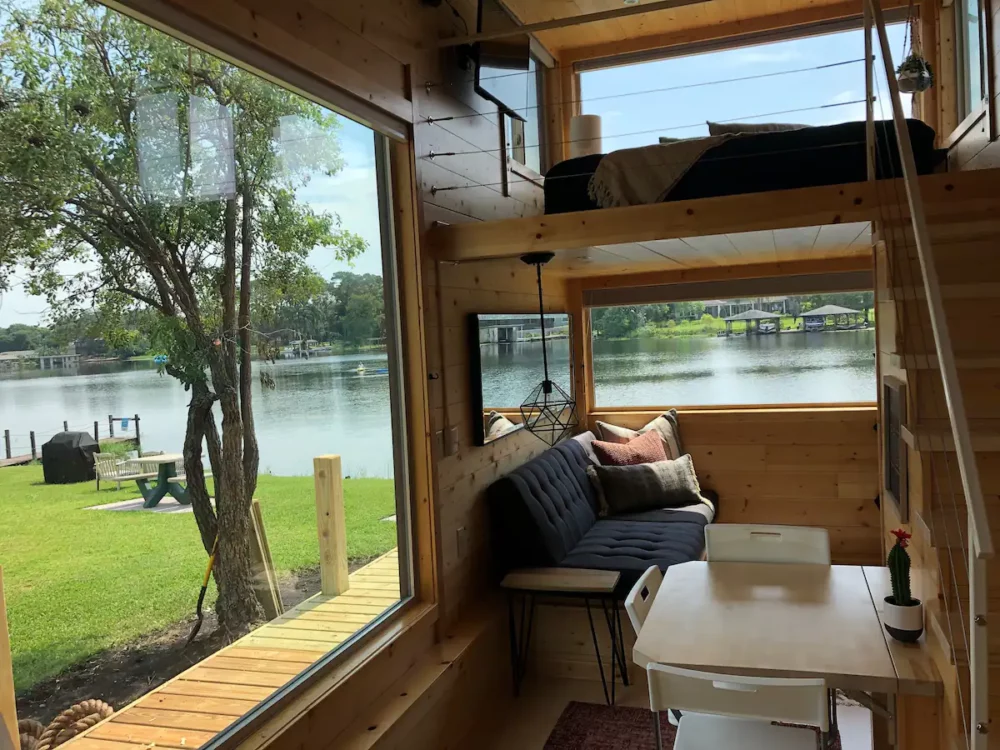 The tiny home features large picture windows, living room, and a large private deck to make your stay a memorable one. They also offer ammenities like fishing and kayaking to explore the natural beauty of Orlando!
GLAMPING AT LAKE LOUISE
Lake Louise State Park is located in Clermont, Florida, which is just outside of Orlando and about a 30-40 minute drive to the theme parks. Technically, of course, this isn't a treehouse. But it is the best in luxury glamping around Orlando!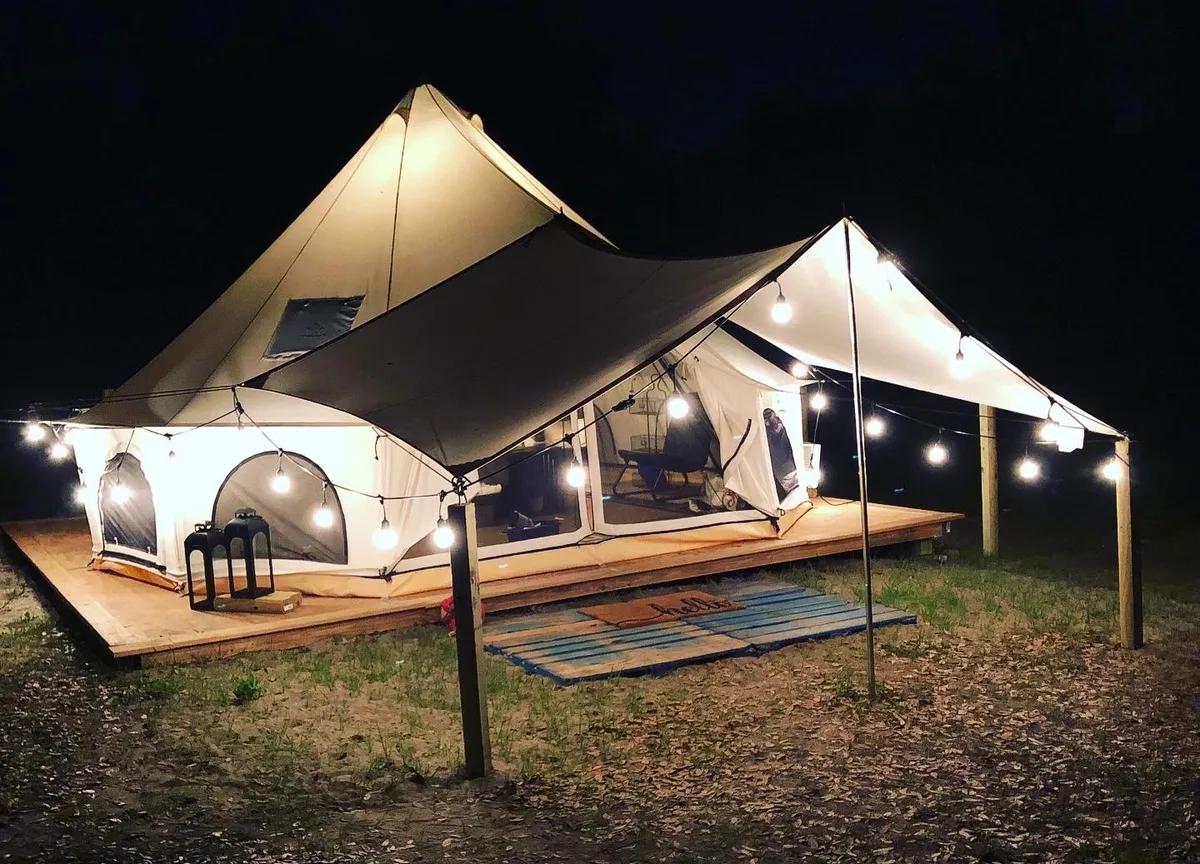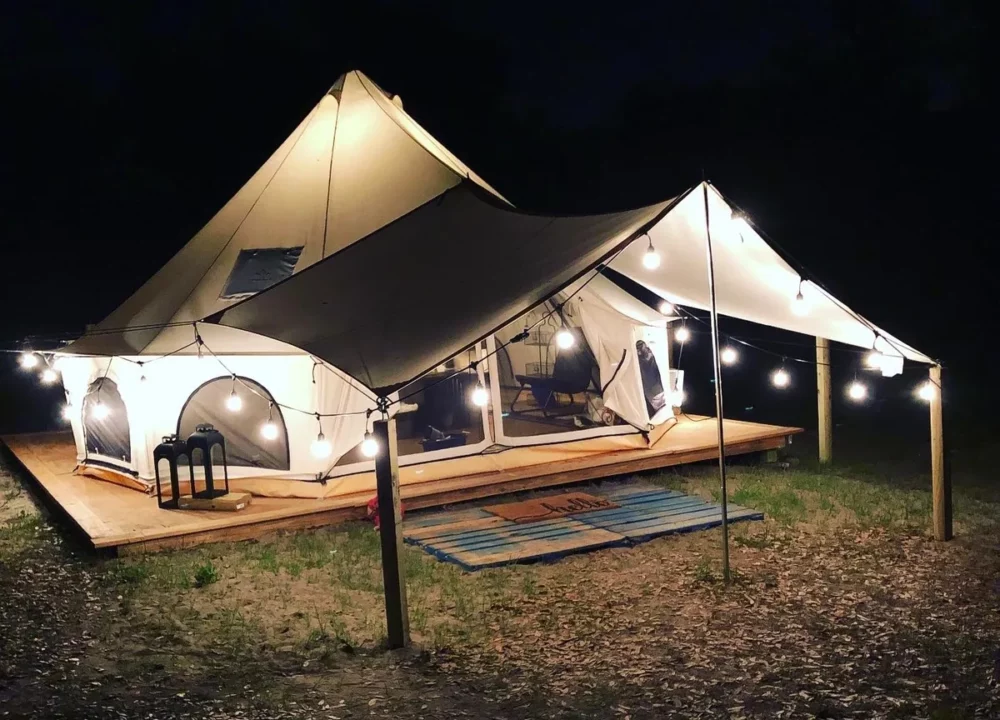 The bell tents are lit with cozy market lights outside. And inside you'll find a queen bed with a euro-top mattress, chandelier, coffee maker, cooling unit, and device charging station. And outside there's a firepit too!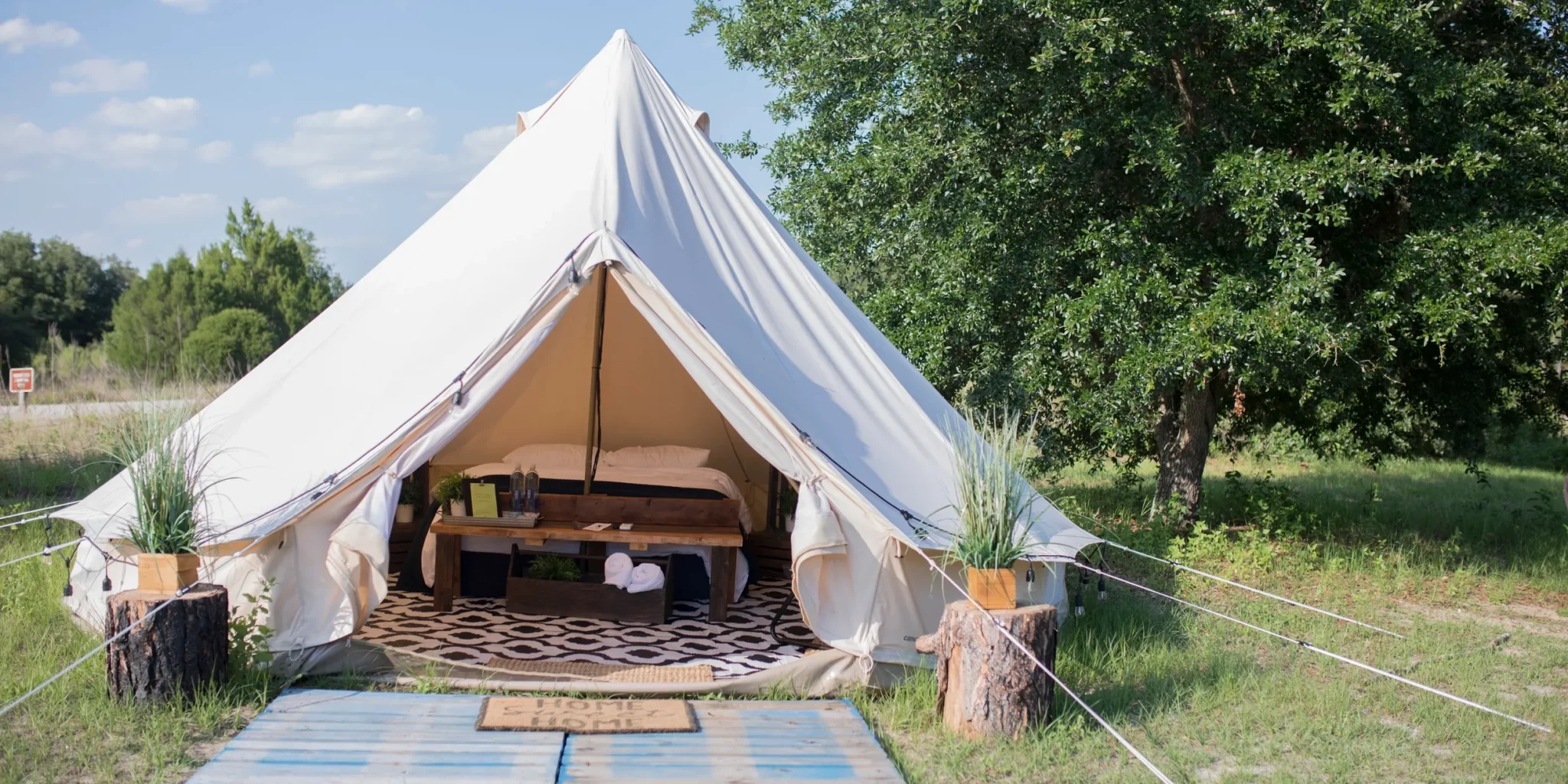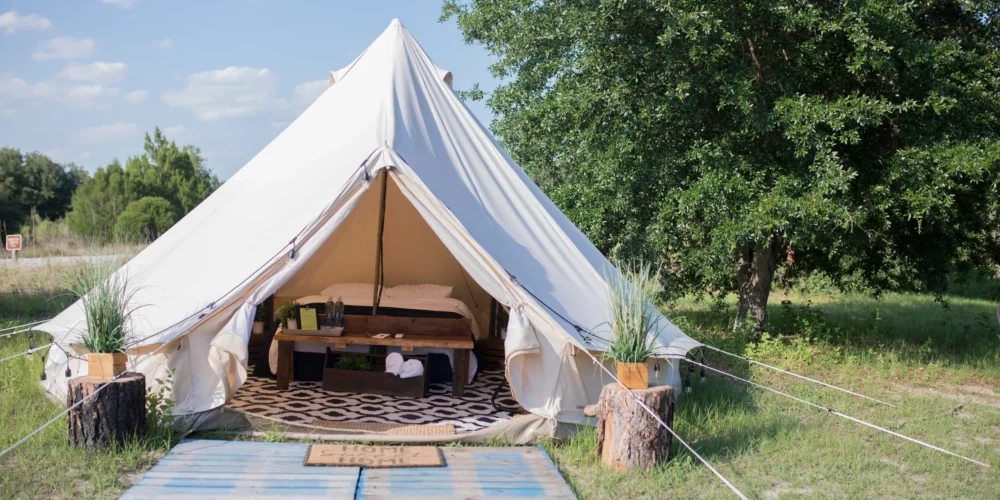 While these do have cooling unites, these luxury camp sites are tents, so it is best to plan your stay during the more comfortable months in Florida (October-March).
PLANNING TO STAY IN A TREEHOUSE
If you ever get the chance to spend a night in a treehouse, I'd say go for it! It's a unique and memorable experience that's totally worth it.
Keep in mind that availability and options can change, so it's a good idea to check online booking platforms or the official websites of these places to see what's currently available. In my experiences, these places book up months (and sometimes up to a year) in advance.
Enjoy your treehouse adventure in the Orlando area!