This post is sponsored by the Grand Ole Opry.
When it comes to weekend getaways, Nashville is perfect for food-lovers. I flew up to see a show at the Grand Ole Opry and was pleasantly surprised by the city's food scene. The list of delicious eats and fun things to do in Nashville are endless! And with all the growth and new buildings opening, to say that the city is booming is an understatement. Now I can't wait to go back!
There's also such a great artistic vibe to Nashville, from the music to the countless colorful murals, that it made me wish I could sing! Or paint! But alas, my favorite pastime is eating, so here are my recommendations for all the delicious must-eats in the city as well as fun things to do to balance out those calories.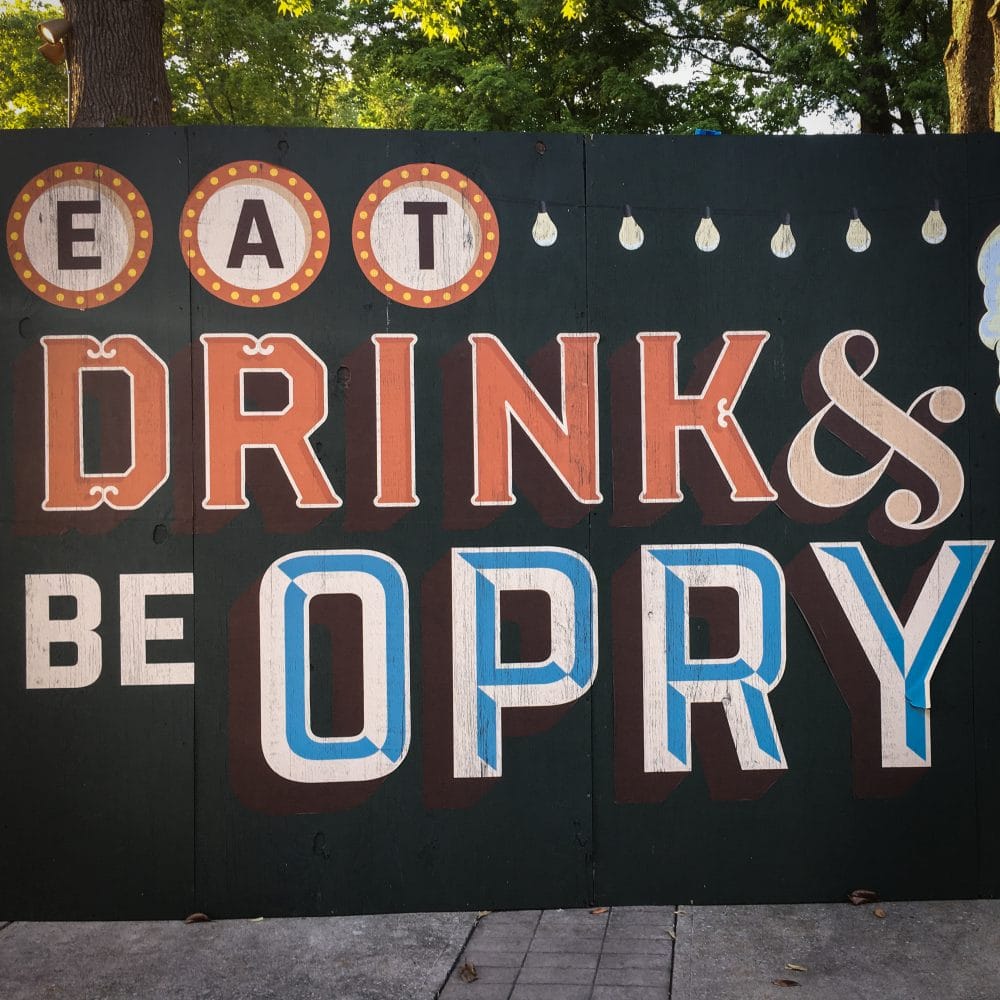 WHAT TO DO IN NASHVILLE
Grand Ole Opry — I kicked off my first night in Nashville with a visit to the Grand Ole Opry — a must for any visit to Music City! It really set the tone for a weekend of being immersed in a place where every building, corner, and block seems to touch the music industry (Nashville certainly has the nickname 'Music City' for a reason!). What I didn't realize before my trip is the Grand Ole Opry is still a live-broadcast radio show. That adds another level of excitement to see in person with the fast pace at which the musicians change in-between sets, and a bit of humor too when the show host reads the sponsored messages with a bit of vintage spin.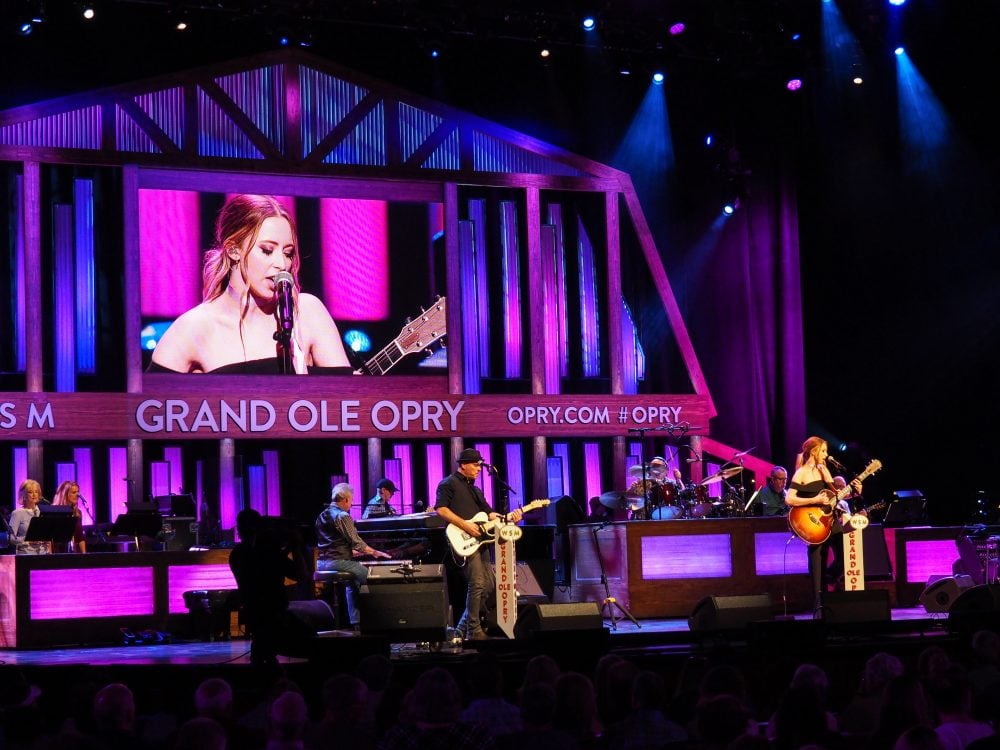 During intermission, I went on a backstage tour to see how the show is produced, learn more about the history, and even walk out onto the stage. Going behind the scenes really made me feel like I was part of the show and as an added bonus — I got to see Rascal Flatts warming up for their set! Even if you're not a big fan of country music, there is a reverence to the Opry that you can't help but feel, and a vulnerability in story telling and lyrics that's still pretty moving. | opry.com
The Opry is a great date night experience too, as my friend Kristin's husband wrote about The Opry from a guy's perspective.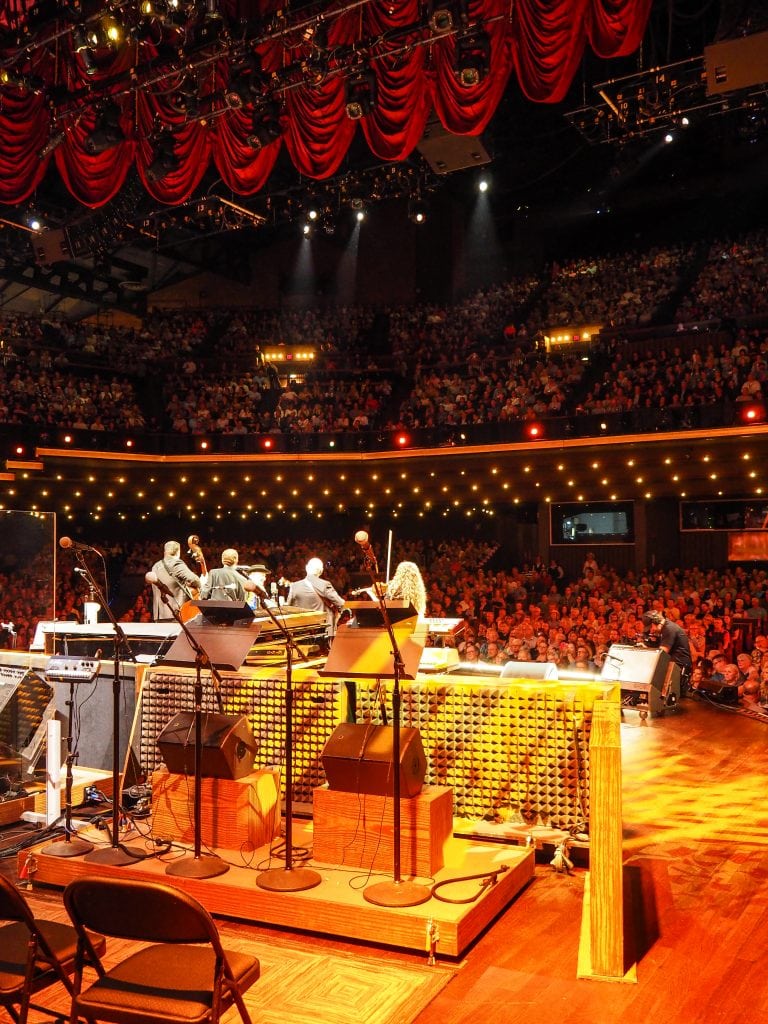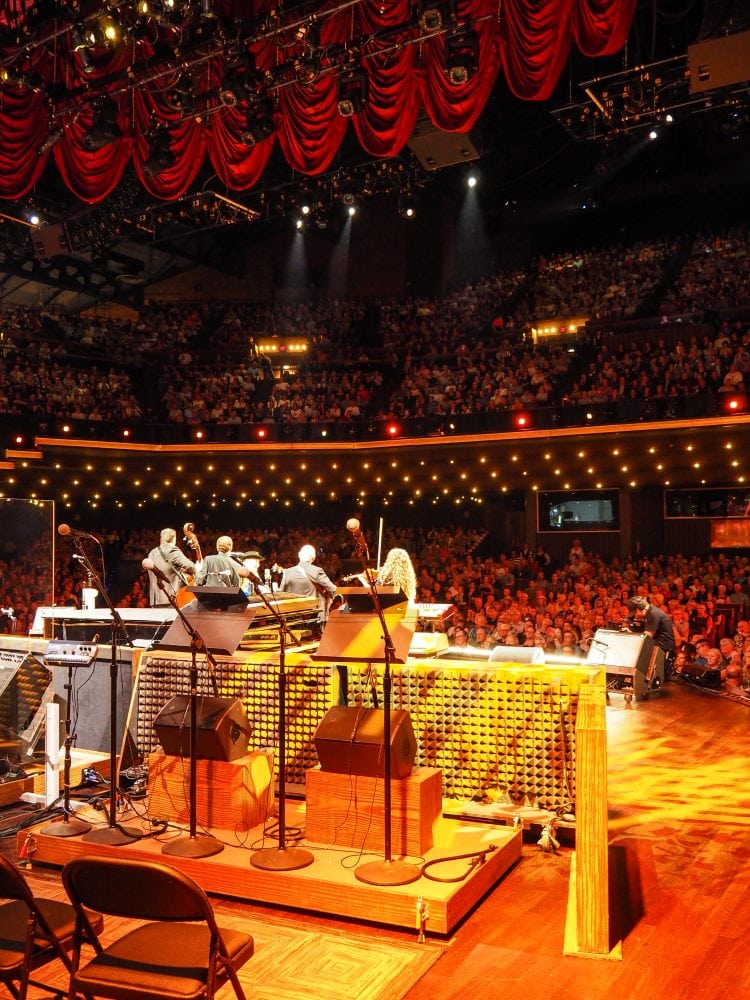 Goo Goo Clusters Chocolate Workshop — I love chocolate, and something I didn't know was that America's first layered candy bar, the Goo Goo Cluster, was made in Nashville in 1912! The Standard Candy Company layered marshmallow nougat, caramel, and peanuts, then coated it with milk chocolate. And that was the first time a candy bar was made with more than one ingredient! Today you can visit their shop on 3rd Avenue in downtown Nashville and take a candy making class that includes making your own Goo Goo Cluster, creating a dessert from scratch, and sitting down to eat a chef-prepared dessert when you're finished. It was one of the most fun things I did in Nashville! When you go, definitely pack a sweet tooth for this taste adventure! Also grab some Goo Goos to take home since they're a great souvenir for friends and family. | GooGoo.com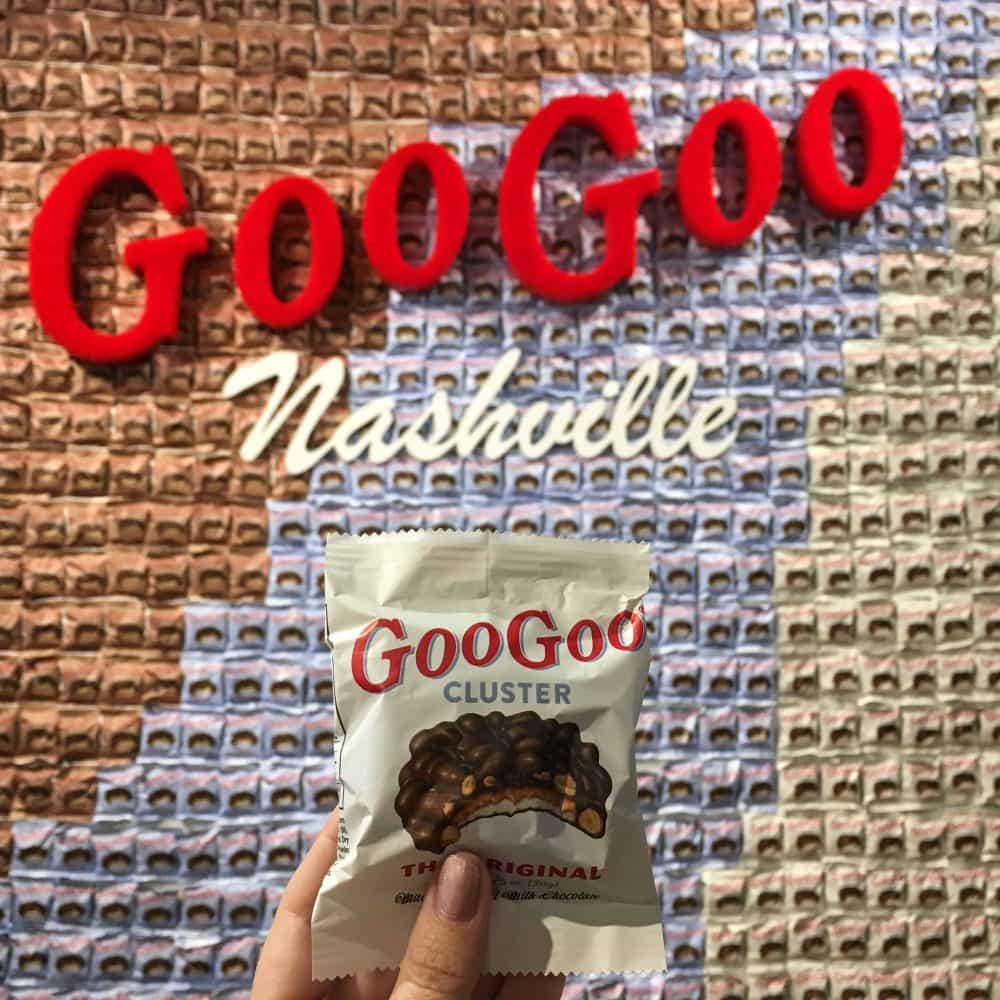 Nelson's Green Brier Distillery — You can't go to Tennessee without trying a bit of whiskey, and thankfully Nelson's Green Brier Distillery is located in Nashville. For just $11, you can tour the facility and hear the fascinating tale of how they got started which includes historic ties to the dollar bill, Maxwell House coffee, and one heckuva matriarch that ran the business. There's a whiskey and bourbon tasting at the end of the tour (yay!), plus a sinfully delicious Coffee Caramel Pecan liqueur. TIP: You can actually get there with the hop-on/hop-off Old Town Trolley Tour. It is Stop Number 8 – Marathon Motor Works. Just walk to the end of the block and you'll find the distillery there. | greenbrierdistillery.com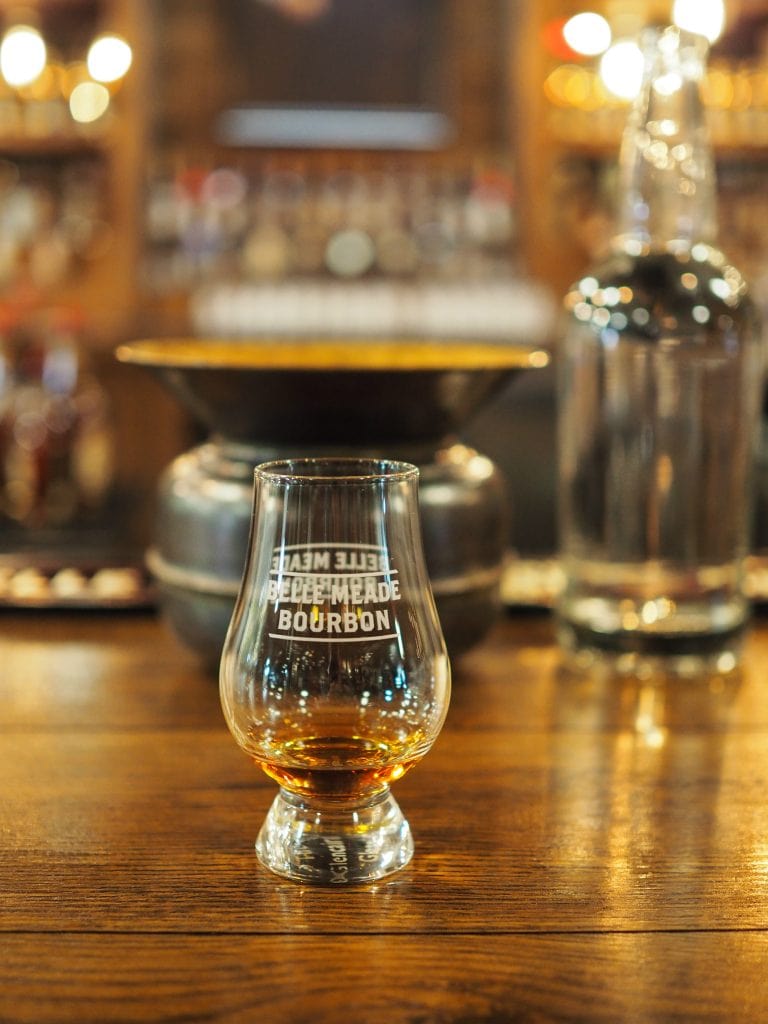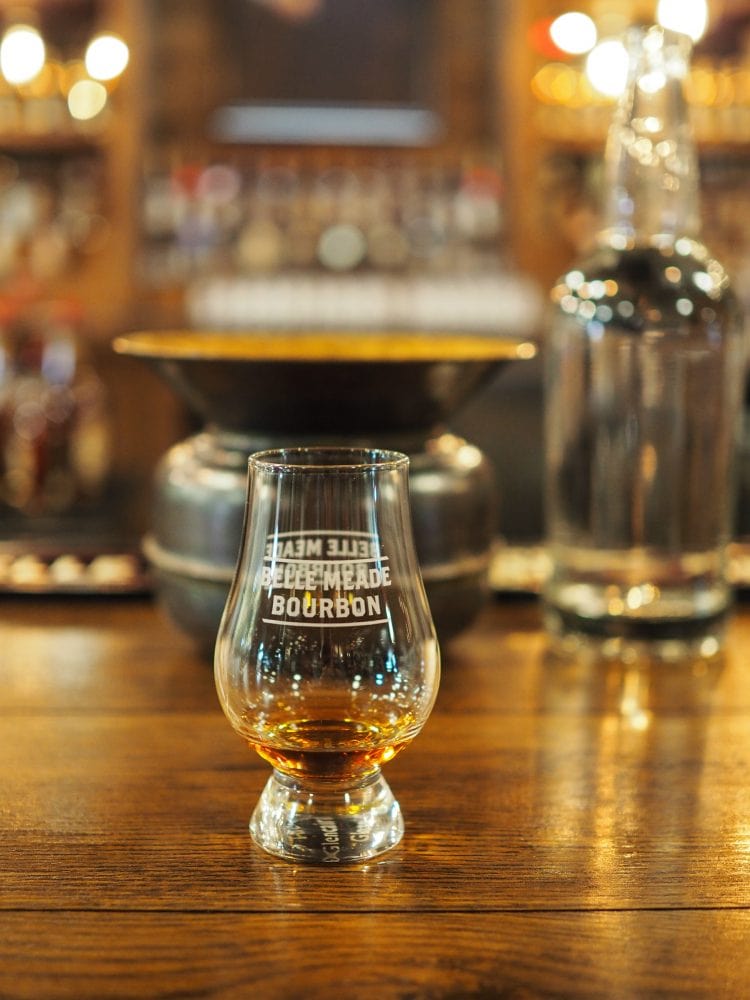 Live Music … Everywhere! — You can't walk a block in Nashville without finding live music. In addition to visiting the Grand Ole Opry, a walk down Broadway to see the neon honkey tonk signs is a must for first-time visitors. But for a less-touristy scene go to some of the karaoke bars in Printers Alley, or take a ride up to the famous Bluebird Cafe. And Nashville's not just for country music fans! Meghan Trainer, Kings of Leon, and The Black Keys also recorded here, so you're bound to find some great rock-n-roll too. | visitmusiccity.com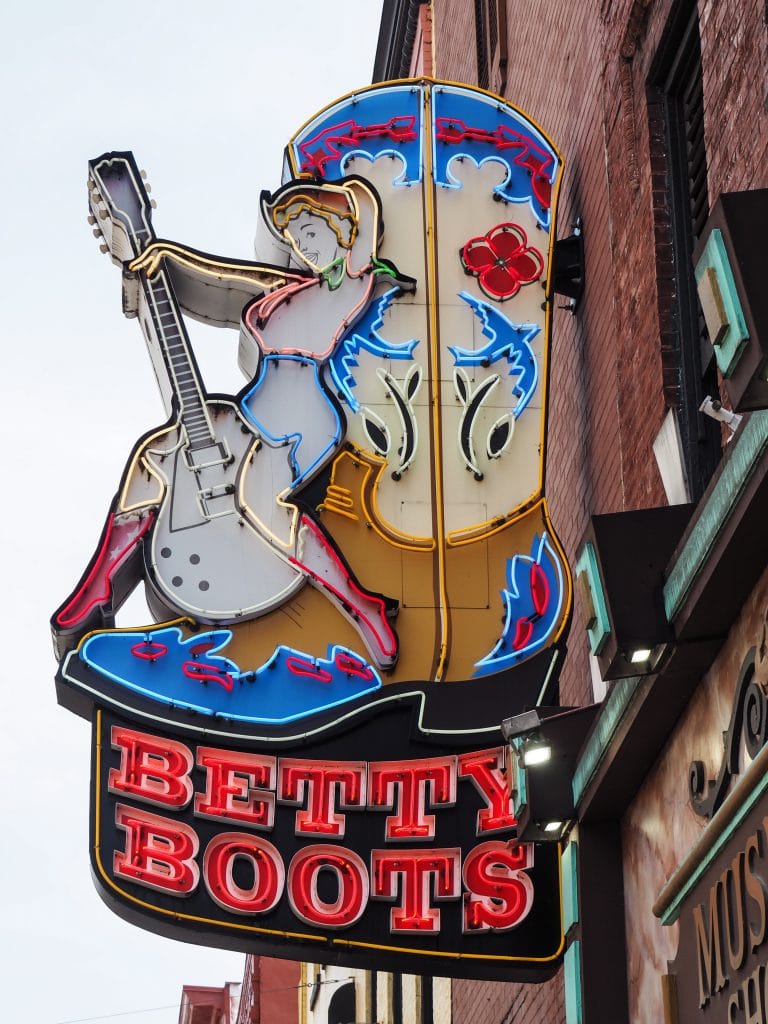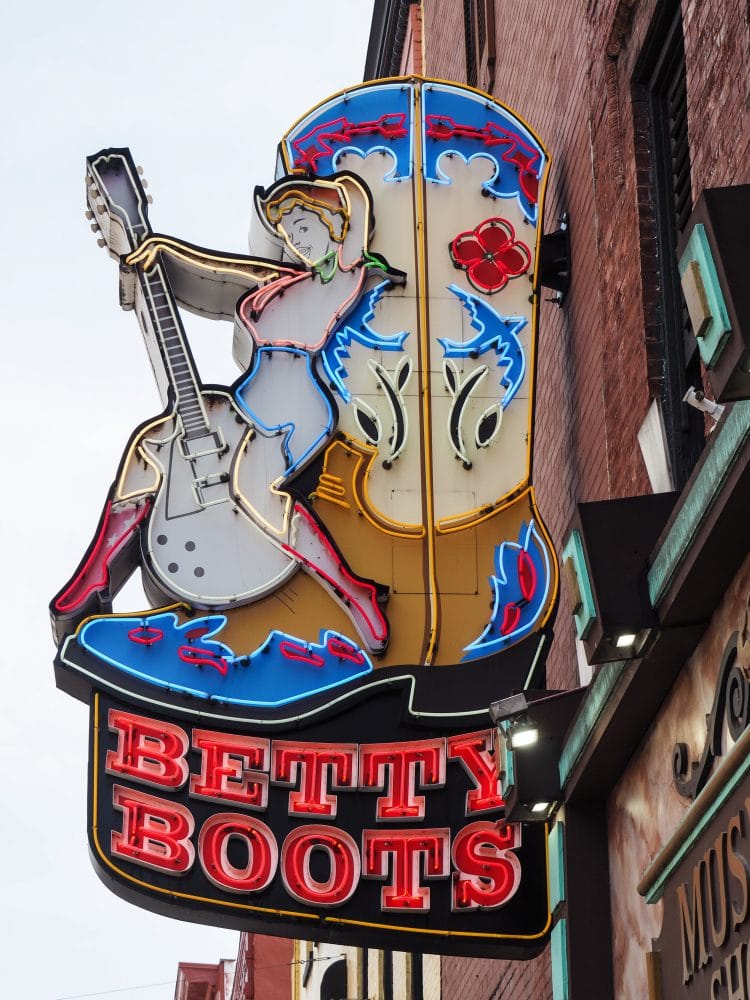 WHERE TO EAT
Biscuit Love – First, a quick note to say there's as much variety in southern-style biscuits as there is differences in barbecue sauce. When it comes to biscuits, you might instantly think of the tall, flakey kind with lots of layers. But Biscuit Love bakes soft, bread-like angel biscuits that are perfect for loading up with toppings to make sandwiches — and that is what they do best! I ordered the Nasty Princess, an unlisted combination of two of their most popular menu items that locals recommend. It's a fresh baked biscuit topped with Nashville style spicy "Hot" chicken thigh, sausage gravy, and an over easy egg. TIP: Biscuit Love is HOT right now, so I'm going to pass along a recommendation that Kristen Luna of Camels & Chocolate gave me — take a Lyft up to the Hillsborough neighborhood location and you won't have to wait in a long line! | biscuitlove.com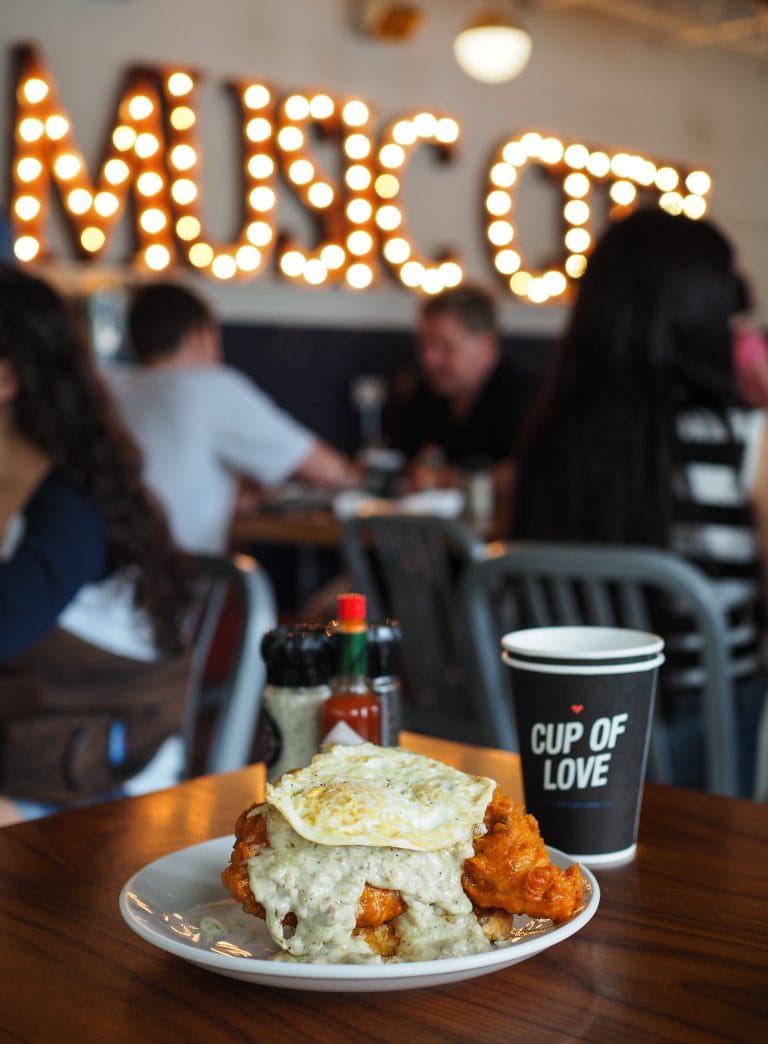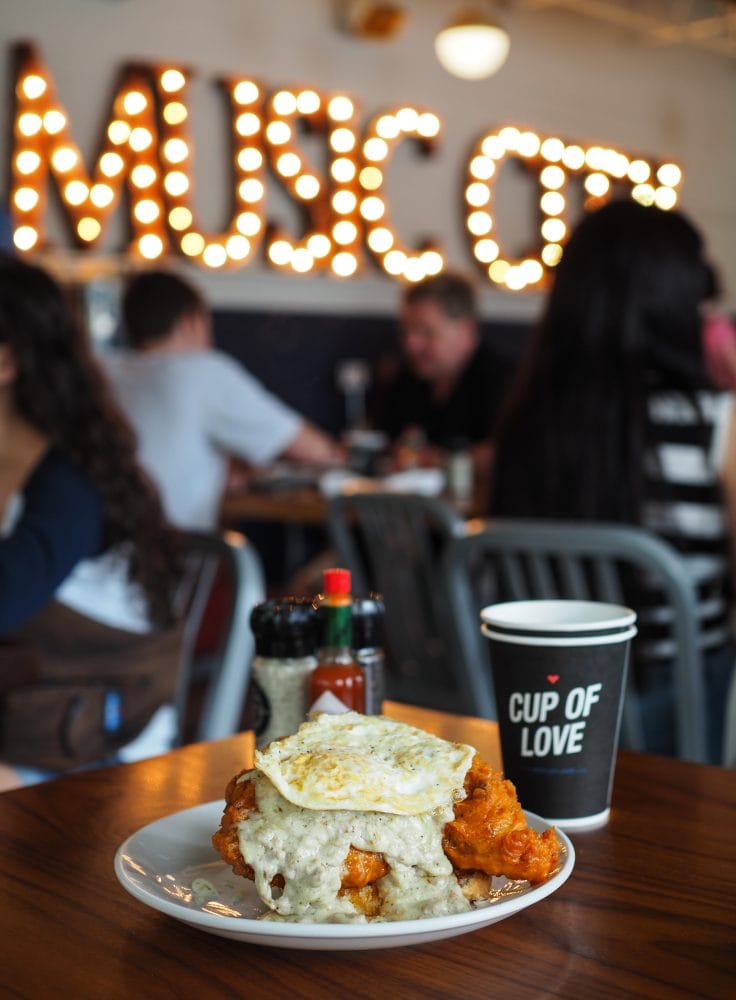 Woolworths – The history alone should bring you to Woolworths on 5th, but the food is amazing too. The vintage lunch counter where the Civil Rights Movement sit-ins took place has been restored and the restaurant is now a vintage mash of 1920's art deco with a 1950's style soda counter. Thankfully, today everyone gets seated. The food is a unique blend of southern fare, some with a southwestern twist, with dishes like fried chicken and gumbo along side black bean tamales with queso fresco. | woolworthonfifth.com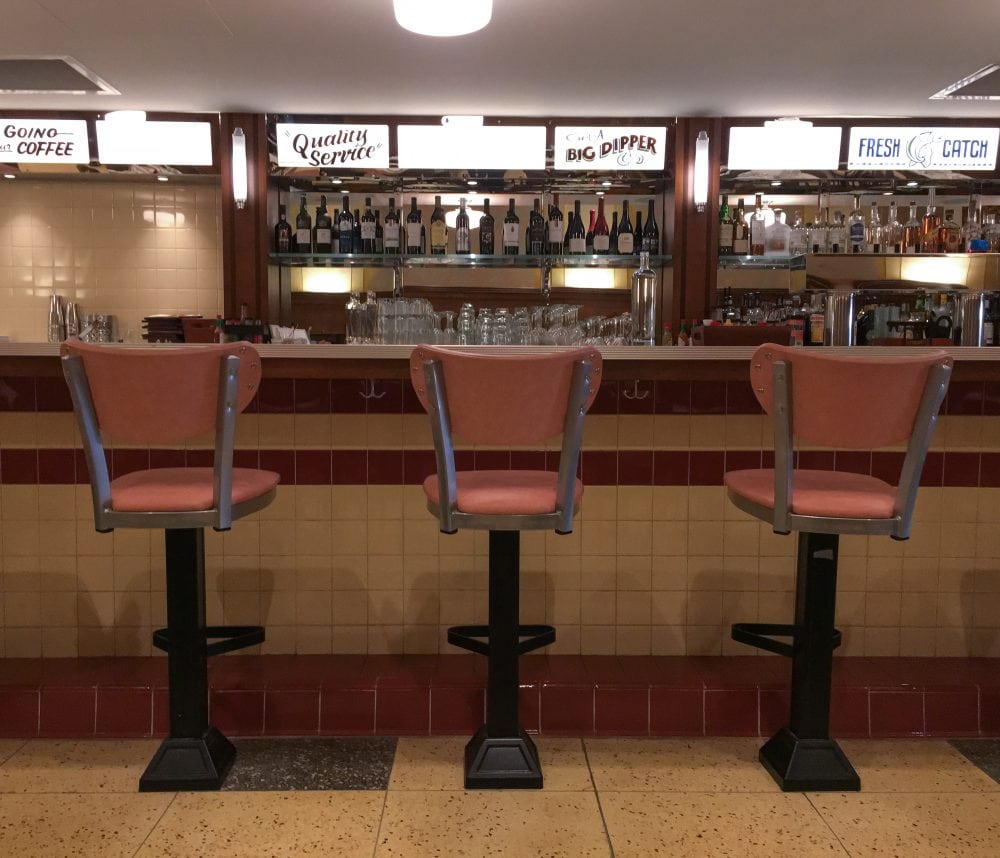 Husk – When I asked on social media where is the one place I should go to eat in Nashville, Husk was mentioned more than once. Located in a historic home on Rutledge Hill, it was worth the walk from downtown (always trying to balance out calories with miles/steps, right?) But if you go for dinner, I recommend calling ahead for a reservation and taking a Lyft.
Husk has a rule about food, "If it doesn't come from the South, it's not coming through the door." The list of farmers and purveyors fills an entire wall at the entrance, plus they have a lush garden full of greens you can view from the dining room. The cocktail menu is reflective of their garden and focus on local farming, including fresh herbs and house made shrubs in quite a few mixes. For lunch, I indulged in a grilled pimento cheese sandwich with country ham and pickled peppers with a side of greens and a blueberry lemonade. That's about as southern as it gets! TIP: If you go for lunch, walk across the street to Crema for coffee afterward and get a ride back to town from there. husknashville.com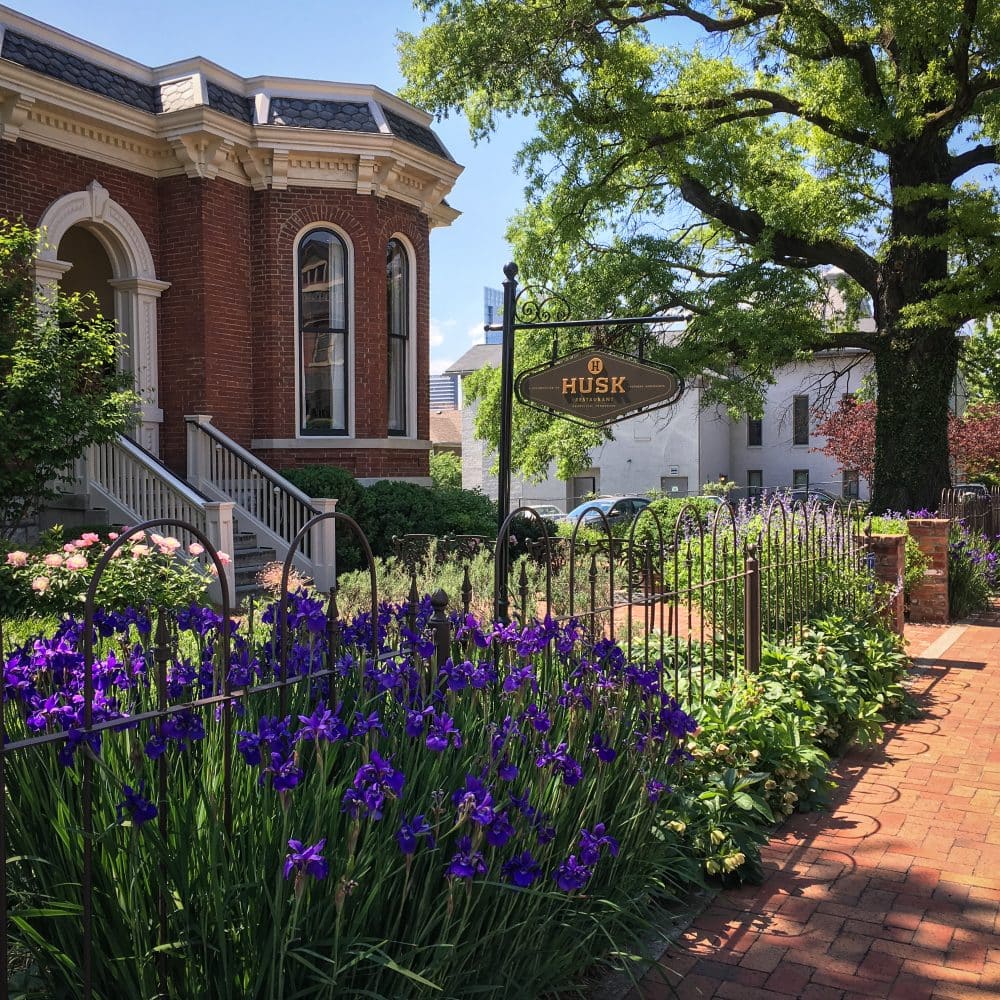 Geist – If you're in the mood for drinks, but want to experience something different than the honky tonk scene, check out Geist's lovely champagne garden. Set in the middle of an old brick blacksmith shop, the twinkle lights and lush potted plants give the patio garden an upscale, yet cozy feel. The colorful cocktails and fun-to-share appetizers are perfect for a leisurely afternoon or pre-dinner snack. I loved the Pink 75 paired with the beet salad. | geistnashville.com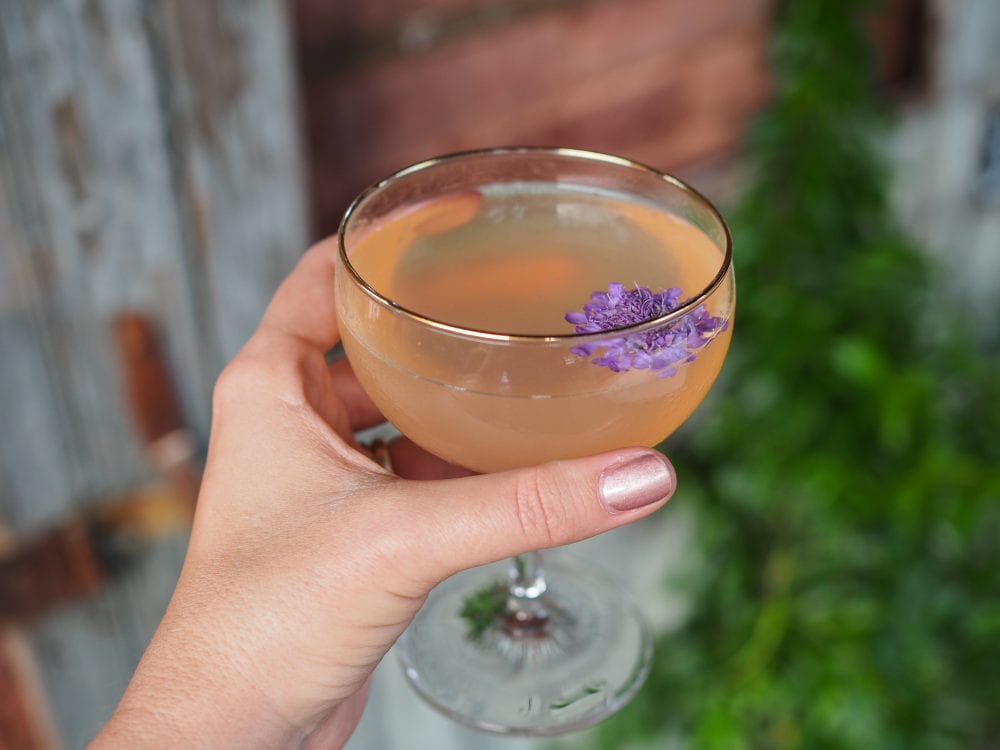 Five Daughters Bakery – A friend of mine was in Nashville for a work just a week before and I drooled over her Facebook posts about donuts and ice cream in 12 South neighborhood. Well, since I had a yoga class at Inner Light Yoga in that same neighborhood, might as well follow up a little sweat with some sweets! Right?! Five Daughters is insta-famous for their tall 100-layer donuts smothered in deliciously colorful frostings. I couldn't resist the Blueberry Lemon, Bourbon Peach Pecan, and Maple Glaze. | fivedaughtersbakery.com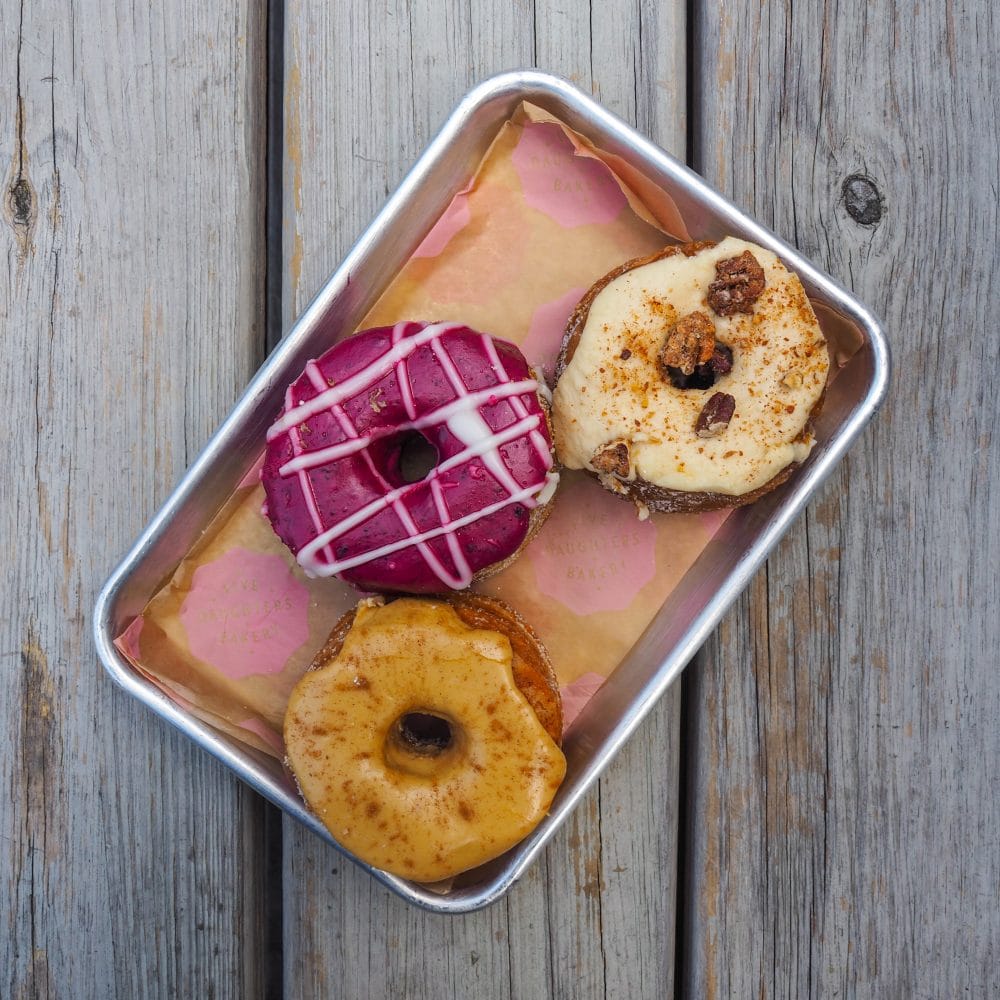 Jeni's Splendid Ice Cream – Jeni's is an Ohio based company in 9 different states, but worth stopping by if you're in the neighborhood. Especially to taste their clever gourmet flavors! I tried a spoonful of Ricotta Toast with Red Berry Geranium, and Bangkok Peanut with coconut and cayenne pepper. But the one I had to order a full scoop of was the Wildberry Lavender with pulverized blackcurrants and scented with orange and lavender oil. Tempting flavors, amiright? | jenis.com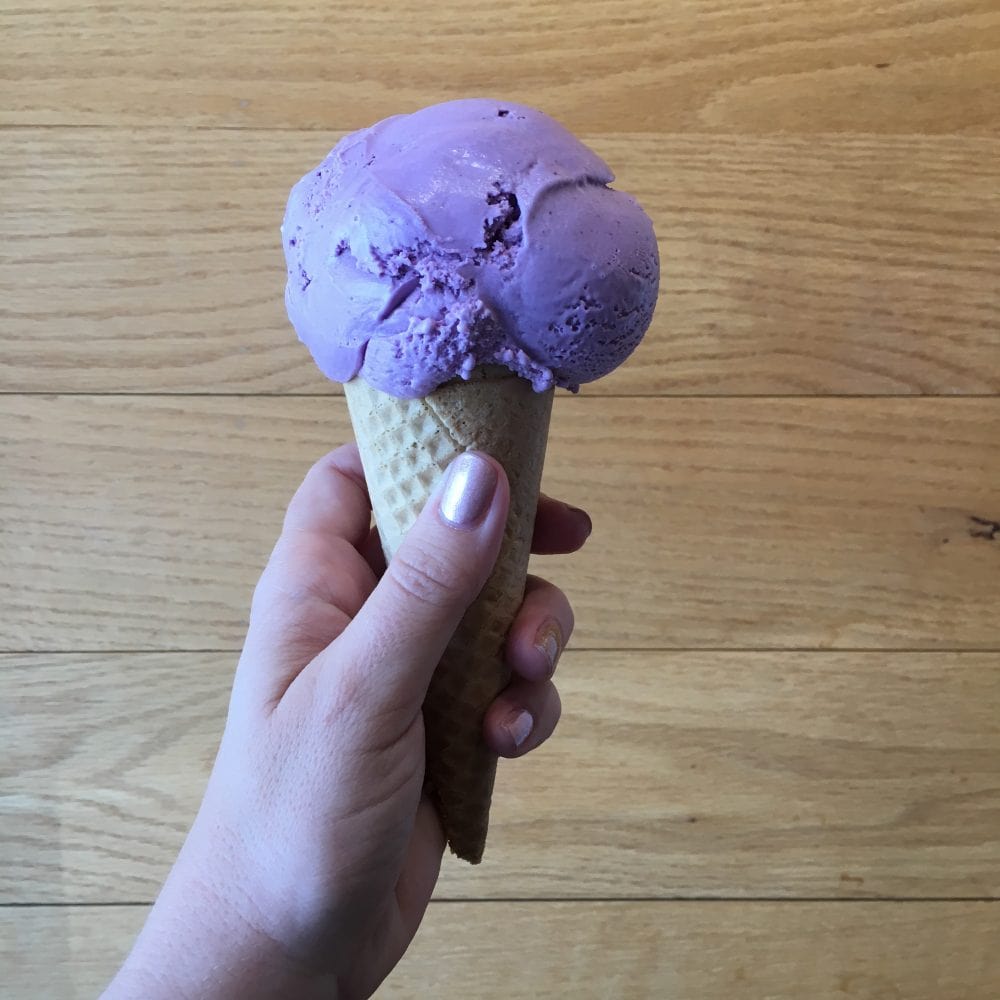 WHERE TO STAY IN DOWNTOWN NASHVILLE
Staying in downtown Nashville is fun if you want to be within walking distance to some of the popular tourism sites. Plus, Lyft is headquartered in Nashville, so you can easily catch a ride to visit some of the other neighborhoods. I loved that there was so much within walking distance, including Broadway Street, lots of the museums, and there was even a Walgreens across the street to stock up on food and amenities needed.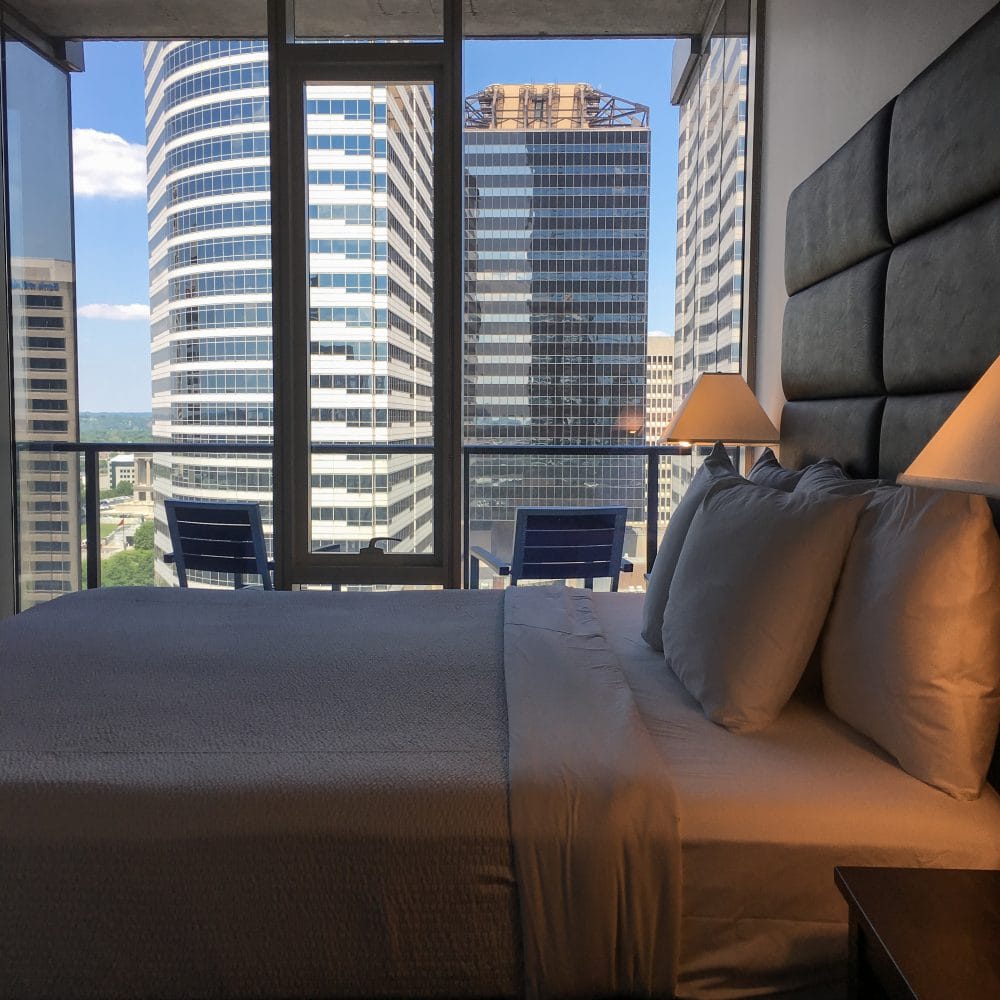 I stayed at Alfred 505 which is like a cross between a hotel and a vacation rental. The room was more like an apartment complete with a kitchen, seperate bedroom and living area, and floor-to-ceiling windows providing a great view of the city. But Alfred 505 also had the convenience of a hotel with 24 hour check-in, and gym, pool, even a coffee bar. The front desk personnel are very helpful and offered to store my bags for me for a full day after I checked out at 11am, storing my bags for me until my flight later that evening. | StayAlfred.com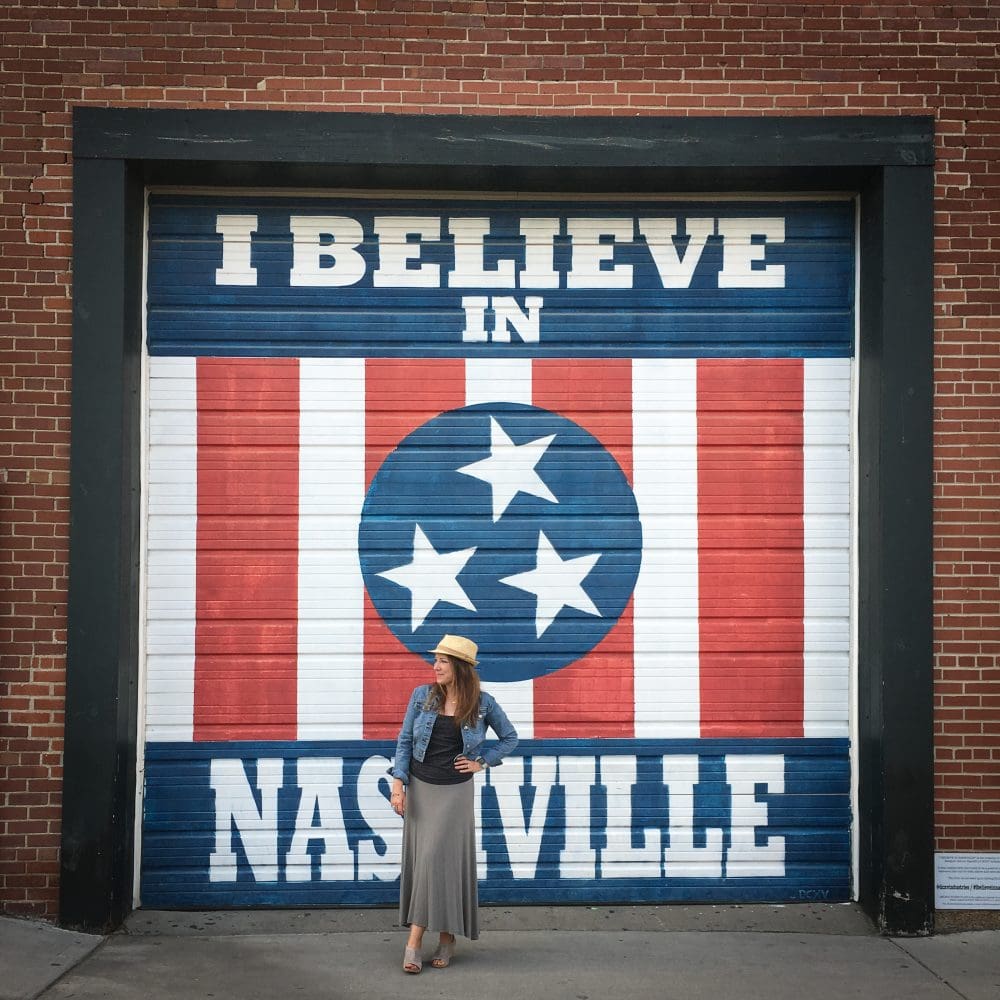 Want to save this list for travel planning? Pin it! 🙂