Air fryer s'mores have to be the easiest treat … no campfire required! Now, of course I love s'mores by the campfire. But by making s'mores in an air fryer you can enjoy them at home any time of year. They're the perfect party treat or afternoon snack.
Scroll through to get some tips on the amount of time it will take to toast up a marshmallow in an air fryer, as well as a list of creative ways to make s'mores beyond your standard graham cracker and chocolate.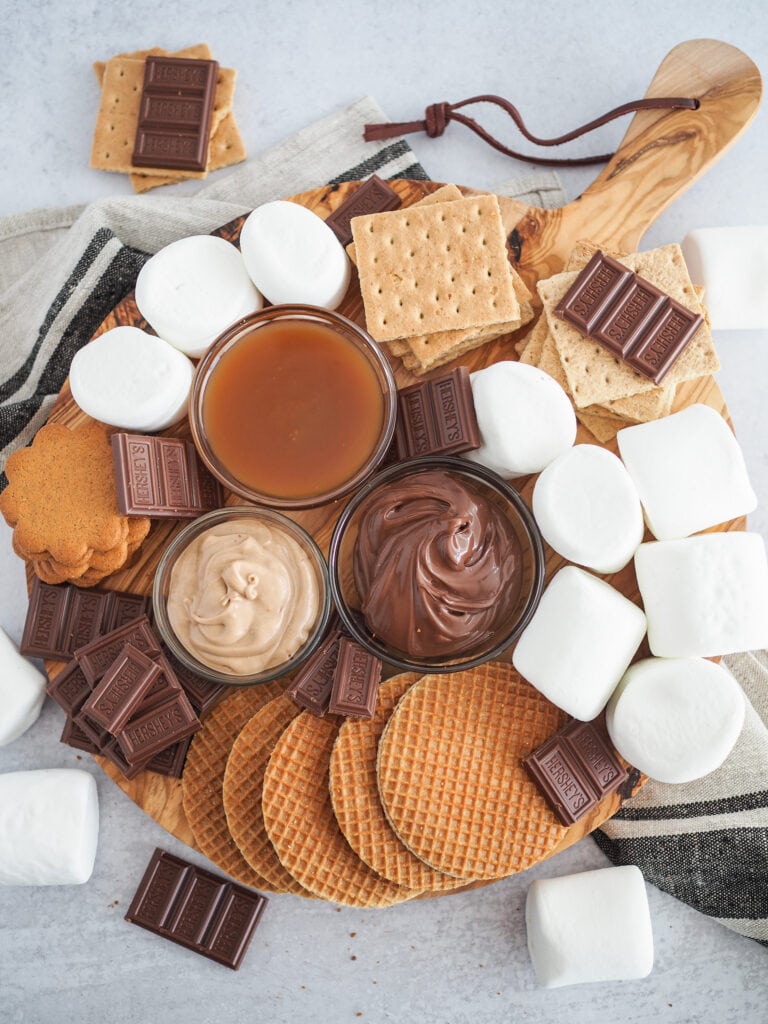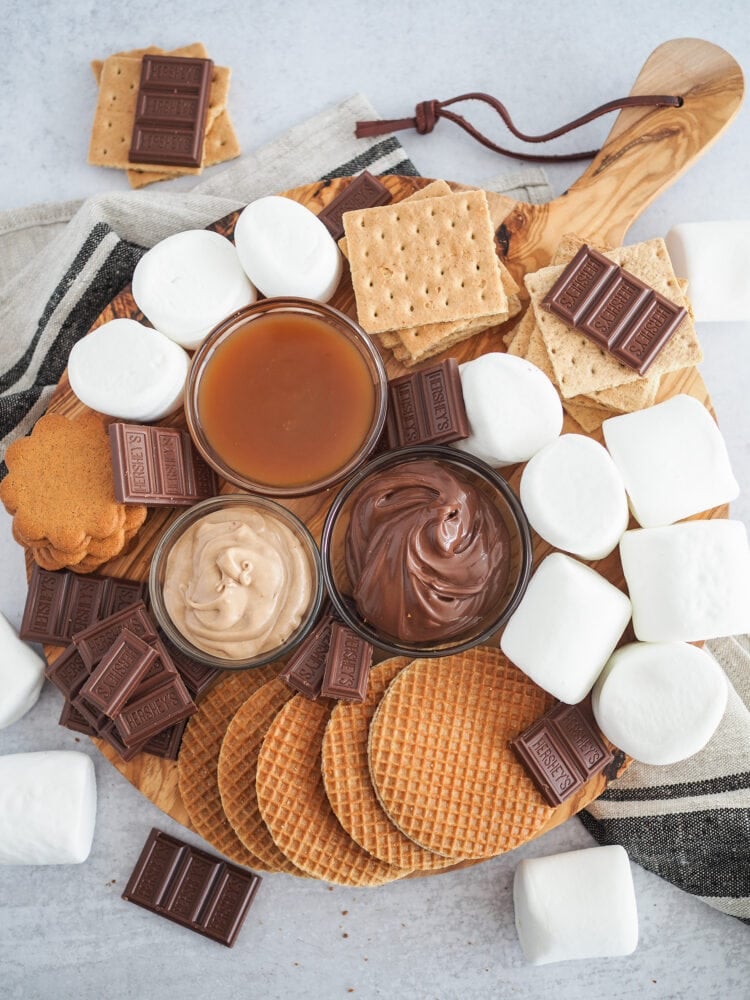 WHAT KIND OF CHOCOLATE TO USE FOR S'MORES
Hershey's milk chocolate bars are the classic chocolate of choice to make s'mores. They are just the right size for a hot toasted marshmallow to melt. But you don't have to just stick to Hershey's. In fact, you can get creative using different types of chocolate candy (perfect around Halloween) or even nutbutters or spreads like Nutella. One tip I will give, if you use a thicker candy bar, cut it in half so it is only about a quarter of an inch thick.
Hershey's Milk Chocolate Bar
Hershey's Milk Chocolate Bar with Almonds
Kit Kat Bars
Dove Bars
Reese's Peanut Butter Cups
100 Grand (you'll want to cut this in half to make it thin)
Snickers (you'll want to cut this in half to make it thin)
3 Musketeers (you'll want to cut this in half to make it thin)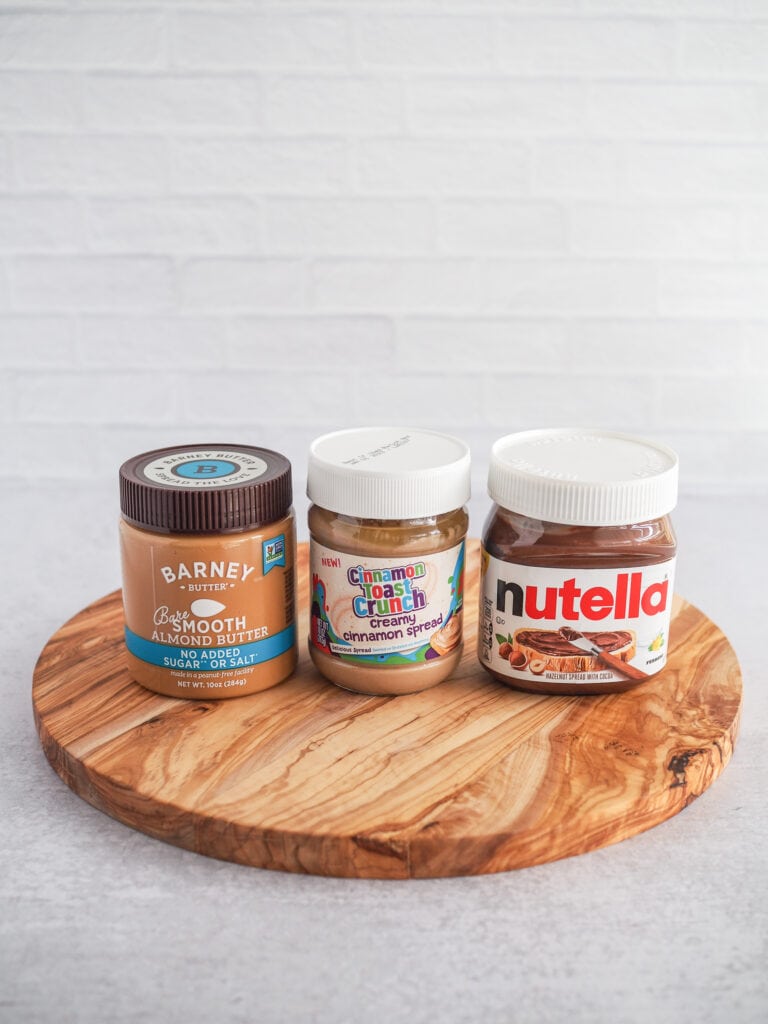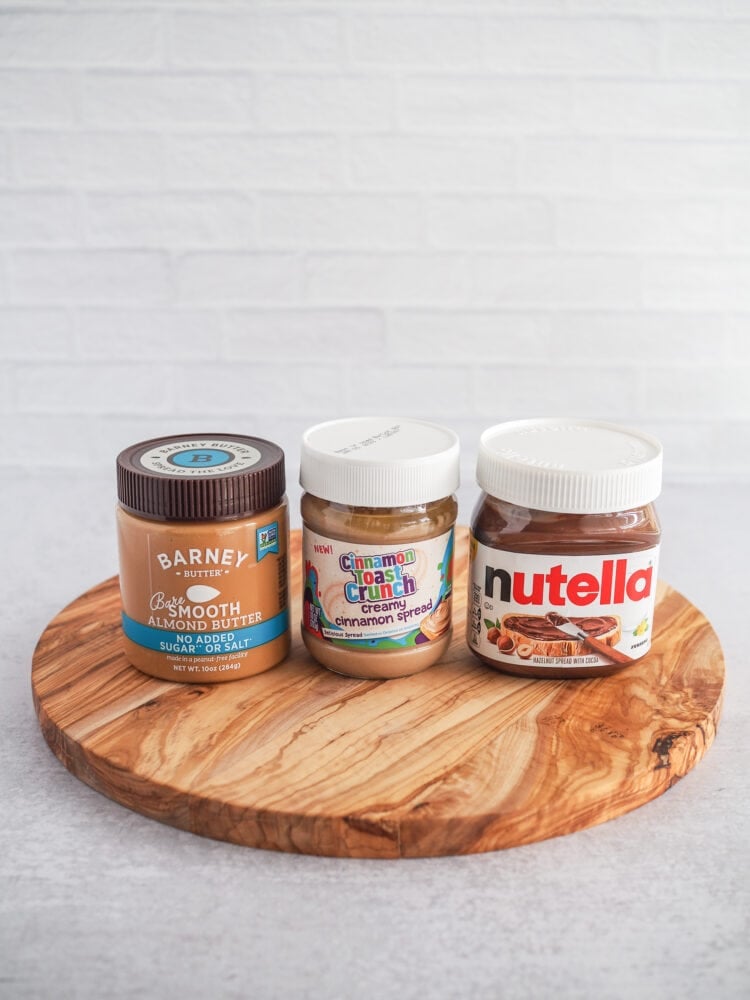 NUT BUTTERS AND SPREADS FOR SMORES
Like I mentioned above, Nutella is GREAT on S'mores. Here's a tip: even if you're using another kind of chocolate, dab a little half teaspoon of Nutella or chocolate hazelnut spread on each graham cracker. Then add the marshmallow and air fry. The Nutella helps keep the marshmallow in place when the fan inside the air fryer blows hot air around.
Nutella (or any chocolate hazelnut nut butter)
Almond Butter
Peanut Butter
Biscoff Cookie Butter
Cinnamon Butter Spread
Caramel
Another fun air fryer s'mores combination is peanut butter and slices of banana. That with a little chocolate and melty marshmallow … SO good!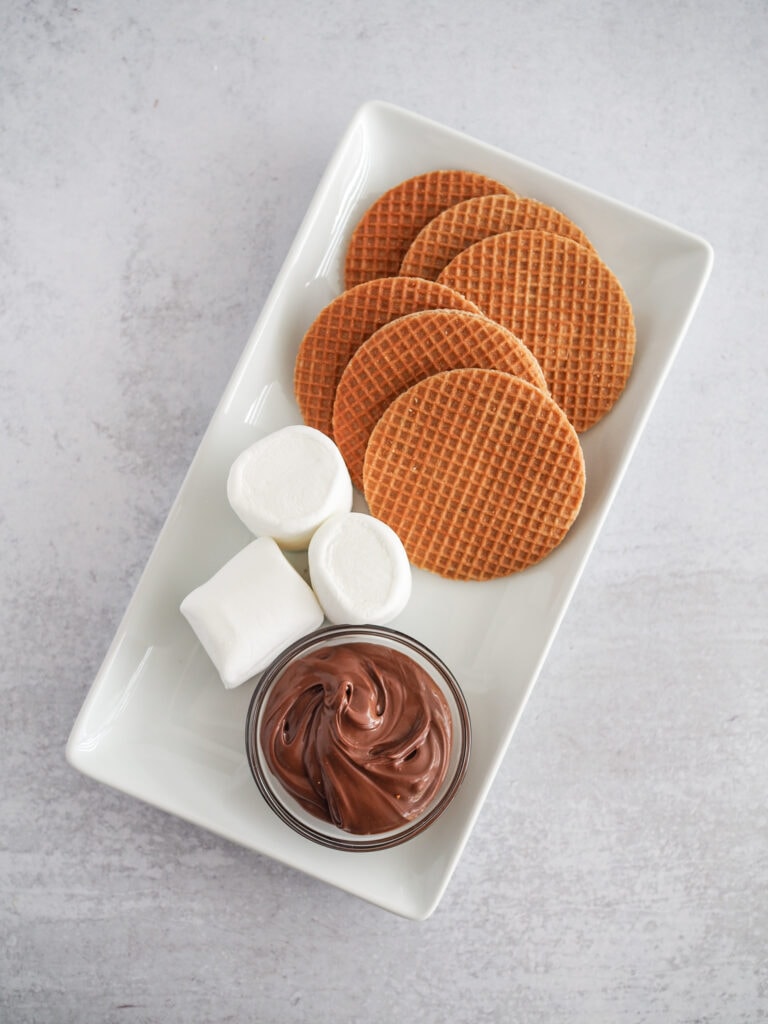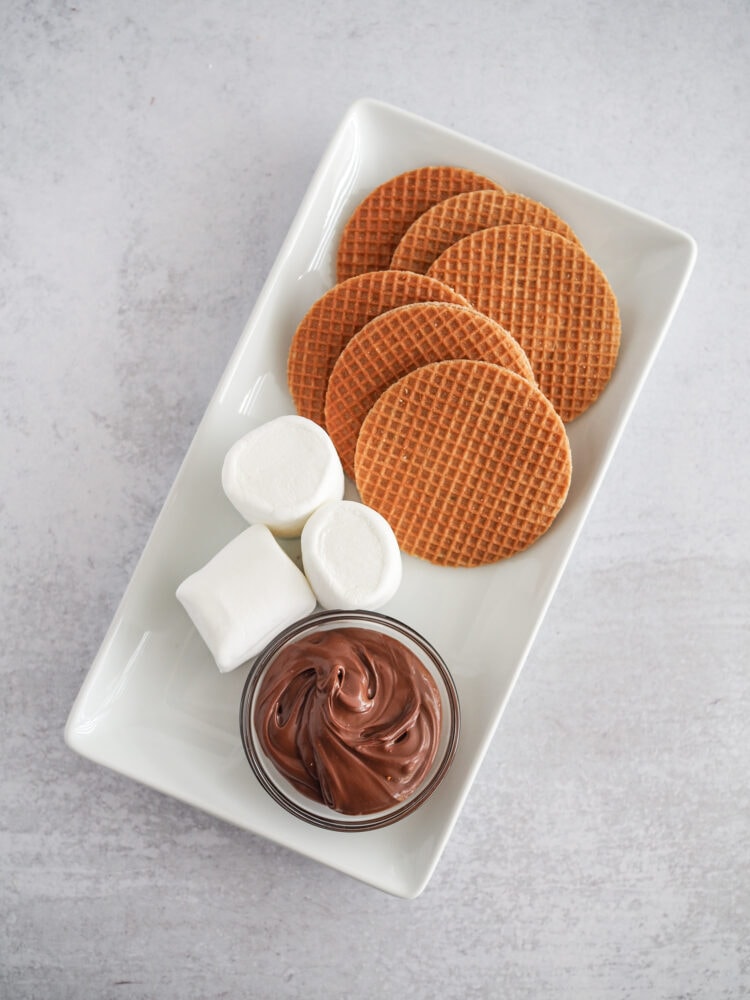 BEST COOKIES FOR S'MORES
Traditionally, s'mores are made with graham crackers. I remember once trying to describe a graham cracker to an Italian friend and it was tough! You just have to try them. But that doesn't mean you can't get creative and use other types of cookies. Even some chocolate covered cookies are great for traditional s'mores by a camp fire. But for air fryer s'mores, you want something that isn't going to melt when the marshmallow is getting toasted. Here's a list of cookies to get for your next s'mores party.
graham crackers
chocolate chip cookies (Tate's are great)
ginger thins
ginger snaps
snickerdoodle
stroopwaffels
pecan sandies
peanut butter cookies
Keebler fudge stripes
Girl Scout caramel delights
Girl Scout Toast-yay!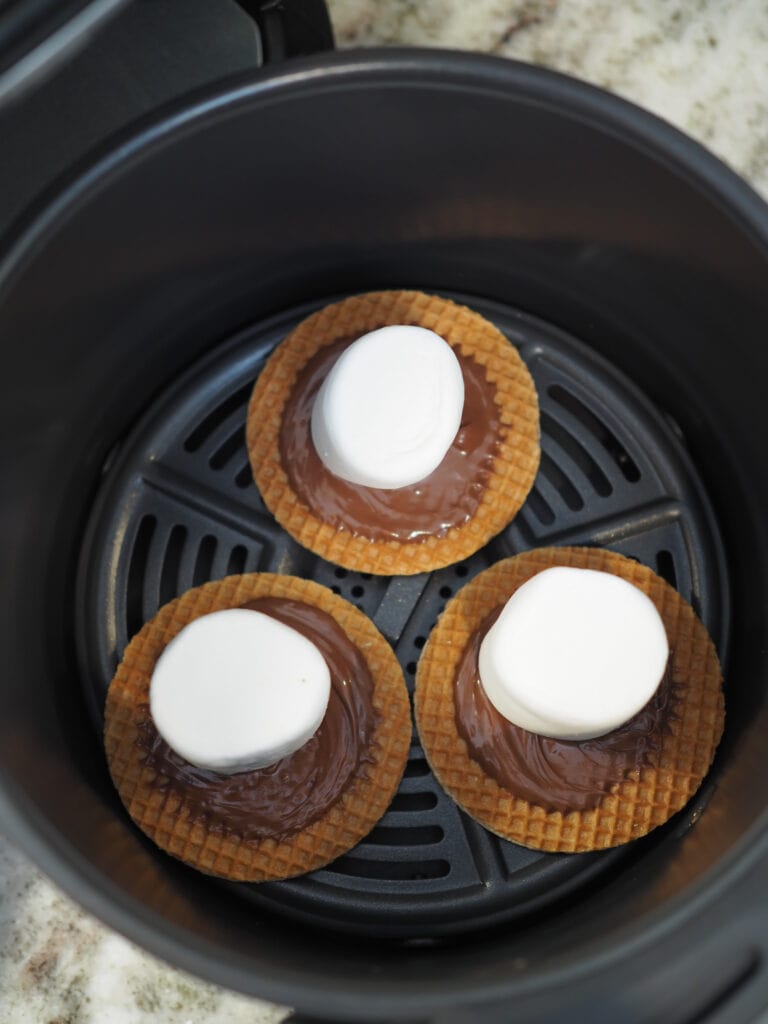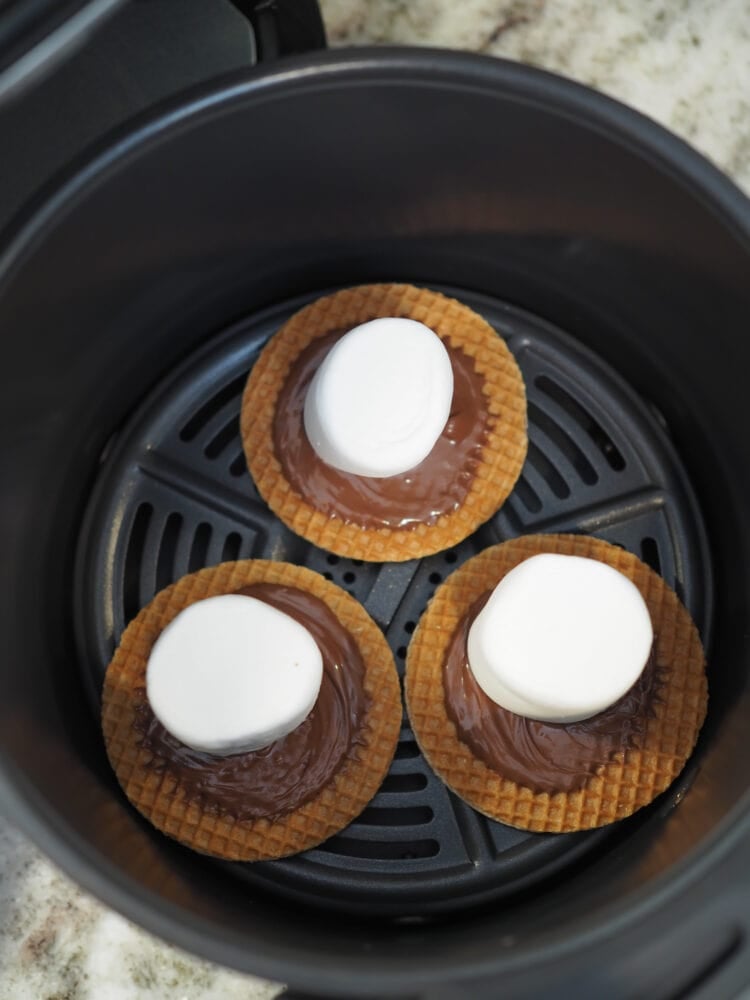 BEST KIND OF MARSHMALLOWS FOR S'MORES
The best kind of marshmallows for any kind of s'mores is making homemade marshmallows. Seriously, the vanilla flavor is out of this world. But if you're going for store bought marshmallows (which I often do), the large or jumbo sized marshmallows are best for making s'mores in an air fryer. The smaller marshmallows or mini ones just tend to get blown around by hot air when air frying.
HOW TO MAKE S'MORES IN AN AIR FRYER
Gather together the ingredients including graham crackers or other cookies, chocolate, and large marshmallows.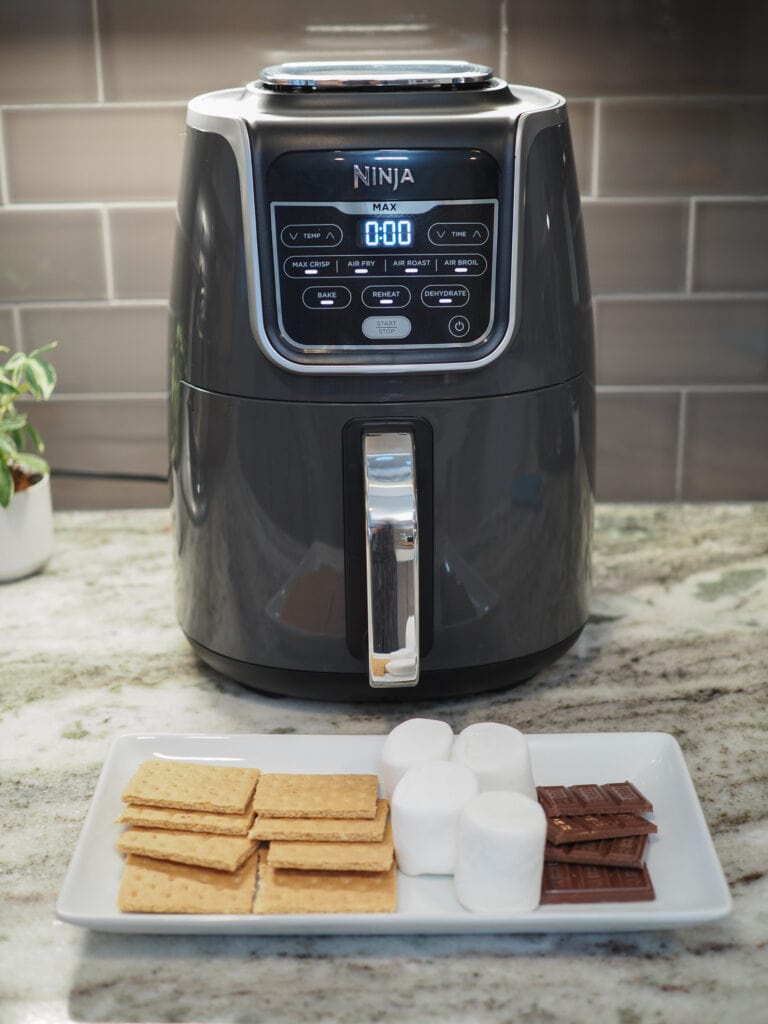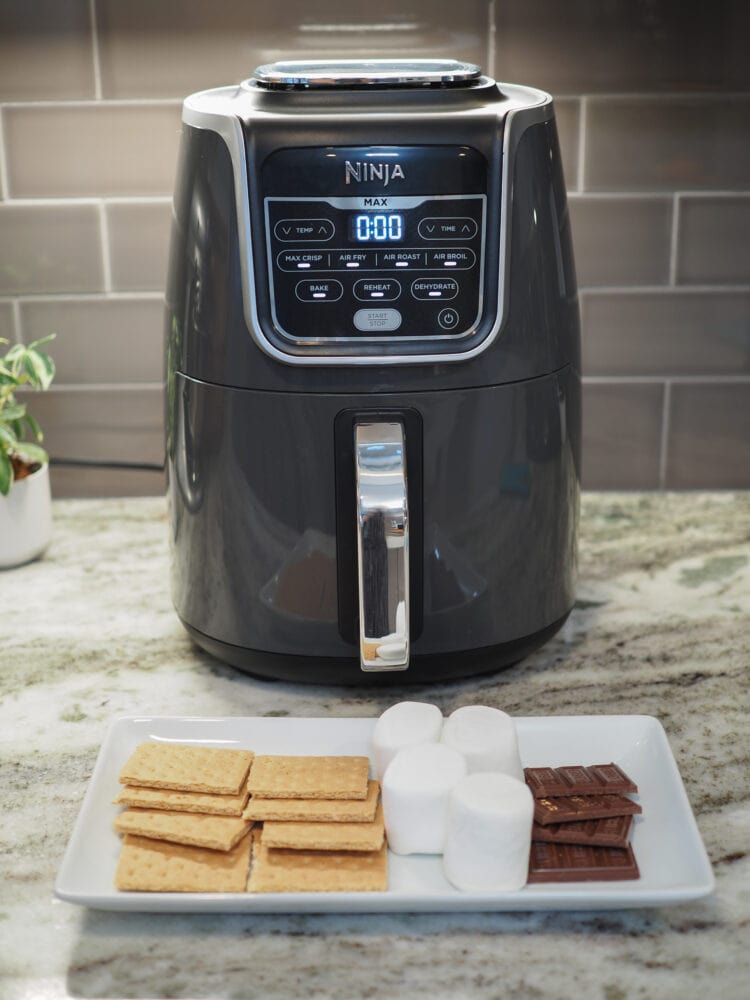 Don't forget the Nutella! You need at least a little bit of it in order to get the marshmallow to stick to the graham cracker or cookie so it doesn't blow around in the air fryer while heating.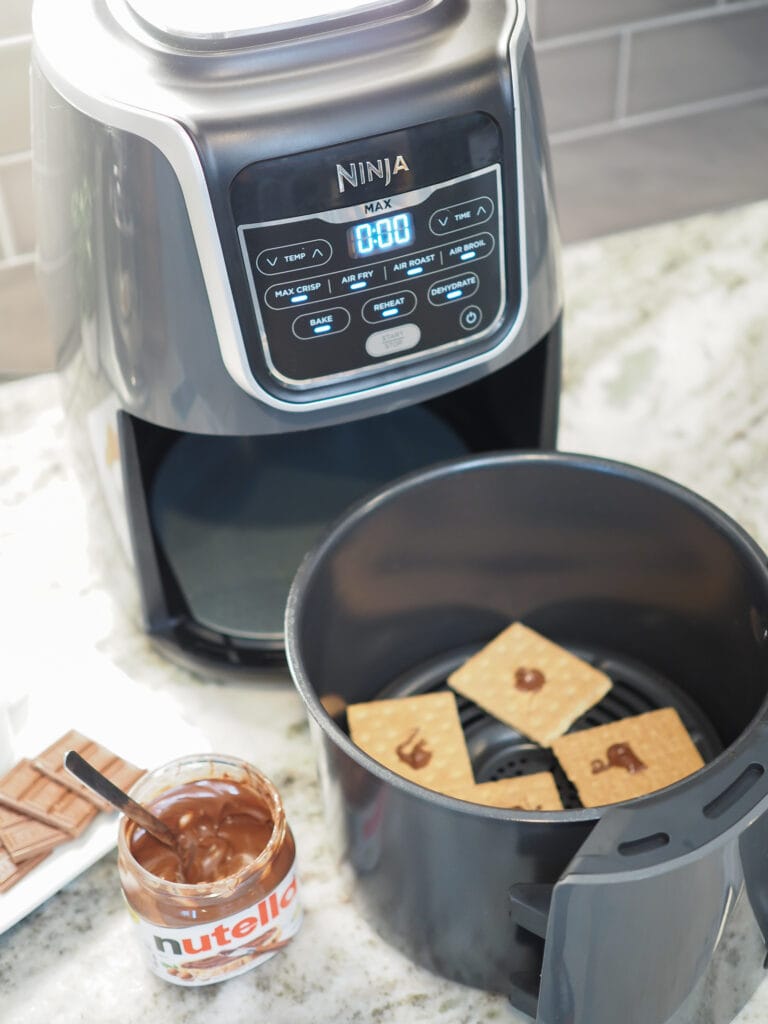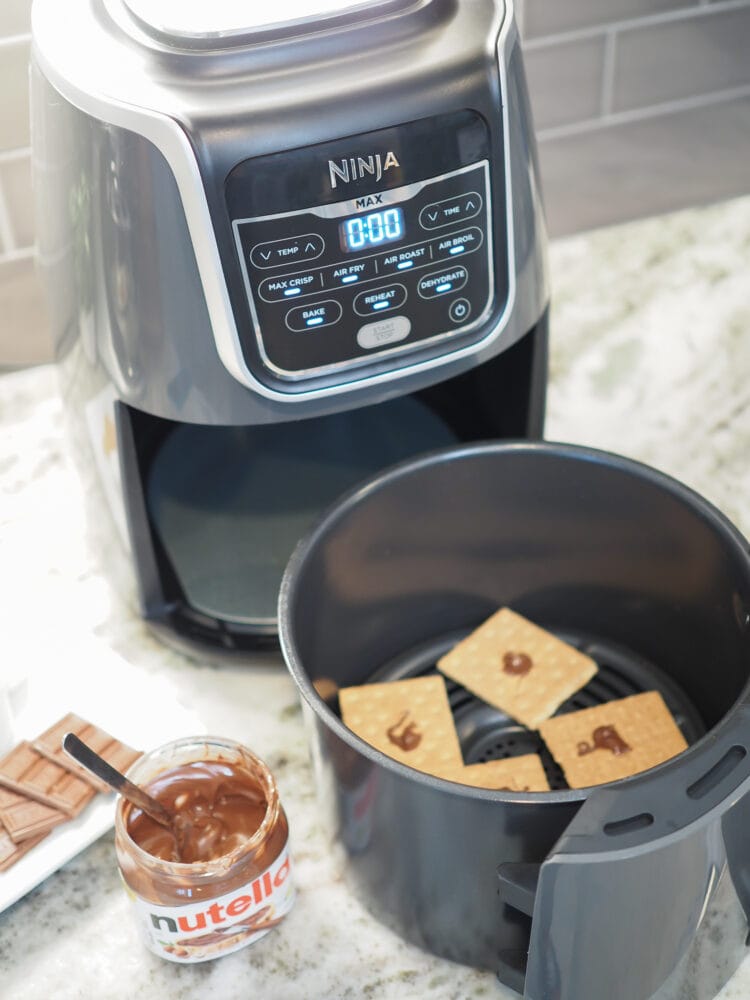 Different air fryers heat differently, especially depending on their size and wattage. Set the temperature to 390. Then, I recommend starting at setting the time for 3 minutes and adding more a minute at a time if the marshmallow isn't toasted to your liking.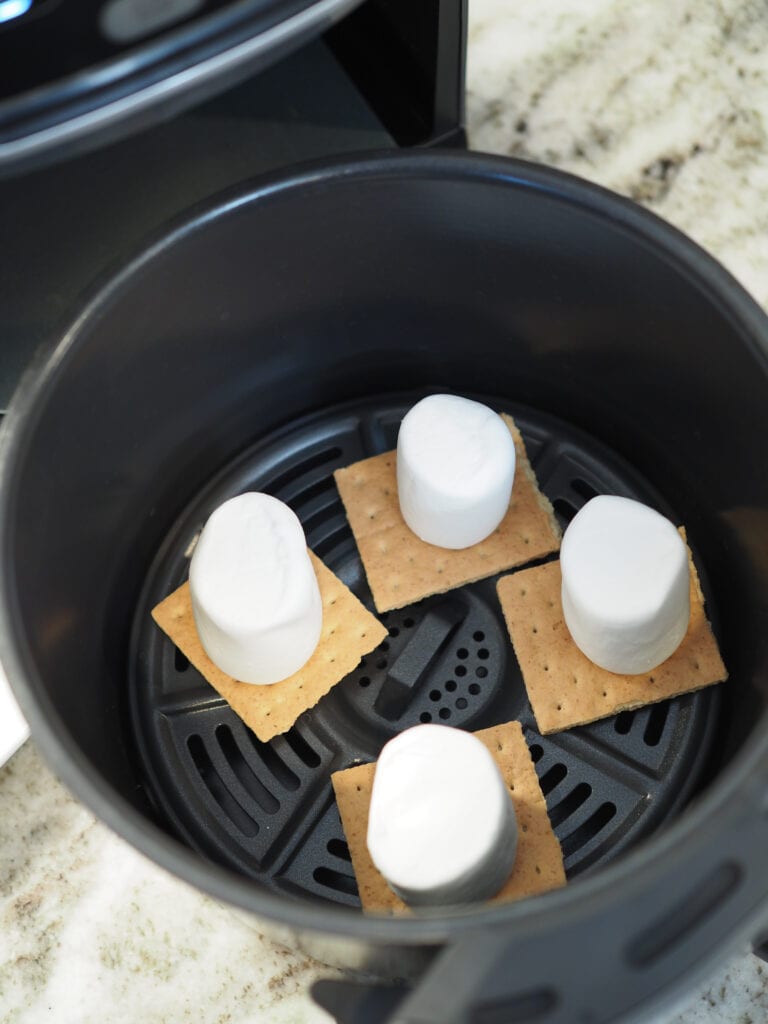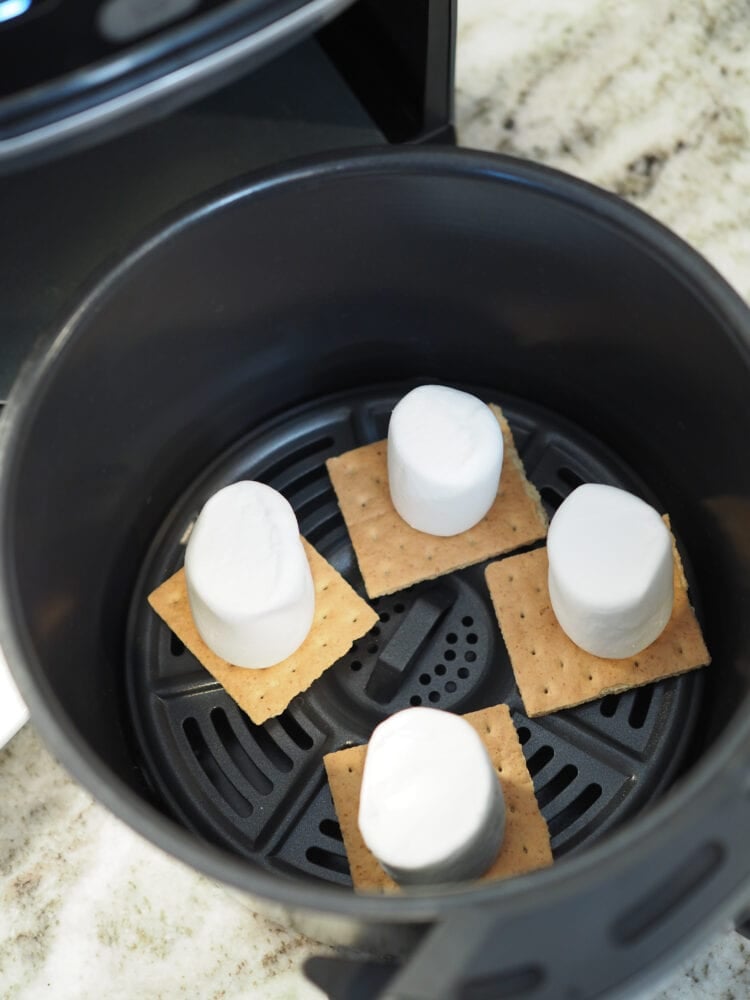 My marshmallows are typically toasty by 3 minutes in the Ninja XL air fryer.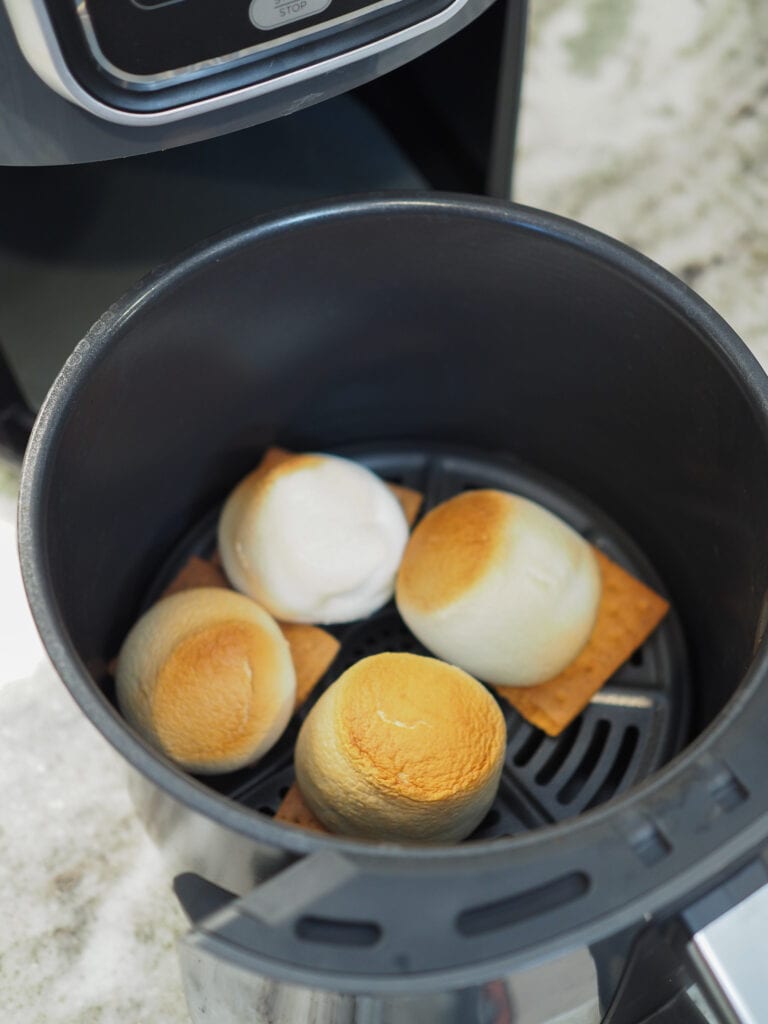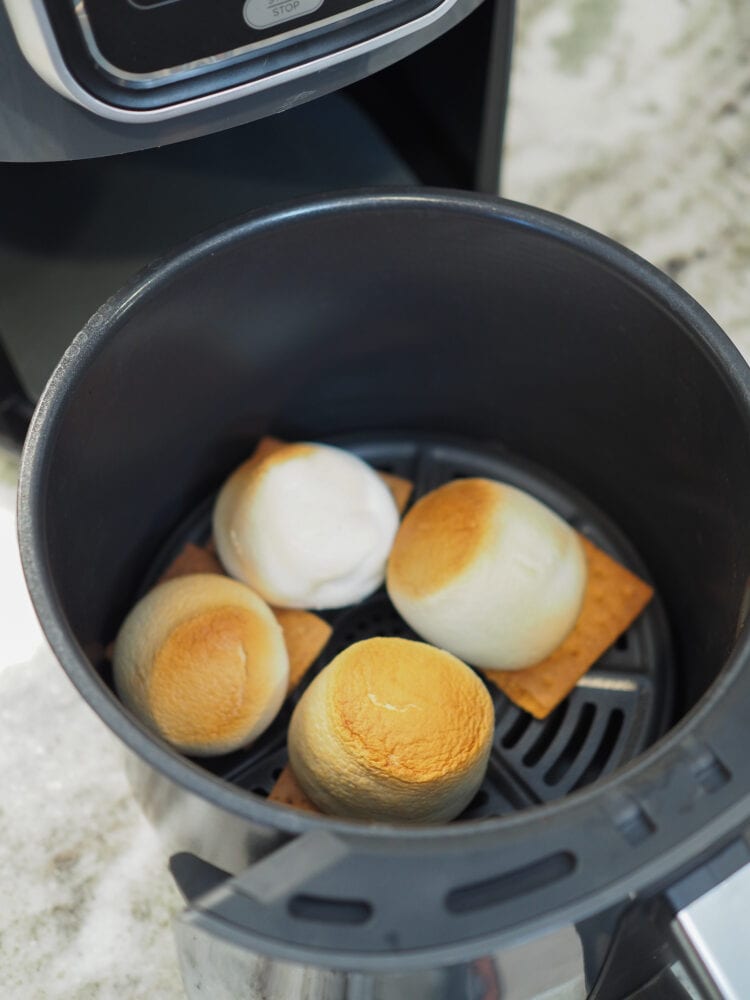 How do you know the air fryer marshmallows are done?
You're looking for a bit of browning or color on the marshmallows as well as their shape to puff up a bit. Remember, they'll be super soft even though they don't look gooey. Place the top cookie on the marshmallow and squish down. Careful, the air fryer basket will be hot. You may need a spatula to remove the air fryer s'mores.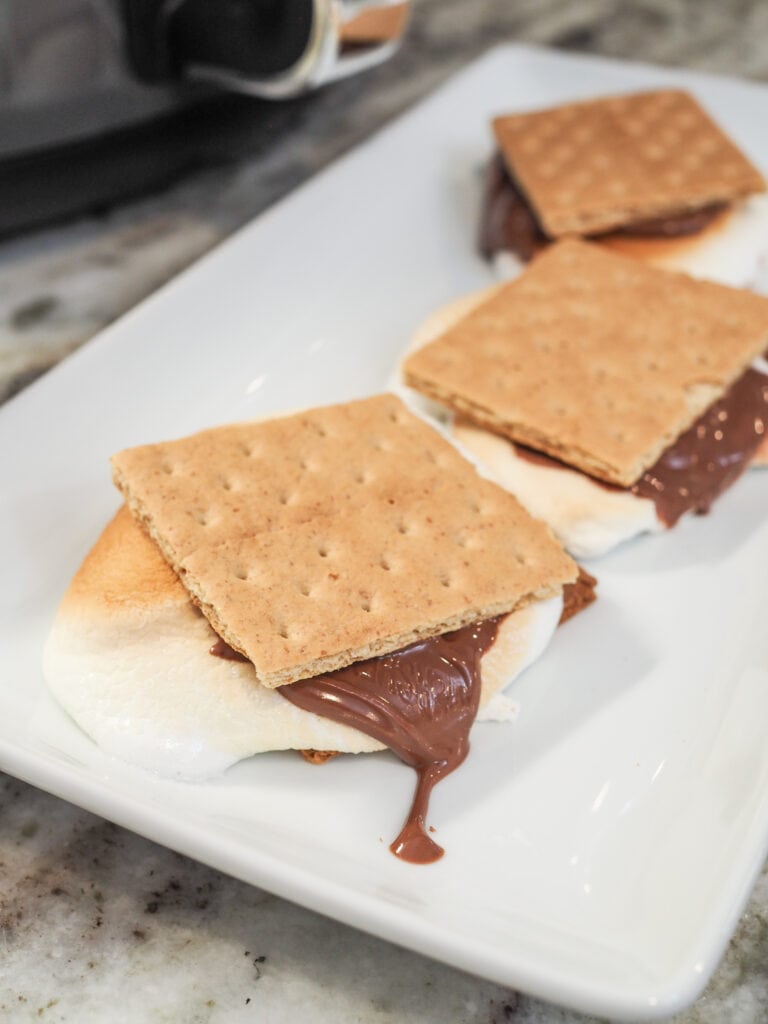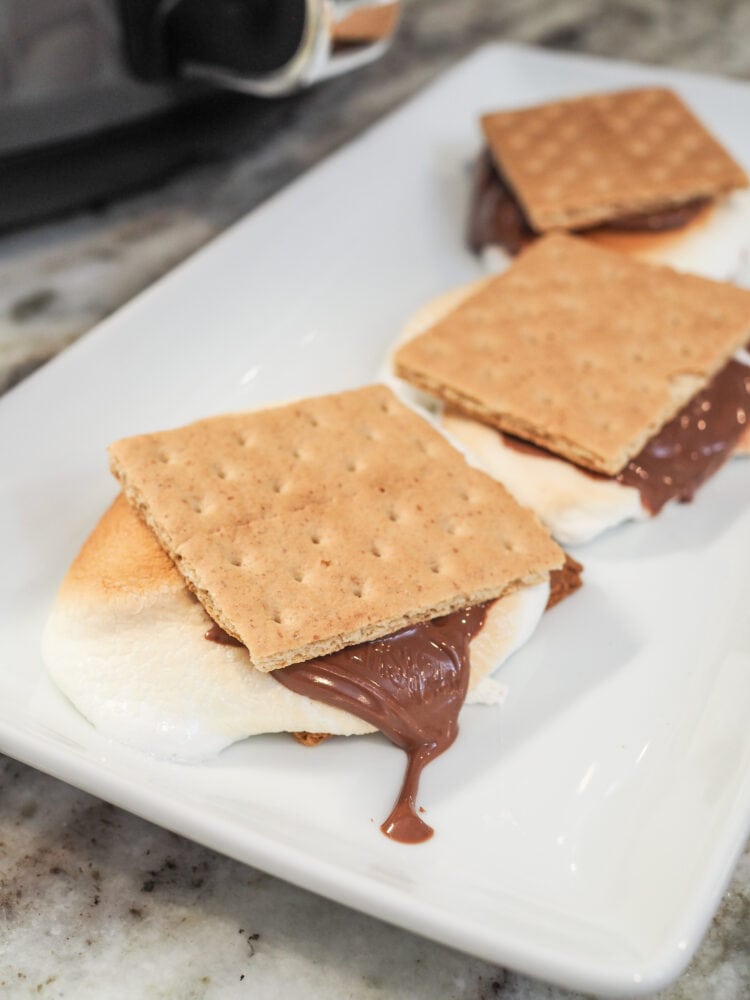 Experiment and try different s'mores combinations! Our favorite is stroopwaffles with a bit of Nutella.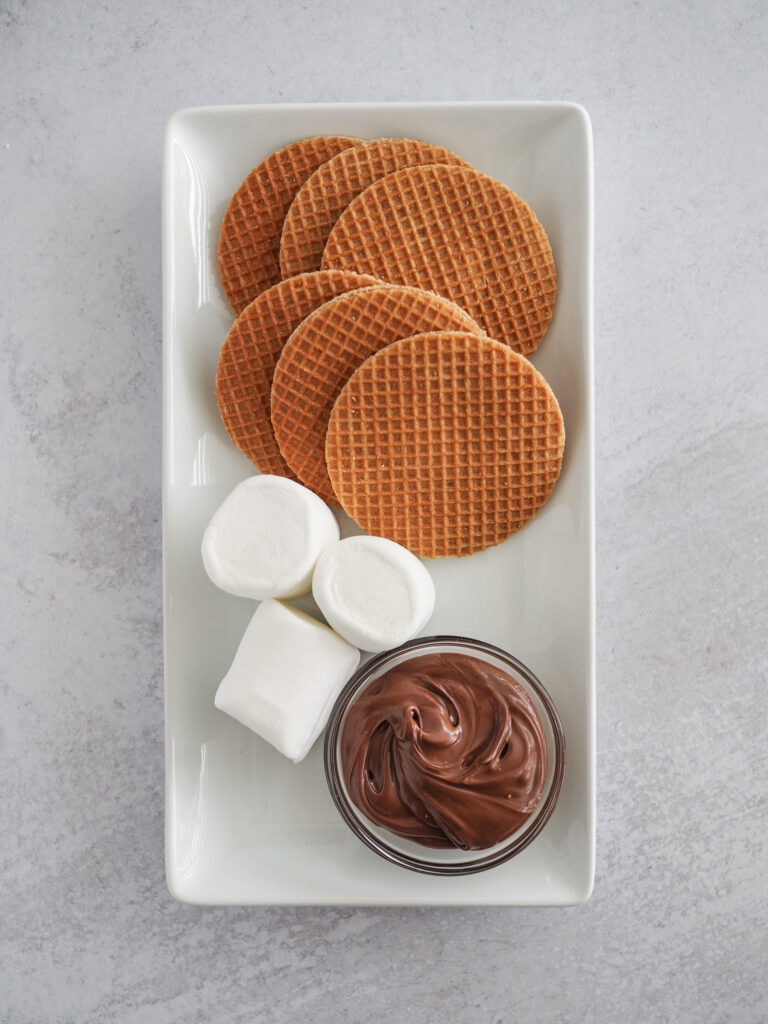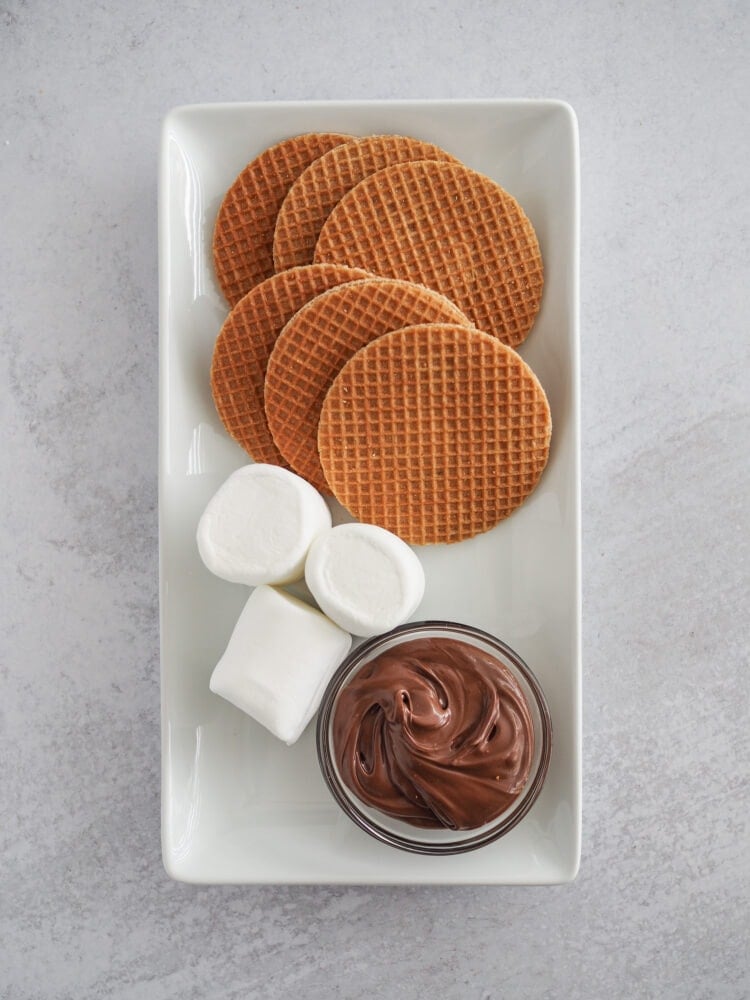 Just spread the Nutella evenly on one stroopwaffel. Don't spread it all the way to the edge since it will melt a little. Add a large marshmallow to the top and air fry at 390 degrees for 3 minutes or until the marshmallow is toasted.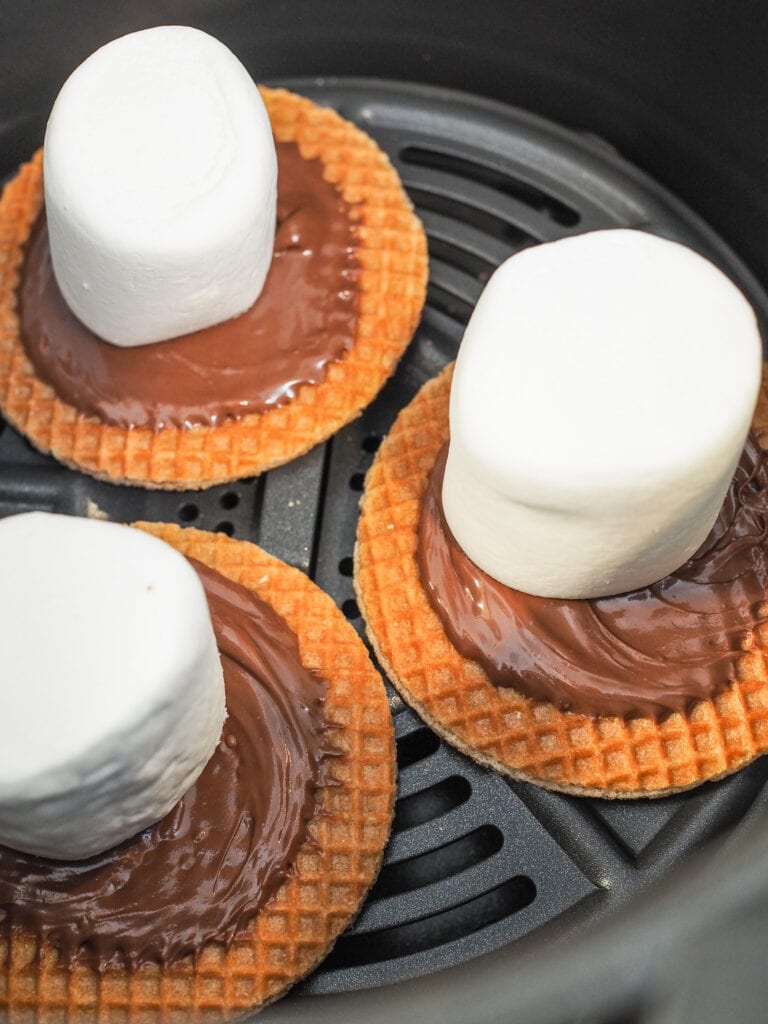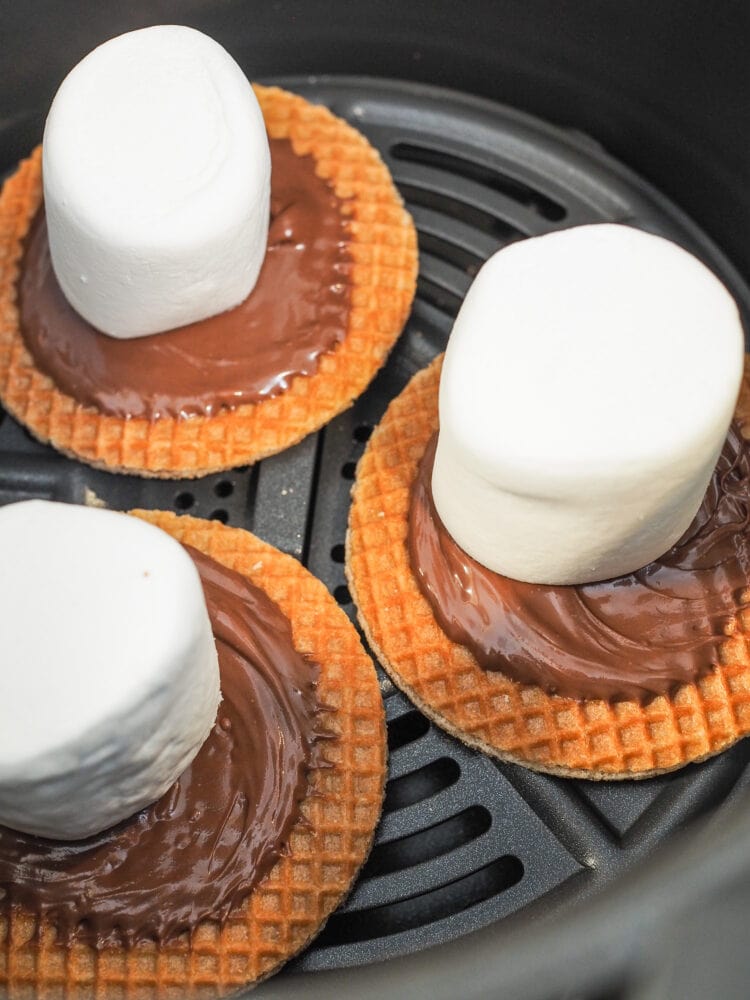 Once the marshmallow is toasted, carefully remove the air fried stroopwaffels with a spatula. Add a second stroopwaffel to the top and enjoy!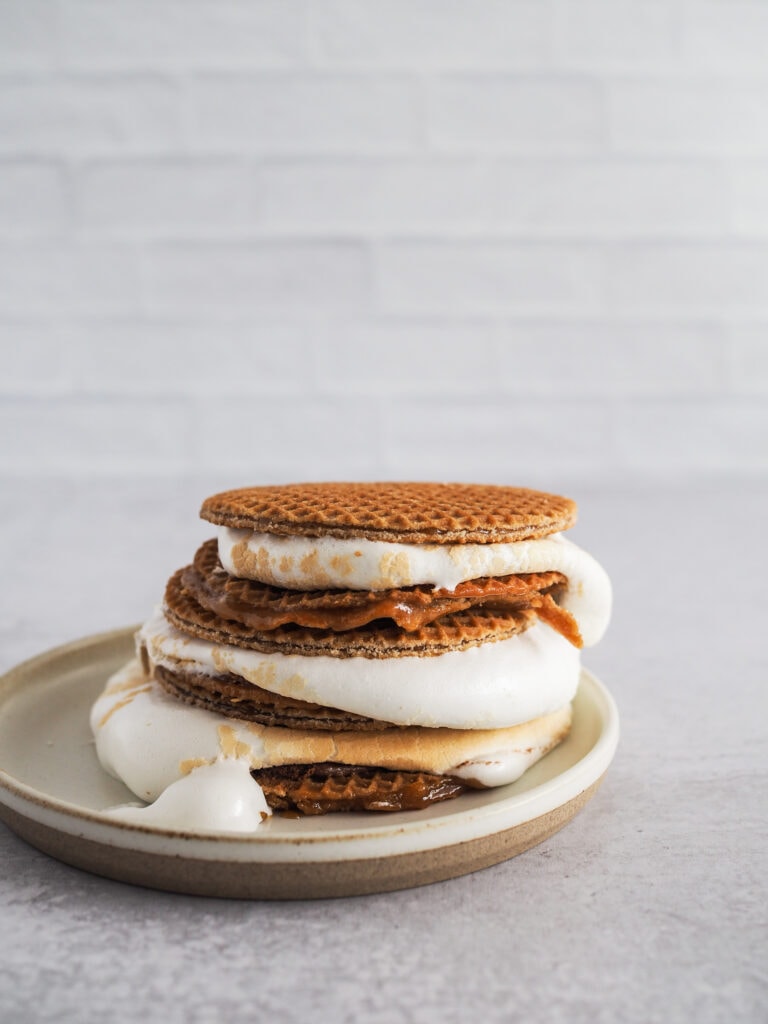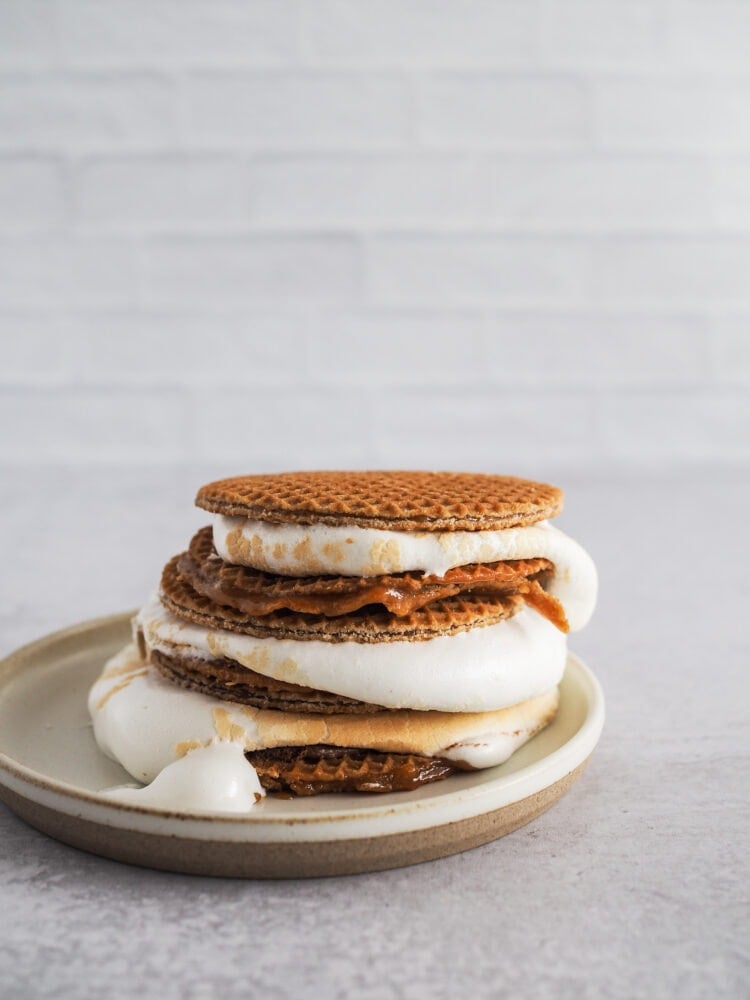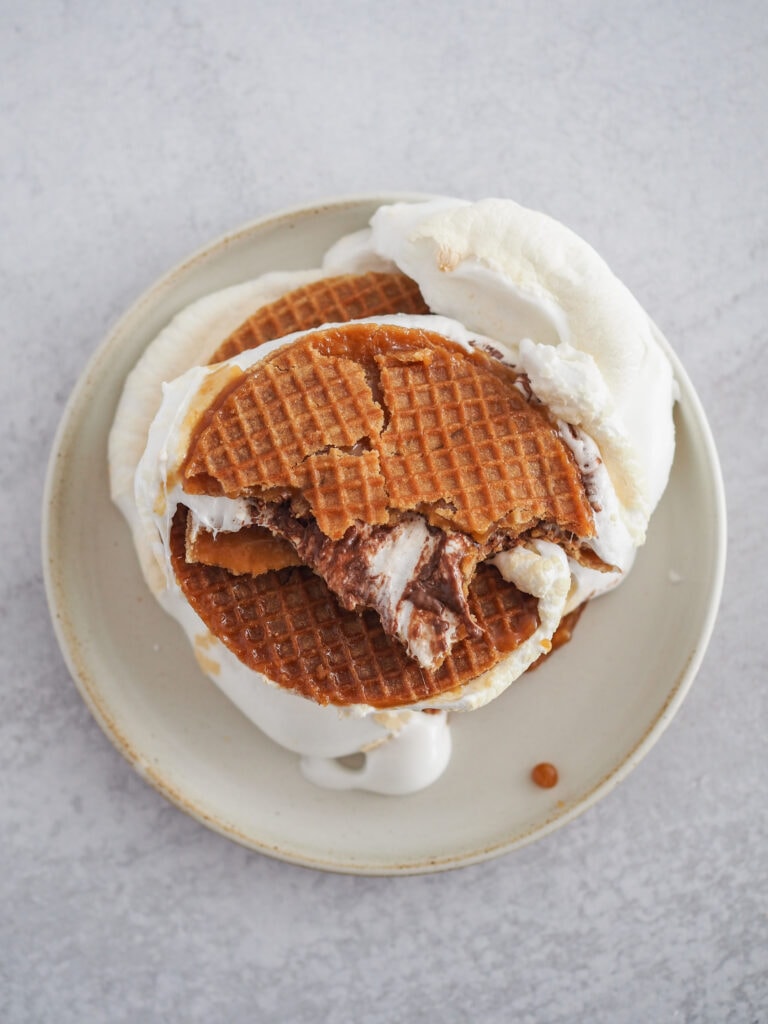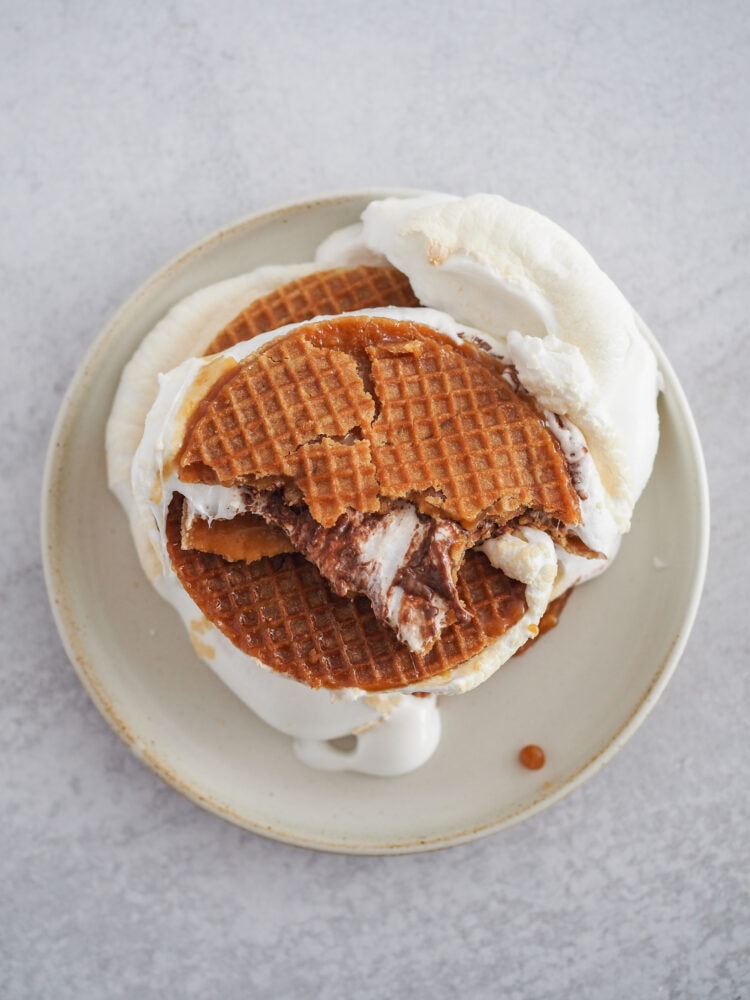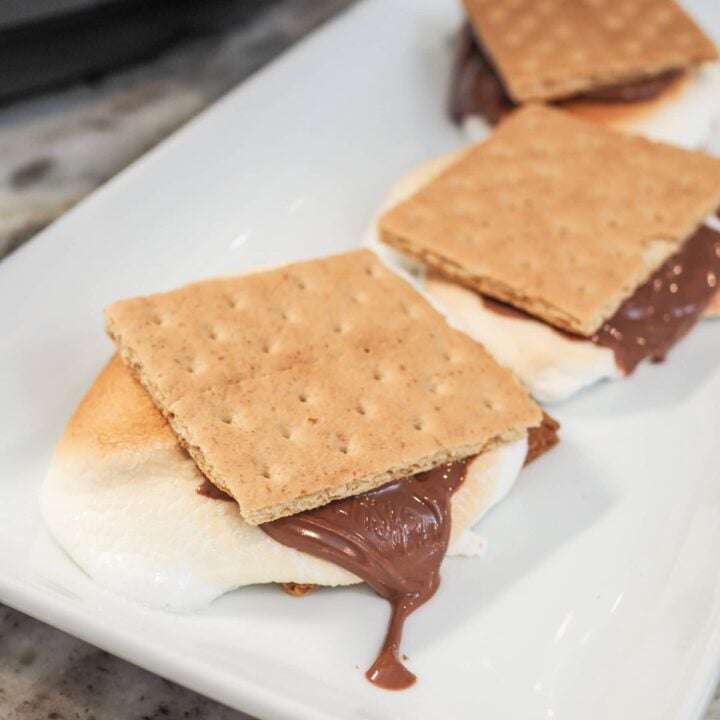 Air Fryer S'mores
Air fryer s'mores are a great way to enjoy this classic American dessert indoors any time of year.
Ingredients
4 Graham crackers, broken in half
4 large marshmallows
1 Tbsp Nutella
2 Hershey Chocolate Bars, cut in half
Instructions
Add 1 teaspoon of Nutella to four Graham cracker halves.
Place the Graham crackers with Nutella into your air fryer basket.
Add a large marshmallow to each Graham cracker, pressing down on it gently so it sticks to the Nutella.
Air fry the Graham cracker and marshmallow at 390 degrees for 3 minutes. Add more time in 1 minute intervals if needed to toast the marshmallow to your liking.
Once the marshmallow is toasted, carefully remove the Graham crackers and hot marshmallow from the air fryer using a spatula.
Top each marshmallow with a half of Hershey choclate bar and a second Graham cracker. The heat from the toasted marshmallow will melt the chocolate. Enjoy!