These two delightful autumn recipes, stovetop sautéed apples and oven baked apples, are from my innkeeping days. I've kept the story below, but feel free to jump straight to the recipe. There are step-by-step photos below as well as instructions for both methods for cooking apples. Enjoy!
THE STORY BEHIND THE RECIPE
My mom recently gave me a terracotta apple baker, so I was DELIGHTED when Susanne at Morgan House Inn sent me a recipe that gave me the opportunity to use it. As I read on through the recipe I realized it was stove top. Bummer! So I decided to try it both ways … sautéed stovetop apples as well as oven baked apples.
It was a sort of apple cook-off. A contest. A duel. An absolute apple taste test.
Maybe it's because I was just having one of those frustrating weeks where stress started creeping in because I had a lot of projects started and nothing finished. So slicing and chopping apples was just the outlet I needed for releasing some energy.
WHAT KIND OF APPLES TO USE
This baked apple recipe really is perfect for fall. Any apple variety will do, but a mix of tart and sweet is good. I used gala, granny smith and fuji.
The recipe was sort of wingin' it … no exact measurements. It's a fun way to cook — a dash here and a dash there — but difficult to duplicate and share! Susanne is delightful through email, and I can tell she's been making these for so long that it just comes naturally to her. So, I've "winged it" and made up some measurements form Susanne's list of ingredients that worked pretty well.
INGREDIENTS YOU'LL NEED
5- 8 apples
freshly grated nutmeg
freshly grated ginger
cinnamon
lemon juice
vanilla
raisins
I used the same ingredients for baking as I did for the stove top, so we'll see which produces a better cooked apple! I'm gonna show you the baked apples first, then the sautéed apples. Recipe for printing is at the bottom of the post.
BAKED APPLES RECIPE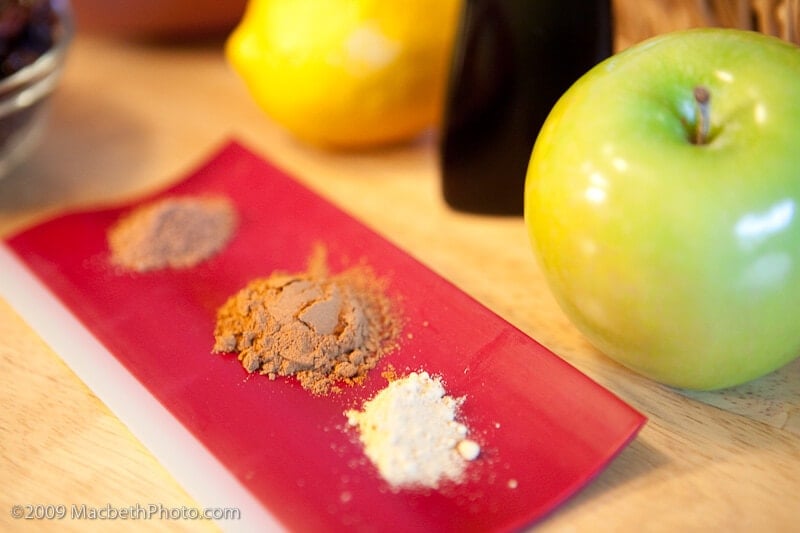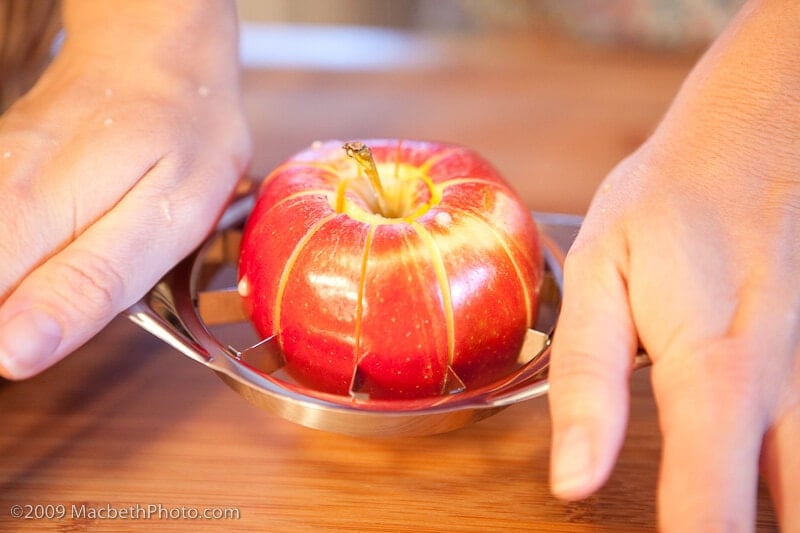 For the baked apples, I sliced and cored them but kept the peels in tact. I did it such a way that the whole apple was still connected by the skin at the bottom. I thought it would later make a nice presentation with a big scoop of ice cream in the middle It's a little tricky, as you have to sort of pull the apple back through the slicer. Don't pull your finger through at the same time! Unless … of course … you're making this recipe for Halloween and are going for the whole bloody-apples-with-finger-bits kind of dish. But that's just plain gross.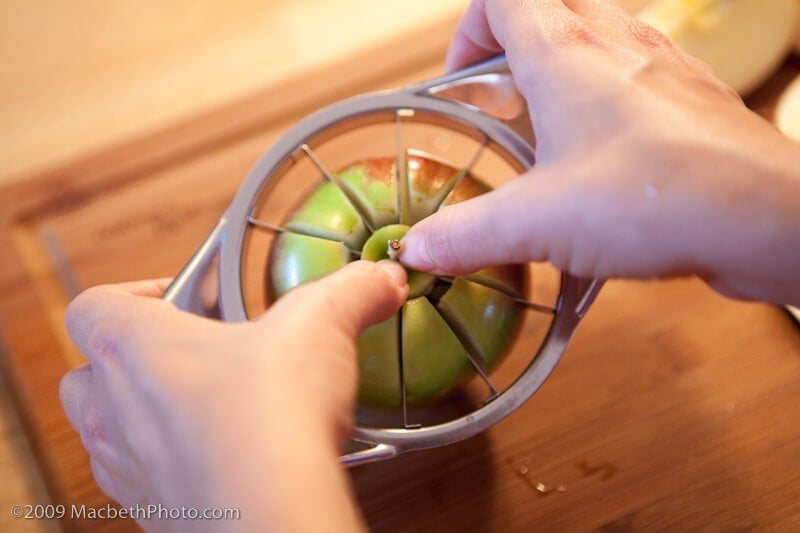 I needed a little leverage on some of these firm apples, so I stepped up on a stool to throw my weight into this coring thing. So THIS is how Julia Child felt hovering over her counter tops. Aaah. It's nice to be tall … even just for a moment.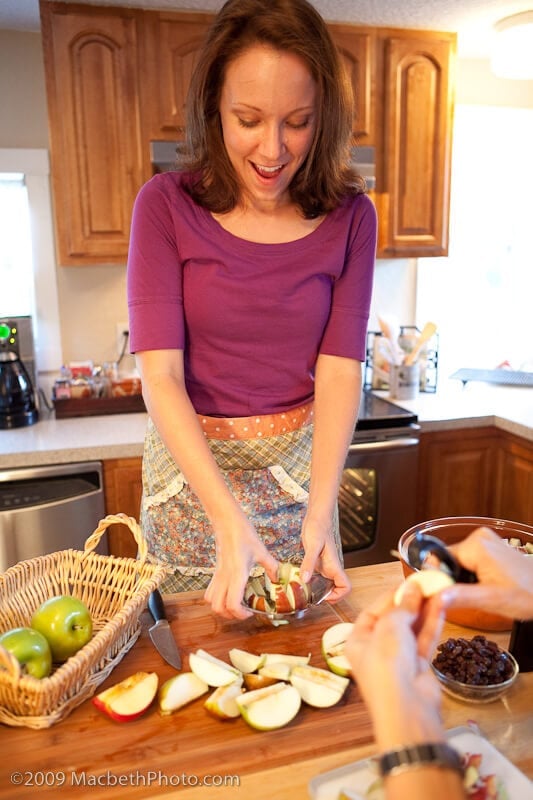 All the apples nestled nicely in their little baker. Despite my unfruitful search for fresh ginger and whole nutmeg to grind … I did find a lonely lemon. I roll lemons on the cutting board a bit to get it a bit more juiced up.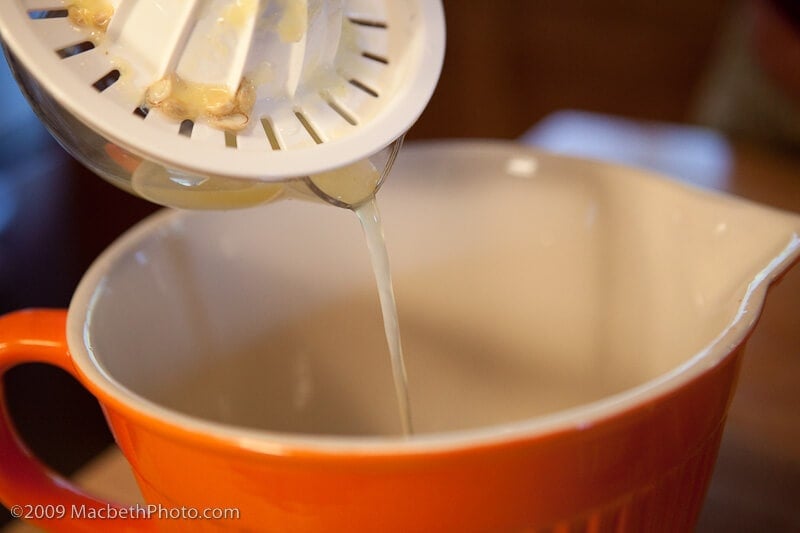 Here's where I let the photos tell the story for a bit. A little lemon, a dash of vanilla …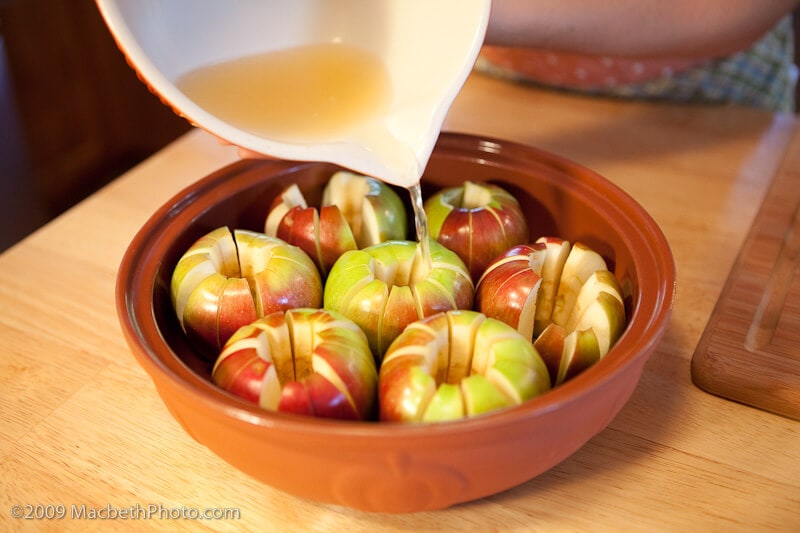 GASP! At this point I remembered my spices. Too late. The apples have already started soaking up the lemon and vanilla and boy-o-boy did it pour quick. Ah well. Rethink. Revise. Sprinkling it is. I guess it is possible that the spices would have just stuck to the bowl? (making myself feel better anyway!) Now I'll just be more precise with how to sprinkle them? At least each apple got a little extra love and some undivided spice attention. Strategically place some raisins and you're ready to go!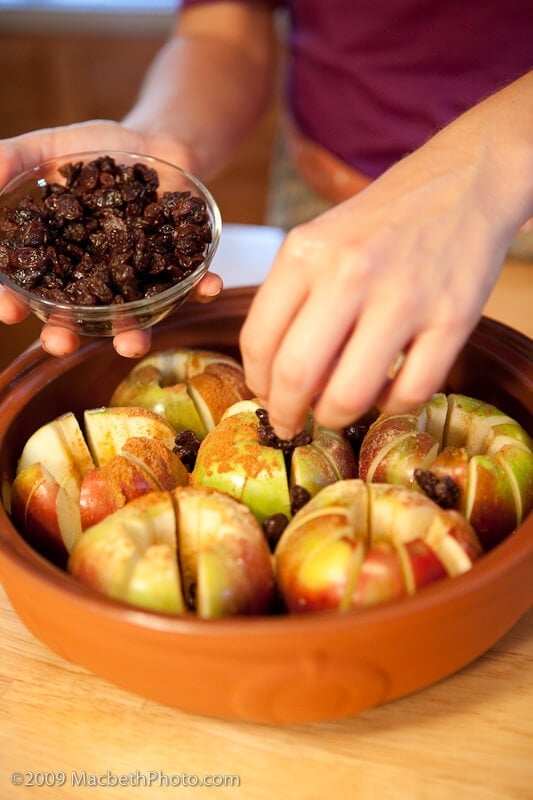 STOVETOP SAUTÉED APPLES
We are now up to our elbows in apples and I realized I got a little carried away. For the sautéed apples I should have PEELED them first, then chopped. Now we've got to peel them all individually and I'm having flashbacks to stories of my grandfather talking about how peeling potatoes in the army was sort of a punishment. I guess I'm paying my penance for any wrong doings of the week. I may have to pour some autumn sangria to get through this tedious task!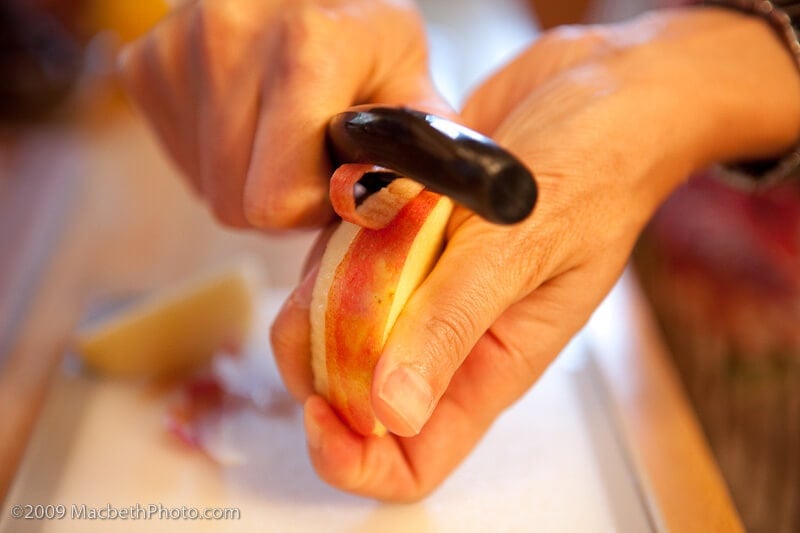 Assuming you're smarter than me, and actually peeled your apples before slicing, then this process should be pretty quick. Next, add your naked apples to a warmed up saute pan (medium heat) with the same juice/vanilla/spice concoction listed above for the baked apples.
Pour on the raisins …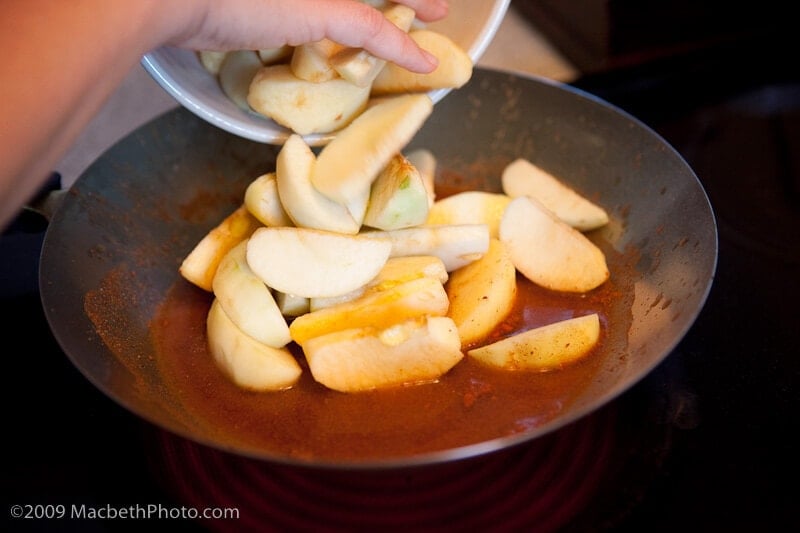 Reduce heat to low/medium and stir every 5 to 10 minutes until the apples have absorbed all the spices and they turn into a gooey compote.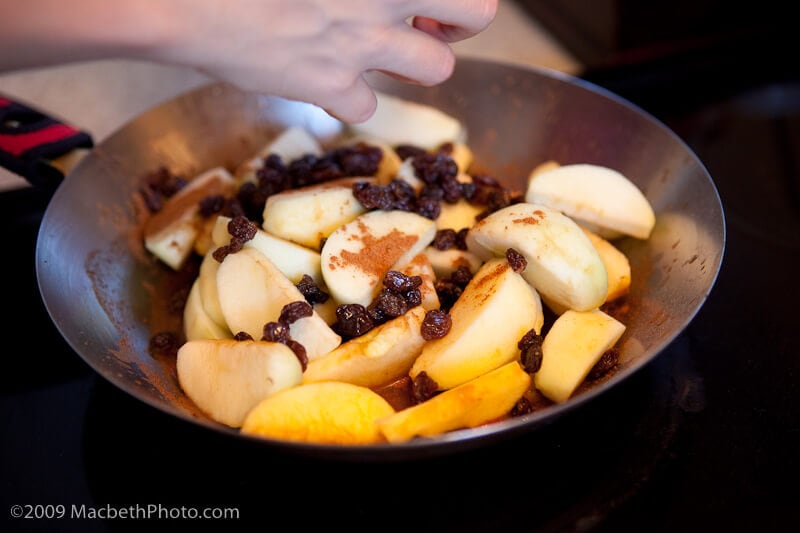 So, is it the sauteed apples, or the baked apples that passed the taste test? Both were excellent and immediately devoured with a scoop of vanilla ice cream. If you're into the dessert for breakfast sort-of-thing. Susanne says guests love it served warm either solo, with cereal or yogurt. I would even spoon it on toast.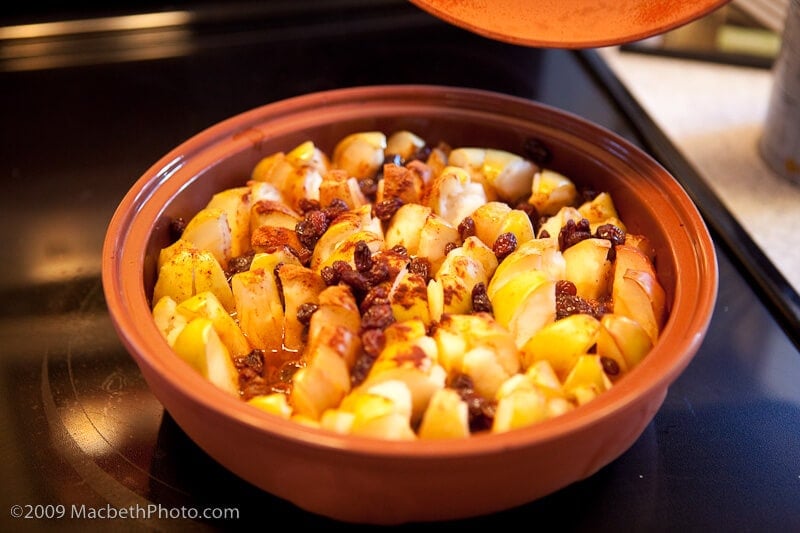 The baked apples were not as sweet as the sautéed apples, which were almost syrupy. Both recipes actually turned out great, it just depends on what you'd like to use the apples for as the sautéed was much more like a compote. The oven baked apples would be great with some ice cream or a side dish to pork chops.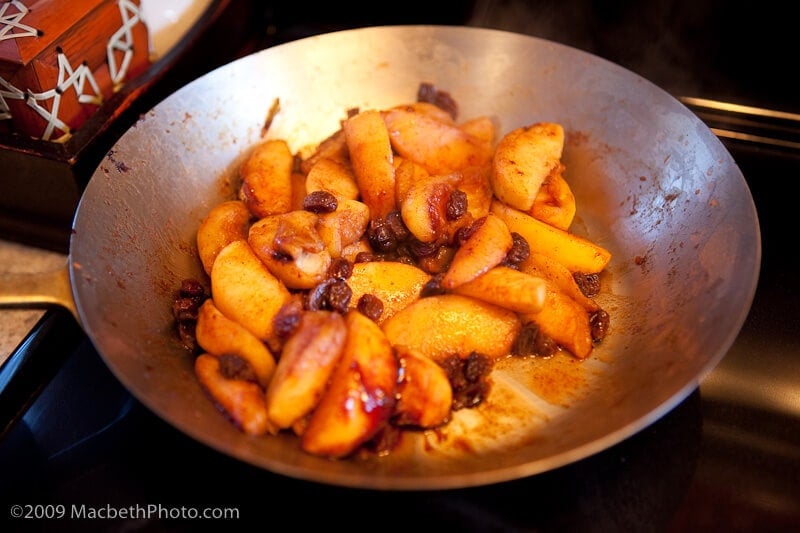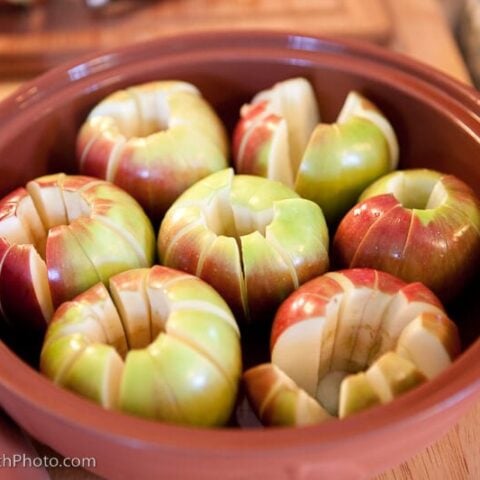 Autumn Apples: Baked and Sauteed
Ingredients
6-7 apples (a mix of apple varieties is good)
1 lemon, juiced
1/4 cup raisins
1/2 teaspoon vanilla
1/2 teaspoon nutmeg
1/4 teaspoon ginger
1 teaspoon cinnamon
Instructions
Preheat oven to 350 degrees.
Core and slice your apples, then arrange them in a baking dish or terra cotta apple baker.
Mix lemon juice, vanilla, and spices together in a small bowl, then pour over the apples.
Sprinkle raisins on top, cover, and bake for 45 minutes. (If you don't have an apple baker, you can cover a square baking pan with tin foil)
Notes
FOR SAUTÉED APPLES: Same ingredients as above. Here is the method: Warm pan to medium high heat and add the sliced apples. Reduce heat to low/medium and stir every 5 to 10 minutes until the apples have absorbed all the spices and have softened.
Nutrition Information:
Yield:

6
Serving Size:

1
Amount Per Serving:
Calories:

135
Total Fat:

0g
Saturated Fat:

0g
Trans Fat:

0g
Unsaturated Fat:

0g
Cholesterol:

0mg
Sodium:

3mg
Carbohydrates:

35g
Fiber:

6g
Sugar:

26g
Protein:

1g
Nutrition information provided is only an estimate.
Want to save this recipe? Pin it!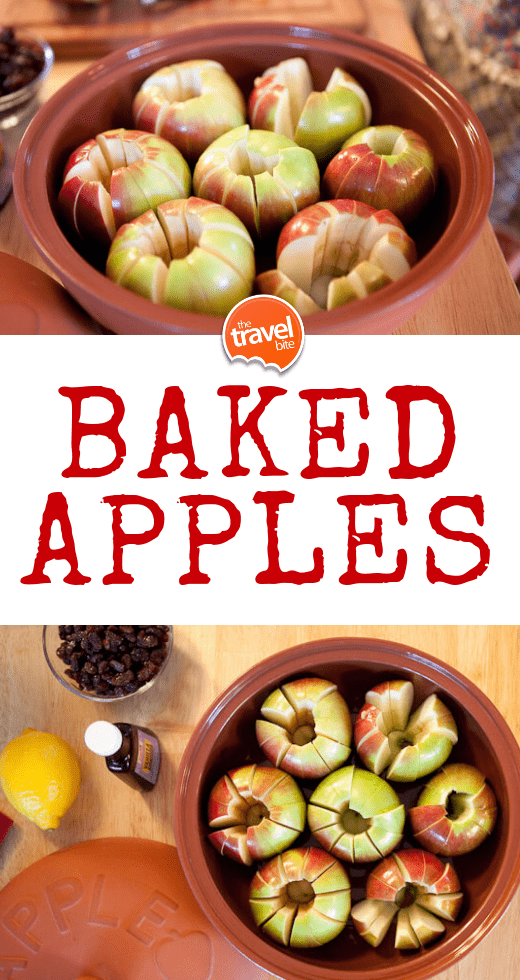 This recipe originally appeared on my first blog, Inn The Kitchen, on Sep 30, 2009, about what it was like to be an innkeeper. Enjoy!