The main staple for all Caribbean cooking is chicken and rice, or, arroz con pollo. Every country and region has it's own version and the subtle changes and nuances in preparation really do make each one taste a little different.  (I think there's a multi-country chicken and rice cookbook idea there!)
Driving through the country of Costa Rica, you can't help but notice all the lush green farms full of bananas, coconut, and coffee. There's even cacao. These ingredients are pretty much what I gravitate toward on any dessert menu, so I felt as though I was in some sort of temptation-rich green organic version of Charlie And The Chocolate Factory.
During our visit to Puerto Limón, I had the opportunity to take a Costa Rican cooking lesson from a local foods guru, Ms. Veronica, and was very much looking forward to learning how to make something other than dessert with Costa Rica's abundance of delicious ingredients.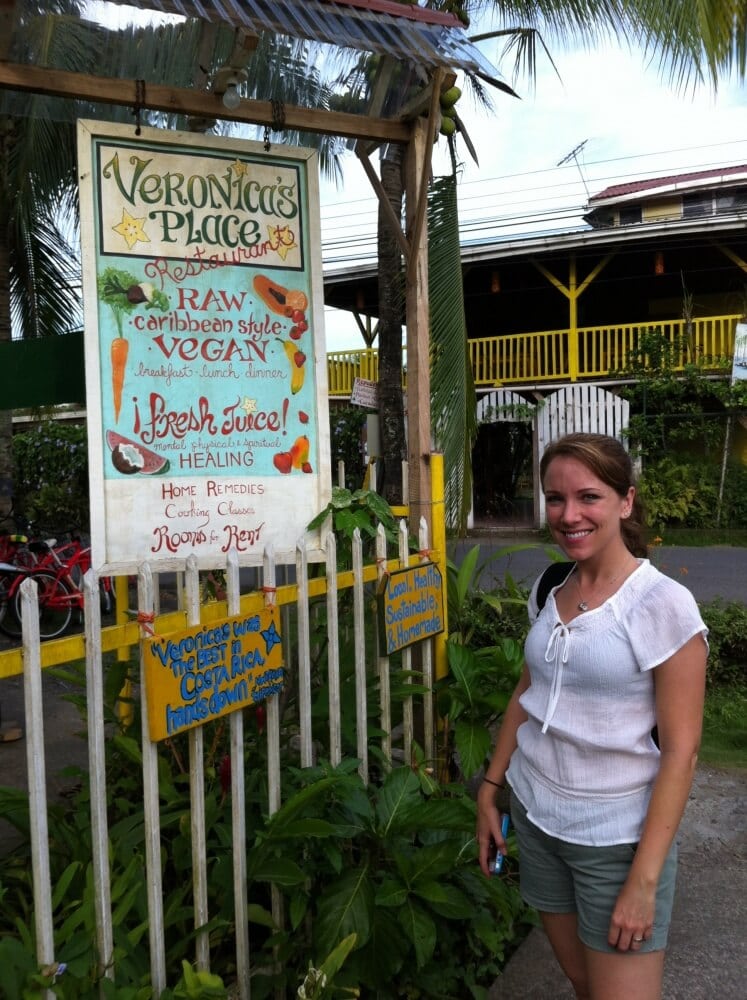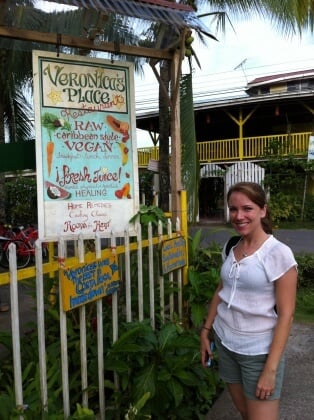 Veronica is known among locals and expats for making healthy home-style meals. From fresh fruit juices and smoothies, to organic raw foods, to Caribbean style rice and beans with patacones … no one leaves Veronica's Place hungry!
Located on the second floor of a vibrantly painted cottage in the small surfer town of Puerto Viejo, Veronica's Place has fun views of the downtown area and the broad porches and open windows allow for a fresh ocean breeze to cool the air. (Checking online, I think her restaurant has since been renamed Caribbean Kalisi!)
My husband and I arrived with empty bellies, eager to roll up our sleeves and work in the kitchen with her to make dinner.  She greeted us with a warm smile and a couple of extra aprons, immediately putting us to work grating fresh coconut to extract the milk.  With all of us sharing stories, laughing, and prepping food around a small table, I instantly felt like we were in her home and making a family meal.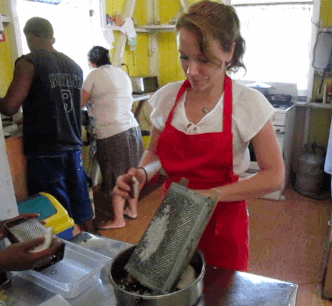 As the afternoon grew to evening, we diced, chopped and sauteed our way through many conversations that made the time seem to pass so quickly.  We must have been in the kitchen cooking for at least two hours, but Veronica says that extra time in the kitchen is the secret ingredient called a 'dash of love.'   In the end, we made three dishes:  coconut rice and beans, Caribbean style chicken, fresh salad with homemade lime dressing, and chilled cass and ginger juice.  Overall it was a fun night!
If you visit Puerto Viejo, you must stop by Veronica's Place for a bite to eat.  Long-term travelers, nomads, and adults looking for a career break might be interested in Veronica's work exchange program.  For $10 a day, you get a home stay with three daily meals, Spanish lessons, cooking classes, and working in a fun vegan/vegetarian cafe!  I can't think of a better way to immerse in 'la pura vida!'
Check out the photo gallery below for more shots of our fun cooking class.  Recipe for Caribbean Chicken & Rice is below! Many thanks to my husband Pete for taking all the pictures so I could focus on cooking!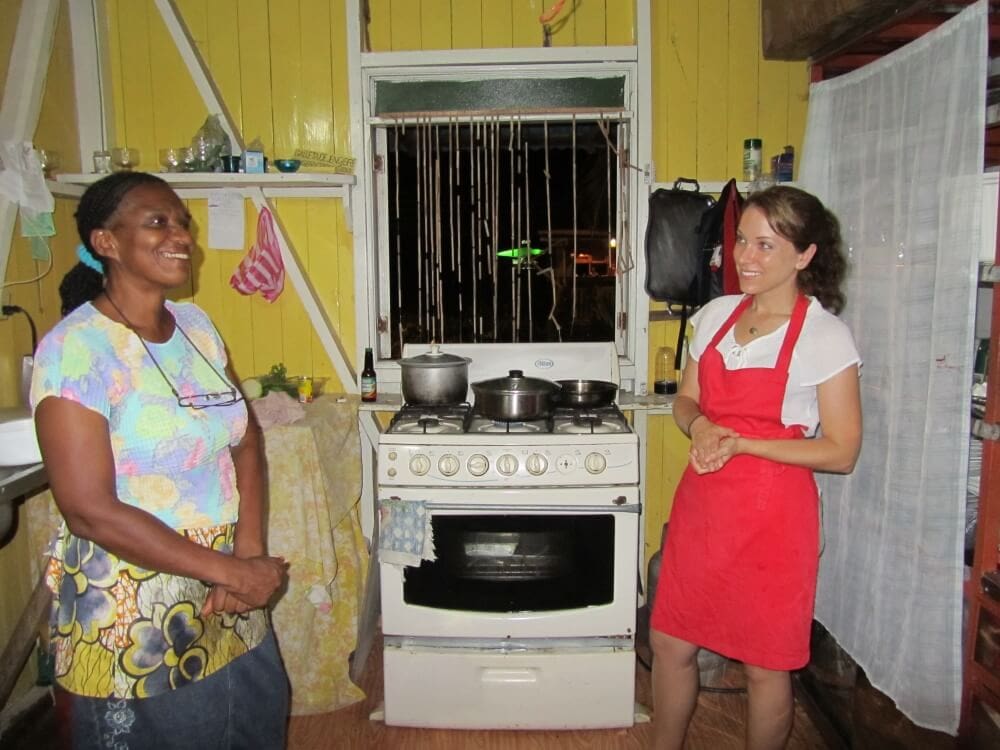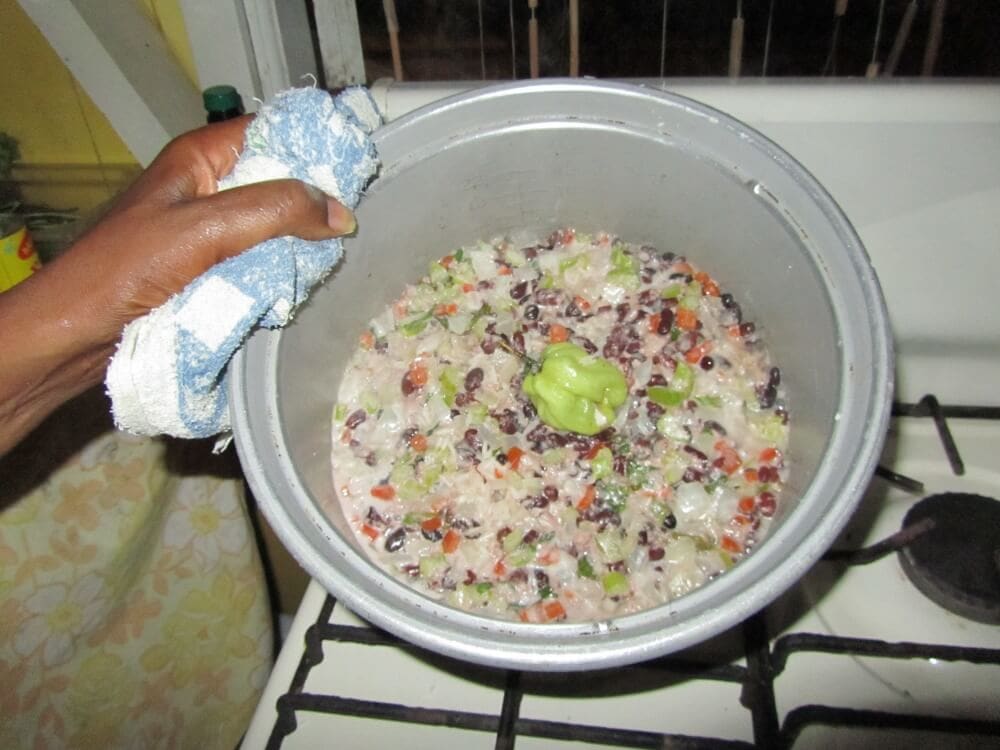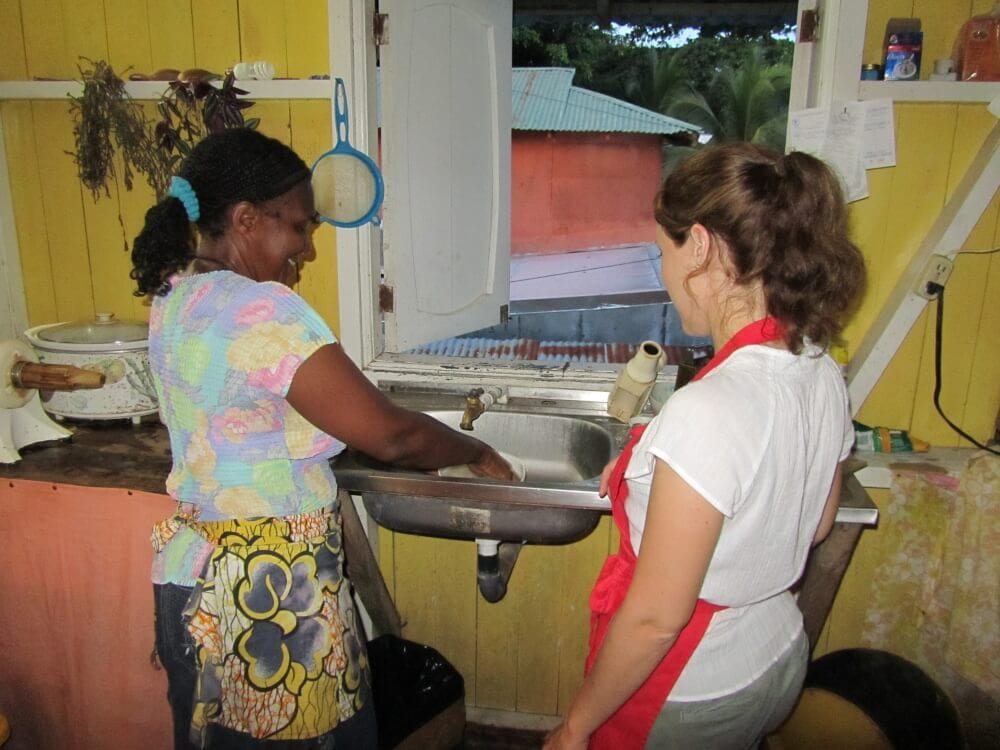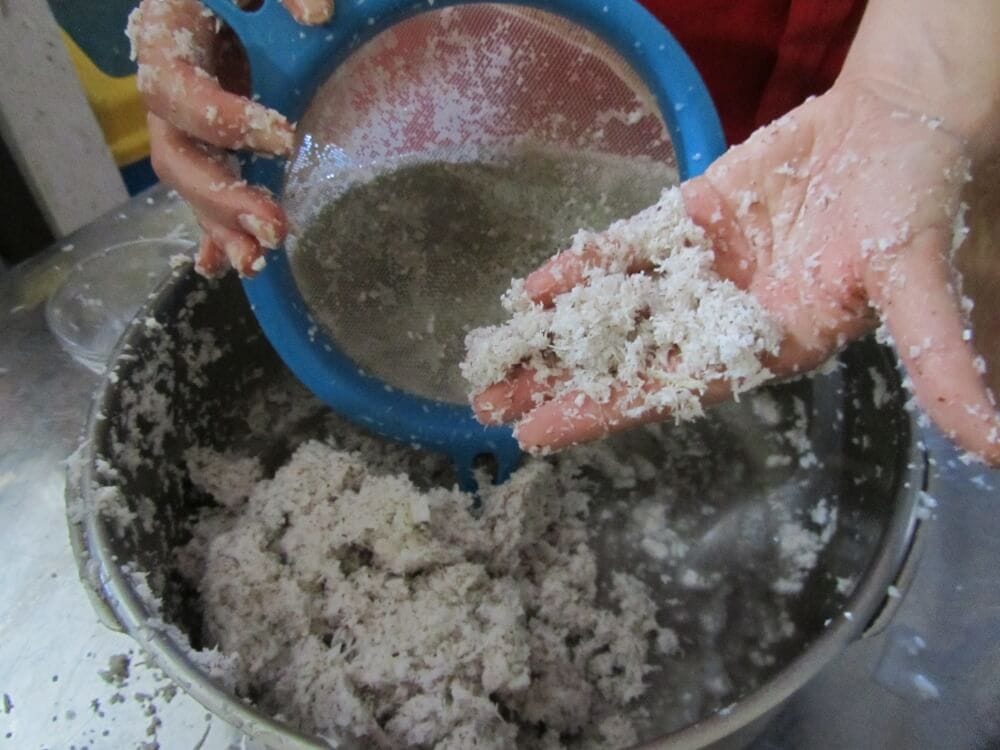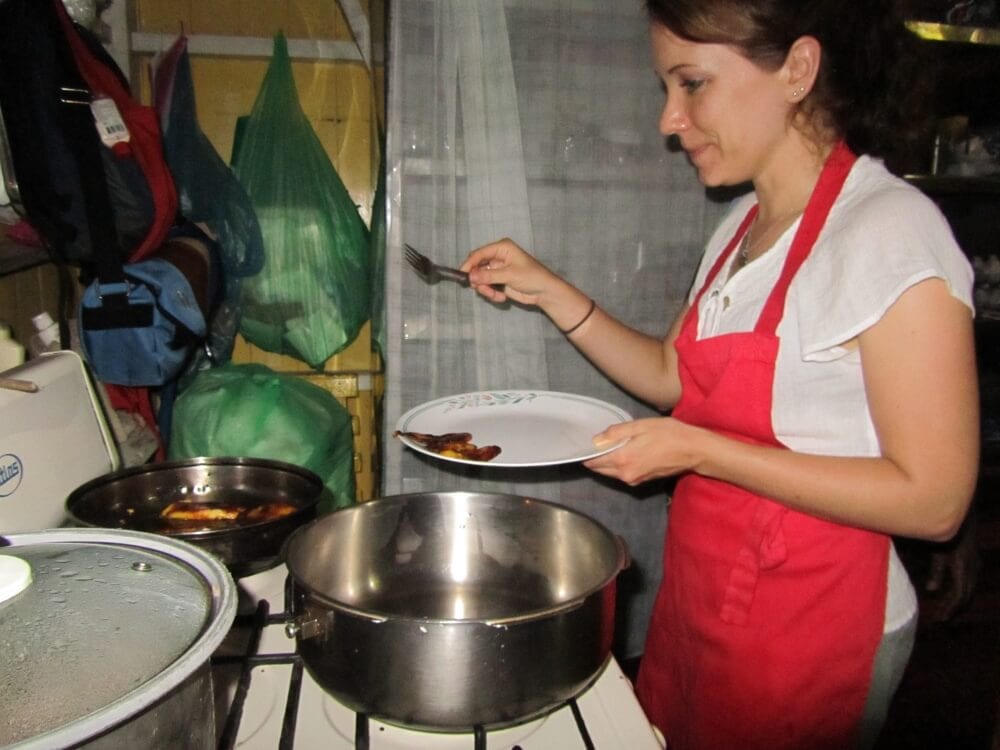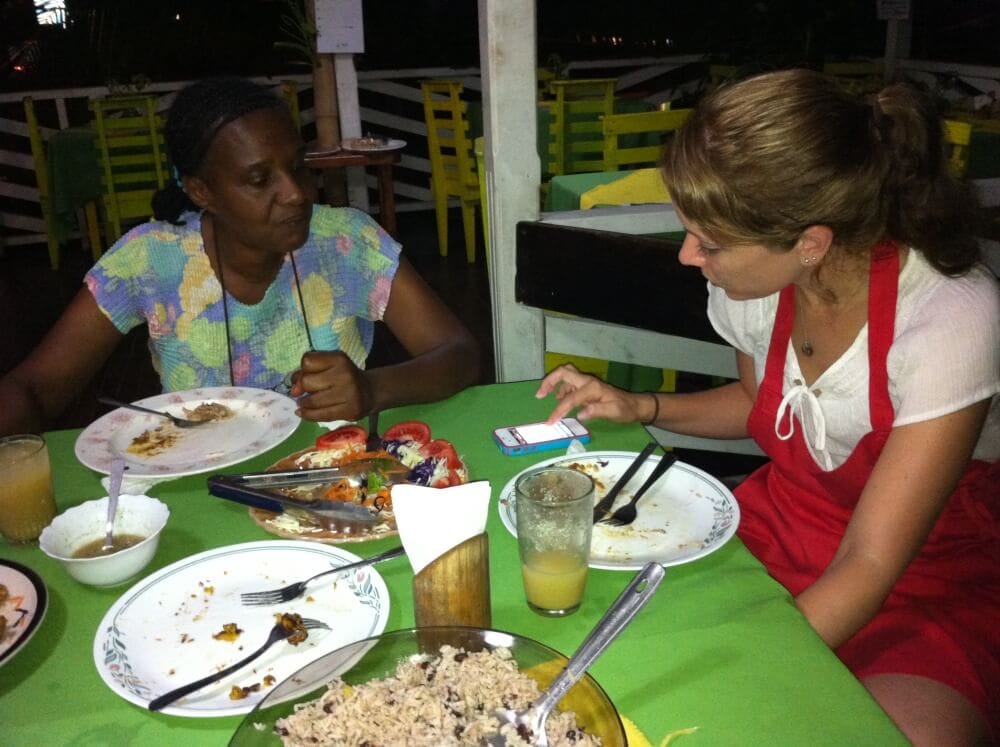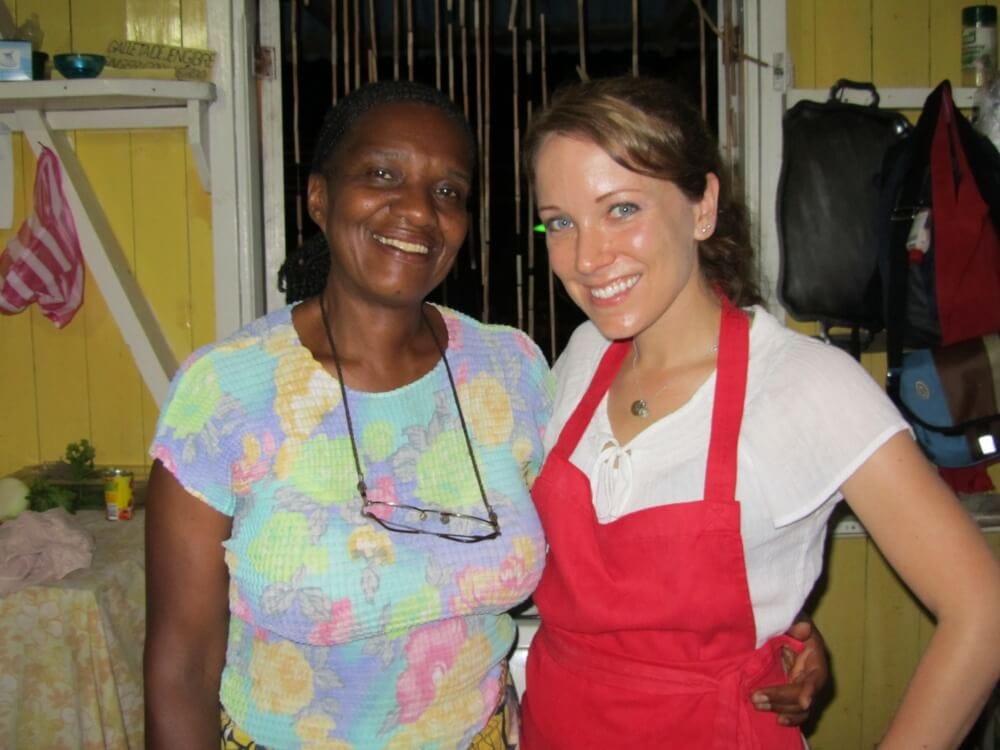 **This was part of a sponsored trip by Costa Rica.  Opinions are my own.
This is the coconut infused Caribbean Chicken and Rice recipe I picked up while taking a cooking class with Ms. Veronica in Costa Rica.  If you're looking for a crowd pleaser or some satisfying comfort food … this is it!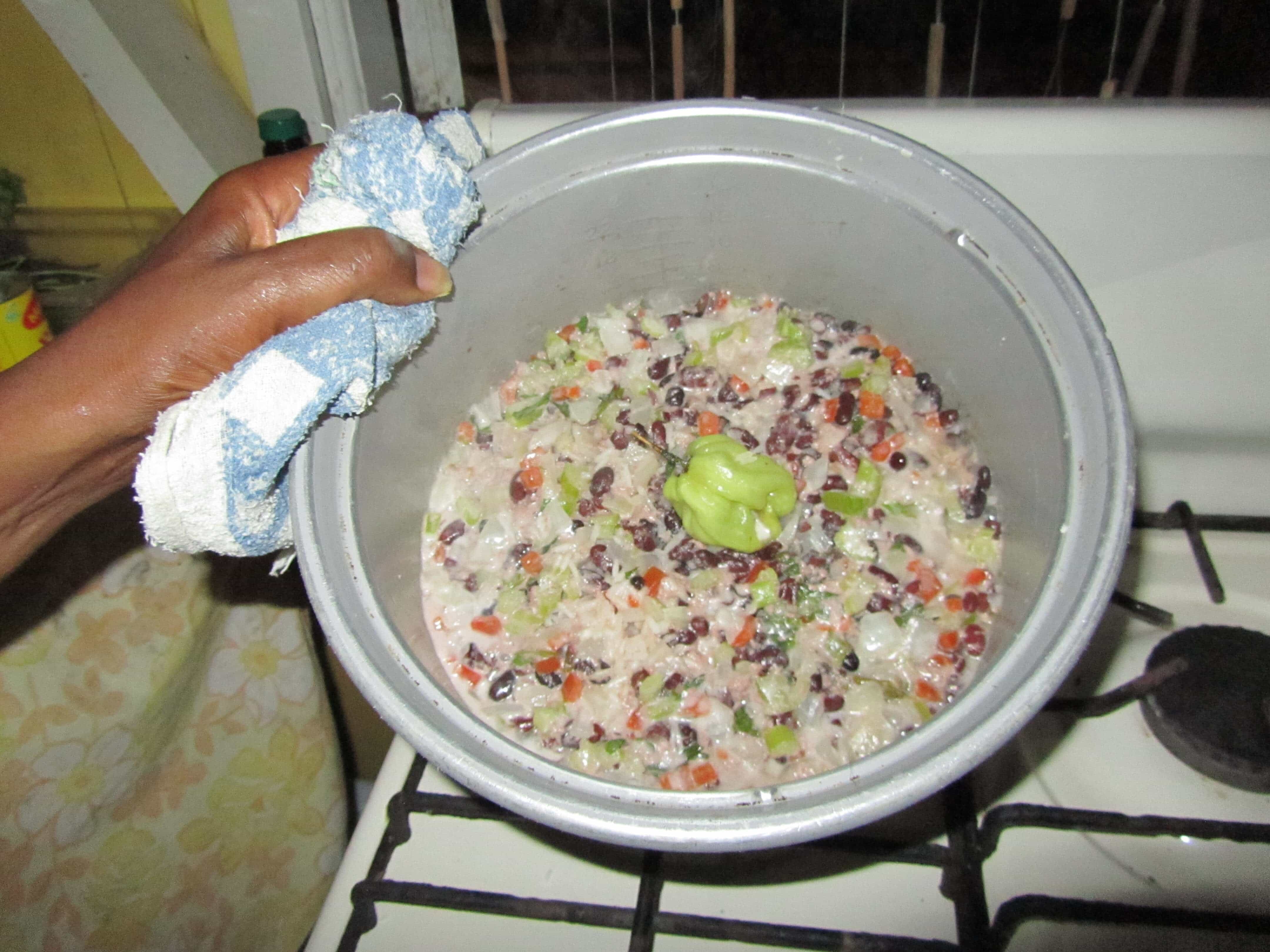 Caribbean Style Chicken & Rice
Ingredients
1 liter coconut milk
2 teaspoons diced onion
2 teaspoons diced sweet pepper
2 teaspoons celery
1 to 2 sprigs of fresh thyme
1 Cup fresh beans (soaked overnight)
salt and pepper to taste
a dash of love (Ms. Veronica insists on it!)
1 fresh lime cut in half
2 medium potatoes, chopped
6-8 pieces of chicken (thighs and drumsticks are best)
2 teaspoons Salsa Lizano
2 cloves garlic
1 medium onion
1 sweet pepper
1 stick celery
1 tsp curry
1 tsp soy sauce
1 Tbsp BBQ Sauce
Instructions
Add the coconut milk, 2 tsp diced onion, 2 tsp diced sweet pepper, 2 tsp celery, sprigs of fresh thyme, and beans to a large pot, bring to a boil and cook for about 15 minutes.
Add 2 cups rice and stir.
After the rice has absorbed some of the coconut milk, turn heat down to low and cover for 10 min
Stir the rice, then cover again let it stand for 20 min more.
While the rice is cooking, prep the chicken. Wash raw chicken in lime juice so that it more easily absorbs the marinade.
Set oven at 350 degrees.
Blend garlic, onion, sweet pepper, celery, curry, soy sauce, and bbq sauce in blender. Then, add lime-washed chicken, fresh thyme, and potatoes to a large glass plate or baking pan. Pour blended ingredients over chicken and potatoes and marinate for 30 minutes.
When you're ready to cook the chicken, melt 1/2 tsp sugar in a deep dish oven-safe pan and brown, then add a teaspoon of oil. (This is a little Costa Rican flavor trick!)
Place chicken into the pan with tongs without adding the marinade. Let the chicken dry up a bit and brown, then add marinade and potatoes.
Place pan with chicken and potatoes into the oven for 30 minutes to finish cooking.
Serve chicken with coconut rice and enjoy!