I grew up on Puerto Rican food. My step-father is from Ponce, so he introduced my mother and me to delicious homemade Puerto Rican meals like arroz con pollo (yellow saffron rice with chicken and peas), caramel flan (a sweet custard desert), pasteles (a sort of tamale stuffed with roast pork and steamed in banana leafs), and maduros (fried sweet plantains).
As as pre-teen, I don't think I fully appreciated it. In fact, I remember wrinkling up my nose with a little doubt and teenage angst when my step-father first cooked a Puerto Rican meal for us. Thankfully, food was certainly the way to my heart, and now these scents and flavors are a comforting reminder of home. In retrospect, I'm sure it had an influence on my current love for global cuisine as an adult. Between my step-father's Latin influences, and my grandmother's French influences, my palate was definitely primed with a wanderlust to taste even more.
Recently, I asked if he'd teach me how to make maduros, so he and my mother came over for an afternoon Puerto Rican cooking lesson. Maduros are essentially fried plantains sweetened with a little butter and sugar. If you've never had plantains before, they're very similar to bananas, just larger with a slightly more mellow flavor. Plantains are not very appetizing when they're raw, which is why it's common to cook them. They're very popular in Latin American countries for a side dish or dessert and are actually quite easy to make.
"Maduros" – Sweet Plantains Recipe
First, you have to start with really ripe plantains. The darker and more bruised, the better. Here's an example. The plantains on the left are unripe, and typically how you find them in the store. The yellow ones on the right are ripe, but not quite yet ready to make maduros. The darker ones in the center are just right.
The black plantains are the best for baking and sweets. They could be even darker and more ripe than this one pictured on the left.
Start buy cutting off both ends with a sharp knife. You'll notice plantains have a more angular shape than bananas, with three seams running down along the side. Using a knife, make a small cut into one of these seams and run it down from one end to the other, slicing the peel.
Gently peel the skin away from the plantain and then make one inch slices at a slight angle.
Next, pour some oil into a large sauce pan. You want a high heat oil like coconut, safflower, or canola. Use enough oil to fill the pan by a quarter inch.
As the plantains start to brown, flip them over using a set of tongs. You'll cook them for approximately 2 to 3 minutes on each side.
Next, scoop out the plantains with a strainer spoon and put them on a plate with 2 to 3 layers of paper towels to absorb any excess oil. Then heat about 2 tablespoons of butter in a frying pan.
Add the plantains to the buttered pan along with 2 to 3 tablespoons of brown sugar and fry them a second time until they're caramelized and the edges start to blacken and get crispy.
Transfer the plantains and syrupy brown sugar butter sauce to a bowl and serve.
They're great on their own, as a sweet side dish with pork or chicken and rice, and they're most excellent with coconut rum ice cream.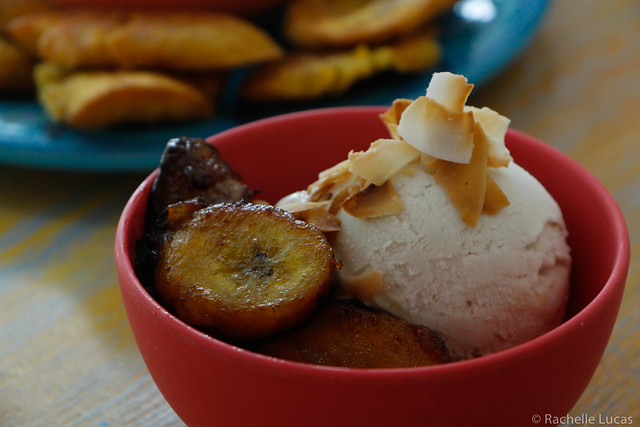 Here's the recipe for you to print: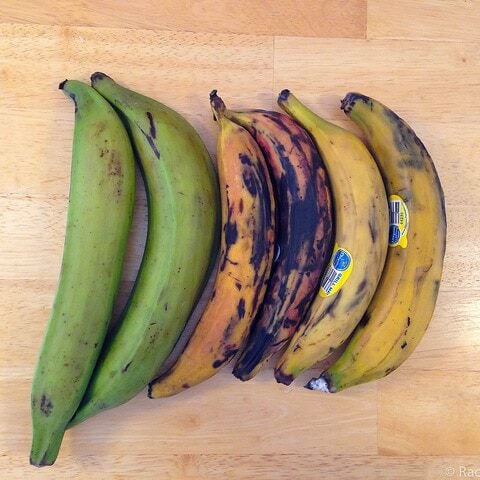 Recipe: Maduros "Sweet Plantains"
Ingredients
2 to 3 black plantains
1/4 cup of frying oil
2 tbsp butter
2 tbsp brown sugar
Instructions
Carefully peel and slice the plantains.
Add cooking oil to a large saucepan and turn heat to medium high. Once you can see oil is hot (it starts to wave and shimmer), carefully add the plantains using a set of tongs or strainer spoon.
Let the plantains cook for 5 to 7 minutes, flipping them over half way through.
Transfer plantains to a plate lined with 3 or 4 paper towels to absorb excess oil.
Melt butter in a frying pan, then add the brown sugar and add plantains and sauté until caramelized.
Serve as a side dish or dessert.