Have you ever tried making homemade marshmallows?  It's unbelievably easy, and tastes a lot better than the chalky store bought kind. I have the marshmallow recipe for you below as well as step-by-step photos to guide you through (just scroll to the bottom or hit the "jump to recipe button" on the right if you want to print the homemade marshmallow recipe. But first, a little back story about the first time I made marshmallow from scratch: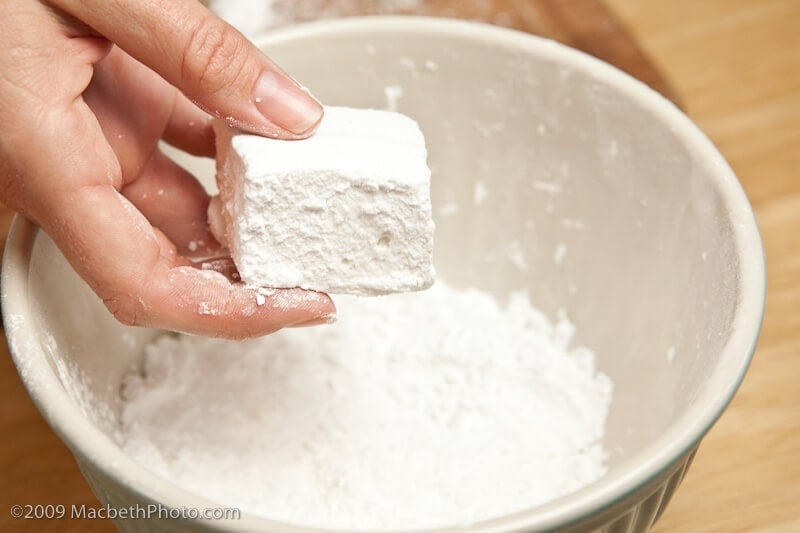 A Bit Of Background On This Story
I caught up with my long time friend and college buddy, Eric. In college we had a PR writing class at the godawful hour of 7 am. Which, to actually get a wake-up coffee and a parking space on campus at UCF meant I had to be leaving my house dressed, ready, backpack stuffed with all the necessities by 6:00 am.  What was I thinking when I signed up for that?  I'll tell you what I was thinking … I need this class to graduate and it was the only time it was offered!
At least our PR professor was cool. But every once in awhile he'd painfully wake up our sleepy morning-brain with some sort of stressful/deadline/writing type of drill. Writing early in the morning is my typical routine … I just don't usually push myself to perfection in under an hour.  It takes a least a second pot of coffee before I can go back and edit.
This class seems so crazy long ago now. Back when my cell phone was huge and all email was dominated by aol.  We were at the top of our class. And now here we are … I'm obsessed with breakfast and Eric is wondering why YouBentMyWookie.
The First Time I Made Marshmallow
This same college buddy, Eric, always had some good treats baked up.  So when he told me he had a marshmallow recipe I begged him to share!  He had  me asking … WTF is actually IN a marshmallow? You mean they're not magically produced by Willy Wonka? There are ingredients I can buy at the store to make these?  Awesome!
He suggested instead that I do a themed Halloween breakfast in full costume.
Aaaah. No.
In lieu of dressing up like Chewbacca and baking wookie cookies, I tried some homemade marshmallow instead. And they're unbelievably easy!  The timing was perfect since we finally got our Fall cold spell here in Florida.  Hot chocolate and marshmallows is a great morning or afternoon treat and we like to have S'mores in the backyard fire pit with our guests.  Yum.
I'll walk you through it step-by-step with photos and post the full recipe at the end.
Homemade Marshmallows Recipe With Step-By-Step Photos
Here's all the ingredients you'll need and a tried and tested homemade marshmallow recipe to get your fire-roasting-smore-making-hot-chocolate-dipping marshmallow on.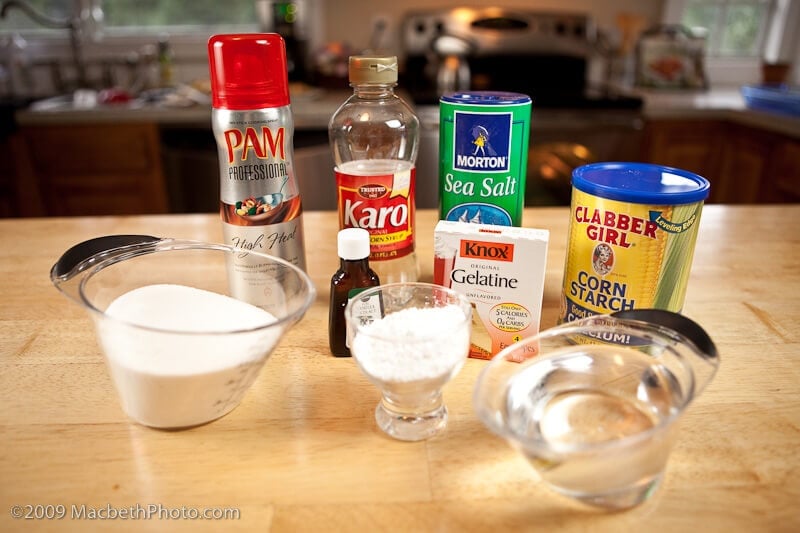 Some non-stick spray for the dish/pan.  A cup of light corn syrup.  A cup of sugar.  (Been to see your dentist lately?) A half cup of water.  Gelatin. Vanilla.   And cornstarch and powdered sugar to get the sticky suckers off your fingers.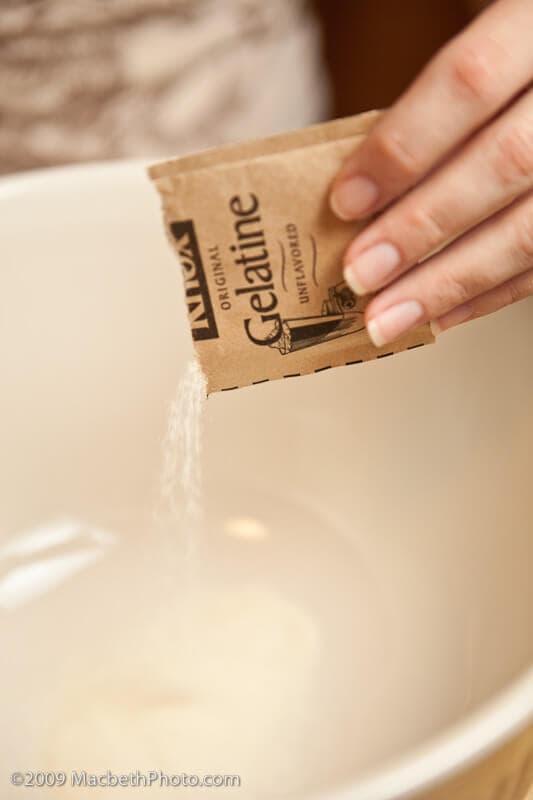 Pour 3 packets of unflavored gelatin in a bowl followed by a 1/2 cup of water.  Let it sit while it magically turn into jello-like mini pearls while you make the sugar mixture.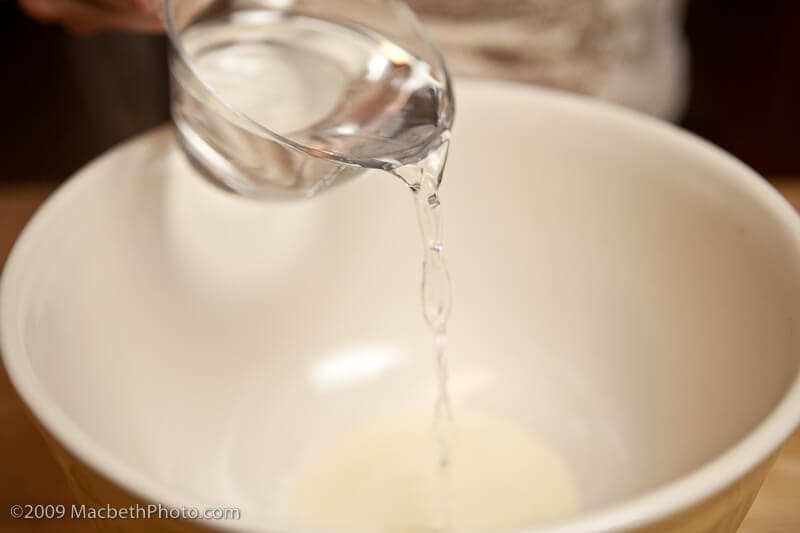 It will start soaking up the water and grow.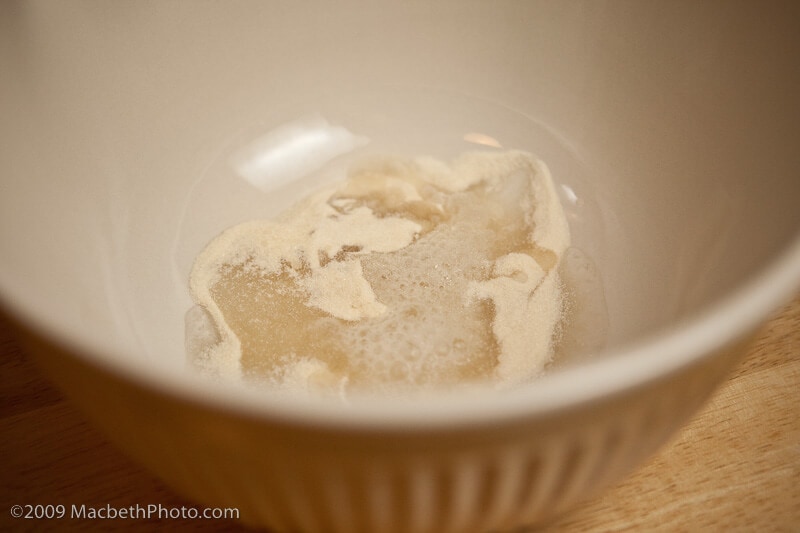 This is what it will look like after about 10 minutes.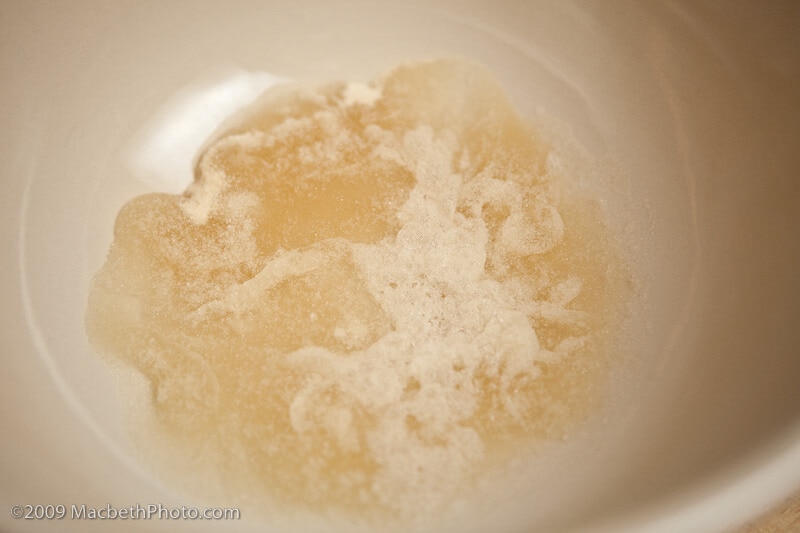 While your gelatin is expanding … pour 1/2 cup of water, sugar and corn syrup in a small sauce pan on MEDIUM heat.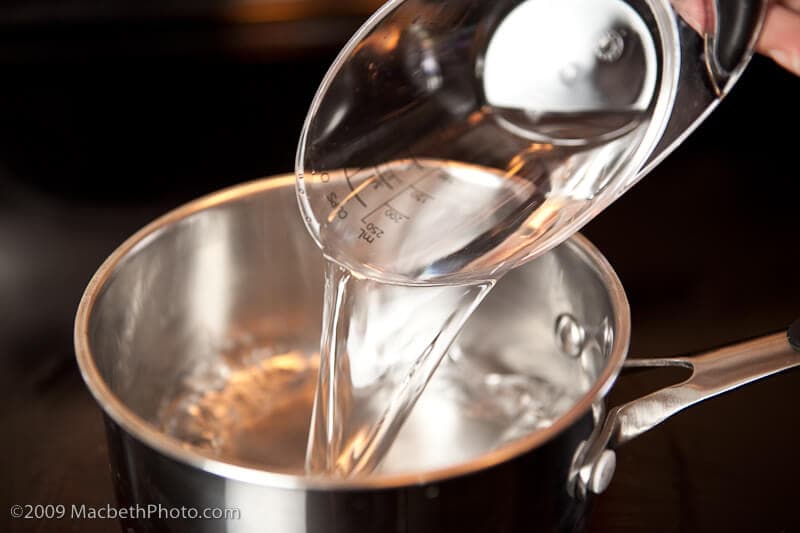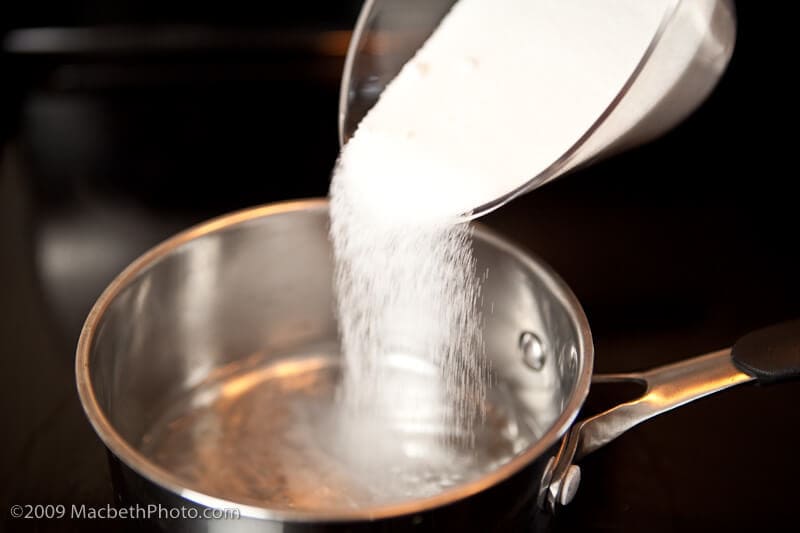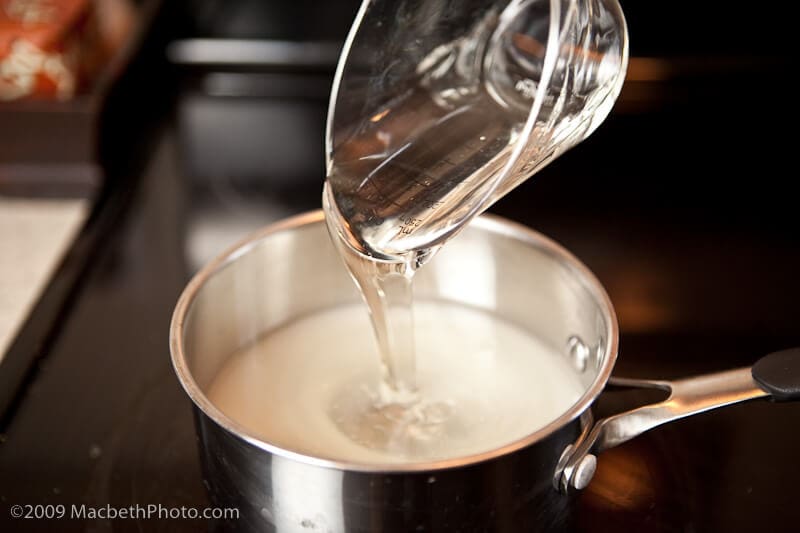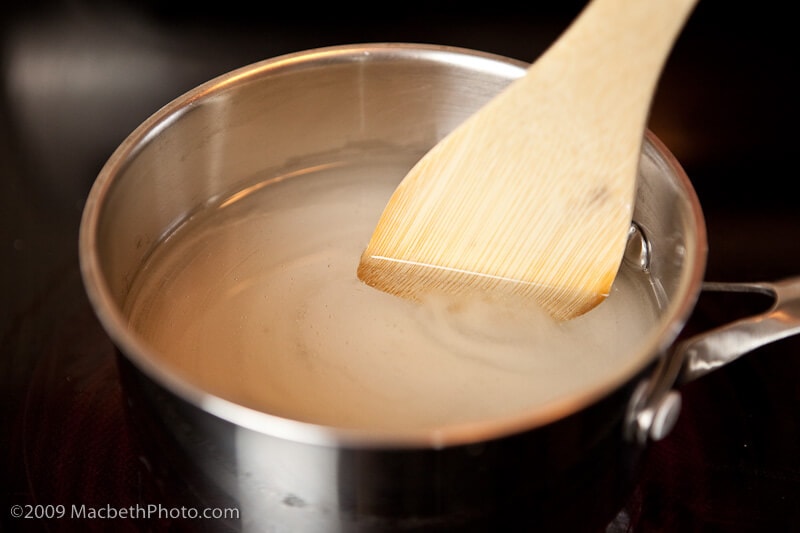 Stir briefly with wooden spoon and then let it come to a boil.
Approximately 7 to 8 minutes.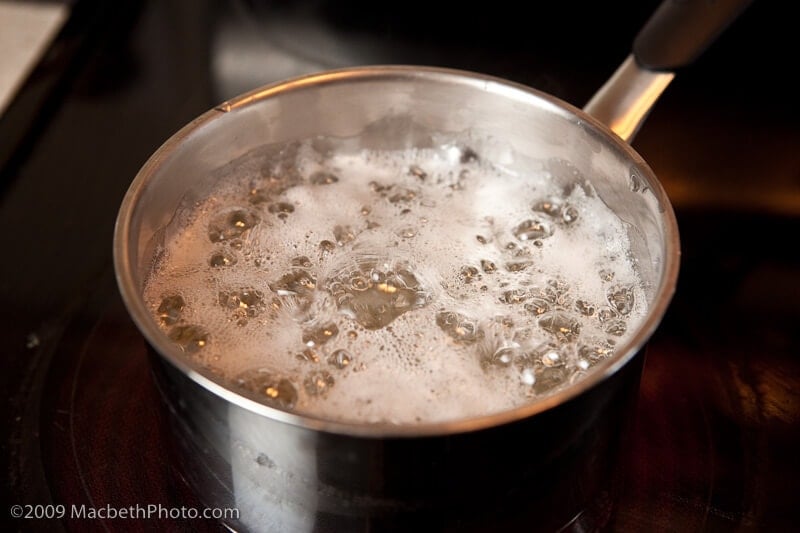 A Candy Making Tip
You want the mixture to reach 240 degrees … and then immediately remove from the stove.  Sounds precise and scientific, huh?  I know, I told you this would be easy, so here is where I confess …
I'm not a candy maker. Not. At. All.  I do love sugar, if that counts. So I didn't have a candy thermometer.  I used a meat thermometer instead.  Buwhahahah!  I told my mom that over the phone … and she said I was lucky it didn't blow up in my hand.  I was careful though!  I really watched the time on the clock to follow Eric's instructions of "7 to 8 minutes."
At about 4 minutes, it was at 180 degrees.  A 7 minutes it went immediately to 220 degrees … which is the max on my thermometer … so I guessed that meant it was ready and removed it from the heat.
(now my mom has a candy thermometer in the mail to me this week)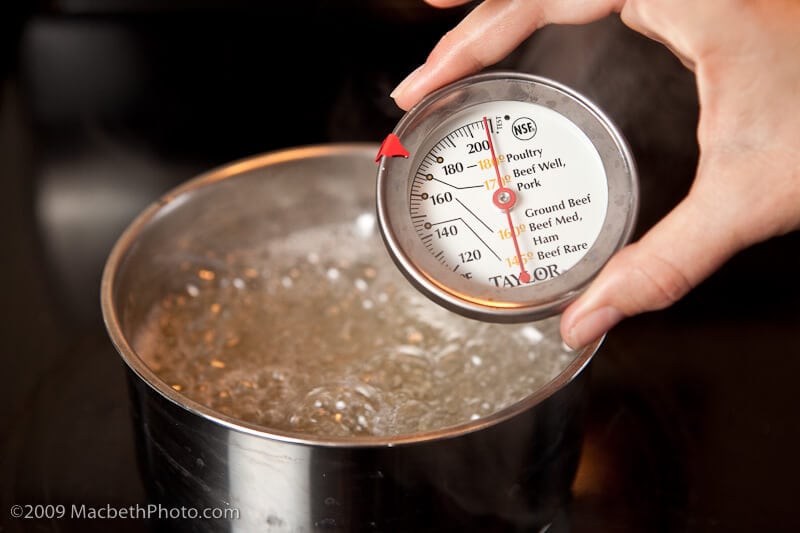 CAREFULLY and slowly pour it into a large bowl on top of your gelatin.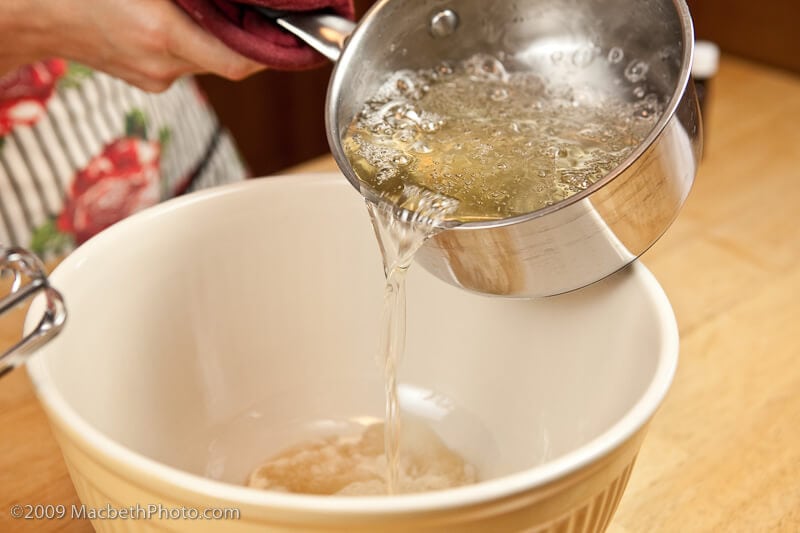 You can use a big fancy schmancy mixer or just a hand mixer.  Either will work just fine.
Mix for 12 minutes.
Yes, I said 12 minutes.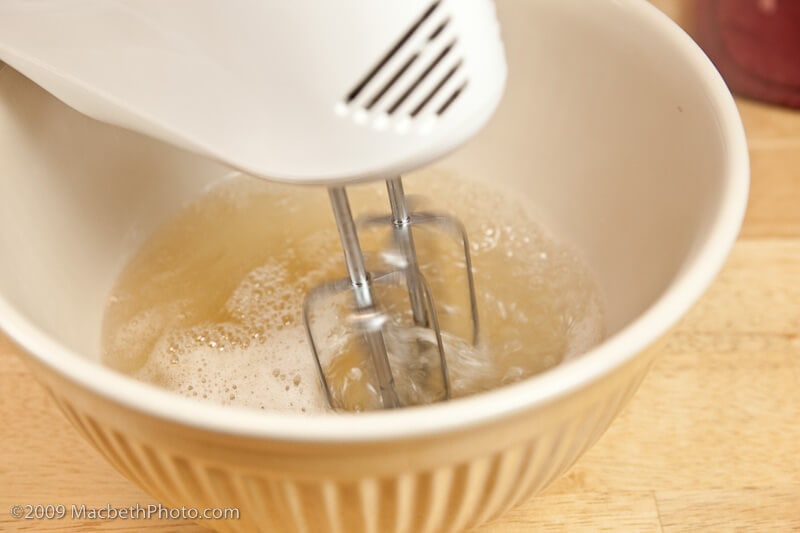 At about 5 minutes I got all impatient and pouty … thinking … this isn't working.  It's clear and bubbly.  I must have not let it boil long enough.  Pout. Cross arms. Tap foot.  Pout some more.
Since I still had 6 or 7 minutes to wait while the marshmallow becomes marshmallow, it was a good time to distract myself by preparing the pan.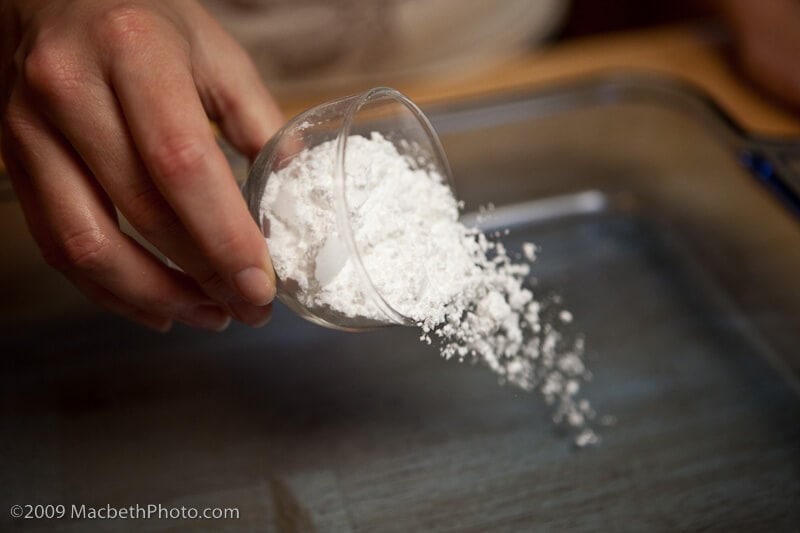 Spray your pan with a non-stick cooking spray.  I got smart and started doing this over the sink after my friend Jim did a knee-slide across my kitchen floor.  Yeah.  Pam mist on the floor could equal a disaster.  Or as it did for us, one heck of a belly laugh.  I'm just sayin.
Anyway, after lightly spraying with a non-stick spray, sprinkle with equal parts corn starch and powdered sugar and then cover with plastic wrap.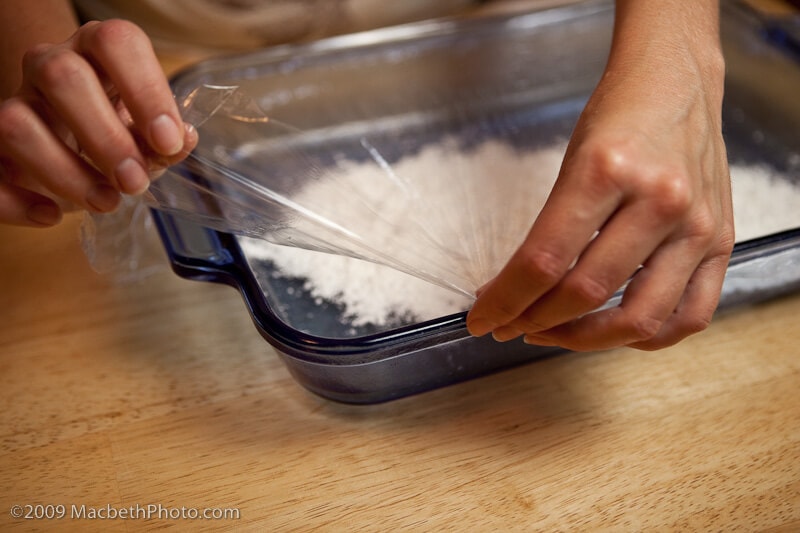 Press TIGHTLY across the edges.  Otherwise your going to have one fun mess to clean up.  Also, if you didn't have one on before, now is a good time to sport an apron.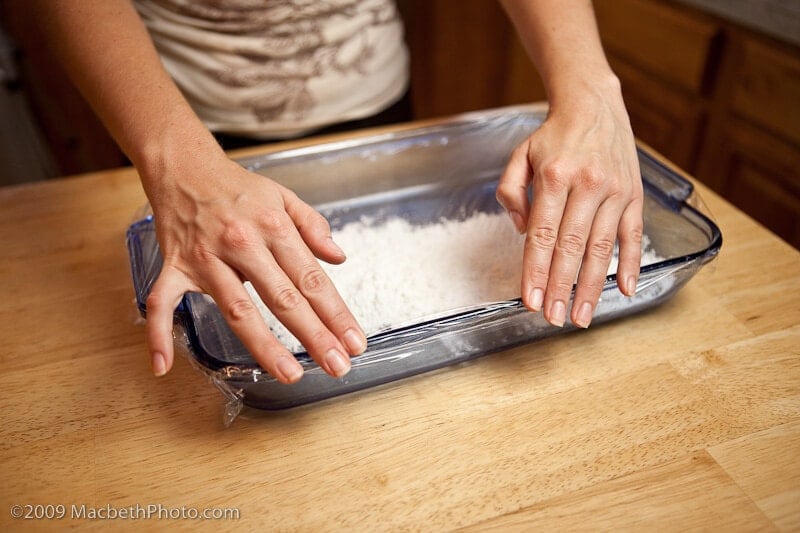 Shake it.  Shake it until the entire surface is covered in white.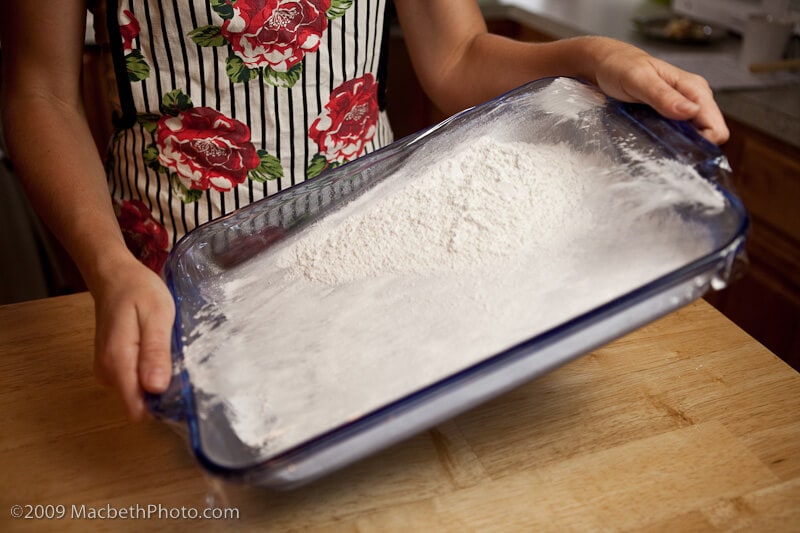 Pour the excess into a bowl for later use.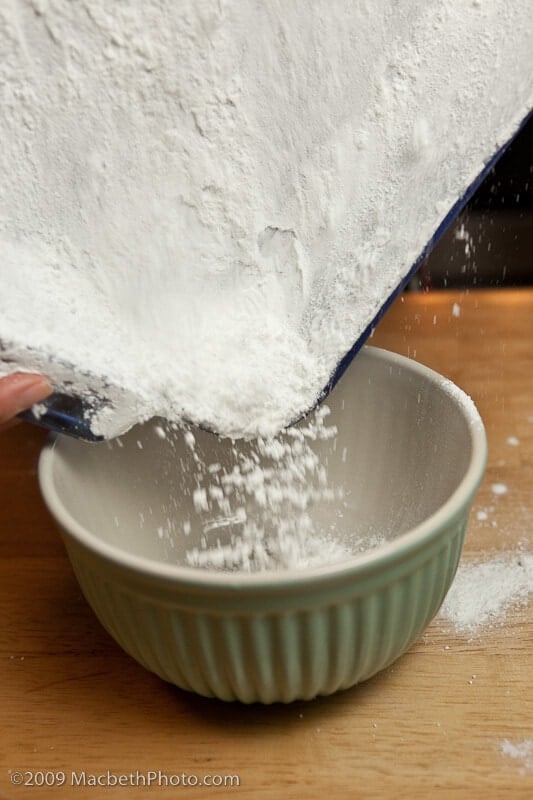 Ah!  What's this?  While I was distracted by shakin sugar the marshmallow is …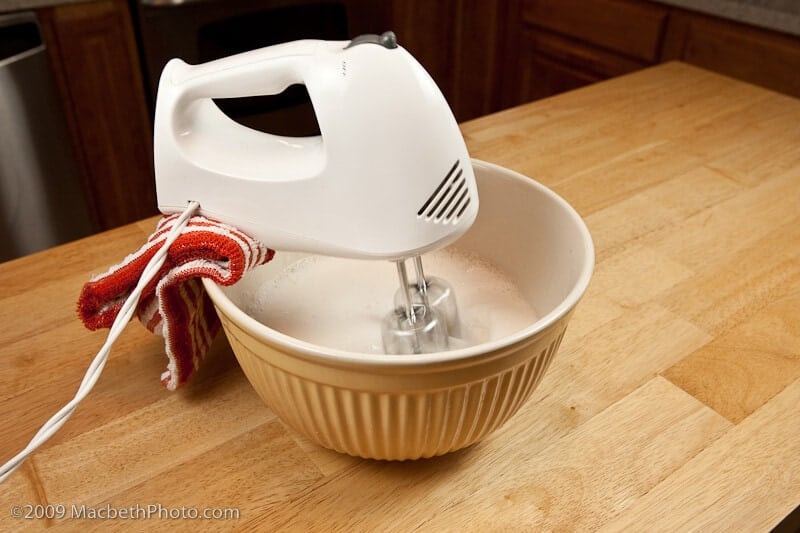 becoming  …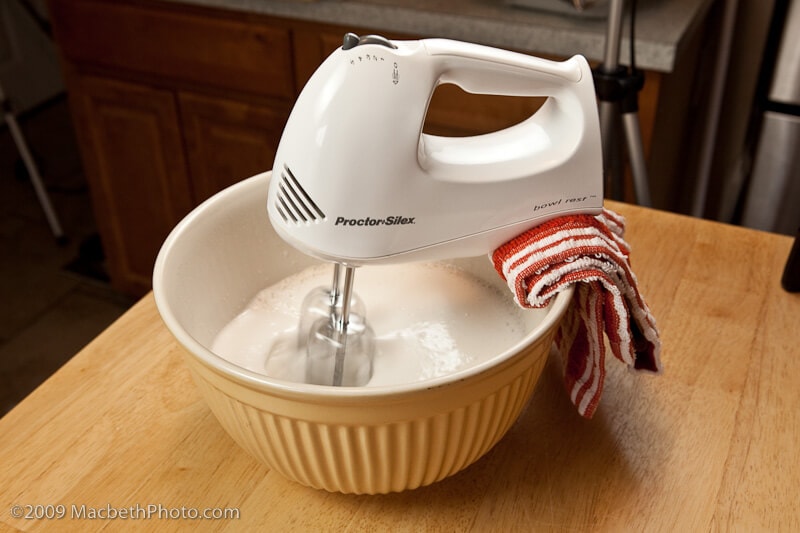 MARSHMALLOW!  At this exact moment I ran around the house shouting, "I MADE MARSHMALLOW" the same way Tom Hanks yelled "I made fire" in Cast Away.  After it being yellow/clear/bubbly for so long I was really "wowed."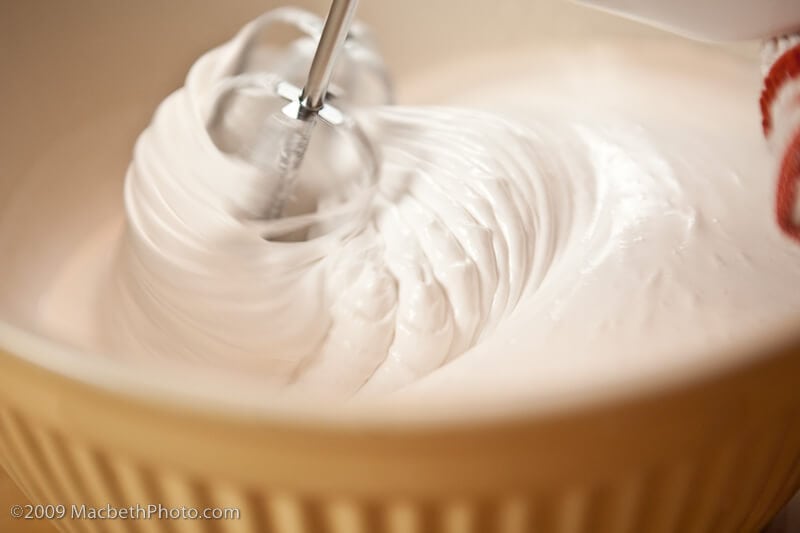 The recipe calls for a tsp of vanilla.  But Eric said to be liberal with the vanilla so I added 2 tsp. Is doubling it going overboard?  Naaaaah!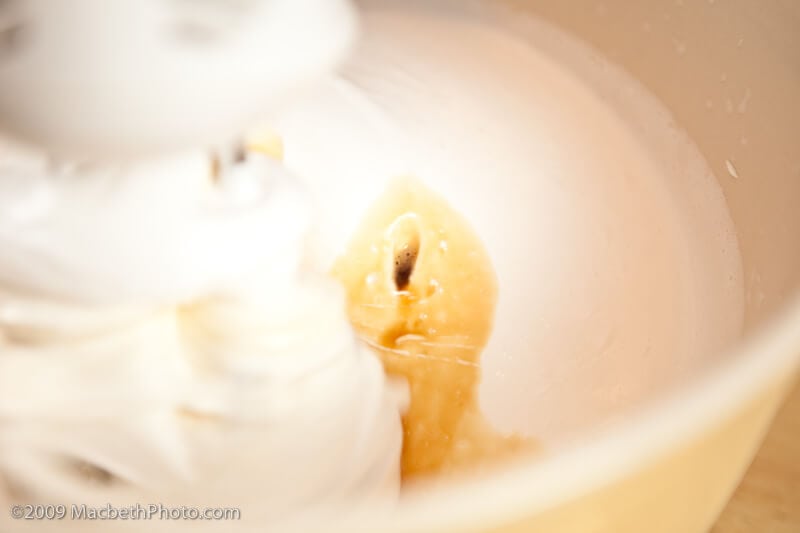 Make sure the vanilla is good and mixed.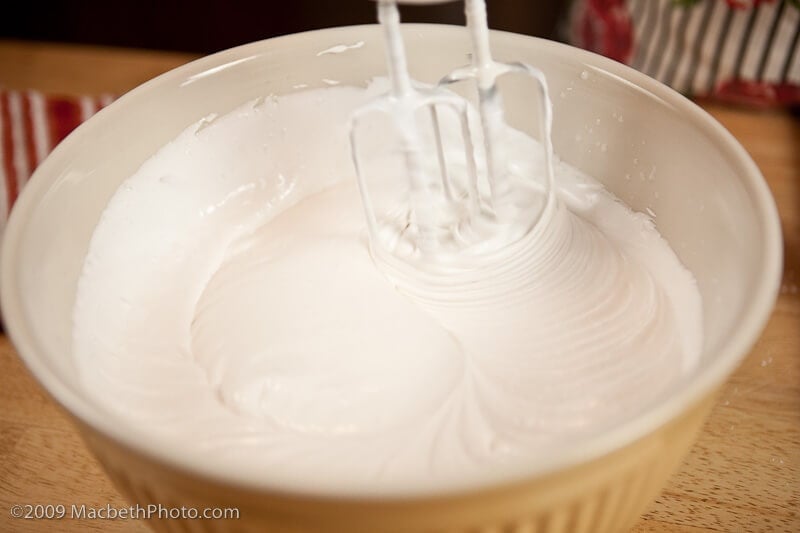 Looks like vampire fangs, doesn't it?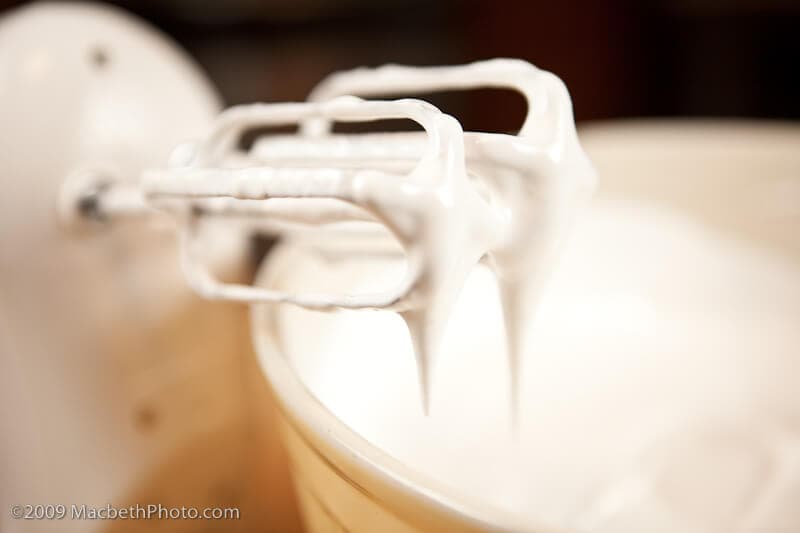 Pour into your prepared pan and smooth out with a spatula.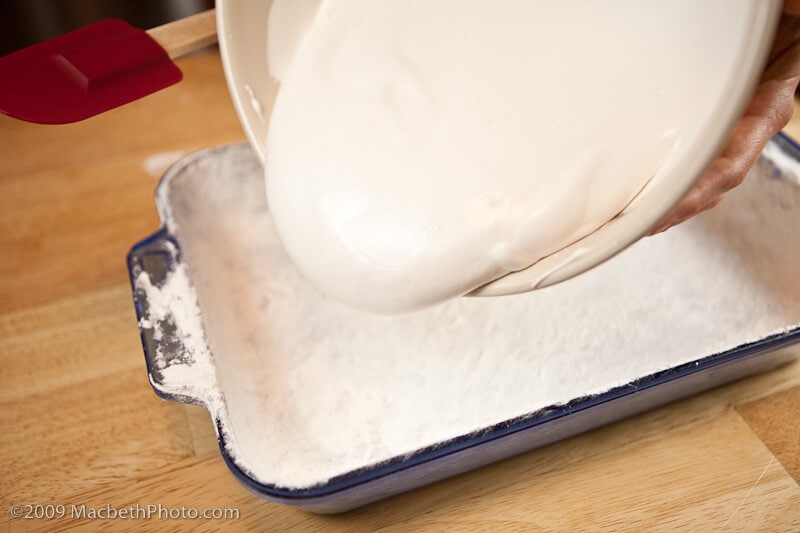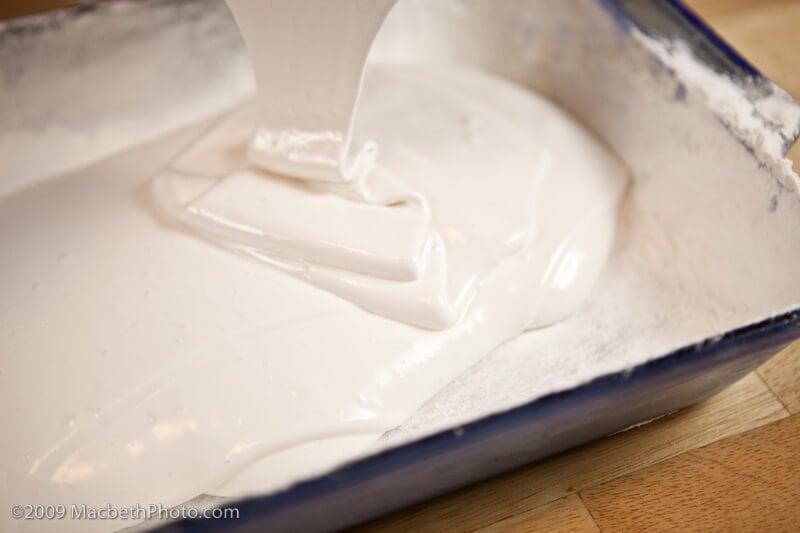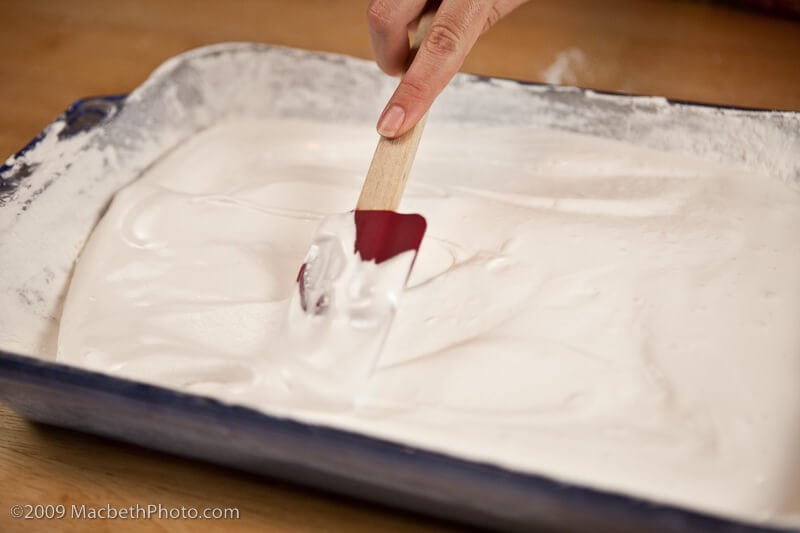 Now's a good time to lick the bowl.  If you've got some nutella and banana on hand, you could even make a marshmallow sandwhich.  Mmm.
Cover and let the marshmallow sit overnight to harden. Or, if you make these in the morning they should be ready by the evening for S'mores.
Take a knife around the edge of the pan to help lift out the marshmallow.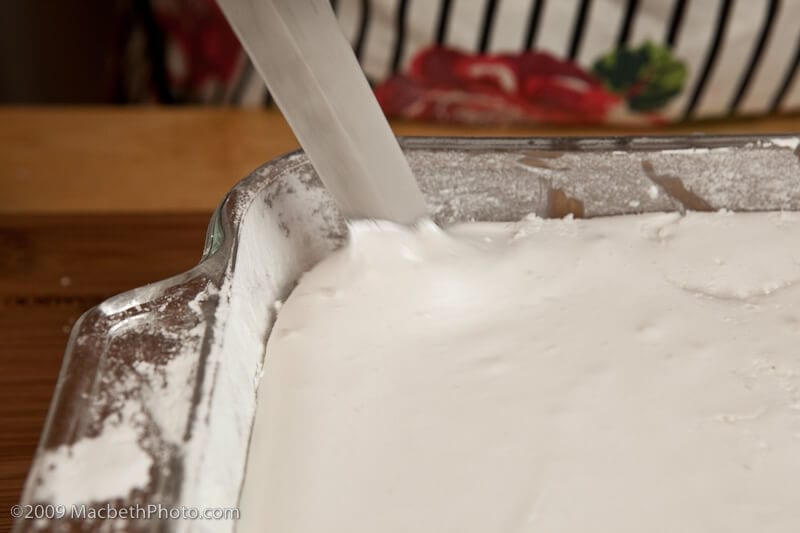 It will feel a little "spring loaded" so rather than thinking of slicing, think more of separating it from the side.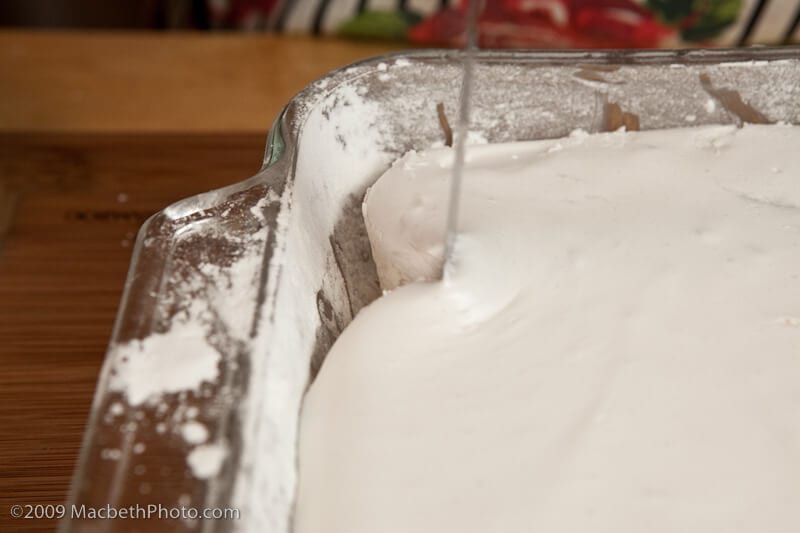 It should be fairly easy to lift out if you did a good job sugar shaking.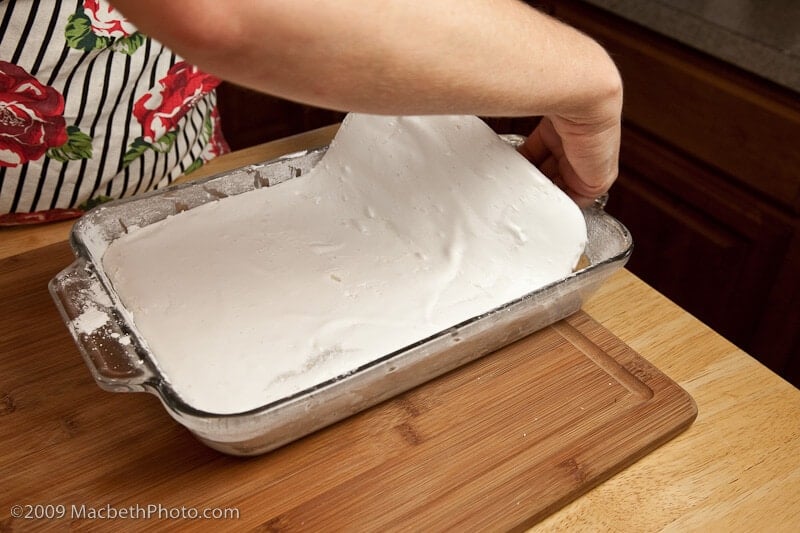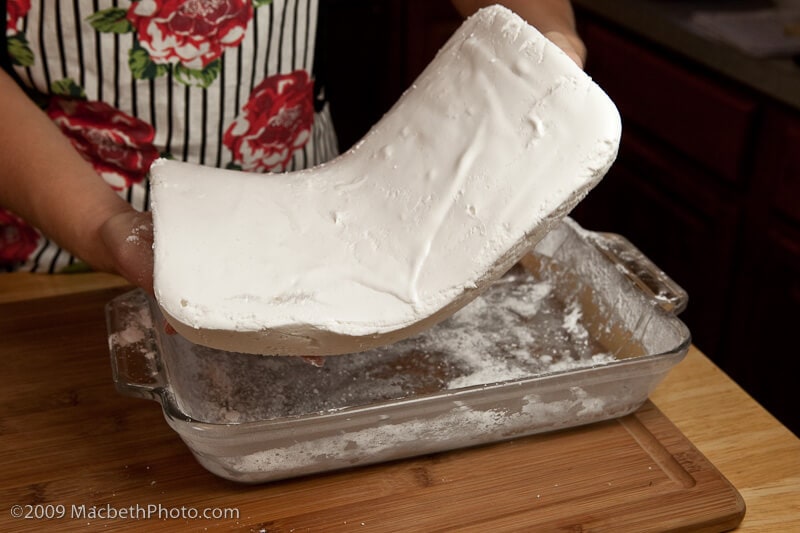 Place onto a cutting board and sprinkle with the left over powdered sugar/corn starch mixture you used to coat the pan.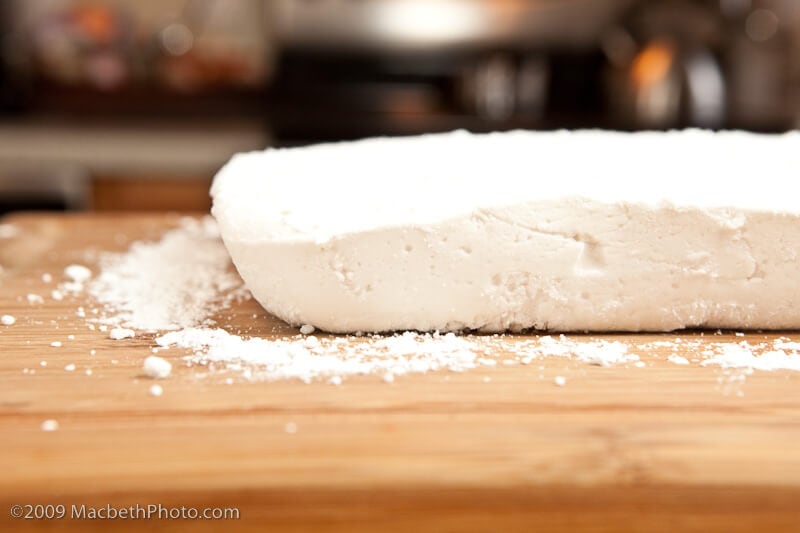 Now here comes the fun part.  Slicing marshmallow.  It's a little like trying to nail jello to the wall.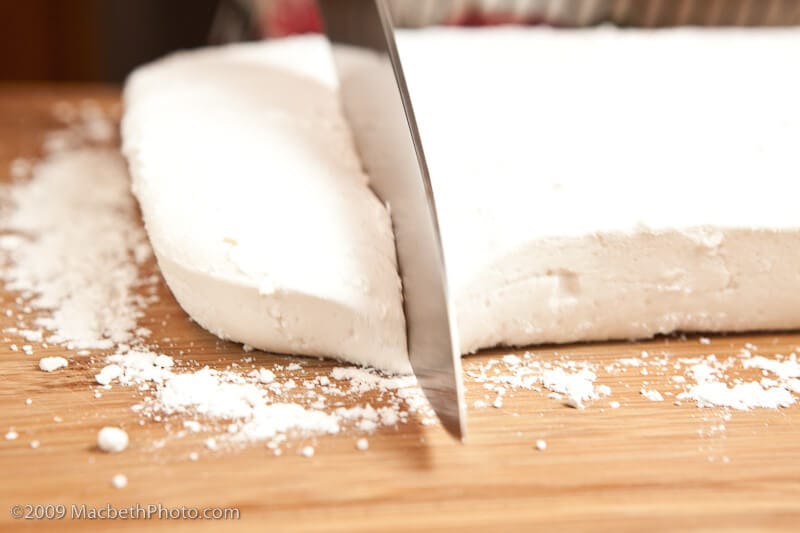 I remembered that Eric suggested using a pizza cutter so I switched and that helped a bunch!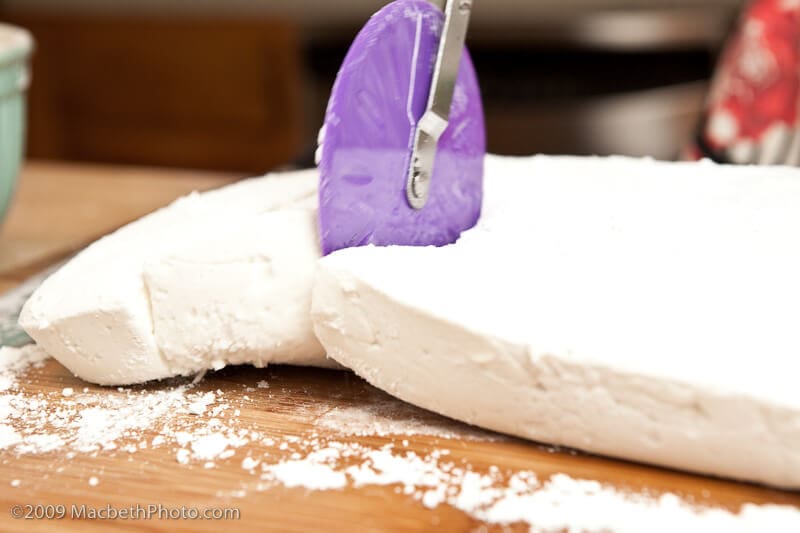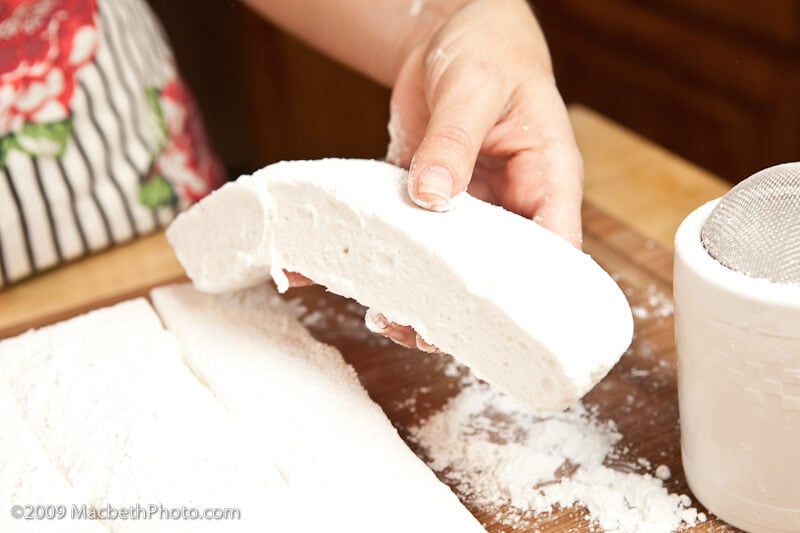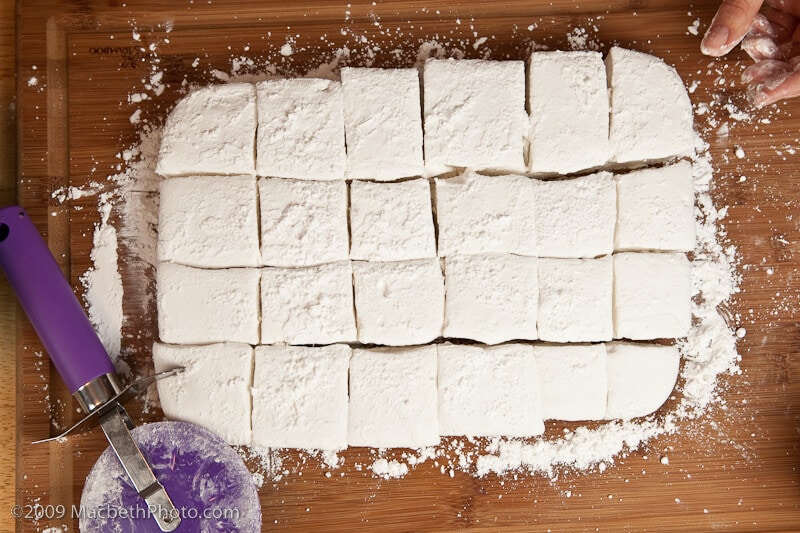 Once you have your marshmallow squares, roll them around in bowl with the powdered sugar/corn starch mix.  This will keep them from sticking to your fingers … the plate … the wall … pretty much anything they come into contact with.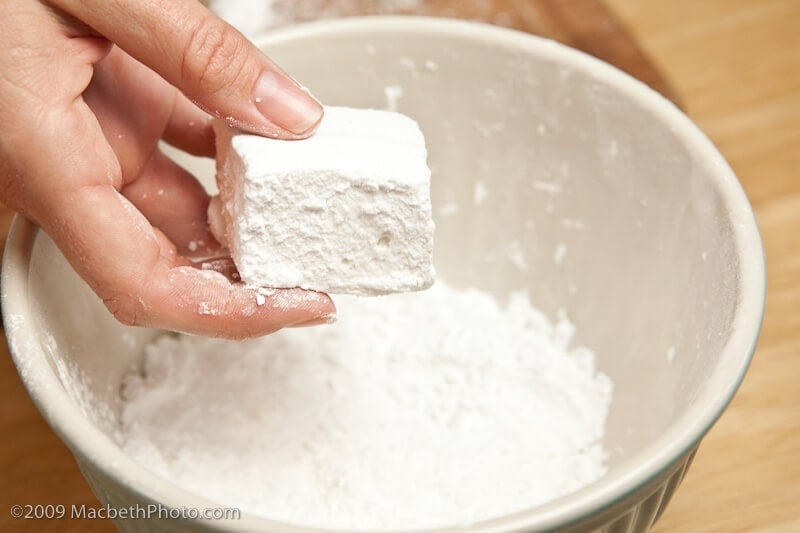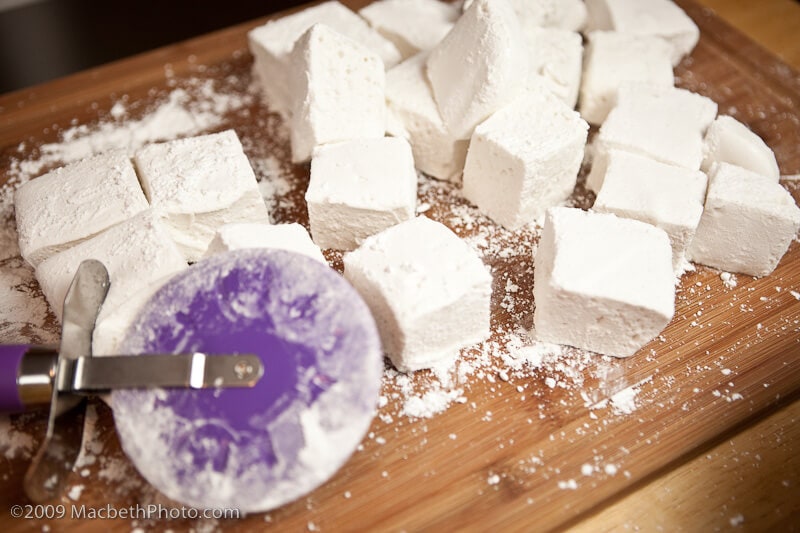 And there you have it … MARSHMALLOWS!  Enjoy in your hot chocolate, S'mores, or just on there own.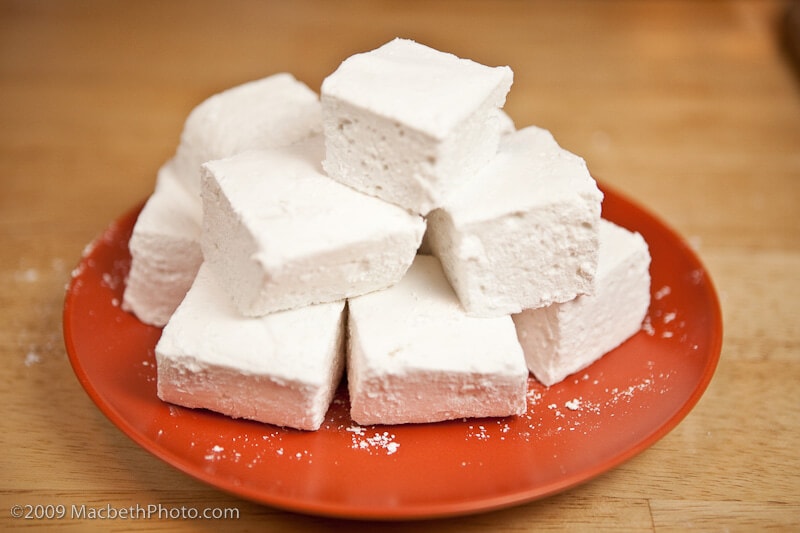 Marshmallow Recipe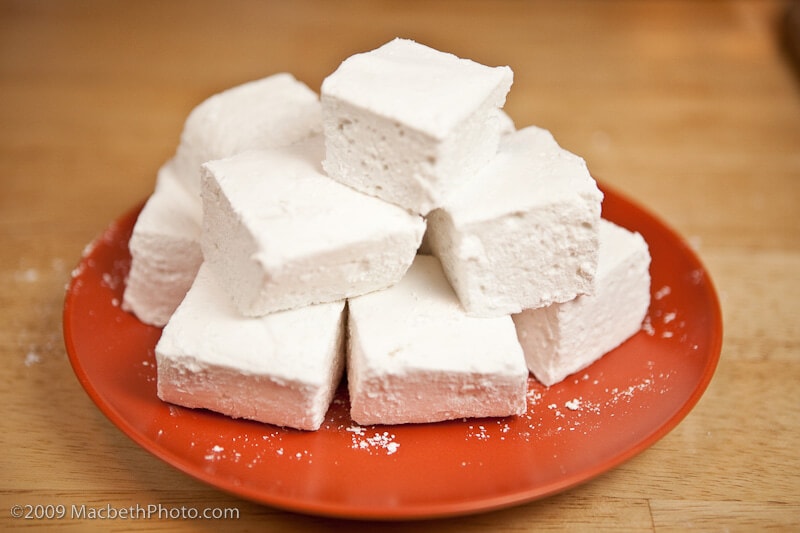 Marshmallow ... from scratch.
Ingredients
3 packages unflavored gelatin
1 cup of ice cold water, divided
12 ounces granulated sugar (1 1/2 cups)
1/4 tsp kosher salt
1 cup light corn syrup
1 teaspoon vanilla
1/4 cup confectioners' sugar
1/2 cup cornstarch
Nonstick spray
Instructions
Place the gelatin into a large bowl or the bowl of a stand mixer along with 1/2 cup of the water.
In a small saucepan, combine the remaining 1/2 cup water, granulated sugar, corn syrup and the salt. Place over medium heat, cover and allow to cook for 3 to 4 minutes. Uncover, clip a candy thermometer onto the side of the pan and continue to cook until the mixture reaches 240 degrees, approximately 7 to 8 minutes. Once the mixture reaches this temperature, immediately remove from the heat.
Turn the mixer on low speed and slowly pour the sugar syrup down the side of the bowl into the gelatin mixture. Once you have added all of the syrup, increase the speed to high. Continue to whip until the mixture becomes very thick and is lukewarm (approximately 12 10 15 minutes). Add the vanilla during the last minute of whipping.
While the mixture is whipping, prepare the pan. Combine confectiners' sugar and cornstarch in a small bowl. Lightly spray 13 x 9 inch baking pan with a nonstick cooking spray. Add the sugar and cornstarch mixture, cover with plastic wrap, and mover around to completely coat the bottom and sides of the pan. Return the remaining mixture to the bowl for later use.
When marshmallow is ready, pour into the prepared pan, spread evenly with the spatula, and dust the top with some of the remaining sugar and cornstarch mixture to lightly cover. Allow the marshmallows to sit uncovered for at least 4 hours or overnight.
Turn the marshmallows out onto a cutting board and cut into 1-inch squares using a pizza wheel dusted with the confectioners' sugar mixture. Once cut, lightly dust all sides of each marshmallow with the remaining sugar mixture, using additional if necessary. Store in an airtight container for up to 3 weeks.
Want to save this recipe? Pin it! 🙂


Originally Published Oct 19, 2009. Updated 2019.