Sausage and onions are one of my husband Pete's favorite meals, so I created a way to make it somewhat healthy (i.e. vegetables) with this Italian Sausage Skillet with cannellini beans, tomatoes, Italian sausage and spinach. Inspired by our recipe for Portuguese Sausage & Beans, this one-skillet dinner is low carb and faster to make. Some of my favorite meals to whip together on busy weekdays are always the ones that have just a handful of things that I can quickly pick up at the store, and this easy dinner just has five ingredients!
Hope this easy Italian-inspired meal becomes one of your regular favorites too.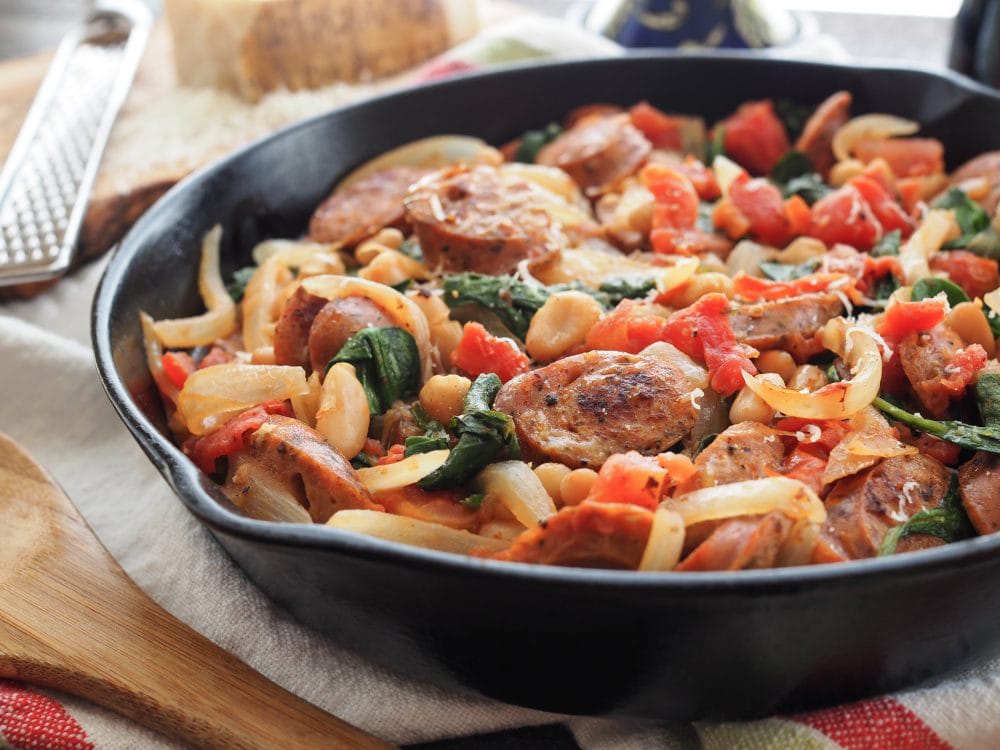 Easy Weeknight Italian Sausage Recipe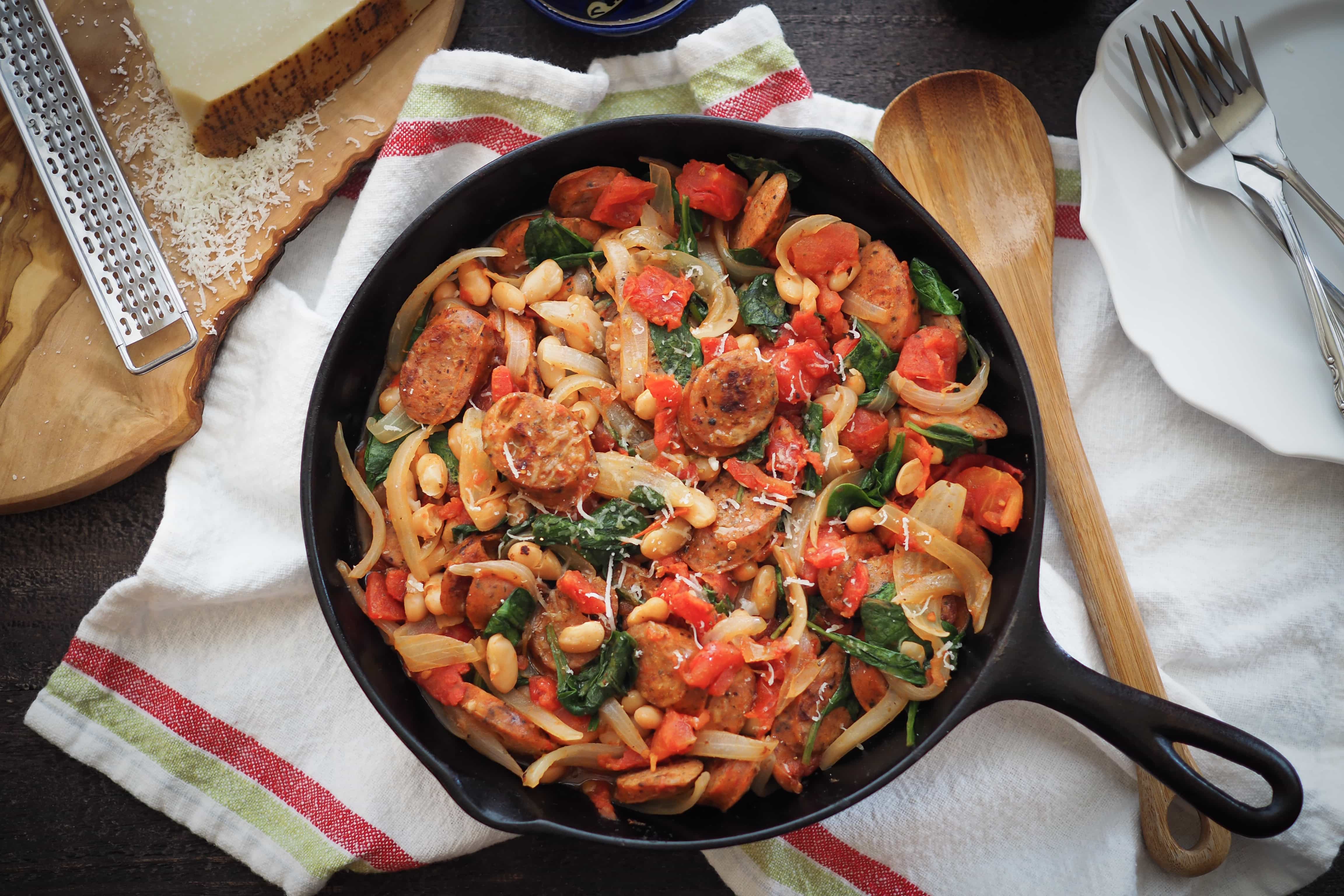 Italian Sausage Skillet
Ingredients
12 oz Italian sausage, sliced
1 large onion, sliced
1 14.5 oz can Italian spiced diced tomatoes
1 15.5 oz can Cannellini beans, drained and rinsed
3 oz fresh spinach
Season with salt, pepper, olive oil, and fresh grated Parmigiano-Reggiano cheese.
Instructions
Drizzle 1-2 Tbsp olive oil in a large skillet and set to medium heat.
Once the oil is warm, add sausage and onions and sauté until browned. (Approx. 7-10 minutes)
Add the can of tomatoes and stir until the sauce starts to bubble. Then add the beans and spinach, and cover for 2-3 minutes until the spinach wilts.
Once the spinach has wilted, mix together with the rest of the ingredients. Season with salt and pepper. Top with grated Parmigiano-Reggiano cheese.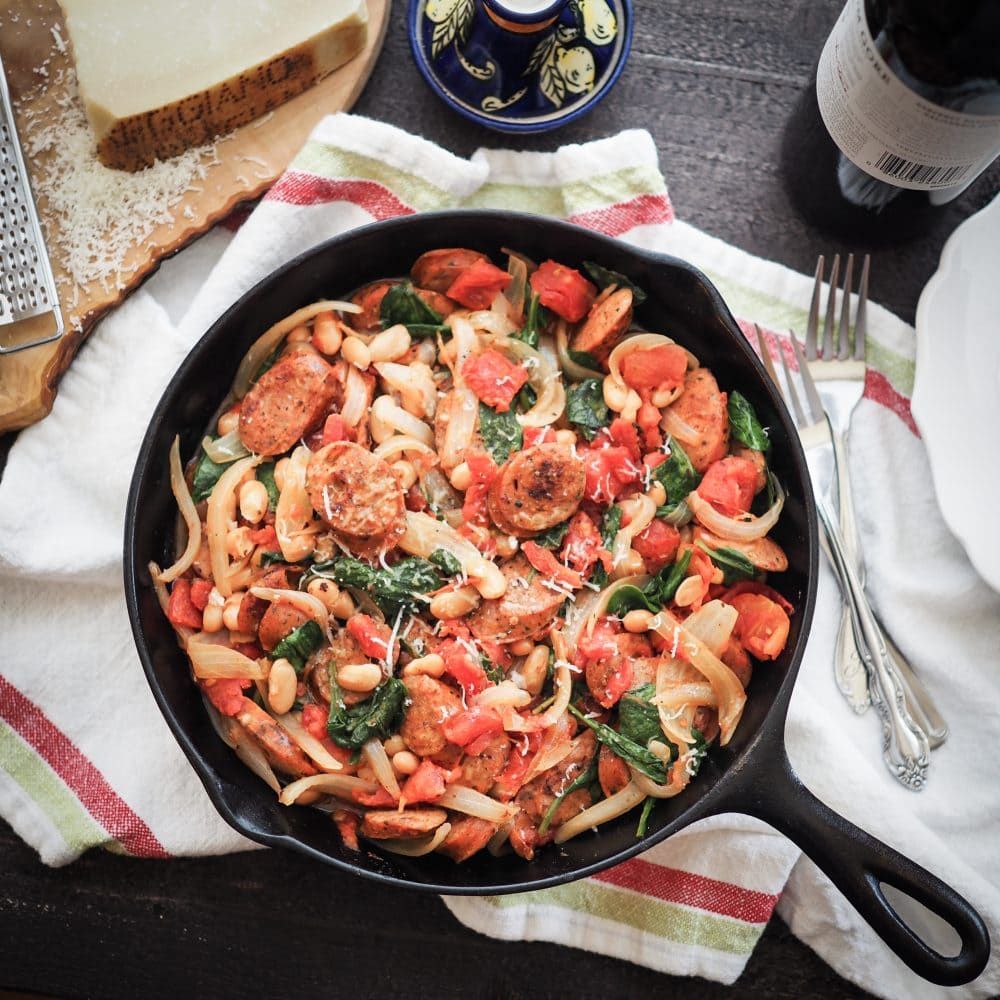 Want to save this Italian sausage recipe? Pin it! 🙂 Also, if you like this recipe, you might also want to try our Portuguese Sausage Skillet.